Welcome to Bella Italia, where the beach towns near Florence are simply breathtaking. These seven picturesque destinations offer a perfect vacation for those seeking a break from their routine life.
From Viareggio to Cinque Terre, each beach town has its unique charm and beauty that will leave you spellbound. Pack your bags, grab your sunscreen, and get ready to explore these hidden gems.
Whether you're looking to relax on the beach, indulge in Italian cuisine, or enjoy water sports, these towns have everything you need for a perfect holiday. So, let's dive into the world of Bella Italia and discover these seven sun-kissed beach towns that will make your vacation simply unforgettable.
Key Takeaways
– Viareggio, Forte dei Marmi, Castiglioncello, Livorno, Elba Island, San Vincenzo, and Punta Ala are all beautiful beach towns near Florence that offer a variety of attractions and accommodations for visitors.
– Punta Ala is the perfect destination for those seeking a luxurious vacation and thrilling watersports adventure, with luxurious resorts and a variety of watersports activities such as sailing, windsurfing, and paddleboarding.
– Cinque Terre, a UNESCO World Heritage Site with five distinctive towns, each with its own character and charm, is the perfect destination for a vacation with delicious food and stunning setting, offering stunning views of the Mediterranean Sea.
– Both Punta Ala and Cinque Terre are picturesque beach towns located near Florence, offering a variety of activities and attractions for a perfect vacation.
Viareggio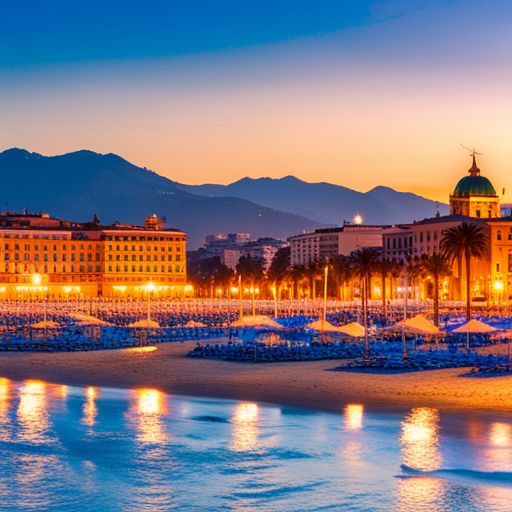 If you're looking for a charming seaside experience, Viareggio's got you covered with its long stretch of sandy beaches and lively boardwalk. This picturesque beach town is located just 20 minutes away from the city of Pisa, making it a perfect day trip destination.
Viareggio is known for its beautiful beaches, which are perfect for sunbathing and swimming. But when the sun sets, Viareggio comes alive with its vibrant nightlife. The town is filled with bars, nightclubs, and restaurants that offer delicious seafood dishes and cocktails. So, if you're looking for a fun night out, Viareggio won't disappoint.
Apart from its nightlife, Viareggio is also famous for its Carnival, which is one of the biggest events in Italy. The Carnival attracts visitors from all over the world, who come to see the magnificent floats, lively music, and colorful costumes. The event takes place every February, and it's a must-see if you're in the area.
But even if you can't make it to the Carnival, Viareggio has plenty to offer. From its beautiful beaches to its lively nightlife, this charming seaside town is the perfect place to unwind and enjoy a relaxing vacation.
Forte dei Marmi

Forte dei Marmi is a popular destination among wealthy tourists, with the average cost of a villa rental reaching $12,000 per week. If you're looking for a luxurious beach getaway, this is the place to be.
Here are four reasons why Forte dei Marmi should be on your travel list:
1. The beaches here are pristine and the water is crystal clear. Whether you want to relax on a sun lounger or take a dip in the sea, you'll be able to do so in style.
2. Forte dei Marmi is also known for its high-end designer shops, making it the perfect place for a spot of retail therapy. You'll find everything from Gucci to Prada, so be prepared to splurge.
3. For those who prefer to stay active, there are plenty of opportunities for outdoor activities such as cycling and horse riding. Take a leisurely bike ride along the beach promenade or explore the pine forests on horseback.
4. When it comes to dining, Forte dei Marmi has some of the best restaurants and bars in the area. From traditional Italian cuisine to modern fusion dishes, there's something to suit every palate. Don't miss out on the chance to indulge in some of the freshest seafood around.
Castiglioncello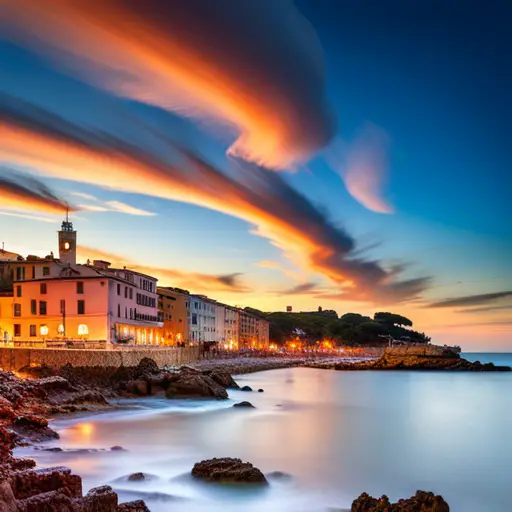 You'll be transported to a small coastal village full of charm and character when you visit Castiglioncello. Located along the Etruscan Coast, this picturesque beach town is a popular destination for those seeking a relaxing vacation.
The town is known for its crystal-clear waters and sandy beaches, perfect for sunbathing and swimming. One of the best things about Castiglioncello is its beachfront accommodations. From luxurious hotels to cozy bed and breakfasts, there's a variety of options to choose from.
You can wake up to the sound of the waves and enjoy a morning stroll along the promenade. And of course, no trip to Castiglioncello is complete without indulging in the local seafood cuisine. You'll find plenty of restaurants serving up fresh fish and seafood, caught just a few miles away.
So come and experience the laid-back lifestyle of Castiglioncello, and leave all your worries behind.
Livorno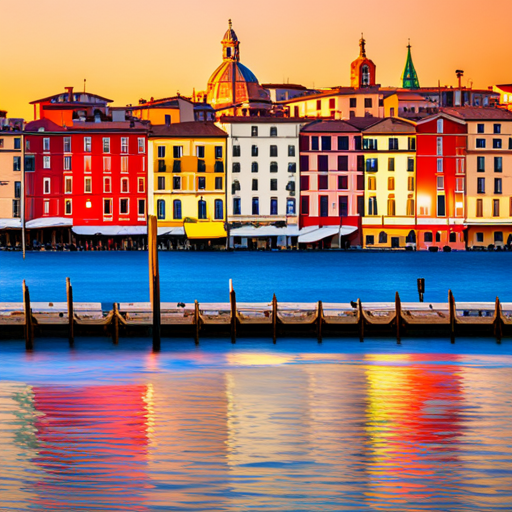 Explore the vibrant city of Livorno and experience its rich history and culture. As you wander through the city's streets, you'll be mesmerized by the stunning harbor views that surround you.
Take a stroll along the picturesque waterfront and indulge in some of the most delicious seafood delights that Italy has to offer. With a lively atmosphere and friendly locals, Livorno is the perfect destination for those seeking a coastal charm unlike any other.
Here are the top things to do in Livorno beyond the beach:
1. Visit the historic Fortezza Vecchia, a fortress that dates back to the 16th century.
2. Explore the Mercato Centrale, a bustling market where you can find fresh produce, meats, and seafood.
3. Take a walk through the charming Venezia Nuova neighborhood, known for its canals and colorful buildings.
4. Indulge in some of Livorno's famous street food, such as cecina (a chickpea pancake) or torta di ceci (a savory chickpea pie).
With so much to see and do, Livorno is the perfect destination for those looking to experience the authentic Italian lifestyle.
Elba Island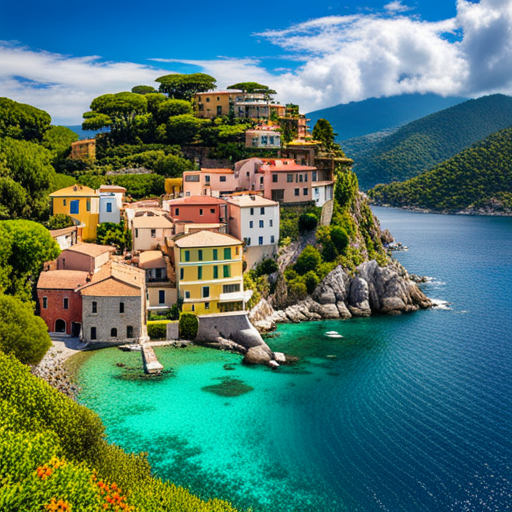 If you're craving a taste of island life in Tuscany, Elba's turquoise waters and rugged coastline are waiting to be explored. This Island Getaway is just a short ferry ride from the mainland and offers a wide range of Beach Activities for you to enjoy.
Whether you're looking to soak up the sun on one of Elba's many sandy beaches, or you're interested in snorkeling and exploring the underwater world, Elba has something for everyone. One of the most popular activities on Elba is hiking along the island's scenic trails. From the rocky cliffs to the lush forests, there's no shortage of stunning views to discover.
And after a day of adventure, you can relax with a glass of local wine and some fresh seafood at one of the island's charming restaurants. Elba is the perfect destination for anyone looking to escape the crowds and experience a more laid-back way of life.
San Vincenzo

San Vincenzo is a charming coastal town in Tuscany that boasts a long stretch of golden sand and crystal-clear waters. It's the perfect place to unwind and enjoy the beautiful Italian sunsets.
San Vincenzo has some of the best beaches in the region, including Spiaggia di San Vincenzo, which is ideal for swimming, sunbathing, and water sports. If you're looking for a more secluded spot, head to Cala Moresca, a hidden cove that is surrounded by rocky cliffs and lush vegetation. The beach is accessible only by foot or by boat, but it's worth the effort for its tranquil and unspoiled beauty.
When it comes to dining, San Vincenzo has a wide range of seafood restaurants that serve fresh and delicious dishes. One of the top seafood restaurants in San Vincenzo is La Baracchina, which is located right on the beach and offers stunning views of the sea. The menu features a variety of seafood options, from grilled fish to pasta with clams, all prepared with the freshest ingredients.
Another great option is Trattoria del Pesce Fresco, a family-run restaurant that specializes in seafood and serves generous portions at reasonable prices. Don't miss the chance to savor the local seafood specialties and enjoy the laid-back atmosphere of San Vincenzo.
Punta Ala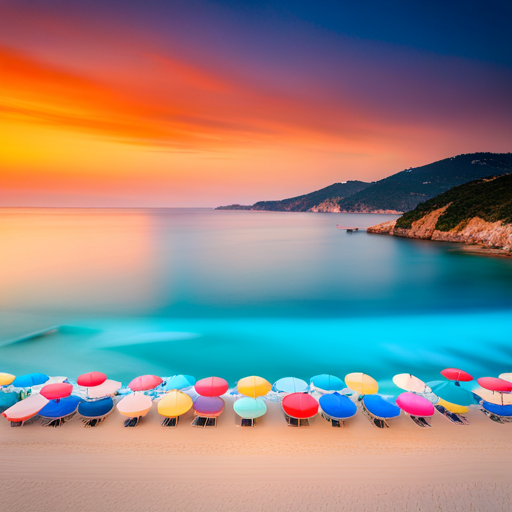 Moving on from San Vincenzo, let's head to another stunning beach town near Florence, Punta Ala.
This coastal town is perfect for those seeking a luxurious vacation with a variety of watersports activities to choose from.
First on the list are the luxury resorts that Punta Ala offers. From the five-star Baglioni Resort Alleluja to the chic Hotel Cala del Porto, you'll surely find a place to unwind and relax.
Wake up to a breathtaking view of the sea, indulge in a spa treatment, or simply lounge by the pool with a refreshing cocktail in hand. Punta Ala provides a perfect setting for a serene and indulgent getaway.
And if you're looking for more adventure, head to the beach and try out some of the watersports activities such as sailing, windsurfing, or paddleboarding. Get your adrenaline pumping and experience the thrill of the sea.
Punta Ala is a perfect destination for those who want to enjoy a luxurious vacation and a thrilling watersports adventure.
Cinque Terre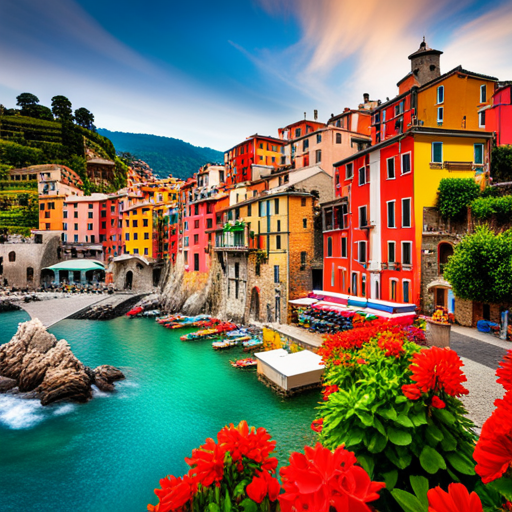 You're in for a treat as you explore the colorful and vibrant villages of Cinque Terre along the Ligurian coast. This UNESCO World Heritage Site boasts five distinctive towns, each with its own character and charm. The pastel-colored houses that cling to the cliffs, the turquoise waters, and the narrow streets that wind through the villages will leave you breathless.
One of the best ways to experience the beauty of Cinque Terre is by hiking the trails that connect the five towns. The trails offer stunning views of the Mediterranean Sea and the rugged coastline, and provide a glimpse into the lifestyle of the locals.
After a day of hiking, be sure to indulge in the local cuisine. It's known for its fresh seafood, pesto sauce, and locally produced wines. The combination of the delicious food and the stunning setting will make your Cinque Terre experience unforgettable.
Frequently Asked Questions
What is the best time of year to visit these beach towns?
If you're planning to visit these beach towns, the best time depends on your preferences. Peak season offers great weather and bustling nightlife, while off season offers cheaper rates and fewer crowds. Expect warm temperatures and clear waters during summer, but be prepared for occasional rain and choppy waves.
Are there any specific cultural or historical sites to see in these towns?
While enjoying the beaches near Florence, don't miss exploring local art, traditions & festivals. One interesting statistic: Viareggio hosts the world-famous carnival. Also, visit historical landmarks & museums like Forte dei Marmi's 18th-century fort for an enriching experience.
What are some popular local dishes or restaurants in these areas?
If you want to taste authentic Italian cuisine, head to the local restaurants in these beach towns. Try seafood specialties like clam spaghetti or grilled octopus. You'll feel like you've discovered a new level of freedom with every bite.
Are there any water sports or activities available on these beaches?
You're in for a treat with the water sports available at these beaches! Get ready for kayaking adventures and surfing lessons that will have you feeling free and alive. It's the perfect way to enjoy the beauty of the ocean.
What are the transportation options for getting to and around these beach towns?
For easy access to the beach towns, public transport is the best option. Trains and buses run frequently from Florence to nearby stations. Car rentals are also available for those who prefer to explore at their own pace.
Conclusion
So, there you have it! Seven breathtaking beach towns near Florence that will guarantee you a perfect vacation.
From the lively and colorful Viareggio, to the exclusive and luxurious Forte dei Marmi, there's something for everyone. And let's not forget about the hidden gems like Castiglioncello and San Vincenzo, where you can enjoy the peace and quiet of a charming small town.
Or, if you're feeling adventurous, head over to Elba Island or Punta Ala for some water sports and outdoor activities. And of course, who can resist the stunning coastal villages of Cinque Terre?
These seaside towns offer not only stunning views and crystal-clear waters, but also rich history, culture, and delicious food. So go ahead, pack your bags, and get ready for an unforgettable Italian vacation. Trust us, it'll be bellissimo!