Picture yourself standing on the edge of a vast expanse of white sand, the crystal-clear waters of the Pacific Ocean stretching out before you in shades of turquoise and blue. The warm sun beats down on your skin, and you can feel the salty breeze blowing gently through your hair. You take a deep breath and feel a sense of calm wash over you. This is what it means to be free – free to explore, free to unwind, and free to discover your perfect island paradise.
Hawaii is a place where freedom is everywhere. Whether you're hiking through lush rainforests, snorkeling in coral reefs, or simply lounging on one of the many stunning beaches, this tropical paradise offers endless opportunities to connect with nature, yourself, and the people around you. And when it comes to beaches, Hawaii has some of the best in the world.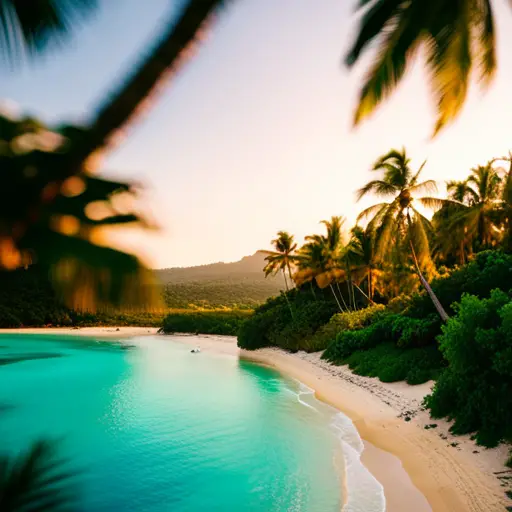 From the bustling shores of Waikiki to the secluded coves of Papakolea, there is truly something for everyone. So pack your bags, grab your sunscreen, and join us as we explore Hawaii's 9 top beaches – each one a unique and unforgettable experience in its own right.
Table of Contents
Waikiki Beach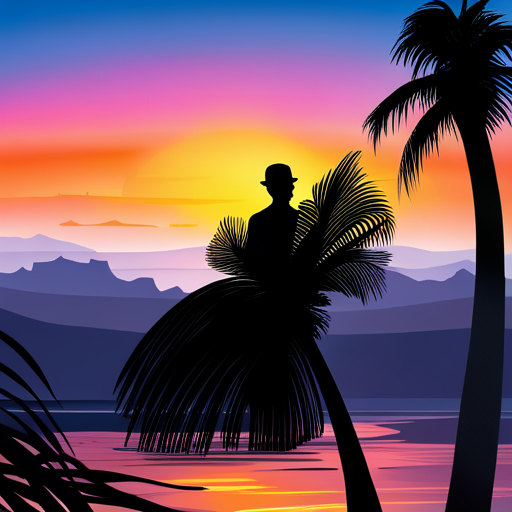 If you're looking for a spot to soak up some sun and catch some waves, Waikiki Beach is where it's at!
This iconic beach is located in the heart of Honolulu and offers a perfect blend of stunning views, warm waters, and world-class amenities.
Whether you're a beginner or an experienced surfer, Waikiki Beach has something for everyone. If you're new to surfing, Waikiki Beach is the perfect place to take your first lesson. With gentle waves and experienced instructors, you'll be hanging ten in no time!
And when you're ready to relax, Waikiki Beach has plenty of beachfront resorts to choose from. From luxurious high rises to cozy bungalows, you'll find the perfect accommodation to suit your needs.
So pack your swimsuit, grab your sunscreen, and head to Waikiki Beach for the ultimate island getaway!
Lanikai Beach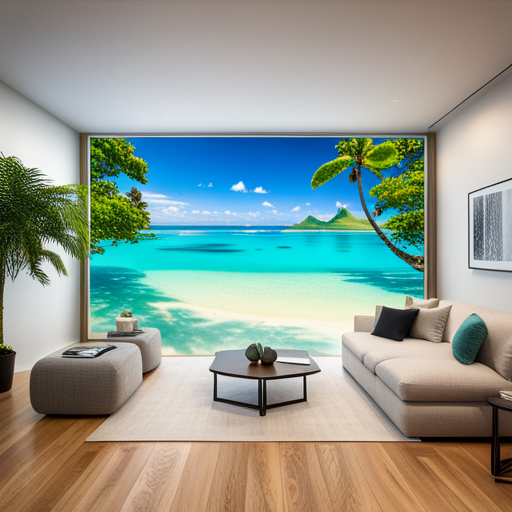 You absolutely must check out Lanikai Beach – it's like stepping into a dream world with the softest, whitest sand you've ever felt and the clearest, bluest water you've ever seen.
The beach is located on the eastern side of Oahu and is known for its tranquil atmosphere and picturesque views.
You'll feel like you're in a postcard as you take in the stunning scenery.
One of the best ways to experience Lanikai Beach is through kayaking adventures. Rent a kayak and paddle your way to the nearby Mokulua Islands, where you can snorkel and explore hidden coves.
The calm waters and stunning surroundings make for a truly unforgettable experience.
For those looking to relax and unwind, join a sunrise yoga session on the beach. The peaceful atmosphere and breathtaking views will leave you feeling recharged and rejuvenated.
Don't miss out on the chance to discover your own island paradise at Lanikai Beach.
Hapuna Beach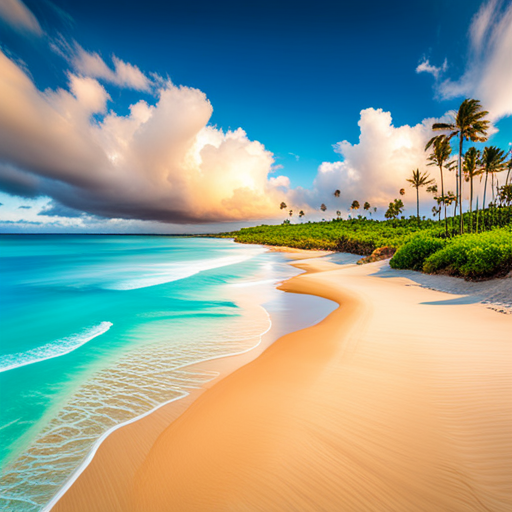 Are you ready to dive into the crystal-clear waters of Hapuna Beach? This stunning beach is perfect for swimming, with calm waves and beautiful views of the surrounding mountains.
And if you're feeling adventurous, grab your snorkeling gear and get ready to swim with the sea turtles!
But the fun doesn't stop there – you can also take a hike on the Ala Kahakai Trail, which offers breathtaking views of the coastline and opportunities to explore the island's natural beauty.
Swim in Clear Waters
Dive into crystal-clear waters for an unforgettable swimming experience. Hawaii's beaches are known for their crystal-clear waters, which offer an unbeatable swimming experience. Here are four reasons why you should take a dip in Hawaii's clear waters:
1. The water is so clear that you can see the colorful marine life swimming below you.
2. The water is warm and inviting, making it the perfect temperature for swimming.
3. Swimming regularly has many health benefits, such as improving cardiovascular health and reducing stress levels.
4. Choosing the right swimwear for clear waters won't only enhance your swimming experience but also protect you from the sun's harmful rays.
When you're swimming in Hawaii's crystal-clear waters, it's easy to forget about the world around you and just focus on the freedom you feel. It's an experience that's hard to describe, but you'll know it when you feel it.
So, dive in and let the clear waters wash away your worries.
Snorkel with Sea Turtles
Ready to get up close and personal with some of the coolest creatures in the sea? Then strap on your snorkel gear and come swim with some sea turtles, dude!
Hawaii is home to some of the most beautiful beaches in the world, and it's also a great place to see turtles up close. These gentle giants are fascinating to watch as they glide through the water, munching on seaweed and basking in the sun.
But before you jump in, there are a few snorkeling tips you should keep in mind. First, always respect the turtles and their habitat. Don't touch or chase them, and avoid getting too close. Also, be mindful of your own safety by wearing a life jacket and staying aware of your surroundings.
With these precautions in mind, you'll be able to enjoy the experience of swimming with turtles in Hawaii's crystal-clear waters.
Hike the Ala Kahakai Trail
If you're up for a challenge, hike the rugged and scenic Ala Kahakai Trail. This trail isn't for the faint of heart, but it's definitely worth the effort.
As you make your way along the trail, you'll be rewarded with breathtaking views of the coastline and lush vegetation. Here are four things to look forward to when hiking this trail:
1. Explore local flora: The Ala Kahakai Trail is home to a variety of plant life, including hibiscus, plumeria, and bougainvillea. Take the time to stop and smell the flowers, and marvel at the vibrant colors that surround you.
2. Wildlife spotting on the trail: Keep your eyes peeled for wildlife as you make your way along the trail. You might spot a Hawaiian monk seal basking in the sun on the beach, or a sea turtle swimming in the crystal-clear waters.
3. Ancient Hawaiian history: The trail passes by many important cultural sites, including ancient Hawaiian villages and petroglyphs. Take the time to learn about the rich history of the area and appreciate the ancient culture that once thrived here.
4. A sense of accomplishment: The Ala Kahakai Trail isn't an easy hike, but completing it will give you a great sense of accomplishment. You'll be able to look back at the stunning views and challenging terrain and know that you conquered it all.
Kaanapali Beach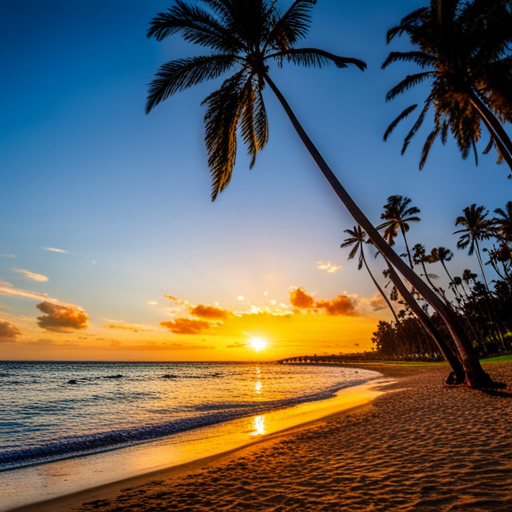 As you stroll along the soft, golden sand of Kaanapali Beach, you'll feel the warm sun on your skin and hear the soothing sound of the waves crashing against the shore.
This beach is one of the best in Hawaii and is perfect for those seeking a luxurious escape. The best resorts near Kaanapali Beach offer breathtaking views of the ocean and top-notch amenities that will make your stay unforgettable.
Apart from lounging on the beach, there are plenty of activities to do at Kaanapali Beach. Take a dip in the crystal-clear water, go snorkeling to explore the colorful marine life, or try your hand at stand-up paddleboarding.
If you're feeling adventurous, sign up for a parasailing or jet-skiing tour and get a bird's-eye view of the beautiful coastline. With its stunning scenery and endless activities, Kaanapali Beach is the perfect destination for anyone who wants to experience the best of Hawaii.
Poipu Beach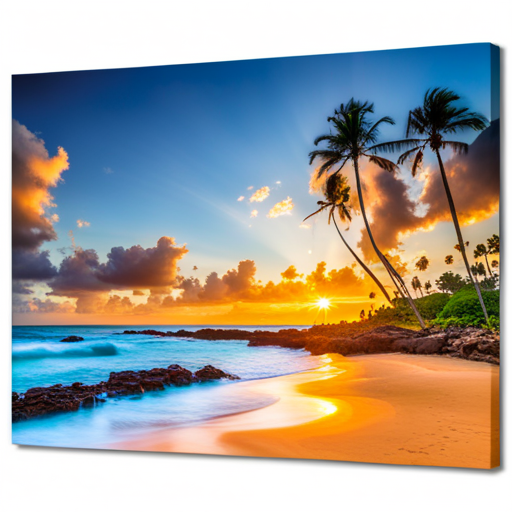 Now that you've experienced the sun, sand, and surf at Kaanapali Beach, it's time to explore another paradise waiting for you in Hawaii.
Welcome to Poipu Beach, a stunning stretch of sand located on the southern coast of Kauai.
This beach is perfect for those who are looking for a more laid-back atmosphere and excellent swimming conditions.
Poipu Beach is known for its calm waters and consistent sunny weather, making it the perfect spot for swimming and snorkeling.
However, if you're feeling adventurous, there are plenty of surfing opportunities here that will get your heart racing.
The waves are not as big as some of the other beaches in Hawaii, making it ideal for beginners or those who want to improve their skills.
And if you're not a fan of water sports, there are still plenty of things to do nearby.
You can take a stroll around the beach, go shopping at nearby stores, or visit the famous Spouting Horn blowhole for a natural water show.
Poipu Beach has something for everyone, and it's waiting for you to explore it.
Hanalei Bay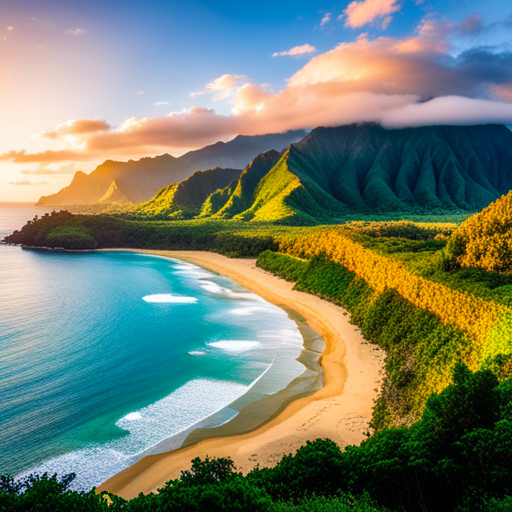 Are you ready to discover a scenic beach town that'll take your breath away?
Hanalei Bay is the perfect destination for you.
Not only can you relax on the beach, but you can also hike the Napali Coast Trail or take a helicopter tour for a unique view of the area.
So grab your sunscreen and get ready for an adventure!
Discover a Scenic Beach Town
You'll fall in love with the charm and beauty of these scenic beach towns. As you explore the stunning coastline of Hawaii, make sure to take a stop at the picturesque town of Lahaina.
This historic town is home to some of the island's most beautiful beaches, including Kaanapali Beach and the secluded Baby Beach. There's so much to discover in Lahaina, from the hidden coves that are perfect for snorkeling to the delicious local cuisine that will tantalize your taste buds.
Take a stroll down Front Street and immerse yourself in the vibrant culture of this beach town, where you'll find art galleries, boutique shops, and lively street performers. Whether you're looking for a peaceful retreat or a place to party, Lahaina has something for everyone.
So, grab your sunscreen and get ready to soak up the sun in this idyllic beach town.
Hike the Napali Coast Trail
Experience the breathtaking beauty of the Napali Coast Trail as you trek through majestic terrain and witness some of the most awe-inspiring views you'll ever see.
The 11-mile trail that stretches along Kauai's North Shore is one of the most popular hikes on the island.
It takes you through lush valleys, rugged cliffs, and sparkling streams that lead to secluded beaches.
As you hike through the trail, you'll be rewarded with panoramic views of the Pacific Ocean that will leave you in awe.
If you're looking for a truly immersive experience, camping along the trail is an excellent option.
There are several campgrounds available, and the campsites offer stunning views of the coastline.
Camping allows you to enjoy the tranquility of the trail and spend more time exploring breathtaking views.
The Napali Coast Trail is a must-see destination for anyone who loves hiking and wants to experience the natural beauty of Hawaii.
Take a Helicopter Tour
Take in the breathtaking beauty of Kauai's North Shore from a whole new perspective with a helicopter tour – you'll be amazed at the stunning views and unique vantage points that you can only see from high above.
Here are four reasons why taking a helicopter tour is a must-do activity for your Hawaiian vacation:
1. See hidden waterfalls: A helicopter tour is the best way to explore the hidden waterfalls of Kauai. You'll get an up-close and personal view of some of the island's most stunning waterfalls, including the famous Manawaiopuna Falls (also known as 'Jurassic Falls'), which was featured in the movie Jurassic Park.
2. Get a bird's-eye view of the Napali Coast: The Napali Coast is one of Hawaii's most iconic natural wonders, and there's no better way to see it than from the air. A helicopter tour will give you a bird's-eye view of the rugged coastline, with its towering sea cliffs, lush green valleys, and hidden beaches.
3. Explore the island's interior: Kauai's interior is a lush jungle of tropical vegetation, crisscrossed by rivers and dotted with waterfalls. A helicopter tour will take you deep into the island's interior, where you can see the stunning scenery up close and personal.
4. Experience the thrill of flying: There's nothing quite like the thrill of flying in a helicopter – the wind in your hair, the stunning views outside the window, and the feeling of freedom as you soar over the island. It's an experience you'll never forget.
So why not take a helicopter tour and experience all that Kauai has to offer from the air?
Papakolea Beach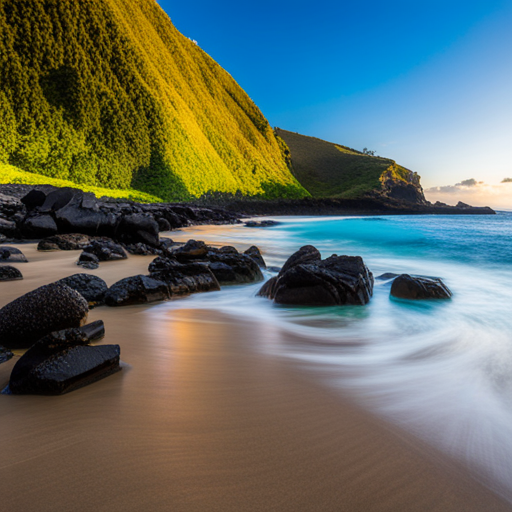 You're in for a real treat at Papakolea Beach. You'll see a one-of-a-kind green sand beach that's sure to leave you in awe. To get to the beach, you'll need to take a hike, which only adds to the adventure.
Along the way, you'll learn about the unique geology of Hawaii. This makes it a truly educational experience.
See a Unique Green Sand Beach
Check out the one-of-a-kind green sand beach, adding a touch of emerald to the coastal landscape. This beach, also known as Mahana Beach, is located on the southernmost tip of the Big Island of Hawaii. The green sand gets its color from the mineral olivine, which is found in the surrounding volcanic rocks that have eroded over time.
The green sand beach is a natural wonder that you won't find anywhere else in the world, so make sure to add it to your bucket list when visiting Hawaii. Exploring the unique green sand beach and its formation is an adventure in itself. The beach is only accessible by foot or a four-wheel drive vehicle, and the hike to the beach is a moderate trek that takes about an hour.
As you approach the beach, you'll see the towering cliffs that surround it, making the green sand beach feel like a hidden oasis. Additionally, the green sand beach holds cultural significance in Hawaiian history, as it is believed to be the birthplace of the Hawaiian goddess, Pele. Visiting this beach not only offers a unique experience but also a glimpse into Hawaii's rich cultural history.
Hike to the Beach
Hiking to the beach is a rewarding adventure, as you navigate through the rugged path and catch glimpses of the emerald green sand peeking through the towering cliffs. The hike to the beach is a great way to immerse yourself in the natural beauty of Hawaii.
Here are some tips to make the most of your hike:
1. Wear comfortable shoes with good traction, as the path can be slippery and uneven.
2. Bring plenty of water and snacks to fuel your journey.
3. Take your time and enjoy the scenery along the way.
4. Consider beachfront camping or oceanfront yoga to enhance your beach experience.
As you make your way towards the beach, you'll feel a sense of excitement and anticipation build within you. The sounds of the waves crashing against the shore and the salty ocean air will invigorate your senses.
When you finally arrive, you'll be rewarded with a beautiful and secluded beach that's perfect for swimming, sunbathing, and exploring. So take a deep breath, put on your hiking shoes, and get ready to embark on a memorable adventure that'll leave you feeling refreshed and rejuvenated.
Learn About the Geology of Hawaii
Get ready to delve into the fascinating geology of Hawaii and discover the secrets behind the breathtaking landscapes that make this state truly unique.
Hawaii is one of the most geologically active places on earth, and its volcanic formation continues to shape the islands to this day. It's all thanks to the movement of the Pacific Plate over the Hawaiian hotspot, a point of intense volcanic activity that has formed the islands over millions of years.
The result is a landscape that is both awe-inspiring and constantly changing. From the towering peaks of Mauna Kea and Mauna Loa to the stunning beaches of Waikiki and Kaanapali, Hawaii's beauty is truly one of a kind.
So if you're looking to explore the secrets of Hawaii's geology, be sure to take a tour of the state's many volcanic formations, and learn about the incredible forces that continue to shape this island paradise.
Frequently Asked Questions
Are there any restrictions or rules for visitors at these beaches?
When you visit any of Hawaii's stunning beaches, it's important to keep in mind beach etiquette and environmental conservation. To ensure everyone can enjoy these natural wonders, it's essential to follow a few simple rules.
First, be mindful of the wildlife and marine life in the area. Avoid feeding them or leaving anything behind that could harm them.
Second, always pack out your trash and dispose of it properly.
Third, respect the locals and the culture by following any posted signs or guidelines. Remember, these beaches are not just beautiful, but they're also fragile ecosystems that need to be protected.
By being mindful and respectful, you can help preserve these beaches for generations to come.
Can we bring our own food and drinks to the beaches?
When it comes to enjoying a picnic on the beach, there are a few things to keep in mind.
First and foremost, it's important to follow proper picnic etiquette by not leaving any trash behind.
Many beaches have implemented beach clean up initiatives to help keep them pristine, so be sure to do your part by disposing of your garbage properly.
As for bringing your own food and drinks, most beaches allow it, but it's always a good idea to check beforehand.
Just make sure to bring along a cooler or insulated bag to keep everything fresh and cold.
So pack up your favorite snacks and beverages, grab a blanket, and head to the beach for a relaxing and enjoyable picnic experience.
Are there any nearby accommodations or hotels for each beach?
Looking for a place to stay near your favorite beach? Look no further! There are plenty of accommodation options and nearby resorts to choose from.
Whether you prefer a cozy beachfront cottage or a luxurious resort with all the amenities, you're sure to find the perfect place for your stay. From budget-friendly options to high-end resorts, there's something for everyone.
So pack your bags and get ready to enjoy the ultimate beach vacation!
What is the best time of day to visit these beaches?
You're probably thinking that there's no wrong time to visit Hawaii's beaches, right? Wrong!
Sunrise and sunset are the best times to enjoy the beauty of these paradise islands. The colors of the sky and the sea merge together in a breathtaking display that will leave you in awe. Plus, you'll avoid the crowds of tourists that gather during the day.
However, no matter what time of day you visit, safety should always be your top priority. Follow these tips: never turn your back on the ocean, don't swim alone, and be aware of the weather conditions.
When it comes to enjoying Hawaii's beaches, it's all about finding the perfect balance between adventure and relaxation.
Are there any water sports or activities available at these beaches?
Looking for some fun in the sun? You'll be pleased to know that Hawaii's beaches offer an array of water sports and activities for all ages.
From surfing to paddleboarding, snorkeling to scuba diving, there's something for everyone. The top water sports at these beaches include surfing, kayaking, and stand-up paddleboarding. Rentals are available for all of these activities, so you don't have to worry about bringing your own gear.
When participating in these activities, it's important to keep beach safety in mind. Fortunately, all of these beaches have a lifeguard presence, so you can enjoy your water adventures with peace of mind.
So, grab your sunscreen, put on your swimsuit, and get ready for some fun in the sun!
Conclusion
Congratulations! You've just discovered Hawaii's top 9 beaches, each one a paradise waiting to be explored.
From the iconic Waikiki Beach to the serene Papakolea Beach, each destination offers a unique experience that will leave you in awe.
As you walk along the shoreline, the sun's warm rays gently kiss your skin while the crystalline waters beckon you to take a dip.
You bask in the beauty of the turquoise sea, the soft sand beneath your toes, and the gentle breeze that embraces you like a lover's embrace.
It's as if time stands still, allowing you to savour every moment, making memories that will last a lifetime.
Whether you're a seasoned traveler or a first-time visitor, Hawaii's beaches are a must-see destination.
Each one has its own charm and allure, inviting you to explore its hidden treasures.
So, pack your bags and prepare for an adventure that will take your breath away.
With Hawaii's 9 top beaches, your perfect island paradise awaits!