California's beaches are a dream come true for any traveler. With their breathtaking views, serene atmosphere, and unique charm, it's hard not to fall in love with the Golden State's coastal towns. I find myself wondering, which are the top beach towns in California that one can explore on foot and instantly fall in love with?
So, what are these seven enchanting California beach towns that you can explore on foot and fall head over heels in love with? They are: Santa Barbara, Laguna Beach, Carmel-by-the-Sea, Malibu, Pacific Grove, Newport Beach, and Pismo Beach.
As I take a closer look at these beach towns, I'll explore their distinct characteristics and captivating allure. We'll walk through the beautiful streets of Santa Barbara, soak up the sun in Laguna Beach, lose ourselves in the whimsical charm of Carmel-by-the-Sea, and experience the glitz and glamour of Malibu. We'll also immerse ourselves in the natural beauty of Pacific Grove, feel the vibrancy of Newport Beach, and enjoy the laid-back vibe of Pismo Beach.
So if you're ready for a Californian adventure full of sunshine, beach strolls, and unforgettable moments, stay tuned! My journey through these seven California beach towns promises to be exciting, enlightening, and most of all, an experience you'll want to embark on yourself.
Let's get started!
Key Takeaways
– Malibu offers luxurious homes, celebrity sightings, world-class surfing opportunities, and scenic hiking trails.
– Pacific Grove is known for its quaint coastal charm and the Monarch Butterfly Sanctuary.
– Newport Beach is vibrant and offers a range of coastal attractions and activities.
– Pismo Beach is a great destination for culinary delights, scenic walking routes, coastal activities, and beachside accommodations.
Santa Barbara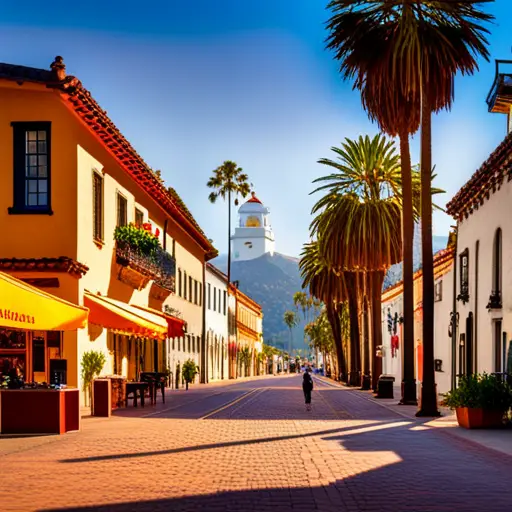 Santa Barbara's stunning beaches and charming downtown make it a must-visit destination. Whether you're craving a relaxing beachfront getaway or a taste of California's renowned wine country, Santa Barbara has it all.
The city boasts a wide range of beachfront accommodations, from luxurious resorts to cozy bed and breakfasts. Imagine waking up to the sound of waves crashing and stepping right onto the soft sand, just steps away from your room. It's pure bliss.
But Santa Barbara offers more than just beautiful beaches. It's also a paradise for wine enthusiasts. With its Mediterranean climate and fertile soil, the region produces some of the finest wines in the world. Take a stroll through the picturesque vineyards, indulge in wine tasting sessions, and learn about the art of winemaking. Whether you prefer red, white, or rosé, Santa Barbara has the perfect wine to satisfy your palate.
After a day of sun-soaked relaxation or wine exploration, make sure to explore the charming downtown area. Packed with boutique shops, art galleries, and delicious restaurants, it's a place where freedom and creativity thrive. Take a leisurely walk down State Street, grab a gelato from a local shop, and immerse yourself in the vibrant atmosphere.
Santa Barbara truly offers the best of both worlds – a beachfront paradise and a wine lover's haven. It's a place where you can unwind, indulge, and embrace the freedom of California living. So pack your bags and get ready to fall in love with Santa Barbara.
Laguna Beach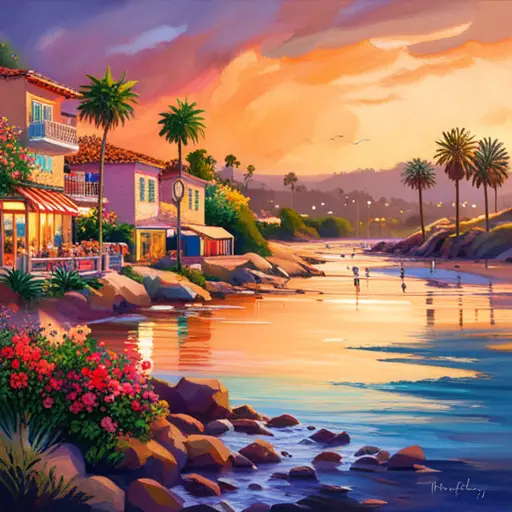 Laguna Beach's stunning coastline and vibrant art scene make it a must-visit destination. Whether you're a nature lover or an art enthusiast, this beach town has something for everyone.
Lace up your hiking boots and explore the breathtaking Laguna Beach hiking trails that wind through the lush canyons and offer panoramic views of the Pacific Ocean. From the Top of the World trail to the Aliso and Wood Canyons Wilderness Park, you'll find yourself immersed in nature's beauty at every turn.
But Laguna Beach isn't just about hiking trails; it's also known for its thriving art scene. Stroll along the streets and you'll discover an array of art galleries showcasing works by local artists. From paintings and sculptures to photography and mixed media, there's no shortage of creativity here. And if you visit during the summer, don't miss the famous Sawdust Art Festival, where you can browse and purchase unique pieces directly from the artists themselves.
After a day of hiking and exploring the art scene, you'll want to relax and unwind on one of Laguna Beach's pristine beaches. From Main Beach, with its iconic lifeguard tower, to Thousand Steps Beach, named after the steep staircase that leads to its secluded cove, there's a beach for every mood and preference. So pack your sunscreen, grab your camera, and get ready to experience the freedom and beauty that Laguna Beach has to offer.
Carmel-by-the-Sea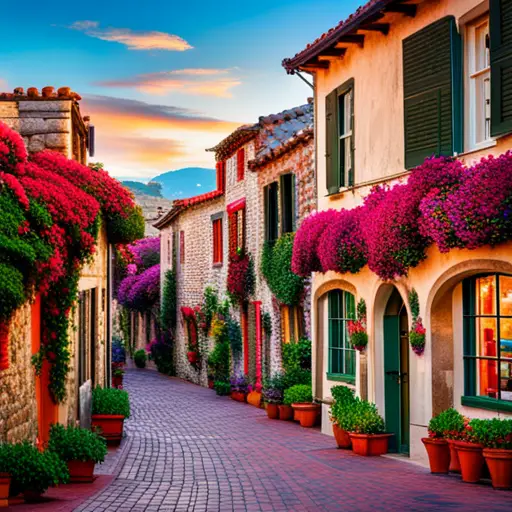 As you stroll through the charming streets of Carmel-by-the-Sea, you'll be captivated by the quaint cottages and enchanting gardens that line the sidewalks. This picturesque coastal town in California is a true haven for art lovers and dreamers alike.
With over 100 art galleries scattered throughout the village, you'll find yourself immersed in a world of creativity and inspiration.
The fairy tale cottages that dot the landscape of Carmel-by-the-Sea only add to its whimsical charm. These storybook-like houses, with their intricate details and colorful exteriors, transport you to a different time and place. Each cottage has its own unique character and story to tell, making every walk through the town feel like a journey into a magical realm.
In addition to its artistic allure, Carmel-by-the-Sea offers a sense of freedom and tranquility. The town has no street addresses, parking meters, or street lights, allowing you to truly disconnect from the outside world and embrace the simple pleasures of life. As you explore the cobblestone streets and hidden alleyways, you'll discover charming shops, cozy cafes, and inviting courtyards where you can unwind and soak in the relaxed atmosphere.
Carmel-by-the-Sea is a place where imagination thrives and dreams come to life. Whether you're an art enthusiast, a nature lover, or simply seeking a peaceful escape, this enchanting town is sure to capture your heart and leave you longing for more.
Malibu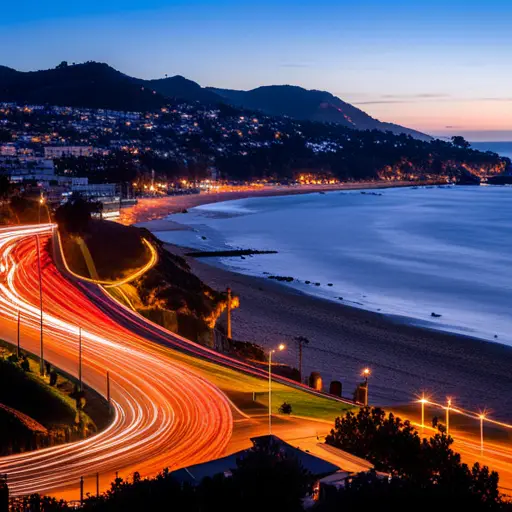 When you visit Malibu, you'll be mesmerized by the breathtaking coastline and the luxurious beachfront properties that stretch as far as the eye can see. Malibu is a beach town that exudes luxury and freedom, attracting visitors from all over the world. Whether you're looking to catch a glimpse of your favorite celebrity, ride the waves of world-class surf spots, or explore the scenic hiking trails, Malibu has something for everyone.
In Malibu, you'll find an array of luxurious beachfront homes that are the epitome of coastal living. These properties offer stunning views of the Pacific Ocean and provide the perfect backdrop for a life of relaxation and indulgence. Imagine waking up to the sound of crashing waves and stepping out onto your private balcony to watch the sun rise over the water. It's a dream come true for those who desire a life of luxury and tranquility.
In addition to its luxurious homes, Malibu is also known for its celebrity sightings. With its close proximity to Hollywood, it's not uncommon to spot a famous face while strolling along the beach or dining at one of the town's upscale restaurants. Whether you're a fan of A-list actors, musicians, or athletes, you never know who you might bump into in Malibu.
For adventure seekers, Malibu offers world-class surfing opportunities. The town is home to some of the best surf spots in California, attracting surfers from around the globe. Whether you're a seasoned pro or a beginner looking to catch your first wave, Malibu's beaches provide the perfect playground for riding the waves and experiencing the thrill of the ocean.
If hiking is more your style, Malibu has a variety of scenic trails to explore. From the rugged beauty of the Santa Monica Mountains to the picturesque views of Point Dume, there are trails for every level of hiker. Lace up your boots and set out on an adventure through the untouched wilderness, breathing in the fresh ocean air and taking in the stunning vistas along the way.
Pacific Grove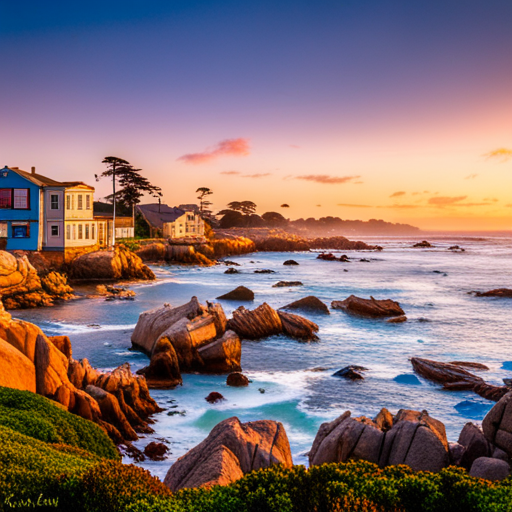 Welcome to Pacific Grove, where you can experience the perfect blend of quaint coastal charm and natural beauty. This charming town, located on the picturesque Monterey Peninsula, offers a unique and authentic coastal experience that will leave you enchanted.
One of the highlights of Pacific Grove is the Monarch Butterfly Sanctuary, where you can witness the magical sight of thousands of monarch butterflies fluttering around the eucalyptus trees during their annual migration.
Quaint Coastal Charm
From the charming architecture to the cozy cafes, these beach towns exude a quaint coastal charm that is impossible to resist. Whether you're strolling along the sandy shores or exploring the hidden alleys, you'll find yourself falling in love with the laid-back vibes and picturesque beauty of these coastal gems.
Here are four reasons why these towns will capture your heart:
1. Beachfront Cottages: Imagine waking up to the sound of crashing waves and stepping out onto your own private patio, just steps away from the beach. These towns offer charming beachfront cottages that provide the perfect escape from the hustle and bustle of everyday life.
2. Local Art Scene: These beach towns are not just about sun and sand, they also boast a vibrant local art scene. Discover galleries showcasing the works of talented local artists, and immerse yourself in the creativity that flows through these communities.
3. Quaint Streets: Wander through the narrow, winding streets lined with colorful beach cottages and blooming flowers. Each turn reveals a new hidden gem, whether it's a boutique shop, a charming cafe, or a local art studio.
4. Coastal Cuisine: Indulge in the fresh flavors of the sea as you savor delicious seafood dishes at waterfront restaurants. From succulent lobster rolls to mouthwatering clam chowder, these beach towns offer a culinary experience that will leave you craving for more.
Monarch Butterfly Sanctuary
There's no better place to witness the breathtaking beauty of monarch butterflies than in their sanctuary. As you step into the sanctuary, you are immediately surrounded by a kaleidoscope of vibrant colors. The air is filled with the gentle fluttering of delicate wings, creating a sense of enchantment. The sanctuary is a haven for these magnificent creatures during their annual migration. It is here that they find safety and nourishment, allowing them to continue their journey. The conservation efforts in place ensure that this sanctuary remains a sanctuary for generations to come. The table below provides a snapshot of the conservation efforts that are being undertaken to protect these delicate creatures and their habitat. So come, embrace the freedom of nature and witness the magic of the monarch butterflies in their sanctuary.
| Conservation Effort | Impact |
| --- | --- |
| Protection of habitat | Preserves breeding grounds |
| Planting milkweed | Provides food for larvae |
| Awareness campaigns | Educates the public |
| Monitoring population | Tracks butterfly numbers |
Newport Beach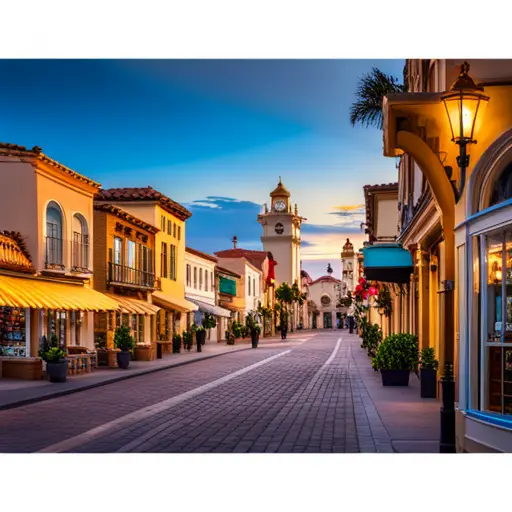 When it comes to coastal attractions and activities, Newport Beach has it all.
From its pristine beaches perfect for sunbathing and swimming, to its bustling marinas where you can rent a boat and explore the picturesque coastline, there is no shortage of things to do by the water.
As for dining options and cuisine, you'll be spoiled for choice in Newport Beach. Whether you're in the mood for fresh seafood at a waterfront restaurant or a trendy cafe serving up artisanal dishes, there is something to satisfy every palate.
And if you're a fan of scenic walking routes, Newport Beach won't disappoint. With its charming boardwalks and scenic coastal trails, you can take a leisurely stroll while enjoying breathtaking views of the ocean.
Coastal Attractions and Activities
You can soak up the sun and enjoy various water sports along the beautiful coastlines of these beach towns. When you're not relaxing on the sandy shores, there are plenty of coastal attractions and activities to keep you entertained. Here are four things you can do to make the most of your time in these beach towns:
1. Explore coastal hiking trails: Lace up your hiking boots and embark on an adventure along the scenic trails that wind through the coastal landscapes. Immerse yourself in the beauty of nature as you trek through lush forests and catch breathtaking views of the ocean.
2. Take beachfront yoga classes: Find your inner zen as you practice yoga on the sandy beaches. Feel the gentle ocean breeze and listen to the soothing sound of waves crashing against the shore. It's the perfect way to relax your mind, body, and soul.
3. Go whale watching: Hop on a boat and embark on a thrilling whale watching excursion. Spot majestic whales as they breach the surface of the water, putting on a show you'll never forget. It's an experience that will leave you in awe of the wonders of the ocean.
4. Try your hand at paddleboarding: Stand-up paddleboarding is a fun and exciting way to explore the calm waters along the coast. Test your balance as you glide across the surface, taking in the stunning coastal views. It's a great way to stay active and enjoy the freedom of the open water.
Whether you're seeking adventure or relaxation, these beach towns offer a variety of coastal attractions and activities to suit your desires. So pack your bags, hit the beach, and get ready to create unforgettable memories along the California coast.
Dining Options and Cuisine
If you're hungry for a taste of the local cuisine, don't miss out on the diverse dining options available in these coastal towns. From fresh seafood to mouthwatering desserts, these beach towns have it all.
Indulge in the vibrant flavors of California at the numerous food festivals that take place throughout the year. From the famous Avocado Festival in Carpinteria to the Strawberry Festival in Oxnard, there's always something delicious happening.
Each town also boasts its own unique local specialties that you won't want to miss. Try the clam chowder in Morro Bay, the fish tacos in Santa Barbara, or the lobster rolls in Newport Beach.
These coastal towns offer a culinary adventure that will leave your taste buds craving for more. So, grab your appetite and explore the delicious offerings of these beachside destinations.
Scenic Walking Routes
Now that you've satisfied your taste buds with the delicious cuisine of the beach towns, it's time to explore the scenic walking routes that await you. Get ready to discover the hidden gems and breathtaking coastal views that will leave you in awe.
Here are the top four walking routes that you must experience:
1. Sunset Cliff Trail: Take a leisurely stroll along this picturesque trail that hugs the coastline. Feel the gentle ocean breeze on your face as you marvel at the stunning sunset over the horizon.
2. Lover's Point Park: Embark on a romantic walk with your loved one in this enchanting park. Admire the panoramic views of the ocean and enjoy the tranquility of the surrounding nature.
3. Carmel Beach Scenic Pathway: Lose yourself in the beauty of this charming pathway that runs alongside the pristine Carmel Beach. Take in the breathtaking coastal views and listen to the soothing sound of the waves crashing against the shore.
4. Santa Monica Pier to Venice Beach Boardwalk: Immerse yourself in the vibrant atmosphere as you stroll along this iconic boardwalk. Encounter street performers, artists, and unique shops while enjoying the stunning ocean views.
Get ready to lace up your walking shoes and embark on a journey of exploration and wonder. These scenic walking routes will surely leave an indelible mark on your California adventure.
Pismo Beach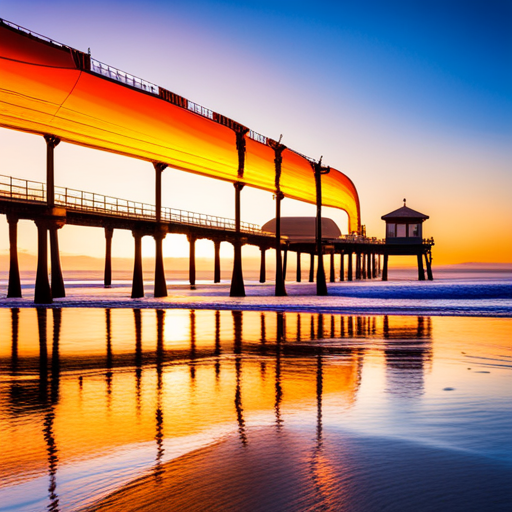 Visiting Pismo Beach is like stepping into a coastal paradise with its stunning ocean views and charming small-town atmosphere. Located on the Central Coast of California, Pismo Beach offers a wide array of coastal activities that will leave you feeling refreshed and free.
Start your day by taking a leisurely stroll along the pristine sandy beaches, feeling the warm sand between your toes and breathing in the salty ocean breeze. If you're feeling adventurous, you can try your hand at surfing or paddleboarding, as Pismo Beach is known for its excellent waves and surf breaks.
After a day of fun in the sun, retreat to one of the many beachfront hotels that dot the coastline. These hotels offer breathtaking views of the ocean and provide the perfect place to relax and unwind. Whether you're looking for a luxury resort or a cozy beachfront cottage, Pismo Beach has accommodations to suit every taste and budget.
In the evening, take a walk along the Pismo Pier, where you can watch the sun set over the sparkling waters. As the sky turns shades of pink and orange, you'll feel a sense of freedom and wonder that can only be found in this coastal paradise.
Frequently Asked Questions
What Are Some Popular Activities or Attractions to Do in Santa Barbara?
You'll love exploring Santa Barbara on foot! There are amazing hiking trails to discover, like the stunning Rattlesnake Canyon Trail. Don't miss the chance to visit the best wineries in town and taste their exquisite wines.
Are There Any Pet-Friendly Beaches in Laguna Beach?
Yes, there are pet-friendly beaches in Laguna Beach. You and your furry friend can enjoy the beautiful coastline together. Plus, there are plenty of pet-friendly hotels and the best dog parks to explore.
Can You Recommend Any Budget-Friendly Accommodation Options in Carmel-By-The-Sea?
Looking for budget-friendly hotels in Carmel by the Sea? You're in luck! There are plenty of affordable options that still offer charming accommodations and proximity to the beach. Get ready for a fantastic seaside getaway!
Is It Possible to Go Surfing in Malibu?
Sure, you can totally go surfing in Malibu! It's known for its epic surfing spots. The best times to catch some waves are in the early morning or late afternoon. So grab your board and hit the waves!
Are There Any Guided Tours Available in Pacific Grove to Explore the Natural Beauty of the Area?
Yes, there are guided hiking tours in Pacific Grove that allow you to explore the area's natural beauty. They will take you to the best picnic spots and show you the stunning landscapes.
Conclusion
So there you have it, fellow beach lovers! California is home to some truly breathtaking beach towns that are just waiting to be explored.
From the charming streets of Santa Barbara to the picturesque shores of Malibu, there is something for everyone.
Whether you're strolling along the sandy beaches of Laguna Beach or indulging in the quaint charm of Carmel-by-the-Sea, you're sure to fall in love with these coastal wonders.
So pack your bags, put on your walking shoes, and get ready to embark on an unforgettable adventure along California's stunning coastline.
Happy exploring!