Do you dream of escaping the hustle and bustle of city life? Do you yearn for a romantic getaway that combines the charm of a small town with the relaxation of a beach vacation? Look no further than France's small towns with beaches. These hidden gems offer a surprising mix of old-world charm, stunning natural beauty, and the laid-back atmosphere of a seaside retreat.
From the historic fortress town of Saint-Malo to the glamorous resort town of Biarritz, France's small towns with beaches have something for every traveler. Whether you're looking to soak up the sun on sandy shores, explore quaint cobblestone streets, or indulge in fresh seafood and local wines, these towns offer a unique and unforgettable experience.
So pack your bags, slip on your sandals, and get ready to discover the surprising charm and romance of France's small towns with beaches.
Saint-Malo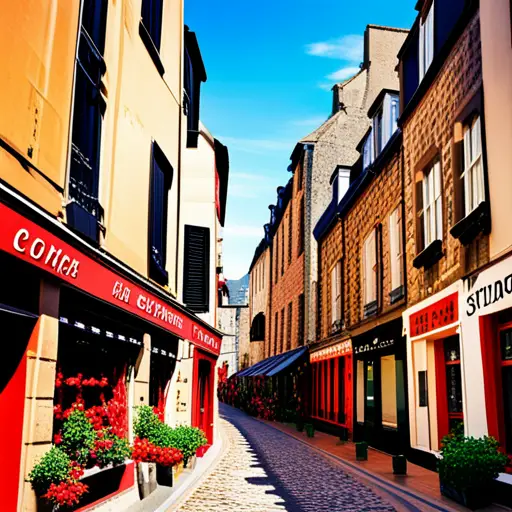 You can't miss the unique atmosphere of Saint-Malo. This small town is nestled along the beautiful coastline of France, and it's known for its stunning coastal beauty. The town is surrounded by the sea, and its beaches are perfect for a romantic getaway or a peaceful retreat.
Aside from its natural beauty, Saint-Malo is also rich in history. It boasts a number of historic landmarks that are worth visiting, such as the Fort National and the Saint-Malo Cathedral. These landmarks are a testament to the town's rich history that dates back to the Middle Ages.
Whether you're a history buff or just looking for a relaxing beach experience, Saint-Malo is definitely a must-visit destination in France.
Biarritz
Biarritz has an undeniable allure that can captivate any traveler. This town is a perfect blend of luxury, relaxation, and
adventure
.
Biarritz is situated on the southwestern coast of France and has a reputation for being one of the most upscale beach resorts in the country. This town is famous for its beaches, and you can enjoy the stunning views of the Atlantic Ocean while lounging on the soft sand.
If you're looking for a luxurious experience, Biarritz has got you covered. This town has some of the best luxury resorts in France with top-notch amenities and services. You can indulge in spa treatments, fine dining, and other recreational activities.
But if luxury isn't your thing, Biarritz has something else to offer – surfing culture. The town is known for its waves, and surfers from all over the world come here to catch the perfect wave. Whether you're a beginner or an experienced surfer, there are plenty of surf schools and rental shops to choose from.
So if you're looking for a perfect mix of luxury and adventure, Biarritz is the place to be.
Cassis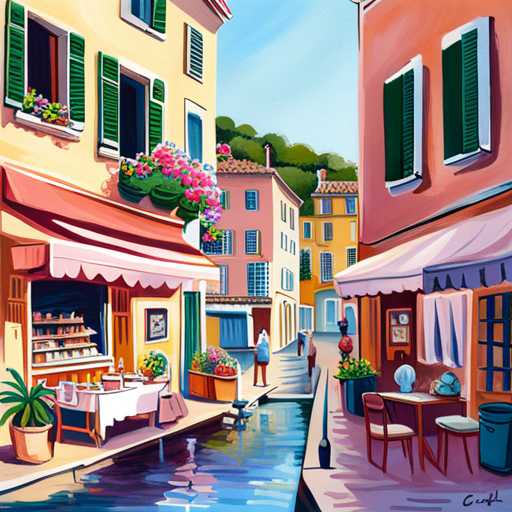 Cassis is a picturesque port town with plenty of personality, offering visitors a pleasant and playful escape. As you wander through its charming streets, you'll be enchanted by the pastel-colored houses and the smell of fresh seafood wafting from the numerous restaurants.
But Cassis isn't just about admiring the view – there's plenty to do here as well. One of the most popular activities is wine tasting, as Cassis is known for its excellent rosé wine. You can visit one of the local vineyards and sample the wine while enjoying the stunning views of the surrounding countryside.
For the more adventurous types, there's also cliff diving – a thrilling experience that involves jumping off the cliffs into the crystal-clear water below. Whether you're a wine connoisseur or an adrenaline junkie, Cassis has something to offer everyone.
Honfleur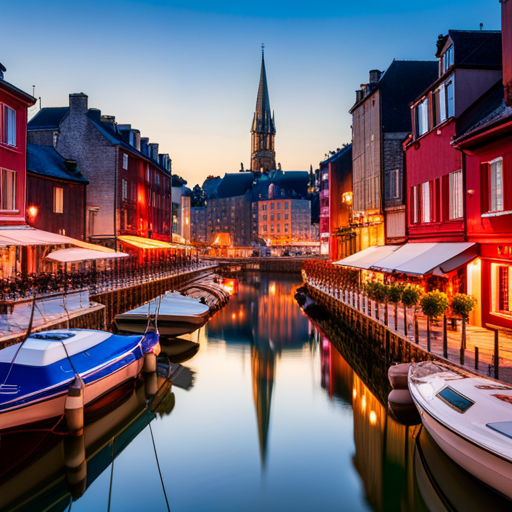 As you explore the charming town of Honfleur, be sure to take a leisurely stroll through its picturesque harbor. You'll be surrounded by colorful buildings and boats bobbing in the water.
Stop by the Impressionist Museum to discover the works of artists who were inspired by the town's beauty.
Don't forget to indulge in the delicious local seafood at one of the many restaurants.
Stroll Through the Picturesque Harbor
Walking through the quaint harbor feels like stepping back in time. The harbor is always bustling with activity, with fishermen bringing in their daily catch and locals selling fresh seafood. The smell of saltwater and the sound of seagulls will transport you to a world of peace and tranquility.
Take a leisurely walk along the waterfront and admire the charming lighthouse while strolling. You'll find yourself lost in the beauty of this small town.
As you walk around, don't forget to check out the local craft shops and cafes. You'll find unique souvenirs and delectable treats that you won't find anywhere else. The harbor is also home to various art galleries and museums, showcasing the town's rich history and culture.
Don't miss the opportunity to capture stunning photos of the harbor's picturesque scenery. With its charm and romance, this small town will leave you wanting to come back for more.
Visit the Impressionist Museum
As you continue your stroll through the charming harbor, you may find yourself yearning for a different kind of artistic inspiration. Luckily, just a short distance away awaits the Impressionist Museum. Here, you can discover masterpieces from some of the most renowned artists of the movement.
Inside the museum, you'll find yourself surrounded by vibrant colors and dreamy landscapes. The works of Monet, Renoir, and Degas are just a few of the stunning pieces on display. Each one transports you to a world of artistic bliss. Take your time to admire each brushstroke and let the beauty of the paintings wash over you.
It's a truly unforgettable experience that will leave you feeling invigorated and inspired.
Enjoy the Local Seafood
Don't miss out on trying some of the delicious seafood that the area has to offer, it'll leave your taste buds dancing! Experience the local cuisine and try new seafood dishes that you won't find anywhere else.
The small towns along the coast offer a unique dining experience, with fresh seafood caught daily and prepared with care by local chefs.
Start your culinary adventure with a plate of steaming hot mussels. These plump bivalves are cooked in a fragrant broth of white wine, garlic, and butter, and served with crusty bread for dipping. The dish may seem simple, but the flavors are complex and absolutely divine.
For a heartier meal, try the fish stew. Made with a variety of local catch, the stew is simmered in a tomato-based broth with potatoes, onions, and herbs. The result is a savory and satisfying dish that will warm you up from the inside out.
End your meal with a slice of tarte tatin, a classic French dessert made with caramelized apples and buttery pastry. The tartness of the apples contrasts beautifully with the sweet caramel, making for a heavenly dessert that's not too heavy.
La Rochelle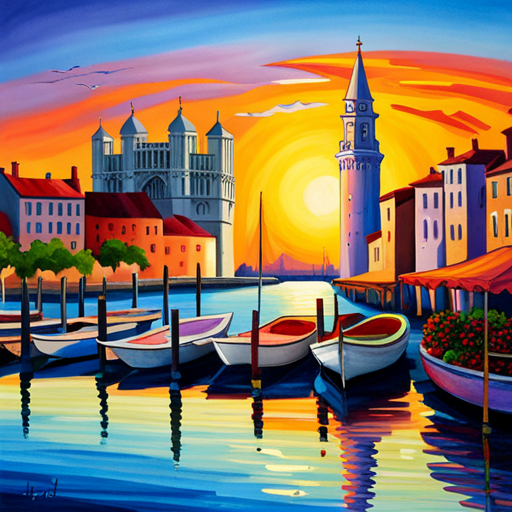 You're in for a treat in La Rochelle – this town has an undeniable allure that will capture your heart. It's a romantic getaway with a
coastal adventure
that's hard to resist. La Rochelle is a charming town located on the Bay of Biscay.
It's famous for its picturesque harbor, medieval architecture, and beautiful beaches. Stroll along the harbor and take in the stunning views of the Atlantic or explore the town's cobbled streets. Take a romantic boat ride around the harbor or visit the Maritime Museum to learn about the town's seafaring past.
La Rochelle is also known for its delicious seafood cuisine, so be sure to indulge in some of the local specialties. This town is a perfect destination for couples who want to escape the hustle and bustle of city life and enjoy a relaxing coastal getaway.
Collioure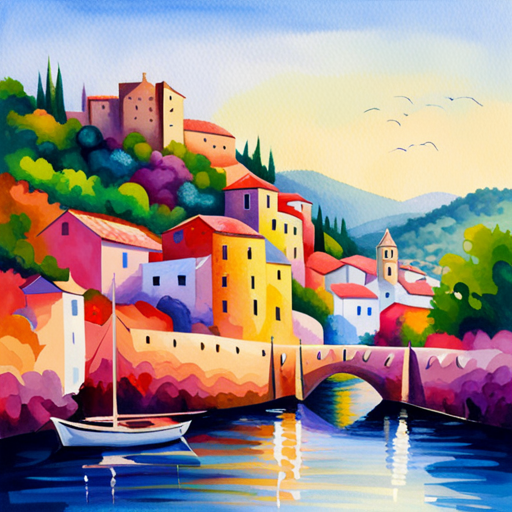 When you visit Collioure, make sure to visit the Château Royal, a stunning castle that offers a glimpse into the town's rich history.
Take some time to explore the art galleries in the area, as Collioure has a vibrant arts scene with many talented local artists.
And of course, don't forget to relax on the beach and soak up the Mediterranean sun.
Collioure has something for everyone, so come explore this charming town and see what it has to offer.
Visit the Château Royal
If you're looking for a historical landmark to visit in this quaint area, don't miss out on the chance to see the Château Royal. Did you know that it was once the residence of French Kings?
Discover the history, architecture and grandeur of this magnificent castle as you stroll through its halls and rooms. The Château Royal is a magnificent sight to behold. Its architecture is a mix of Gothic and Renaissance styles, creating a unique and elegant atmosphere.
Indulge in some royal romance as you soak in the history and splendor of the Château Royal. The castle's courtyard is a beautiful spot to enjoy a romantic picnic or take a leisurely stroll with your partner.
Experience the regal charm of this former royal residence and imagine what life was like for the French monarchs who once lived here. The Château Royal is not just a historical site, it's also a symbol of France's rich culture and heritage.
Don't miss out on the opportunity to visit this incredible landmark and immerse yourself in the beauty and romance of this small town by the sea.
Explore the Art Galleries
Now it's time to check out the art galleries – you'll love browsing through the unique and eclectic collections on display.
These small towns may not seem like hubs for art, but you'll be pleasantly surprised by the artistic inspirations found in the galleries. Each gallery offers a different style, from modern to classical, and you'll find something that speaks to you.
One gallery you shouldn't miss is the Galerie d'Art Moderne, which showcases contemporary art from local craftsmen. The vibrant colors and bold designs will catch your eye, and you'll be impressed by the skill and creativity on display.
Another noteworthy gallery is the Galerie des Beaux-Arts, which features classical art from the region. You'll be transported back in time as you admire the intricate details and skillful brushstrokes of the paintings.
Lastly, the Galerie d'Artisanat offers unique handmade crafts and jewelry from local artisans. You'll appreciate the attention to detail and the quality of the products.
The art galleries in these small towns are a must-visit for any art lover or anyone looking for an inspiring and engaging experience.
Relax on the Beach
Don't miss out on the ultimate way to unwind and let go – kick back and relax on the sandy shores, soaking up the sun and salty ocean air. Frances' small towns offer a unique beach experience that is not to be missed.
Whether you're looking for some peace and quiet or a fun-filled day with family and friends, the beaches here have something for everyone. There are plenty of beachside activities to keep you entertained, from swimming and surfing to beach volleyball and paddleboarding.
But before jumping into the water, make sure to follow some beach safety tips. Always swim near a lifeguard, keep an eye on the weather, and stay hydrated. With a little bit of caution, you can enjoy a day of fun in the sun without any worries!
Île de Ré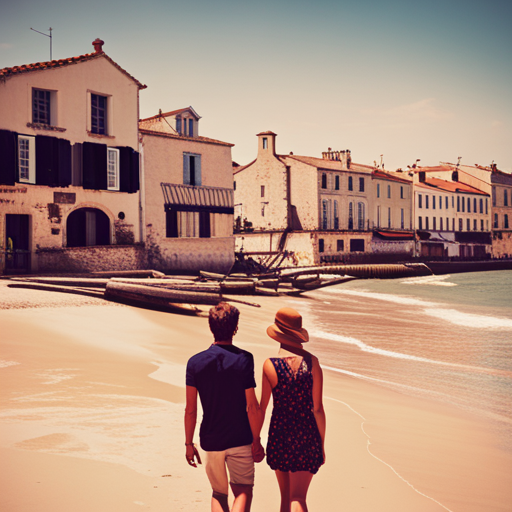 You'll feel like you've been transported to a charming island paradise when you visit Île de Ré. This small French town boasts a stunning coastline that offers visitors a unique beach experience.
If you love exploring on two wheels, rent a bicycle and enjoy a scenic ride along the beachside biking trails. You'll feel the wind in your hair and the sun on your skin as you pedal past picturesque villages and lush greenery.
Île de Ré is also known for its seaside shopping, where you can browse through an array of local boutiques and artisan shops. From handmade pottery to unique jewelry, you're sure to find something special to take home as a souvenir.
Don't forget to indulge in the town's signature dish, moules-frites (mussels and fries), while taking in the breathtaking views of the ocean.
Whether you're looking for a romantic getaway or a peaceful retreat, Île de Ré is sure to leave you feeling rejuvenated and free.
Frequently Asked Questions
What are some popular activities to do in each of these small towns besides going to the beach?
When you're looking for more to do in a beach town than just soaking up the sun, you'll find plenty of options in the small towns of France.
The nightlife scene in these charming coastal communities is worth exploring, with local bars and restaurants offering delicious food and drink options.
If you're looking for outdoor adventure, you won't be disappointed either, with opportunities for hiking, biking, and water sports like kayaking and paddleboarding.
Whether you're looking for a romantic getaway or just a fun-filled vacation, these small towns have something for everyone.
Are there any local festivals or events that take place in these towns during the summer months?
Looking for some exciting summer fun beyond the beach? Look no further than the local nightlife and events in these charming small towns.
Whether you're staying in cozy accommodations or luxurious lodging options, you'll find plenty to do after the sun sets.
From lively music festivals to romantic sunset cruises, there's something for everyone.
Sip on a refreshing cocktail at a beachside bar or dance the night away at a lively nightclub.
Whatever your pleasure, these small towns have it all.
So why wait? Book your stay today and experience the best of local festivals and events while enjoying the charm and romance of these delightful small towns.
What are some of the best restaurants or cafes to visit in these towns to experience local cuisine?
When visiting small towns with a beach experience in France, you'll definitely want to indulge in the local cuisine. As the adage goes, "the way to someone's heart is through their stomach," and this couldn't be more true in these charming towns.
Some of the top-rated dishes to try include bouillabaisse, a traditional fish stew, and socca, a savory chickpea pancake. For a sweet treat, be sure to try a traditional tarte tropézienne.
When it comes to coffee shops, the best ones to visit are often the small, local ones that offer a cozy atmosphere and freshly brewed coffee. Le Café de la Plage and La Crêperie du Port are just a couple of the many options available.
So, if you're looking for a truly authentic experience in these small towns, be sure to taste the local cuisine and stop by some of the best coffee shops. After all, freedom is all about embracing new experiences and indulging in the pleasures of life.
Are there any unique landmarks or historical sites to see in each of these towns?
If you're looking for some unique landmarks and cultural attractions to explore in France's small towns with a beach, you won't be disappointed. From ancient castles and fortresses to historic churches and museums, there's something for everyone.
For example, you can visit the Chateau de la Napoule in Mandelieu-la-Napoule, a 14th-century castle that overlooks the Mediterranean Sea. Another must-see attraction is the Museum of Modern and Contemporary Art in Nice, which features works by artists from around the world.
And if you're interested in history, you can check out the Musée de la Mer in Biarritz, which showcases the town's maritime heritage. With so many fascinating historical landmarks and cultural attractions to explore, you'll never run out of things to do in France's charming small towns.
What is the best way to travel between these small towns if you are planning a road trip?
If you're planning a road trip to explore small beach towns, there are a few things to consider. One of the biggest decisions is whether to rent a car or rely on public transportation. While public transportation can be convenient and cost-effective, having a car gives you the freedom to explore at your own pace and take the scenic routes between towns.
Speaking of which, there are plenty of picturesque routes to take between small beach towns in France. Whether you're traveling along the rugged coastline or winding through charming countryside, each route offers its own unique beauty.
So, whether you choose to rent a car or hop on a bus, be sure to take advantage of the stunning scenery and charming towns that await you on your small town beach adventure.
Conclusion
So there you have it – a list of small French towns with beaches that will leave you mesmerized.
From the charming streets of Honfleur to the stunning coastline of Cassis, these places offer a unique blend of history, culture, and relaxation.
Whether you're looking for a romantic getaway or a family vacation, these towns have everything you need. As the French say, "joie de vivre" – the joy of living – is what these towns embody.
So why not pack your bags and book a trip to one of these hidden gems? You'll be amazed at the beauty that awaits you.
After all, life is too short to miss out on the simple pleasures that come with a beach vacation in a small French town.
So go ahead, chase that "je ne sais quoi" – that special something – that only the charm of these towns can offer.