Are you ready to hit the beach and feel the sand between your toes? Look no further than the United States for some of the most stunning and surprising beach destinations. From Hawaii to Massachusetts, there are seven destinations that you simply can't miss.
First on the list is Maui, Hawaii, where you can soak up the sun on gorgeous beaches and indulge in the island's rich culture and cuisine.
Next up is Myrtle Beach, South Carolina, which boasts miles of pristine coastline and plenty of activities for the whole family.
Whether you're looking for a relaxing vacation or an adventure-packed trip, these seven beach destinations have something for everyone.
So buckle up and get ready for an unforgettable journey along America's stunning coastlines.
Table of Contents
Maui, Hawaii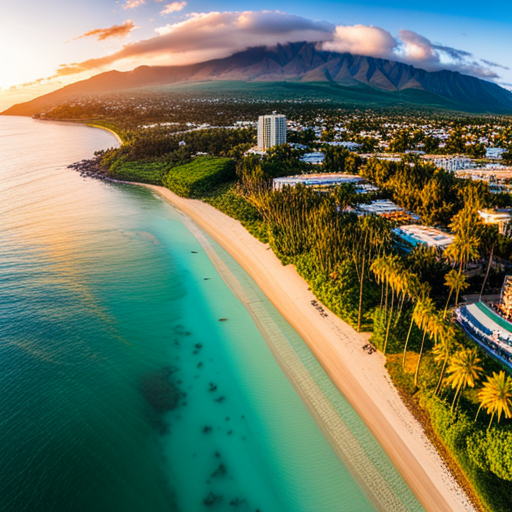 Maui's beauty and charm are simply unmatched, making it a must-visit spot in Hawaii. The island boasts a variety of activities that cater to all kinds of travelers. From embarking on a hike to the top of Haleakala, the island's highest peak, to snorkeling in the crystal-clear waters of Molokini Crater, there is an adventure for everyone.
In addition to adventure, Maui offers some of the most luxurious accommodations in Hawaii. Whether you're looking for a beachfront resort or a cozy bed and breakfast, there's no shortage of options to choose from.
One of the most popular activities on Maui is the Road to Hana, a scenic drive that takes you through lush rainforests, past cascading waterfalls, and along winding coastal roads. Be sure to stop at the many lookout points along the way to snap some photos.
For the ultimate relaxation, head to one of Maui's many world-renowned beaches, like Kaanapali Beach or Wailea Beach. After a day of exploring and soaking up the sun, retreat to your cozy accommodations and enjoy a peaceful night's sleep in paradise.
Maui truly has it all.
Myrtle Beach, South Carolina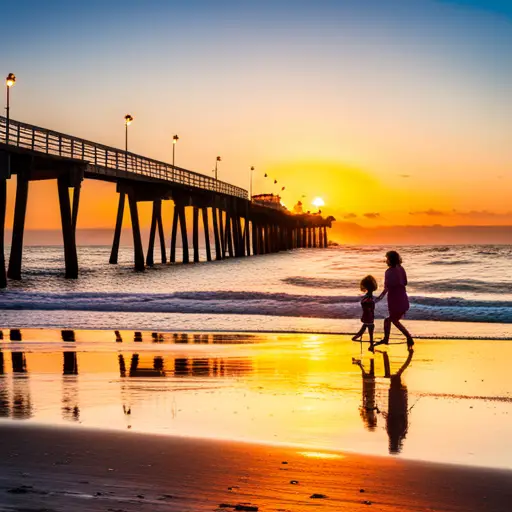 If you're looking for a lively beach scene with plenty of entertainment options, Myrtle Beach in South Carolina is a must-visit. With its more than 60 miles of gorgeous coastline, this beach town is a popular destination for tourists from all over the world.
Here are some of the best activities you can do in Myrtle Beach:
– Take a stroll on the boardwalk and enjoy the beautiful views of the ocean.
– Visit the Myrtle Beach SkyWheel and ride a Ferris wheel that towers over 187 feet above the ground.
– Check out Ripley's Aquarium and get up close and personal with some of the ocean's most fascinating creatures.
But Myrtle Beach isn't just a place to have fun – it's also known for its delicious local cuisine. Don't miss out on trying some of the best seafood dishes, like fried shrimp, crab cakes, and clam chowder. And if you're in the mood for something sweet, try a slice of pecan pie or a scoop of homemade ice cream.
Whether you're looking for adventure or relaxation, Myrtle Beach has something for everyone.
San Diego, California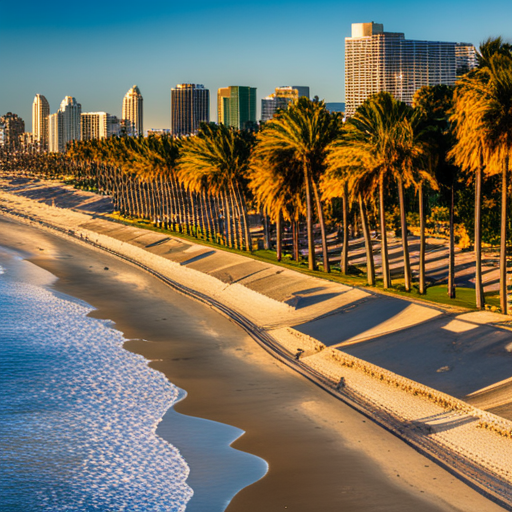 You're going to love exploring San Diego, where the sun always shines and the beaches are some of the best in the world – but have you ever tried the famous fish tacos that locals rave about? Make sure to add trying fish tacos to your itinerary, because they're a must-try when in San Diego.
But when it comes to the beaches, San Diego is a surfer's paradise. Some of the best beaches in San Diego for surfing include Pacific Beach, La Jolla Cove, and Mission Beach. So grab your board and hit the waves!
After a long day of surfing, head to one of the top beachfront restaurants in San Diego for some delicious food and drinks. One of the top recommendations is the Pacific Beach Fish Shop, where you can try their famous fish tacos while enjoying the ocean view. Another great option is The Brigantine in La Jolla, which offers fresh seafood and a great happy hour.
So whether you're looking for some surf and sun or a tasty meal with a view, San Diego has it all.
Outer Banks, North Carolina

When you visit the Outer Banks in North Carolina, get ready to experience some of the most beautiful beaches and ocean views that'll take your breath away. This stretch of barrier islands along the coast of North Carolina is home to some of the most pristine and untouched beaches in the country.
With miles of pristine sand, crystal clear waters, and a plethora of beach activities, the Outer Banks is the perfect destination for anyone looking for a relaxing and rejuvenating beach vacation. Apart from the stunning beaches, the Outer Banks is also known for its local cuisine and unique culture.
Exploring the Outer Banks is an adventure in itself, with plenty of opportunities to indulge in fresh seafood, explore charming towns, and visit historical landmarks. Whether you're looking to spend your days lounging on the beach, surfing, or exploring the local culture, the Outer Banks has something for everyone.
So pack your bags and get ready for an unforgettable beach vacation in North Carolina's Outer Banks.
Gulf Shores, Alabama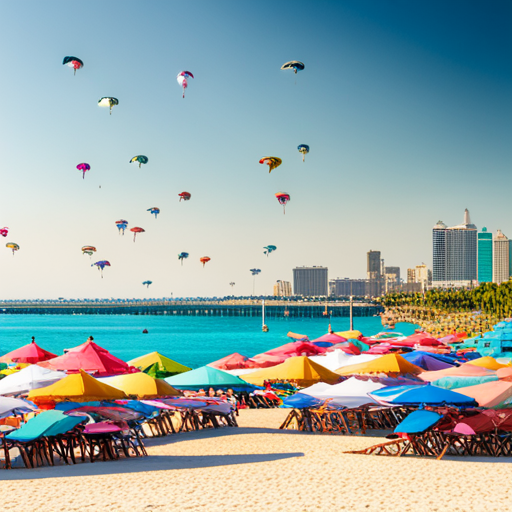 The Gulf Shores in Alabama is a hidden gem that's worth checking out, with its stunning beaches and local flair that will knock your socks off.
The best time to visit Gulf Shores, Alabama is during the summer months when the weather is hot and the water is perfect for swimming.
With over 30 miles of white sandy beaches, you can spend your days lounging in the sun, or swimming in the turquoise waters of the Gulf of Mexico.
Aside from the beaches, there are plenty of top activities to do in Gulf Shores, Alabama.
For the adventurous type, you can go on a dolphin watching tour, kayak through the Gulf State Park, or even go ziplining.
If you're looking for a more relaxing activity, you can go on a sunset cruise, play some golf at one of the many courses in the area, or visit the local zoo.
With so many things to do and see, Gulf Shores, Alabama is a destination you won't want to miss.
Martha's Vineyard, Massachusetts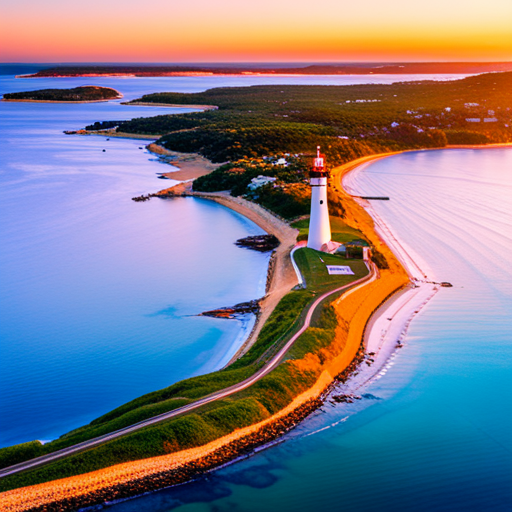 If you're looking for a destination that offers more than just sun and sand, Martha's Vineyard in Massachusetts is the perfect choice. From the charming towns to the stunning coastline, this island has a lot to offer.
Here are some of the top things you can expect from a visit to Martha's Vineyard:
– Food scene and cultural attractions: With a strong agricultural community, the island boasts an impressive food scene that includes fresh seafood, farm-to-table restaurants, and local wineries. There are also plenty of cultural attractions, including art galleries, museums, and theaters.
– Top activities: Martha's Vineyard is home to some of the best beaches on the east coast, including South Beach and Katama Beach. But the island also offers plenty of other outdoor activities, such as hiking the many trails or biking the scenic paths.
– Events: The island is known for its annual events, such as the Martha's Vineyard Food & Wine Festival and the Martha's Vineyard International Film Festival. These events offer a chance to taste local cuisine and wine, as well as enjoy films from around the world.
– History: Martha's Vineyard has a rich history, which is evident in the many historic sites and landmarks on the island. Visitors can learn about the Wampanoag tribe, who've lived on the island for thousands of years, as well as the island's whaling history.
– Wildlife: The island is home to a variety of wildlife, including seals, dolphins, and whales. Visitors can take a whale watching tour or simply stroll along the beach to see these creatures in their natural habitat.
With its unique blend of natural beauty, culture, and history, Martha's Vineyard is a top beach destination that shouldn't be missed.
Santa Monica, California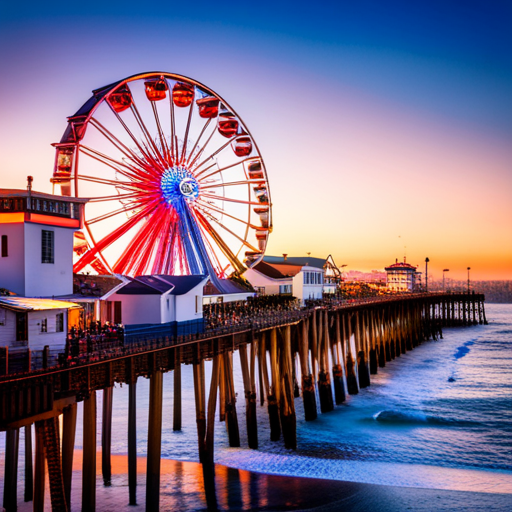 Get ready to soak up the sun and experience the laid-back California lifestyle in Santa Monica, where the beach meets the city.
This iconic beach town is the perfect destination for those looking for a mix of relaxation and excitement. With over three miles of pristine coastline, Santa Monica boasts some of the most beautiful and popular beaches in Southern California.
One of the top attractions in Santa Monica is the world-famous Santa Monica Pier. This historic pier offers stunning ocean views, a classic amusement park, and a variety of restaurants and shops.
Another must-see attraction is the Third Street Promenade, a popular outdoor shopping and dining destination just a few blocks from the beach.
The best time to visit Santa Monica beaches is during the summer months when the weather is warm and the water is perfect for swimming and surfing.
Don't miss out on the chance to experience the laid-back California lifestyle in Santa Monica!
Frequently Asked Questions
What are the best times of year to visit each of these beach destinations?
If you're looking to visit some of the best beach destinations in America, it's important to consider the best times of year to go. Depending on the location, weather patterns can greatly affect your experience.
For example, if you're planning a trip to Hawaii, the best time to visit is between April and June, or September and November, when the weather is warm and dry.
On the East Coast, destinations like Myrtle Beach are best visited in the summer months, when temperatures are consistently warm and there's plenty of sunshine.
No matter where you go, be sure to research the weather patterns and plan accordingly to make the most of your beach vacation.
Are there any specific local customs or traditions that visitors should be aware of?
When visiting a new destination, it's important to be aware of local customs and traditions to ensure a respectful and enjoyable experience. Cultural etiquette can vary greatly from place to place, so it's important to do some research before you go.
Language barriers can also be a challenge, but with a little effort, you can learn some basic phrases to show your respect for the local culture. Whether it's removing your shoes before entering someone's home or covering your head when visiting a religious site, paying attention to these details can make a big difference in how you are received by the locals.
So take the time to learn about the customs and traditions of your destination – it will not only help you navigate any potential cultural differences, but it will also enrich your travel experience.
What are some lesser-known attractions or activities to do in each of these beach destinations?
If you're looking for offbeat activities and hidden gems in top beach destinations, look no further than these seven spots.
In San Diego, head to the Cabrillo National Monument for a stunning view of the city and harbor.
In Miami, explore the Wynwood Walls, a colorful outdoor art exhibit.
For a taste of local flavor, try the conch fritters in Key West or the lobster rolls in Cape Cod.
And when the sun sets, don't miss the nightlife scene in Honolulu or the live music in Santa Cruz.
With so many unique experiences to be had, these beach destinations offer the perfect escape for anyone seeking a taste of adventure and a break from the mundane.
What is the availability and cost of accommodations in each of these beach destinations?
Looking for accommodation options in some of the best beach destinations in America? You'll find plenty of choices to fit your budget and preferences.
During peak seasons, prices tend to be higher, so consider traveling during off-peak seasons for better deals. Be mindful of cultural norms and customs in the area you're visiting, and look for hidden gems that are off the beaten path.
If you or someone in your travel party has disabilities, be sure to check for disabled accessibility options. Vacation homes and budget-friendly options are also available for those looking to save money.
With so many choices, you'll have no trouble finding the perfect place to stay and enjoy your vacation to the fullest.
How do these beach destinations compare in terms of accessibility for travelers with disabilities?
Traveling can feel like swimming in a vast ocean, and for those with disabilities, it can be like trying to navigate a turbulent sea. Accessibility challenges can be overwhelming, but inclusivity efforts are on the rise, making it easier for travelers with disabilities to explore new destinations.
When considering beach destinations, it's important to research the accessibility of the area, such as the availability of accessible parking, beach wheelchairs, and accessible restrooms. Some destinations have made significant progress in creating a more inclusive environment, while others still have work to do.
Regardless, it's important to support businesses and destinations that prioritize inclusivity, so everyone can experience the freedom and joy of travel.
Conclusion
Congratulations! You now have a list of some of America's most amazing beach destinations, and you're probably already planning your next trip.
But before you go, let's take a moment to reflect on what we've learned. From the breathtaking beauty of Maui to the charming elegance of Martha's Vineyard, these seven destinations offer something for everyone.
Whether you're looking for a relaxing getaway or an exciting adventure, you won't be disappointed by what these beaches have to offer. So pack your bags, grab your sunscreen, and get ready to explore some of the most amazing places in America.
And who knows, you might just discover a new favorite spot that you'll want to visit again and again. As the great writer Ernest Hemingway once said, "The world is a beautiful place and worth fighting for."
And there's no better way to experience that beauty than by visiting America's stunning beaches. So go out there and make some memories that will last a lifetime. Happy travels!