Key Takeaways
Schools often host beach days either on campus or as field trips to nearby beaches.
Beach attire choices differ for on-campus dress-up days versus actual trips to the beach.
Light-colored, comfortable clothing like tank tops and shorts are ideal for staying cool.
Sunglasses and hats not only enhance the beach look but also offer protection from the sun.
Despite jeans being appropriate for the beach, they're advised against due to discomfort.
Accessories like inflatable beach balls can elevate a casual beach outfit, adding fun and flair.
It can be a little overwhelming with many possibilities regarding what to wear for a beach day at school. Some kids love bathing suits to the beach while others prefer shorts or shirts. As summer is approaching quickly, some students are now deciding what to wear for their upcoming beach day at school. To most people, it means dressing up in your bathing suit or shorts, but there is more to it. It makes me wonder, what to wear to a beach day at school?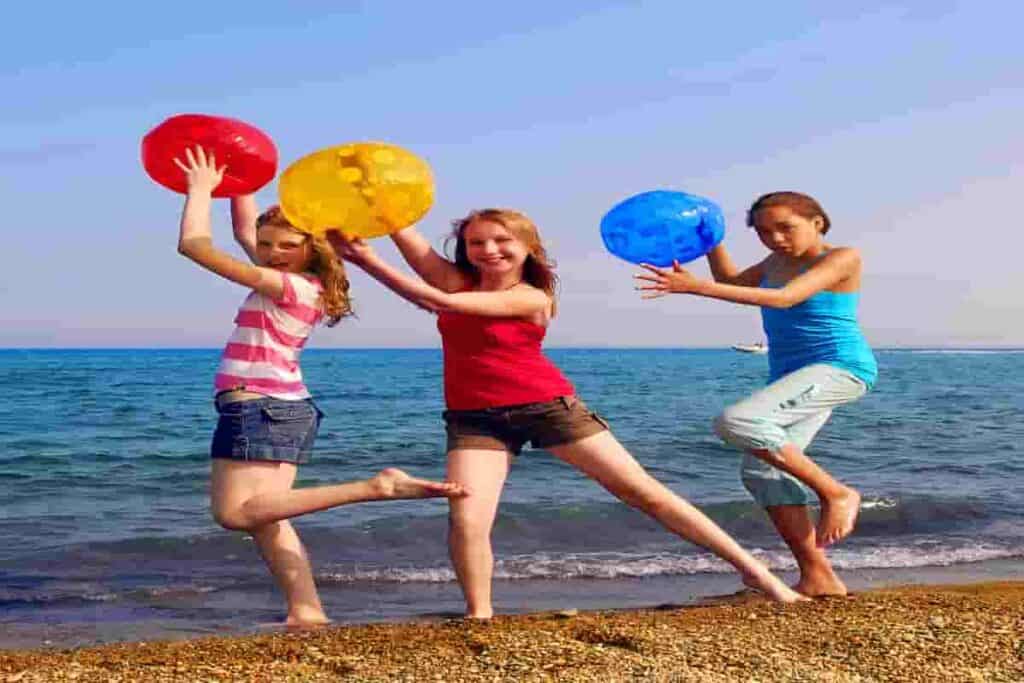 What To Wear For Beach Day At School?
So, what to wear for beach day at school? Schools can generally have beach day on campus or take a field trip to the nearest beach. For boys, wear shorts, a t-shirt, sunglasses, and a hat. For girls, wear a blouse and a skirt with a sunhat, sunglasses, and sandals. Props like a surfboard, a beach ball, and other beach items can add to the beach vibe.
The school announced that it would be beach day in one or two weeks. What does it mean? It can have a few options, depending on your school and where it's located:
Two main options:
#1. They will have a beach dress-up day at school, not go to the beach. The beach day will be in the classroom, and then possibly will have a beach party afterward at the school
#2. The class will visit the beach during the day, a class trip to the beach which normally lasts all day long. Then, After the class visits the beach, there will be a small beach party back at school.
The event aims to have fun, dress to make an impression, and enjoy the time with your friends, and if you are going to the beach, be prepared practically. 
In the US, beach day at school is a popular event at school that is beach-themed with a variety of activities that blend academic and creative elements. It is often done at the end of the school year, when the weather is getting warmer and summer is beginning. (Source)‍
Matching the clothing to a beach-themed party or event, with possible beach-type activities is what you need to prepare for.
Table of Contents
I'll discuss this and a whole lot more! We'll also take some examples of what Sara and Jake's kids and Dan and Elaine's teenagers decide to wear to their beach day at school.
Keep on reading. You won't want to miss it!
Figuring out What to Wear on Beach Day To Look Cool
You want to look cool, beachy, and even in line with beach fashion – but you don't want to overdo it. You can also choose clothing based on whether you're going to the beach or having a dress-up day at school. 
What to Wear for Beach Day at School – Options for Guys and Gals
Lets dive deeper into the options!
Clothes Ideas for Guys to Wear to School on Beach Day
School Beach Days are fun times for children. They get to dress up as they'd go to the beach. It is a perfect opportunity for boys to show off their style.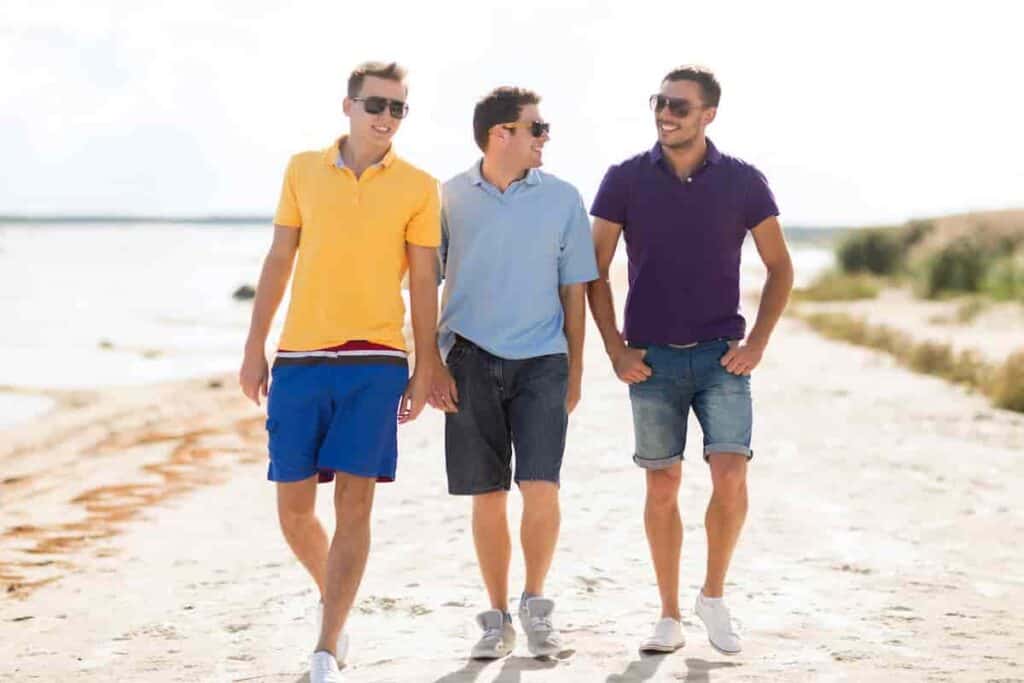 Some guys might be wondering what to wear on beach day at school. Here are a few ideas:
A tank top and shorts or swim trunks.

A t-shirt and cargo shorts.

A polo shirt and khaki shorts.

Sandals or flip-flops

Sunglasses

A hat 
For Option #1: Class Will Have Beach Day Dress-Up At School
 Choose any of the options above. They will work.
For Option #2: Class Will Visit the Beach
 Choose any of the options above. Be sure to take sunscreen plus a blanket if you have time to sit on the sand. 
Clothes Ideas for Gals To Wear to School on Beach Day 
Beach outfits can range from casual to chic. Opt for a breezy maxi dress paired with sandals for a laid-back look, or go trendy with a crop top and high-waisted shorts. When picking out clothes for a beach day at school, there are a few things you'll want to keep in mind:
You'll want something comfortable and won't be too hot or heavy to wear in the sun.

It's a good idea to choose light colors or prints that will help you stay cool.

It's always a good idea to have some accessories on hand in case the weather turns cooler, or you want to add a pop of color to your outfit.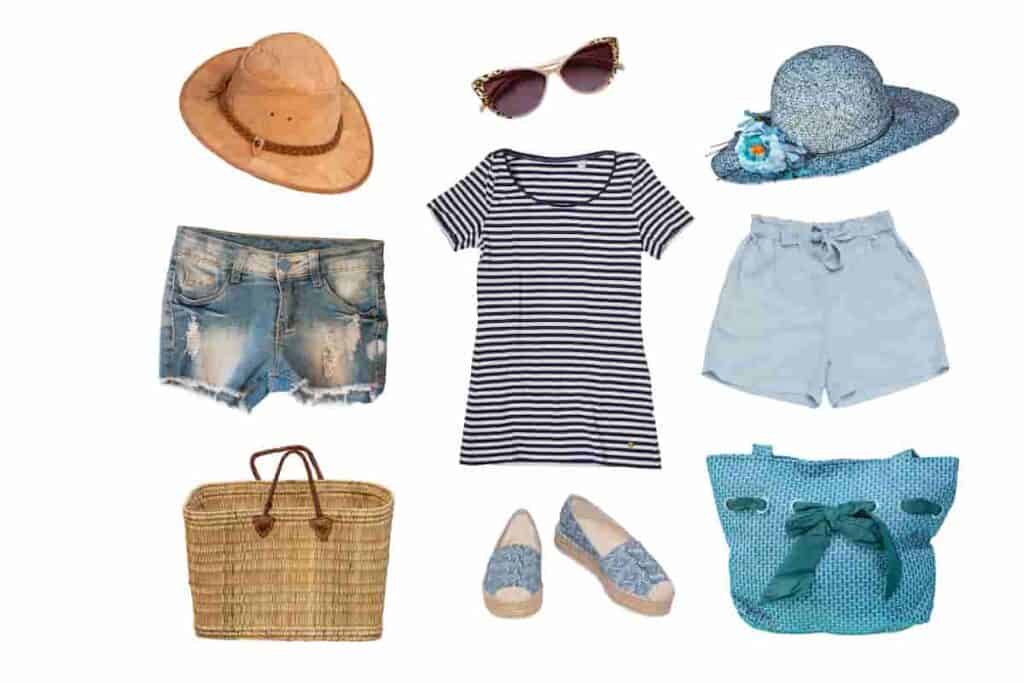 Here are some ideas for clothes gals can wear on beach day at school:
Shorts:
Shorts are always a summertime favorite, and they're perfect for beach days since they're lightweight and easy to move in. Try pairing them with a tank top, tee-shirt, sandals, or flip-flops.
Skirts:
A skirt is another great option for beach days, and it can be a little more dressed up than shorts or jeans. Try a maxi skirt in a light print or color, or go for a shorter style in a cool fabric like linen.
Tops:
Tank tops, T-shirts, and other short-sleeve tops are perfect for beach days. You can choose bright colors or fun prints to help you stay cheerful in the sun. With bright colors, a light blouse is a favorite to wear at the beach.
Sandals: 
Sandals are essential for beach days, and they come in so many different styles and colors now that there's sure to be a pair that's perfect for you. Go with something simple and classic like flip-flops or Birkenstocks, or opt for something more stylish like gladiator sandals or heel sandals.
Sunglasses: 
A good pair of sunglasses is essential for keeping your eyes safe from the sun's rays. Plus, they add a bit of style to any outfit.
A Sun Hat:
A hat is another great way to protect your head from the sun, and it can also help keep you cool on hot days. Choose one made from lightweight materials like cotton or linen for the best results.
For Option #1: Class Will Have Beach Day Dress-Up At School
Choose any of the options above. Work with the combinations to get something that brings out your style and personality
For Option #2: Class Will Visit the Beach
Choose any of the options above. Be sure to take sunscreen plus a blanket if you have time to sit on the sand. If it is cool or windy at the beach, opt for long pants and a long-sleeved blouse.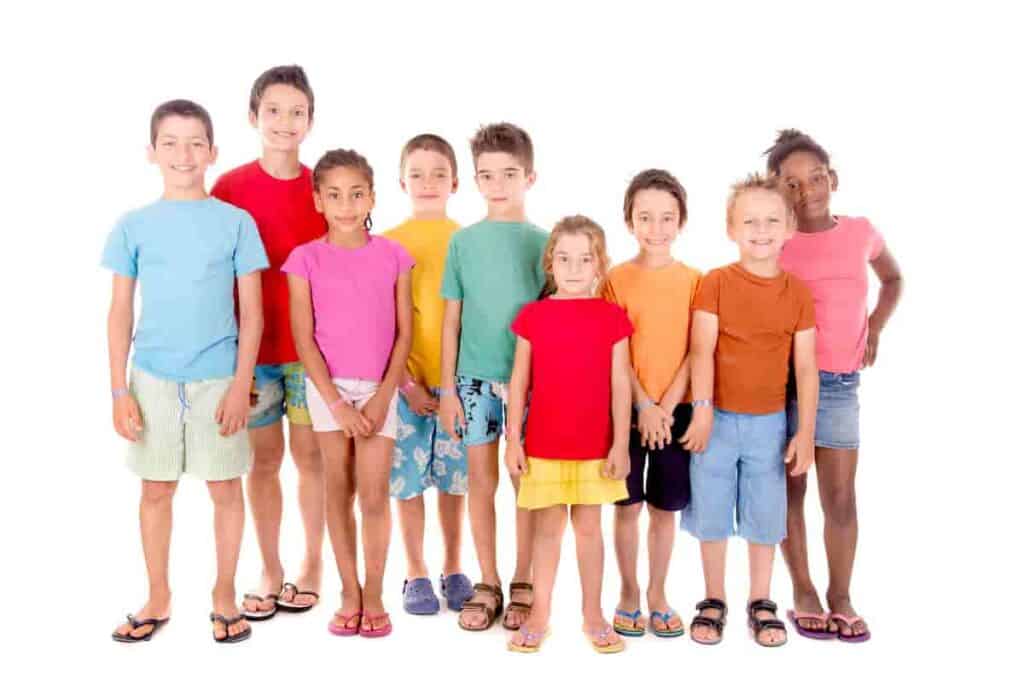 What Does Sara Decide to Have Her Children Wear to Beach Day At School?
Sara is a working mom with two kids aged 7 and 9. Aara is helping her kids with a beach at school and deciding things for their "dress up" for a fun day. Sara must decide what her children will wear at the beach for "dress up" day. This year's beach day will be held in the classroom. 
Sara is stuck between dressing her kids in regular clothes or beach attire. She thinks it must be fun for the kids to dress up in beach attire and spend the day at the beach with their friends. Despite wanting to dress the kids in beach attire, Sara fears it will be embarrassing for them to walk around the school in it. Still, she believes the kids will enjoy it and hopefully learn to appreciate beach culture.
Sara's kids decide they would rather wear their bathing suits than wear shorts and shirts over their clothes. Sara decides to buy bathing suits for them to wear instead of their regular clothes. She buys bathing suits for them to wear instead of their regular clothes. They go to the beach and have a great time playing in the sand and the water, not dressed appropriately for the fun day at the beach but enjoying themselves nonetheless. Sara could use some help with various options for clothing for her kids for the "dress up" day on the beach at summer school. 
What Is Beach Casual
Beach Casual is a clothing style that is typically worn at the beach. It is a comfortable, laid-back style and often includes shorts, sandals, and a t-shirt.
Casual but stylish is the perfect look for summer school or back-to-school attire. This chic and casual look is perfect for summer vacation!
High-waisted shorts are paired with a loose-fitted tee and flat sandals to make this outfit complete. Appearances are key to a successful beach casual look. The correct fit is crucial as baggy clothing may not be as chic as a perfectly fitting outfit with great accessories.
In choosing the perfect beach day outfit for school you can opt for a breezy, casual style that strikes a balance between comfort and fashion. Use your intuition and experience of what looks good on you when considering your options.
Clothing items worn at the beach or pool have been referred to as swimwear. Beach casual is often associated with beachwear trends like high-waisted bathing suits and rompers, shorts, denim, and tropical prints. 
Can I Wear Jeans to Beach? And Should I Wear Them on Beach Day at School? 
The question of what to wear to the beach is common, and there are a variety of opinions on the matter. One option that seems to cause some controversy is jeans. While they are appropriate for beach wear, it is best to ask which schools allow them before heading out. The most important thing about jeans is that they should be comfortable and make the wearer look stylish.
There is no right or wrong answer to this question, as it depends on personal preference. Some people feel more comfortable wearing jeans to the beach, while others prefer to wear swimwear. It is generally recommended to avoid wearing jeans on beach days at school, as they can be uncomfortable and difficult to move in.
Tough question. 
It should be noted that jeans are generally not suggested to be worn at the beach. It is for practical reasons and advice from fashion gurus (jeans are not outdoor beach clothes). I wrote an article just focused on this subject. Check it out here: INSERT JEANS ARTICLE.
So when it comes to wearing them for a beach day at school, the best suggestion is to avoid them and wear some shorts or cargo pants.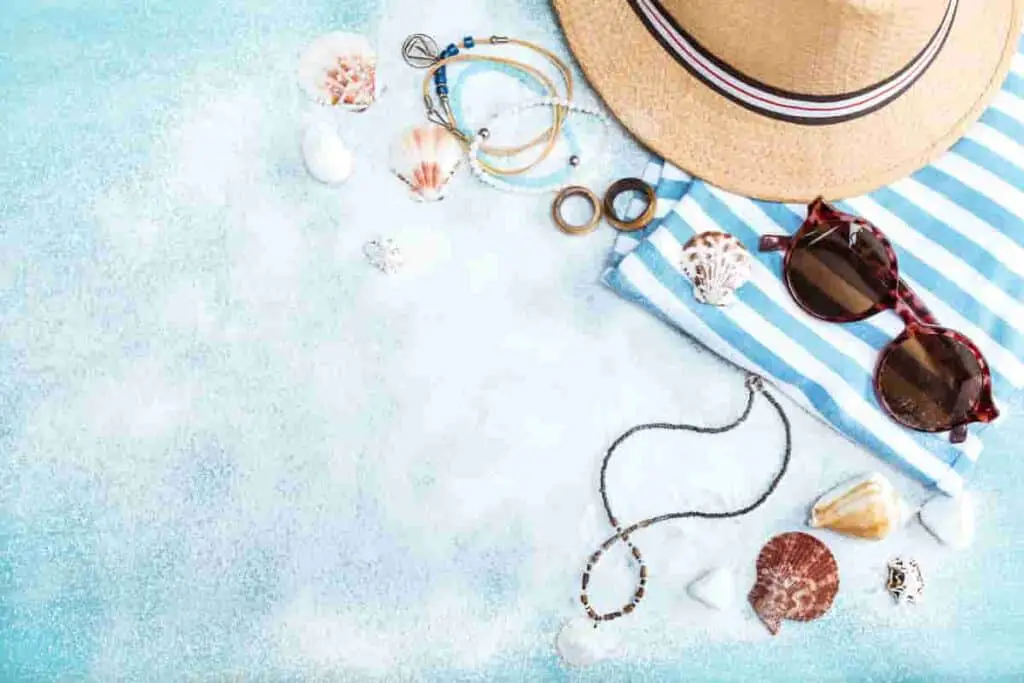 What Do Dan And Elaine's Teenagers Decide to Wear to School for Beach Day?
Let's take the case of Dan and Elaine's kids, aged 12 (daughter) and 15 (son). Dan and Elaine's kids are sporty and love the beach. So they are very comfortable in beach clothing and want to look cool for the school beach day, which will be held at school. 
Dan's son is an athlete and regularly wears gym clothes to school. Elaine's daughter is smart and wears a dress every day to school. Dan's son is excited about dressing up as a surfer, and his sister is a little apprehensive because she wants to dress up as a surfer too, but is worried she won't fit in with the other students who plan to wear a sun dress or a bikini.
Elaine and Dan have been trying to encourage her to have fun and dress up, but she keeps pressuring them that she wants to dress like a surfer girl, with shorts, a wetsuit top, and a surfboard as an accessory. Dan and Elaine are torn between letting their kids be themselves and going along with what they want.
Their son dresses in a sports top, swimming trunks, and sunglasses and takes his surfboard. Finally, their daughter decides to stick to her idea of being a surfer girl and dresses in a one-piece swimsuit but places a watersports top on (not a wetsuit). She takes her surfboard. But to blend in with her girlfriends, she takes a sunhat and sunglasses to wear to change her surfer look when needed.
Some Beach Clothing Rules that Should Probably Be Followed Even on Beach School Day 
Hawaiian shirts – Usually seen as a cheesy and touristy choice, not the normal beach attire. It's best to avoid it if you want to project a cool beach vibe.
Denim Blue Jeans – As mentioned above, best to avoid jeans as they are not beach attire. 
Sweaters – Sweers is not usually worn unless it's a cold day at the beach. Again, best to avoid it.  
Beach Day Clothes Ideas – Fun Ideas that Others Notice 
When it comes to beach day clothes, there are a lot of fun and trendy ideas that people can wear. Some popular items this summer include swing dresses and kitenge dresses. These outfits can be paired with sandals, sun hats, and sunglasses for a complete look. 
Sporty Clothes, Sports Equipment, and A Beach Ball Can Make An Impression
If you want to give a fun impression when choosing outfits for the beach, some ideas are to use sports clothes, sports equipment, or even a simple beach ball will win the day:
Sports clothes for the beach like t-shirts or tops used for playing volleyball and other sports at the beach. Bringing a volleyball, a boogie board or even a surfboard makes the clothes you choose more impactful.
Sports equipment like snorkeling equipment or kayaking oars

 can also give the impression that each day at school is taken seriously and you are dressing the part.

A simple inflatable beach ball can transform

 your look from a casual beach goer to someone who always has fun

at the beach. They are easy to carry and can be deflated whenever needed.  
Hats, Sunglasses, Footwear, and Accessories Ideas to Wear on Beach Day at School
When packing for a beach day at school, it's important to remember to pack essential items like hats, sunglasses, and sunscreen. In addition, you'll also want to bring along some comfortable clothing and shoes. Here are a few ideas on what to wear:
Flip-flops and sandals are always a good choice for beach days. You can also wear deck shoes without socks if you'd like. Just make sure to pack sunscreen, as you'll spend a lot of time in the sun!
Accessories can complete your look and show off your style. Some key accessories to consider are:
Hats
Scarves
Jewelry
Watches
Sunglasses
Bags

  
Final Thoughts    
So here are some tips to help you plan your beach day at school. I've covered clothes for guys and gals to wear, what is beach casual clothing, and some tips on accessories and beach-themed parties. For your next beach day at school, take these tips and apply them to your situation. The best thing you can do to plan for your beach day at school is a good plan and then get moving to implement it.
Frequently Asked Questions‍
What Is the Purpose of A Beach Day at School?
The purpose of a beach day at school is to create a fun and engaging environment for students, allowing them to relax and celebrate the end of the school year.
What Activities Can Be Included in A Classroom Beach Day?
Classroom beach day activities can include a variety of beach-themed games and crafts such as sandcastle building, relay races, scavenger hunts, volleyball tournaments, and even a mini beach setup.
How Can I Create a Beach-Themed Classroom Transformation?
To create a beach-themed classroom transformation, you can use beach towels, beach balls, surfboard decorations, and other beach-related items to enhance the ambiance.
What Are Some Surprising Outfit Ideas for A Beach Day at School?
Some surprising outfit ideas for a beach day at school can include Hawaiian shirts, flip-flops, sunglasses, and beach-themed accessories like hula skirts or seashell necklaces.
How Can I Incorporate the End of The Year Theme Into Beach Day Activities?
You can incorporate the end of the year theme into beach day activities by having end-of-the-year crafts, reflecting on the highlights of the school year, or even holding a beach-themed graduation ceremony.
Are There Any Specific Classroom Resources or Printables Available for A Beach Day?
Yes, you can find a variety of beach-themed printables and resources on Teachers Pay Teachers (TPT) or other educational platforms to enhance your beach day activities.
What Are Some Beach Day Activities that First-Grade Students Will Enjoy?
First-grade students can enjoy activities such as building sandcastles, participating in relay races, creating sandcastle crafts, and engaging in beach-themed games and competitions.
How Can I Make a Beach Day Classroom Transformation without Access to An Actual Beach?
If you don't have access to an actual beach, you can still create a beachy ambiance in your classroom by using beach-themed decorations, sand tables, and other creative props.
How Can I Make a Beach Day at School More Fun?
To make a beach day at school more fun, you can incorporate musical beach towels as a game, organize a beach-themed scavenger hunt, or have a class-wide sandcastle building competition.
What Are Some Fun and Engaging Beach Day Activities for The End of The School Year?
Some fun and engaging beach day activities for the end of the school year can include beach ball relays, sandcastle building contests, beach-themed crafts, and water balloon games.