Are you looking for a fun-filled getaway to escape the hustle and bustle of city life? Look no further than South Florida's beach towns. With miles of stunning beaches, crystal clear waters, and an abundance of activities to keep you entertained, it's no wonder why these towns are a popular destination for those seeking a slice of paradise.
From the chic and trendy Miami Beach to the laid-back vibe of Key West, there's a town to suit every taste. Whether you're seeking adventure, relaxation, or a little bit of both, these beach towns have got you covered.
So pack your bags, grab your sunscreen, and get ready to explore the top 9 spots with cool activities that South Florida has to offer.
Key Takeaways
– South Florida's beach towns offer a variety of activities such as outdoor adventures, water sports, entertainment, and nature centers.
– Each town has its unique features, such as Delray Beach's top restaurants and yoga on the beach, Key West's vibrant energy and deep sea fishing charters, and Miami Beach's trendy nightclubs and high-end boutiques.
– Must-visit attractions include Bonnet House Museum and Gardens in Fort Lauderdale and Red Reef Park in Boca Raton.
– Foodies will love the diverse restaurants, cafes, and bakeries that offer local cuisine, fresh seafood, and Italian delicacies.
Delray Beach
If you're looking for a beach town that offers a little bit of everything, Delray Beach is the spot for you!
This charming town has gained quite a reputation for its top restaurants and outdoor activities. Whether you're a foodie or an adventure-seeker, Delray Beach has something to offer everyone.
For foodies, Delray Beach boasts some of the top restaurants in the area. From fresh seafood to farm-to-table cuisine, there's no shortage of delicious options.
The outdoor activities in Delray Beach are just as impressive. You can rent a paddle board and explore the crystal-clear waters, take a stroll through the nature preserves, or even attend a yoga class on the beach.
With so many options, there's never a dull moment in Delray Beach.
Key West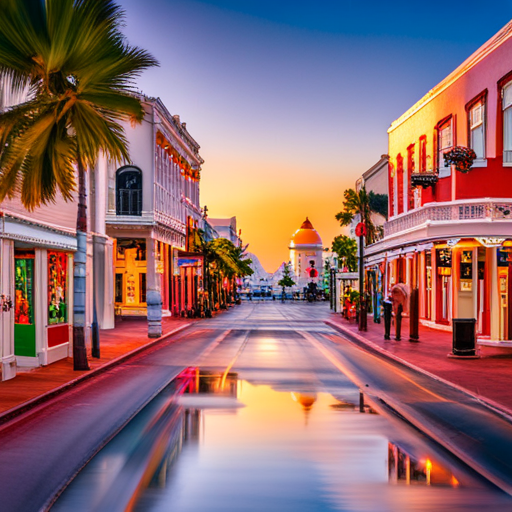 You'll want to make sure to visit Key West, where the island's vibrant energy will have you feeling like a local in no time.
Start your exploration by checking out the bustling Duval Street, where you'll find lively bars, restaurants, and shopping options.
From there, you can head to the Ernest Hemingway Home and Museum to immerse yourself in the local history and literary culture.
When it comes to outdoor activities, Key West offers an array of thrilling water sports that are sure to get your adrenaline pumping.
Rent a jet ski and zoom across the crystal clear waters, or try your hand at parasailing for a bird's eye view of the island.
Fishing enthusiasts can take a deep sea fishing charter and try their luck at catching some of the area's prized game fish.
And don't forget to indulge in the island's delicious cuisine, from fresh seafood to Cuban-inspired dishes, Key West has something for every palate.
With so much to see and do, Key West is the perfect destination for those looking to experience the best of South Florida's beach towns.
Fort Lauderdale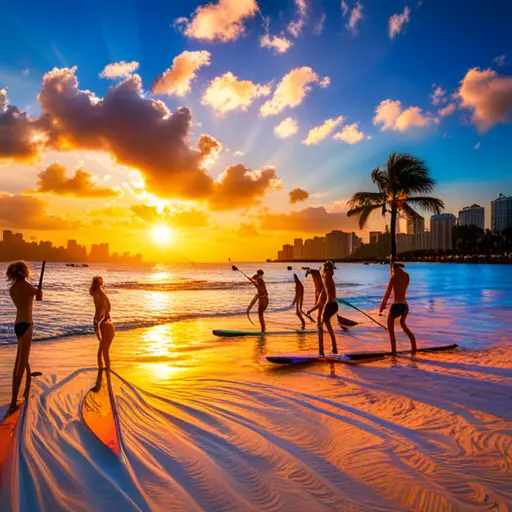 Get ready to immerse yourself in the vibrant nightlife scene of Fort Lauderdale, where you can dance the night away and create unforgettable memories.
This beach town in South Florida has something for everyone, from the sun-kissed beaches to the exciting attractions and activities.
Whether you're a foodie, a history buff, or just looking for some fun, Fort Lauderdale is the perfect destination.
Discover the historic landmarks and museums in Fort Lauderdale, or indulge in the delicious local cuisine.
The Bonnet House Museum and Gardens is a must-visit for history enthusiasts, while foodies will love the variety of restaurants serving up fresh seafood and international cuisine.
Don't forget to take a stroll along the beachfront promenade, where you can soak up the sun and take in the beautiful views.
Whatever your interests may be, Fort Lauderdale is the ultimate beach town for an unforgettable vacation.
Miami Beach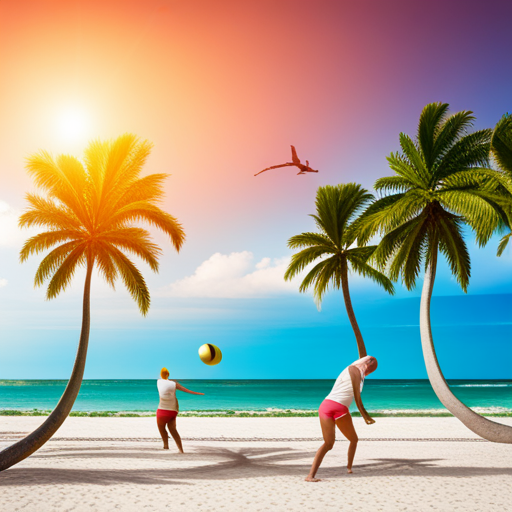 When you're in Miami Beach, you've got to hit the trendy nightclubs and bars. This city is known for its vibrant nightlife scene, so don't miss out on a chance to party like a local.
If you're in the mood for some shopping, Miami Beach has plenty of high-end boutiques to explore. You can also try your luck at the casinos, where you might just hit the jackpot.
So, get ready for a fun and exciting time in Miami Beach!
Hit the Trendy Nightclubs and Bars
If you're worried about the crowds, don't be – hitting the trendy nightclubs and bars in Miami Beach is definitely worth the wait. With mixology classes and rooftop lounges, you'll find yourself in the center of the action, sipping on artisanal cocktails and mingling with the beautiful people.
Miami Beach is home to some of the hottest nightlife spots in the world, and it's not hard to see why. From the high-energy dance clubs to the chic rooftop bars, there's something for everyone.
At the mixology classes, you can learn how to craft the perfect cocktail while enjoying a fun and interactive experience. And when you're ready to take in the stunning views of the city, head to one of the rooftop lounges for a breathtaking panorama of Miami Beach at night.
So put on your dancing shoes and get ready for a night to remember!
Shop at High-End Boutiques
Strolling down the palm-lined streets of Miami's fashion district, you'll find an array of high-end boutiques showcasing the latest styles and trends.
Luxury shopping is a must-do activity for anyone visiting South Florida. From designer brands like Chanel and Gucci to local boutiques featuring unique pieces, there's something for everyone.
Whether you're looking for a statement piece for a night out or a classic investment piece, these boutiques have it all.
The knowledgeable staff will help you find exactly what you're looking for and offer personalized styling advice. So, indulge in some retail therapy and add some designer pieces to your wardrobe while exploring the vibrant shopping scene in South Florida.
Try Your Luck at the Casinos
You can't resist the thrill of the casinos in Miami, where the bright lights and buzzing energy make you feel like a contestant on a game show. Gambling fun is at its peak here, and you'll find yourself hopping from one casino to another, each one with a unique ambiance and a variety of games to choose from.
The casinos in South Florida are not just about gambling, they're also known for their entertainment and dining options. Whether you want to indulge in a gourmet meal or enjoy a live show, the casinos have something for everyone.
So, put on your lucky charm and head to one of the casinos on your list of top 9 spots with cool activities. You won't be disappointed!
Top 3 Casinos in South Florida:
1. Seminole Hard Rock Hotel & Casino – This iconic casino is known for its rock 'n' roll theme and hosts some of the biggest names in music. It features over 2,000 slot machines, 100 table games, and a poker room.
2. Gulfstream Park Racing & Casino – If you're a fan of horse racing and casino games, then Gulfstream Park is the place for you. It has a state-of-the-art casino with over 700 slot machines, 20 poker tables, and live racing.
3. The Casino at Dania Beach – This casino has a unique history and has been recently renovated. It features over 900 slot machines, a poker room, and live entertainment. Plus, it's just a short walk away from the beach!
Palm Beach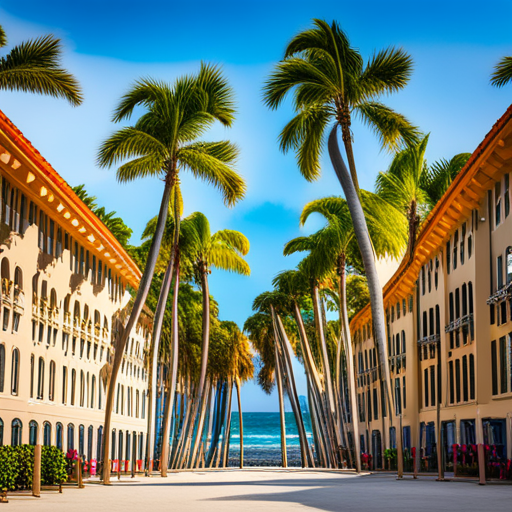 Palm Beach is one of the most luxurious destinations in South Florida, and it's easy to see why. With world-class resorts, high-end shopping, and some of the top restaurants in the area, you'll feel like royalty during your visit.
But Palm Beach isn't just for the elite – there are also plenty of outdoor activities to enjoy. For a relaxing day in the sun, head to the beach. Palm Beach has some of the most beautiful beaches in the area, with crystal clear water and soft, white sand.
Take a dip in the ocean or simply lounge on the beach with a good book. If you're feeling more adventurous, rent a paddleboard or kayak and explore the coastline. There are also plenty of parks and nature trails in the area, perfect for hiking or biking.
No matter what you choose to do, Palm Beach is the perfect place to unwind and enjoy the beautiful Florida weather.
Boca Raton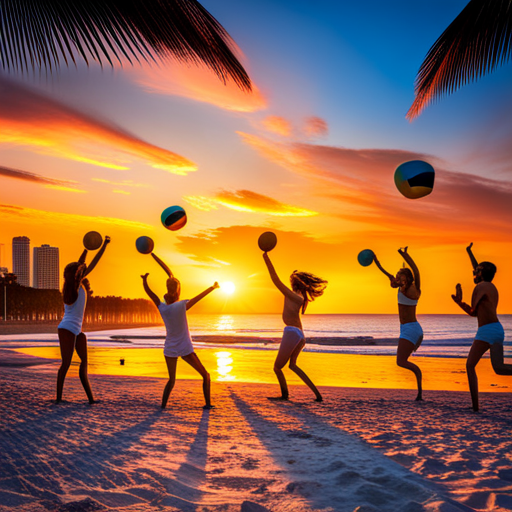 Boca Raton's vibrant downtown scene is a must-visit destination for anyone looking for a taste of the good life – but have you ever wondered what makes it so special? Here are three reasons why you should explore Boca Raton's beaches and parks:
– Red Reef Park: This hidden gem offers a picturesque beach, a nature trail, and a beautiful reef for snorkeling.
– Spanish River Park: With its pristine beach, picnic areas, and walking trails, this park is perfect for a family day out.
– Gumbo Limbo Nature Center: This unique nature preserve features a butterfly garden, a sea turtle sanctuary, and a boardwalk through a mangrove forest.
In addition to its stunning natural attractions, Boca Raton is also a foodie's paradise. Indulge in Boca Raton's culinary scene with its diverse array of restaurants, cafes, and bakeries. From fresh seafood to authentic Italian cuisine, there's something for every taste bud. So why not treat yourself to a delicious meal after a day of exploring the town's beaches and parks?
Boca Raton has it all – come discover it for yourself.
Hollywood Beach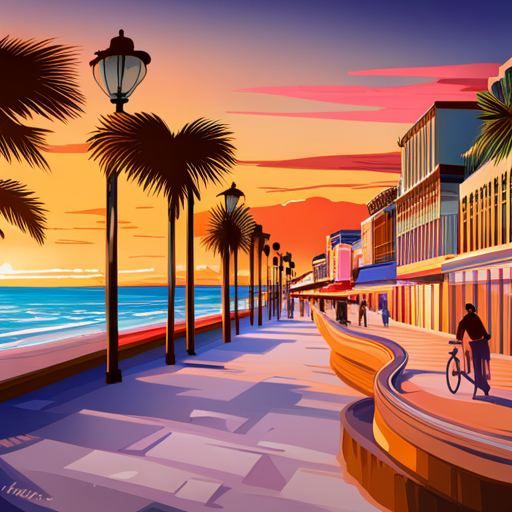 Now that you've explored the luxurious beaches of Boca Raton, it's time to head south to Hollywood Beach.
This beach town is known for its vibrant atmosphere, stunning views, and endless activities. You're in for a treat as you step into this lively town and experience all that it has to offer.
One of the highlights of Hollywood Beach is its beachfront dining. You can indulge in delicious seafood dishes while enjoying the breathtaking views of the ocean.
After a satisfying meal, it's time to dive into the water sports rentals in Hollywood Beach. From jet skiing to parasailing, there's an adventure waiting for everyone. The cool ocean breeze and the crystal-clear waters make for the perfect setting to try out a new water sport.
Hollywood Beach is the perfect spot for anyone looking for an action-packed day by the beach.
Deerfield Beach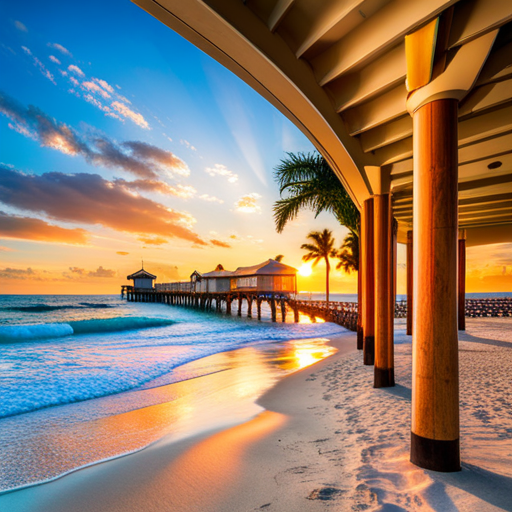 If you're looking for a laid-back beach experience that's not too crowded, you should definitely check out Deerfield Beach. This charming beach town located in South Florida offers a quiet and peaceful atmosphere that's perfect for those who simply want to relax and soak up the sun. With its crystal-clear waters and pristine white sand, Deerfield Beach is the ideal spot for swimming, sunbathing, and building sandcastles.
But that's not all that Deerfield Beach has to offer. If you're a foodie, you'll love the beachfront dining options that are available here. There are plenty of restaurants and cafes that offer delicious seafood dishes and refreshing drinks that you can enjoy while taking in the stunning ocean views. And if you're feeling adventurous, why not try out some water sports? From paddleboarding and kayaking to parasailing and surfing, there's something for everyone at Deerfield Beach. So pack your bags, grab your sunscreen, and head on down to this beautiful beach town for an unforgettable getaway.
Activity
Description
————–
———————————————————————————————————-
Parasailing
Get a bird's eye view of the ocean and beach while being pulled by a speedboat.
Paddleboarding
Stand up on a board and paddle your way through the calm waters of Deerfield Beach.
Kayaking
Explore the mangroves and wildlife of the Intracoastal Waterway on a guided kayak tour.
Surfing
Catch some waves and feel the rush of adrenaline as you ride the waves at Deerfield Beach.
Snorkeling
Dive into the crystal clear waters and discover the colorful marine life that inhabits the reefs just off the coast of Deerfield Beach.
Naples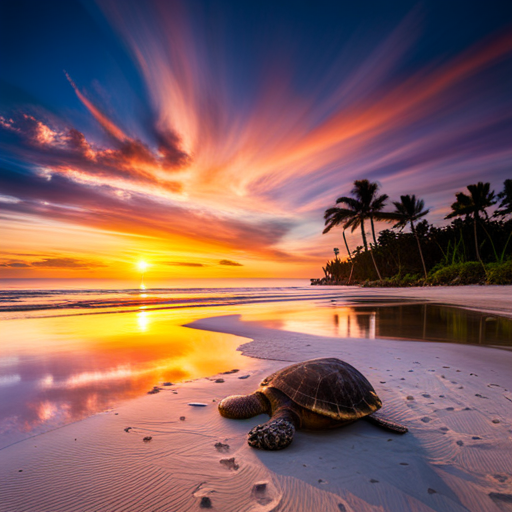 As you drive down the scenic Gulf Coast, you'll soon discover the
hidden gem
of Naples that awaits you. This picturesque, coastal town is located in Southwest Florida and is home to some of the most beautiful beaches in the state.
You can explore nature by kayaking through the mangrove tunnels or hiking through the nearby state parks. If you're looking for a more relaxing adventure, you can simply soak up the sun on one of the many beaches that Naples has to offer.
Aside from its natural beauty, Naples is also known for its delicious cuisine. Seafood lovers will be in heaven with the abundance of fresh seafood available at local restaurants. If you're in the mood for something different, Naples also offers a wide variety of Italian delicacies.
Whether you're in the mood for pizza, pasta, or gelato, you're sure to find something that will satisfy your taste buds. So why not indulge in the local cuisine and explore all that Naples has to offer?
Frequently Asked Questions
What is the best time of year to visit these beach towns in South Florida?
The best seasons to visit these South Florida beach towns are in the winter and spring when the weather is ideal. Enjoy the sun, sand, and cool activities while feeling free and relaxed.
Are there any pet-friendly beaches in these towns?
Yes, there are pet-friendly beaches in these towns. Some have leash laws, but there are also pet-friendly accommodations, dog-friendly activities, and restaurants. If needed, there are veterinary clinics nearby. Enjoy your time with your furry friend!
What are some local restaurants or cafes that are a must-visit in these beach towns?
Picture yourself savoring fresh seafood tacos while sipping on a margarita at the colorful waterfront cantina. Try the ceviche and fish dip at the top-rated seafood spot. For a relaxed afternoon, visit the cozy coffee shops with ocean views.
Are there any popular water activities or sports available in these areas?
Looking for water sports and beachfront rentals in South Florida? Look no further! Jet ski, paddle board, and kayak rentals are available in most beach towns, along with parasailing and snorkeling tours. Start planning your aquatic adventure now.
What are some nearby attractions or day-trip options from these beach towns?
Looking for adventure beyond the beach? Explore nearby day trip destinations for outdoor activities, from hiking the Everglades to kayaking on the Loxahatchee River. Discover new sights and experiences just a short drive away.
Conclusion
Congratulations, you've made it to the end of the article! Now that you've read about the top 9 beach towns in South Florida and their cool activities, you might be feeling a bit overwhelmed with all of the options. But don't worry, there's no need to stress about choosing just one.
Instead, think of it as an opportunity to explore and experience all that South Florida has to offer. Maybe start with the closest beach town to you and work your way down the list. Or, if you're feeling adventurous, make a road trip out of it and hit up all 9 spots in one go.
Whatever you decide, just remember to take in the sights, sounds, and smells of each unique town. As you soak up the sun and sand, think about the memories you're making and the experiences that will stay with you long after you leave.
Whether you're discovering hidden gems in Delray Beach, partying it up in Miami Beach, or lounging in luxury in Palm Beach, South Florida has something for everyone. So, go out there and have a blast – you deserve it!