Are you ready to feel the sun on your skin and the sand between your toes? Los Angeles is the perfect destination for you! With its stunning coastline, you can enjoy the perfect mix of sun, surf, and city.
Here are the top seven beaches that you must visit while in Los Angeles.
First on the list is Santa Monica Beach, known for its iconic pier and amusement park. It's a great place to people watch, with street performers and vendors lining the boardwalk.
Next up is Venice Beach, a vibrant and lively spot with its famous Muscle Beach and skate park. You can find some of the best street art and murals here, and it's a great spot to catch stunning sunsets.
Manhattan Beach is another must-visit with its charming beachside town and surf culture. Hermosa Beach is also a great spot for surfing, and its laid-back atmosphere is perfect for a relaxing day at the beach.
Zuma Beach is a bit further away, but its wide expanse of white sand makes it worth the trip. El Matador Beach is a hidden gem with its picturesque rock formations and crystal clear waters.
Last but not least, Malibu Beach offers some of the best waves for surfing and stunning views of the coastline.
So, pack your sunscreen and head to one of these amazing beaches for a day of fun in the sun!
Santa Monica Beach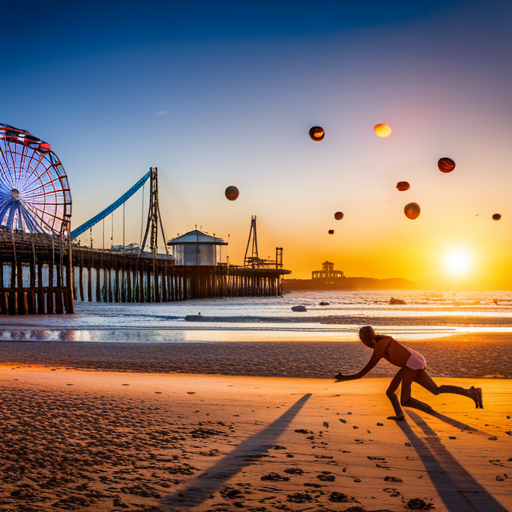 You're standing on the shores of Santa Monica, where the sea meets the sky and the sand stretches out before you.
This beach is the epitome of Los Angeles living, with its beachfront dining options and plethora of outdoor activities.
Take a walk along the iconic Santa Monica Pier and watch the sunset over the Pacific Ocean, or rent a beach cruiser and explore the nearby bike path that stretches all the way to Venice Beach.
But Santa Monica Beach is not just about leisurely activities. It's also a great spot for surfing, bodyboarding, and even paddleboarding.
And if you're feeling extra adventurous, you can try your hand at beach volleyball or join a game of pick-up basketball.
No matter what you choose to do, Santa Monica Beach is the perfect place to soak up some sun and enjoy the laid-back California lifestyle.
Venice Beach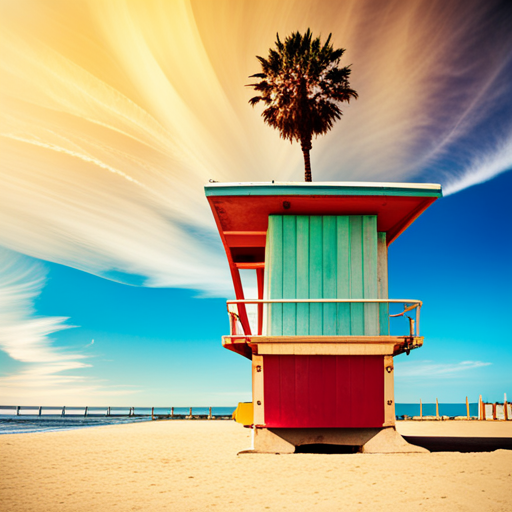 Right here at Venice, you can feel the pulse of the boardwalk and taste the salt air on your lips.
Venice Beach is a vibrant and eclectic destination that perfectly captures the essence of the California lifestyle. With its colorful street performers, bustling Art Walk, and world-famous Muscle Beach, Venice Beach is truly a feast for the senses.
If you're looking to get your heart pumping, head over to Muscle Beach and watch the bodybuilders flex their muscles in the iconic outdoor gym. Or, if you're in the mood for some culture, take a stroll down the boardwalk during the Art Walk and check out the amazing street art and vendors selling their wares.
And no trip to Venice Beach is complete without a dip in the ocean or a game of beach volleyball. So why wait? Come experience all that Venice Beach has to offer and let your free spirit soar.
Manhattan Beach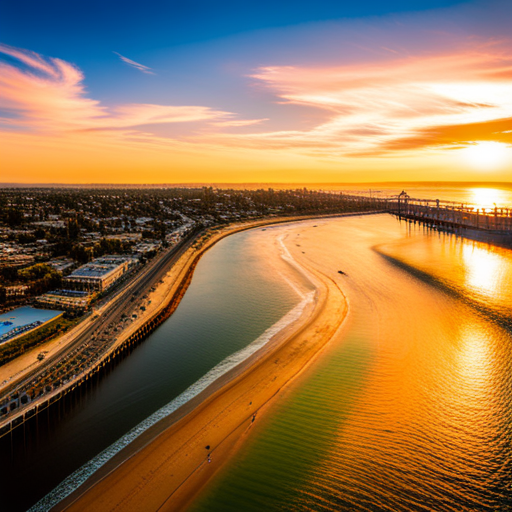 If you're craving a relaxed and upscale beach town vibe, head on over to Manhattan Beach. This seaside city boasts a wide stretch of sandy beach, perfect for lounging and sunbathing. The crystal clear water is perfect for swimming and surfing, so don't forget to bring your board or rent one from a local surf shop.
Aside from sun and surf, Manhattan Beach also offers a variety of beachfront activities for you to explore. Take a stroll along the iconic Manhattan Beach Pier for stunning views of the Pacific Ocean and the city skyline. Afterwards, indulge in some local cuisine at the many restaurants and cafes that line the beach. From fresh seafood to gourmet burgers, there's something for everyone to enjoy.
So pack your sunscreen and head on over to Manhattan Beach for a day of fun in the sun.
Hermosa Beach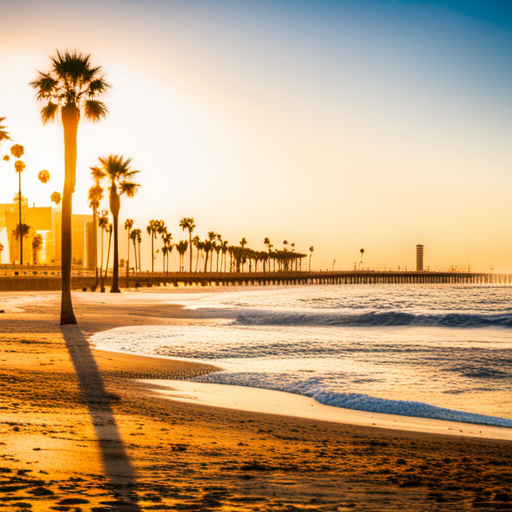 When you're in Hermosa Beach, you can't help but feel the surfer vibe that permeates the entire area. Whether you're an experienced surfer or just starting out, the waves here are perfect for catching some epic rides.
If you're more interested in land sports, consider taking a beach volleyball lesson to really get into the beach culture. And when the sun goes down, head over to Pier Avenue to experience the thriving nightlife scene.
Hermosa Beach truly has something for everyone.
Experience the Surfer Vibe
Soak up the laid-back, beachy atmosphere and catch some waves like a pro – can you feel the surfer vibes yet?
Hermosa Beach is one of the best surf spots in Los Angeles, where the surfing culture is alive and well. The locals here are friendly and always willing to share their local surf spots with you.
Whether you're a beginner or an experienced surfer, you'll find the waves at Hermosa Beach to be challenging and exhilarating. As you paddle out into the ocean, you'll feel the rush of adrenaline and the freedom that comes with surfing.
The waves are consistent and offer plenty of opportunities to catch some epic rides. You'll see surfers of all ages and skill levels, all sharing in the joy of riding the waves.
So, if you're looking to experience the surfer vibe in Los Angeles, head to Hermosa Beach and join in on the fun!
Take a Beach Volleyball Lesson
You can learn to play beach volleyball like a pro with a fun lesson at Hermosa Beach, adding a new activity to your day in the sun. This popular beach spot has a number of volleyball nets set up, and you can hire a coach to teach you the basics or help you improve your skills.
Here are some beach volleyball tips to get you started:
– Start with the basics: Learn how to pass, set, and spike.
– Practice your footwork: Good movement on the sand is key to success in beach volleyball.
– Invest in good equipment: Good-quality volleyball shoes and a ball that suits your skill level can make a big difference in your game.
With the help of a coach and these tips, you'll be serving and spiking the ball like a pro in no time! So grab a group of friends, head down to Hermosa Beach, and enjoy a day of sun, sand, and sports.
Enjoy the Nightlife on Pier Avenue
Get ready to party like a local and experience the vibrant nightlife on Pier Avenue! This bustling street is the heart of Hermosa Beach's bar and restaurant scene, and it's the perfect place to let loose after a day of soaking up the sun.
Whether you're looking for a delicious bite to eat or a place to dance the night away, you'll find it all on Pier Avenue. Explore Pier nightlife and you'll find a plethora of bars, clubs, and restaurants to choose from.
Stop by the Hermosa Saloon for a cold beer and some live music, or head over to the Tower 12 for some delicious tacos and cocktails. And if you're looking for a place to dance, you can't go wrong with Sharkeez or The Standing Room.
With so many options to choose from, you'll never run out of things to do on Pier Avenue. So come hungry, come thirsty, and get ready to experience the best of Hermosa Beach's nightlife scene.
Zuma Beach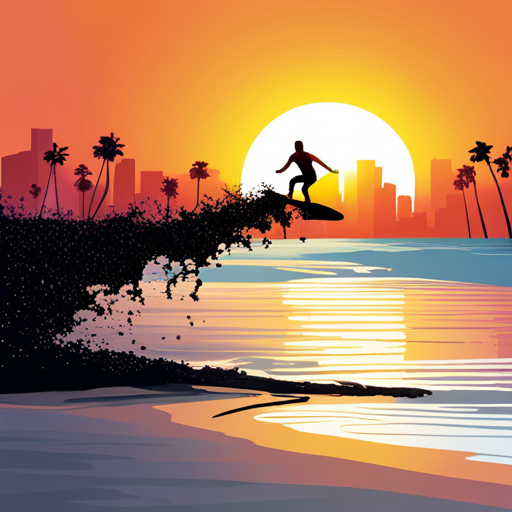 If you're looking for a beach with a wide stretch of sandy shoreline, then Zuma Beach is the place for you.
Surfers and bodyboarders love it here because of the great waves.
If you're feeling adventurous, take a hike in the nearby mountains for some breathtaking views.
Enjoy the Wide Stretch of Sandy Beach
Don't miss out on the opportunity to relax and soak up the sun on the expansive sandy shoreline of Zuma Beach. It's the perfect spot to unwind and escape the hustle and bustle of daily life. Here are some tips to make the most out of your visit:
1. Beach activities: Whether you're looking to catch some waves, play a game of beach volleyball, or take a leisurely walk along the shore, Zuma Beach has it all. Rent a surfboard or paddleboard and hit the waves, or bring your own equipment and set up a game of beach volleyball with friends.
2. Best time to visit: The best time to visit Zuma Beach is during the summer months when the weather is warm and the water is perfect for swimming and surfing. However, if you want to avoid the crowds, consider visiting during the off-season when the beach is less crowded and you can enjoy the peacefulness of the ocean.
3. Beach amenities: Zuma Beach offers a variety of amenities for visitors, including restrooms, showers, and picnic areas. There are also plenty of food vendors and restaurants nearby, so you don't have to worry about packing a lunch.
4. Sunset views: Don't miss out on the breathtaking sunset views from Zuma Beach. As the sun sets over the ocean, the sky is painted with vibrant hues of pink, orange, and purple, making for a picture-perfect moment.
Surf the Waves or Go Bodyboarding
You're missing out on the ultimate fun if you don't hit the waves and try surfing or bodyboarding at Zuma Beach. The beach is famous for its surfing culture, attracting professional and amateur surfers from all over the world.
You can rent a surfboard or bring your own and ride the waves of the Pacific Ocean. Zuma Beach has one of the best waves in Los Angeles, perfect for beginners and experts alike.
Not into surfing? Try bodyboarding instead! Bodyboarding techniques are easy to learn, and the waves at Zuma Beach are perfect for it. You can rent a bodyboard or bring your own and feel the thrill of riding the waves.
The beach has lifeguards on duty, ensuring your safety while you enjoy this exhilarating activity. So, don't miss out on the opportunity to experience the true essence of Zuma Beach and its surfing culture.
Take a Hike in the Nearby Mountains
Let's hit the nearby mountains and take a hike, shall we? There's nothing quite like a scenic trail to refresh the mind and soothe the soul, especially after a day of soaking in the sun and surf at Zuma Beach.
Los Angeles is home to some of the most stunning mountain ranges, offering a perfect escape from the hustle and bustle of the city. Lace up your hiking boots and explore scenic trails that wind through the mountains, revealing breathtaking views of the Pacific Ocean.
As you wander through the mountains, you might just stumble upon some hidden waterfalls. Imagine the sound of cascading water as you take a refreshing dip in the cool pools below.
With nature surrounding you, you'll feel a sense of freedom that can only be found in the great outdoors. So why not take a break from the beach and discover the beauty that lies just beyond the city limits? Trust us, the mountains are calling and you won't want to miss out on this adventure.
El Matador Beach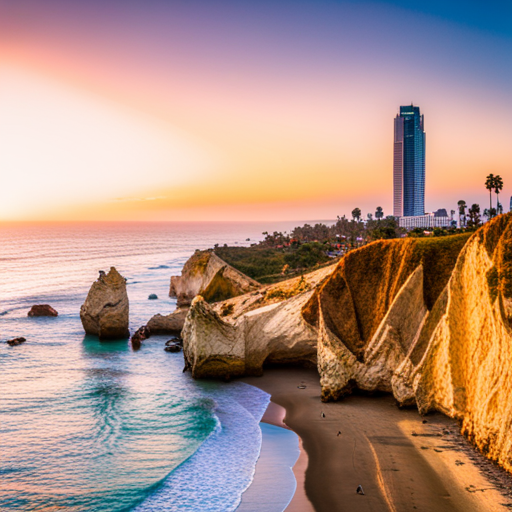 You'll feel like you've stumbled upon a
hidden gem
as you explore the stunning scenery and unique rock formations at El Matador Beach. Nestled in Malibu, this beach is one of the most picturesque in Los Angeles.
With towering cliffs, crashing waves, and golden sand, this is the perfect spot for a day trip or a romantic sunset stroll. If you're a photographer, make sure to bring your camera and take advantage of the stunning views.
The best time to visit is during low tide when you can explore the many caves and tide pools that dot the shoreline. You can also bring a picnic and enjoy the scenery while you soak up the sun.
With its secluded location and breathtaking beauty, El Matador is a must-visit for anyone who wants to experience the best of Los Angeles beaches.
Malibu Beach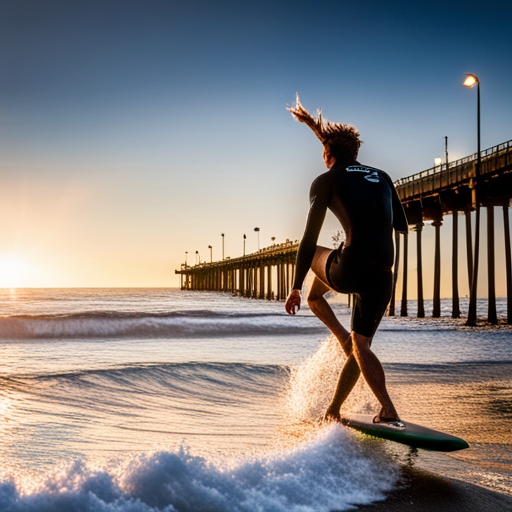 If you're up for a scenic drive and some oceanfront relaxation, head to Malibu
Beach and soak up the breathtaking beauty
of the coastline. This beach is known for having some of the best
surfing spots
in Los Angeles, and you can catch some incredible waves if you're an experienced surfer.
Even if you're not, watching the surfers ride the waves can be just as thrilling. But Malibu Beach isn't just for surfers. You never know who you might run into here, as it's a popular spot for celebrity sightings.
Take a stroll along the beach, set up a picnic, and enjoy the gorgeous views. And if you're feeling adventurous, try your hand at stand-up paddleboarding or kayaking. With so many options for fun and relaxation, Malibu Beach is definitely a must-visit when in Los Angeles.
The sound of the waves crashing against the shore will soothe your soul. Watching the surfers ride the waves will make your heart race. The stunning views of the coastline will take your breath away. Seeing a celebrity in their natural habitat will make you feel like you're part of the Hollywood scene.
Frequently Asked Questions
Are there any dog-friendly beaches in Los Angeles?
Looking for a day at the beach with your furry friend? Look no further than the best dog-friendly beaches in Los Angeles.
From Long Beach to Malibu, these beaches offer pet policies that allow for a day in the sun with your four-legged companion.
Activities to do with your dog at LA beaches are plentiful, with options like playing fetch, swimming, and even taking a relaxing stroll along the shoreline.
Make sure to check the individual pet policies at each beach before heading out, but rest assured knowing that these top dog-friendly beaches in LA have got you and your pup covered for a day of fun in the sun.
Can you rent beach chairs and umbrellas at these beaches?
Looking to make the most of your day at the beach in Los Angeles? You'll be happy to know that many of the city's top beaches offer rental services for beach chairs and umbrellas, as well as other beach amenities like showers and restrooms.
So, whether you're planning on spending your day lounging by the water or engaging in some exciting beach activities and water sports, you can rest assured that everything you need will be available to you.
From Santa Monica to Venice Beach, you can find rental services right on the sand, making it easy to enjoy the freedom of a day spent under the sun without any worries.
Are there any restrictions on bonfires or barbecues on the beach?
When it comes to bonfires and barbecues on the beach, there are some regulations to be aware of.
Beach fire regulations vary depending on the location, so it's important to check with the local authorities before starting any fires. Some beaches may have designated fire pits or areas where fires are allowed, while others may prohibit them altogether.
In terms of beach alcohol rules, it's important to remember that drinking in public is illegal in most places. However, some beaches may allow alcohol consumption in designated areas or with a permit. Just be sure to clean up after yourself and dispose of any trash properly.
Overall, while there may be some restrictions, there are still plenty of opportunities for fun and relaxation on the beach. So grab your friends, some snacks, and enjoy the beautiful scenery.
Are there any natural landmarks or wildlife to look out for at these beaches?
If you're looking for some natural landmarks and wildlife viewing opportunities while you're at the beach in Los Angeles, you won't be disappointed. Many of the beaches have their own unique features. For instance, the tide pools at Leo Carrillo State Park are worth checking out. Here, you can spot starfish and sea anemones. Malibu Lagoon State Beach is another great option. You can witness a variety of birds and even some seals. El Matador State Beach is also a must-visit. It boasts sea caves and rock formations that make for a stunning backdrop. And if you're lucky, you might even spot some dolphins or whales offshore. So keep your eyes peeled and don't forget your camera!
What is the parking situation like at these beaches?
If you're planning to hit the beaches in Los Angeles, you'll want to know about the parking situation. Beach parking in LA can be a challenge, but with a little planning, you can find a spot.
Many of the beaches have parking lots nearby, but they can fill up quickly on weekends and holidays. Some of the beaches have meters or pay stations where you can purchase parking for a set amount of time. Other beaches offer free parking on nearby residential streets, but be sure to check the signs for any restrictions.
Overall, finding beach access in Los Angeles may require some patience, but it's worth it for the freedom of enjoying the sun, surf, and city all in one place. As the old saying goes, "No matter how far you go, there's always a beach."
Conclusion
Congratulations! You've discovered the 7 best beaches in Los Angeles where sun, surf, and city meet.
Now that you've explored these stunning beaches, you might be wondering which one is your favorite. Is it the lively Santa Monica Beach where you can ride the iconic Ferris wheel or the eccentric Venice Beach with its colorful boardwalk?
Perhaps it's the picturesque Manhattan Beach with its stunning views or the laid-back Hermosa Beach, perfect for a peaceful day at the shore. If you're looking for a more secluded beach, you might prefer Zuma Beach with its soft sand and crystal-clear waters.
For a romantic getaway, El Matador Beach is a must-visit with its secluded coves and breathtaking sunsets. And if you're in the mood for a luxurious beach day, head to Malibu Beach where you can soak up the sun while sipping on a refreshing cocktail.
No matter which beach is your favorite, one thing is for sure – Los Angeles has something for everyone. So next time you're in the city of angels, don't forget to pack your sunscreen, pick your favorite beach, and enjoy the perfect day by the ocean. After all, life's better at the beach, isn't it?