Looking for an escape from the chilly autumn weather? Look no further than the beach! October may not be peak beach season, but there are still plenty of warm and sunny destinations to explore. Here are the 7 best beaches to visit in October for a perfect autumn escape.
First up is Maui, Hawaii. With its golden sand beaches, crystal clear waters, and lush greenery, Maui is a paradise that can be enjoyed year-round. October is an especially great time to visit, with fewer crowds and pleasant temperatures in the 80s.
Whether you want to relax on the beach, go surfing, or explore the island's natural beauty, Maui has something for everyone. So pack your swimsuit and sunscreen and get ready to soak up the sun on one of the most beautiful beaches in the world.
Maui, Hawaii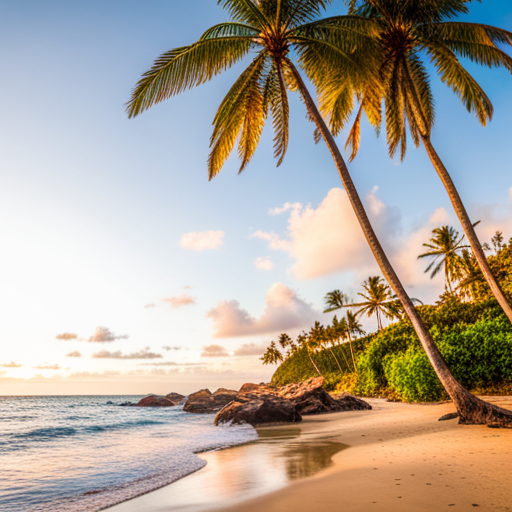 Maui, Hawaii's stunning beauty in October will have you dreaming of an island getaway where you can relax and unwind.
As the summer crowds dissipate, you'll be left with miles of pristine beaches to explore. The warm, crystal-clear waters are perfect for swimming, snorkeling, and surfing. And don't worry if you're a beginner; Maui offers some of the best surfing lessons in the world.
In addition to surfing, Maui is also known for its whale watching tours. October is the perfect time to catch a glimpse of these majestic creatures as they make their way to their winter breeding grounds. You can book a tour and watch the humpback whales breach, tail-slap, and sing their way through the ocean. It's an experience you won't soon forget.
So pack your bags and head to Maui, where the sun, sand, and surf await.
Phuket, Thailand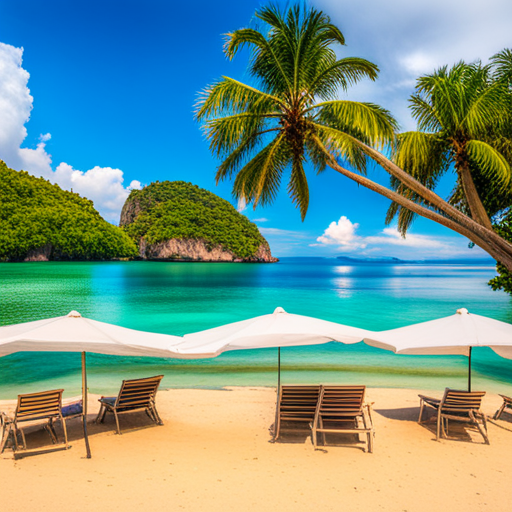 You'll find yourself immersed in the beauty of Phuket, Thailand's stunning beaches and crystal clear waters. This island paradise boasts some of the world's most breathtaking scenery, making it a top destination for beach lovers and adrenaline junkies alike.
Here are some of the top activities you can do while enjoying your stay in Phuket:
1. Island hopping – Take a boat tour and explore the nearby islands, such as Phi Phi Island and James Bond Island.
2. Snorkeling and diving – Discover the vibrant marine life and colorful coral reefs in the Andaman Sea.
3. Thai massage – Treat yourself to a relaxing massage and indulge in the local spa culture.
4. Nightlife – Experience the vibrant nightlife in Patong Beach, where you can find bars, clubs, and live music.
The best time to visit Phuket is between November and February, when the weather is dry and the temperature is mild. However, if you're looking for a more budget-friendly option, consider visiting during the low season between May and October. Despite the occasional rain showers, you can still enjoy the beauty of Phuket's beaches and take advantage of the lower prices on accommodations and activities.
So pack your bags, book your flight, and get ready for an unforgettable adventure in Phuket.
Santorini, Greece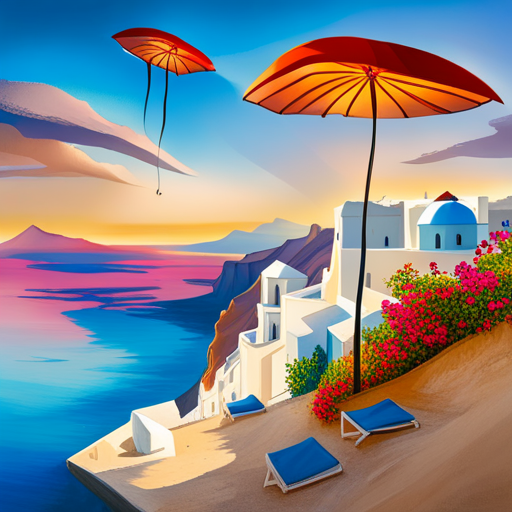 If you're looking for a picturesque destination that offers stunning views, charming villages, and delicious cuisine, Santorini, Greece is the perfect place for you.
You'll be in awe of the breathtaking Caldera views that are sure to leave a lasting impression on your mind.
Take a leisurely stroll through the island's charming villages to experience the local culture and indulge in some mouth-watering Greek cuisine that'll tantalize your taste buds.
Admire the Stunning Caldera Views
Take in the breathtaking views of the caldera and let yourself be swept away by the beauty of nature. Santorini's caldera is a natural wonder that's not to be missed.
The stunning cliffs, sparkling blue water, and picturesque white-washed buildings create a scene that's straight out of a postcard. Don't forget to bring your camera to capture the perfect caldera photography.
To truly immerse yourself in the beauty of the caldera, take a sunset boat tour. As the sun sets over the Aegean Sea, the colors of the sky change from a warm orange to a deep purple, creating a mesmerizing sight.
The cool breeze blowing through your hair, the gentle sound of the waves, and the stunning scenery around you will make you feel alive and free. Whether you're traveling solo or with loved ones, experiencing the beauty of Santorini's caldera is an absolute must.
Explore the Island's Charming Villages
Let's check out the island's charming villages and discover the unique culture and architecture that make Santorini so special. One of the best ways to experience the local traditions and culture is by exploring the hidden gems in the villages.
Oia is a stunning village with white-washed houses perched on the cliffside, offering breathtaking views of the Aegean Sea. Take a stroll through its narrow streets and discover the traditional architecture and charming boutiques selling local products.
Another village worth exploring is Pyrgos, a peaceful and picturesque village with stunning views of the island and the sea. You can wander through its winding streets and admire the traditional houses and churches, including the impressive Panagia Episkopi, a Byzantine church dating back to the 11th century.
Don't forget to stop by one of the local tavernas and try some of the delicious local cuisine, such as fava dip and tomato fritters. Exploring the charming villages of Santorini is a unique and unforgettable experience that will allow you to discover the hidden gems and experience the local traditions of this beautiful island.
Taste Delicious Greek Cuisine
Indulge in the mouth-watering flavors of Greece and experience the true essence of Santorini through its delicious cuisine. The island's cuisine is a perfect blend of Mediterranean and Greek flavors that will leave your taste buds wanting more.
Indulge in local delicacies such as fava, a traditional Santorinian dish made from yellow split peas, or try the famous tomato keftedes, a crispy tomato fritter that's perfect as an appetizer.
Don't just stop at trying out the local dishes, why not learn to cook Greek dishes and take a piece of Santorini home with you? There are plenty of cooking classes available on the island where you can learn how to make traditional dishes such as moussaka, souvlaki and tzatziki.
Not only will you get to indulge in the delicious flavors of Greece, but you'll also get to learn about the culture and traditions that go behind each dish.
Cancun, Mexico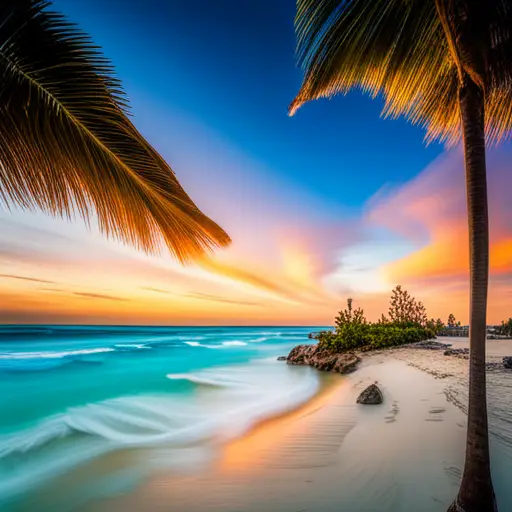 You'll love the
crystal-clear waters
and soft sand of Cancun's beaches. This destination is perfect for those looking for an autumn escape.
Here are some top activities in Cancun that you won't want to miss:
– Snorkeling in the Mesoamerican Reef, the second-largest coral reef in the world
– Visiting the Mayan ruins of Tulum and Chichen Itza
– Swimming with whale sharks from May to September
The best time to visit Cancun is from December to April when the weather is dry and temperatures are mild. However, October is also a great time to visit as it is the off-season, meaning fewer crowds and lower prices.
Don't miss out on the chance to experience the beauty and adventure of Cancun's beaches.
Bali, Indonesia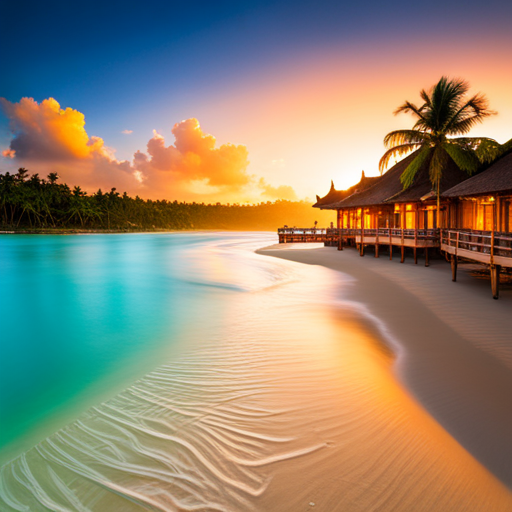 If you're looking for a
tropical paradise
, Bali, Indonesia is the perfect destination for you.
Relax on beautiful beaches with crystal clear waters and white sand, or take a stroll through the lush green rice fields.
Immerse yourself in the island's rich culture by visiting ancient temples and watching traditional dance performances.
And don't forget to indulge in the delicious and unique flavors of Balinese cuisine, from spicy sambal to succulent satay.
Bali offers a wonderful mix of relaxation, exploration, and culinary delights that'll leave you feeling rejuvenated and inspired.
Relax on Beautiful Beaches
Kick back and unwind on picturesque shorelines that'll leave you feeling rejuvenated in no time.
October is the perfect time to relax on beautiful beaches and escape the hustle and bustle of daily life. Whether you're looking for a quiet and peaceful retreat or an adventurous getaway, there's a beach out there that's perfect for you.
Here are the top 4 beach activities to try and the best time to visit:
1. Snorkeling: Explore the colorful underwater world and swim alongside exotic sea creatures. The water's crystal clear in October, making it an ideal time for snorkeling.
2. Kayaking: Paddle through calm waters and marvel at stunning views of the coastline. October's a great time to go kayaking as the weather's mild and the water's calm.
3. Beach volleyball: Gather some friends and play a game of beach volleyball. The cool breeze in October makes it a pleasant time to play sports on the beach.
4. Bonfire: Build a bonfire and cozy up with a blanket on the beach. The cooler temperatures in October make it the perfect time to enjoy a warm fire on the beach.
Whether you're looking for an adrenaline rush or a peaceful retreat, visiting the beach in October's a great idea. The weather's pleasant, the crowds are smaller, and the atmosphere's more relaxed.
So pack your beach bag, grab a good book, and head to the beach for a well-deserved break.
Explore the Island's Rich Culture
As you stroll through the vibrant streets of the island, you'll discover local traditions and immerse yourself in authentic experiences.
The island is a melting pot of cultures, and you'll be captivated by the colorful sights and sounds that surround you.
From the lively street markets to the quaint local shops, there's no shortage of opportunities to explore the island's rich culture.
One of the best ways to immerse yourself in the island's culture is by trying the local cuisine. The island's famous for its fresh seafood, and you'll find a variety of dishes that are sure to satisfy your taste buds.
Don't be afraid to try something new, as the island's cuisine is a fusion of different cultures.
By embracing the island's culture and traditions, you'll leave with a deeper appreciation and understanding of the local way of life.
Enjoy Traditional Balinese Cuisine
Get ready to indulge in some delicious traditional Balinese cuisine – you won't regret it! Balinese cuisine is known for its use of fresh ingredients, aromatic spices, and unique cooking techniques. You'll find an abundance of dishes that are both sweet and savory, such as grilled satay, spicy sambal, and coconut-based curries.
If you're interested in learning more about Balinese cuisine, why not take a cooking class? There are plenty of options available, from market tours to hands-on cooking classes where you'll learn to prepare traditional dishes.
Not only will you get to sample some amazing food, but you'll also gain an insight into the culture and history of Balinese cuisine. Don't miss out on this opportunity to fully immerse yourself in the local food scene during your October escape to Bali.
Maldives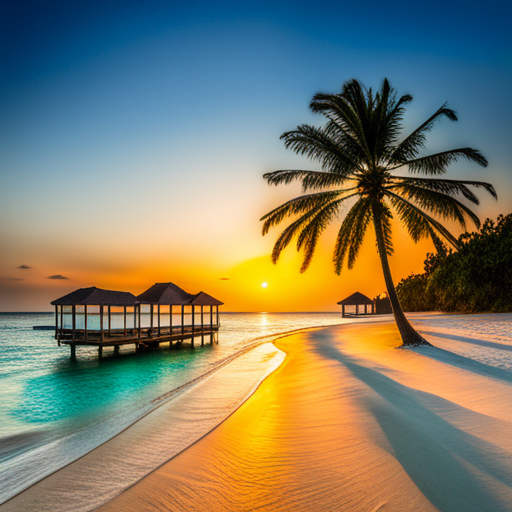 You simply can't miss out on the Maldives section – it's pure paradise! With its crystal-clear waters and pristine white
sandy beaches
, the Maldives is the ultimate destination for anyone seeking a luxurious vacation. The Maldives is home to some of the most luxurious resorts in the world, making it the perfect place to indulge in some much-needed pampering.
Whether you're looking to relax and unwind or engage in some thrilling water sports such as scuba diving, the Maldives has something in store for everyone. Scuba diving in the Maldives is an experience like no other. With crystal-clear waters, vibrant coral reefs, and an abundance of marine life, it's no wonder why the Maldives is considered one of the top scuba diving destinations in the world.
As you explore the colorful underwater world, you'll encounter an array of marine life, including manta rays, sea turtles, and even sharks. Whether you're an experienced diver or a beginner, the Maldives offers a range of diving sites to cater to different skill levels. So why not pack your bags, head to the Maldives, and experience a vacation of a lifetime?
Gold Coast, Australia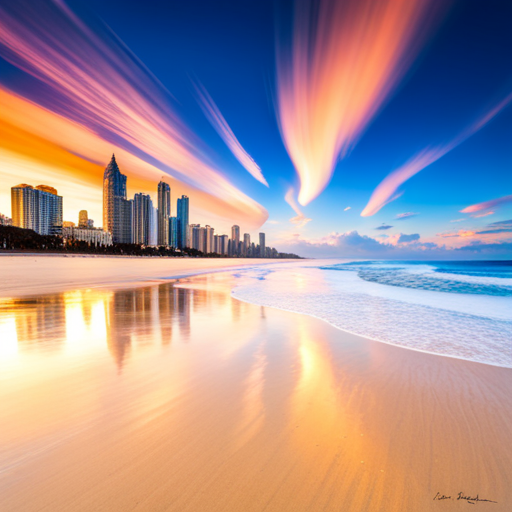 If you're looking for a place to soak up some sun and experience the ultimate
beach vacation
, then the Gold Coast in Australia is the spot for you. This surfing paradise is perfect for those who love to catch some waves, and the warm weather in October makes it an ideal destination.
But the Gold Coast isn't just for surfers. There are plenty of family-friendly activities to keep you busy, such as visiting the theme parks or exploring the lush hinterland.
To make the most of your time in the Gold Coast, here are five things you can't miss:
– Catch a wave at Surfers Paradise Beach
– Visit the Currumbin Wildlife Sanctuary to see kangaroos and koalas up close
– Take a scenic drive through the Gold Coast hinterland and see waterfalls and rainforests
– Explore the trendy cafes and boutiques in Burleigh Heads
– Experience the thrill of the rides at Dreamworld or Warner Bros. Movie World
With so much to see and do, the Gold Coast is the perfect destination for anyone looking for an adventure-filled autumn escape. So pack your bags and get ready for an unforgettable beach vacation full of sun, sand, and excitement.
Frequently Asked Questions
How long does it take to travel to each of these beaches from major airports?
When planning your autumn escape, it's important to consider the logistics of getting to your destination. You'll be pleased to know that all of the 7 best beaches to visit in October are easily accessible from major airports.
Travel time ranges from a quick 30-minute drive to a scenic 2-hour journey. Depending on your preference, you can choose from various transportation options such as rental cars, buses, or taxis.
Cost of living varies from beach to beach, but you'll be pleasantly surprised to find that local cuisine is affordable and delicious. Indulge in fresh seafood, exotic fruits, and tantalizing spices.
With easy access to these picturesque beaches, you'll have the freedom to explore, relax, and immerse yourself in the local culture.
Are there any cultural events or festivals happening in these destinations during October?
If you're planning a trip to any of these 7 best beaches to visit in October, you're in luck! Traditional celebrations and local customs are a big part of the cultural scene in these destinations during this time of the year.
You can experience colorful festivals and parades, witness unique rituals and ceremonies, and even participate in community events. Additionally, there are plenty of culinary experiences to indulge in, with fresh seafood and local delicacies being the highlight.
And for art lovers, these destinations offer a variety of performances, from music to theater to dance. So, whether you're looking for a relaxing beach vacation or an immersive cultural experience, these destinations have something for everyone.
What kind of accommodations are available at each of these beaches?
Imagine waking up to the sound of waves crashing on the shore right outside your window. As you step outside onto your balcony, the salty sea breeze fills your lungs, and the sun rises over the horizon.
This is just a taste of what you can expect from the beachfront accommodations at the 7 best beaches to visit in October. Each location offers a unique experience, from the luxurious resorts of Hawaii to the cozy cottages of Maine.
When you're not lounging on the sand or taking a dip in the ocean, there are plenty of nearby attractions to explore, such as hiking trails, local shops, and delicious restaurants. And with beachfront amenities like beach chairs, umbrellas, and water sports equipment, you'll have everything you need for the ultimate autumn escape.
Are there any specific activities or excursions recommended for each beach?
When it comes to beach activities, the 7 best beaches to visit in October offer a variety of options.
If you're looking for water sports, head to Waikiki Beach in Hawaii for surfing or paddleboarding.
For those seeking adventure, try zip-lining or snorkeling at Seven Mile Beach in Jamaica.
If relaxation is more your style, visit the secluded beaches of Turks and Caicos for snorkeling and sunbathing.
At South Beach in Miami, Florida, you can take part in beach volleyball or rent a jet ski for some high-speed fun.
The beaches of Bali, Indonesia offer unique cultural experiences like traditional Balinese dance performances or exploring the surrounding rice paddies.
Finally, for a mix of adventure and relaxation, visit the beaches of Phuket in Thailand for snorkeling, island hopping, and spa treatments.
No matter which beach you choose, there are plenty of activities to keep you entertained and make your autumn escape a memorable one.
What is the average temperature and rainfall in each of these destinations during October?
When it comes to planning your beach getaway in October, it's important to consider the weather and the available activities.
The average temperature in Miami during October is around 80°F with low rainfall, making it ideal for sunbathing, swimming, and water sports.
On the other hand, San Diego has a cooler climate with an average temperature of 70°F and moderate rainfall, making it perfect for hiking, surfing, and exploring.
If you're looking for a more tropical climate, head to Honolulu where the temperature hovers around 85°F with occasional showers. Activities like snorkeling, hiking, and visiting historical sites are popular in this region.
No matter which destination you choose, make sure to pack accordingly and take advantage of the beach activities that are unique to each location.
As the saying goes, "life's a beach", so enjoy your October weather and make unforgettable memories along the shores.
Conclusion
So there you have it, the 7 best beaches to visit in October for the ultimate autumn escape. You can't go wrong with Maui's stunning sunsets, Phuket's crystal clear waters, or Santorini's breathtaking views.
And let's not forget about Cancun's lively atmosphere, Bali's exotic charm, the Maldives' luxurious resorts, and the Gold Coast's endless stretches of sand. But let's be real, these beaches aren't just 'the best.'
They're the absolute, unequivocal, undisputed champions of beach destinations. They'll make you forget about all your worries and leave you feeling rejuvenated and refreshed.
So why settle for a mediocre vacation when you can have the best of the best? Book your trip now and experience the ultimate beach getaway. Trust us, you won't regret it.