Looking for an escape from the hustle and bustle of your daily life? Look no further than the stunning beaches of Turkey. With its crystal clear waters, white sandy beaches, and unspoiled beauty, Turkey's Mediterranean coast offers the perfect place to unwind and reconnect with nature.
From the famous Oludeniz Beach to lesser-known gems like Kaputas Beach and Iztuzu Beach, there are countless options for those seeking a beach vacation with a touch of adventure.
Whether you're looking to soak up the sun, swim in the warm waters, or indulge in some thrilling water sports, Turkey's beaches have something for everyone.
So pack your bags and get ready to discover the Mediterranean's unspoiled beauty at these top 9 beaches in Turkey.
Oludeniz Beach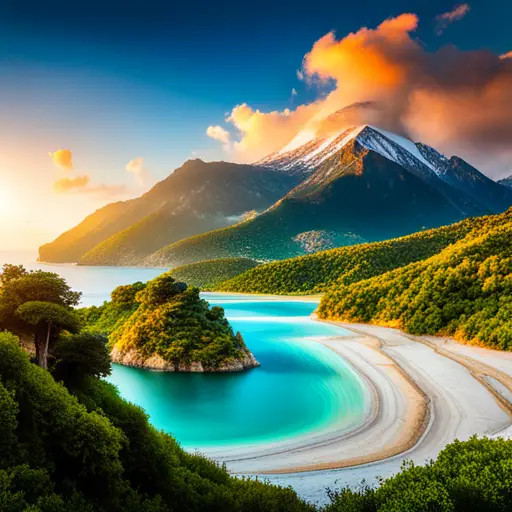 Let's head to Oludeniz where crystal-clear
turquoise waters
meet a stunning mountainous backdrop. This idyllic beach is surrounded by lush greenery, creating a picturesque setting that will take your breath away.
As soon as you arrive, you'll feel the urge to dive into the refreshing waters and explore all the hidden treasures that await you. But Oludeniz is not just a beautiful beach – it's also the perfect spot for adventure seekers.
You can't miss the paragliding adventures that will take you soaring high above the blue waters and the picturesque coastline. And if you want to take it easy, the Blue Lagoon excursions will give you the chance to relax and soak up the sun on a peaceful boat ride.
Oludeniz has it all, so don't hesitate to make it your next destination.
Patara Beach
You're standing on a pristine stretch of sand, surrounded by rolling dunes and clear turquoise waters that seem to stretch on forever. This is Patara Beach, one of the most beautiful and unspoiled beaches in Turkey.
Here, you'll find a tranquil paradise where you can escape from the stresses of everyday life and immerse yourself in the natural beauty of the Mediterranean. If you're looking for a beach that offers more than just sun and sand, Patara Beach is the perfect destination for you.
Here are three reasons why:
1. Sand Dunes: The rolling sand dunes that surround Patara Beach are a sight to behold. These natural wonders create a serene landscape that's perfect for relaxing and taking in the beauty of nature.
2. Ancient Ruins: Patara Beach is also home to ancient ruins that date back to the Roman era. As you walk along the shore, you'll come across the remains of an ancient amphitheater and a lighthouse that was once used to guide ships safely to shore.
3. Unspoiled Beauty: Unlike many other beaches in Turkey, Patara Beach remains unspoiled by tourism. You won't find any high-rise hotels or crowded beaches here, just pure, unadulterated beauty.
It's the perfect place to disconnect from the outside world and reconnect with nature.
Kaputas Beach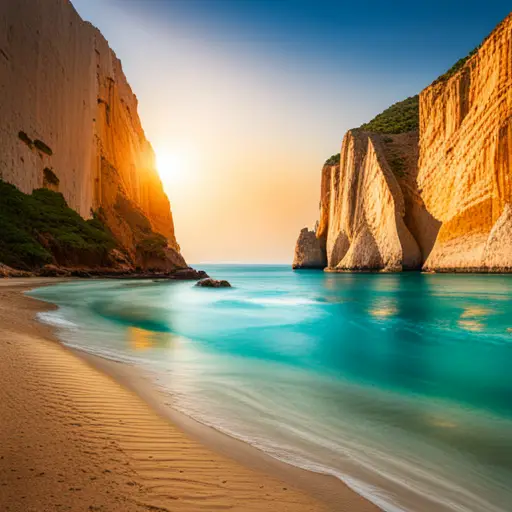 Get ready to experience the breathtaking beauty of Kaputas Beach, where the
crystal-clear waters
meet the narrow gorge and create a picture-perfect scene.
As you step onto the soft sand, you'll be surrounded by towering cliffs and lush green hills. Take a dip in the turquoise waters or simply soak up the sun on the beach.
But don't forget to explore the hidden gems and local cuisine that Kaputas Beach has to offer. If you're looking for adventure, Kaputas Beach has plenty of options.
Take a snorkeling or parasailing excursion to get a new perspective on the stunning coastline. The crystal-clear waters make it easy to spot colorful fish, while the parasailing offers a bird's eye view of the beach and cliffs.
After a day of exploring and adventure, indulge in some local cuisine at one of the nearby restaurants. Kaputas Beach is the perfect destination for those seeking a balance of natural beauty and exciting activities.
Iztuzu Beach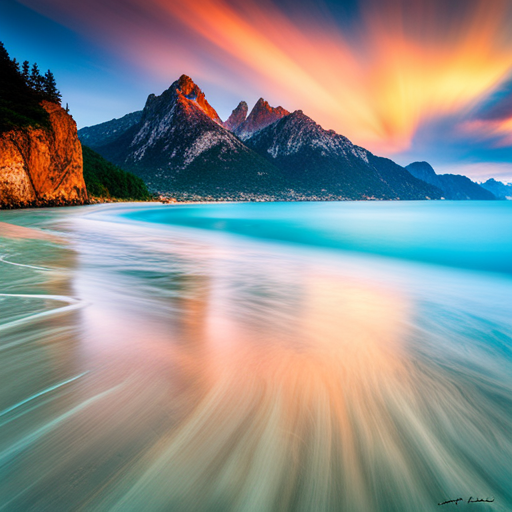 As you step onto the
golden sand
of Iztuzu Beach, the cool breeze and gentle waves invite you to unwind and immerse yourself in the tranquil atmosphere.
Located on the Mediterranean coast, Iztuzu Beach is a true gem of Turkey. Not only is it a perfect spot to soak up the sun and swim in the crystal-clear water, but it is also a protected area for the conservation of loggerhead turtles.
Conservation efforts have been put in place to ensure the turtles can nest undisturbed on the beach. During the nesting season, visitors aren't allowed on the beach at night to avoid disturbing the turtles.
The beach is also cleaned every night to remove any debris that may hinder the turtles' nesting. It's heartwarming to see how much care and effort is put into preserving this natural wonder.
So, when you visit Iztuzu Beach, not only will you be able to enjoy the beauty of the Mediterranean, but you'll also be contributing to the protection of these magnificent creatures.
Cleopatra Beach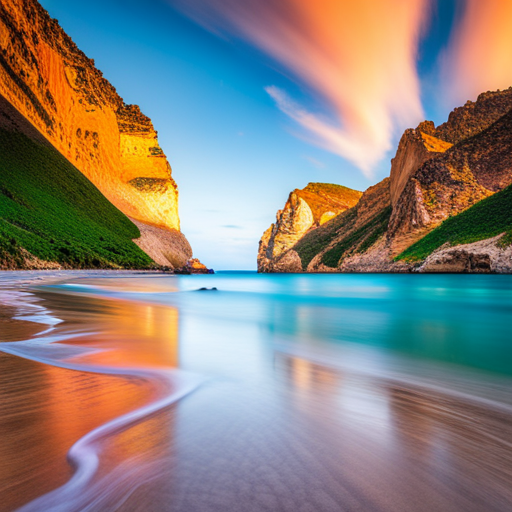 You'll feel like royalty as you bask in the soft sand and turquoise waters of Cleopatra Beach, a legendary spot named after the Egyptian queen who once swam here.
This stunning beach is located in the charming town of Alanya, along the southern coast of Turkey. The sand is incredibly fine and powdery, making it a pleasure to walk on barefoot. The water is clear and warm, perfect for swimming, snorkeling, and other water activities.
There are plenty of activities to keep you busy, whether you're looking for adventure or relaxation. You can rent a paddleboard or kayak and explore the coastline, or take a boat tour to see the nearby caves and islands.
For those who prefer to stay on land, there are sun loungers and umbrellas available for rent, and plenty of beachside cafes and restaurants where you can enjoy a refreshing drink or a delicious meal. Nearby attractions include the ancient castle of Alanya, the Dim Cave, and the Damlatas Cave, all of which are worth a visit if you have time.
Cleopatra Beach is truly a paradise on earth, and a must-visit destination for anyone looking for a little slice of heaven.
Cirali Beach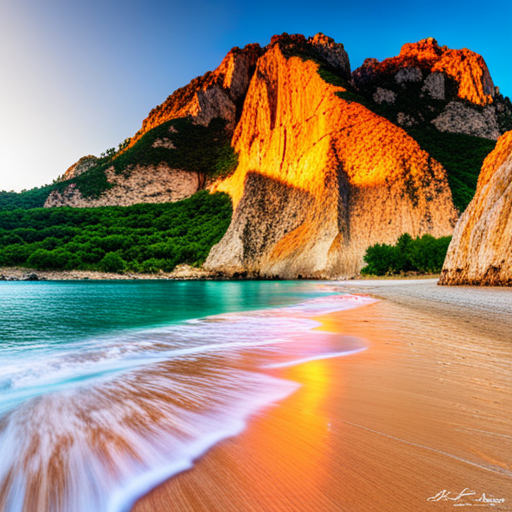 You've just finished reading about the stunning Cleopatra Beach in Turkey, and now it's time to explore another
hidden gem
on the Mediterranean coast. Welcome to Cirali Beach, where you'll find unspoiled beauty and a rich history waiting for you.
Cirali Beach is a secluded paradise nestled between the towering mountains and the turquoise sea. It's famous for its pristine sands, crystal-clear waters, and breathtaking views of the sunset. But there's more to this beach than meets the eye.
Cirali has a fascinating history that dates back to the ancient Lycian civilization, and you can still see the ruins of their settlements scattered around the area. If you're a history buff, you'll definitely want to explore the ancient city of Olympos, which is just a short walk away from the beach. And if you're lucky, you might even spot some loggerhead turtles that come to nest on the beach every year.
So, pack your bags and get ready to discover the hidden treasures of Cirali Beach.
Here are three things you don't want to miss when you visit Cirali:
1. Take a hike to the Chimera flames: This natural phenomenon is a must-see when you're in Cirali. The flames have been burning for thousands of years and are said to be the inspiration behind the legend of the fire-breathing Chimera monster.
2. Visit the Olympos Ruins: This ancient city is steeped in history and mythology. Take a stroll through the ruins and imagine what life was like for the people who lived there thousands of years ago.
3. Go on a boat tour: Explore the coast from a different perspective by taking a boat tour. You'll get to see the stunning coastline and the crystal-clear waters of the Mediterranean up close.
The best time to visit Cirali is in the spring or fall when the weather is mild, and the crowds are thin. However, if you're looking for some summer fun, you won't be disappointed. The beach is perfect for swimming, sunbathing, and relaxing, and there are plenty of water sports activities to keep you entertained.
So, whether you're a history buff, a nature lover, or just looking for some fun in the sun, Cirali Beach has something for everyone.
Alanya Beach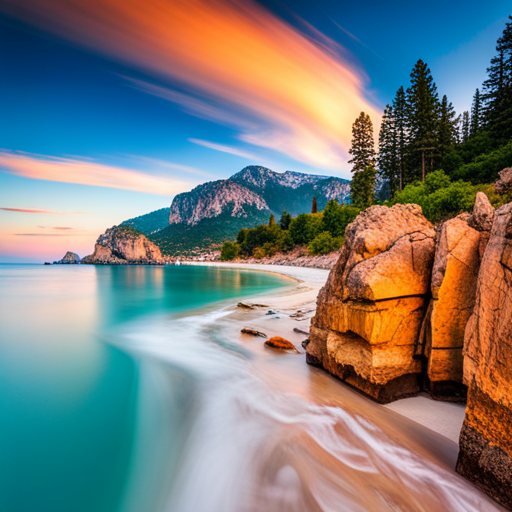 If you're planning a trip to the Mediterranean coast, don't miss out on the inviting waters and vibrant atmosphere of Alanya Beach. This stunning beach boasts crystal clear waters and soft sandy shores that stretch for miles.
It's the perfect spot for sunbathing, swimming, and water sports. If you're feeling adventurous, there are plenty of water sports to choose from, including jet skiing, parasailing, and banana boat rides.
And when the sun goes down, the beach transforms into a lively party scene with numerous nightlife options. Whether you're looking for a quiet evening or a wild night out, Alanya Beach has something for everyone.
So why wait? Pack your bags and head to this beautiful beach for an unforgettable getaway.
Frequently Asked Questions
What are the best times of year to visit these beaches?
You're in luck! The best months to visit the beaches in Turkey are from May to October. The weather conditions during these months are warm and sunny, making for perfect beach weather. You'll never want to leave once you experience the crystal-clear waters, soft sand, and picturesque surroundings.
It's no wonder that Turkey's beaches are considered some of the best in the world. With so much to see and do, you'll never get bored. Whether you're looking to relax and unwind or try out some water sports, these beaches have something for everyone.
So pack your bags, grab your sunscreen, and get ready to experience the ultimate freedom on Turkey's stunning shores.
Are there any restrictions on swimming or beach activities at these locations?
When it comes to swimming and beach activities in Turkey, there are some restrictions in place to protect the environment. These efforts aim to preserve the unspoiled beauty of the Mediterranean. They include rules about using sunscreen, littering, and disturbing sea life. While these restrictions may seem limiting at first, they ultimately help ensure that these beaches remain pristine for generations to come.
So if you're planning a trip to Turkey and want to enjoy the country's beautiful beaches, be sure to do your part in supporting these environmental conservation efforts.
Are there any nearby accommodations or restaurants at each beach?
You've decided to escape to the Mediterranean and find yourself on the shores of Turkey's most beautiful beaches. As you dig your toes into the warm sand, you can't help but feel the pull of the nearby amenities.
You'll find everything you need just a short walk or ride away. From cozy bed and breakfasts to luxurious resorts, there's no shortage of accommodations to choose from. And when hunger strikes, you can indulge in delicious local cuisine at the nearby restaurants.
Getting around is easy too, with local transportation readily available. So go ahead, let yourself be free and enjoy all that these stunning beaches have to offer.
Are there any specific cultural or historical attractions to visit near these beaches?
As you wander away from the beaches, you'll discover a rich cultural heritage that is unique to Turkey. Immerse yourself in the local customs and traditions, and savor the traditional cuisine that's been passed down through generations.
You'll find that the history of the region is intertwined with its food, and that every dish tells a story. From the ancient ruins of Ephesus to the grand mosques of Istanbul, Turkey offers a wealth of cultural and historical attractions that are just waiting to be explored.
So take your time and discover the true beauty of this wonderful country.
What is the average water temperature at each beach throughout the year?
Looking to hit the beach and enjoy some water sports? You'll want to know what the water temperature is like throughout the year.
The climate and weather patterns in Turkey are perfect for hitting the waves and exploring the marine life. Whether you're a seasoned surfer or just looking to dip your toes in the water, the average water temperature at these beaches is just right for you.
So grab your board, put on your wetsuit, and get ready to feel the rhythm of the waves. Don't forget your snorkel, too – there's plenty of marine life to discover beneath the surface.
Conclusion
So, there you have it – the top 9 beaches in Turkey that you need to add to your travel bucket list.
From the stunning turquoise waters of Oludeniz Beach to the sandy stretches of Kaputas Beach, each of these beaches has something unique to offer.
Whether you're looking for a peaceful escape or an adventure-filled vacation, Turkey's beaches have got you covered.
As you plan your trip to Turkey, remember that the Mediterranean's unspoiled beauty is waiting for you.
So pack your sunscreen, grab your shades, and get ready to embark on a journey of a lifetime.
As the famous saying goes, 'The world is a book, and those who do not travel read only a page.' So don't miss out on the opportunity to discover the treasures that Turkey's beaches have to offer.
Let your senses be captivated by the mesmerizing beauty of the Mediterranean, and let your soul be rejuvenated by the calming effect of the waves.
As you immerse yourself in the beauty of these beaches, you'll realize that life is not just about the destination – it's about the journey too.
In conclusion, Turkey's beaches are a true hidden gem that every traveler must visit at least once in their lifetime.
So what are you waiting for? Book your tickets today and get ready to experience the beauty of the Mediterranean in all its glory.
As the famous poet John Keats once said, 'The poetry of the earth is never dead.' So go ahead and explore the poetry that lies hidden in Turkey's beaches.
Let the beauty of the Mediterranean leave you in awe and inspire you to travel more.
After all, as Robert Louis Stevenson once said, 'I travel not to escape life, but for life not to escape me.'