You can feel the sun on your skin and hear the sound of waves crashing against the shore. Summer is here and it's time to plan the ultimate beach party. But with so many options, where do you start?
Get ready for a wild ride because we've got nine sizzling summer beach party themes that will make a splash! From a tropical luau to a glow-in-the-dark party, these themes are designed to bring your beach party to life.
You'll be able to feel the sand between your toes, taste the salty ocean breeze, and dance the night away under the stars. So grab your sunscreen, your swimsuit, and your sense of adventure because it's time to make some unforgettable summer memories.
Are you ready? Let's dive in!
Tropical Luau

Get ready to transport yourself to a tropical oasis with our vibrant and lively luau theme. This beach party theme is perfect for those who want to feel the warmth of the sun on their skin, while sipping on delicious tropical drinks and indulging in mouth-watering Hawaiian cuisine.
As you step into the party, you'll be greeted with colorful decorations, including tiki torches, hibiscus flowers, and palm leaves. The sound of ukulele music playing in the background will instantly transport you to a Hawaiian paradise.
Take a sip of your Mai Tai or Piña colada and let the flavors of the tropics dance on your tongue. Our luau-themed party will have an array of delicious Hawaiian cuisine, including poke bowls, grilled pineapple, and kalua pig. You'll feel like you're on a tropical vacation as you indulge in these delicious dishes.
So, come and join us for a night of fun, laughter, and delicious tropical treats at our sizzling summer beach party. Let the tropical vibes and warm beach breeze take your worries away and enjoy the freedom of a carefree summer night.
Beach Olympics

You'll be the star of the sand when you compete in the Beach Olympics, showing off your strength and agility while digging for treasure and racing to the finish line. This theme is perfect for those who enjoy team building and competitive challenges.
Here are some ideas to make your Beach Olympics a success:
– Sandcastle Building: Split into teams and see who can build the most impressive sandcastle in a set amount of time. Bonus points for creativity and unique designs.
– Beach Volleyball: Set up a net and challenge your friends to a game of beach volleyball. This is a great way to get some exercise while having fun in the sun.
– Obstacle Course: Create an obstacle course with various challenges such as jumping over beach chairs or crawling under beach umbrellas. Time each team and see who can complete the course the fastest.
Get ready to have a blast with your friends as you compete in the Beach Olympics. These competitive challenges will not only bring out your inner athlete but also help build teamwork skills. So gather your team and get ready to take on the sand!
Pirate Party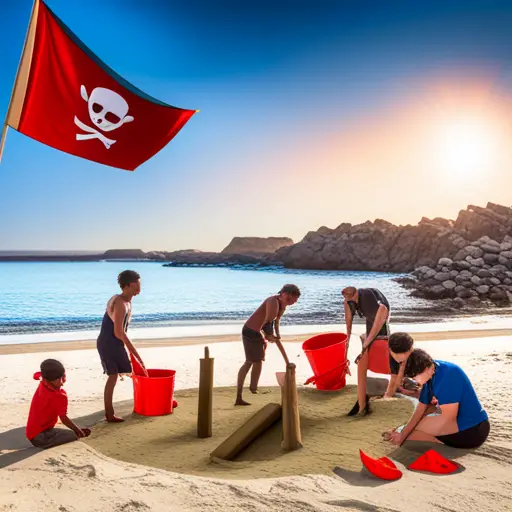 Ahoy mateys! It's time to set sail for adventure as we transform your beach bash into a high seas pirate party. To make your party stand out, encourage your guests to come dressed in their best pirate costumes. From eye patches to peg legs, the possibilities are endless!
Once your guests have arrived, it's time to start the treasure hunt. Hide some gold coins, trinkets, and other pirate-themed goodies around the beach and let your guests search for them. To make it more exciting, divide your guests into teams and add some obstacles along the way.
The first team to find all the treasure wins the ultimate prize – bragging rights as the most successful pirates on the beach! With this pirate party theme, you'll be sure to make a splash and create memories that your guests will never forget.
Retro Beach Bash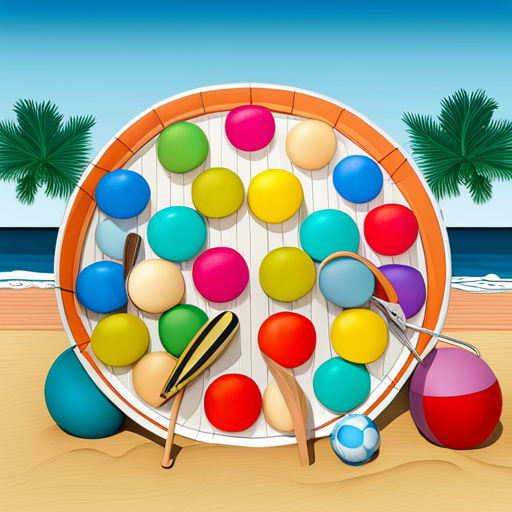 Are you ready to travel back in time and experience the groovy vibes of the 60s and 70s? The Retro Beach Bash is the perfect theme to make your summer party a hit. With vintage-inspired decorations, classic beach games and activities, and a playlist filled with iconic hits from the era, you and your guests are in for a far-out time.
Get ready to boogie down to the tunes of The Beach Boys and Janis Joplin while playing a game of beach volleyball or frisbee.
Vintage-inspired Decorations
Get transported back in time with our vintage-inspired decor, adding a touch of nostalgia and charm to your beach party.
Start by creating vintage inspired centerpieces using items like old glass bottles, seashells, and driftwood. Fill the bottles with sand, shells, or flowers, and arrange them in clusters on your tables.
Use old suitcases or trunks as an accent piece, and fill them with beach towels, sunscreen, and other summer essentials.
For a DIY beachy craft, try making your own bunting flags. Cut out triangles from old fabric or scrapbook paper, and string them together with twine or rope. Hang them over your food table or across the beach cabana for a touch of whimsy.
Don't forget to add vintage touches like old postcards or retro beach signs to complete the look. Your guests will feel transported to a simpler time, and your beach party will be unforgettable.
Classic Beach Games and Activities
Let's dive into the fun with some classic beach games and activities that'll transport you to a simpler time like a time capsule.
Nothing screams beach party more than a thrilling game of beach volleyball. It's a great way to get everyone involved and active. Set up a tournament with teams and let the games begin. You can even have a prize for the winning team, like a custom-made beach towel or a beach-themed gift basket.
Another classic activity that never gets old is sandcastle building competitions. It's a fun way to get creative and build something together as a group. You can set up teams and have them compete against each other, or you can simply have everyone build their own sandcastle and vote for the best one.
Don't forget to bring some fun beach toys like shovels and buckets to make the competition even more exciting.
With these classic beach games and activities, your summer beach party will be a hit and will transport you and your guests to a simpler time of carefree fun and adventure.
60s and 70s Music Playlist
You'll be transported back in time and feel the nostalgia of the 60s and 70s with this groovy music playlist. Get ready to shake your groove thing with these classic hits that will have you dancing all night long.
Here are some tips to help you enjoy your retro dance party:
1. Dress the part: Embrace the funky fashion of the 70s with bell-bottoms, platform shoes, and colorful shirts. Don't be afraid to go all out with your outfit!
2. Learn some disco moves: Get your dancing shoes ready and brush up on your disco moves with online tutorials. Impress your friends with your fancy footwork on the dance floor.
3. Set the mood: Add some disco balls, colorful lights, and lava lamps to your party space for a true 70s vibe.
4. Sing along: Don't just dance, sing along to the iconic songs of the era. From 'Stayin' Alive' to 'I Will Survive,' these tunes are sure to get everyone in the party mood.
So turn up the volume and let the good times roll with this 70s music playlist. It's time to get groovy and boogie down!
Glow-in-the-Dark Party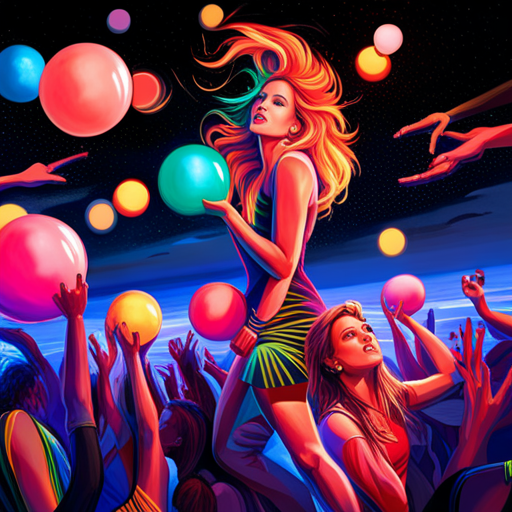 The Glow-in-the-Dark Party is the perfect nighttime event to make your guests glow with excitement. Studies show that fluorescent colors can increase energy and excitement levels, making it the perfect theme for a sizzling summer beach party.
Imagine your guests arriving in their neon outfits, ready to play glow-in-the-dark games and dance the night away under the stars.
To set the stage for your Glow-in-the-Dark Party, decorate with neon decorations like black lights, glow sticks, and neon tablecloths. Create a playlist of upbeat, dance-worthy music that will keep your guests moving all night long.
And don't forget to plan some glow-in-the-dark games like glow-in-the-dark frisbee or glow stick tag to keep the party going. With this fun and engaging theme, your guests will be sure to have a night they'll never forget.
Beach Bonfire Party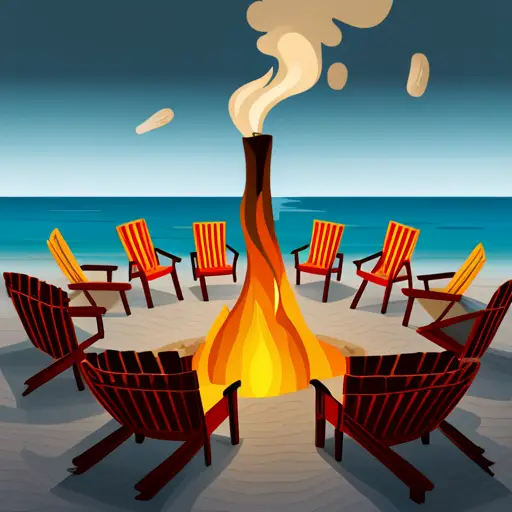 Ready to heat up your summer nights with a beach bonfire party? Here are some essential tips for building a safe and cozy fire that everyone can enjoy.
Don't forget to stock up on s'mores supplies and marshmallows for some delicious roasting.
And to top it all off, grab your acoustic guitar and serenade your friends and family under the stars.
Get ready for a night of beachy fun and unforgettable memories!
Bonfire Building and Safety Tips
Don't forget to follow these bonfire building and safety tips to ensure a fun and safe night for all.
First, make sure to choose a suitable location for your bonfire. Avoid areas with low-hanging branches, dry grass, or anything that can easily catch fire. Also, be aware of the wind direction and keep the fire away from any buildings or flammable objects.
Second, always have a fire extinguisher or a bucket of water nearby in case of an emergency. It's also important to not leave the fire unattended and to avoid throwing any flammable materials into the fire.
If you don't have access to a fire pit, consider using alternatives like a portable fire pit or a chiminea.
With these bonfire safety tips in mind, you can enjoy a night under the stars with your friends and family without any worries.
S'mores and Marshmallow Roasting
You can't resist the gooey deliciousness of roasting marshmallows and making s'mores, which are enjoyed by 70% of Americans during camping trips according to a recent survey.
And what better way to enjoy these campfire snacks than at a summer beach party with your friends? Here are three ways to make your s'mores and marshmallow roasting experience even more enjoyable:
1. Get creative with your s'mores! Try using different types of chocolate, like dark chocolate or caramel-filled chocolate, and adding in some extra toppings like peanut butter or sliced fruit.
2. Build your own DIY fire pit. Instead of using a pre-made pit, gather some rocks and create your own circle for your bonfire. This will give you more control over the size and shape of your fire, and create a unique atmosphere for your beach party.
3. Don't forget the supplies! Make sure to bring plenty of graham crackers, chocolate, and marshmallows, as well as skewers or long sticks for roasting. And, of course, don't forget the napkins for those sticky fingers!
So gather your friends, grab some supplies, and get ready to enjoy the ultimate beach party experience with s'mores and marshmallow roasting. It's the perfect way to spend a summer evening under the stars, surrounded by good company and delicious snacks.
Acoustic Guitar Music
The acoustic guitar music adds a touch of elegance and refinement to the evening's entertainment. As the sun sets over the beach, the sound of strings being strummed fills the air. It's the perfect accompaniment to the sound of the waves crashing against the shore.
You can't help but feel relaxed and carefree as you listen to beachside serenades. But the acoustic guitar music isn't just for listening. You can also participate in songwriting workshops led by talented musicians.
Learn to craft your own melodies and write lyrics that capture the essence of summer. It's a chance to tap into your creative side and express yourself in a way that's unique and meaningful. So, grab a guitar and join in the fun – you never know what kind of magic you might create.
Mermaid and Merman Party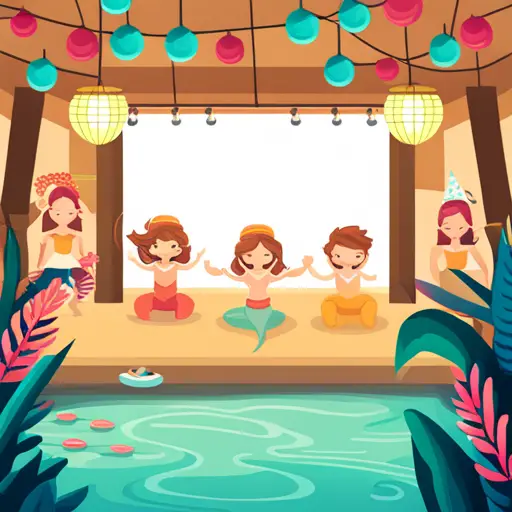 Are you ready to dive into an underwater world of fun? Get ready for a Mermaid and Merman Party! You and your guests can dress up in fantastical costumes and explore an underwater-themed wonderland.
Make a splash with seashell crafts and activities. Create a magical atmosphere with stunning decorations that transport you straight to the depths of the ocean.
Get ready for an adventure like no other with this unforgettable party theme!
Mermaid and Merman Costumes
Dive into the enchanting world of mermaids and mermen with these mesmerizing costumes that will leave everyone in awe.
Transform yourself into a mythical creature with a DIY mermaid tail or a shimmering merman tail. The internet is full of tutorials on how to make your own mermaid tail using fabrics such as sequins and scales.
Add some extra flair with ocean-inspired makeup, such as shimmery blue eyeshadow or glittery scales on your cheeks.
Whether you're attending a beach party or a costume party, these costumes are sure to make a splash. Get creative with accessories such as seashell necklaces, starfish hair clips or even a trident prop.
Don't forget to take plenty of pictures to capture the magic of the mermaid and merman world.
So, let your imagination run wild and embrace the freedom of being a mythical sea creature for the day.
Underwater-themed Decorations
Get ready to transport yourself to an underwater paradise with these mesmerizing decorations that'll bring the magic of the sea to your home. With a little creativity and a few craft supplies, you can transform your space into a mystical underwater world that's sure to impress your guests.
Here are some ideas to get you started:
– DIY Seaweed Decor: Create stunning seaweed decorations by using green crepe paper and scissors. Cut the crepe paper into long, thin strips, and then twist them to create the illusion of seaweed. Hang them from the ceiling or drape them around your party space for an authentic underwater feel.
– Ocean Themed Snacks: No beach party is complete without some delicious snacks. Make some ocean-themed treats, such as blue Jell-O cups with gummy fish or octopus-shaped sandwiches. Serve them on plates decorated with seashells and starfish to add to the oceanic atmosphere.
– Underwater Lighting: Set the mood with some underwater-inspired lighting. Use blue and green lights to mimic the colors of the ocean, or string up some fairy lights to create a magical effect. Add some glow-in-the-dark starfish and shells for an extra touch of whimsy.
With these decorations, you'll feel like you're swimming under the sea. Your guests will be impressed by how you've transformed your space into a mystical underwater world. Plus, with some delicious ocean-themed snacks, you'll have everything you need for a sizzling summer beach party.
Seashell Crafts and Activities
You'll be amazed at how easy and fun it is to create beautiful seashell crafts and activities that will transport you to the ocean's shores.
Seashell jewelry is a great way to add a touch of the beach to your outfit. You can use small seashells to make earrings and necklaces, or larger ones to create statement pieces. With a few basic tools and some creativity, you can make your own unique jewelry that will remind you of the beach all year round.
Another fun seashell activity is painting. Seashell painting techniques are easy to learn and can be customized to fit your own personal style. You can use paint pens or acrylic paint to decorate your shells with patterns, pictures, or even quotes. Once you've finished painting, you can use your shells as decorations, or even turn them into magnets or paperweights.
Seashell crafts and activities are a great way to bring a touch of the ocean to your summer beach party. So gather some shells, let your creativity flow, and get ready to make some unforgettable memories.
Frequently Asked Questions
What is the best time of day to host a beach party?
Picture yourself standing on a beautiful, sandy beach with the sun shining down on you. You can feel the warmth of the sand beneath your feet and hear the gentle sound of waves crashing against the shore.
Now imagine hosting a beach party in this idyllic setting. But what's the best time of day to do so? The answer's simple: late afternoon to early evening.
The beach atmosphere is at its best during this time, with the sun beginning to set and the sky painted with beautiful hues of pink and orange. The temperature's also much cooler, making it more comfortable for you and your guests to enjoy the festivities.
So grab your beach towels, sunscreen, and start planning your party for the perfect time of day to set the mood for an unforgettable beach bash.
What types of food and drinks are typically served at a beach party?
When it comes to beach party food ideas and drink ideas, you want to keep things light, refreshing and easy to eat.
Think finger foods like fruit skewers, veggie platters, and mini sandwiches.
You can also never go wrong with classic BBQ favorites like burgers and hot dogs.
As for drinks, keep it simple with beer, wine, and cocktails like margaritas or piña coladas.
Don't forget to offer plenty of water and non-alcoholic options for those who want to stay hydrated.
The key is to keep things casual and fun, so everyone can enjoy themselves without worrying about complicated dishes or fancy drinks.
How can I ensure the safety of my guests at a beach party?
As you plan your epic beach party, it's important to prioritize the safety of your guests. Accidents can happen, especially near the water, so it's crucial to have a first aid kit on hand.
Make sure it's easily accessible and stocked with essentials like bandages, antiseptic wipes, and ice packs. Assign someone to be in charge of first aid, and make sure they have basic CPR and first aid training.
It's also a good idea to have a safety plan in place in case of emergencies. Make sure everyone knows where the nearest hospital or urgent care center is located, and have a designated meeting spot in case of evacuation.
By taking these precautions, you can ensure that your guests have a fun and safe time at your beach party.
What types of activities can be incorporated into a beach party for children?
If you're planning a beach party for children, you'll want to make sure there are plenty of fun activities to keep them entertained.
Beach games are a great way to get everyone involved and having a good time. Some popular options include beach volleyball, frisbee, and sandcastle building competitions.
For water activities, consider renting paddleboards or kayaks for the kids to use, or set up a water balloon toss or relay race.
If you have access to a pool or ocean, organize a swimming race or a game of Marco Polo.
Whatever activities you choose, make sure they are age-appropriate and safe for everyone involved. With the right games and activities, your beach party will be a memorable and exciting experience for all the children involved.
How can I decorate for a beach party on a budget?
Decorating for a beach party on a budget can be a fun and creative challenge. One way to save money is to create your own DIY decorations using beach inspired crafts.
For example, you could make paper lanterns in the shape of seashells or starfish using colored paper and string. Another idea is to create a photo booth area using a beach themed backdrop made from a sheet or tarp and decorated with seashells, beach balls, and other beachy items.
You could also make your own centerpieces using sand, shells, and candles or create a beachy banner using twine and painted cardboard. With a little creativity and some DIY spirit, you can decorate your beach party on a budget and still make a splash.
Conclusion
Well done! You've just discovered 9 spectacular beach party themes that will make your summer unforgettable.
From the vibrant and exotic Tropical Luau to the daring and competitive Beach Olympics, you've got plenty of options to choose from. And let's not forget about the swashbuckling Pirate Party or the groovy Retro Beach Bash, both guaranteed to transport you to another era.
If you're looking for an unforgettable night, why not try the Glow-in-the-Dark Party? It's sure to light up the beach and make your party unforgettable. Or, if you're in the mood for something more laid-back, the Beach Bonfire Party is perfect for a cozy night with friends under the stars.
And last but not least, unleash your inner sea creature with the Mermaid and Merman Party, where you'll be able to dive into a magical world of enchantment and wonder.
No matter what theme you choose, your summer beach party will be a blast. So go ahead and let your imagination run wild!
Remember, as the famous poet Maya Angelou once said, "You can't use up creativity. The more you use, the more you have." So get creative and make your beach party the talk of the town!