Are you seeking the ultimate Greek island getaway? Look no further than Santorini's stunning beaches. Nestled in the Aegean Sea, this volcanic island boasts some of the most unique and breathtaking terrain in the world.
And when it comes to beaches, Santorini does not disappoint. From the black volcanic sands of Perissa Beach to the striking red cliffs of Akrotiri's Red Beach, each stretch of coastline offers its own unique charm.
Whether you're seeking a lively atmosphere or a secluded retreat, Santorini has a beach for you. So pack your sunscreen, grab your swimsuit, and get ready for a journey to paradise.
Table of Contents
The Unique Volcanic Terrain of Santorini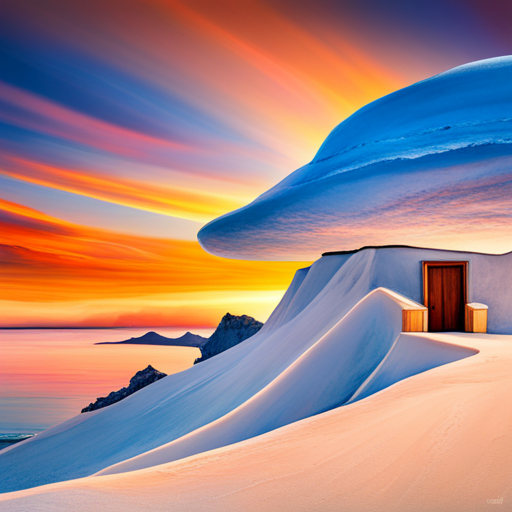 The volcanic terrain of Santorini is unlike anything you've ever seen before. As you step onto the island, you'll be immediately struck by the unique formations that have been created by the island's volcanic past.
From the towering cliffs that surround the island's caldera to the black sand beaches that line its shores, the volcanic landscape of Santorini adds a unique and unforgettable element to your visit.
One of the most stunning features of the island's volcanic terrain is the caldera views. As you look out over the ocean from the cliffs that surround the caldera, you'll be treated to a breathtaking scene that is sure to leave you speechless.
The deep blue waters of the Aegean Sea stretch out before you, while the towering cliffs of the caldera rise up on either side, creating a dramatic and unforgettable backdrop for your Santorini experience.
Whether you're taking a leisurely stroll along the cliffs or enjoying a sunset dinner at one of the island's many restaurants, the volcanic formations and caldera views of Santorini are sure to leave a lasting impression.
Perissa Beach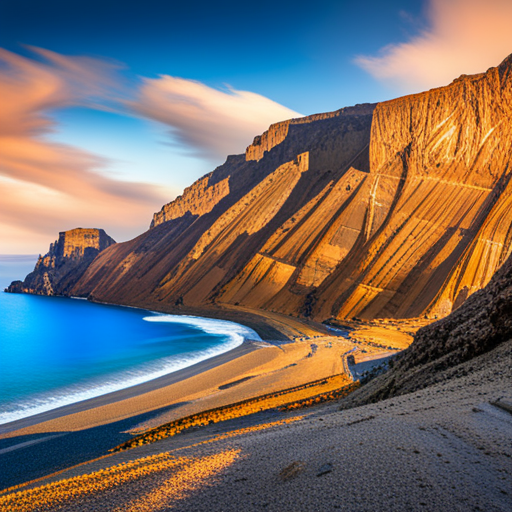 When you visit Perissa Beach, get ready to bask in the sun on the unique black sand beach.
Immerse yourself in the local culture by trying traditional Greek food at one of the nearby tavernas or exploring the ancient ruins of Thera.
If you're feeling adventurous, take part in water sports like jet skiing or windsurfing to get your heart pumping.
The possibilities are endless on this stunning beach!
Relax on the Black Sand Beach
Lounge on the ebony sand shore and soak up the sun's warmth at this serene beach. The black sand at this beach is unique and adds to the allure of this already stunning location. Relaxation is key here, and you'll find plenty of opportunities to do just that.
Take a break from your phone and feel the sand between your toes. Take a dip in the crystal clear waters and cool off under the sun. Enjoy a refreshing drink from one of the beachside bars. Take a stroll and explore the nearby attractions.
The beach amenities here are top-notch, with umbrellas and sun loungers available for rent. Whether you choose to spend your day lounging on the sand or exploring the surrounding area, you'll find plenty to do here.
So what are you waiting for? Come and experience the ultimate Greek island getaway at this serene black sand beach in Santorini.
Experience the Local Culture
Immerse yourself in the vibrant local culture while visiting Santorini. The island is full of traditional events that showcase the history and customs of the Greek people. Take part in a festival or celebration to experience the true essence of the island.
Santorini is a beautiful island known for its hospitable locals, rich cultural traditions, and delicious local cuisine. To make it easier for travelers to explore these key aspects of the island, here's a table that lists some cultural and culinary experiences to enjoy in Santorini.
| Cultural Experiences | Culinary Experiences |
| --- | --- |
| The locals are hospitable and will welcome you with open arms to share their traditions with you. | Indulge in the island's famous fresh seafood, fava beans, and cherry tomatoes. |
| Experience cultural immersion while exploring the island. | Savor the delicious flavors and aromas at one of the many local restaurants or cafes. |
| Santorini offers the perfect blend of cultural exploration and culinary adventure. | An ideal destination for those seeking a getaway filled with freedom and excitement. |
Table 1. Cultural and Culinary Experiences you can discover
Enjoy Water Sports and Activities
You can fully embrace the adventurous spirit of Santorini by trying out the various water sports and activities available. Take advantage of the crystal clear waters and try your hand at diving or snorkeling to discover the vibrant marine life. If you're feeling more daring, why not try your hand at windsurfing or kiteboarding?
The island's strong winds make it the perfect destination for these exhilarating activities. If you prefer a more relaxed experience, paddleboarding and kayaking are also available. Glide across the calm waters and take in the stunning views of the island's coastline.
After a day of fun in the sun, head to one of Santorini's best beachfront restaurants to refuel and enjoy a delicious meal. Try local specialties like grilled octopus or fresh seafood while taking in the stunning views of the Aegean Sea.
Santorini's water sports and beachfront dining scene make it the ultimate Greek island getaway for those seeking adventure and relaxation.
– Top water sports to try: windsurfing, kiteboarding, and snorkeling
– Best beachfront restaurants: Amoudi Fish Tavern in Oia, Seaside by Notos in Vlychada, and Thalassa in Kamari.
Kamari Beach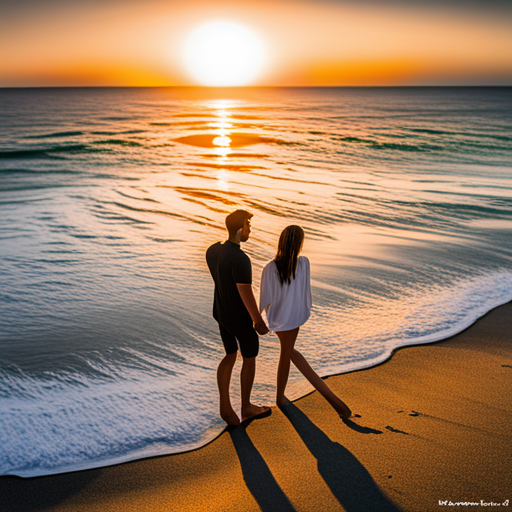 If you're looking for a spot to soak up the sun and take a dip in the crystal-clear waters, Kamari Beach is the place to be. This black sand beach is perfect for swimming, sunbathing, and relaxing. The water is calm and shallow, making it ideal for families with children.
Apart from the stunning views and pristine waters, Kamari Beach is also known for its beachside dining and nightlife options. You can enjoy a delicious meal while taking in the breathtaking sunset and listening to the sound of waves crashing.
After the sun sets, the beach transforms into a lively party scene, with numerous bars and clubs that keep the party going until the early hours of the morning. Kamari Beach truly offers the ultimate Greek island getaway experience that's sure to fulfill your desire for freedom.
Red Beach of Akrotiri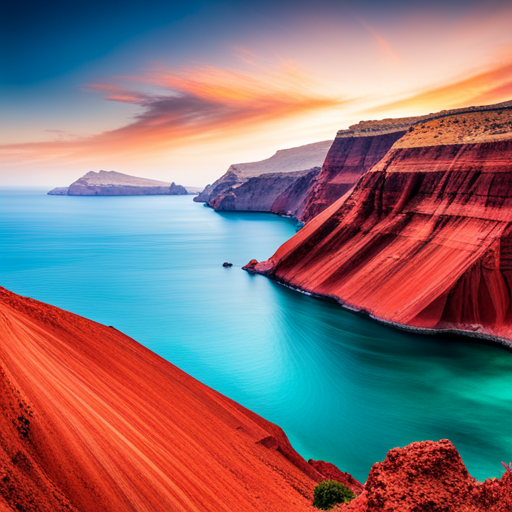 Now that you've soaked up the sun and enjoyed the black sand beach of Kamari, it's time to move on to another one of Santorini's stunning beaches – the Red Beach of Akrotiri. This beach offers a unique and unforgettable experience with its red volcanic cliffs and crystal clear waters.
But before you plan your visit, here are four things you need to know about the Red Beach of Akrotiri:
1. The beach gets its red color from the iron-rich volcanic rocks that surround it.
2. The beach can be accessed by a short hike from the Akrotiri archaeological site.
3. The crystal clear waters are perfect for snorkeling and swimming.
4. It can get crowded during peak tourist season, so try to visit early in the morning or later in the afternoon for a more peaceful experience.
Aside from its natural beauty, the Red Beach of Akrotiri also has historical significance. Akrotiri is known for its Minoan ruins, which were buried by volcanic ash during the eruption of the Thera volcano in 1627 BC. The archaeological site is just a short distance from the beach, making it a great opportunity to combine a history lesson with a day at the beach.
The best time to visit the Red Beach of Akrotiri is during the late spring and early autumn months when the weather is still warm, and the crowds are smaller. So pack your snorkeling gear, hiking shoes, and sunblock, and get ready for an unforgettable day at one of Santorini's most unique and beautiful beaches.
Vlychada Beach

As you stroll along the southern coast of Santorini, you'll come across Vlychada Beach – a hidden gem for beachgoers and adventurers alike. The unique lunar landscape of this beach, created by volcanic ash and pumice stone, is something you won't find anywhere else in the world.
The white cliffs and rock formations surrounding the beach give it a mystical and almost otherworldly atmosphere, making it a perfect destination for those seeking a little adventure. But Vlychada Beach isn't just a pretty sight.
The geology and mythology behind it are just as fascinating. The beach's name, Vlychada, comes from the Greek word 'vlycho', meaning 'cave'. And true enough, there are many caves and tunnels to explore in the cliffs surrounding the beach.
In Greek mythology, it's believed that these caves were once the home of the Cyclops, the one-eyed giants who were said to have forged the lightning bolts of Zeus. Exploring the mysteries of Vlychada Beach is like stepping back into a world of ancient legends and myths.
Perivolos Beach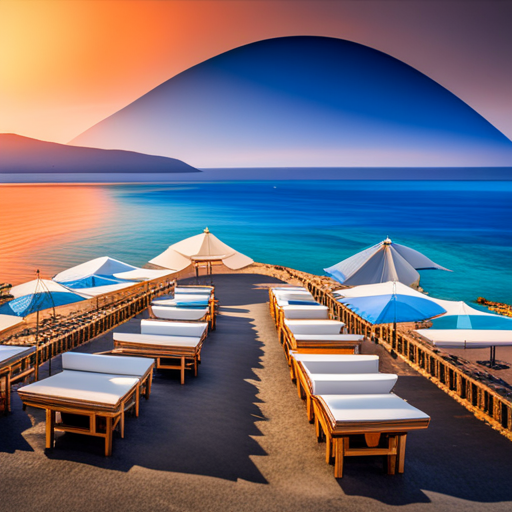 You'll love lounging on the black sand and soaking up the sun at Perivolos Beach, a lesser-known but equally beautiful spot on the southern coast of Santorini. This stunning beach is known for its crystal-clear waters, picturesque views, and vibrant atmosphere.
Whether you're looking to relax or enjoy some water sports activities, Perivolos Beach has something for everyone. Here are five things you can expect when you visit:
– The beachfront accommodations are top-notch and offer breathtaking views of the Aegean Sea.
– The beach is lined with beach bars and restaurants, perfect for enjoying a refreshing drink or a delicious meal.
– The black sand is unique and adds to the beauty of the beach.
– The water is perfect for swimming, paddleboarding, and other water-based activities.
– Perivolos nightlife is lively and offers a range of options for those looking to dance the night away.
With its combination of stunning scenery and vibrant atmosphere, Perivolos Beach is a must-visit destination for anyone looking for a Greek island getaway.
Agios Georgios Beach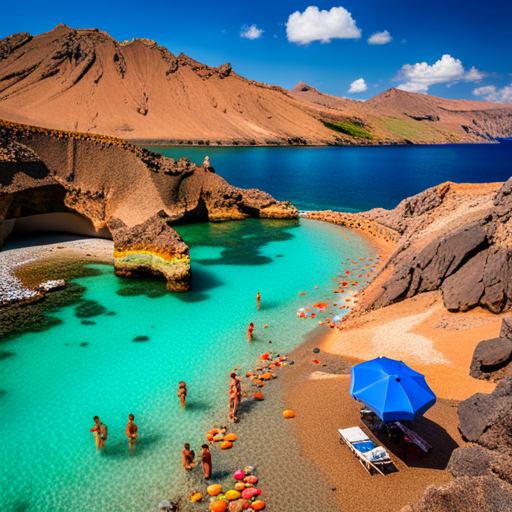 If you think all beaches in Santorini are crowded, check out Agios Georgios Beach and indulge in some peaceful and relaxing moments by the sea. This hidden gem is located in the charming village of Perivolos and is perfect for those who want to escape the hustle and bustle of the more popular beaches in Santorini.
With crystal-clear waters and soft golden sand, Agios Georgios Beach is a paradise for beach lovers. You can lay down your towel and soak up the sun, or take a dip in the refreshing waters of the Aegean Sea.
But that's not all. Agios Georgios Beach is also home to some of the best beachfront restaurants in Santorini, where you can enjoy delicious Greek cuisine while taking in the stunning sunset views. Imagine sitting at a table, feeling the light sea breeze on your face and watching the sun slowly sinking into the sea, while savoring traditional Greek dishes such as moussaka or fresh seafood.
It's the perfect way to end a relaxing day at the beach. So, head to Agios Georgios Beach and experience the ultimate Greek island getaway.
Frequently Asked Questions
What is the best time of year to visit Santorini's beaches?
If you're planning a trip to Santorini's beaches, it's important to consider the best time of year to visit. While the peak season may offer the most ideal weather and bustling atmosphere, there are also advantages to visiting during the off season.
Not only will you avoid the crowds, but you'll also have the opportunity to experience the island in a more authentic way. However, it's important to take beach safety precautions no matter when you visit.
Always be aware of the water conditions and follow any posted warnings. With a little bit of planning and caution, you can enjoy the stunning beaches of Santorini year-round.
Looking for a unique beach experience on Santorini? Have you heard of the undiscovered gems of the island? These lesser-known beaches are the perfect escape for those seeking a more secluded and authentic Greek island experience.
Don't just stick to the popular spots, ask the locals for their recommendations and venture off the beaten path. Imagine the feeling of discovering a hidden cove with crystal clear waters and soft sand without the crowds.
These secret beaches are waiting for you to explore and create your own adventure. So why not break free from the typical tourist spots and discover Santorini's local treasures?
Can visitors swim in the volcanic hot springs at the beaches?
If you're looking for a unique swimming experience during your visit to Santorini, you might want to check out the volcanic hot springs at some of the beaches. While the warm waters may feel soothing and relaxing, it's important to note that swimming safety should be a priority.
The volcanic minerals in the water can make it murkier and harder to see, so it's best to exercise caution and swim with a buddy. Additionally, some beaches may have signs warning against swimming in certain areas due to potential hazards.
However, if you take the necessary precautions, a dip in the volcanic hot springs can be a memorable and invigorating part of your Santorini adventure.
Are there any water sports or activities available at the beaches?
You're in for a treat when it comes to water sports and activities at Santorini's beaches. From jet skiing to paddleboarding, there are plenty of options available for those seeking adventure.
If you're looking to explore underwater, you can even go snorkeling or scuba diving in the crystal-clear waters. And don't worry if you didn't bring your equipment with you – there are plenty of beach equipment rentals available at most beaches.
Whether you're a thrill-seeker or just looking to relax in the sun, Santorini's beaches offer something for everyone. So, grab your sunscreen and get ready to make some memories on the water.
What are some recommended restaurants or bars near the beaches?
When it comes to the best beachfront dining and trendy beach bars, Santorini has a lot to offer. Whether you're looking for a romantic dinner or a lively night out, there are plenty of options to choose from.
One of the most popular spots is Beach Bar Restaurant, located in Perissa. With its stunning views of the Aegean Sea and delicious Mediterranean cuisine, it's no wonder why it's a favorite among locals and tourists alike.
Another must-visit is the Seaside by Notos in Vlychada, which offers a sophisticated atmosphere and creative cocktails.
For a more laid-back vibe, head to Tranquilo in Kamari, where you can enjoy delicious food and cocktails while lounging on the beach.
No matter what you're in the mood for, Santorini's beachfront dining and trendy beach bars are sure to satisfy your cravings and keep you coming back for more.
Conclusion
Congratulations! You've just discovered Santorini's stunning beaches – the ultimate Greek island getaway. With its unique volcanic terrain, Santorini offers a variety of beaches that will leave you in awe.
You'll be amazed by the black sand of Perissa Beach, the crystal clear waters of Kamari Beach, and the red sand of Akrotiri's Red Beach. But the fun doesn't stop there!
You'll also enjoy the white pumice stone cliffs of Vlychada Beach, the peaceful atmosphere of Perivolos Beach, and the secluded cove of Agios Georgios Beach. As the old adage goes, 'life's a beach,' and in Santorini, it's a beautiful one at that.
So pack your bags, grab your sunscreen, and come experience the ultimate Greek island getaway. Whether you're traveling with friends, family, or solo, Santorini's beaches have something for everyone.
From water sports to sunbathing, beach hopping to exploring hidden coves, you'll never run out of things to do. So why wait? Book your trip to Santorini today and discover the beauty of this stunning island for yourself.
As another wise saying goes, 'life is short, make every beach day count!'