Welcome to St. John, where the sand is white, the water is crystal clear, and the sun is always shining. If you're looking for a place to escape from the hustle and bustle of daily life, then you've come to the right place.
St. John is a small island that is a part of the U.S. Virgin Islands, and it's known for its amazing beaches that are waiting for you to discover. When you arrive on the island, you'll be greeted by the warm sun and gentle breeze.
You'll immediately notice the laid-back atmosphere and the friendly locals who are always willing to help. As you make your way to the beaches, you'll feel a sense of freedom as you leave your worries behind and immerse yourself in the natural beauty of the island.
With so many amazing beaches to choose from, you'll be sure to find one that suits your needs and allows you to truly experience the island's beauty. So, grab your sunscreen and towel, and let's explore St. John's finest beaches together.
Trunk Bay Beach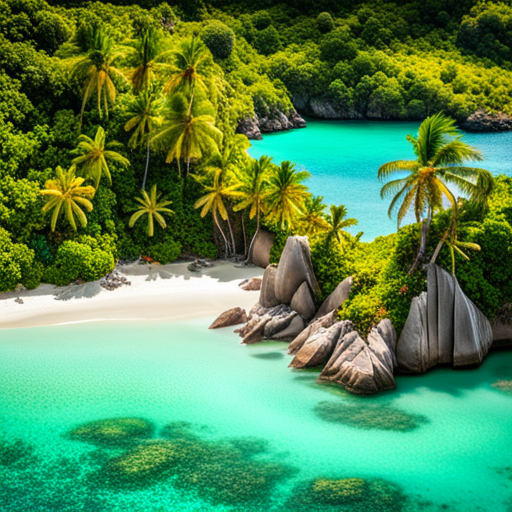 You're standing on Trunk Bay Beach, feeling the soft white sand between your toes and hearing the gentle lapping of crystal clear
turquoise waters
against the shore.
Trunk Bay Beach is one of the most popular beaches on the island and it's easy to see why. The beach boasts a stunning coral reef that's perfect for snorkeling adventures and the beachfront accommodations are some of the finest on the island.
The reef is home to a variety of colorful marine life, including parrotfish, sergeant majors, and blue tangs. Snorkeling gear is available for rent so you can explore the reef and get up close and personal with the fish.
And when you're done exploring, head back to your beachfront accommodations and soak up the sun on your private balcony.
Trunk Bay Beach is truly a paradise on earth that you won't want to miss.
Honeymoon Beach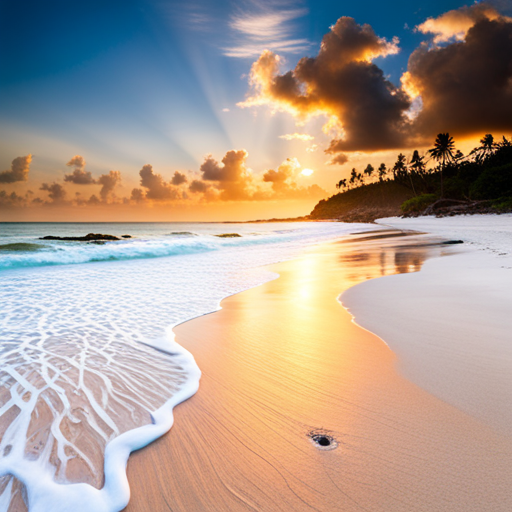 Enjoy the secluded and romantic atmosphere of Honeymoon Beach, where over 80% of the shoreline is protected as a marine sanctuary.
This beach is perfect for couples seeking a romantic getaway. The crystal-clear waters and white sandy beaches make it an ideal spot for swimming, sunbathing, and snorkeling.
You can explore the vibrant coral reefs and marine life by taking a guided snorkeling tour. Alternatively, you can rent a kayak and explore the coastline, or simply relax on the beach and soak up the sun.
The best time to visit Honeymoon Beach is during the dry season, which runs from December to April. During this time, the weather is perfect for outdoor activities, and the water is calm and clear.
To avoid the crowds, it's best to visit early in the morning or late in the afternoon. Don't forget to bring your camera to capture the stunning views of the beach and the surrounding hills.
Whether you're looking for a romantic getaway or just a peaceful place to relax, Honeymoon Beach is a must-visit destination in St. John's.
Cinnamon Bay Beach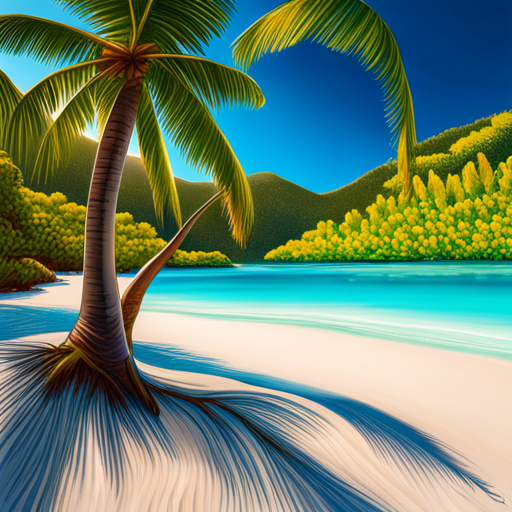 If you're in the mood for a classic beach experience, head over to Cinnamon Bay Beach. This beautiful stretch of sand is perfect for relaxation and soaking up the sun. The crystal-clear water is also perfect for a refreshing swim or a bit of snorkeling.
But if you're looking for something a bit more adventurous, Cinnamon Bay Beach also offers a range of watersports. You can try your hand at kayaking, stand-up paddleboarding, or even windsurfing. It's the perfect destination for those who want to mix a bit of excitement with their relaxation.
So pack a picnic, grab your sunscreen, and get ready for a day of fun in the sun at Cinnamon Bay Beach!
Maho Bay Beach
Let's head on over to Maho Bay Beach for a different kind of beach experience. Known for its shallow and calm waters, Maho Bay Beach is the perfect spot for a relaxing swim or snorkeling
adventure
. As you lounge on the
warm sand
, you'll be surrounded by lush greenery and stunning views of the Caribbean Sea.
Here are a few more reasons why Maho Bay Beach should be on your must-visit list:
– Sunset strolls: Maho Bay is renowned for its stunning sunsets, so take a leisurely stroll along the beach at dusk and soak up the magical atmosphere.
– Local cuisine: When hunger strikes, head to one of the beachside restaurants and indulge in some delicious local cuisine. From fresh seafood to traditional Caribbean dishes, you'll be spoilt for choice.
– Water sports: If you're feeling adventurous, rent a kayak or stand-up paddleboard and explore the crystal-clear waters. You may even spot a sea turtle or two!
– Wildlife: Speaking of sea turtles, Maho Bay Beach is also home to a variety of other wildlife, including colorful reef fish and vibrant coral reefs. So don't forget to pack your snorkeling gear!
So what are you waiting for? Add Maho Bay Beach to your itinerary and experience the true beauty of St. John's finest beaches. Whether you're looking for a peaceful retreat or an action-packed adventure, this stunning beach has something for everyone.
Hawksnest Bay Beach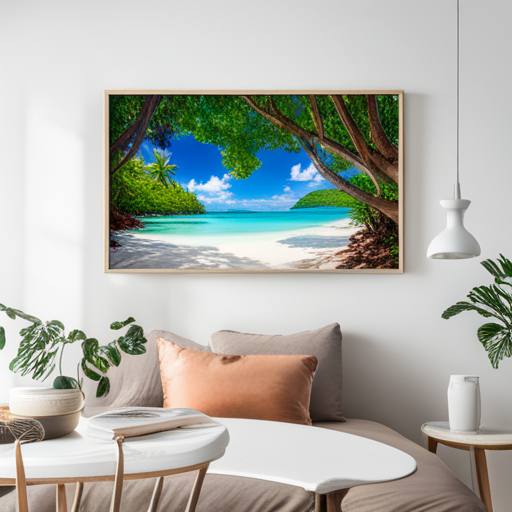 As you explore Hawksnest Bay Beach, you'll find plenty of opportunities to hike and discover nearby trails. Take in the stunning scenery as you wind your way through the lush forests and rugged terrain.
After your adventure, settle down for a peaceful picnic or beachside grilling session while keeping an eye out for local wildlife.
Hiking and Exploring Nearby Trails
Get ready to explore the nearby trails and hike through the natural wonders waiting to be discovered. St. John's beautiful landscape is a perfect place to explore on foot.
Nature photography enthusiasts will be thrilled to capture the stunning flora and fauna along the way. Keep your eyes peeled for the colorful birds that call the island home. You might even spot a rare species of bird that's unique to the Caribbean.
As you venture deeper into the trails, the breathtaking vistas will leave you in awe. The lush greenery, towering trees, and crystal clear streams will make you feel like you've stepped into paradise.
Whether you're an experienced hiker or a novice, there are plenty of trails to choose from. Take a leisurely stroll through the woods or challenge yourself on a more rigorous hike. Whatever you choose, you're sure to have an unforgettable experience.
Picnicking and Beachside Grilling
You can enjoy a relaxing afternoon by the water with a picnic or beachside grilling, soaking up the sun and taking in the stunning scenery. Make sure to bring along picnic essentials like a blanket, sunscreen, and insect repellent, along with your favorite snacks and drinks.
Spread out your blanket on the soft sand, lay back, and enjoy the warm sun on your face as you listen to the calming sound of waves crashing in the distance.
If you're feeling more adventurous, try your hand at beachside grilling techniques. Bring along some fresh seafood, burgers, or veggies to cook up on a portable grill.
The salty sea breeze and the aroma of delicious food cooking will surely whet your appetite. Enjoy your mouthwatering meal while watching the sunset over the horizon, and feel the freedom of being surrounded by the beauty of nature.
Watching for Local Wildlife
Keep an eye out for the fascinating local wildlife as you explore the amazing beaches of St. John's. The island is home to a variety of animals, from sea turtles to iguanas, and you never know what you might come across.
Observing wildlife behavior is a great way to learn about the natural environment and gain a deeper appreciation for the beauty that surrounds you.
In addition to the animals, there's also a wealth of local flora and fauna to discover. Take a moment to identify the various plants and trees as you walk along the beach. From palm trees to flowering bushes, the island is home to a diverse range of plant life.
Immersing yourself in the natural wonders of St. John's is a truly unforgettable experience, and watching for local wildlife is just one of the many ways to enjoy the island's beauty.
Francis Bay Beach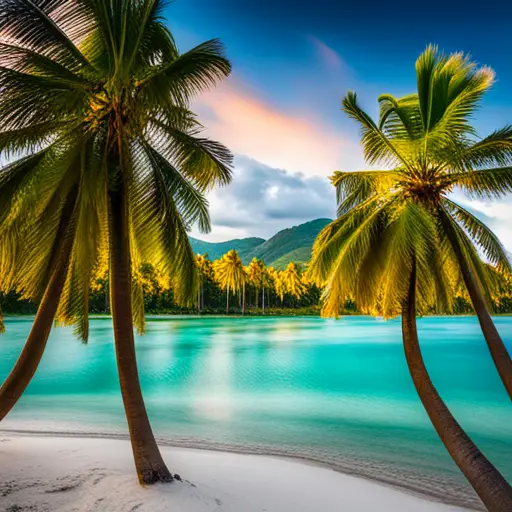 If you're looking for a peaceful escape, Francis Bay Beach is the place to be. You can explore the calm waters with kayaking and paddleboarding, or simply stroll along the shoreline while
beachcombing
for beautiful sea shells.
Whether you're seeking adventure or just a quiet retreat, Francis Bay Beach has everything you need to unwind and relax.
Kayaking and Paddleboarding in Calm Waters
Get ready to explore the serene waters with a fun-filled kayaking or paddleboarding adventure. Not only is it a great way to experience the beauty of St. John's beaches, but it also provides an excellent workout for your entire body.
Kayaking and paddleboarding are low-impact activities that can help improve your cardiovascular health while toning your arms, shoulders, and core muscles. If you're a beginner, the best time to go kayaking or paddleboarding is during the early morning or late afternoon when the waters are calm.
This will give you a chance to practice your balance and get comfortable with the equipment before the water gets choppy. As you gain confidence, you can venture farther out into the ocean and explore the hidden coves and beaches that St. John has to offer.
So grab your paddle and get ready to experience the freedom and beauty of the island on the water.
Beachcombing for Sea Shells
You'll love wandering along the shoreline, scouring the sand for unique sea shells to add to your collection.
The beaches of St. John offer a plethora of sea shells, some of which are rare and hard to find.
As you walk along the sandy shores, keep an eye out for the beautiful pink conch shells, the spiral-shaped whelks, and the delicate sand dollars.
As you collect these treasures, take a moment to identify them and learn about their unique features.
You can even take your collection back home and create creative sea shell crafts, such as jewelry, picture frames, and even wind chimes.
Beachcombing for sea shells is not only a fun activity but also an opportunity to connect with the natural beauty of the island and create lasting memories.
Enjoying a Quiet Retreat
Looking for a peaceful escape from the hustle and bustle of everyday life? This section has got you covered with tips on how to enjoy a quiet retreat and recharge your batteries.
St. John's finest beaches offer a serene environment where you can clear your mind and take a break from the stress of daily life. Whether you choose to meditate on the beach or simply relax and soak up the sun, the island's calming energy will help you to unwind.
To enhance your relaxation experience, try incorporating some meditation practices. Find a quiet spot on the beach and sit in a comfortable position with your eyes closed. Focus on your breath and let your thoughts drift away.
You can also try walking meditation by taking slow, deliberate steps on the beach while focusing on your breath and the sound of the waves. Whatever technique you choose, make sure to take some time for yourself and enjoy the peace and tranquility that St. John's beaches have to offer.
Salt Pond Bay Beach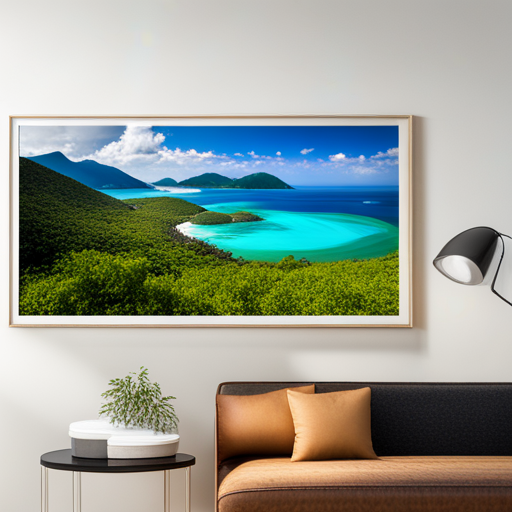 As you make your way to Salt Pond Bay Beach, get ready for an adventure!
Snorkel among the vibrant coral reefs and discover the natural salt pond that gives the beach its name.
Don't forget to take in the stunning views from the trailhead before you leave.
This beach is a must-visit for anyone looking to experience the true beauty of St. John.
Snorkeling Among Coral Reefs
Explore the intricate coral reefs while snorkeling and marvel at the diverse marine life in this section. Snorkeling among coral reefs is an experience like no other.
As you glide through the crystal clear waters, you'll be mesmerized by the vibrant colors and textures of the coral formations. With the right snorkeling techniques and the best snorkeling gear, you'll be able to get up close and personal with sea turtles, tropical fish, and other underwater creatures.
To make the most of your snorkeling experience, it's important to use the right snorkeling techniques. Take slow, deliberate breaths through your mouth, and keep your head and body relaxed as you float along the surface.
As you move closer to the coral reefs, be sure to avoid touching or standing on them, as this can damage the delicate ecosystem. With the right gear, including a snorkel, mask, and fins, you'll be able to explore the underwater world with ease and comfort.
So go ahead, take the plunge and discover the true beauty of St. John's finest beaches.
Discovering a Natural Salt Pond
You won't want to miss out on uncovering the hidden gem of a salt pond nestled in the natural beauty of St. John's beaches. Exploring hidden and secluded spots like this is the ultimate way to experience the island's true beauty.
This natural salt pond is a wonder to behold, and it's the perfect place to relax and unwind. But the pond isn't just a pretty sight – it's also an important part of the island's ecosystem. Understanding the ecosystem of salt ponds is fascinating, and you'll learn about the unique flora and fauna that call this area home.
Take your time to explore the pond and appreciate the delicate balance of nature that exists here. Whether you're looking for a quiet spot to reflect or an educational adventure, the salt pond is a must-visit spot on your St. John itinerary.
Taking in Scenic Views from the Trailhead
You'll want to soak in the breathtaking views from the trailhead, a perfect vantage point to take in the stunning scenery of this hidden gem.
As you make your way up the trail, you'll be surrounded by lush vegetation and the sound of waves crashing onto the shore.
The trail is easy to navigate, and you'll be rewarded with panoramic views of the crystal clear waters and the vibrant colors of the sunset.
This is the perfect spot for nature photography and sunset watching. Bring your camera and capture the beauty of the island as the sun dips below the horizon.
The vibrant oranges, pinks, and blues will leave you in awe. As you take in the view, you'll feel a sense of freedom and peace, knowing that you've discovered a true island treasure.
Frequently Asked Questions
Are there any facilities available at these beaches, such as restrooms or showers?
When it comes to enjoying the beautiful beaches, you may have some concerns about the facilities available to make your experience comfortable. Fortunately, the beaches in this area offer a range of amenities to ensure that you have everything you need during your visit.
Many of the beaches have restrooms and showers available, making it easy for you to freshen up after a swim or simply relax on the beach. Additionally, there are accessibility options available, such as wheelchair ramps and paved paths, so that everyone can enjoy the sand and surf.
Overall, you can rest assured that you'll have everything you need to make your beach day as comfortable and enjoyable as possible.
Can visitors bring their own food and drinks to the beaches?
You're probably wondering about the food situation at St. John's beaches. Well, the good news is that you can bring your own food and drinks!
However, there are some food restrictions you should be aware of. For example, you can't bring any glass containers or alcoholic beverages.
It's also important to note that there aren't any food vendors on the beaches, so if you forget to bring something, you'll need to head to a nearby restaurant or market. But don't worry, there are plenty of local vendors who can provide you with delicious snacks and meals to enjoy on the sand.
So pack your cooler and head to the beach, where the only thing you need to worry about is soaking up the sun and enjoying the freedom of island life.
Is there a fee to access any of these beaches?
Want to know the truth about accessing the beautiful beaches of St. John? Contrary to popular belief, there are no beach access fees on the island!
Whether you're a local or a visitor, you're free to explore the stunning coastline without paying a dime. However, parking options can be limited, especially during peak tourist season. It's best to arrive early or take advantage of public transportation to avoid any headaches.
With the freedom to come and go as you please, you can soak up the sun, sand, and surf all day long. Don't miss out on the chance to discover the true beauty of St. John's beaches without worrying about any extra fees.
Are there any specific rules or regulations that visitors should be aware of when visiting these beaches?
When visiting the beautiful beaches of St. John, it's important to keep in mind proper beach etiquette and safety precautions.
This includes being respectful of the environment and other beach-goers by keeping the area clean and not disturbing the natural habitat.
Additionally, it's crucial to always swim within designated areas and to never leave children unattended near the water.
It's also recommended to wear sunscreen and bring plenty of water to stay hydrated.
By following these guidelines, you can fully enjoy the beauty and freedom of these amazing beaches while also being mindful of your surroundings.
Are there any nearby accommodations or restaurants that visitors can stay at or dine in after their beach day?
Looking for a perfect place to stay or dine after your beach day? St. John's has got you covered!
With over 30 accommodation options, you can choose from a range of luxurious resorts, cozy cottages, and budget-friendly hotels.
If you're looking for fine dining, St. John's has some of the best seafood restaurants in the Caribbean. From casual beachfront cafes to elegant fine dining establishments, you'll be spoilt for choice.
If you're looking for something more laid-back, there are also plenty of local bars and restaurants where you can enjoy some delicious Caribbean cuisine.
With so many options to choose from, you'll definitely find the perfect place to unwind after a long day at the beach.
Conclusion
Now that you've explored some of the most stunning beaches in St. John, you've discovered the true beauty of this island paradise!
Trunk Bay Beach, with its crystal clear waters and underwater snorkeling trail, makes for an unforgettable experience. Honeymoon Beach, with its secluded cove and soft white sand, is perfect for a romantic getaway. Cinnamon Bay Beach is ideal for families with its calm waters and numerous water activities.
Maho Bay Beach, Hawksnest Bay Beach, Francis Bay Beach, and Salt Pond Bay Beach each offer their own unique charm, from the peaceful and secluded Francis Bay to the lively and adventurous Hawksnest Bay.
As you walk along the shores, feel the warm sand between your toes and the cool breeze on your face, and let the beauty of the beaches and the island as a whole leave an indelible impression on you, just like the way a painter's brushstroke leaves a lasting impression on a canvas.
St. John's beaches truly are the crown jewels of the Caribbean.