Are you ready to escape the daily grind and discover a true paradise? Look no further than Negril Beach, the best beach in Jamaica according to Travel + Leisure's 2020 World's Best Awards.
With its pristine white sand, crystal clear waters, and vibrant local culture, Negril Beach offers an unforgettable experience that will leave you feeling refreshed and rejuvenated.
But Negril Beach is more than just a beautiful destination. Did you know that it stretches for seven miles, making it one of the longest beaches in Jamaica?
Whether you're looking to soak up the sun, swim in the ocean, or simply take a leisurely stroll along the shoreline, Negril Beach has something for everyone.
So leave your worries behind and get ready to experience a surprising paradise unlike any other.
Introduction to Negril Beach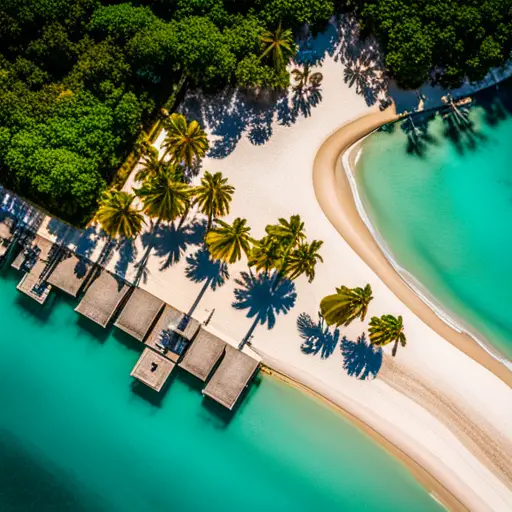 You've been searching for a paradise where the sun, sand, and sea come together in perfect harmony, and Negril Beach is just that. Located on the western coast of Jamaica, Negril Beach has a rich history dating back to the 1960s when the first hotel was built.
Over the years, the beach has undergone significant development, with several hotels, restaurants, and beach bars sprouting up, making it a prime destination for tourists. However, despite the rapid growth in tourism, Negril Beach has remained committed to sustainable development and local community engagement.
The beach's management has implemented several measures to reduce its impact on the environment, including beach cleanups, recycling initiatives, and responsible waste disposal. These efforts have led to a significant reduction in environmental concerns such as erosion and pollution, making Negril Beach a prime example of sustainable tourism.
The Beauty of Negril Beach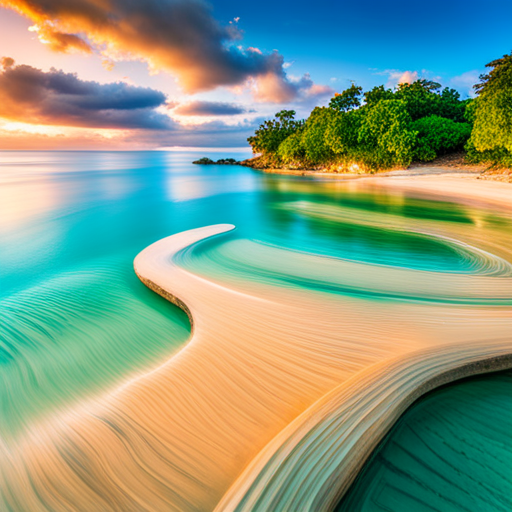 The crystal clear water and soft, white sand of Negril Beach make it a serene and breathtaking destination for travelers like you. As you walk along the beach, the gentle lapping of the waves and the rustling of
palm trees
create a soothing soundtrack.
The beach stretches for miles, inviting you to explore its beauty and tranquility. To fully appreciate Negril Beach, it's important to understand its history and the efforts made towards beach conservation.
Negril has a rich history dating back to the 1800s when it was a small fishing village. Today, it's a popular tourist destination that has managed to preserve its natural beauty. The local community, along with conservation groups, have worked tirelessly to keep the beach clean and protect the delicate ecosystem.
As you bask in the sun and soak up the beauty of Negril Beach, you can do so with the knowledge that the community is dedicated to preserving its pristine beauty for generations to come.
– The crystal clear water allows for excellent visibility when snorkeling or diving.
– The soft, white sand is perfect for building sandcastles or taking a leisurely stroll.
– Negril Beach is home to a diverse array of wildlife, including sea turtles and colorful tropical fish.
– Beach conservation efforts have helped to maintain the beach's natural beauty and ecosystem for future generations to enjoy.
Activities and Attractions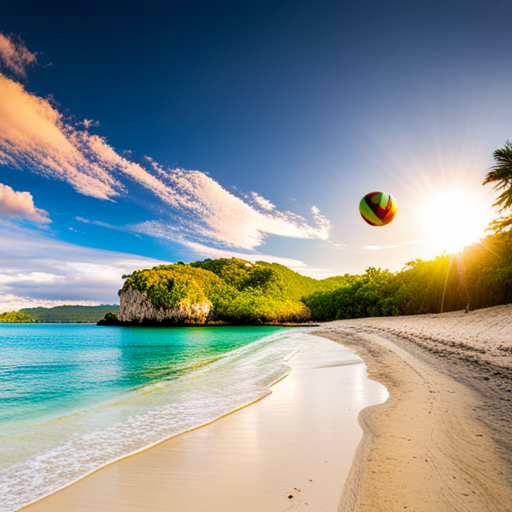 Are you ready for some
adventure
? Negril Beach offers amazing activities that will make your vacation unforgettable.
Snorkeling and diving are perfect for exploring the colorful underwater world.
You can also enjoy the breathtaking sunset while sipping on a tropical cocktail.
And for the thrill-seekers, there are various water sports to choose from, such as jet skiing and parasailing.
Don't miss out on these exciting opportunities!
Snorkeling and Diving
Ready to explore the underwater world? Strap on your gear and dive into the crystal-clear waters for an unforgettable snorkeling or diving experience.
The best beach in Jamaica offers a wide range of marine life, from colorful coral reefs to exotic fish species. Swim alongside schools of fish and marvel at the vibrant hues of the sea creatures, while experiencing the thrill of an underwater adventure. You can even spot turtles and dolphins if you're lucky!
Here are three things you can expect from your snorkeling or diving adventure at the best beach in Jamaica:
1. A diverse range of marine life: With over 500 species of fish and 200 species of coral, the underwater world at this beach is a feast for the eyes.
2. Clear visibility: The water is so clear that you can see up to 100 feet below the surface, giving you a chance to observe the marine life up close.
3. Expert guides: Whether you're a beginner or an experienced diver, you can choose from a range of guided tours that cater to your needs and preferences. The guides are knowledgeable about the underwater world and ensure your safety while you explore the depths of the sea.
Sunset Watching
Who needs to snorkel or dive when you can just sit back, relax, and watch the stunning sunset at this paradise in Jamaica?
The view of the sun slowly sinking into the horizon is simply breathtaking. It's the perfect way to unwind after a day of exploring the island or lounging on the beach.
Not only is the sunset here a sight to behold, but it's also a great opportunity for sunset photography. Capture the vibrant colors of the sky and the silhouettes of palm trees against the backdrop of the sea.
If you're looking for a romantic getaway, watching the sunset with your loved one is a must-do. The serene atmosphere and stunning views set the perfect mood for a romantic evening.
So, forget about snorkeling and diving, and make sure to catch the sunset at this hidden gem in Jamaica.
Water Sports
As the sun sets on the horizon, you might think that the day at the beach is over. But think again! The best beach in Jamaica has so much more to offer, especially when it comes to water sports and other beach activities.
So, grab your gear and get ready for some fun! Whether you're an experienced surfer or a newbie to water sports, the best beach in Jamaica has something for you. You can rent a kayak and explore the crystal-clear waters or try your hand at stand-up paddleboarding. And if you're feeling a bit more adventurous, why not go jet skiing or parasailing?
Whatever your choice, you'll be able to experience the thrill of the ocean and get your adrenaline pumping. So, why not make the most of your time at the beach and try out some of the exciting water sports and beach activities on offer?
Local Culture and Cuisine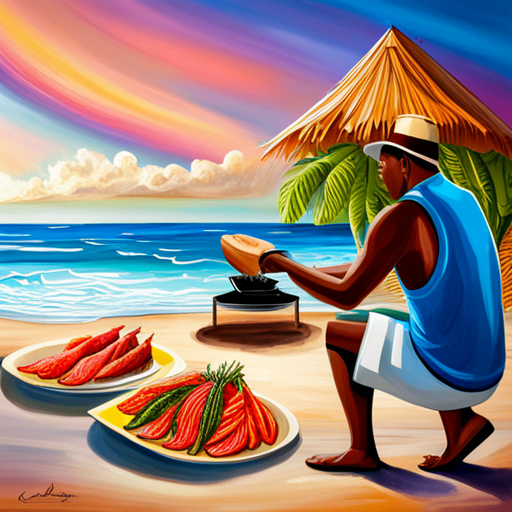 Are you ready to explore Jamaica's vibrant local culture and cuisine? Get ready to move your feet to the rhythms of Jamaican music and dance, from reggae to ska and dancehall.
Indulge in the island's famous jerk food and drinks, a spicy and flavorful cuisine made with locally-sourced ingredients. And don't forget to take home some local crafts and souvenirs, from handcrafted pottery to colorful paintings and artisanal woodwork.
Jamaica's culture and cuisine are waiting for you to discover them!
Jamaican Music and Dance
You'll discover the rich cultural heritage of Jamaica through the vibrant rhythms of their music and dance. Jamaican dance styles such as reggae, ska, and dancehall are unique and entertaining.
These dances are not only performed as a form of entertainment but also as a way of expressing the Jamaican way of life. Traditional music performances are also a must-see when you visit Jamaica.
You'll be amazed by the sound of the steel drums, the beats of the bongo drums, and the sweet melodies of the guitar. These performances are a reflection of the Jamaican culture and its people.
Jamaican music and dance are not just about the entertainment value, but they also represent the freedom and resilience of the Jamaican spirit. The music and dance are a celebration of the Jamaican way of life, its history, and its people.
The Jamaican culture is one of the most vibrant and colorful in the world, and this is reflected in the music and dance. So, if you're looking for an experience that will leave you feeling free and uplifted, then make sure to immerse yourself in the music and dance culture of Jamaica. It's an experience you won't forget!
Jerk Food and Drinks
Get ready to tantalize your taste buds with the mouth-watering flavors of Jamaican jerk cuisine and refreshing tropical drinks, showcasing the island's culinary expertise and love for spice.
Jerk food and drinks are a staple in Jamaican beach party culture, adding to the lively and fun atmosphere that draws visitors from all around the world.
Here are four must-try items that will leave you craving more:
1. Jerk chicken – The classic Jamaican dish that's spiced to perfection and cooked to juicy perfection. Served with rice and peas, this dish will leave you feeling satisfied and wanting more.
2. Ackee and saltfish – Jamaica's national dish is a savory mix of salted cod and ackee fruit, accompanied by fried dumplings or breadfruit.
3. Rum punch – A tropical delight that combines fruity flavors with the kick of Jamaican rum. Served in a coconut or pineapple, this drink will transport you to the beaches of Jamaica.
4. Festival – A sweet and fried bread that's the perfect side dish to any jerk meal. Its soft and fluffy texture is the perfect balance to the spice of the jerk.
Indulging in Jamaican jerk food and drinks isn't just about satisfying your hunger and thirst, but it's also about immersing yourself in the vibrant and lively culture of the island.
So, grab a plate and a drink, and join in the fun at the next beach party.
Local Crafts and Souvenirs
Don't leave Jamaica without taking a piece of its vibrant culture home with you through the beautiful local crafts and souvenirs available for purchase.
The island is known for its talented artisans who create unique handmade goods that capture the essence of Jamaica.
One of the best places to find these treasures is at the local markets, where you can browse through an array of colorful stalls selling everything from hand-carved wooden sculptures to intricately woven baskets.
You'll be spoilt for choice when it comes to selecting the perfect keepsake to remind you of your time in Jamaica.
Whether you're looking for a piece of jewelry made from local gemstones or a delicious jar of authentic Jamaican hot sauce, the local markets have it all.
Not only will you be supporting the local economy, but you'll also be taking home a piece of Jamaica's soul, captured in the intricate designs and vibrant colors of these handmade crafts and souvenirs.
Accommodations and Amenities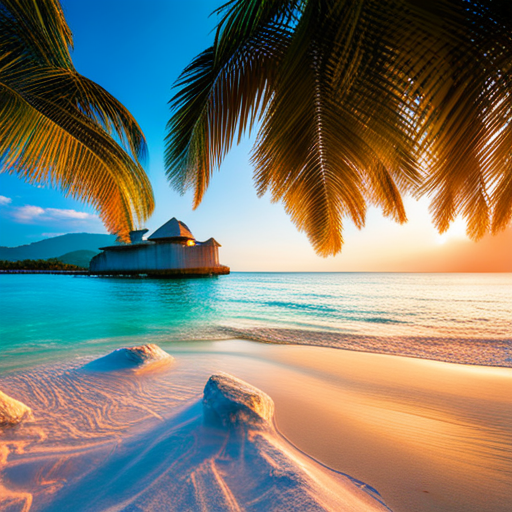 If you're planning a trip to the best beach in Jamaica, you'll be pleased to know that there are plenty of top-rated accommodations and must-try amenities available. Whether you're looking for a luxurious resort or a cozy bed and breakfast, you'll find it all here.
From beachfront villas to treehouse accommodations, there's something for everyone. In addition to the comfortable lodgings, the amenities at this hidden paradise are also worth mentioning. You can indulge in a relaxing spa treatment, take a dip in the infinity pool, or enjoy a delicious meal at one of the many on-site restaurants.
With so many options to choose from, you'll never run out of things to do during your stay. So pack your bags and get ready to experience the best beach in Jamaica!
Tips for Visiting Negril Beach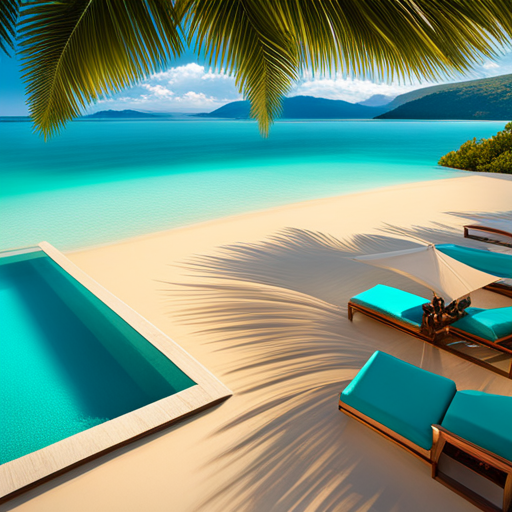 Ready to make the most out of your trip to Negril? Here are some helpful tips to ensure you have a memorable experience.
First on the list is beach safety. Negril Beach can be quite crowded, so it's important to keep an eye on your belongings and stay aware of your surroundings. Don't leave your valuables unattended and be cautious of pickpockets. It's also important to swim in designated areas and follow any warnings or instructions from lifeguards.
Next, let's talk about packing essentials. You'll definitely want to bring sunscreen, as the sun can be intense on the beach. A hat or other form of head covering is also recommended to protect your face and scalp. Don't forget to bring a towel, as beach chairs and umbrellas may not always be available. And lastly, bring plenty of water and snacks to stay hydrated and fueled for a fun day in the sun.
With these tips in mind, you'll be able to fully enjoy all that Negril Beach has to offer.
Conclusion and Recommendations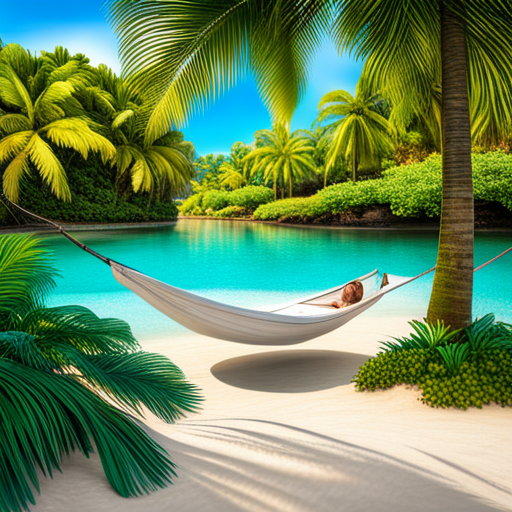 If you're planning a trip to Jamaica, Negril Beach is a must-visit destination. It's no wonder that Negril Beach is known as one of the best beaches in the world – with its crystal-clear waters, white sand beaches, and stunning sunsets.
But don't stop at Negril. There are other beautiful beaches in Jamaica worth exploring. With a bit of planning, you can make the most of your time on the island.
Why Negril Beach is a Must-Visit
You'll want to add Negril Beach to your travel itinerary for its stunning white sand, crystal-clear waters, and vibrant local culture. But what sets it apart from other beaches in Jamaica is its commitment to sustainability and community involvement.
Negril Beach is not just a place to soak up the sun, but a place where you can feel good about supporting a community that cares about preserving its natural beauty for future generations. One of the ways Negril Beach is taking steps towards sustainability is through its partnership with the Negril Chamber of Commerce's Environmental Committee.
This committee works towards reducing waste and pollution in the area, promoting recycling, and educating locals and tourists about the importance of protecting the environment. Additionally, Negril Beach has been actively involved in beach clean-up efforts, ensuring that the beach remains pristine and free of litter.
By visiting Negril Beach, you can support these efforts and feel good about your impact on the environment.
Other Beaches in Jamaica to Explore
Now that you've experienced the beauty and sustainability of Negril Beach, let's explore some other breathtaking beaches in Jamaica that are worth adding to your travel list.
If you're looking for off-the-beaten-path beaches, head over to Treasure Beach. It's a quiet and serene spot that offers a more laid-back atmosphere than some of Jamaica's more popular beaches. You'll find a long stretch of sand that's perfect for lounging, reading, or taking a dip in the Caribbean Sea.
For those who want to explore multiple beaches in one trip, beach hopping tours are available. One popular tour is the Montego Bay Beach Tour, which takes you to Doctor's Cave Beach, Cornwall Beach, and Dead End Beach. Each beach has its own unique charm and character, so you'll get to experience a variety of settings.
Doctor's Cave Beach is known for its crystal-clear water, while Cornwall Beach has a lively atmosphere with water sports and beach bars. Dead End Beach, on the other hand, is a secluded spot that's perfect for a peaceful picnic or romantic walk.
Whatever your beach preferences may be, Jamaica has something for everyone.
Planning Your Trip to Negril Beach
Let's dive into the details of planning your trip to the stunning Negril Beach, where you can soak up the sun and experience the laid-back vibes of the Caribbean.
First and foremost, make sure you pack all the beach essentials. This includes sunscreen, a beach towel, sunglasses, a hat, and a swimsuit. It's also a good idea to bring a reusable water bottle to stay hydrated throughout the day. Don't forget to bring some cash, as there are plenty of local vendors selling souvenirs, snacks, and drinks along the beach.
When it comes to budget planning, Negril Beach is a great option for those looking for an affordable Caribbean getaway. Accommodations range from budget-friendly hostels to luxury resorts, depending on your preference. As for food, there are plenty of local restaurants and food stands serving up authentic Jamaican cuisine at reasonable prices.
Keep in mind that there may be additional fees for beach activities such as snorkeling or parasailing, so be sure to budget accordingly. With a little bit of planning, you can enjoy all that Negril Beach has to offer without breaking the bank.
Frequently Asked Questions
What is the best time of year to visit Negril Beach?
If you're planning a trip to Negril Beach, the best time to visit is between December and April when the weather is sunny and dry. During this time, you can enjoy a variety of activities such as swimming, snorkeling, and scuba diving in the clear turquoise waters. You can also take a relaxing stroll along the seven-mile stretch of white sand or enjoy a refreshing cocktail at one of the beachside bars.
However, if you're looking to avoid the crowds, it's best to visit during the off-season between May and November where you can still enjoy the warm temperatures and beautiful scenery. Regardless of when you visit, Negril Beach is the perfect destination for those seeking a sense of freedom and adventure.
Are there any dangerous wildlife or creatures to be aware of when swimming in the ocean?
When swimming in the ocean, it's important to take precautions against dangerous wildlife and understand the behavior of ocean creatures.
Before taking a dip, identify any potential risks in the area and avoid swimming during feeding times.
Sharks and jellyfish are common in Jamaican waters, so it's important to be aware of their behavior and take safety measures such as wearing protective gear.
While there are risks to swimming in the ocean, with proper preparation and awareness, you can still enjoy the freedom and beauty of Jamaica's beaches.
Is it possible to take a day trip to nearby attractions from Negril Beach?
Looking for a change of scenery from Negril Beach? Luckily, there are plenty of day trip options available to nearby attractions.
Take a trip to the Mayfield Falls, a hidden gem in the Jamaican countryside known for its stunning waterfalls and natural swimming pools.
Or, venture to the nearby town of Montego Bay and explore the bustling streets, local markets, and historic landmarks.
If you're feeling adventurous, head to Dunn's River Falls, where you can climb the famous cascading waterfalls or take a dip in the refreshing pools at the bottom.
Whatever your interests, there's no shortage of nearby attractions to explore during your stay in Jamaica.
Are there any specific cultural events or festivals that visitors should try to attend while in Negril?
Immerse yourself in Jamaican culture by attending one of the many local festivals and events in Negril.
Indulge in the vibrant and spicy local cuisine at the annual Negril Food and Wine Festival or experience the traditional drumming and dancing at the Jamaica Drum Festival.
By participating in these events, you'll gain a deeper appreciation for the local customs and traditions that make Negril such a unique and fascinating destination.
So, don't miss out on the opportunity to fully immerse yourself in the local culture while enjoying the beautiful beaches and stunning scenery.
What options are available for transportation to and from Negril Beach?
When it comes to transportation to and from Negril Beach, you have a few options to choose from.
If you're looking for a more private and personalized experience, private transportation is available for hire. This option allows you to have a dedicated driver who can take you directly to your destination without any stops along the way.
On the other hand, if you're looking for a more affordable option, local shuttle services are also available. These shuttles run on a set schedule and make stops at various locations along the way.
No matter which option you choose, you'll be able to easily access the beautiful Negril Beach and all it has to offer.
Conclusion
Congratulations, you've just uncovered the best beach in Jamaica – Negril Beach! From its powdery white sand to its crystal clear waters, this beach is a true paradise that will leave you in awe.
With a length of seven miles, Negril Beach is one of the longest stretches of sand in Jamaica, and it's also home to some of the most beautiful sunsets in the world.
But Negril Beach isn't just about its natural beauty – there's also plenty of fun activities to keep you entertained. Whether you want to go snorkeling, scuba diving, or just relax on the beach with a good book, Negril Beach has got you covered.
And if you're interested in local culture and cuisine, you'll find plenty of opportunities to experience that as well. Here's an interesting statistic for you – did you know that Negril Beach has been voted one of the best beaches in the world by TripAdvisor? It's no wonder why – with its stunning scenery, warm waters, and friendly locals, Negril Beach truly is a hidden gem that deserves to be explored.
So what are you waiting for? Pack your bags, book your accommodations, and get ready to experience the best beach in Jamaica for yourself!