Are you craving a tropical escape? Look no further than the white sand beaches of Florida! With over 1,300 miles of coastline, Florida boasts some of the most beautiful beaches in the world.
Whether you're looking for a peaceful retreat or a lively party scene, there's a beach for everyone. Get ready to soak up the sun and feel the warm sand between your toes as we take you on a tour of the top 7 must-visit beaches in Florida.
From Clearwater Beach's crystal clear waters to the laid-back vibe of Key West, each beach offers its own unique charm and beauty. So pack your sunscreen and prepare for a white sand paradise like no other!
Table of Contents
Clearwater Beach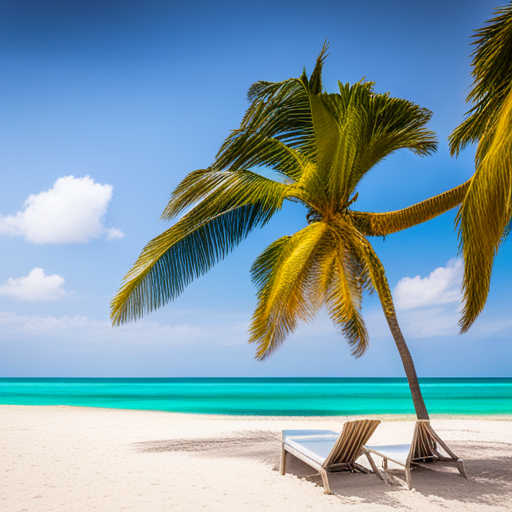 You're going to love Clearwater Beach – it's got everything you need for a perfect day by the water!
This is one of the best beaches in Florida, and for good reason. Clearwater Beach boasts crystal-clear waters and soft, white sand that will make you want to stay all day.
Top things to do in Clearwater Beach include taking a walk on the beach, swimming in the warm water, or renting a paddleboard or kayak to explore the beautiful coastline.
In addition, there are plenty of restaurants and shops nearby so you can grab a bite to eat or do some shopping.
The best time to visit Clearwater Beach is from March to May when the weather is warm, but not too hot, and the crowds are manageable.
So, pack your sunscreen and get ready for a day of relaxation and fun in the sun!
Siesta Key Beach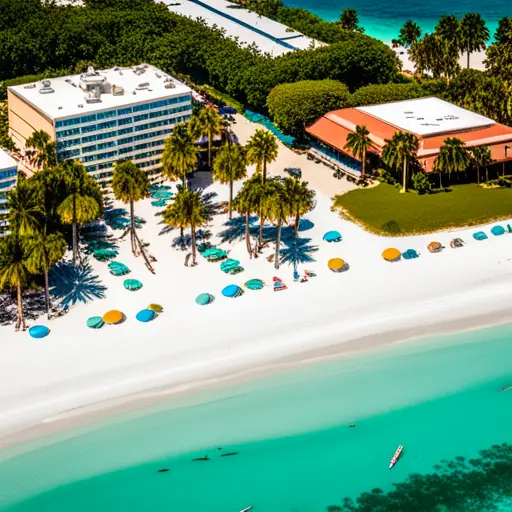 If you're looking for an award-winning beach with fine, white sand and clear, warm water perfect for swimming and water activities, then Siesta Key Beach is the place for you.
This beach has consistently been ranked as one of the best beaches in the world, and it's not hard to see why.
With plenty of beachside amenities and activities, you'll have everything you need to make the most of your time in the sun.
Award-Winning Beach with Fine, White Sand
You can almost feel the soft grains of the shore under your toes as you bask in the glory of this award-winning stretch of land. But have you ever wondered what makes a beach truly worthy of an award?
Here are three factors that contributed to this beach's success:
1. The sand: The fine, white sand is not only aesthetically pleasing, but it also stays cool even on the hottest days, making it comfortable to walk on barefoot.
2. The water: The crystal-clear waters are ideal for swimming, snorkeling, and other water activities.
3. The amenities: From showers and restrooms to picnic areas and playgrounds, this beach has everything you need for a day of fun in the sun.
When planning your beach getaway, make sure to take advantage of the best activities and accommodation options available. Whether you're looking for water sports, beach volleyball, or simply soaking up the sun, there's something for everyone. And don't forget to pack the perfect beach bag with sunscreen, water bottles, snacks, and a good book.
With all these factors in mind, you'll be well on your way to experiencing the ultimate white sand paradise.
Clear, Warm Water Perfect for Swimming and Water Activities
Swimming and other water activities are made perfect by the crystal-clear and warm waters found in this section of the beach. The water is shallow and calm, making it a great spot for novice swimmers and families with young children.
Enjoy a fun and safe day in the sun at this beautiful beach, which offers a variety of activities for everyone. Here's a quick overview of what to keep in mind and what you can do at this beach:
| Beach Safety Tips and Activities | Description |
| --- | --- |
| Beach Safety | Be aware of potential dangers such as rip currents and sudden drops in depth. Always swim near a lifeguard stand and never swim alone. |
| Water Sports | This beach is perfect for kayaking, paddle boarding, and snorkeling with its clear waters and calm conditions. Rent equipment from a reputable vendor and wear appropriate safety gear. |
| Overall Experience | With its stunning water and variety of activities, this beach is a must-visit for anyone looking for a fun and safe day in the sun. |
Table 1. Beach Safety Tips and Activities you can do at Siesta Key Beach
Plenty of Beachside Amenities and Activities
With a plethora of amenities and activities available, visitors can easily spend an entire day enjoying all that this beach has to offer. Whether you're looking for beachside dining or water sports rental options, you'll find it all here.
Grab a bite to eat at one of the many restaurants or snack stands scattered along the beach, or rent a paddleboard, kayak, or jet ski for some fun on the water. But the fun doesn't stop there.
This beach has plenty of other activities to keep you entertained, from beach volleyball and soccer to fishing and snorkeling. Take a long walk along the shore and soak up the sun, or simply relax and read a good book under the shade of an umbrella.
Whatever your beach day preferences, this spot has something for everyone. So pack your sunscreen, grab your beach towel, and get ready for a day of pure relaxation and fun in the sun!
South Beach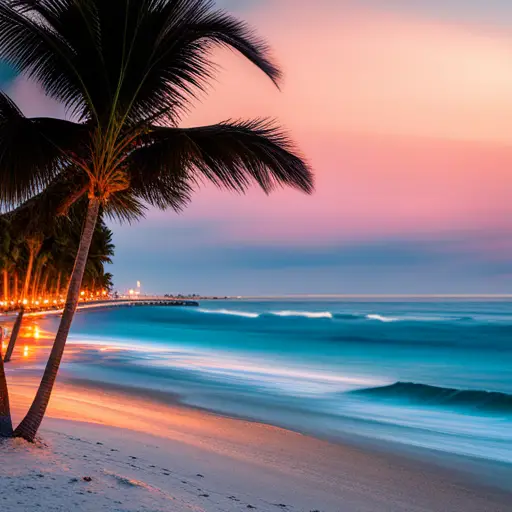 When you're in Miami, you simply can't miss out on South Beach. This iconic beach boasts white sand and stunning Art Deco architecture that will leave you in awe.
Not only is it a popular destination for celebrities and fashion events, but it also offers a vibrant nightlife and dining scene that is sure to leave you impressed.
So, put on your swimsuit, grab your sunscreen, and head over to South Beach for a truly unforgettable experience!
Iconic Beach in Miami with White Sand and Art Deco Architecture
You might be thinking that Miami's iconic beach is just another crowded tourist spot, but wait until you see the stunning Art Deco architecture that lines the shores.
This white-sand paradise is not only a great spot for sunbathing and swimming, but it's also a feast for the eyes. The Art Deco buildings that tower over the beach are a reminder of Miami's rich history and cultural heritage.
Apart from the architectural beauty, Miami Beach is also famous for its beach clubs. These clubs offer a unique experience where you can soak up the sun, sip on a cocktail, and dance to the beats of world-renowned DJs.
If you're looking for a day of relaxation and luxury, Miami Beach is the perfect destination. So, pack your bags, put on your swimwear, and get ready to enjoy the sun, sand, and stunning architecture of Miami's iconic beach.
Popular Destination for Celebrities and Fashion Events
Miami Beach is where celebrities and fashion events collide, creating an atmosphere of glamour and excitement that you won't want to miss. Known for its luxurious hotels, high-end restaurants, and exclusive nightclubs, Miami Beach has been a hotspot for the rich and famous for decades.
Celebrities in Florida often flock to this beach to soak up the sun and enjoy the vibrant nightlife. In addition to the celebrity sightings, Miami Beach is also a hub for fashion events in Florida.
The annual Miami Swim Week brings together designers, models, and fashion enthusiasts from around the world to showcase the latest swimwear trends. And during Miami Art Week, the beach is transformed into a runway for cutting-edge fashion shows and pop-up shops.
If you have a passion for fashion, Miami Beach is the place to be.
Vibrant Nightlife and Dining Scene
With its diverse dining options and lively nightlife, Miami Beach offers visitors a chance to experience the city's vibrant culture and entertainment scene. Whether you're looking for a fancy night out or a casual evening with friends, Miami Beach has something for everyone.
Here are some restaurant recommendations and nightlife entertainment options to check out during your visit:
– For a unique dining experience, head to Juvia. The rooftop restaurant features a fusion of French, Japanese, and Peruvian cuisine, with breathtaking views of Miami Beach.
– If you're in the mood for seafood, Joe's Stone Crab is a must-visit. The iconic restaurant has been serving up fresh seafood since 1913 and is a favorite among locals and tourists alike.
– For a trendy spot with delicious food and drinks, try the Broken Shaker. This hip cocktail bar features inventive drinks and a laid-back atmosphere.
– Looking for a night of dancing and music? Head to LIV, one of Miami Beach's most popular nightclubs. The club features top DJs and a high-energy atmosphere.
– If you're in the mood for a more low-key night out, The Regent Cocktail Club is the perfect spot. The intimate bar features live music and classic cocktails in a cozy setting.
No matter what your interests are, Miami Beach's nightlife and dining scene is sure to please. So, grab your friends and get ready for a night out in this vibrant city!
Sanibel Island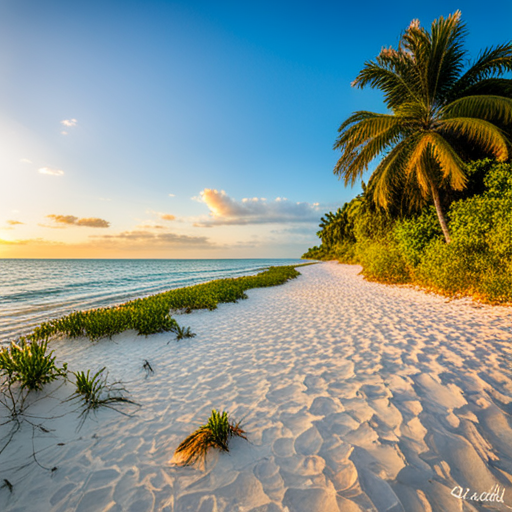 If you're looking for a secluded island getaway with pristine beaches and shelling opportunities, Sanibel Island is the perfect destination for you.
This beautiful island is home to abundant wildlife and nature reserves, making it a nature lover's paradise.
With its tranquil and relaxing atmosphere, Sanibel Island is the ideal place to unwind and escape the hustle and bustle of everyday life.
Secluded Island with Pristine Beaches and Shelling Opportunities
Who doesn't love the feeling of having an entire island to themselves, complete with crystal-clear waters and endless seashells to collect? That's exactly what you'll find on the secluded island of Gasparilla.
This hidden gem boasts pristine beaches and is a true haven for those seeking a remote island escape. Take a long walk on the beach and feel the sand between your toes. Collect as many seashells as you can find – they make for great beachcombing treasures. Dive into the crystal-clear waters and swim with the fishes. Relax and bask in the sun, with nothing but the sound of the waves to keep you company.
Gasparilla Island is the perfect place to escape from the hustle and bustle of everyday life. Whether you're looking for a romantic getaway or a solo adventure, this island won't disappoint. With its stunning scenery and endless opportunities to connect with nature, it's no wonder why Gasparilla's one of the top beaches to visit in Florida.
Abundant Wildlife and Nature Reserves
Immerse yourself in the abundant wildlife and protected nature reserves of Gasparilla Island, where you can witness the natural beauty of Florida's coastal ecosystems.
The island is teeming with wildlife, from majestic birds soaring in the sky to playful dolphins swimming in the crystal-clear waters.
The island is also home to several nature reserves, such as the Don Pedro Island State Park and the Gasparilla Island State Park, where visitors can explore the unique flora and fauna of the region.
Gasparilla Island is a paradise for eco-tourists who are passionate about wildlife preservation.
The island's conservation efforts have made it a haven for endangered species, such as the gopher tortoise, American crocodile, and West Indian manatee.
Visitors can take guided tours and learn about the island's conservation programs, which aim to protect and preserve the delicate coastal ecosystems.
With its abundant wildlife and ecotourism opportunities, Gasparilla Island is a must-visit destination for nature lovers.
Tranquil and Relaxing Atmosphere
The island has a peaceful and calming atmosphere, perfect for those seeking a tranquil getaway. The benefits of such an atmosphere are numerous, ranging from improved mental health to reduced stress levels.
Here are some tips for finding relaxation on the beach:
– Find a quiet spot away from the crowds and noise.
– Take deep breaths and focus on your surroundings, such as the sound of the waves and the feel of the sand beneath your feet.
– Bring a book or a journal to write in to help you unwind.
– Practice yoga or meditation on the beach to calm your mind and body.
– Treat yourself to a massage or spa treatment to fully indulge in the tranquility of the island.
With these tips, you can fully immerse yourself in the calming atmosphere of the island and leave all your worries behind. Let the sound of the waves and the gentle breeze soothe your soul, and return from your vacation feeling rejuvenated and refreshed.
Cocoa Beach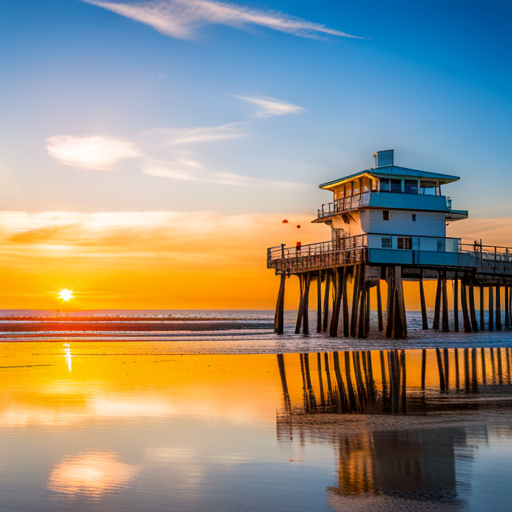 You'll love Cocoa Beach for its laid-back vibe and perfect waves that make it a surfer's paradise. Whether you're a seasoned pro or a beginner surfer, Cocoa Beach has something to offer for everyone.
You can take surfing lessons from local instructors, rent a board, and hit the waves for an unforgettable experience. After a day of surfing, you can head to one of the many local seafood restaurants for a delicious meal.
From fresh oysters to shrimp scampi, you'll find mouthwatering dishes that will satisfy your cravings. Cocoa Beach also has plenty of shops and bars to explore, so you can spend your days soaking up the sun and experiencing the laid-back lifestyle that makes this beach town so special.
Pensacola Beach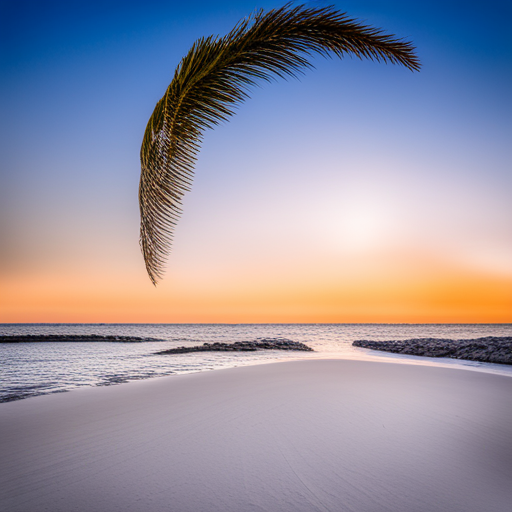 If you're looking for a beach destination with a rich history and plenty of activities, Pensacola Beach is the perfect spot.
Located on Santa Rosa Island, this beach is known for its stunning white sand and crystal-clear waters.
Whether you're looking to relax or have some fun in the sun, Pensacola Beach offers a little something for everyone.
One of the best parts of Pensacola Beach is the beachfront activities.
You can rent kayaks, paddleboards, and jet skis to explore the waters.
If you're feeling adventurous, try parasailing or take a dolphin watching tour.
After a long day of activities, make sure to try some of the local cuisine.
Pensacola is known for its fresh seafood, so be sure to grab some fried shrimp or a seafood platter at one of the local restaurants.
With so much to do and see, Pensacola Beach is a must-visit destination for anyone craving a beach vacation.
Key West Beaches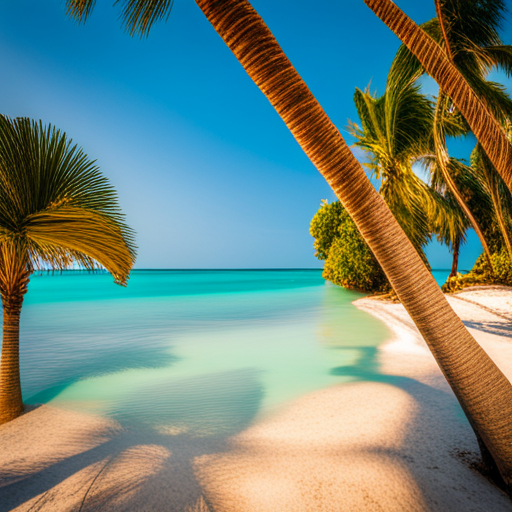 Now that you've soaked up the sun and surfed the waves in Pensacola Beach, it's time to venture down south to the beautiful Key West. This tropical paradise is known for its clear blue waters, vibrant nightlife, and charming beaches that are perfect for relaxation and adventure.
When it comes to beachside attractions, Key West has it all. From the iconic Southernmost Point marker to the lively Duval Street, there's plenty to explore and discover.
If you're feeling adventurous, you can also enjoy a variety of water sports activities, such as parasailing, jet skiing, and paddleboarding. But if you prefer a more laid-back experience, you can simply lounge on the white sand and soak up the warm Florida sun.
Whatever your preference, Key West beaches are sure to provide a memorable experience that you won't forget.
Frequently Asked Questions
What are the best activities to do at each of these beaches besides swimming and sunbathing?
You might think that the only thing to do at a beach is to swim and sunbathe, but oh boy, you're wrong!
When you visit Florida's beautiful beaches, there are a variety of beach sports and activities to engage in. From volleyball to kayaking and paddleboarding, there's so much to do!
You can also explore beachside attractions like local markets, restaurants, and shops. Take a walk down the boardwalk, rent a bike and ride along the coast, or go on a dolphin watching tour.
The possibilities are endless! So put on your sunscreen, grab a frisbee, and get ready for some fun in the sun.
Are any of these beaches pet-friendly?
If you're planning to bring your furry friend along on your Florida beach vacation, you'll be happy to know that there are plenty of pet-friendly accommodations available.
However, it's important to note that most beaches have leash laws, so make sure to keep your pup on a leash at all times.
Some beaches even have designated dog parks where your pooch can run and play off-leash.
With a little research, you can easily find the perfect pet-friendly beach for you and your four-legged companion.
How crowded do these beaches typically get during peak season?
During peak season, the beaches in Florida can get quite crowded, but there are ways to make your experience enjoyable. Beach amenities are plentiful, with many beaches offering restrooms, showers, and snack bars. However, it's important to note that some beaches may have limited amenities, so it's best to do your research beforehand.
Parking availability can also be a challenge, especially during peak season. Many beaches offer paid parking lots, but they can fill up quickly. To avoid this, consider arriving early in the morning or later in the afternoon. Despite the crowds, the beautiful scenery and ocean views are worth the effort. Plus, the feeling of freedom that comes with spending time on a beach is unbeatable.
Are there any nearby restaurants or bars worth checking out while visiting these beaches?
Looking for some beachfront dining or nightlife ambiance while in Florida? Look no further!
There are plenty of nearby restaurants and bars worth checking out while visiting the state's beautiful beaches. Whether you're in the mood for fresh seafood or a refreshing cocktail, there's something for everyone.
From laid-back beach bars with live music to upscale oceanfront restaurants, the options are endless. So sit back, relax, and enjoy the warm ocean breeze as you indulge in some of the best dining and nightlife experiences Florida has to offer.
Are there any specific safety tips or precautions visitors should take when visiting these beaches?
When visiting any beach, it's important to keep beach safety tips in mind. While the ocean can be a fun and refreshing place to spend your day, it can also pose potential dangers.
Always be aware of your surroundings and pay attention to any posted signs or warnings. Never swim alone and always keep an eye on children in the water.
Additionally, be cautious of dangerous marine life such as jellyfish or stingrays, and avoid swimming in areas where rip currents are present. By taking these precautions, you can enjoy a safe and enjoyable day at the beach.
Conclusion
So there you have it, seven of the most stunning beaches in Florida that should definitely be on your travel list. You'll find everything from crystal-clear waters to soft white sand and breathtaking sunsets on these beaches.
Whether you're looking for a quiet escape or a lively party scene, Florida has it all. It's not hard to see why these beaches are considered some of the best in the world. With their serene atmosphere and stunning natural beauty, they are a true paradise on earth.
So why not pack your bags and head to one of these white sand paradises? Trust us, you won't regret it. As they say, life is a beach, and these top beaches in Florida are the perfect place to soak up the sun, relax, and recharge your batteries.
So go ahead and make your next vacation a memorable one, just like the breathtaking scenery of these beaches that will stay with you forever.