Are you itching to escape the hustle and bustle of everyday life? Yearning for a place where the sea meets the sky and the sand tickles your toes? Look no further than Spain's most spectacular beach resorts!
From the turquoise waters of Formentera to the rugged coastline of Costa Brava, Spain's coastal havens await your arrival. With nine breathtaking destinations to choose from, it's no wonder Spain is a top choice for beach-goers around the world.
Whether you're seeking a romantic getaway or a fun-filled family vacation, there's a beach resort in Spain that will meet your every need. So grab your swimsuit, sunscreen, and a sense of adventure, and get ready to explore the beauty of Spain's coastline.
Table of Contents
Formentera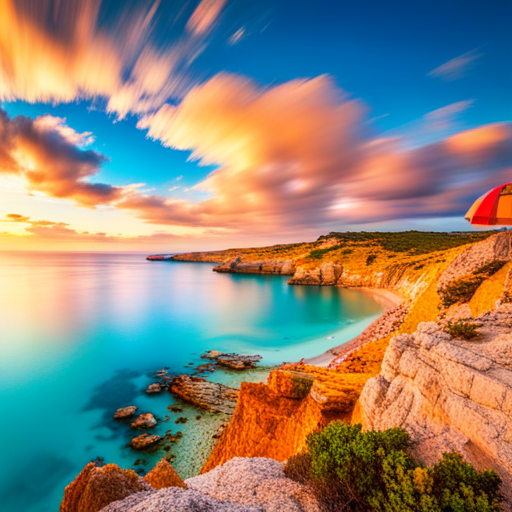 You must experience the beauty of Formentera, with its pristine shores and crystal-clear waters. This small Balearic Island is a true gem for beach lovers, with some of the best beaches in Spain.
Whether you're looking for a secluded cove or a lively beach club, Formentera has it all. But Formentera is not only about beaches. Its local cuisine is also a must-try, with fresh fish and seafood dishes that will make your taste buds dance.
And when you're not lounging on the sand or indulging in the island's delicacies, there are plenty of top activities to enjoy, such as biking, hiking, and snorkeling. For accommodations, you can choose from charming villas, boutique hotels, or luxury resorts.
Formentera is a true paradise that will leave you feeling refreshed and rejuvenated.
San Sebastian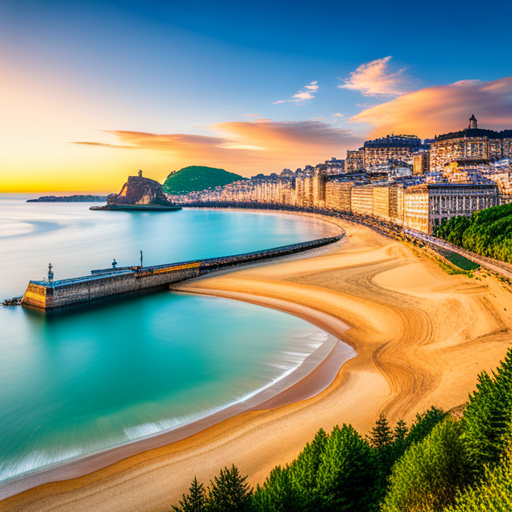 If you're a foodie, you'll love San Sebastian, a charming seaside town that's home to some of the world's top restaurants. The town's culinary scene is famous for its pintxos, small bites of deliciousness served on bread or skewered with toothpicks. Make sure to visit the Old Town, where you can find countless pintxos bars that offer an array of flavors and textures.
Aside from its culinary scene, San Sebastian is also a beach lover's paradise. The best time to visit San Sebastian beaches is during the summer months, when the sun is shining and the water is warm. La Concha Beach is the town's most famous beach, with its golden sand and crystal-clear waters. But if you're looking for something more secluded, head to Ondarreta Beach, where you can enjoy a quieter atmosphere and stunning views of the bay.
Whether you're a foodie or a beach lover, San Sebastian is a must-see destination on your next trip to Spain.
Costa del Sol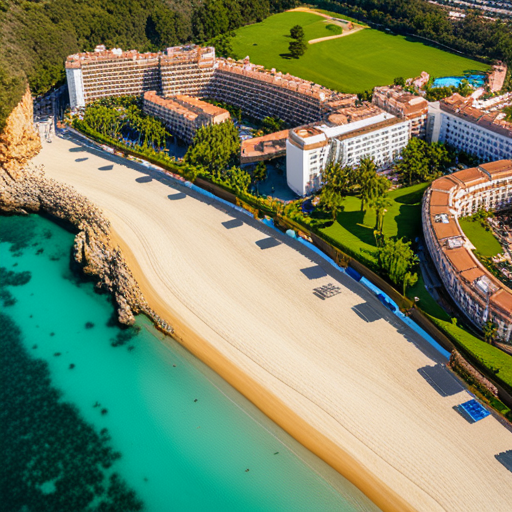 Take a trip to the sunny Costa del Sol and discover its stunning beaches, vibrant nightlife, and charming coastal towns.
With over 320 days of sunshine per year, this region is a paradise for beach lovers. You can indulge in a variety of beach activities here, including swimming, sunbathing, paddleboarding, and surfing.
Apart from its beaches, Costa del Sol is also renowned for its delicious local cuisine. Seafood is a staple here, and you can feast on fresh fish, prawns, and squid in the many beachfront restaurants. Don't forget to try the traditional dishes like paella and gazpacho.
In the evenings, the coastal towns come alive with their buzzing nightlife, offering everything from live music to flamenco shows.
Costa del Sol truly offers a perfect blend of relaxation, adventure, and gastronomy.
Ibiza

Ibiza, known as the party capital of the Mediterranean, is like a magnet, drawing in visitors with its pulsating nightlife and scenic beauty.
But did you know that Ibiza is not just a party paradise? It also offers a serene escape for those seeking a peaceful retreat.
Beyond the beaches, Ibiza has many hidden gems waiting to be explored. Take a stroll through the charming old town of Dalt Vila, a UNESCO World Heritage site.
Or visit the lush green forests of Es Vedrà, a mystical island that's said to be the third most magnetic place on earth.
Whether you're looking for a wild night out or a relaxing day in nature, Ibiza has something for everyone.
Menorca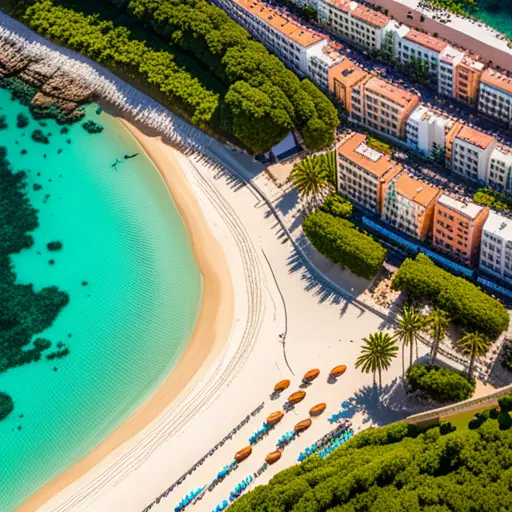 Menorca, also known as Minorca, offers a quieter and more laid-back atmosphere compared to its neighboring party island, Ibiza.
The island is filled with pristine beaches, turquoise waters, and picturesque villages that will surely take your breath away.
If you're looking for a peaceful escape from the hustle and bustle of city life, Menorca is the perfect place to unwind and relax.
When it comes to the best activities on the island, swimming, snorkeling, and kayaking are a must-try.
You can explore the beautiful coastline by renting a kayak, or simply enjoy the crystal clear waters by swimming or snorkeling.
As for the local cuisine, Menorca is famous for its seafood dishes, such as lobster stew and caldereta de langosta.
Don't forget to try their local cheese, Mahón, which is made from cow's milk and has a distinct flavor that will surely leave you wanting more.
Menorca is a paradise for foodies and beach lovers alike, so make sure to add it to your travel bucket list.
Costa Brava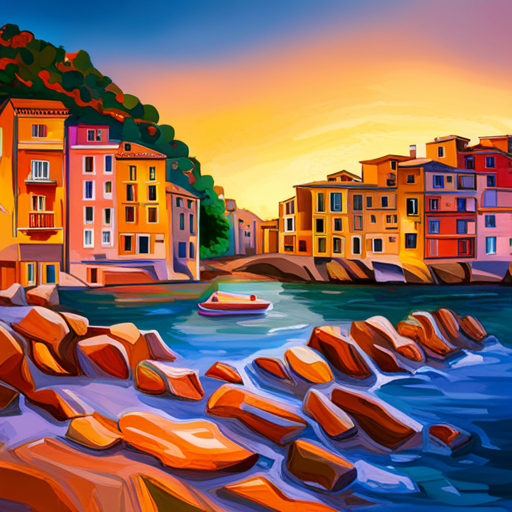 Ah, Costa Brava – the ultimate destination for those who fancy a mix of adventure and relaxation without the wild parties and crowds.
This picturesque region is located in the northeast coast of Spain and boasts some of the most stunning beaches in the country. From rugged cliffs to hidden coves, Costa Brava has something for every beachgoer.
For the adventurous, Costa Brava offers some of the best activities to get your adrenaline pumping. You can go kayaking, windsurfing, or even cliff jumping. But if you prefer a more laid-back experience, there are also plenty of opportunities to soak up the sun and enjoy the crystal-clear waters.
For those who want to combine both, there are hiking trails that will take you to secluded beaches with breathtaking views. And when it comes to accommodations, Costa Brava has some of the top hotels in Spain, ranging from luxurious resorts to charming boutique hotels.
Whether you want to stay in a beachfront villa or a historic castle, you can find it all in Costa Brava. So pack your bags and get ready to discover the beauty of this coastal haven.
Galicia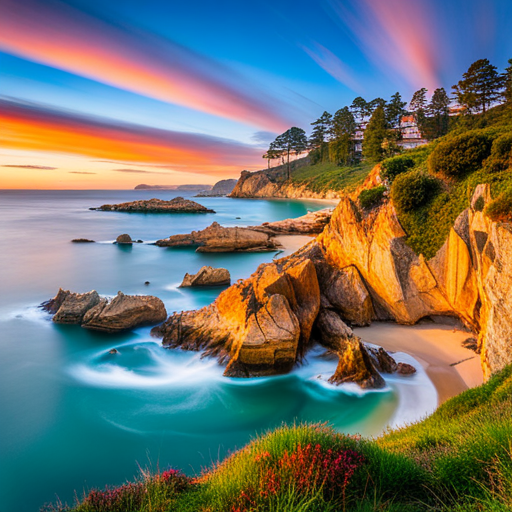 Get ready for a unique experience as we explore Galicia, a region in northwestern Spain known for its rich history, stunning landscapes, and delicious seafood.
Galicia boasts of a coastline that is over 1,500 miles long. The region is dotted with quaint fishing villages and secluded coves, making it a perfect destination for those seeking a quiet retreat.
Galicia is also known for its seafood delights. The region's coastline is teeming with fish, octopus, and shellfish. You can try the famous Galician-style octopus, which is cooked with olive oil, salt, and paprika. The region is also famous for its shellfish, especially the razor clams and mussels.
Moreover, Galicia is steeped in Celtic culture, which adds a unique flavor to the region's festivals, music, and traditions.
Overall, Galicia is a must-visit destination for anyone who wants to experience the best of Spain's coastal havens.
Frequently Asked Questions
What is the average cost of accommodation in these beach resorts?
When it comes to finding accommodation options in beach resorts, the price range can vary depending on your preferences. From budget-friendly hostels to luxurious villas, there are plenty of options to choose from.
You can easily find a comfortable room for a reasonable price, or splurge on a lavish stay with all the amenities you could want. Whether you're looking for a cozy beachfront bungalow or a spacious apartment with stunning views, there's something for everyone.
So, no matter what your budget is, you're sure to find the perfect accommodation for your beach vacation.
Are pets allowed on the beaches in these areas?
You're planning a beach vacation and the thought of leaving your furry friend behind is unbearable. Luckily, many of Spain's coastal havens offer pet-friendly accommodations and even allow pets on certain beaches.
Before you pack your bags, make sure to research leash laws and restrictions in the area. And while you're exploring with your furry friend, don't forget to indulge in the local cuisine. Spain is known for its delicious seafood dishes like paella and grilled octopus, so be sure to add those to your foodie adventure list.
With your pet by your side and a plate of fresh seafood in front of you, you'll feel a sense of freedom and happiness like no other.
What are some popular activities to do in each of these beach resorts besides swimming and sunbathing?
Looking for more than just sunbathing and swimming at a beach resort? Adventure sports are a popular option in these coastal havens.
Try surfing in San Sebastian, kiteboarding in Tarifa, or parasailing in Mallorca.
If you're looking for nightlife and entertainment, Ibiza is the ultimate destination with its famous clubs and parties. Marbella is another option with its luxurious beach clubs and bars.
No matter which beach resort you choose, there are plenty of activities to keep you busy beyond just relaxing on the sand.
Are there any restrictions on alcohol consumption on the beaches?
You might be wondering if there are any restrictions on alcohol consumption on beaches. The short answer is yes, there are often restrictions.
But before you get discouraged, let's examine the pros and cons of beach alcohol restrictions.
On the one hand, restrictions can help prevent public intoxication, littering, and other negative behaviors that can ruin a beach day for everyone. On the other hand, some may argue that alcohol consumption is a part of beach culture and that restrictions infringe on personal freedoms.
Enforcing alcohol laws on public beaches can also be challenging, as it can be difficult to determine who is of legal drinking age and who is not. However, some solutions such as designated drinking areas or stricter penalties for violating alcohol laws can help maintain a balance between personal freedoms and public safety.
So before you pack that cooler, be sure to check the local laws and regulations regarding beach alcohol consumption.
What is the best time of year to visit these beach resorts in terms of weather and crowds?
If you're an adventure seeker, the best time to visit Spain's top beach resorts is during the summer months of June to August. You can try your hand at surfing in San Sebastian or kiteboarding in Tarifa.
For those looking for relaxation and pampering, the best time to visit would be during the shoulder seasons of May and September. You can indulge in spa treatments and yoga classes in Marbella or simply unwind on the pristine beaches of Ibiza.
No matter when you visit, Spain's beach resorts offer something for everyone. From adrenaline-pumping activities to serene and tranquil surroundings, you'll find the freedom to enjoy your vacation in the way that suits you best.
Conclusion
So there you have it, traveler. Spain boasts some of the most stunning beach resorts in the world, and you now have a list of the top nine to choose from. Whether you're looking for a laid-back vibe or a party scene, there's something for everyone.
But remember, don't put all your eggs in one basket. While these coastal havens are undoubtedly spectacular, there are still many hidden gems waiting to be discovered. So keep an open mind and explore the lesser-known beaches as well.
After all, as the old saying goes, "variety is the spice of life." Happy beach-hopping!