The allure of beach boardwalks is undeniable, particularly for fitness enthusiasts seeking the perfect blend of scenic beauty and invigorating exercise. From California to New Jersey, these idyllic locations offer the ideal setting for running and cycling – beach boardwalks fitness – with breathtaking views and the fresh ocean breeze. But, with so many options available, which beach boardwalks are the best for fitness enthusiasts?
The 9 top beach boardwalks for fitness enthusiasts who love running and cycling are Santa Monica, California; Virginia Beach, Virginia; Atlantic City, New Jersey; Coney Island, New York; Ocean City, Maryland; Myrtle Beach, South Carolina; San Diego, California; Daytona Beach, Florida; and Galveston, Texas. These picturesque boardwalks offer a variety of terrains, scenic views, and unique attractions that make each workout a memorable experience.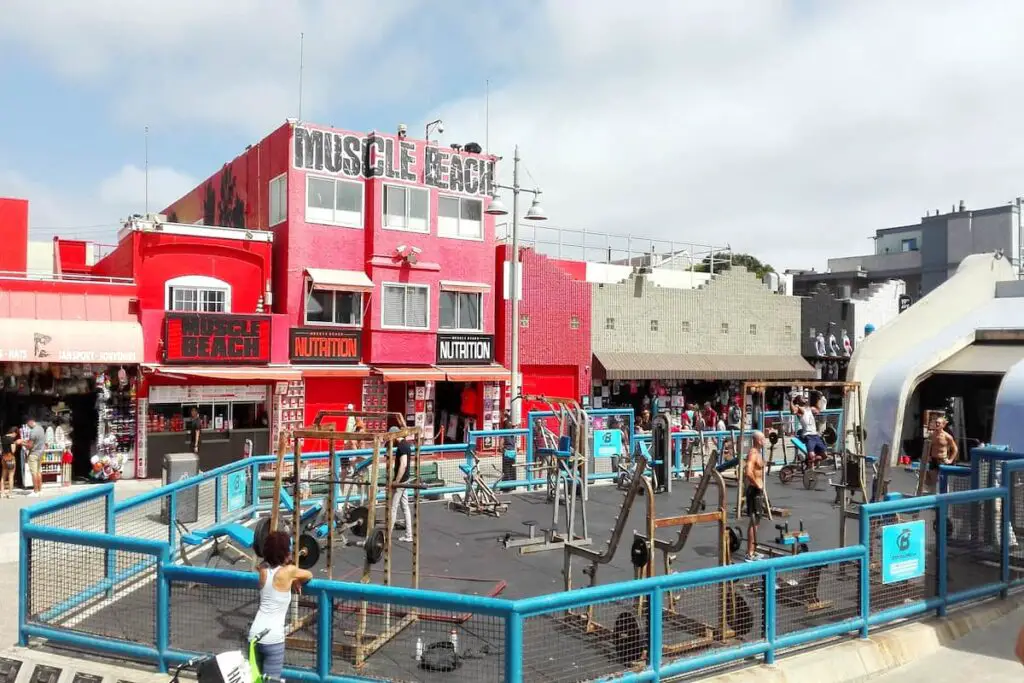 Key Takeaways‍
Santa Monica, California: Sun-soaked beach workouts and boardwalk runs along the endless California horizon for fitness enthusiasts.
Virginia Beach, Virginia: Beachfront workouts and coastal trails offer a perfect blend of sun, sand, and sea for fitness lovers.
Atlantic City, New Jersey: Iconic Boardwalk and historic Steel Pier provide ideal workout spots and amusement attractions for runners and cyclists.
Coney Island, New York: A fitness haven with boardwalk runs and cycling paths amidst the colorful chaos of amusement parks.
Ocean City, Maryland: Three-mile-long boardwalk with picturesque views attracts runners and cyclists seeking freedom and adventure in fitness routines.
San Diego, California: Breathtaking beach boardwalks, La Jolla Cove, and Coronado Island provide stunning trails for running and cycling enthusiasts.
I'll dive into what makes these beach boardwalks the ultimate fitness destinations for those who love running and cycling. I'll cover the highlights and attractions of each location, as well as provide tips on how to make the most of your visit. So, if you're looking for an inspiring backdrop to elevate your workout experience, stay with me as we explore these captivating beach boardwalks. Ready to feel the ocean breeze and the sun on your face as you embark on your fitness journey? Let's get started!
Table of Contents
9 Top Beach Boardwalks For Fitness Enthusiasts
Let's dive into exploring each beach boardwalk in detail. For the boardwalks I've experienced, I'll share my views and insights, and you can also find my personal thoughts and experiences in the sections that follow.
Santa Monica, California
Santa Monica, California calls to the restless spirit in us all.
The sun sets on golden shores and the promise of sweat-drenched freedom whispers through ocean breezes.
There, Santa Monica workouts take form as you pound pavement, beach runs stretching before you like endless California horizons.
With each stride, each turn of the wheel, shackles break and chains fall away.
A haven for fitness enthusiasts, Santa Monica's boardwalk becomes a stage where we dance to the rhythm of our beating hearts.
Virginia Beach, Virginia
Virginia Beach, Virginia calls to the free spirit in us all. A haven for beachfront workouts and coastal trails, she offers the perfect blend of sun, sand, and sea.
Along her boardwalks, we find solace in our strides as the ocean breeze caresses our faces. Her shorelines beckon us to push ourselves further; we embrace the challenge with every pedal stroke or footfall.
On these paths, we are bound by nothing but our own determination – a testament to our pursuit of freedom and vitality.
Atlantic City, New Jersey
I've heard the Atlantic City Boardwalk is a great spot for fitness enthusiasts who like to run and cycle;
Steel Pier is a popular spot too.
It's the perfect place for a good workout.
Atlantic City Boardwalk
You'll love the iconic Atlantic City Boardwalk, where you can truly let loose and indulge your passions for running and cycling.
As you breeze past the historic Atlantic City attractions, you'll feel a sense of exhilaration that only comes from being in such an enchanting place.
Along the way, don't forget to savor the delectable Boardwalk food options that offer a little taste of everything.
You'll find it hard to resist the tempting aromas of saltwater taffy and fresh funnel cakes wafting through the air as you move along with determination.
So go ahead, embrace that yearning for freedom that lies within, and make the most of your fitness journey on this legendary stretch of seaside paradise.
Steel Pier
But don't let your journey end at the Boardwalk, for there's more to Atlantic City than meets the eye.
Venture forth to the legendary Steel Pier, where you'll find amusement attractions that evoke a sense of nostalgia and freedom.
It's here where you can immerse yourself in Steel Pier's history, which has stood strong since 1898, witnessing countless moments of joy and laughter.
Embrace the thrills of the rides as they lift you high above the ocean, offering a breathtaking view of both land and sea.
It's a place where your spirit soars, leaving your worries behind as you revel in pure delight.
So give in to that longing for adventure and let Atlantic City's Steel Pier sweep you off your feet into a world where liberty takes center stage.
Coney Island, New York
Coney Island isn't just a place of history and amusement parks; it's also a haven for those seeking freedom and adventure in their fitness routines.
The boardwalk stretches far, offering an open path for runners and cyclists to witness the colorful chaos of the park while feeling the ocean breeze on their skin.
As you push your limits, Coney Island's history whispers through the air, urging you to embrace both its spirit and your own thirst for liberation.
Don't be surprised if you find yourself throwing in a few amusement park workouts – the energy is contagious.
So go ahead, let Coney Island awaken your soul as you chase after that horizon.
Ocean City, Maryland
Leaving behind the vibrant energy of Coney Island, we find ourselves drawn to the serene beauty of Ocean City, Maryland.
With an impressive 2.5 million visitors per year, this coastal gem boasts a stunning three-mile-long boardwalk that beckons fitness enthusiasts from near and far.
Here, runners and cyclists alike can embrace the freedom of the open air while surrounded by picturesque views of the Atlantic Ocean.
As you make your way along the wooden path, you'll be captivated not only by nature's splendor but also by enticing Ocean City eats and Boardwalk attractions that cater to every whim and fancy.
Whether you prefer salty sea breezes or lively amusements, this impressive stretch of heaven on earth is sure to satisfy your deepest desires for liberation and adventure.
Myrtle Beach, South Carolina
Myrtle Beach, South Carolina is a place where a man can find himself.
Running along the boardwalk, feeling the sea breeze whip through his hair, he'll know freedom.
Cyclists push their bodies to new limits, chasing dreams of self-discovery.
And when night falls, Myrtle nightlife comes alive with the energy of a thousand suns.
The coastal cuisine tempts and nourishes the soul, feeding that ever-present hunger for adventure.
It's here that life feels untamed and boundless – a place where one can truly be alive.
San Diego, California
Imagine, by sheer coincidence, you find yourself in San Diego, California, where the sun kisses your skin as you explore the picturesque coastline.
This vibrant city offers a paradise for fitness enthusiasts seeking to run and cycle along some of the most breathtaking beach boardwalks.
La Jolla Cove:
A stunning gem tucked between sandstone cliffs
Offers scenic running routes with ocean views
Coronado Island:
A serene oasis boasting flat, car-free paths perfect for cycling
Unparalleled views of the San Diego skyline
As you breathe in the salty air and feel that sense of freedom swell within your chest, remember that San Diego's charm lies not only in its natural beauty but also its ability to speak directly to your subconscious desire for liberation.
Challenge yourself on these exhilarating trails and embrace the true essence of this coastal haven.
Daytona Beach, Florida
Let's talk about Daytona Beach Run and Daytona Beach Cycling; both are great for fitness enthusiasts.
You'll find plenty of running and cycling routes along the beach boardwalk.
Daytona Beach Run
You'll find it hard to resist the allure of Daytona Beach, Florida, with its sun-soaked shores and endless opportunities for outdoor adventure.
Runners and fitness enthusiasts will be thrilled by the Daytona Beach Run, a picturesque route that takes you through miles of pristine coastline and past an array of charming beachside establishments.
As you pound the pavement under the warm Floridian sun, take a moment to appreciate the diverse Daytona wildlife that inhabits this vibrant ecosystem.
The salty sea breeze will invigorate your senses as you push forward on your quest for personal triumph along this iconic boardwalk.
When hunger strikes after an exhilarating workout, reward yourself with some exceptional beach dining options nearby, sure to satisfy even the most discerning palate.
Embrace the freedom that comes from running along such a breathtaking stretch of sand and surf – there's nothing quite like it on Earth.
Daytona Beach Cycling
But that's not all there is to Daytona Beach, folks.
If you're not one for running, or even if you are and you'd like to try something new, the Daytona trails offer a world of possibility for those who love the freedom of the open road.
Rent a bike from one of the many available options in town and set off on an adventure that'll take your breath away.
It's just you, your trusty steed, and miles upon miles of scenic byways that beckon with their gentle curves and rolling hills – a call to freedom you can't help but answer.
And when you're done conquering the trails, return your bike to its rightful place and remember fondly the feeling of wind in your hair as you pedaled towards an unknown horizon – it's an experience unlike any other.
Galveston, Texas
Leaving behind the sun-soaked shores of Daytona Beach, we venture westward along the coast to embrace Galveston, Texas.
Here lies another haven for fitness lovers seeking solace in their pursuit of freedom on the seaside path.
As you run or cycle along Galveston's historic boardwalk, breathe deeply and let the fresh sea air carry you forward.
Take a moment to appreciate the rich Galveston history that surrounds you as you traverse this storied coastal city.
Keep your eyes peeled for glimpses of coastal wildlife – a reminder that we share these spaces with creatures who also long for liberty and untamed beauty.
Embrace the wind in your hair and the salt on your skin as you push onward, conquering new territories with every stride and pedal stroke.
Hilton Head Island, South Carolina
Hilton Head Island calls you, with the sun warming your face and the wind in your hair as you embark on a journey of exploration.
Here, Lowcountry workouts meld with stunning natural beauty, creating an experience unlike any other.
You'll run and cycle along pristine beaches, under towering oaks draped with Spanish moss, and through lush maritime forests.
This is where you'll push your body to its limits while feeling a deep connection to the land and sea.
It's not just about getting fit; it's about finding freedom within yourself and unleashing the unstoppable force that lies within us all.
Cape May, New Jersey
Escape to Cape May, New Jersey, where the sun kisses the ocean and freedom calls your name.
Here, the boardwalk's steady rhythm of crashing waves invites fitness enthusiasts to embark on unforgettable journeys. Run or cycle alongside the Atlantic's mesmerizing blue canvas, following a path that leads you to the historic Cape May Lighthouse. As you climb its steps, feel your heart race in exhilaration while gazing upon a view that has captivated sailors for centuries.
Return to land and let your feet guide you through the Historic District exploration, where Victorian charm whispers tales of bygone days.
In Cape May, adventure and liberation are always just around the corner.
Newport Beach, California
After soaking in the charm of Cape May, our journey leads us to the sun-drenched coast of Newport Beach, California. The golden sand and crashing waves beckon fitness enthusiasts from all walks of life to experience this coastal paradise. The boardwalk offers a stunning backdrop, with views of the sparkling Newport Harbor and access to some of the most renowned surfing spots in Southern California.
Here, freedom calls as you set off on your run or cycle ride along the path. Take in breathtaking sights with a 3-mile loop around Balboa Island. Challenge yourself on the picturesque Back Bay Loop Trail. Cruise along the 38-mile Mountains to Sea Trail for an unforgettable adventure. Tackle the scenic Crystal Cove State Park trails for running or biking. Test your endurance on Upper Newport Bay's 10-mile loop.
You'll find it hard not to be captivated by Newport Beach's natural beauty and endless opportunities for outdoor activities. This haven has something for every fitness enthusiast seeking a sanctuary where they can let loose and embrace their desire for freedom.
Personal Thoughts and Experiences About ‍
My personal favorite beach boardwalk experience takes me back to when I lived in San Diego, California. I loved exploring the picturesque coastline and cycling across the stunning beach boardwalks.
As a beach lover, these boardwalks create unforgettable memories, and I can't wait to continue my adventures by visiting more of the cycling and running routes mentioned in this article, such as Santa Monica and Newport Beach.
If I got the opportunity to travel, I would head straight to Santa Monica, California. As a fitness enthusiast, I would love to run and cycle along the scenic boardwalk, feeling the ocean breeze and soaking in the sunsets on golden shores. I'd challenge myself with beach runs that stretch endlessly along the California horizon.
After an intense workout, I would enjoy the local cuisine and savor the atmosphere created by fellow fitness lovers embracing their passion for health and freedom. Santa Monica seems like a perfect haven for someone seeking a blend of fitness and relaxation by the sea.
Frequently Asked Questions
Are There Any Specific Rules Or Regulations For Cyclists And Runners On These Beach Boardwalks?
Freedom calls, but rules must be followed. On beach boardwalks, cycling etiquette and runner's rights coexist harmoniously, ensuring safety and enjoyment for all.
Cyclists must yield to pedestrians, slowing down when necessary; runners should stay on their designated paths. Both parties should remain alert and considerate of others, sharing the space with a mutual respect that allows for the free-flowing energy of fitness enthusiasts to thrive in these picturesque settings.
In this world of sun, sand, and sweat, where bodies are pushed to their limits and spirits soar high above the crashing waves, regulations exist not as chains to bind us but as guides to keep us safe while we chase our own versions of liberation.
Can I Rent Fitness Equipment, Such As Bicycles Or Rollerblades, At Or Near These Boardwalks?
Yes, you can rent fitness equipment at or near these boardwalks to amp up your experience.
Many places offer bicycle and rollerblade rentals, so you'll be able to cruise along the coastline at your own pace.
Plus, don't miss out on beach workout classes and boardwalk yoga sessions that often grace these vibrant spots.
These activities bring together like-minded fitness lovers, giving you a sense of freedom as you break a sweat with the ocean breeze in your hair.
So go ahead, unleash your inner adventurer and explore the stunning landscapes while staying active and fit – it's an opportunity not to be missed!
Are There Any Organized Running Or Cycling Events That Take Place On These Beach Boardwalks Throughout The Year?
Like a wave crashing onto the shore, fitness enthusiasts will find themselves immersed in an ocean of opportunities for organized running and cycling events on beach boardwalks throughout the year.
Beach marathons bring together runners from all walks of life, united by their love for sandy shores and spectacular views.
Boardwalk triathlons challenge athletes with a combination of swimming, cycling, and running along picturesque coastal routes.
These events not only provide a unique racing experience but also allow participants to quench their thirst for freedom as they push their limits in the great outdoors.
So go ahead, dive into these exhilarating races and embrace the boundless spirit of the sea.
Are There Any Safety Measures Or Precautions That I Should Be Aware Of While Exercising On These Beach Boardwalks?
Yes, there are some essential beach workout safety tips and boardwalk exercise etiquette to keep in mind while enjoying these picturesque routes.
First, always stay alert and aware of your surroundings – the ocean's beauty can be distracting, but don't let it compromise your safety.
Share the path with others by sticking to designated lanes or areas for runners and cyclists, and respect their pace for a harmonious experience.
Wear proper gear that ensures visibility in low light conditions, especially at dawn or dusk when the promise of freedom seems most profound.
Lastly, heed posted signs and warnings about potential hazards such as rip currents or wildlife – they're there to protect you so you can continue chasing that boundless feeling of liberty in every stride or pedal stroke.
Are There Any Nearby Fitness Facilities Or Gyms For Those Looking To Incorporate Additional Workouts While Visiting These Beach Boardwalks?
As the sun rises over the horizon, casting a golden glow on the sand and surf, it's no surprise that fitness enthusiasts seek more than just their daily run or cycle along picturesque beach boardwalks.
Nearby fitness facilities and gyms often offer an array of options for those who crave variety in their workouts. Fitness classes that challenge your strength and endurance while providing a sense of camaraderie can be found easily in these coastal havens.
Gym alternatives like yoga studios or outdoor boot camps present unique opportunities to connect with nature as you push your body to new limits. The world is wide, and so too are the possibilities for expanding your fitness horizons beyond the shores of traditional beach boardwalks.
Conclusion
So, whether you're a dedicated fitness enthusiast or just looking for a scenic spot to get active, these beach boardwalks have got you covered. With rental options, organized events, and nearby fitness facilities, it's like having an all-inclusive fitness vacation at your fingertips.
Remember the feeling of running on the beach as a kid, with the wind in your hair and sand between your toes? These boardwalks offer that same sense of freedom and adventure, making every workout feel like an exciting new challenge.
Get out there and soak up the sun while breaking a sweat!