Dude, let me tell ya, there's nothing quite like the feeling of catching that perfect wave on an idyllic island paradise. You know it – you're out there with your board, feeling the warm sun on your back and the cool ocean breeze in your face. It's just you, Mother Nature, and a sense of freedom that's impossible to describe.
Well, if you're looking for some epic spots to chase that never-ending summer and ride those gnarly waves, we've got you covered. We've scoured the globe to find the most insane island surf spots for every level of surfer, from total beginners to seasoned pros.
So grab your board and let's dive into these 7 best beaches for riding waves in paradise. Trust us when we say they'll have you stoked beyond belief and dreaming about your next surf adventure before you can even say 'hang ten!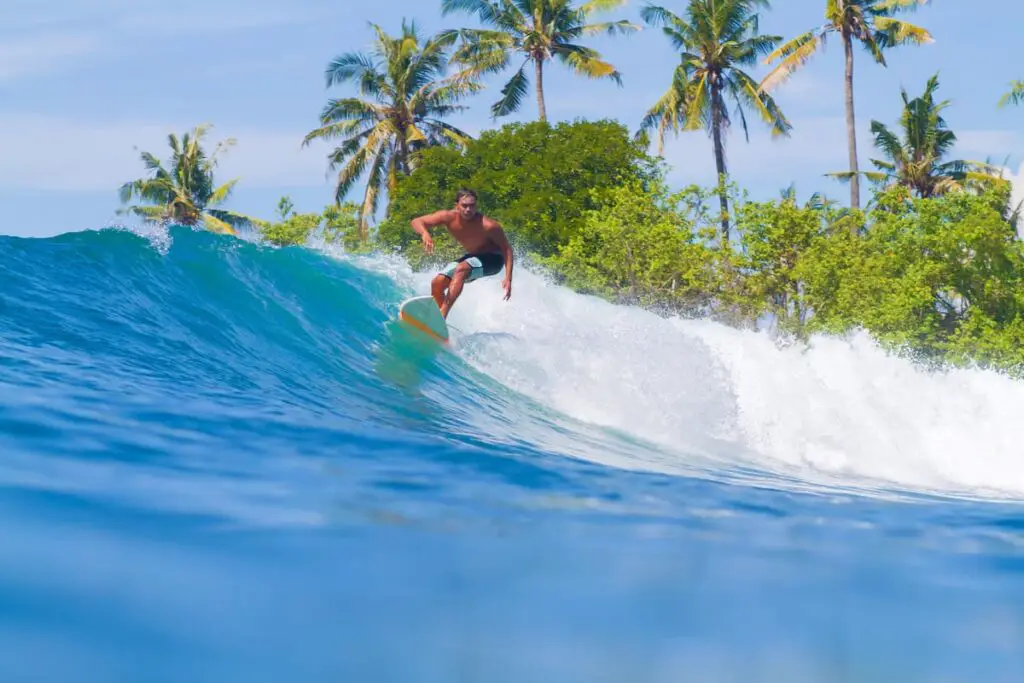 Oahu, Hawaii – North Shore
When you think of island surf spots, Oahu's North Shore inevitably springs to mind. It's the birthplace of big wave surfing and a mecca for surfers from all around the globe. This iconic stretch of coastline is steeped in Hawaiian history and infused with Oahu culture, offering a unique experience unlike any other surf destination.
Each winter, wave riders flock to the North Shore to test their mettle against some of the most powerful swells Mother Nature has to offer.
Apart from its epic waves, the North Shore is also home to a vibrant local community that welcomes visitors with open arms. As you explore this stunning region, you can't help but feel inspired by its lush landscapes, pristine beaches, and tantalizing food trucks serving up mouthwatering Hawaiian fare.
The combination of world-class surf breaks and an authentic taste of island life makes Oahu's North Shore an unparalleled paradise for those seeking freedom in the form of sun-soaked sand and massive barrels.
So pack your bags, wax up your board, and prepare for the ride of your life!
Bali, Indonesia – Uluwatu
From the iconic North Shore of Oahu, let's cruise over to another surfers' paradise that's rich with culture and breathtaking scenery. Bali, Indonesia has long been a favorite destination for wave riders seeking perfect tubes and unforgettable experiences.
One spot that stands out among the rest is Uluwatu – a legendary surf break that's as steeped in Balinese culture as it is blessed with world-class waves. Nestled beneath the majestic Uluwatu Temple, this surf hotspot blends spirituality and adrenaline like no other place on earth.
Here are three reasons why Uluwatu should be at the top of your island surf spots bucket list:
Uluwatu Temple: Perched high on a cliff overlooking the Indian Ocean, this ancient temple provides an awe-inspiring backdrop to your surfing adventures. Soak up some Balinese culture while you're waiting for your next set.

Consistent Waves: Thanks to its position in the southern tip of Bali, Uluwatu enjoys consistent swell all year round, making it an ideal destination for those who crave endless days of wave riding.

Variety: Uluwatu offers something for every surfer – from mellow beginner-friendly waves to adrenaline-pumping barrels that'll test even the most experienced riders.
As you carve through Uluwatu's emerald walls and feel the warm tropical breeze on your face, it becomes clear why this sacred spot has captured the hearts of so many wave chasers. The blend of thrilling rides and vibrant Balinese culture creates an experience unlike any other.
So pack your bags, wax up your board, and prepare for a surfing adventure that will leave you dreaming of return trips to this magical corner of paradise.
Fuerteventura, Canary Islands – El Cotillo
Ah, Fuerteventura – where the rugged landscapes meet pristine beaches, and the untamed waves of El Cotillo beckon to surfers from around the globe.
Unlike its more crowded neighbor, Tenerife, this Canary Island gem offers a unique blend of peaceful seclusion and adrenaline-pumping action.
For those seeking an unparalleled surfing experience in paradise, look no further than El Cotillo – a place where Cotillo Lagoon Exploration goes hand-in-hand with conquering world-class waves.
As you paddle out into the azure waters of El Cotillo, take a moment to appreciate your surroundings.
The Fuerteventura Wildlife Conservation efforts have helped preserve this island's natural beauty and endemic species for future generations to enjoy.
Amidst the thrill of catching that perfect wave, let the spirit of freedom wash over you as you connect with nature in its purest form.
So go ahead – embrace your inner wave warrior and join us on this unforgettable journey to one of the best surf spots on earth: Fuerteventura's enchanting El Cotillo.
Siargao, Philippines – Cloud 9
As we leave the volcanic shores of Fuerteventura behind, let's catch a flight to the tropical paradise of Siargao, Philippines.
Known as the 'surfing capital of the Philippines,' this teardrop-shaped island is home to Cloud 9, a world-class surf spot that will make your heart race and adrenaline pump.
Stepping onto Siargao's sandy beaches, you'll quickly become immersed in Siargao culture, where surfing is not just a sport but a way of life.
The locals are warm and welcoming, eager to share their love for the ocean with fellow wave riders.
As you paddle out into the azure waters of Cloud 9, prepare yourself for some truly epic waves courtesy of the mighty Pacific Ocean.
This is sustainable surfing at its finest – an untouched paradise where respect for nature and local traditions go hand-in-hand with chasing that perfect ride.
So take a deep breath and ride those majestic barrels, knowing that your presence on this beautiful island contributes to preserving its natural beauty and unique culture for generations to come.
Tavarua, Fiji – Cloudbreak
Ah, Tavarua, Fiji – Cloudbreak! Just saying the name brings a smile to every surfer's face. This glorious spot is considered one of the best waves in the world and a true gem for those seeking that perfect ride.
Imagine yourself cruising along a wave so incredibly powerful and consistent that it feels like you've entered a dream world where anything is possible. As you carve through the sapphire blue water, keep an eye out for the stunning Fiji marine life that surrounds you – it's an experience like no other.
When it comes to hanging loose after an epic surf session, Tavarua accommodations provide everything you need to feel at home in paradise. From luxurious villas with breathtaking ocean views to cozy beach bungalows, there's something for everyone on this idyllic island.
And though your heart might be pounding with excitement from catching those legendary waves at Cloudbreak, take some time to appreciate the laid-back vibe of Tavarua and its welcoming locals who are more than happy to share their island secrets with visiting surfers. Trust us, once you've experienced Tavarua's charm and its awe-inspiring surfing conditions, you'll find yourself daydreaming about this island paradise long after your board has been packed away.
Puerto Rico – Rincon
Rincon Beach is the ultimate surf spot for those looking for a Caribbean paradise.
With consistent surf conditions, this beach is a surfer's paradise.
Plus, there are plenty of attractions nearby to explore after a long day of riding waves.
Rincon Beach
Imagine yourself gliding on the waves of Rincon, Puerto Rico's surf capital, where you'll discover more than just world-class breaks.
With Rincon's surf culture being a lifestyle that everyone wants to be a part of, it's no surprise that this destination has become a haven for those seeking freedom and adventure.
As you cruise along its pristine shores, expect to find hidden gems near Rincon that make this island an unforgettable paradise.
From secluded beaches perfect for solo sessions to vibrant local hangouts where new friendships are forged over shared stoke, Rincon Beach offers something for every wave rider searching for their next great escape.
Don't miss out on the chance to experience the magic of Rincon and all it has to offer – you won't regret it!
Surfing Conditions
As you wax up your board, crafted with the finest surfboard materials, and prepare to hit the waves in Rincon, you'll quickly come to appreciate the art of wave forecasting.
With its unique location on Puerto Rico's western coast, Rincon benefits from a variety of swells that create some of the best surfing conditions on Earth.
As a surf spot journalist, I can tell you that whether you're a seasoned pro or just starting out on your journey to ride those glassy walls of water, this tropical paradise delivers endless opportunities for freedom and adventure.
The thrill of paddling into Rincon's legendary breaks will leave you hungry for more – so don't be surprised if one trip simply isn't enough!
Surrounding Attractions
But hey, it's not just the waves that'll keep you stoked in Rincon!
As you explore this island paradise, you'll be captivated by the incredible array of surrounding attractions – from the lush Island Wildlife to the mouthwatering Tropical Cuisine.
Take a break from your surf sessions and immerse yourself in vibrant local culture, where you'll uncover hidden gems waiting to be discovered around every corner.
Don't forget to treat yourself to some authentic Puerto Rican flavors at one of the many beachside eateries – trust me, it's a culinary experience you won't want to miss.
And remember, as with any great adventure in life, there's always more to see and do than meets the eye – so don't stop exploring Rincon's limitless treasures.
Tahiti, French Polynesia – Teahupo'o
Just when you thought Rincon was the pinnacle of paradise, we're taking you to another mind-blowing destination that will leave you absolutely spellbound. Say 'aloha' to Tahiti, French Polynesia, and its most revered surf spot – Teahupo'o.
This place is not for the faint-hearted; it's where legends are made and dreams come alive in the powerful embrace of mother nature.
Teahupo'o has a rich history that is deeply intertwined with Tahitian surf culture. The name itself translates to 'place of skulls,' which might give you an idea of the fearsome reputation this break commands.
Known for its thick, heavy waves that break over a shallow coral reef, this wave has been dubbed one of the most dangerous and challenging in the world. But fear not, dear thrill-seekers! With proper guidance from local surf masters and respect for the ocean's power, Teahupo'o offers an unparalleled ride that will etch itself into your memory forever.
There's no better way to truly experience freedom than by conquering this majestic force of nature and becoming one with the spirit of Tahitian surf culture.
Barbados – Soup Bowl
Imagine yourself as an adventurous pirate from days of yore, seeking hidden treasure in a land of mystery and enchantment.
Your Soup Bowl exploration takes you to the exotic shores of Barbados, where the bounty you seek is not gold or jewels, but the thrill and challenge of riding majestic waves.
The island's east coast is your map, with X marking the spot at Bathsheba – home to the legendary Soup Bowl.
The Barbados surf culture has embraced this gem like a precious doubloon, making it one of the most sought-after surf spots in paradise.
Here, sapphire waters meet emerald landscapes, providing a vibrant backdrop for your quest to conquer these exhilarating swells.
As you paddle out into the line-up, you'll feel that innate yearning for freedom awaken within you – a call to cast off the shackles of everyday life and embrace the limitless possibilities that exist beyond the horizon.
With each wave ridden and every new connection made with fellow wave-seekers in this idyllic setting, your spirit soars higher than any Jolly Roger flag ever could.
So go ahead and hoist your own colors high and set sail for adventure; there's no greater treasure than discovering your own piece of paradise at Barbados' Soup Bowl.
Lombok, Indonesia – Desert Point
It's time to pack your bags and set forth on a Desert Point exploration in Lombok, Indonesia. This heavenly destination offers a unique blend of Lombok local culture and world-class surf breaks that'll make you feel like you've discovered your own personal paradise.
So, what makes this spot stand out among the rest? Here are four reasons why Desert Point is a must-visit surf spot:
Consistent swell: With waves reaching up to 20 feet during peak season (May to September), there's no shortage of adrenaline-pumping action for seasoned surfers.

Tubing perfection: Known for its long barreling waves, it's no wonder this spot has been dubbed one of the best left-hand breaks in the world.

Untouched beauty: The remote location ensures pristine beaches, crystal-clear waters, and an unspoiled environment free from overcrowding.

Rich culture: Immerse yourself in authentic Lombok local culture as you explore nearby villages and interact with friendly locals.
As your Desert Point adventure unfolds before you, be prepared to experience the very essence of freedom. Whether it's riding those picture-perfect tubes or indulging in vibrant cultural experiences, each day spent at this magical location will leave you craving more.
Don't just take our word for it; come see for yourself why Lombok's Desert Point is truly a surfer's paradise.
Mentawai Islands, Indonesia – Lance's Right
As we ride the wave from Desert Point in Lombok, let's set our sights on another Indonesian gem – the Mentawai Islands. Did you know that these islands have over 70% of Indonesia's best surf breaks? No wonder it's a top destination for wave riders worldwide.
Lance's Right, in particular, is an absolute must-visit for any surfing aficionado. Immerse yourself in the unique Mentawai surf culture and experience some of the world's most consistent and pristine waves at Lance's Right. With a fast, hollow right-hander that barrels perfectly over shallow coral reefs, it offers an adrenaline-pumping ride like no other.
While you're there, don't forget to check out local accommodations that cater to surfers' needs and provide all the comforts of home while being just steps away from epic swells. So pack your board and embrace the freedom of riding world-class waves in this tropical paradise – because life is too short not to chase those unforgettable moments on the water.
Conclusion
With so many incredible surf spots to choose from, it's no wonder that we are constantly daydreaming about our next surf adventure.
From the iconic North Shore of Oahu to the lesser-known Desert Point in Lombok, these island surf spots offer some of the most exhilarating waves for surfers of all skill levels.
Did you know that nearly 23 million people worldwide participate in surfing?
I'm sure a few more will be joining their ranks after discovering these paradise beaches for riding waves.
So grab your board and let's hit the water!