Imagine sinking your toes into warm, golden sands or listening to the soothing sounds of the ocean waves gently lapping onto the shore. Escaping to a beautiful beach town may seem like a luxury reserved for those with deep pockets, but with a little bit of research, you can find some hidden gems without breaking the bank.
In fact, the Americas have a treasure trove of budget-friendly coastal escapes just waiting for you to explore and enjoy. From the sunny shores of Alabama in the United States to the vibrant, tropical beaches of Ecuador, there are plenty of affordable options for you to unwind and experience the freedom and tranquility these coastal towns offer.
Whether you're looking for a quiet, secluded spot to relax or a bustling town with a vibrant nightlife, these nine budget-friendly beach towns across the Americas are sure to provide the perfect setting for your next coastal getaway. So, grab your sunglasses and sunscreen, and get ready to embark on a blissful journey to paradise without emptying your wallet.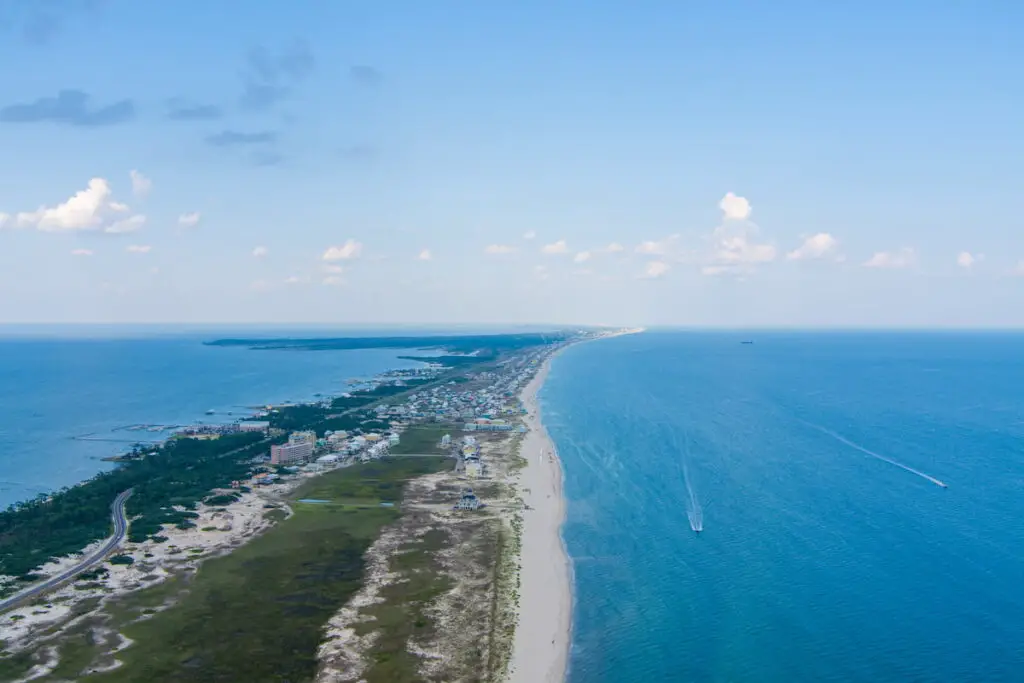 Gulf Shores, Alabama, USA
You won't believe how much fun you can have without breaking the bank in Gulf Shores, Alabama! This charming coastal town is known for its beautiful white sand beaches, crystal clear waters, and warm Southern hospitality.
As you stroll along the shoreline, you'll be captivated by the stunning views and the myriad of activities available for all ages, from building sandcastles to enjoying the local cuisine at an affordable beachside restaurant. Along with the breathtaking scenery, you'll be able to experience unforgettable Gulf wildlife encounters and explore historic landmarks that showcase the rich history of the area.
Gulf Shores offers a variety of budget-friendly activities that will keep you entertained and immersed in the local culture. For nature enthusiasts, embark on a guided kayak tour through the serene backwaters and estuaries where you'll have the chance to spot dolphins, herons, and other fascinating Gulf wildlife.
History buffs can delve into the area's storied past by visiting the nearby Fort Morgan Historic Site or the Gulf Shores Museum, both offering affordable admission fees and fascinating exhibits. In the evening, unwind by attending one of the many free outdoor concerts or events that regularly take place in Gulf Shores, providing a lively atmosphere and entertainment for all.
As you explore this idyllic beach town, you'll discover that it's not just the affordability that makes Gulf Shores an ideal coastal escape, but also the genuine warmth and friendliness of the locals. They'll be more than happy to share their favorite spots for mouthwatering seafood or point you in the direction of the best beach for catching a spectacular sunset.
So pack your bags and head to Gulf Shores, Alabama, where you'll find the perfect blend of relaxation, adventure, and unforgettable memories that won't break the bank.
Myrtle Beach, South Carolina, USA
Ready to explore Myrtle Beach, South Carolina, USA, without breaking the bank?
You'll find a plethora of budget-friendly activities. Stroll along the 60 miles of pristine beachfront, soak up the sun, or catch a free concert at the Myrtle Beach Boardwalk.
Don't forget to check out the numerous shopping and dining options. Ranging from quaint boutiques to mouth-watering seafood restaurants, they ensure your coastal escape is not only affordable but also unforgettable.
Budget-friendly Activities
Stumbling upon inexpensive activities by the shore is a delightful way to make the most of your seaside retreat. Budget-friendly exploration of beach towns in America offers a plethora of options for fun and relaxation without breaking the bank.
From miles of pristine sandy shores perfect for strolling or sunbathing to picturesque piers and boardwalks ideal for people-watching, your economical beach activities are only limited by your imagination.
Take advantage of free or low-cost local events like outdoor concerts, art festivals, and farmers' markets, or delve into the area's history by visiting lighthouses and museums. For a more active experience, try your hand at beach volleyball, surfing, or paddleboarding, which are often available at minimal cost.
As the sun sets, enjoy a cozy bonfire with friends or a romantic beach picnic beneath the stars. With a little creativity and a spirit of adventure, your budget-friendly coastal escape can be filled with memories that'll last a lifetime.
Miles of Beachfront
There's no shortage of beachfront to explore when you're seeking a cost-effective seaside adventure. Imagine waking up to the sound of waves crashing on the shore as you unzip your tent at a beachside camping spot, or taking a leisurely stroll along the water's edge, marveling at the diverse coastal wildlife that calls these shores home.
The miles of sandy coastline offer endless opportunities for relaxation, exploration, and adventure, all without breaking the bank. As you wander along the seemingly endless stretches of pristine sand, you'll find yourself captivated by the beauty of the natural surroundings. Feel the warm sun on your skin and the cool ocean breeze in your hair as you search for seashells, build sandcastles, or simply lay back and soak up the sun.
With miles of beachfront at your disposal, you can find your own little slice of paradise, free from the crowds and the hustle and bustle of everyday life. Embrace the freedom that comes with a budget-friendly coastal escape and let the waves wash away your worries.
Shopping and Dining Options
You'll feel like a kid in a candy store when exploring the many shopping and dining options in these seaside destinations, offering you a smorgasbord of local flavors and unique treasures without emptying your wallet.
Budget eats abound in these coastal towns, with food trucks, mom-and-pop eateries, and beachside cafes serving up mouthwatering cuisine at prices that won't break the bank. Seafood lovers can indulge in fresh, locally caught fish and shellfish, while those looking for something different can sample regional specialties and international fare.
Thrifty shopping is a breeze in these beach towns, with charming boutiques, open-air markets, and quirky souvenir shops providing plenty of opportunities to find one-of-a-kind keepsakes and gifts at wallet-friendly prices. As you stroll through the quaint streets and bustling promenades of these budget-friendly beach towns, you'll find yourself immersed in a vibrant atmosphere that celebrates the joy of coastal living.
The laid-back vibes and welcoming locals make it easy to lose yourself in the moment, savoring the freedom of unhurried afternoons spent browsing art galleries, tasting artisanal treats, or simply watching the world go by from a cozy café. With so many affordable options for shopping and dining, you can enjoy the best of what these coastal escapes have to offer without feeling guilty about splurging.
So go ahead and treat yourself to that decadent dessert, buy that quirky souvenir, or indulge in a leisurely meal at a beachfront restaurant – you've earned it.
South Padre Island, Texas, USA
Get ready to kick back and relax in South Padre Island, Texas, where you can enjoy miles of pristine beaches, refreshing Gulf waters, and a laid-back atmosphere without breaking the bank.
This budget-friendly beach town offers a variety of activities for all ages, including nature trails, water sports, and island wildlife encounters. You'll have the opportunity to spot dolphins playing in the waves, sea turtles nesting on the shore, and an array of bird species in the nearby Laguna Madre.
South Padre Island is also a paradise for food lovers, with an abundance of local restaurants serving up delicious Texas cuisine. From mouthwatering seafood dishes to authentic Tex-Mex fare, there's something for everyone's taste buds. Don't forget to try the island's famous shrimp, caught fresh from the Gulf of Mexico, and pair it with a refreshing margarita at one of the many beachfront bars.
Shopping enthusiasts will also be delighted with the variety of boutiques, souvenir shops, and art galleries that line the island's main thoroughfare.
As you explore South Padre Island, you'll discover that there's more to this coastal oasis than just sun, sand, and surf. With its vibrant ecosystem, rich cultural offerings, and affordable accommodations, South Padre Island is the perfect destination for those seeking a budget-friendly beach escape.
So pack your bags, grab your sunscreen, and get ready to experience the natural beauty and laid-back charm of this Texas coastal gem.
La Ceiba, Honduras
Next up on your list should be La Ceiba, Honduras, where you can experience a tropical paradise without emptying your wallet. This vibrant coastal city offers a unique blend of stunning natural beauty, rich cultural experiences, and mouth-watering Honduran cuisine, all at a fraction of the cost of other popular beach destinations.
Imagine spending your days soaking up the sun on pristine beaches, exploring lush rainforests, and immersing yourself in the local culture – all without breaking the bank.
Pico Bonito National Park: Just a short drive from La Ceiba, this breathtaking park boasts lush rainforests, towering waterfalls, and diverse wildlife. Hike the well-maintained trails and be on the lookout for toucans, monkeys, and even jaguars.

Cayos Cochinos: These idyllic islands are a must-visit destination for snorkeling and scuba diving enthusiasts. Crystal-clear waters teeming with vibrant marine life will leave you awestruck.

Garifuna Village: Experience the unique culture of the Garifuna people, who have inhabited the region for centuries. Enjoy traditional music, dance, and food while learning about their fascinating history and customs.

Rafting on the Cangrejal River: Get your adrenaline pumping with an exciting whitewater rafting adventure down the Cangrejal River, surrounded by the spectacular scenery of the Pico Bonito National Park.
Picture yourself strolling along the sun-kissed shores of La Ceiba, indulging in delectable local cuisine, and discovering the enchanting beauty of the surrounding rainforests and islands.
This underrated gem in Honduras is the perfect destination for travelers seeking an affordable, off-the-beaten-path coastal escape that offers a taste of true freedom. So, pack your bags and get ready to create unforgettable memories in La Ceiba, your new budget-friendly beach haven.
Las Terrenas, Dominican Republic
Imagine strolling along the pristine beaches of Las Terrenas in the Dominican Republic, feeling the warm sand between your toes and the soothing sound of the waves crashing on the shore.
You'll love the affordable vacation rentals in this laid-back beach town, offering you a perfect home away from home without breaking the bank.
Embrace the relaxed atmosphere, soak in the sun, and create unforgettable memories in this budget-friendly coastal escape that'll leave you longing for more.
Pristine Beaches
You'll find that pristine shores and crystal-clear waters await you in these idyllic coastal getaways, all without breaking the bank.
Imagine waking up to the sound of waves gently lapping at the shore as you emerge from your beach camping tent, ready to explore the wonders of coastal wildlife. As you take a leisurely stroll along the shoreline, the salty breeze tousles your hair and you marvel at the vibrant hues of the ocean before you.
It's here that you'll find a sense of peace and freedom, knowing that you've discovered a hidden gem that's both affordable and breathtakingly beautiful.
During the day, you can immerse yourself in the wonders of the natural world, observing fascinating marine creatures and coastal birds as they go about their daily lives. The warm sand between your toes and the refreshing ocean waves offer a soothing respite from the hustle and bustle of everyday life.
As the sun sets, the sky erupts in a symphony of colors, painting the horizon with brilliant shades of orange, pink, and purple. After a day of blissful exploration and beachside relaxation, you'll find it hard to believe that such an affordable and serene coastal escape exists – but it's waiting for you, ready to inspire and rejuvenate your spirit.
Affordable Vacation Rentals
Discover delightful deals on dreamy dwellings during your coastal getaway, ensuring an unforgettable vacation without overspending.
By following a few budget-friendly tips and doing some rental comparisons, you can find the perfect vacation rental in one of America's most affordable coastal escapes.
Imagine waking up to the sound of crashing waves and the smell of salty sea air, all while knowing you scored a fantastic deal on your beachfront abode.
Scour trusted websites like Airbnb and Vrbo to find hidden gems, often boasting attractive discounts for extended stays or off-season bookings.
Don't be afraid to negotiate with property owners, as many are willing to offer lower rates to secure a booking.
Opt for a rental with a fully-equipped kitchen, allowing you to savor homemade meals and save on dining out costs.
By applying these cost-effective strategies, you'll soon find yourself indulging in a blissful beach vacation that not only satisfies your craving for freedom and adventure but also respects your wallet.
Laid-back Atmosphere
As you stroll through the charming streets of these laid-back coastal towns, you can't help but feel a sense of relaxation and tranquility wash over you.
The locals go about their day in a laid-back fashion, greeting one another with genuine smiles and warm hellos, as you take in the vibrant colors and sounds of the beachfront markets.
The atmosphere of these towns is one of stress-free relaxation, where time seems to slow down and the only things on your to-do list are to enjoy the sun, sand, and surf.
In these coastal escapes, you'll find yourself easily adapting to the slower pace of life, allowing your worries and stress to melt away with the tide.
Picture yourself strolling along the sandy shoreline, the sound of waves crashing as the sun sets over the horizon, casting a warm glow on everything it touches.
The laid-back atmosphere of these beach towns is a welcome reprieve from the hustle and bustle of daily life, granting you the freedom to truly unwind and immerse yourself in the beauty of your surroundings.
So, go ahead and let your hair down, kick off your shoes, and embrace the laid-back lifestyle that these affordable coastal escapes have to offer.
Puerto Viejo, Costa Rica
Imagine soaking up the sun in the tropical paradise of Puerto Viejo, Costa Rica, where your wallet won't even feel the pinch! This charming beach town, located on the Caribbean coast, is not only budget-friendly but also offers a laid-back atmosphere, making it an ideal escape for those who crave freedom and relaxation.
As you stroll along the pristine shorelines or explore the lush surroundings, you'll find that Puerto Viejo is teeming with tropical wildlife, providing endless opportunities for nature enthusiasts to observe and appreciate the unique flora and fauna.
Take a guided tour through the nearby Cahuita National Park or Gandoca-Manzanillo Wildlife Refuge, where you'll encounter monkeys, sloths, and vibrant bird species.
Head out to the waves for some thrilling surfing adventures, with the famous Salsa Brava break attracting surfers from all over the world.
Treat your taste buds to the mouth-watering Caribbean-infused cuisine at local eateries, often featuring fresh seafood and locally grown fruits and vegetables.
Puerto Viejo's charm extends beyond its natural beauty, as the town's Afro-Caribbean culture creates a warm and welcoming atmosphere. Attend traditional dance performances or learn about the local history at the Afro-Caribbean Cultural Center.
And when the sun sets, the town comes alive with lively bars and music venues, where you can dance the night away to reggae beats.
No matter how you choose to spend your time in Puerto Viejo, you'll be sure to leave with a renewed sense of freedom and unforgettable memories of this affordable coastal gem.
Santa Marta, Colombia
Leaving the lush jungles and laid-back vibes of Puerto Viejo behind, let's head south to the vibrant coastal city of Santa Marta, Colombia.
Known for its stunning beaches, delectable Colombian cuisine, and unique cultural experiences, Santa Marta is the perfect destination for budget-conscious beach lovers seeking a taste of South American adventure.
Upon arriving in Santa Marta, you'll be instantly captivated by the city's colorful colonial architecture, bustling street markets, and friendly locals.
Spend your days soaking up the sun on the pristine beaches or exploring the nearby Tayrona National Park for a glimpse of Colombia's diverse wildlife.
In between your sun-soaked adventures, be sure to indulge in the mouthwatering flavors of local Colombian cuisine, from fresh ceviche to hearty bandeja paisa.
Immerse yourself in Santa Marta's rich culture by dancing the night away to the irresistible rhythms of salsa and champeta at local bars and clubs.
As your time in Santa Marta comes to an end, you'll find yourself reflecting on the unforgettable memories made and the newfound sense of freedom that comes with exploring this charming corner of the Americas.
With its unbeatable combination of affordability, natural beauty, and cultural richness, Santa Marta is truly a coastal escape that will leave you feeling exhilarated and refreshed, without breaking the bank.
Montañita, Ecuador
You'll fall in love with Montañita, Ecuador, a vibrant surfer's paradise that's easy on the wallet and full of unforgettable experiences. This laid-back coastal town offers a blend of beautiful beaches, diverse cultures, and an exciting Montañita nightlife scene.
With its welcoming atmosphere and affordable prices, this tropical getaway will make you feel like you've discovered a hidden gem, far from the stresses of everyday life.
Montañita's main attraction is undoubtedly its surfing opportunities, drawing enthusiasts from around the world to ride its exceptional waves. Whether you're an experienced surfer or looking to learn, you'll find a variety of surf schools and rental shops lining the beach, ready to help you catch the perfect wave.
When you're not on your surfboard, take a leisurely stroll through the town's colorful streets, where you can shop for handmade crafts, sample delicious local cuisine, and mingle with the friendly locals and fellow travelers.
As the sun sets, Montañita comes alive with music, laughter, and dancing. The town's nightlife offers a range of bars and clubs where you can let loose and dance the night away, or simply relax with a cold drink in hand as you enjoy the warm ocean breeze.
Montañita's irresistible charm and budget-friendly appeal make it an ideal coastal escape for those seeking adventure, relaxation, and a taste of true freedom.
Mazatlán, Mexico
As you continue your search for an affordable coastal escape, let's shift our focus from the laid-back vibes of Montañita, Ecuador to the vibrant culture and historic landmarks of Mazatlán, Mexico.
Mazatlán, often referred to as the 'Pearl of the Pacific,' offers a unique blend of modern amenities and old-world charm, making it the perfect destination for those seeking a budget-friendly beach town with a rich cultural experience.
Mazatlán's culture is steeped in history, with its beautifully preserved Old Town, or Centro Histórico, showcasing the city's past through its cobblestone streets, pastel-colored buildings, and ornate churches.
As you wander through the town, you'll be captivated by the lively street art, bustling markets, and the sounds of mariachi bands filling the air.
The city's beaches are equally enchanting, with miles of golden sand, crystal-clear waters, and picturesque palm trees swaying in the breeze.
To satisfy your adventurous side, take a trip to the nearby Stone Island or explore the stunning El Faro Lighthouse, one of the highest natural lighthouses in the world.
The affordability of Mazatlán is one of its greatest appeals, with a lower cost of living compared to other popular Mexican beach towns.
You'll find an array of budget-friendly accommodations, from charming bed and breakfasts to modern hotels, and your taste buds will rejoice at the delicious and inexpensive local cuisine.
With its vibrant culture, historic landmarks, and stunning natural beauty, it's no wonder that Mazatlán is quickly becoming a favorite coastal escape for travelers seeking a more authentic and budget-conscious Mexican experience.
Frequently Asked Questions
What are the best ways to travel to these affordable beach towns from major cities in the Americas?
Discover the thrill of exploring budget transportation options as you embark on your journey to America's most affordable beach towns.
Be it booking low-cost flights, hopping on a train, or catching a bus ride, you'll find numerous ways to travel without breaking the bank.
Along the way, delight in the prospect of finding affordable accommodation that suits your needs, whether it's a cozy seaside cottage or a budget-friendly hostel.
With each mile traveled, allow the excitement to build as you inch closer to the sun-kissed shores and the promise of a blissful coastal escape that won't burn a hole in your pocket.
Embrace the feeling of freedom that comes with knowing you can indulge in the sand, surf, and serenity without sacrificing your budget.
So go ahead, seize the opportunity to explore, unwind, and rejuvenate in these hidden gems along America's coastline, all while keeping your finances in check.
Are there any seasonal events or festivals in these beach towns that attract more tourists and may affect the overall affordability?
You'll definitely want to consider the impact of seasonal festivities on your beach vacation, as they can lead to a significant tourist influx, affecting both the atmosphere and affordability of your chosen destination.
Many coastal towns host annual events, ranging from music festivals and surfing competitions to cultural celebrations and food fairs, drawing larger crowds and potentially driving up accommodation and activity prices.
To make the most of your getaway, research any upcoming events in the area and plan your trip accordingly – either to join in on the fun or avoid the hustle and bustle altogether.
Remember, timing is everything when it comes to experiencing the perfect balance of freedom, relaxation, and affordability.
What are some local customs and traditions that visitors should be aware of when visiting these affordable coastal escapes?
Who wouldn't want to dive into the heart and soul of a destination while enjoying an affordable coastal escape?
Local cuisine exploration and cultural immersion activities play an essential role in truly understanding the place you're visiting.
As you meander through picturesque towns, indulge in authentic dishes that capture the flavors of the region, and partake in traditional events that showcase the vibrant spirit of the community.
Engage with the locals and learn their customs, graciously partaking in their way of life, as you embark on a journey that not only quenches your thirst for adventure but also satiates your subconscious desire for freedom.
By immersing yourself in these rich experiences, you'll uncover the hidden gems and unique stories that make your affordable coastal escape truly unforgettable.
What are the safety precautions that travelers should take while visiting these budget-friendly beach towns?
When exploring new destinations, it's essential to prioritize your safety and well-being. Equip yourself with safety essentials and take precautionary measures to ensure a memorable and hassle-free experience.
Be vigilant about your surroundings, especially in crowded areas or during nighttime. Research the local crime rates and avoid high-risk zones.
Keep your belongings secure and don't flaunt valuables, as this may attract unwanted attention. Familiarize yourself with emergency contact numbers and the location of the nearest hospital or police station.
Additionally, respect local customs and traditions to avoid misunderstandings or conflicts with residents. By taking these precautions, you'll be better prepared to enjoy your adventure and fully embrace the freedom that comes with exploring the beauty of budget-friendly beach towns.
Are there any eco-friendly or sustainable tourism initiatives in these beach towns that travelers can support?
Imagine the sun warming your skin as you stroll along pristine shores, the salty breeze tousling your hair.
As an eco-conscious traveler, you'll be pleased to find that many beach towns offer eco-lodging options and sustainable dining experiences that contribute to the preservation of these natural paradises.
Rest your head in a cozy, solar-powered bungalow or dine on farm-to-table dishes at a beachside café, knowing that your visit supports local businesses and reduces your environmental impact.
By choosing to stay at eco-friendly accommodations and frequenting restaurants that prioritize sustainability, you're not only enjoying a well-deserved vacation but also playing an active role in protecting the planet and promoting responsible tourism.
So go ahead, embrace that yearning for freedom and adventure, and let your wanderlust guide you towards a more sustainable and fulfilling coastal escape.
Conclusion
You'll surely enjoy exploring these budget-friendly beach towns, all while soaking up the sun and saving money.
From the vibrant nightlife in Montañita to the lush jungles of Puerto Viejo, each destination offers its own unique charm and affordability.
Don't just take our word for it – the average cost of living in Mazatlán, Mexico is 30% lower than in the United States!
It's time to pack your bags and embark on a coastal escape that won't break the bank.