Imagine basking in the sunshine on a pristine sandy beach, with the crystal-clear waters of the Mediterranean Sea lapping at your feet. Sounds like a dream, right?
Well, that dream can become a reality when you choose Spain as your summer holiday destination. June is the perfect time to explore the country's breathtaking coastlines, and in this guide, we'll introduce you to five of the top beach destinations that promise to deliver an unforgettable experience.
So, get ready to leave your daily grind behind, embrace the freedom of a Spanish getaway, and indulge in the ultimate beach holiday.
From the charming coves of Costa Brava to the sun-kissed shores of the Canary Islands, Spain offers a diverse range of beautiful beaches to suit every traveler's taste. Whether you're looking for a quiet escape or a lively atmosphere, you'll find the perfect spot to unwind and recharge.
To make your trip even more memorable, we'll also provide you with accommodation options for different budgets, introduce you to mouth-watering local Spanish cuisine, share essential beach safety tips, and guide you on how to practice sustainable travel.
So, let's embark on this journey together and discover the best of Spain's beaches in June – your ticket to paradise awaits!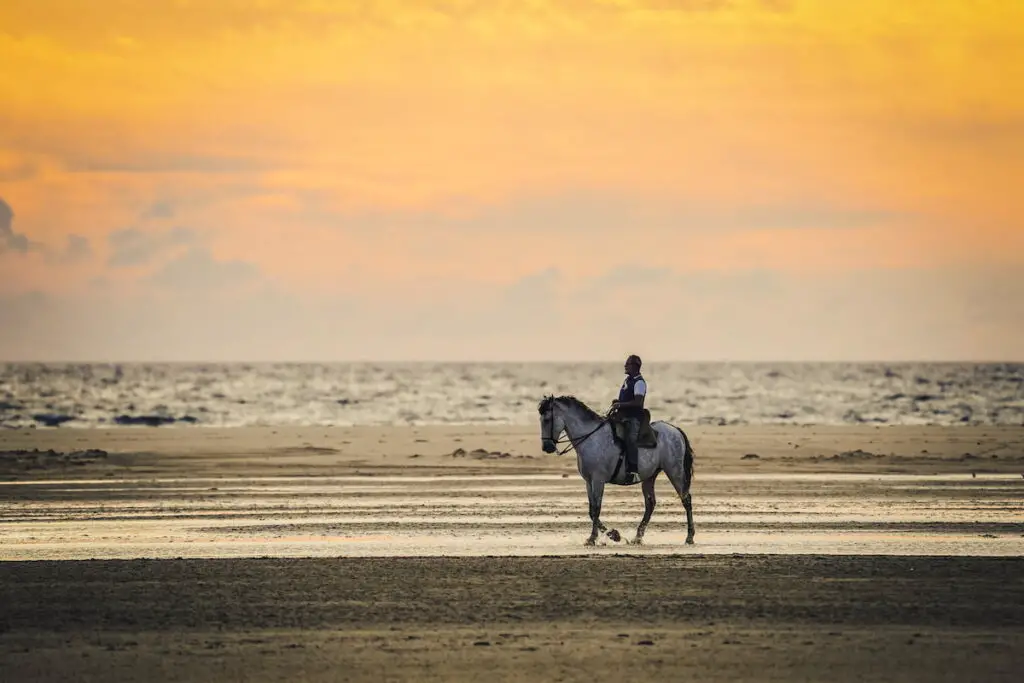 Costa de la Luz
You can't miss Costa de la Luz, with its stunning golden sands and crystal-clear waters – perfect for an unforgettable getaway!
This beautiful stretch of coastline in southern Spain offers a more laid-back and authentic experience than some of the more crowded beach destinations. Immerse yourself in the rich culture and history of the region, where vibrant festivals and traditional Spanish cuisine are waiting to be discovered.
The charming seaside towns of Tarifa, Cadiz, and Huelva offer a fantastic mix of relaxation and adventure, ensuring that your summer holiday will be one to remember. If you're seeking a thrill during your stay in Costa de la Luz, the area is known for its excellent Atlantic windsurfing conditions. With the perfect combination of strong winds and warm waters, both beginners and expert windsurfers will find this destination ideal for honing their skills.
Tarifa, in particular, boasts some of the best beaches for windsurfing in Europe, attracting enthusiasts from around the world. And if windsurfing isn't your thing, there's no shortage of other water sports to try, such as kitesurfing, surfing, or stand-up paddleboarding.
Costa de la Luz isn't just about the beach, though. Venture inland, and you'll be rewarded with stunning landscapes, from rolling hills to lush pine forests. Explore the region's rich history by visiting the ancient Roman city of Baelo Claudia, or wander the narrow streets of Vejer de la Frontera, a picturesque hilltop village.
When the sun sets, indulge in some delicious tapas at a local tavern, paired with a glass of sherry from the nearby Jerez region. With its perfect blend of relaxation, adventure, and cultural experiences, Costa de la Luz is truly a top destination for your summer holiday.
Costa del Sol
Imagine basking in the warm sun along the breathtaking Costa del Sol, where azure waves gently kiss golden sands, and unforgettable memories await just for you.
This picturesque coastline in southern Spain stretches from the cliffs of Maro to the beaches of Gibraltar, offering a myriad of experiences for every traveler. From the glitz and glamour of Marbella nightlife to the rich cultural heritage of Picasso's Malaga, there's always something new and exciting to discover as you explore this sun-kissed paradise.
As you stroll along the promenades of the Costa del Sol, you'll find a diverse array of beautiful beaches that cater to your every whim.
For those seeking a serene escape, the pristine shores of Cabopino Beach provide a tranquil oasis where you can unwind and recharge. If you're in the mood for a more lively atmosphere, head to the bustling sands of La Malagueta, where you can dance the day away to the rhythm of the waves.
And for the adventurers at heart, the windswept dunes of Tarifa beckon with their promise of thrilling water sports and unforgettable sunsets.
So, as you plan your dream summer holiday, consider making the Costa del Sol your ultimate destination. With its vibrant culture, stunning natural beauty, and endless opportunities for adventure, this enchanting region offers an unparalleled experience that will leave you feeling reinvigorated and inspired.
Allow yourself to be swept away by the magic of the Costa del Sol, and create memories that will last a lifetime.
Costa Brava
Discover hidden coves and charming beach towns along the Costa Brava, where you can soak up the sun and experience authentic Spanish culture.
Explore scenic hiking and biking trails that meander through lush landscapes, revealing breathtaking views of the sparkling Mediterranean Sea.
Make your summer holiday an unforgettable adventure by visiting Spain's best beaches in June and embracing the beauty of Costa Brava's top 5 destinations.
Hidden Coves and Charming Beach Towns
Nestled along the coastline, pristine hidden coves and idyllic beach towns await to enchant sun-seekers in June. These hidden gems provide the perfect escape from the hustle and bustle of everyday life, offering you a chance to immerse yourself in the rich coastal culture of Spain.
From secluded sandy shores to quaint fishing villages, each destination presents a unique opportunity for you to break free from the constraints of your daily routine and experience the true beauty of the Mediterranean landscape.
One such coastal treasure is Calella de Palafrugell, a charming beach town located within the Costa Brava region. This picturesque village is known for its stunning coves, such as Cala El Golfet and Cala dels Canyers, both offering crystal-clear waters and lush, green surroundings. Here, you can spend your days basking in the sun, indulging in delicious local cuisine, and exploring the town's historic sites, such as the Sant Sebastià Lighthouse.
Another must-visit destination is Cala Tuent, a secluded beach on the island of Mallorca. Surrounded by the rugged Tramuntana Mountains, this majestic cove offers an incredible sense of freedom as you swim in the turquoise waters or relax on the soft, golden sand.
Let these captivating coastal retreats be your gateway to an unforgettable summer holiday in Spain.
Scenic Hiking and Biking Trails
You'll find Spain's breathtaking landscapes and picturesque trails perfect for hiking and biking adventures.
Mountainous explorations offer a chance to traverse the stunning peaks of the Pyrenees, the Picos de Europa, and the Sierra Nevada. Along the way, discover hidden valleys, lush forests, and charming villages.
Don't miss exploring Spain's coastal wildlife either, with opportunities to spot seabirds, dolphins, and even whales in the pristine waters of the Atlantic and Mediterranean coasts.
Venture off the beaten path and explore scenic hiking and biking trails in Spain's diverse regions. From the rugged cliffs of the Costa Brava to the lush green landscapes of the Basque Country, there's a trail for everyone.
Get your adrenaline pumping by tackling challenging mountain routes or enjoy more leisurely coastal paths with breathtaking sea views. Whichever path you choose, your journey will be filled with the unparalleled beauty and freedom that Spain's best beaches and natural landscapes have to offer.
Balearic Islands
Are you ready to experience the vibrant beach parties of Ibiza, or would you prefer to unwind on the serene shores of Mallorca and Menorca?
The Balearic Islands offer an unparalleled summer holiday, with something for everyone.
Dive into the world-famous nightlife of Ibiza's beach clubs, or escape to the tranquil sands and crystal-clear waters of Mallorca and Menorca for the ultimate relaxation.
Ibiza's Famous Beach Parties
Imagine dancing the night away under a sky full of stars, surrounded by breathtaking crystal-clear waters – that's what awaits you at Ibiza's legendary beach parties.
Known for its vibrant nightlife, Ibiza is a mecca for music lovers and partygoers from around the world. The island's beach parties are the epitome of freedom and fun, offering an unforgettable experience with a perfect blend of sun, sand, and world-renowned DJs spinning the best tracks.
From famous clubs like Pacha and Amnesia to unique open-air venues such as Ushuaïa, Ibiza's nightlife scene has something for everyone, catering to all tastes and styles. During June, the island comes alive with music festivals like IMS Ibiza and Ibiza Rocks, drawing in thousands of visitors looking to let loose and enjoy the party atmosphere.
Beach parties take place both during the day and at night, with events like ANTS at Ushuaïa and Ocean Beach Club's famous pool parties offering non-stop entertainment. For a more laid-back vibe, head to the island's quieter beaches like Cala Jondal or Cala Tarida, where you can still enjoy the music and festivities without the overwhelming crowds.
So, pack your swimsuit, sunglasses, and dancing shoes, and get ready to experience the ultimate freedom and excitement that Ibiza's famous beach parties have to offer.
Relaxing Beaches of Mallorca and Menorca
As you revel in the exciting atmosphere of Ibiza's famous beach parties, you might also crave some downtime to unwind and rejuvenate.
Look no further than the beautiful beaches of Mallorca and Menorca. These Balearic Islands offer a perfect balance of relaxation and entertainment, allowing you to experience the best of both worlds.
Mallorca's beaches aren't only known for their soft sands and crystal-clear waters but also for the vibrant Mallorca nightlife. The island offers a fantastic mix of bustling beachside bars and quaint, tucked-away restaurants for you to explore.
For nature lovers, Menorca boasts a wealth of wildlife and natural beauty, making it an ideal destination for those seeking peace and tranquility. Stroll along the coastal paths, and you'll find yourself immersed in picturesque landscapes and the soothing sounds of the waves.
So go ahead, indulge in the freedom of sun-soaked relaxation, and sink your toes into the warm sands of Mallorca and Menorca.
Canary Islands
You'll be absolutely captivated by the sun-kissed shores and crystal-clear waters of the Canary Islands, making it an unforgettable summer escape.
These spectacular islands boast a unique combination of stunning beaches, breathtaking landscapes, and intriguing canary volcanoes.
Each island has its own distinct charm and offers a diverse range of experiences that are sure to make your holiday one for the books.
From the tranquil beaches of Fuerteventura to the vibrant nightlife of Tenerife, there's something for everyone in this tropical paradise.
Dive into a world of marine life exploration as you snorkel or scuba dive in the pristine waters surrounding these idyllic islands.
With an abundance of colorful fish, fascinating sea creatures, and vibrant coral reefs, you'll be in awe of the incredible underwater world that's waiting to be discovered.
The Canary Islands are also home to some of the most impressive volcanic landscapes in the world, with many trails and guided tours available for those looking to explore these geological wonders.
The unforgettable views and unique photo opportunities will leave you in awe of the natural beauty that these islands have to offer.
As your holiday draws to a close, you'll surely be reminiscing about the unforgettable experiences you've had in the Canary Islands.
Whether it was basking in the sun on the golden sands of Gran Canaria, windsurfing on the azure waters of Lanzarote, or hiking through the majestic landscapes of La Palma, these memories will stay with you long after you've returned home.
So go ahead, indulge in the freedom and adventure that awaits you in the Canary Islands, and make this summer holiday one you'll never forget.
Tips for Traveling to Spanish Beaches in June
When planning a trip to Spanish beaches in June, there are a few essential tips to keep in mind for an unforgettable experience.
One of the many June weather benefits is that the temperatures are warm but not scorching, making it the perfect time to hit the beach and soak up some sun. Additionally, since many tourists don't start flocking to Spain's beaches until July and August, you'll be able to enjoy off peak travel perks such as fewer crowds, more affordable accommodations, and a more relaxed atmosphere overall.
To make the most of your beach vacation, don't forget to pack essentials such as sunscreen, a hat, sunglasses, and a reusable water bottle to stay hydrated. Spanish sun can be intense, even in June, so it's important to protect your skin and stay hydrated throughout the day.
Another tip is to explore the local cuisine and culture. Spanish beach towns often have a variety of delicious seafood dishes, refreshing drinks like sangria and horchata, and vibrant festivals to immerse yourself in. Be open to trying new foods and engaging with the locals to truly feel the freedom and excitement that comes with a Spanish beach holiday.
One last piece of advice for your Spanish beach adventure is to consider renting a car or taking advantage of Spain's excellent public transportation system. With so many amazing beaches to explore, having the flexibility to visit multiple destinations during your trip can be incredibly rewarding. Plus, you'll have the freedom to create your own schedule and make spontaneous decisions, allowing you to fully embrace the carefree spirit of a summer holiday in Spain.
So go ahead, plan your June escape to Spain's best beaches and let the salty sea breeze and warm sun guide you on a journey of a lifetime.
Essential Items to Pack for Your Beach Vacation
Now that you're armed with some valuable tips for traveling to Spanish beaches in June, it's time to focus on packing the perfect beach bag. Preparing for a beach vacation can be both exciting and overwhelming, especially if you want to pack light and ensure you have all the beach essentials. Don't worry, we've got you covered with a list of must-have items to make your beach getaway a breeze.
While packing for your beach vacation, focus on these essential categories:
Sun Protection:

A broad-spectrum sunscreen with at least SPF 30

UV-protective sunglasses

A wide-brimmed hat for added shade

Beach Gear:

A lightweight and quick-drying beach towel

A sand-proof beach blanket for lounging

A reusable water bottle to stay hydrated

Comfort Items:

A portable beach umbrella or sunshade

A good book or magazine to enjoy while relaxing

A waterproof and sand-proof pouch for your phone, wallet, and keys
Remember, the key to packing light is to choose versatile and multi-functional items. For instance, a sarong can double up as a beach cover-up, a towel, or even a blanket.
Invest in a high-quality waterproof tote or backpack that can hold all your beach essentials while protecting them from water and sand. Lastly, don't forget to bring a change of clothes for after your beach day, so you can comfortably enjoy the vibrant nightlife that Spain's coastal towns have to offer.
With your beach bag packed full of these must-have items, you'll be ready to soak up the sun and enjoy the best that Spain's beaches have to offer in June.
As you recline on the sand, protected from the sun and comfortably equipped with all your beach essentials, you can't help but feel a sense of freedom wash over you. So go ahead, book that summer holiday to Spain's top beach destinations, and experience the ultimate beach escape.
Accommodation Options for Different Budgets
As you envision yourself basking in the sun on a picturesque Spanish beach, it's time to consider the various accommodation options to fit your budget and make that dream a reality.
Spain offers a wide range of lodging choices, from budget-friendly stays to luxury accommodations. No matter your financial situation, you can find a comfortable and inviting place to rest after a day of soaking up the sun and exploring the beautiful coastline.
For those looking to save some cash without sacrificing comfort, consider staying in a hostel, guesthouse, or opting for a vacation rental. Hostels provide dorm-style rooms with shared facilities, perfect for solo travelers or those who enjoy meeting new people.
Guesthouses offer private rooms with en-suite bathrooms, providing a more intimate atmosphere. Vacation rentals, such as apartments or villas, are ideal for families or groups of friends who want the convenience of a home away from home. These budget-friendly options can be found throughout Spain's coastal towns and cities, helping you stay close to the beach without breaking the bank.
If you have a bit more to spend and desire a more luxurious experience, Spain boasts a plethora of upscale hotels and resorts. These high-end establishments often feature stunning beachfront locations, lush gardens, and world-class amenities such as spas, fine dining restaurants, and private balconies with breathtaking views.
Some even offer all-inclusive packages, allowing you to indulge in unlimited food, drinks, and activities for a worry-free holiday. To find the perfect luxury accommodation, research online reviews, and look for special deals or promotions to ensure you're getting the best value for your money.
Remember, no matter your budget, Spain's beautiful beaches and diverse accommodation options await you for an unforgettable summer holiday.
Local Spanish Cuisine to Try
Diving into the local Spanish cuisine while basking in the sun-soaked beaches is a must for any unforgettable summer holiday, and there's no shortage of mouthwatering dishes to sample. Spain is known for its vibrant and flavorful food, with a strong emphasis on fresh ingredients and regional specialties.
From authentic tapas to succulent Spanish seafood, you'll find plenty of delectable dishes that will leave you craving more. Here are just a few must-try foods to add to your culinary adventure:
Authentic tapas:

Patatas bravas: Fried potatoes smothered in a spicy tomato sauce

Gambas al ajillo: Succulent shrimp cooked in garlic and chili

Jamón ibérico: A prized Spanish ham made from acorn-fed pigs

Spanish seafood:

Paella: A classic rice dish with a mix of seafood, saffron, and vegetables

Pulpo a la gallega: Tender octopus seasoned with paprika and olive oil

Boquerones en vinagre: Fresh anchovies marinated in vinegar and herbs

Regional specialties:

Churros con chocolate: A sweet treat of fried dough served with rich hot chocolate

Gazpacho: A chilled tomato soup perfect for a hot summer day

Tortilla española: A thick Spanish omelette with potatoes and onions
As you explore the best beaches in Spain, make sure you take the time to indulge in the delicious cuisine the country has to offer. Each region has its unique flavors and dishes, so don't be afraid to venture off the beaten path and try something new.
Whether you're dining at a bustling tapas bar, a beachside chiringuito, or a traditional Spanish restaurant, you'll be impressed by the depth of flavors and culinary craftsmanship that can be found in every dish.
So, while you're planning your dream summer holiday to Spain's most beautiful beaches, be sure to keep these local Spanish dishes in mind. With every bite, you'll be immersing yourself in the rich culture and history of this incredible country.
Nothing quite embodies the freedom of a Spanish summer holiday like sharing a plate of tapas with friends and family, with the sound of waves crashing nearby and the warm sun on your skin.
Beach Safety Tips
While soaking up the sun and feasting on delicious local cuisine, it's essential to keep beach safety in mind, as a carefree day by the sea can turn sour in the blink of an eye if precautions aren't taken.
Sun protection is crucial, especially in the Spanish summer heat. Make sure to apply a broad-spectrum sunscreen with a minimum SPF of 30 at least 30 minutes before heading to the beach, and reapply it every two hours throughout the day. Don't forget to wear sunglasses with UV protection and a wide-brimmed hat to shield your face from the sun. Remember, even on cloudy days, UV rays can still cause harm, so it's better to be safe than sorry.
Rip current awareness is another essential aspect of beach safety. These powerful currents can occur at any beach with breaking waves, and they can drag even the strongest swimmers out to sea. To stay safe, always swim near a lifeguard station and pay attention to any posted warnings about rip currents.
If you happen to get caught in one, don't panic or try to swim against it. Instead, swim parallel to the shore until you're out of the current, and then swim back to shore. Educating yourself about rip currents and knowing how to react can save your life and ensure a fun, worry-free beach experience.
Apart from sun protection and rip current awareness, there are a few more general tips to keep in mind for a safe day at the beach. Always swim with a buddy, and never leave children unattended near the water. Keep an eye on your belongings, as theft can happen even in the most idyllic beach settings.
Stay hydrated by drinking plenty of water, and avoid consuming alcohol while swimming or sunbathing, as it can impair your judgment and increase the risk of heat-related illnesses. By following these simple safety tips, you can fully enjoy Spain's best beaches and create unforgettable memories during your summer holiday.
Sustainable Travel Practices
It's important to practice sustainable travel habits when visiting these beautiful coastal gems, ensuring they remain pristine for generations to come.
One way to do this is by choosing eco-friendly accommodations that prioritize environmental conservation and responsible tourism. Additionally, consider green transportation options when exploring the area, such as biking, walking, or using public transit. By making these conscious choices, you can minimize your carbon footprint while enjoying Spain's best beaches in June.
Another essential aspect of sustainable travel is to support local businesses and communities. This can include dining at locally-owned restaurants, buying souvenirs from local artisans, and participating in cultural activities that benefit the community. By doing so, you not only enjoy a more authentic travel experience but also contribute to the local economy, ensuring that these destinations continue to thrive.
When planning your beach holiday, it's crucial to stay informed about the environmental policies and conservation efforts of the destinations you choose. Research local initiatives that promote sustainable tourism and consider supporting these efforts by volunteering or donating if possible.
Additionally, remember to practice responsible beach etiquette, such as not leaving any trash behind, respecting marine life, and avoiding sensitive areas. By incorporating these sustainable travel practices, you'll contribute to preserving the beauty of Spain's best beaches for future generations while fulfilling your desire for freedom and adventure.
Frequently Asked Questions
What is the best mode of transportation to travel between these top beach destinations in Spain?
Imagine hopping from one picturesque beach to another, soaking up the sun and taking in the breathtaking views along Spain's stunning coastline.
To make this dream a reality, the best mode of transportation for traveling between these top beach destinations in Spain is a combination of budget-friendly travel options and eco-friendly transportation. Consider using the extensive bus and train networks throughout the country, which are affordable and environmentally conscious ways to explore each beautiful destination.
With services like ALSA buses and the Renfe trains, you'll not only be saving money, but also reducing your carbon footprint while enjoying the freedom to roam and discover the hidden gems of Spain's best beaches in June.
So, pack your bags and get ready to embark on an unforgettable summer adventure!
Are there any cultural events or festivals taking place in these beach destinations during June?
During your June travels, you'll discover a variety of cultural events and festivals taking place in Spain's top beach destinations, offering you the perfect opportunity to immerse yourself in the local culture while soaking up the sun.
Indulge in cultural cuisine experiences as you sample authentic tapas and paellas, while enjoying the infectious rhythms of traditional Spanish music performed live by local artists.
With the warm summer breeze at your back and the promise of freedom in the air, you'll find yourself captivated by the rich history and vibrant festivities that these coastal gems have to offer.
Don't miss out on this chance to create unforgettable memories and truly experience the essence of Spanish culture during your beachside escape.
What are some lesser-known, hidden gem beaches in these regions that are worth visiting?
Imagine uncovering a secret paradise, where the sand is untouched, the water glistens, and the only footprints are your own.
As you embark on your hidden coves exploration, you'll discover lesser-known, hidden gem beaches in these Spanish regions that are perfect for secluded beach picnics and serene moments.
Picture yourself basking in the sun at Cala Varques in Mallorca, an unspoiled haven accessible only by boat or a scenic hike; or admire the crystal-clear waters at Cala de Algaiarens in Menorca, where the surrounding nature reserve adds to its allure.
Dive into the azure sea at Cueva del Tabaco in Nerja, a secluded cove nestled beneath dramatic cliffs; or explore the rocky coastline of Playa del Silencio in Asturias, where the waves crash against the shore, creating a symphony of nature.
Each of these hidden gems promises an unforgettable experience, offering a taste of freedom that'll make your Spanish summer holiday truly extraordinary.
What water sports and beach activities are popular in these Spanish beach destinations?
As you explore the thrilling water sports and beach activities at these Spanish beach destinations, remember to prioritize water sports safety while enjoying your adrenaline-pumping adventures.
Surfing, windsurfing, and jet-skiing are popular choices, as well as more leisurely options like paddleboarding, kayaking, and snorkeling.
After a day of riding the waves and basking in the sun, treat yourself to exquisite beachside dining, savoring the fresh flavors of local seafood and signature Spanish dishes as you soak in the stunning ocean views.
Embrace the freedom and excitement these coastal gems have to offer, and create unforgettable memories that'll last a lifetime.
Are there any unique local customs or traditions that visitors should be aware of when visiting these beach destinations?
As you immerse yourself in the vibrant local customs and traditions of Spain's top beach destinations, don't miss out on the opportunity for local cuisine exploration and participating in traditional beach games.
Sample exquisite seafood dishes, fresh from the ocean, and savor the delectable flavors of Spanish tapas and paella as you mingle with locals and fellow travelers.
Engage in the exhilarating traditional beach games, such as playing 'palas' or beach paddleball, which won't only give you a taste of the culture but also satisfy your subconscious desire for freedom.
Unleash your adventurous spirit and create unforgettable memories as you embrace the unique experiences these Spanish beach destinations have to offer.
Conclusion
As the sun sets on your dreamy Spanish beach escapade, let the waves of these idyllic destinations etch memories in the sand of your heart.
Embrace the warm embrace of the golden coastlines, as you treasure the flavors, sights, and experiences that make Spain's best beaches a true haven for your summer holiday.
So, dive into the crystal-clear waters of adventure and let the Spanish seaside be the compass that guides you to unforgettable moments.
After all, life's a beach, and these shores are calling your name.