Imagine a world where you can wake up to the sound of waves crashing on white sandy beaches while palm trees sway gently overhead.
A world where you're just steps away from crystal clear waters teeming with vibrant marine life, and your days are filled with sun-soaked adventures that leave you feeling revitalized and alive.
Well, my friends, this slice of paradise isn't just a figment of your imagination – it's waiting for you at some of the most luxurious island beach resorts around the globe.
You owe it to yourself to indulge in the ultimate coastal getaway, where every detail is meticulously designed to cater to your every whim and desire.
Whether it's basking in the warmth of a private overwater cabana or savoring delectable cuisine as the sun sets over turquoise seas, these seven island beach resorts offer an escape from reality like no other.
So go ahead, let's dive into a world where time stands still and unforgettable memories are made on the shorelines of these breathtaking destinations.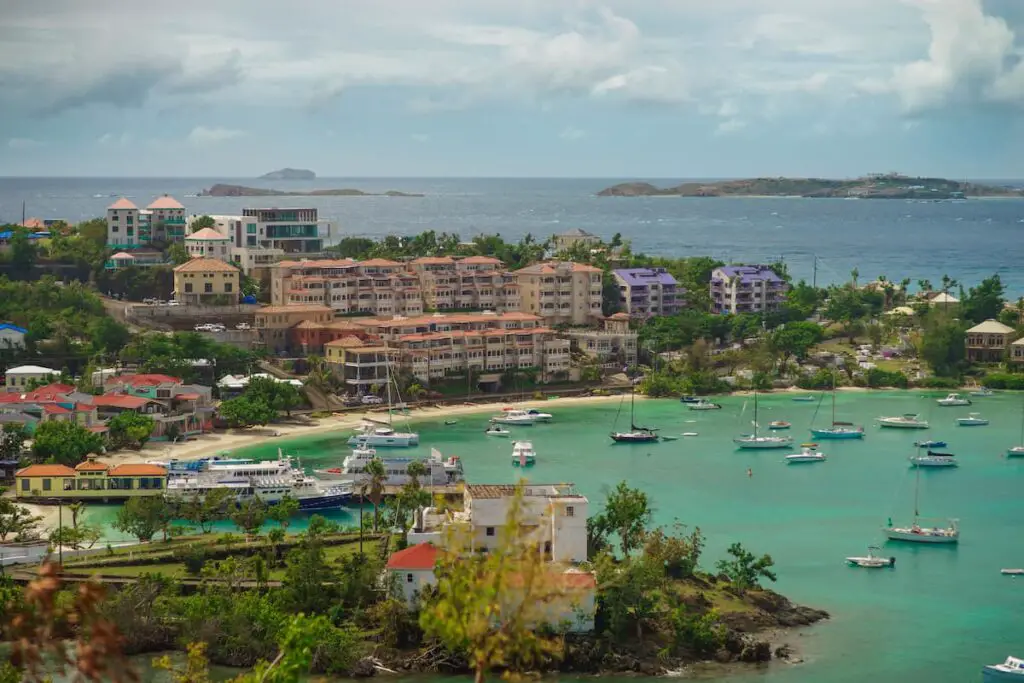 Overwater Bungalows In The Maldives
Imagine waking up to the gentle sound of waves lapping beneath your overwater bungalow in the Maldives. It's not just a dream – it's a reality that awaits you at our top pick for luxury island beach resorts.
These idyllic overwater accommodations are nestled in the heart of the Indian Ocean, offering guests an unparalleled level of privacy and seclusion. Here, you can indulge in world-class Maldivian cuisine, partake in thrilling aquatic adventures, and experience the true essence of barefoot luxury.
As you step out onto your private deck, take a moment to soak up the stunning panoramic views of endless turquoise waters. Dive straight into the ocean from your personal sun terrace or snorkel among vibrant coral reefs teeming with marine life.
After a day spent exploring the depths, return to your sanctuary for an intimate sunset dinner prepared by an expert chef featuring local ingredients and flavors. Should you find yourself craving even more adventure or relaxation, rest assured that island-hopping excursions and rejuvenating spa treatments are always available at your fingertips.
In this paradise on earth, every detail has been carefully considered to create an unforgettable escape that will leave you longing for more time amidst these enchanting shores.
Private Villas In Fiji
The private villas in Fiji offer a range of luxury amenities, from exquisite spa treatments to private beach butlers, ensuring guests have an unforgettable experience.
Guests can also enjoy stunning tropical views from the villas, making them the perfect destination for a romantic getaway or a family holiday.
Once you've arrived, you can relax in the tranquil atmosphere and bask in the beauty of the island's stunning coastline.
Luxury Amenities
Imagine yourself kicking back in your very own private villa in Fiji, surrounded by pristine white sands and lush tropical gardens, with nothing but the sound of gently lapping waves to keep you company.
That's the kind of unparalleled luxury you'll find at these exclusive island beach resorts, where upscale spas and gourmet dining experiences come as standard.
You won't have to lift a finger as talented chefs whip up mouthwatering dishes made from fresh local ingredients, while dedicated spa therapists work their magic on your tired muscles.
It's the ultimate indulgence for those who crave a little slice of paradise – all that's missing is you!
Tropical Views
As you unwind in your Fijian haven, it's impossible not to be captivated by the stunning tropical views that surround you.
The island's unique tropical architecture seamlessly blends indoor and outdoor spaces, allowing you to fully immerse yourself in the breathtaking scenery while still enjoying all the comforts of home.
Step out onto your private scenic beachfront and soak up the vibrant hues of turquoise waters, swaying palm trees, and fiery sunsets that paint the sky each evening.
It's a mesmerizing tableau of nature's finest offerings – one that'll make you feel as though you've finally found your very own corner of paradise on earth.
Relaxing Atmosphere
As you revel in this idyllic sanctuary, it's hard not to be swept away by the sheer tranquility and easygoing vibe that permeates every inch of your private villa.
Here, life slows down, inviting you to fully embrace a state of blissful relaxation.
You'll find yourself spoiled for choice when it comes to indulging in some well-deserved downtime – whether it's surrendering to the pampering touch of a skilled therapist at the tranquil spa or finding inner peace during a serene yoga session on the beach as the gentle waves lull you into deep meditation.
It's this calming atmosphere that allows you to let go of life's stresses and truly experience what it means to be free – even if just for a little while.
All-Inclusive Escapes In The Caribbean
As we leave the secluded sanctuaries of Fiji's private villas behind, let us sail across the crystal-clear waters toward the vibrant hues and enticing rhythms of the Caribbean.
Here, all-inclusive escapes await to pamper you with lavish accommodations, delectable Caribbean cuisine, and endless island activities for a truly unforgettable tropical getaway.
Imagine waking up to the soothing sound of waves lapping against pristine shores, as you indulge in an array of mouth-watering Caribbean dishes that will tantalize your taste buds.
Then, set out to explore the lush landscapes teeming with wildlife or immerse yourself in the rich local culture through dance lessons and cooking classes.
Whether you're seeking adrenaline-fueled adventures like zip-lining through rainforests or prefer lounging in a hammock while sipping on a refreshing cocktail, these all-inclusive Caribbean resorts offer something for every sun-seeker yearning to break free from their everyday routine.
So why wait? Embrace your desire for freedom and let the warm embrace of the Caribbean whisk you away to paradise.
Exotic Thai Retreats
Nothing beats the luxury of a beachside villa in Thailand! From plush furnishings to the finest amenities, these holiday homes provide a truly decadent experience.
And when it comes to authentic Thai cuisine, there's no shortage of excellent restaurants to choose from – fiery curries, delicious seafood dishes and much more!
Last but not least, there are plenty of adventure tours to enjoy. From snorkeling to sailing and exploring the local markets, Thailand has something for everyone.
Luxury Beachside Villas
Imagine waking up to the sound of gentle waves lapping at the shore, as you lounge in your luxuriously designed beachside villa tucked away amidst swaying palm trees – this is the quintessential exotic Thai retreat experience.
Beachside architecture seamlessly blends with nature, creating a harmonious and tranquil environment for you to relax and rejuvenate.
As you sip on a refreshing cocktail by your private pool, let the stunning panoramic views of the Andaman Sea transport you to a state of blissful serenity.
The best part? You don't even have to leave the comfort of your villa to indulge in authentic coastal cuisine, as personal chefs whip up mouth-watering dishes using fresh local ingredients for your dining pleasure.
So why wait? It's time to break free from the daily grind and surrender yourself to the enchanting allure of these luxurious island beach resorts in Thailand.
Authentic Thai Cuisine
But of course, no exotic Thai retreat would be complete without delving into the world of authentic Thai cuisine.
As you revel in your beachside paradise, you'll find that there's much more to discover beyond the villa's culinary offerings.
Picture yourself strolling through bustling night markets, sampling an array of mouth-watering Thai street food that tantalizes your taste buds with its vibrant flavors and exotic aromas.
And for those who'd love to bring a piece of Thailand back home, why not immerse yourself in interactive cooking classes led by local experts?
You'll master the art of crafting traditional dishes using fresh herbs and spices that are sure to impress your friends and family.
So go ahead, let your senses guide you on this gastronomic adventure as you explore the rich tapestry of Thai cuisine – it's all part of the unforgettable experience that awaits you in these idyllic island escapes.
Adventure Tours
But wait, there's more to these exotic Thai retreats than just picturesque beaches and delectable cuisine.
For those seeking adventure-packed vacations, you'll find yourself spoilt for choice with adrenaline-fueled excursions that showcase the beauty of Thailand's natural landscapes.
Imagine ziplining through lush jungle canopies, discovering hidden waterfalls on a guided hike, or even embarking on an unforgettable elephant encounter – there's no shortage of thrills here for the intrepid traveler!
And with experienced tour guides leading the way, you'll not only have the time of your life but also gain insight into the rich culture and history of this captivating paradise.
So gear up and get ready to create memories that will last a lifetime as you dive headfirst into these exhilarating adventure tours!
Secluded Spots In The Seychelles
Imagine the sun lazily dipping below the horizon, its warm hues casting a golden glow on the soft, powdery sand beneath your feet. The gentle lapping of waves serenades you as you sip an ice-cold cocktail, the taste of paradise lingering on your lips.
As you recline in your private cabana, hidden away from prying eyes, the Seychelles' wildlife and marine adventures await to transport you into a world of unparalleled beauty and tranquility.
This island nation, nestled in the heart of the Indian Ocean, is home to some of the most secluded spots on earth – perfect for those seeking to escape life's hustle and bustle.
Indulge in a leisurely walk through lush forests where rare birds flit among ancient palms or take to pristine waters teeming with vibrant marine life for an unforgettable snorkeling excursion.
Whether it's basking under swaying palm trees or enjoying encounters with curious sea turtles and majestic manta rays, this island haven offers endless opportunities for exploration and relaxation.
So why not surrender yourself to the enchanting spell of Seychelles' secluded shores? You won't be disappointed.
Greek Island Hideaways
The Greek Islands are perfect for those seeking an unspoilt paradise! With a range of luxury hotels and villas to choose from, you can enjoy a secluded escape surrounded by crystal clear waters.
For foodies, the local cuisine of the islands is unbeatable – with a range of fresh, local produce to tantalise your taste buds.
Unspoilt Greek Islands
You'll find hidden gems aplenty when exploring the unspoilt Greek islands, where time seems to slow down and the allure of crystal clear waters, pristine sandy beaches, and idyllic island life beckons.
There's something utterly enchanting about stepping off the beaten path and discovering secluded coves, charming villages, and the warm hospitality of the locals who are always eager to share their secrets.
Indulge in mouthwatering local cuisine at family-run tavernas, with freshly caught seafood grilled to perfection and paired with crisp local wines that perfectly encapsulate the essence of Mediterranean flavors.
As you bask in the sun-soaked bliss of these lesser-known havens, you can't help but feel a sense of freedom permeating your soul – a liberating reminder that true paradise still exists on this earth.
Luxury Hotels And Villas
But let's not forget that even in these secluded paradises, you can still indulge in a touch of luxury.
The Greek islands are home to some truly stunning hotels and villas, offering sumptuous accommodation with all the modern comforts and luxurious amenities you'd expect from a high-end escape.
You'll find beautifully appointed suites overlooking the sparkling Aegean Sea, infinity pools that melt into the horizon, and even celebrity-owned retreats where you can rub shoulders with the rich and famous.
These exclusive havens provide the perfect balance between laid-back island life and sophisticated indulgence, catering to those who crave both tranquility and refinement.
So whether you're dreaming of lazy days spent soaking up the sun by your private pool or sipping cocktails on a stylish terrace as the sun sets over the azure waters, these exquisite hideaways prove that paradise can indeed be found on earth – it's just waiting for you to discover it.
Delicious Local Cuisine
But of course, no Greek island hideaway experience would be complete without savoring the delicious local cuisine.
As you indulge in your luxurious surroundings, don't forget to treat your taste buds to the mouthwatering flavors that make Greece's culinary scene so unforgettable.
Culinary tours and cooking classes are a fantastic way to immerse yourself in the rich and diverse gastronomy of these sun-kissed islands.
From fresh seafood caught straight from the Aegean Sea to local specialties like moussaka and souvlaki, each bite will transport you further into culinary heaven.
So go ahead, let your senses run wild as you explore the tantalizing tastes of paradise – after all, isn't that what living the dream is all about?
Eco-Friendly Stays In Bali
If you're seeking an escape that aligns with your eco-conscious values, look no further than the lush island of Bali. As sustainable tourism gains momentum, more and more travelers are seeking out destinations that immerse them in local culture while minimizing their environmental impact.
This tropical paradise offers a plethora of eco-friendly stays that not only provide luxurious accommodations but also prioritize protecting the delicate Balinese ecosystem and preserving its rich cultural heritage. One such haven for green globetrotters is the stunning Bamboo Village, where sustainability meets luxury in a serene setting.
Nestled among verdant rice fields and swaying palm trees, this eco-resort boasts beautifully crafted bamboo villas that seamlessly blend traditional Balinese architecture with modern amenities. Guests can indulge in rejuvenating spa treatments using natural ingredients sourced from the surrounding landscape or participate in immersive experiences like cooking classes and temple visits that showcase the vibrant Balinese culture.
At Bamboo Village, you'll leave with unforgettable memories and the satisfaction of knowing your stay has made a positive impact on both the environment and local community.
Five-Star Experiences In Mauritius
Leaving behind the eco-friendly utopia of Bali, we stumble upon a realm of luxury and indulgence: the enchanting island of Mauritius.
For those who believe that true freedom can only be experienced in the lap of opulence, Mauritius is your personal paradise.
The crystal-clear waters and pristine beaches are merely a backdrop for the grand stage of five-star experiences awaiting you.
Awaken your senses with fine Mauritian gastronomy – a delicious blend of Creole, French, Indian, and Chinese influences – as you dine by the ocean under a canopy of stars.
Then embark on an unforgettable journey into cultural exploration; immerse yourself in the rich history and traditions that weave this island's tapestry as you visit ancient temples and bustling markets.
Soak up every second of this treasure trove while basking in unparalleled luxury at our selection of world-class resorts.
Your subconscious desire for freedom has never been more tangible than here in Mauritius.
Boutique Hotels In The Mediterranean
As you continue your journey across the crystal-clear waters of the Mediterranean, you can't help but dream of stepping ashore and exploring the boutique hotels that dot this sun-soaked region. Renowned for their unique charm and character, these exquisite accommodations are often nestled in historic buildings or quiet villages, providing an intimate retreat to relax and indulge in some coastal cuisine.
The azure seascape is a mecca for Mediterranean yachting enthusiasts, with countless harbors welcoming travelers to moor their vessels and embark on a land-based adventure.
Hotel Cap d'Antibes Beach Hotel (France)
Located on the French Riviera, this stylish boutique hotel offers stunning sea views and direct access to its private beach.
Canaves Oia Epitome (Greece)
Perched high above Santorini's famous caldera, this luxury hotel boasts captivating views and elegant suites carved into volcanic rock.
The Mediterranean coastline is teeming with mouthwatering culinary experiences that are sure to tantalize your taste buds. From gourmet seafood restaurants by the water's edge to cozy tavernas serving up authentic local dishes, there's no shortage of gastronomic delights to discover.
As you sip on a glass of crisp local wine while watching the sunset over the horizon, it's easy to see why so many travelers find themselves drawn back to these shores time after time. So go ahead – surrender yourself to the allure of these enchanting boutique hotels and create memories that will last a lifetime.
Exclusive Hawaiian Getaways
As we bid farewell to the captivating Mediterranean boutique hotels, let's set sail across the Pacific and find ourselves immersed in the lush paradise of Hawaii.
The Aloha State beckons with its warm, inviting culture and breathtaking landscapes, offering a perfect destination for those seeking a luxurious escape from the mundane.
Exclusive Hawaiian getaways await, complete with indulgent Hawaiian spa treatments and exciting volcano excursions that will leave you rejuvenated and invigorated.
Imagine waking up to the soothing sounds of waves crashing on pristine shores as you step out onto your private lanai overlooking an awe-inspiring volcanic landscape.
Spend your days exploring the islands' diverse terrains or pampering yourself with traditional Hawaiian spa treatments such as lomi-lomi massages, coconut-infused body scrubs, or seaweed wraps infused with island botanicals.
As night falls, embark on thrilling volcano excursions led by expert guides who will lead you through lava tubes and past steaming vents as you marvel at Mother Nature's raw power.
And after a day filled with adventure and relaxation, retire to your luxurious accommodations where you can indulge in sumptuous cuisine prepared by world-class chefs while sipping on tropical cocktails under a star-studded sky.
So pack your bags and say 'aloha' to these exclusive Hawaiian getaways that promise an unforgettable experience blending luxury, adventure, and natural beauty in an enchanting island setting.
Conclusion
In conclusion, the world truly is your oyster when it comes to choosing a luxurious island beach resort.
From the stunning overwater bungalows in the Maldives to exclusive Hawaiian getaways, you'll be spoiled for choice when planning your next dream vacation.
So, pack your bags and set sail for paradise!
These breathtaking destinations offer unforgettable experiences and top-notch accommodations that are sure to create lasting memories.
Don't just take our word for it – go out there and experience these island wonders for yourself!