Wear Crocs As Water Shoes for Walking on the Beach and Sand
Key Takeaways
Crocs are lightweight, comfortable beachwear that offer water resistance and good support.
The durable and high-quality material of Crocs makes them ideal for beach environments.
Different styles and designs make Crocs versatile for both water and sand activities.
Crocs are easy to clean post-beach visit, needing only water and mild soap.
Some downsides include potential lack of support and sand accumulating in ventilation holes.
Preference for Crocs as beach footwear varies among individuals due to personal comfort levels.
If you're like me, you love wearing Crocs shoes. I have multiple pairs, and I wear them often, mostly around the house. With the weather warming up, beach-goers worldwide are heading down to the coast to visit their closest beaches. It makes me wonder, can they get wet in the saltwater, on the sand, and are Crocs a good choice for the beach?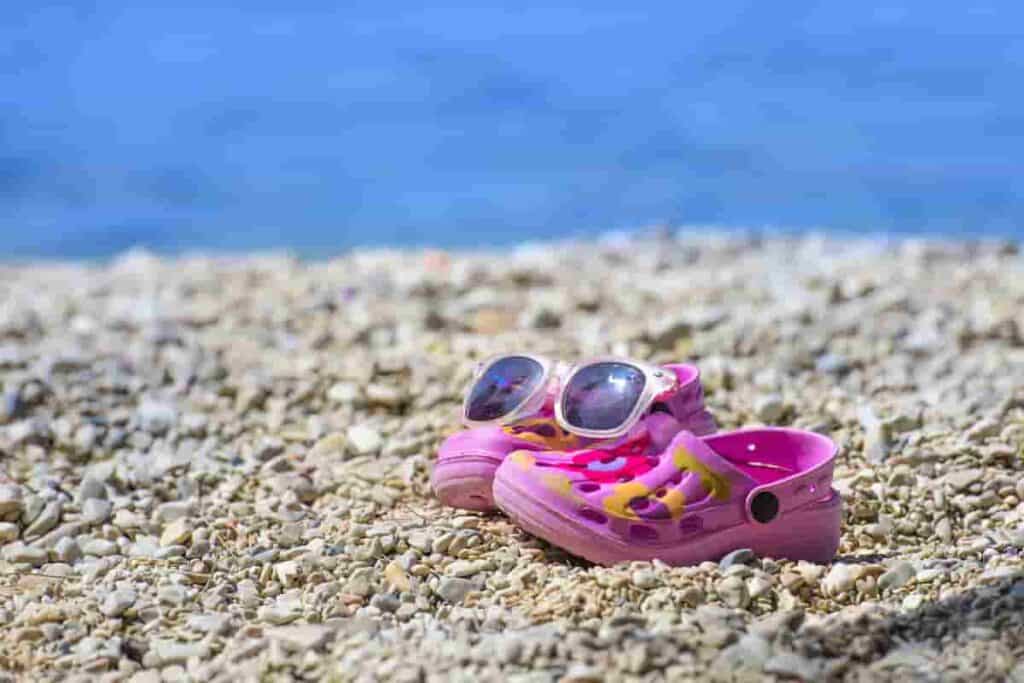 Are Crocs Good For The Beach?
In general, Crocs make great beachwear and are good for the beach because they are lightweight and comfortable. Depending on the model, they offer your feet protection, are waterproof or water-resistant, and can be worn in the water, on the sand, or the boardwalk.
Crocs footwear isn't only comfortable and stylish, and it also provides protection. Crocs footwear is waterproof and resistant to the harmful effects of sand and saltwater. 
Crocs footwear is made of very durable and high-quality materials. Crocs footwear is also extremely lightweight and flexible. Crocs footwear is made with a high-quality rubber that is durable and flexible. These qualities make Crocs footwear ideal for the beach. 
Table of Contents
As a sought-after brand, Crocs bring a unique blend of convenience and comfort to beach outings. Made from Croslite, these lightweight shoes are fitting for numerous outdoor activities around the sandy and sunny seaside. Offering robust protection, they shield feet from the heat or hard objects often found on the beach.
Crocs' durability can withstand conditions of a seaside environment, whether it be exposure to water or sand. Safety-wise, these shoes uphold a strong defense against slips that are common around water bodies. Furthermore, the shoes' design promotes ventilation, which counters any discomfort from seaside heat and aids in sand and water drainage.
The convenience of Crocs is also notable. They can be smoothly worn and removed, suiting those who switch between beach activities. Overall, notably unaffected by sunlight or frequent use, Crocs encapsulate comfort, safety, convenience, and sturdy design, making them an apt choice of beach footwear.
Want to see the latest beach Crocs that are popular right now in 2023? Just Click Here to go to Amazon and check them out!
The Crocs brand has several unique styles, including sandals and flip-flops that can be worn all day long without causing your feet to become tired. Crocs are also better for the beach than shoes that don't have a thick sole. A thick sole can protect your foot from getting too hot or uncomfortable while strolling on hot sand.
Let's take a deeper look at Crocs, the pros and cons, and even some alternatives. Keep on reading!
Can You Wear Crocs on The Beach
Yes, you can wear Crocs on the beach. They are made from rubber and are water-resistant. They are very comfortable and easy to wash after getting off the beach.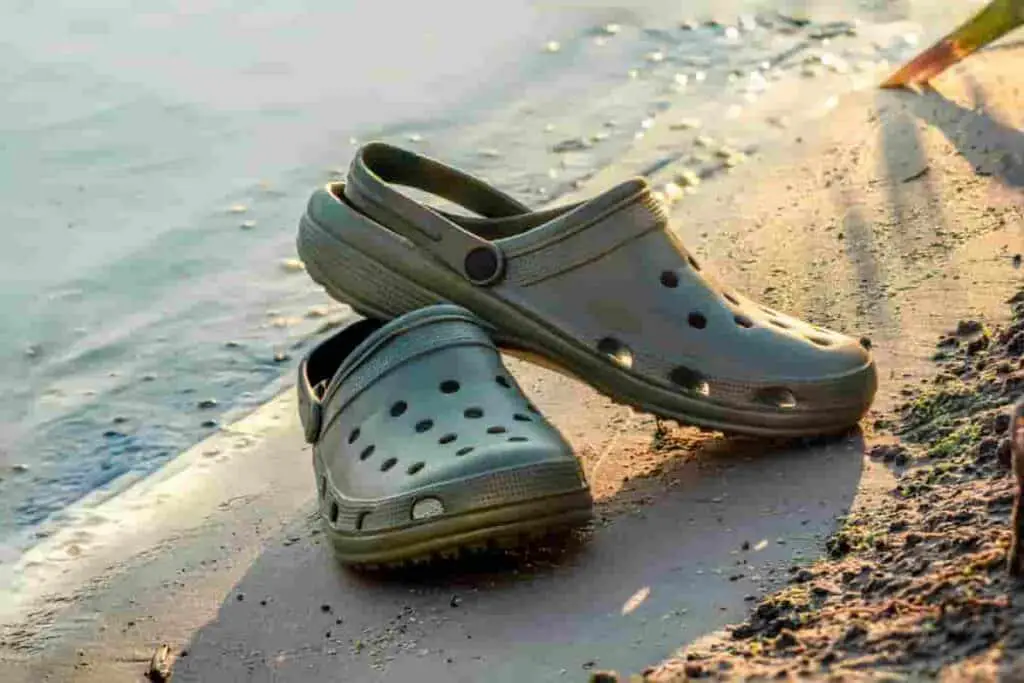 There are many different types of shoes you can wear on the beach, and Crocs is one. Some people choose to wear them without socks, while others prefer to wear socks. It is ultimately up to the individual to make this decision.
Why Are Crocs Considered Comfy
People like Crocs often buy them for comfort and durability rather than style or fashion.
On a flight from Indonesia to Germany, I met one satellite technical engineer who installed satellite gear. He was a heavy-set person, wearing a pair of orange crocs. When I asked him about them, he said he swears by them because he can walk and stand all day long, and his feet feel fine. No other shoes do that. 
Crocs are made with a spongy material yet help support the person's weight. They are considered comfortable because they provide good support and insulation.
Benefits of Wearing Crocs on the Beach
Here are a few statistics and facts about Crocs which will then lead us to the benefits: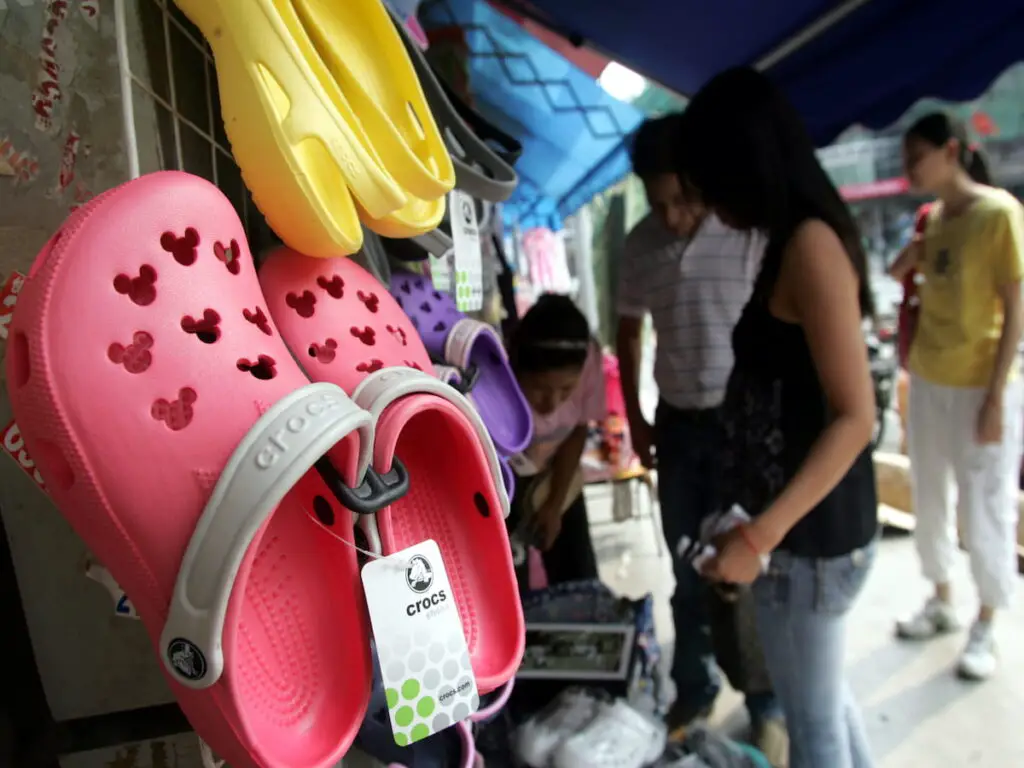 Crocs were originally designed to be boating shoes, prioritizing grip-focused soles, waterproof materials, and foot protection. (Source)
Cushioning and arch support that Crocs offer excellent cushioning and arch support, especially when compared to most other open-heeled sandals and flip flops. (Source)‍
Crocs are ideal for beach activities like swimming and boating due to their breathable, non-marking and water-resistant features. The clog style, which accounts for 45% of the brand's 300 million pairs sold worldwide, is particularly popular. (Source)
Wait, I Have Some Recommendations Handpicked Just For You!
Before going ahead, I want you to take a look at some recommendations I've handpicked for you. These handpicked Crocs are not only popular, they look great too. Whether you wear them at the beach or anywhere else, they are reliably comfortable. You can check them out and buy these products from Amazon.
There are many benefits of wearing Crocs on the beach. Some of the top benefits include:
Crocs have become a popular footwear choice for many reasons. They're comfortable, waterproof, stylish, and easy to clean. Here, we present these key points in a concise table for easy reference.
| Advantage | Description | Additional Info |
| --- | --- | --- |
| They're Waterproof | Crocs are made out of rubber, which makes them waterproof. | It means that they won't absorb any water, and you won't need to worry about getting wet feet. |
| They're Comfortable | They're designed to fit snugly around your foot. | They're lightweight, so you won't notice them while walking either. |
| They're More Stylish Than Flip-Flops | If you're worried about wearing those ugly flip flops, consider wearing crocs instead. | These shoes look just as fashionable as any pair of sneakers, but they'll keep your feet dry and protected. |
| They're Easy To Clean | Because they're water-resistant, you don't need to spend too much time cleaning them. | Just wipe them off after you walk through the surf, and they'll stay clean until you wash them again. |
Are Crocs Good In Sand
Yes, but with a few key points that need to be added. First of all, it's important to make sure you get the right type of Croc shoe for the sand. A few Beach models are specifically designed for use on the beach and other sandy environments. It has thicker soles and is more durable than other models. It comes in different colors as well.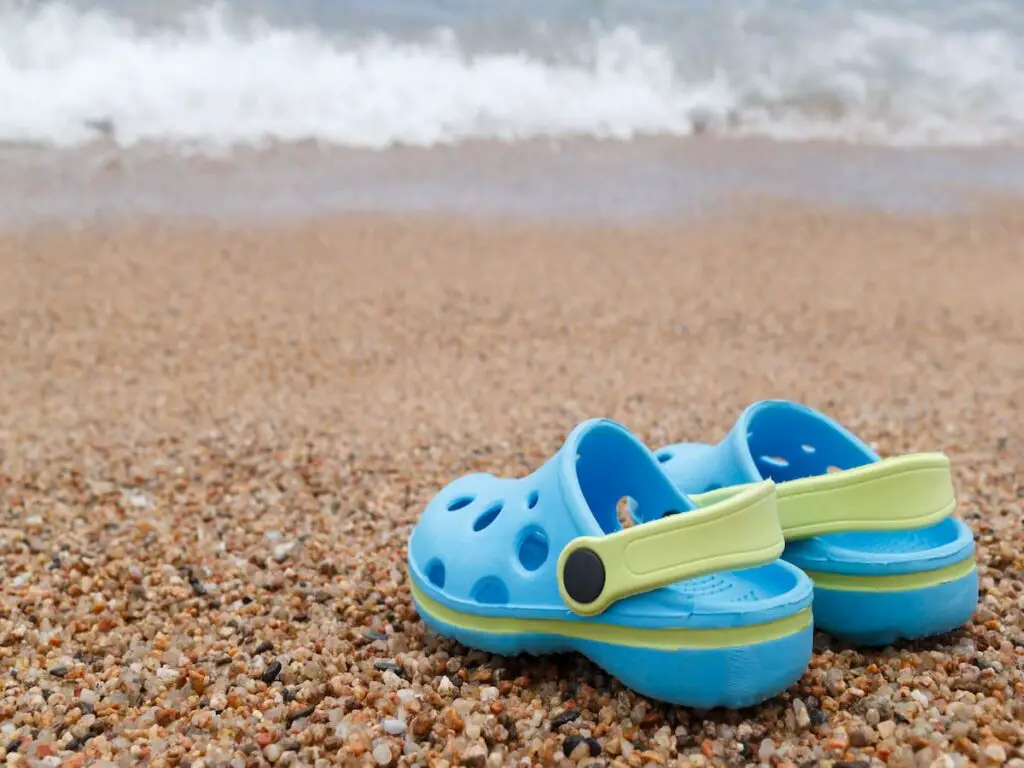 Any Downsides to Wearing Crocs on The Sand at The Beach?
There are no real downsides to wearing Crocs on the sand at the beach, except that they may not be the most stylish option. They are comfortable, easy to clean, and provide good support, so they are popular for beach-goers.
How to Clean Your Crocs After Going to The Beach
After going to the beach, it's important to clean your Crocs properly to prevent bacteria or sand. Here are a few easy steps to follow:
1. Remove the Crocs from your feet and rinse them off with water.
2. Fill a bucket or sink with warm water and add a few drops of dish soap.
3. Place the Crocs in the water and swirl them around.
4. Rinse the Crocs.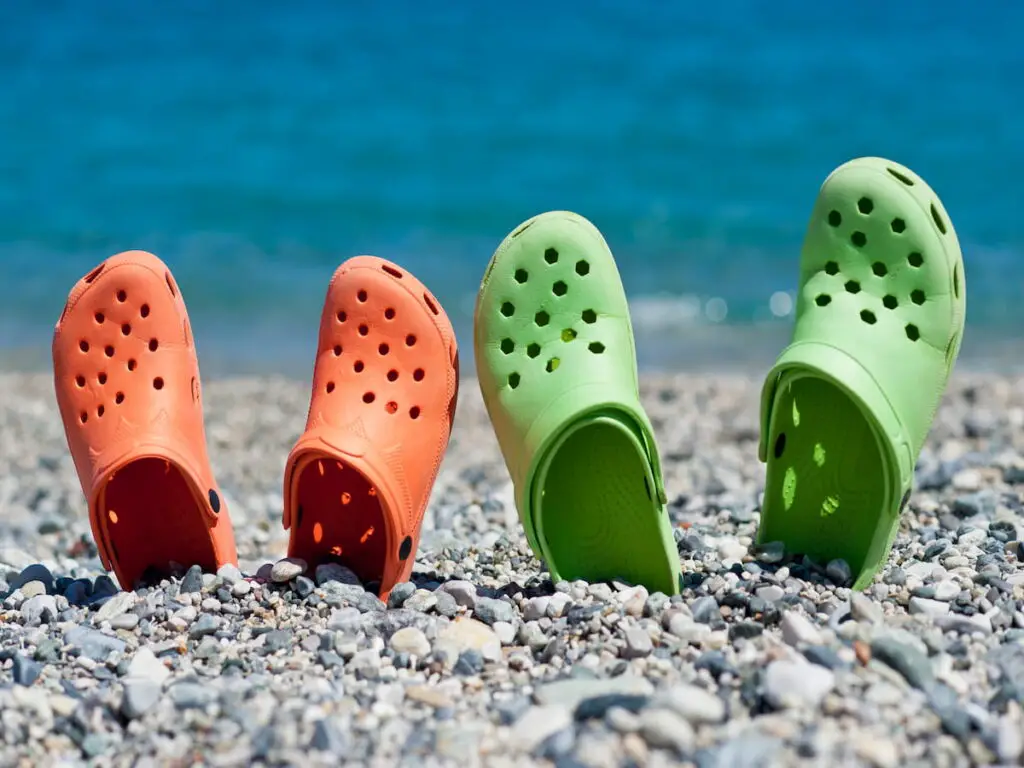 Are Crocs Good for Wading in Water At The Beach?
Some people find Crocs very comfortable and practical for wading in the water, while others find they are not stable or durable enough. 
Crocs are good for wading in the water at the beach because they are made from a proprietary foam resin that eliminates odor.
Crocs are also built from neither rubber nor plastic, making them resistant to water damage.
The build quality of Crocs ensures that sand, water, and dirt will not stick to it and will fall out when you take them off, making them ideal for walking on the beach.
Crocs are a popular brand of shoes known for their waterproof properties. The breathability of Crocs is rated 4/5 stars, making them ideal for travel with wet feet. The Crocs Swiftwater Wave Water Sandal is perfect for toddlers between one and four. 
It has a build quality that will ensure these shoes can withstand sand, water, and other elements from the beach. The adjustable Velcro closure makes it easy to pull on and off tiny feet. Crocs are made from a breathable foam resin that allows the dirt, sand, and water to fall out. The durability of this material means it will not have any bad odor when worn on the beach.
Is It Ok for Your Crocs to Get Wet?
Yes, it is ok for Crocs to get wet. Crocs also make a sandal version of their popular shoe which is quick-drying and perfect for any water-based activity. The sandals offer great support and can be taken just about anywhere. They are also minimalist enough to go with a range of outfits.
Some Alternatives to Crocs for The Beach
Unveil the 2023 Beach Trends with a Click! Interested in the most sought-after beach walking shoes this year? Check out Amazon's favorites. Ready for a comfy walk? Just Click Here: Most Popular Beach Walking Shoes 2023
If you're looking for an alternative to Crocs for the beach, many other great options are available. Some favorites include the following:
The Adidas Swiftwater Beach Sandal is soft, lightweight, and comfortable. They are water-friendly and have CrosLite technology to promote maximum water efficiency. The shoes provide improved grip and prevent marking and skidding. The footbed provides a massaging experience for your feet.
The Reef Fanning Flip Flop is also soft and comfortable with a contoured footbed that gives you arch support. It comes in various colors and has a high-quality construction that makes it durable.
The KEEN Newport H2 Sandal is another great option for wet environments. It features KEEN's patented toe protection that keeps your toes safe from injuries. The sandals are also machine-washable, so they're easy to keep clean.
Final Thoughts      
So there you have it, some tips about wearing Crocs at the beach. I've covered how versatile Crocs are for the beach, whether you can wear them in the water and sand, and some alternatives. For your next trip to the beach, take these tips and apply them to your situation. 
I hope you have enjoyed reading my article about the pros and cons of crocs. I am happy to say that I have found that these shoes are very comfortable and durable for the beach. 
Frequently Asked Questions
Are Crocs good for the beach?
Yes, Crocs are a great option for the beach. They can be used as water shoes and are comfortable to wear on the sand.
Can I use Crocs as water shoes?
Absolutely! Crocs can be used as water shoes. They are designed to be worn in water and can provide good traction and protection for your feet.
Are Crocs suitable for walking on the beach?
Yes, Crocs are comfortable shoes to wear for walking on the beach. They are lightweight and offer cushioning for your feet.
Can I wear Crocs to the pool?
Yes, you can wear Crocs to the pool. They are water-resistant and can be easily cleaned after use.
How do I clean my Crocs after walking on the beach?
To clean your Crocs after walking on the beach, simply rinse them with water and mild soap. You can also use a soft brush to remove any sand or dirt.
Are Crocs the best water shoes for the beach?
While Crocs can make good water shoes, the "best" water shoe depends on personal preference. Some people find Crocs to be comfortable and suitable for water activities, but others may prefer different styles or brands.
Can Crocs be used as beach shoes?
Yes, Crocs can be used as beach shoes. They are versatile and can be worn for various beach activities.
Are there any downsides to wearing Crocs on the beach?
Some people may find that Crocs don't offer enough support or foot protection for certain beach activities. Additionally, sand and small rocks may get trapped in the ventilation holes of the shoes.
Can I wear Crocs in the shower?
Yes, Crocs are water-resistant and can be worn in the shower. They are easy to clean and quick to dry.
Are Crocs comfortable to wear on the beach?
Many people find Crocs to be comfortable footwear for the beach. They provide cushioning and have a roomy fit.