It's beach day at work, and everyone should dress in beach-style clothing. Everyone will participate at work, so the pressure is to be fashionable. The work environment is casual, so everyone should be comfortable while at work. You want to have some fun with this, but at the same time, you don't want to make any wrong fashion mistakes. So, what should you wear for a beach day at work?
In general, men can wear light-colored shorts with a loose tank top or t-shirt, comfortable sandals, and sunglasses. Women can wear long skirts and blouses with sandals and hats. It's best to avoid jeans, which are not considered fashionable or practical at the beach, as well as bright-colored "Hawaiian-format" prints which are perhaps too touristy. 
A beach workday at the office can be fun and may even slip into an after-work beach-themed party, so be prepared. You can consider wearing several things, such as what kind of shorts, tops, headwear, footwear, and accessories; however, it's best to keep things simple and not over-think things. 
Probably it's a good idea to think about beach fashion so that you can show your work colleagues you know how to dress even in a tropical beach paradise! In this article, I'll go over some simple guidelines for a beach workday and even a beach work party.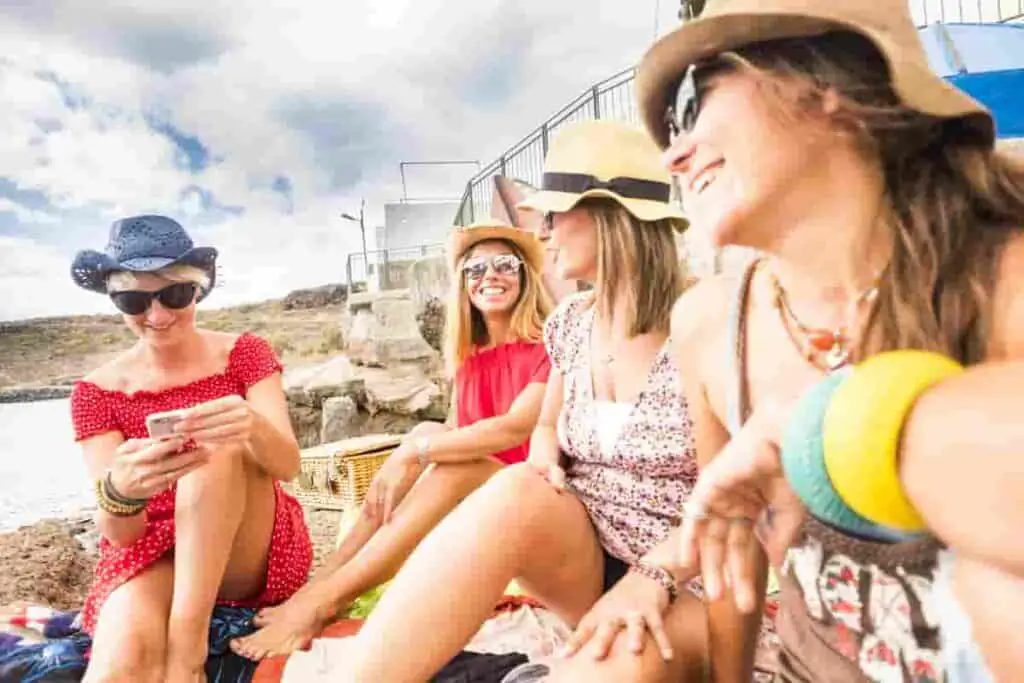 Additionally, I'll use some scenario examples with Dan and Erica, and let you know what they choose, which might give you some ideas you can relate to in your own life. Let's get started!
What Do You Wear to A Beach Work Party? – Ideas for The Casual Beach Look
A simple white sundress is perfect for a beach work party to project beach fashion for hot summer beach days. You can wear it with a pair of white flip-flops or sandals. A pair of simple shorts and a t-shirt will do just fine for guys. Wear sunglasses and a hat to finish it.
To project a casual beach look, it should be simple yet be neat and well put together, meaning the colors should match and the clothes not wrinkled. Let's look at some suggestions from key groups of clothes to wear, followed by footwear and accessories.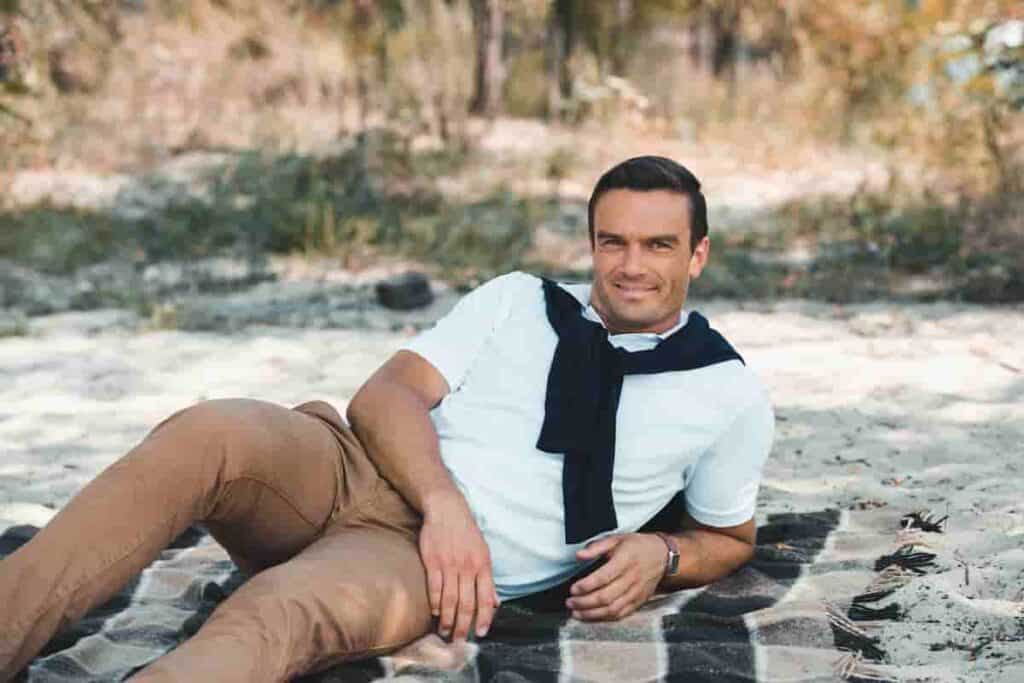 Key Ideas to Wear – Main Clothes Items
Here are the main things guys can wear: 
-Short sleeve shirt – The short-sleeve shirt tends to be more casual, and it is normally made of light, breathable fabric. 
-T-shirts-These shirts are loose-fitting and can be short or long-sleeved. They can be made of anything from soft cotton to thick, strong wool. The main thing is to get a good fit and a comfortable fit.
-Shorts – There are different styles of men's shorts to choose from. Cargo shorts are loose trousers that have pockets around the sides. These are ideal for guys who are outdoorsy and like to go to the gym. Chinos are slim, stylish shorts. 
–Hats – a good baseball cap is an essential item to have. These are available in many different styles and colors. They come in different fabrics, such as wool, cotton, and acrylic. Alternatively, you can opt for a floppy beach hat made of cotton. Choose your style and have fun with it.
Women can wear:
The beach is a great place to wear bright colors, and you can emulate this in your office beach day. Go for a color that will pop against the office walls. A summery yellow or orange top would look great with a pair of shorts or capri pants. 
If you prefer a more casual look, choose a patterned top. Choose a fabric that has a little bit of shine. Consider these options as well – blouses, skirts, shorts, and sundresses. (Source)
Footwear and Accessories
When it comes to a beach day at work, shoes, and accessories, there are options that both men and women can wear. Women have a few extra accessories, and I'll list them below.
Shoes – Flip flops are comfortable and easy to wear and come in a variety of colors and styles. Guys can also go in sandals or deck shoes. Women's sandals can be matched to clothes. 
Sunglasses – They can make or break your style and look, so if you have a good go-to pair that you use in the summer, now is the time to take them out. There are thousands of styles to choose from, but the main point is that you have a pair to complement your look for the beach workday at the office.
Hats – Baseball caps, floppy hats, and sun hats for women can also compliment your clothing style. Choose something you are comfortable wearing which makes you feel cool and adorable.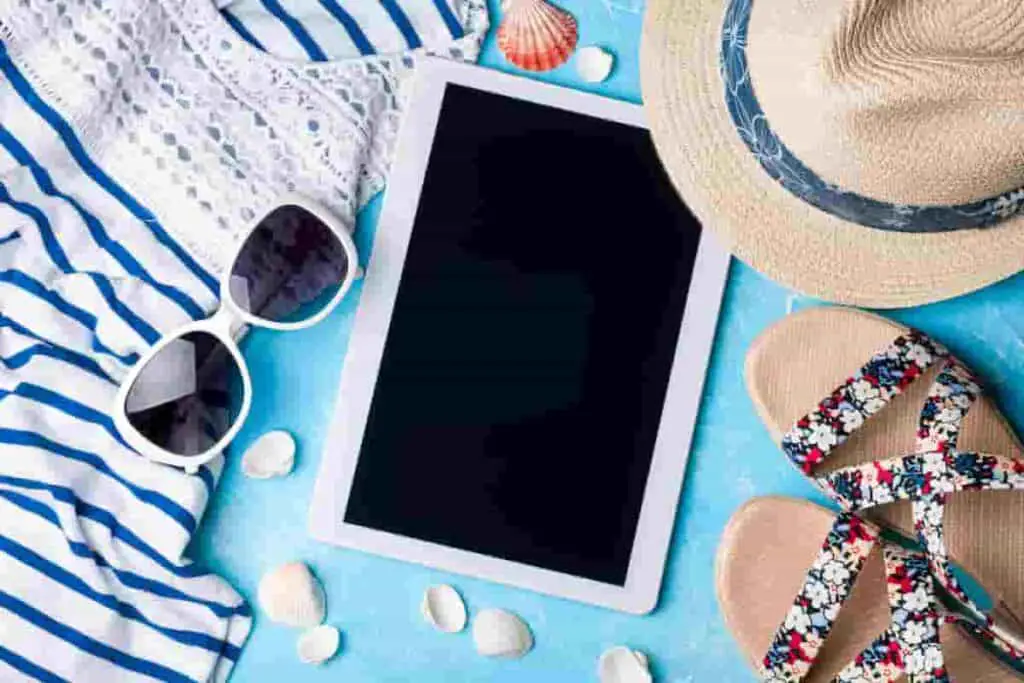 Putting it all together – Some Example Scenarios
Let's take an example scenario. Dan, who is in his 40s, works at a software firm as a software engineer and lives by the beach (so he is no stranger to beach fashion), chooses to keep things simple. 
He knows to avoid blue jeans not because they are not practical but to avoid going against beach fashion rules. He opts for simple shorts, a short-sleeve shirt with a simple pattern, sandals, and a baseball cap. He also chooses his main pair of sunglasses that he uses in the summer. 
He's ready to go, and it doesn't feel any different from a typical beach day in the summer. 
What Should You Not Wear to The Beach Day at Work? What to Avoid
As a general rule, avoid wearing anything too tight and too loud in color. Although a swimsuit and bikini seem a no-brainer to wear to a beach day at the office, it's best to avoid them. Choose casual beach clothing instead. 
I've already mentioned avoiding blue jeans, and I want to mention it again as they will not be authentic to wear. Jeans material (denim) makes one feel hot, and they are not good on sand because it tends to cling to the material. Go for some cotton shorts.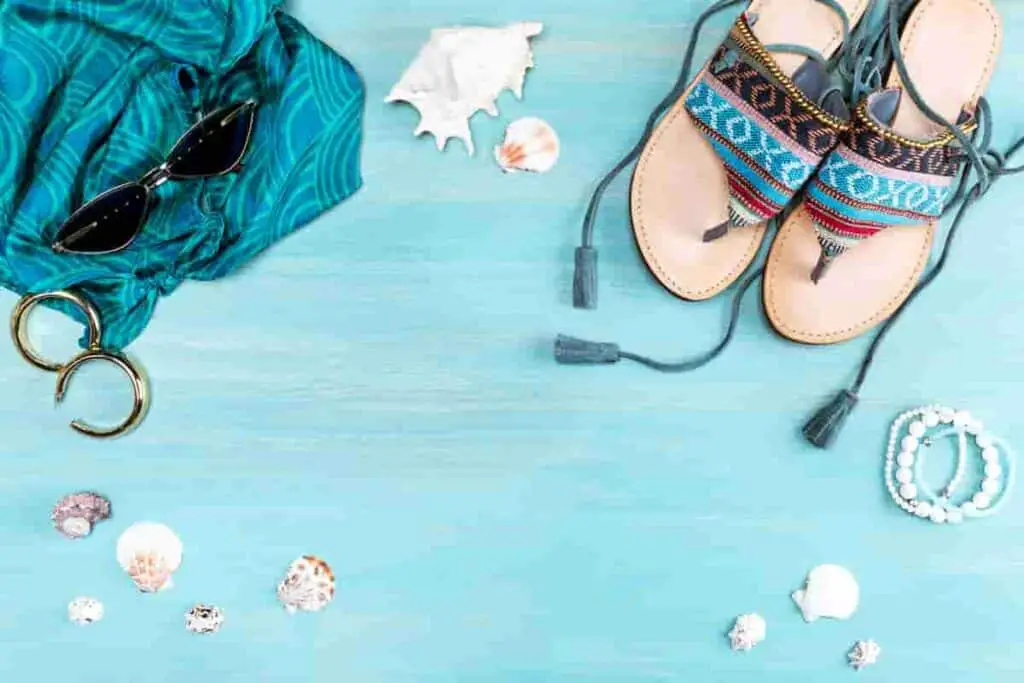 Some Options for Beach Fashion
Beach fashion has changed a lot since the early days. Nowadays, it is all about being comfortable and having fun. The key is to look stylish but not too trendy. It means wearing something that will last longer than one season.
The best beach outfits will look great with any outfit. They should be comfortable, easy to move around in, and not too hot or heavy. I recommend going for a color palette of whites, creams, pastels, and neutrals. These colors will allow you to mix and match easily. (Source)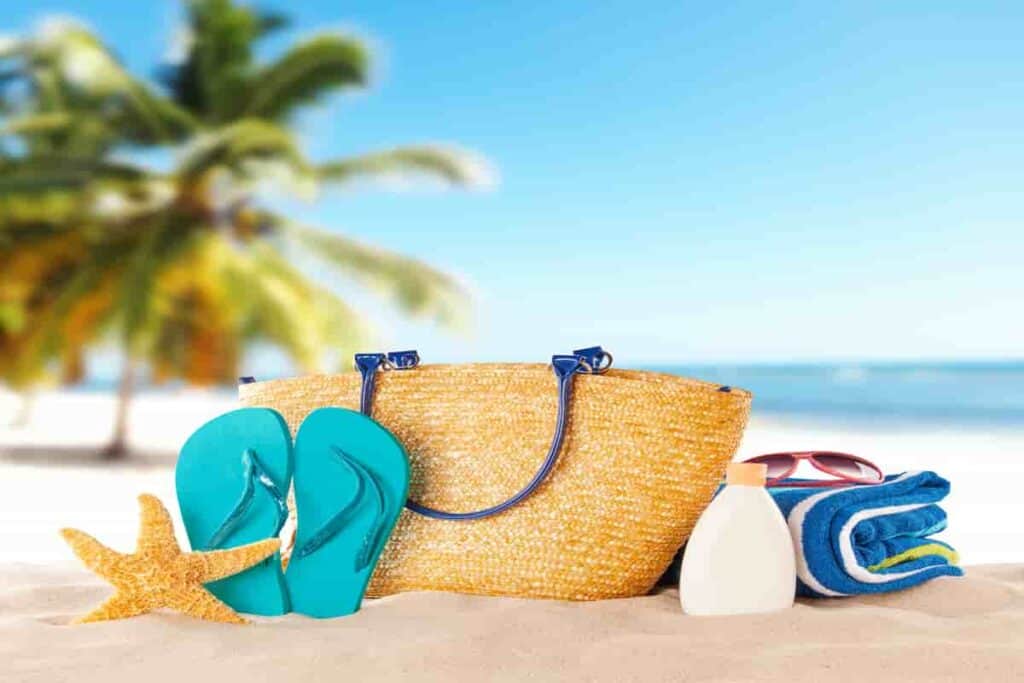 What Beach Clothes Make You Look Cool – Men
The best way to dress for the beach is by wearing loose-fitting clothing that allows you to move freely without feeling restricted. It will allow you to enjoy yourself and not feel self-conscious. 
Avoid tight-fitting shirts that restrict movement and limit what you can do. If you wear shorts, choose comfortable ones and don't ride up. Choose shoes that are easy to walk in and don't slip. A hat is always a great idea if you plan to spend some time outdoors.
What Beach Clothes Make You Look Cool – Women
The best beach outfits for women include cute shorts, tank tops, and colorful shirts. They should be comfortable and easy to move around in. A great outfit will make you feel confident and sexy.
Dresses with hemlines above the knee, loose tops, and capris or shorts are examples of such dresses. This look is perfect for summer days because it allows you to feel comfortable without feeling too hot.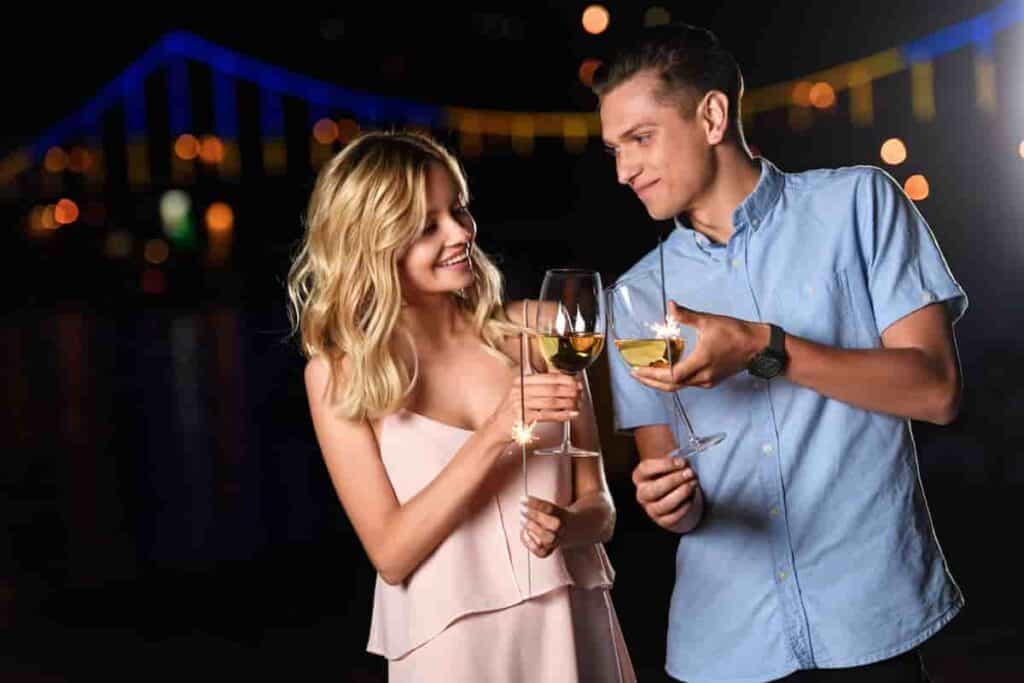 The best way to look cool on the beach is by wearing a dress or a skirt. It will give you a feminine touch and make you look classy. A great outfit for this occasion is a floral print, a high neckline, and a long hem. To complete the look, you should wear a pair of strappy heels and a hat with flowers. You can accessorize with a great pair of sunglasses. (Source)
Let's see how Erica, a single, 23-year-old Marketing Manager, might approach beach day at the office. She avoids jeans and swimsuits but still wants to project a confident and casual beach attitude with a little bit of flair. 
She chooses a bright floral blouse, tan-colored shorts that go down to the knee, with strappy sandals. A big hat together with sunglasses and a bracelet finish the look. 
Final Thoughts      
The key to making a successful beach day at the office is having fun while working and wearing beach-themed clothing. Choose clothing that suits your style and projects a casual attitude.
Remember to avoid Hawaiian-format prints, which are often associated with tourists. These prints tend to be loud and colorful and may not fit in with your overall beach theme. Instead, opt for simple designs that are more subdued.
Finally, stay away from wearing anything that makes you feel uncomfortable or like you're trying too hard. Be casual and have fun!