Are you tired of the same old beach destinations? Do you crave the feeling of being free and surrounded by nothing but nature's beauty? Well, look no further, because India has some hidden tropical paradises waiting for you to discover.
From the bustling beaches of Goa to the serene shores of Tarkarli, India offers a variety of beach destinations for every type of traveler.
Table of Contents
Imagine the sound of waves crashing against the shore, the warm sun on your skin, and the feeling of sand between your toes. These are just a few of the sensations waiting for you on the best beaches in India.
So, pack your bags, leave your worries behind, and get ready to discover the hidden tropical paradises of India.
Goa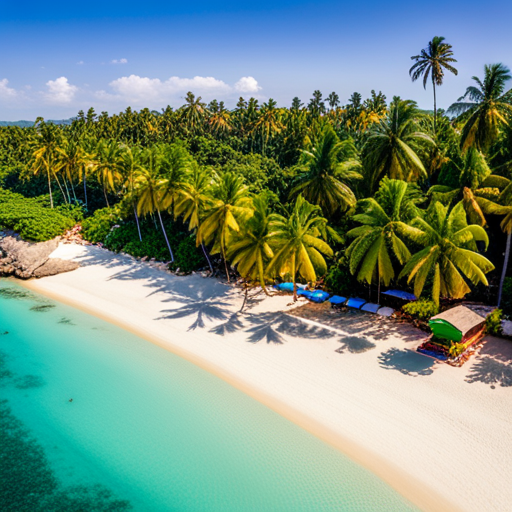 You're in Goa, where the sun beats down on the shimmering sand and the waves crash against the shore in a mesmerizing rhythm. As you step onto the beach, the salty ocean air fills your lungs and you feel a sense of freedom wash over you.
Goa is known for its vibrant nightlife and beach parties that go on till the wee hours of the morning. From techno music to live bands, the beach shacks and clubs offer a range of entertainment options for party-goers.
If you're not a party animal, don't worry, Goa has plenty of other attractions to offer. The best time to visit Goa is from November to February, when the weather is pleasant and the ocean is calm.
Take a stroll down the beaches of North Goa, such as Anjuna, Baga, and Calangute, and soak in the vibrant atmosphere. You can also try water sports like parasailing, jet skiing, and banana boat rides.
And of course, don't forget to sample the local cuisine – the seafood is especially delicious. Goa is truly a tropical paradise that offers something for everyone.
Andaman and Nicobar Islands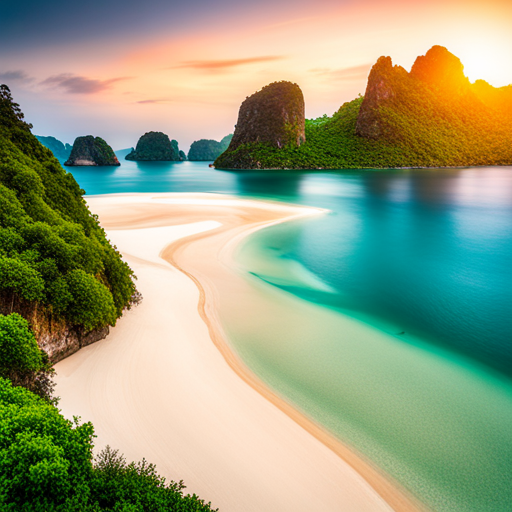 The Andaman and Nicobar Islands are pure bliss, boasting crystal-clear waters and pristine white sand beaches. These islands are perfect for those seeking a tropical paradise away from the hustle and bustle of city life. If you're looking for a place to relax and unwind, then look no further than the Andaman and Nicobar Islands.
One of the best things to do on the islands is to go on scuba diving adventures. The underwater world is truly breathtaking, with vibrant coral reefs and a diverse range of marine life. You can even explore the sunken wreckage of World War II ships.
Additionally, the islands have a rich indigenous tribal culture that is worth exploring. You can visit the various tribal villages and learn about their customs and traditions.
So, whether you're an adventure seeker or a cultural enthusiast, the Andaman and Nicobar Islands have something for everyone.
Gokarna

Get ready to groove to the gentle waves and gaze at the gorgeous greenery as we explore the serene and stunning town of Gokarna. This beautiful beach town, located in the state of Karnataka, is known for its untouched beaches, scenic beauty, and religious significance.
Apart from the stunning beaches, Gokarna is also known for its yoga retreats and temple hopping experiences. It's a perfect destination for those who wish to unwind and rejuvenate.
The town is home to some of the most beautiful and secluded beaches in India, such as Kudle Beach and Om Beach. These beaches are ideal for sunbathing, swimming, and surfing. If you're looking for a peaceful and quiet getaway, then Gokarna is the perfect place for you.
Apart from the beaches, the town is also known for its yoga retreats. You can take a yoga class or participate in a meditation session to relax and rejuvenate your mind, body, and soul.
Additionally, Gokarna is a popular destination for temple hopping. The town is home to several ancient temples, such as Mahabaleshwara Temple and Maha Ganapati Temple, which are worth a visit.
Varkala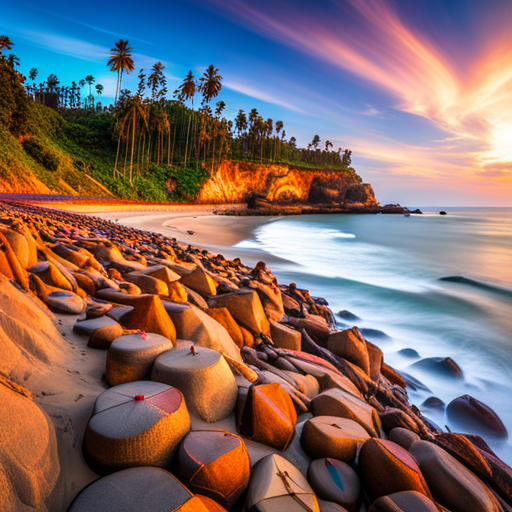 Are you ready to discover Varkala, a hidden gem on the southwest coast of India? You'll be blown away by the stunning views from the cliffside, where you can watch the waves crash against the rocks below.
Take a refreshing dip in the natural spring water and then indulge in some delicious authentic Kerala cuisine.
Get ready for a truly unforgettable experience!
Enjoy the stunning cliffside views
You'll be in awe of the breathtaking cliffside vistas waiting for you to bask in at Varkala. The stunning views from the cliff will leave you with an unforgettable experience. You can enjoy the mesmerizing sunset picnics with your loved ones or take up the exciting cliffside hikes to explore the area.
The cliffside views at Varkala are undoubtedly one of the most picturesque in the country. The entire stretch of the cliff offers a panoramic view of the Arabian Sea, making it the perfect spot to unwind and relax.
The best time to visit the cliff is during the early morning or late afternoon when the weather is pleasant, and the views are simply breathtaking. So, don't forget to add Varkala to your travel itinerary and experience the beauty of the cliffside vistas for yourself!
Take a dip in the natural spring water
As you gaze over the stunning cliffside views, imagine taking a refreshing dip in the natural spring water below. Natural pool exploration is a must-do activity when visiting these hidden tropical paradises. The crystal-clear water is surrounded by lush greenery, providing a peaceful oasis that will leave you feeling rejuvenated and refreshed.
Are you ready to embark on some spring water adventures? These hidden beaches offer the perfect opportunity to cool off from the scorching sun and explore the natural beauty of India.
Here are the top 3 natural pools to check out:
1. Paradise Beach in Gokarna – surrounded by towering cliffs and lush greenery, this natural pool is a must-visit.
2. Elephant Beach in Andaman and Nicobar Islands – a hidden gem with crystal clear water and vibrant marine life.
3. Emerald Bay in Havelock Island – surrounded by stunning coral reefs, this natural pool offers a unique and unforgettable swimming experience.
So, pack your swimsuit and dive into the natural wonders of India's hidden beaches. The adventure awaits!
Try authentic Kerala cuisine
You've got to try the mouth-watering authentic Kerala cuisine that will tantalize your taste buds and leave you wanting more. Kerala is known for its delicious food which is made using traditional spices and fresh produce. The cuisine is a perfect amalgamation of sweet, sour, salty and spicy flavors that come together to create a unique taste that is unmatched by any other cuisine in India.
To experience traditional spices and explore local markets, head to Fort Kochi, a historic town in Kerala that is famous for its food scene. Here, you can sample some of the best seafood dishes like fish curry, prawn fry, and crab roast. You can also try some vegetarian dishes like Avial, Thoran, and Olan that are made using fresh coconut, vegetables, and spices.
Don't forget to end your meal with some traditional desserts like Payasam and Ada Pradhaman that are made using rice, jaggery, and coconut milk.
So, if you're a foodie at heart, then Kerala is the place to be!
Puri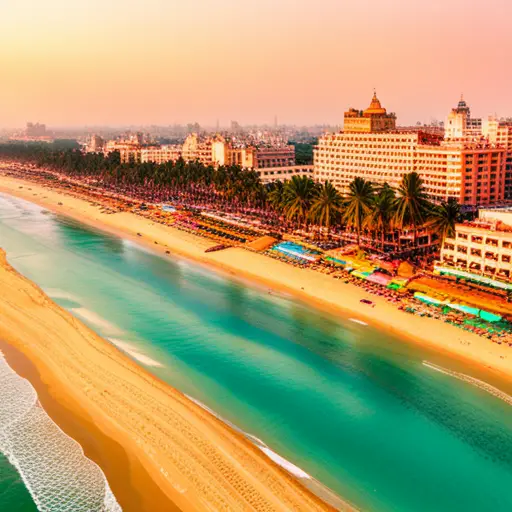 Puri, with its soft sand and gentle waves, beckons visitors to linger on its shores and soak up the warm sun. Known for its ancient temples, vibrant culture, and delicious seafood, Puri is a beach destination that shouldn't be missed.
The best time to visit Puri beaches is from November to February when the weather is perfect for beach activities. The beaches in Puri are perfect for swimming, sunbathing, and surfing. You can also take a leisurely stroll along the shore or go for a camel ride.
The seafood in Puri is a must-try, so don't forget to sample some of the fresh catch of the day. Whether you're looking for a relaxing day on the beach or an adventure-filled vacation, Puri has something for everyone.
So pack your bags, head to Puri, and enjoy the tropical paradise that awaits you.
Tarkarli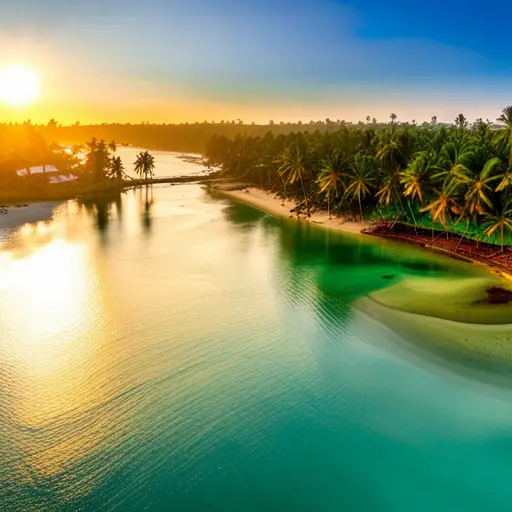 If you're searching for a serene coastal escape, Tarkarli's pristine beaches and calm waters make it a top-choice destination. This hidden tropical paradise is nestled in the Konkan region of Maharashtra and boasts some of the most beautiful beaches in India.
Here are four reasons why Tarkarli should be on your bucket list:
1. Snorkeling adventures: Explore the vibrant marine life of Tarkarli's crystal-clear waters. The coral reefs and colorful fish will leave you in awe.
2. Scuba diving excursions: Dive deep into the ocean and witness the magical underwater world. Tarkarli offers some of the best scuba diving experiences in India.
3. Relaxing beach days: Unwind on the soft white sand beaches and soak up the sun. The tranquil atmosphere will rejuvenate your soul.
4. Delicious seafood: Savor the fresh catch of the day at one of the local eateries. Tarkarli is known for its mouth-watering seafood dishes that will leave you wanting more.
Tarkarli is a perfect destination for those seeking adventure and relaxation in equal measures. So, pack your bags, put on your diving gear, and get ready for an unforgettable experience at Tarkarli's breathtaking beaches.
Radhanagar Beach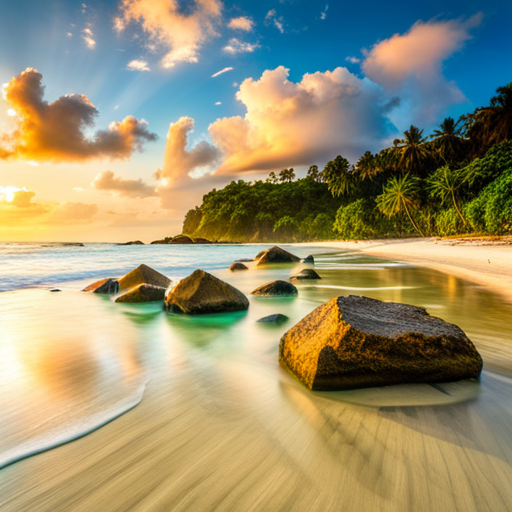 Radhanagar Beach is an absolute must-visit for beach enthusiasts, with its stunning vistas, crystal-clear waters, and soft sand that feels like walking on clouds. This beach is located on Havelock Island, and it is considered to be one of the most beautiful beaches in India.
The beach is surrounded by lush green forests, and it is a popular spot for swimming and sunbathing. If you're looking for a more adventurous experience, Radhanagar Beach offers Sunset Yoga and Scuba Diving Excursions.
You can take part in a yoga session while watching the mesmerizing sunset over the sea, or dive into the clear waters to explore the vibrant marine life. Whether you're seeking relaxation or adventure, Radhanagar Beach has something for everyone.
So, don't miss out on this hidden tropical paradise that promises to fulfill your desires for freedom.
Frequently Asked Questions
What is the best time of year to visit each of these beaches?
When planning a trip to the best beaches in India, it's important to consider the best time of year to visit. If you want to avoid crowds and save money, consider traveling during the off-season. This means visiting during the monsoon season, which runs from June to September.
While the weather may be unpredictable and some attractions may be closed, you'll find lower prices and fewer tourists. On the other hand, if you want to experience the best weather and enjoy the most activities, you should visit during the winter months, from November to February.
This is peak season, so expect larger crowds and higher prices. If you're on a budget, consider visiting during the shoulder season, which is from March to May. You'll find better weather and lower prices than during the winter, but with fewer crowds.
Ultimately, the best time to visit each beach will depend on your priorities and preferences.
Are there any specific water activities or sports available at each beach?
Looking for a thrilling adventure? You'll find plenty of opportunities for snorkeling and surfing at some of the best beaches in India. Imagine diving into crystal-clear waters to explore vibrant coral reefs and exotic marine life, or catching some waves on a world-famous surf break.
But it's not all about the water sports – these beaches are also perfect for beach parties and cultural events. Whether you're looking for a laid-back vibe or an energetic atmosphere, you'll find it here.
So pack your bags, grab your sunscreen, and get ready to experience the ultimate freedom at India's most stunning beaches.
What are the accommodation options like near each beach?
When it comes to accommodation options near the beaches of India, you'll find a variety of choices to suit your needs. From budget-friendly guesthouses to luxurious resorts, there's something for everyone.
Many of these options are located within walking distance of the beach, so you can easily access the sand and surf. In addition to lodging, you'll find plenty of nearby amenities, such as restaurants serving fresh seafood, shops selling souvenirs and beach gear, and activities like snorkeling and scuba diving.
So whether you're looking for a peaceful retreat or an action-packed vacation, you're sure to find the perfect accommodation near one of India's stunning beaches.
Are there any local food or drink specialties to try at each beach destination?
You won't be able to resist the mouthwatering local cuisine and cultural experiences waiting for you at each beach destination in India. From the savory seafood dishes at the beaches of Goa to the delectable coconut-based curries found at the Andaman Islands, your taste buds will be in for a treat.
And don't forget to indulge in the refreshing drinks like coconut water and masala chai, perfect for sipping on while lounging in the sun. Each beach offers its own unique culinary delights and cultural experiences, making your trip to India an unforgettable adventure.
So pack your bags and get ready for a journey full of delicious food, vibrant traditions, and endless freedom.
What are some lesser-known attractions or activities to explore in the nearby areas?
If you're looking for something beyond the beaches, there are plenty of hidden gems and cultural experiences to explore around them. Check out the offbeat places to visit near these beaches, like the charming fishing village of Maravanthe near the Karwar beach, or the stunning Yana rock formations near Gokarna beach.
Don't miss out on the chance to witness some of the must-see festivals and events near these beaches, such as the Goa Carnival or the Kovalam Surf Festival. Embrace the local culture and traditions by trying out some authentic cuisine, or learning a new dance form like Kathakali in Kovalam.
With so many options to choose from, you'll never run out of things to do and explore in the nearby areas.
Conclusion
So, now that you know about the 9 best beaches in India, it's time to pack your bags and head to these hidden tropical paradises.
Goa is the perfect place to party and relax, while the Andaman and Nicobar Islands offer a unique and secluded experience. Gokarna and Varkala are perfect for those looking for a peaceful getaway, while Puri and Tarkarli offer a blend of culture and adventure. And if you're looking for the perfect sunset, head to Radhanagar Beach.
As you walk along the soft sandy beaches, listening to the sound of the waves crashing against the shore, you'll feel a sense of serenity and peace, like nothing else matters. The warm sun on your skin and the salty breeze in your hair will transport you to a different world, where all your worries disappear. You'll feel like you're in a dream, and you won't want to wake up.
So, go ahead, book your tickets, and explore these hidden gems. Trust me, you won't regret it. And who knows, you might even discover a new favorite beach that will become your go-to destination for years to come.
Happy travels!