Best Ocean Vacation Spots- Surprising Secrets and Ideas
The ocean is one of the most beautiful and peaceful places on Earth. From the sound of the waves crashing on the shore to the feeling of the sand between your toes, a beach vacation can make for a truly unforgettable getaway. With so many ocean vacation spots around the world, it can be hard to decide where to go. There are endless possibilities for the perfect beach destination from the Caribbean to the Mediterranean. This makes me wonder, what are the best ocean vacation spots with beach destination?
So, what are the best ocean vacation spots? They are: 1. Hawaii, 2. Cancun, 3. Bora Bora, 4. Seychelles, 5. San Diego, 6. Florida Keys, 7. Caribbean Islands, 8. Costa Rica, 9. Great Barrier Reef, 10. Albufeira, Portugal, 11. Costa Brava
KEY TAKEAWAYS
— Ocean vacations are the perfect way to relax and escape everyday life.
— Popular ocean vacation spots can be found worldwide, from Hawaii in the Pacific Ocean to Cancun in Mexico or Seychelles in the Indian Ocean.
— Each destination offers its own unique experiences; activities such as snorkeling, kayaking, and paddle boarding are available for those looking for an adventure, while others offer quiet relaxation on white sand beaches with crystal clear waters
— Other popular beach destinations include Bora Bora, San Diego, and The Bahamas – each offering something special that can't be found anywhere else in the world!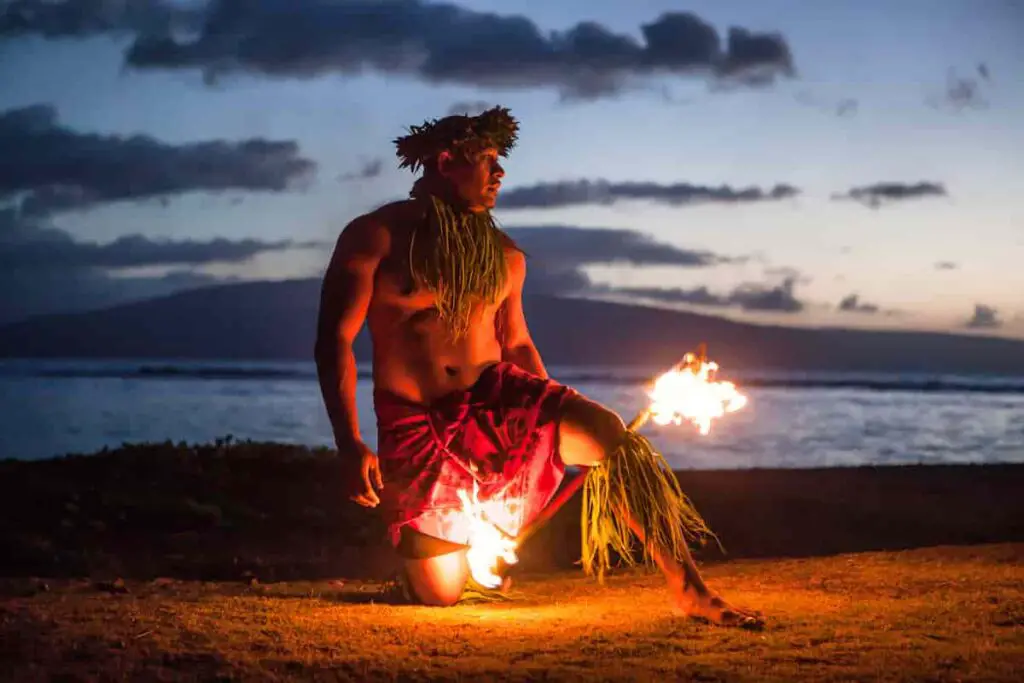 Here are some statistics about ocean vacation spots which add to the bigger picture:
– Statistics: The Hawaiian Islands are the most popular destination for ocean vacations in the Pacific Ocean, with over 9 million tourists visiting each year
– Statistics: The island of Bora Bora in French Polynesia has some of the clearest water of any ocean vacation spot in the Pacific Ocean (Source).
– Statistics: The Philippines is another popular ocean vacation spot in the Pacific Ocean. The country consists of 7,107 islands and is home to several world-class dive sites.
– Statistics: The Caribbean comprises over 700 islands and 30 territories situated within or near the Caribbean Sea, located east of Central America. It attracted over 32 million visitors in 2019 (Source)
The ocean gives us energy. Just the thought of it can bring a sense of freedom and relaxation. From its stunning views to its calming sounds, there's nothing quite like spending time by the sea. But which destinations offer the best ocean vacation experiences? I've rounded up some top picks so you can soak up some sun and sand in style.
-Every ocean getaway is unique in its own way.
-Ocean getaways can be found in a variety of places around the world.
-The Mediterranean coast is a popular ocean getaway for many travelers.
-Some ocean getaways focus on an adventure, while others offer quiet relaxation.
Imagine lounging on white sandy beaches with crystal clear waters and swaying palm trees overhead. Smell that salty sea air and feel the sun's warmth on your skin as you relax and take it all in. With so many incredible options, planning your perfect ocean vacation became much easier.
I'll cover the top spots, describe what activities you can do there plus more. Hang in there, the best is yet to come! Let's get started.
What Are the Best Ocean Vacation Spots with Beach Destinations?
1. Hawaii
Hawaii is the ultimate destination for a dreamy ocean vacation. With its white sand beaches, crystal clear waters, and breathtaking landscapes, it's no wonder why so many people flock to this paradise. Whether you're looking to relax in the sun with a good book or embark on an adventure exploring the lush rainforests, Hawaii has something for everyone.
-Take advantage of all the activities available from snorkeling to hiking.
-The year-round warm climate and laid
-back atmosphere are sure to relax you!
-Take in the mesmerizing sunsets every evening and relax under palm trees.
So if you're looking to get away from it all and experience some of nature's most beautiful wonders, look no further than Hawaii! Experience one of life's greatest gifts the soothing ocean breeze and incredible views that will make you never want to leave.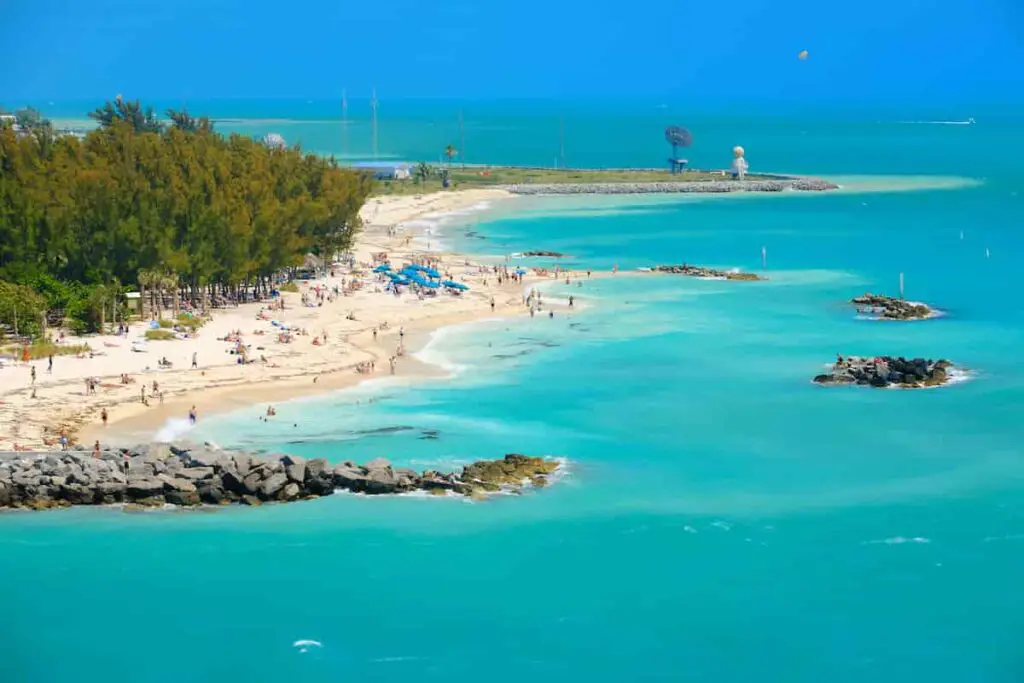 2. Cancun
Cancun, Mexico is the perfect beach vacation destination for anyone looking to escape their everyday life and find some freedom. Located on the eastern edge of the Yucatan Peninsula, Cancun boasts powdery white sand beaches and crystal clear turquoise waters that will refresh you and relax. Whether you're looking to relax in a beachside cabana or hit up a dance club on South Beach, Cancun has something for everyone.
Cancun is a popular destination for those looking to escape the everyday and enjoy a relaxing ocean vacation.
Endless exploration – With so much to see and do in this tropical paradise, you can choose to spend your days exploring local markets or discovering hidden cenotes. One thing is certain – boredom will never be an issue!
If you're yearning for a change of scenery and some time away from home, then look no further than Cancun! With its stunning views and exciting activities, this Mexican gem has it all – guaranteed to provide lasting memories of an unforgettable vacation.
3. Bora Bora
When it comes to ocean vacation spots, Bora Bora stands out from the crowd. This idyllic destination in French Polynesia has become a byword for tropical luxury and romance. From its warm turquoise waters to its white sand beaches, it's easy to see why so many people seek out this paradise every year.
If you're looking for a truly unforgettable experience, look no further than Bora Bora. Its stunning lagoons offer an abundance of watersports, diving and snorkeling experiences that will take your breath away. There are also plenty of opportunities to explore the lush rainforest of Mount Otemanu or visit one of the island's traditional villages.
No matter what type of traveler you are, relaxation or adventure awaits you on this Pacific island paradise. So if you're ready to get away from it all and escape into a world of beauty and tranquility, look no further than Bora Bora! You won't regret it – enjoy the moment and let yourself be swept away by the magic of this special place!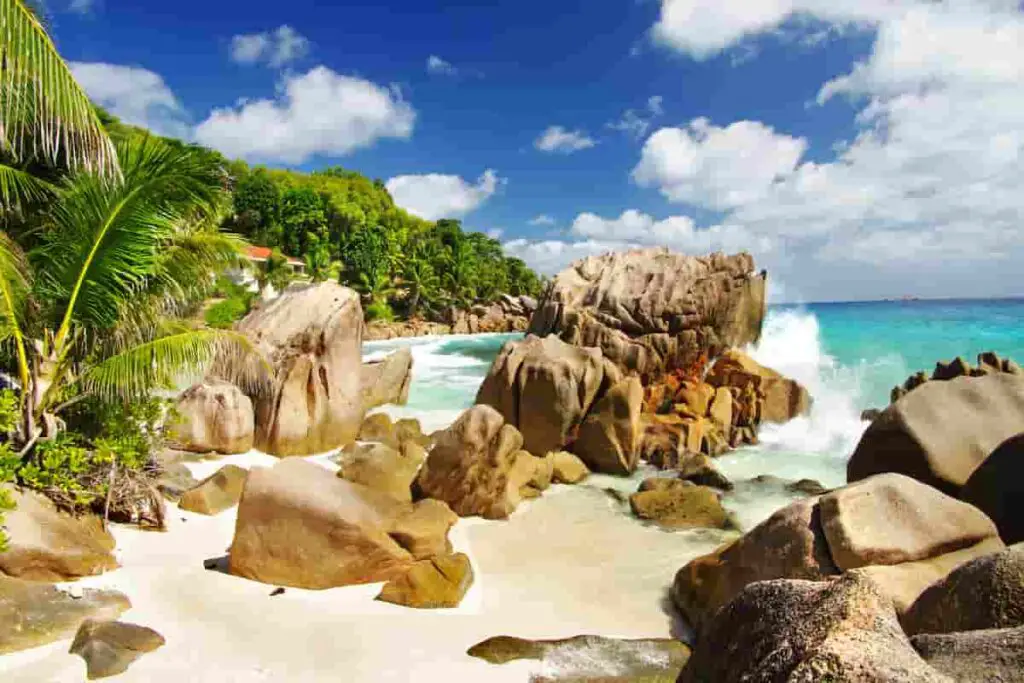 4. Seychelles
If you're looking for a luxurious and exotic ocean vacation spot, the Seychelles should be top of your list! This tropical paradise is made up of 115 islands in the Indian Ocean and is known for its white sand beaches, lush jungles, and crystal clear waters. For a truly unforgettable experience, venture off to Mahe Island is the largest of the Seychelles islands is where you can explore the incredible marine life with snorkeling or diving excursions.
Want something a bit more relaxing? Head to Praslin Island for some true rest and relaxation. Here, you can spend your days lounging on one of their pristine beaches or take a stroll through Vallee de Mai Nature Reserve a home to some of the rarest plant species worldwide. Or if you're feeling adventurous, spend an afternoon kayaking through La Digue's tranquil lagoons.
No matter what kind of trip you're looking for, there's something for everyone in Seychelles. From breathtaking views to unforgettable experiences, this tropical oasis will recharge and inspire you. So why wait any longer? Pack your bags and head to this idyllic island getaway today! 
5. San Diego
San Diego is the perfect place for an unforgettable ocean vacation. With miles of pristine white sand beaches, turquoise waters, and plenty of private beach areas to explore, you're sure to find something that suits your taste. Whether you want to relax in the sun and soak up some rays or go for a swim in the crystal-clear ocean, San Diego has it all.
You'll be mesmerized by the beauty and tranquility of this coastal paradise. There are miles of beaches for you to explore, from famous spots like La Jolla Cove to more secluded areas like Sunset Cliffs Natural Park. Spend your days lounging on the sand or take part in some fun activities on and off shore such as surfing, kayaking, paddle boarding, fishing, snorkeling and more! And when it comes time to rest up at night, plenty of cozy beachside accommodations are available so you can make the most of your San Diego getaway.
6. Florida Keys
Florida Keys can be the perfect destination for an unforgettable beach vacation. There are plenty of options for those looking to escape their everyday routines and lose themselves in the sun and sand. From Key West to Daytona Beach, there's something for everyone in the Sunshine State.
Coney Island is one of the most popular spots in the Keys, offering a wide range of activities and attractions that make it a great destination for families and couples alike. Whether you're looking for a romantic walk along the beach or an adrenaline-pumping day out at one of their famous amusement parks, Coney Island has got you covered!
7. Caribbean Islands
Are you looking for the best ocean vacation spots? Nothing quite compares to the Caribbean islands. With their pink sands, crystal-clear waters and tropical beaches, they provide an unforgettable experience. Whether you're seeking a private harbor island or a beachfront resort, there is something for everyone in the Atlantic Ocean's most beautiful destination.
Many of these stunning islands are considered some of the world's top vacation spots. Take Harbor Island in the Bahamas for example. It has long been known for its powdery pink sands and turquoise waters, but it also offers plenty of activities like snorkeling, kayaking and fishing. Plus, it's home to several luxury resorts offering all kinds of amenities from pools to spa services.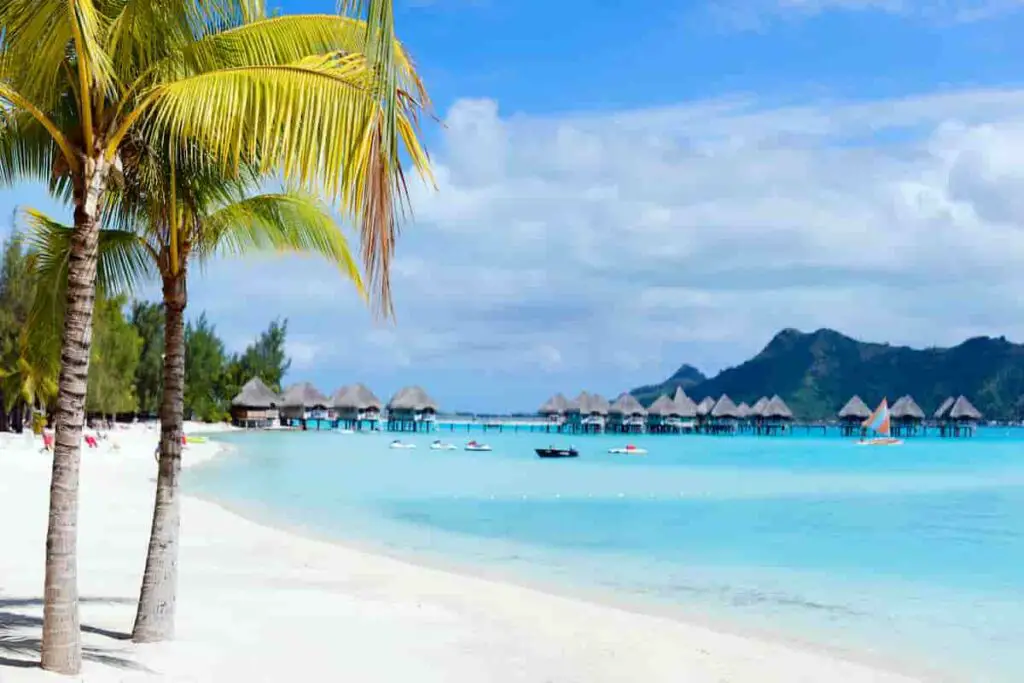 8. Costa Rica
Costa Rica is one of the best ocean vacation spots on the planet. It's known for its wide stretch of sandy beaches, making it an ideal destination for sun-seekers and beach bums alike. Whether you're looking for a secluded spot or a more popular area, Costa Rica has something to offer everyone.
The beautiful beaches of Costa Rica are some of the most popular in the world. Tourists from all over flock to its sandy shores, soaking up sunshine and taking in gorgeous views of the sea. With plenty of activities like swimming, snorkeling, kayaking and even surfing available, there's never a dull moment here! Here's a quick look at what makes Costa Rica so special:
Sandy Beaches: Enjoy long stretches of white sand, crystal clear waters, and stunning sunsets.
Beautiful Beaches: Take in views that will make your heart skip as you explore some of Costa Rica's most breathtaking beaches.
Popular Beaches: Experience all this destination offers while enjoying some of its most popular shorelines.
9. Great Barrier Reef
If you're looking for a unique and unforgettable experience, then the Great Barrier Reef is the place for you. Located off the coast of Australia, this natural wonder offers striking beauty and a wealth of activities for travelers of all ages. From snorkeling to scuba diving, there are plenty of ways to explore the reef and its vibrant ecosystem. Here are some reasons why the Great Barrier Reef should be on your list of best ocean vacation spots:
Get Up Close to Exotic Wildlife: With over 1600 species of fish, 400 types of coral and an array of other marine animals, you can come face-to-face with some amazing creatures while snorkeling or scuba diving around the reef.
Enjoy Delicious Cuisine: From fresh seafood dishes to tropical fruits and juices, there's no shortage of delicious food options in this part of Australia – perfect for refueling after a day out at sea!
The Great Barrier Reef is a must-visit destination whether you're seeking adventure on land or underwater. Its many attractions and activities provide an unforgettable experience that will stay with you long after your vacation ends. So if you're searching for a magical getaway spot with breathtaking beauty and amazing wildlife, look no further than this iconic Australian landmark!
10. Albufeira, Portugal
Albufeira is a stunningly beautiful city located on the south coast of Portugal. With its dazzling beaches, fun nightlife, and delightful restaurants, it's no wonder that it's become one of the most popular ocean vacation spots in recent years. From sunbathing and swimming to exploring caves and discovering hidden coves, here are three reasons why Alufeira should be your next dream destination:
First, it offers an array of exciting activities for both land and sea lovers alike. Whether you're looking for an adrenaline-filled adventure or a relaxing day at the beach, Alufeira has something for everyone. Plus, with its warm climate all year round, there's no need to worry about bad weather ruining your plans.
Second, there are plenty of opportunities to explore local culture during your stay in Alufeira. From traditional festivals to museums and galleries displaying centuries-old artwork, there are plenty of ways to get a taste of Portuguese history and culture while on holiday.
Finally, Alufeira provides visitors with a truly unique experience that can't be found anywhere else in the world. With its unspoiled beauty and stunning scenery, this little Portuguese paradise is the perfect place to spend quality time with your loved ones while enjoying some well-deserved rest and relaxation.
11. Costa Brava
Are you looking for the perfect coastal escape? Look no further than Costa Brava! This stunning stretch of coastline in northeastern Spain is perfect for a getaway from everyday life. With its rugged cliffs, secluded coves, and crystal-clear waters, Costa Brava has something to offer everyone.
Whether it's swimming in the Mediterranean Sea, exploring centuries-old fishing villages, or just relaxing on the beach with a good book and some sangria, Costa Brava is the perfect place to forget your worries and relax. There are dozens of quaint towns along the coast that offer plenty of activities and attractions. From wine tasting to hiking in the Pyrenees Mountains to exploring ancient ruins, you can find something exciting to do every day.
Costa Brava also offers luxurious accommodations and world-class restaurants. Spend your days lounging by the pool at one of the many five-star resorts or dining on fresh seafood at local eateries – whatever you choose, you'll be sure to have an unforgettable experience. So don't wait any longer – come explore Costa Brava and let yourself be carried away by its beauty!
Which Ocean Vacation Spot to Choose? The Secret Is In The Criteria
Insert Table
List expanding on the table
More Information About Ocean Vacation Spots
What Is the Prettiest Beach to Go To?
The prettiest beach to go to would be Waikiki Beach in Honolulu, Hawaii. Its crystal clear waters and golden sand make it a perfect place to relax and soak up the sun. It is surrounded by lush green mountains, giving a picturesque backdrop to a beautiful beach.
Where Is the Most Affordable Beach Vacation?
The most affordable beach vacation can be found in Southeast Asia. Countries like Thailand, Malaysia and Indonesia offer some of the lowest prices in the world for beach vacations, with plenty of options to choose from. From beautiful white sand beaches to vibrant culture and delicious local cuisine, Southeast Asia is the perfect place to get a budget beach vacation.
What Is the #1 Beach in The US?
According to the 2019 TripAdvisor Traveler's Choice Awards, the #1 beach in the USA is Clearwater Beach, located in Clearwater, Florida. This stunning beach boasts powdery white sands and stunning emerald waters, perfect for swimming, snorkeling, fishing, and more. Additionally, Clearwater Beach offers a wide variety of restaurants, shops, and activities to enjoy, making it an ideal beach destination.
What Is the Top 5 Best Beaches in The World?
The top five best beaches in the world are: 1) Eagle Beach in Aruba, 2) Whitehaven Beach in Australia, 3) Anse Source D'Argent in Seychelles, 4) Grace Bay in Turks and Caicos, and 5) Playa Paraiso in Mexico. Each beach offers stunning scenery and perfect conditions for relaxation and recreation, making them ideal spots for beachgoers of all ages.
Where Is the Most Affordable Beach Vacation
One of the most affordable beach vacations is to the Caribbean island of Dominican Republic. The average cost of a beach vacation in the Dominican Republic is lower than in other beach destinations. Additionally, the country offers a variety of activities, including snorkeling, kayaking, and hiking.
Which Country Is Famous for Beaches
The country that is most famous for its beaches is the Bahamas. Its stunning beaches, ranging from crystal clear waters to white sand, make the country a popular destination for beachgoers worldwide. Visitors come to the Bahamas to experience the vibrant culture, enjoy the beautiful weather, and relax on the stunning beaches. 
In The News Recently…
According to dominicanrepublicsun.com, tourist visitors to the Dominican Republic visiting Punta Cana are breaking records. It states the reason for the increase as "Officials and investors across the Dominican Republic have made great progress in opening up more routes to the Caribbean island and improving airport infrastructure." (Source)
Also, Conchal Beach in Santa Cruz Canton, Guanacaste Province, Costa Rica, was voted the best beach in the world by an online British website report. "There's no getting around it, Costa Rica is the hottest destination to visit right now," reads the report. Not only does it offer staggering biodiversity, this eco-friendly destination boasts one of the best beaches in the world. This tiny beach is covered in crushed seashells and wrapped around a turquoise bay. Paradise." (Source) 
My Private Thoughts and Experiences With Ocean Vacation Spots
Having spent my youth in San Diego, California before I moved to Europe, I'm familiar with having the ocean always close. As I got older making my own money and getting a chance to go on vacation, I didn't think of going to beaches for vacation as the beach was always close at home.
However, now that I'm older and with a family, my passion for the beach vacation near the ocean increases with each year that passes. I've had the pleasure of having vacations in California, Florida and Hawaii in the US, and multiple places in Europe such as Spain, France, Portugal, Italy and Singapore and Sanya, China in Asia.
There are so many places I have yet to explore! Bora Bora is on my bucket list and several places in the Caribbean – in the Bahamas, in the Yucatan in Mexico and in Costa Rica. 
Conclusion
I'm sure I'm not alone in considering ocean vacations to be the ultimate getaway. From Hawaii to Costa Rica, each destination offers its own unique experiences. Whether it's snorkeling with turtles off the Great Barrier Reef or sunbathing on the pristine beaches of Tahiti, a visit to one of these amazing destinations is sure to create lifelong memories.
There's the Galapagos Islands or Seychelles for those looking for something a little more exotic. Both offer visitors unparalleled views of wildlife and landscapes that can't be found anywhere else in the world. If you're after something closer to home, Cancun and Croatia are great options for beachgoers looking for fun activities and delicious cuisine.
So no matter your preference, you'll find an incredible ocean vacation spot that will provide a truly memorable experience. With so many amazing places to choose from, why not start planning your next trip today? You won't regret it!