Best Time to Visit the Bahamas
The Bahamas in May is a beautiful sight to behold. With its balmy weather, crystal blue waters and golden sand beaches, it's easy to see why so many people plan to visit the islands during this month. You can take part in an array of activities such as snorkeling or kayaking, or simply relax on a boat ride from one island to another. And at night, you can experience some of the best Bahamian cuisine and music that the Caribbean has to offer. All of this makes me wonder: What is the best time to visit the Bahamas, and is May a good time?
So,what is the best time to visit the Bahamas and is May a good time to visit? The best time to visit the Bahamas is April and May. May is a great time to visit the Bahamas! The weather is warm and sunny, with temperatures averaging around 80-85F. You can enjoy outdoor activities like swimming in the crystal clear waters of the Caribbean or exploring the islands' unique culture.
In this article, I'll dive into what makes Bahamas in May so special. You'll learn about traditional festivities that take place throughout the season, what activities you can do and list some of the best beaches to visit. I'll also give some pointers about the weather in May and what to expect.
So if you're yearning for an escape full of sunshine, smiles and sunsets – look no further than Bahamas May! Get ready to experience all this unique Caribbean destination has to offer – hang tight and keep reading – it won't disappoint!
KEY TAKEAWAYS
— May in the Bahamas is a great time to visit and experience its unique Caribbean attractions— Weather during this month is warm and sunny making it ideal for beach activities
— Traditional festivities like the weekly Port Lucaya XPERIENCE and Walkers Cay Invitational Fishing Competition are celebrated in May
— Popular beaches worth visiting include Pink Sands Beach Cable Beach and Treasure Cay Beach
—Other notable activities include snorkeling scuba diving fishing swimming with dolphins and more
— Local cuisine unspoiled coastlines and watersports also add to the beauty of the Bahamas in May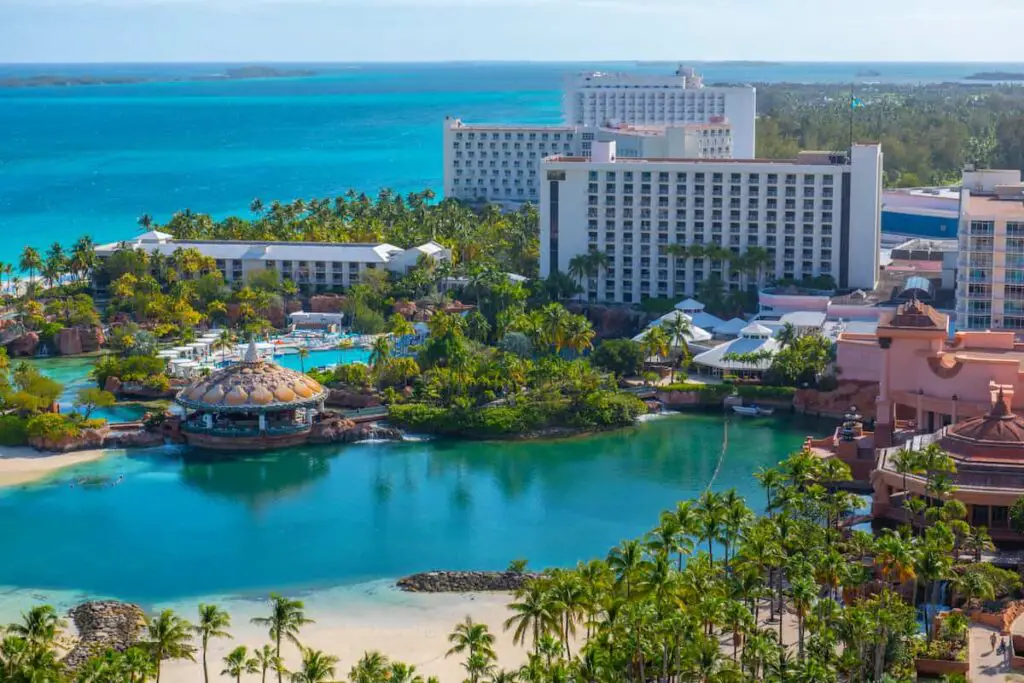 May in the Bahamas – Worth Considering!
Is May a Good Time to Go the Bahamas?
Yes, May is a great time to visit the Bahamas! The weather is warm and sunny, making it the perfect time for beach activities and sightseeing. Plus, May is the start of the low season, so you can enjoy lower prices on hotels and airfare.
Is Bahamas Rainy in May?
The weather in the Bahamas in May is usually warm and sunny. The temperature ranges from the mid-70s to the mid-80s Fahrenheit, with occasional showers during the afternoon. The humidity is also high, leading to occasional rain showers throughout the month.
Is May Hurricane Season in Bahamas?
Yes, May is considered to be part of the hurricane season in the Bahamas. The hurricane season usually starts in June and ends in November, but certain storms have occurred in May in the past. It is important for people in the Bahamas to be aware of the potential for severe storms during the entire hurricane season.
What Is the Bahamas Weather Like in May
The weather in the Bahamas in May is usually sunny and warm with temperatures averaging around 84°F (29°C). The humidity is high but temperatures often stay in the mid to high 80s (29-31°C). May is a great time to visit the Bahamas as the weather is usually pleasant and ideal for beach activities.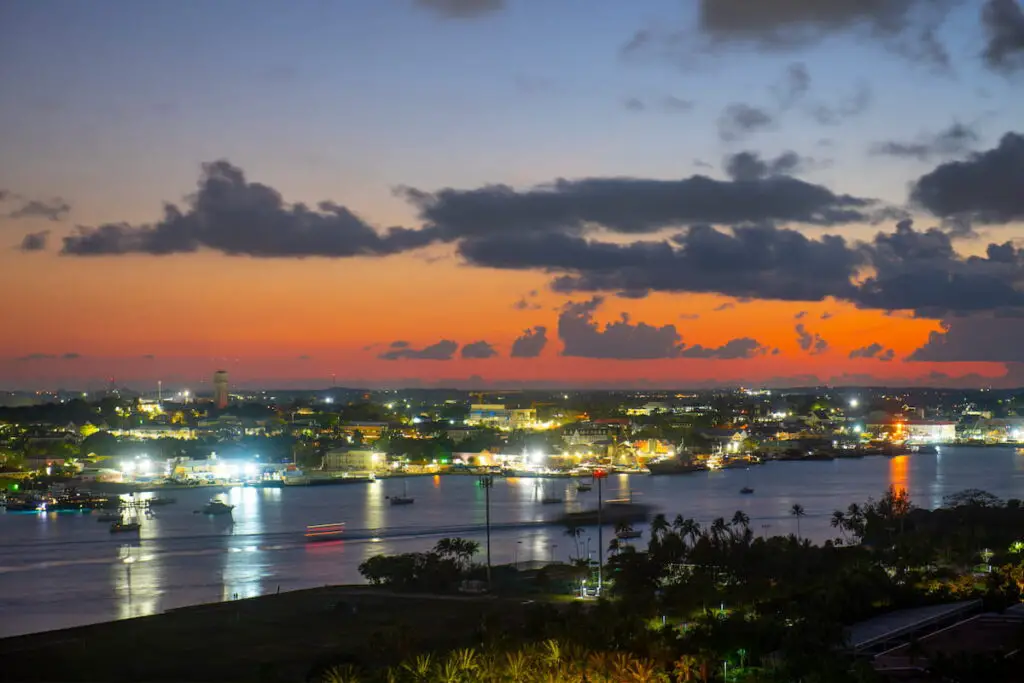 What Activities Can You Do in The Bahamas in May?
What Celebrations Do They Have in The Bahamas in May?
The Bahamas is an exciting destination for travelers in May, with numerous celebrations and events taking place throughout the month.
–In Grand Bahama, visitors can attend the weekly Port Lucaya XPERIENCE at the Port Lucaya Market Place from 9 a.m. to 2 p.m. every Tuesday and Friday through June 10. This event features Bahamian cooking demonstrations, Junkanoo performances, local music and more.
–The Walker's Cay Invitational Fishing Competition returns on 18-21 May to the state-of-the-art Walker's Cay Marina. Up to 45 boats will compete for the tournament's biggest catch. Harbor Island is also hosting its Annual Backyard Festival on May 21, with cultural festivities such as Bahamian cuisine and a Junkanoo rushout.
–Coral Vita is open to the public with interactive tours to learn more about ocean conservation. Tours start at $15. Tropic Ocean Airways and Wheels Up provide travelers with a larger selection of bookable flights from Fort Lauderdale to many destinations across The Bahamas. Additionally, Western Air launched a daily flight to Nassau from Fort Lauderdale-Hollywood International Airport on May 19, 2022.
The Bahamas is the perfect destination for travelers looking for a unique experience in May. With a variety of events and promotions, visitors can explore the destination in comfort and style.
Activities in The Bahamas During May
May is a great time to visit the Bahamas. With the average air temperature of 30° and the average water temperature of 26°, it's the perfect weather for sunbathing, swimming and all sorts of beach activities. The average daily sunshine of 8.3 hours provides plenty of time to enjoy the sun, and you can also take advantage of the cheaper accommodation rates available during this time. On top of that, the ultraviolet index is typically 12.3 during May, so make sure to generously apply broad spectrum SPF 30+ sunscreen every 2 hours for extra protection.
Other activities you can enjoy in the Bahamas in May include the Bahamas Family Island Regata and the Bahamas Billfish Championship, which are celebrated in April and May and draw in large crowds of visitors. Additionally, you can explore the more secluded islands like Cat Island, Long Island and Eleuthera, which see less visitors during this time. Just be aware that Good Friday, Easter Sunday and Easter Monday are national holidays in the Bahamas, and many businesses may be closed.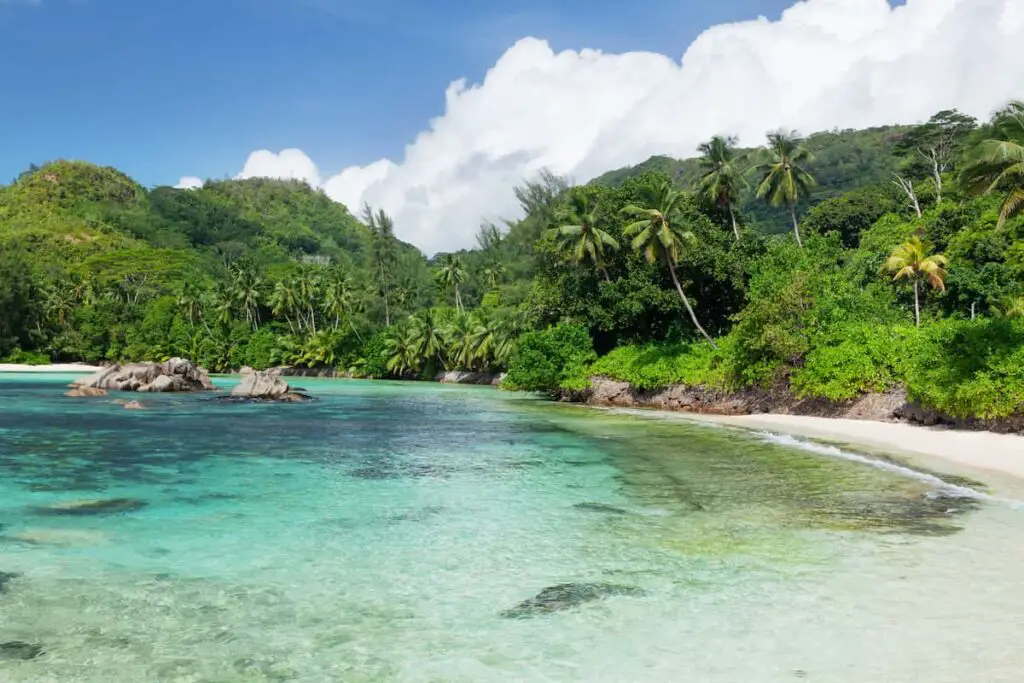 Some of The Best Beaches to Visit in May in The Bahamas Include
1. Pink Sands Beach. This breathtakingly beautiful expanse of beach on Harbour Island is renowned for its soft pink sand brought to the shore in countless shades by tiny pieces of coral mixed in with its white variety. A haven for sunbathers, this picturesque beach continues to draw visitors year-round who wish to admire its natural beauty or kick back and relax.
2. Cable Beach. Located on the western portion of New Providence Island, Cable Beach offers a stunning turquoise sea with plenty of opportunities for water sports and exploration. The wide strand is perfect for beachcombing and swimming, while visitors can also take part in parasailing, snorkeling, scuba diving, and fishing among other activities. With stunning views and plenty of resorts nearby, it's an ideal spot for a relaxing getaway!
3. Treasure Cay Beach: Situated on Great Abaco Island in The Bahamas, Treasure Cay was top ranked by TripAdvisor as one of the best beaches in 2014. Whether you choose to stay on one side of the bay or venture out further into sea – this place offers plenty of things to do including fishing, boat tours and scuba diving!
4. Gold Rock Beach – Grand Bahama Island: Located near the Lucayan National Park on Grand Bahama Island, this beach is one of the best-kept secrets of the Bahamas! Stretched across two miles of golden sand, this secluded beach offers great snorkeling, shelling, sunbathing and more activities to enjoy with your friends and family.
5. Eleuthera island – One of the best islands to visit in May are Eleuthera island with its amazing warm climate throughout that month making it the only destination you need if you are looking for an unforgettable Caribbean adventure in May! From pink sand beaches to lonely coves with waves lapping against rocks carved by constant winds – all these make for stunning photo opportunities too!
6. Cabbage Beach – Found on Paradise Island near Nassau Harbour, Cabbage Beach is a 3-mile long stretch of sugary white sand set amongst palm trees and crystal clear waters – making it perfect for swimming or soaking up rays! As well as swim spots with calmer waters ideal for children and younger swimmers, there are watersports centers available where visitors can rent the equipment needed to take part in activities such as windsurfing and water skiing.
7. Palm Beach – This beach has always been one of the most popular of all the great Bahamian beaches. It's known for its stunning white sand, clear waters, lush palms, and even its own dock. The beach itself is clean and offers plenty of activities like swimming, snorkeling, kayaking and paddle boarding.
8. Love Beach – New Providence: Located in one of the most stunning locations in New Providence are Love Beach – a coastal paradise perfect for those seeking some relaxation far away from large crowds but close enough to amenities like shops and restaurants to be easily accessible when needed. The waves here are gentle so it's great even if you're not a confident swimmer!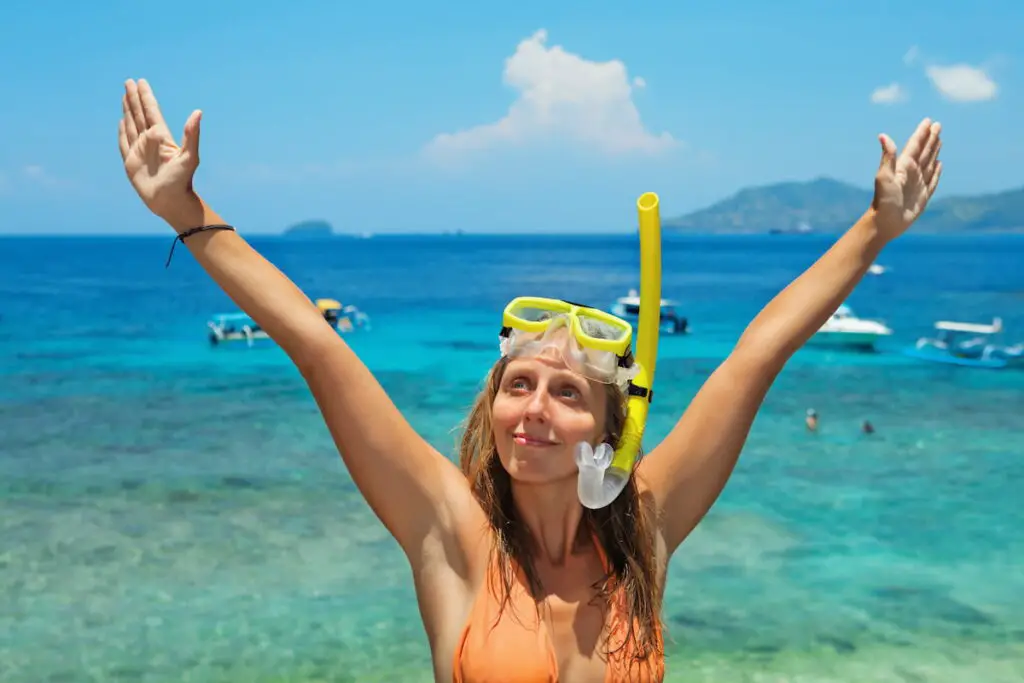 What Makes the Bahamas So Special?
The Bahamas is a paradise for all, boasting beautiful pink sand beaches, world-class attractions such as Atlantis Casino and Paradise Island, and some of the best caves, beaches, and barrier reefs for swimming and snorkeling. It's also known for its Junkanoo Winter Festival and Sivananda Yoga Ashram, making it a great option for spiritual seekers. With an ideal climate of temperatures rarely below 60ºF, and a prime season from mid-December to mid-April, the Bahamas is a perfect winter escape. With something for everyone, it's no surprise it's one of the most popular destinations in the Caribbean region.
Tourist Attractions
The Bahamas is a tropical paradise, perfect for a cruise getaway. Cruise lines like Carnival and Royal Caribbean offer packages that include all your meals, lodging and entertainment, so you can rest assured that you'll have a great time. Paradise Island is a top destination for travelers, boasting stunning beaches, crystal clear waters, and plenty of activities for both adventure-seekers and those looking to relax. Noise policies are strictly enforced, making it the perfect spot to unwind after a day of exploring the island. So if you're looking for an unforgettable vacation, the Bahamas is the place to be.
Local Cuisine
The Bahamas is a culinary paradise with a host of delicious dishes from around the world. With no pre-travel Covid-19 testing requirement and no blackout dates, it's easy to plan a trip and savor the island's flavors. From spicy curries to seafood delicacies, there's something for everyone to enjoy. Although visitors may be asked to show proof of their vaccination status and face up to a month imprisonment if they fail to comply, the delicious local cuisine is well worth the risk. From conch fritters to Bahamian rum punch, there's no shortage of culinary experiences to be had. Don't miss out – book your trip to The Bahamas today!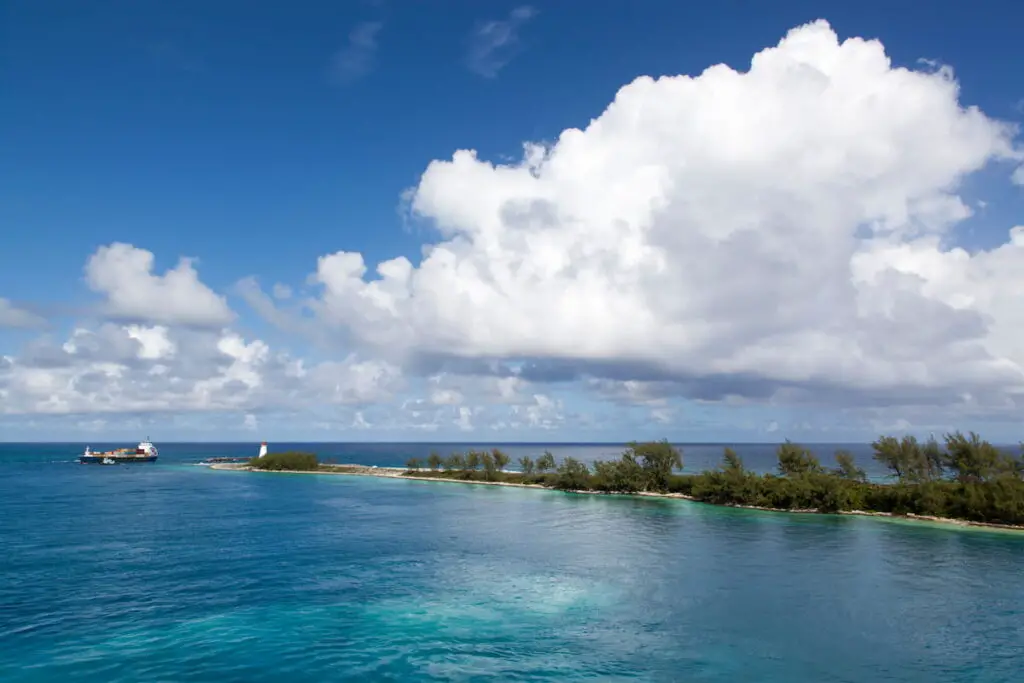 Beaches And Coastlines
The Bahamas is an ideal destination for travelers looking to enjoy a safe and relaxing holiday. With cruise packages ranging from $300-$1,200, visitors can explore the variety of beaches and coastlines the Caribbean island has to offer. Atlantis Paradise Island is a popular destination, with luxurious amenities such as swimming with dolphins and snorkeling in crystal clear waters. Whether you are looking for an island getaway or an adventure-filled vacation, the Bahamas is the perfect place to make your holiday dreams come true!
Watersports And Activities
The Bahamas offer the perfect destination for all kinds of travelers, with stunning beaches, crystal-clear waters, a variety of water sports and activities, and plenty of cruise line options. The Ministry of Health is dedicated to preserving the underwater life, while Hurricane Dorian's have been known to disrupt travel plans. Whether you are looking for an adventure or a relaxing getaway, The Bahamas is the place to be, offering swimming with dolphins, snorkeling, scuba diving, paddleboarding, deep sea fishing, sailing, and parasailing for all ages and skill levels.
Sightseeing Tours
The Bahamas is a tropical paradise that's become a haven for tourists. With over 700 islands boasting crystal-clear waters, white sand beaches and lush landscapes, it's the perfect destination for sightseeing tours. Cruise pricing is varied, ensuring something for all budgets, while activities such as snorkeling, kayaking and swimming with dolphins make it a great place for all ages. With average temperatures of 75-90 degrees Fahrenheit, visitors can relax, enjoy the sunshine and escape the hustle and bustle of everyday life. Make your next vacation one to remember with a visit to the stunning Bahamas.
Excursions To Neighboring Islands
The Bahamas is the ideal destination for travelers wanting to explore the Caribbean region, and Royal Caribbean International offers some of the best excursions to neighboring islands. From championship golf and fishing to luxurious resorts, Abaco Island is a popular choice and provides excellent snorkeling and diving sites. Although some excursions may be cancelled due to inclement weather during hurricane season, cancellations are rare and disruptions to your journey will be minimal.
Excursions to neighboring islands are a great way to get away from it all and explore new cultures and experiences – making for an unforgettable vacation experience!
FAQ
The Best Time of Year to Visit the Bahamas Based on Weather and Hurricane Season
Visiting the Bahamas during the winter months is the best time for optimal weather conditions. From mid-December to mid-April, temperatures are warm and the weather is usually pleasant. Though the islands are located in the hurricane belt, the risk of hurricanes is generally low during this time. Additionally, the rainy season tends to be from end-May to October, so if you are looking to enjoy the islands' outdoor activities, mid-December to mid-May is the best time to visit. For budget-conscious travelers, fall is the cheapest time to visit, with hotel rates often dipping below 50%. April is a great time for warm temperatures and low risk of rain, while May is the last month before hurricane season begins and usually offers fair chances of rain.
Are There Any Precautions to Take when Visiting the Bahamas?
When visiting the Bahamas, take the following precautions:
Stick to a reliable schedule, as you may not be able to get reliable transportation.
Be wary of anyone offering rentals, boats, etc. and think carefully before you purchase.
Make sure to only get in a taxi that is marked and is licensed.
Pack a hat, sunscreen, sunglasses, flip-flops or sandals, walking shoes, swimsuits (at least 2), cover-up shorts, tank tops, t-shirt, and sundresses.
What Kind of Activities Can I Do in The Bahamas?
The Bahamas is a great destination for a wide range of activities, from relaxing on the beach to exploring historical sites. Popular attractions include Stocking Island, Harbor Island, Atlantis Casino and Paradise Island, the Nassau Straw Market, Port Lucaya Marketplace, the Wyannie Malone Historical Museum, Fort Fincastle, Arawak Cay, the National Art Gallery of the Bahamas, Aquaventure, and Pig Beach. Adventurous travelers can explore nearby cruise ports and islands, or go on an excursion to experience the local culture.
How Often Does It Rain in The Bahamas?
In the Bahamas, rainfall is quite common throughout the year, with an average of 138 days of rain in a year and 1396mm (54.96″) of precipitation collected. The highest amount of rainfall is typically seen in August, with an average of 9 inches, followed by June with an average of 9 inches. During May, precipitation typically accumulates to about 105mm (4.13″). The official hurricane season in the Bahamas is June thru November, but hurricanes are infrequent. The mainland has far more hurricanes than the Bahamas.
What Is the Hurricane Season Like in The Bahamas?
The Bahamas' hurricane season runs from June to November, though the chances of experiencing a hurricane are much lower than in the US mainland. During the off-season, the temperatures are moderate (low to mid-70s in January) and there is less rainfall (around nine inches in August and June). This makes for a much more comfortable vacation, with fewer crowds and easier excursion booking. There are also some unique events to experience, like the Cat Island Regatta and Emancipation Day, which make the Bahamas a great destination despite the threat of hurricanes.
Are There Any Festivals or Events in The Bahamas?
Yes, there are many festivals and events in the Bahamas. Every year, the Bahamas celebrates Junkanoo, a vibrant cultural festival that features colorful costumes and lively music. The Islands of the Bahamas also host a variety of culinary, music, and cultural events throughout the year, such as the Exuma Food Festival, the Abaco Music Festival, and the Eleuthera Pineapple Festival.
What Is the Humidity Level Like in The Bahamas?
The humidity level in the Bahamas is quite high and can make the temperatures feel significantly warmer than they actually are. The chance of a muggy day increases rapidly throughout the month of May, rising from 73% to 99% over the course of the month.
On the muggiest day of the year, June 13th, muggy conditions are experienced 100% of the time, and on the least muggy day of the year, February 19th, muggy conditions are experienced 48% of the time. The peak daytime humidity in the Bahamas can make the weather feel 10 or 20 degrees warmer than the actual temperature. The official rainy season is May thru November, but hurricanes are infrequent in the Bahamas.
My Private Thoughts and Experiences With Visiting Bahamas in May
I have always been fascinated by the idea of snorkeling in the Bahamas and visiting the Pink Sands Harbor. I've seen pictures and heard stories about the beauty of the water and the stunning coral reefs that are full of marine life. April and May would be the perfect time to plan for a visit.
Unfortunately, I have not had the opportunity to do this yet, but the closest I've been is a beach vacation to Miami Beach, Florida. Although it was beautiful, it was nothing compared to what I imagine the Bahamas would be like. It's definitely on my bucket list now!
Conclusion
So, there you have it! Key information about the activities you can do in the Bahamas in May, some of the best beaches to visit and things to consider. The Bahamas are an ideal destination for any traveler, no matter what time of year. With its stunning beaches, exciting activities, and unpredictable weather, the Bahamas offer an experience that is both thrilling and calming at the same time.
From the heat of the summer to the hurricane season, there's something for everyone. And don't forget that May is the best time to visit, with its amazing festivals and events. So go out and explore the beauty of the Bahamas and make some amazing memories!