Newport, Rhode Island is a picturesque coastal destination offering visitors stunning beaches, rich history, and abundant recreational activities. With a variety of family-friendly and nature-oriented options, Newport is an ideal location for a relaxing coastal vacation. But with so many beaches to choose from, it begs the question: which are the best beaches in Newport, Rhode Island?
So, what are the seven stunning beaches in Newport, Rhode Island that offer the perfect combination of leisure and recreation? They are: Easton's Beach, Second Beach, Gooseberry Beach, Fort Adams State Park Beach, Third Beach, Sachuest Beach, and Brenton Point State Park. Each beach offers a unique atmosphere and amenities, catering to different preferences and interests.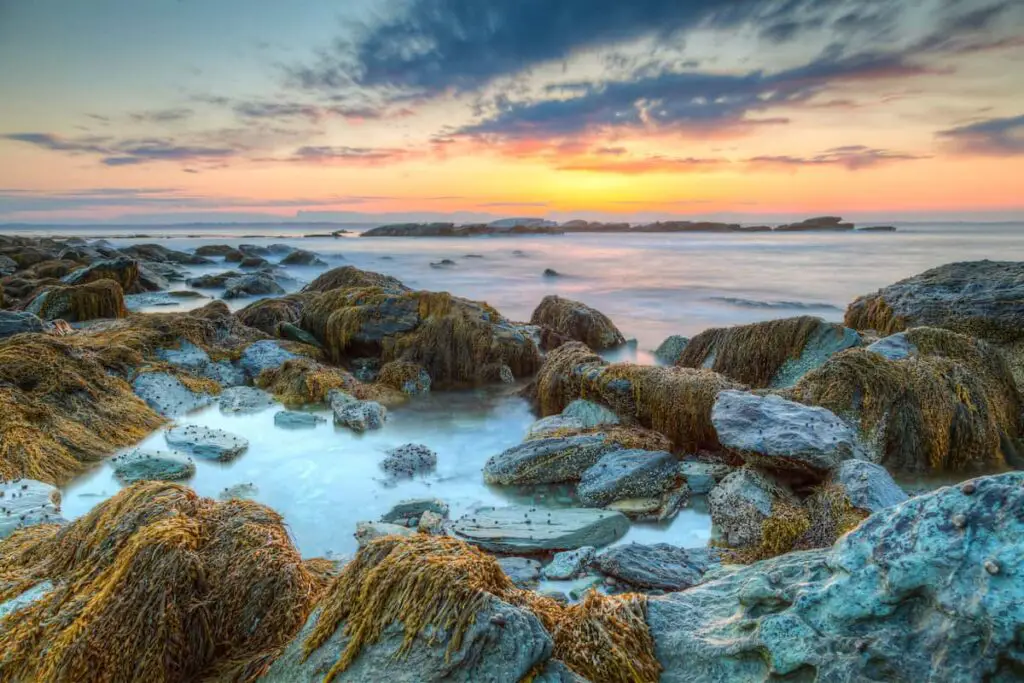 Key Takeaways‍
In this article, I'll dive into what makes each of these seven beaches in Newport, Rhode Island so special. You'll learn about the family-friendly amenities and delectable eats at Easton's Beach, the surfing paradise of Second Beach, and the serene seclusion of Gooseberry Beach. I'll also cover the historical allure and recreational activities available at Fort Adams State Park Beach, the harmonious blend of natural beauty and outdoor adventure at Third Beach, and the wildlife watching haven and scenic splendor of Sachuest Beach. And last but not least, I'll highlight the unparalleled coastal views and recreational opportunities at Brenton Point State Park. So, pack your sunscreen and beach towel and get ready for an unforgettable coastal adventure in Newport, Rhode Island.
Newport, Rhode Island, is a scenic coastal city celebrated for its history, culture, and beautiful beaches that cater to both relaxation seekers and adventure enthusiasts. Its Gilded Age mansions and maritime heritage make it a perfect New England destination. Experiencing Newport's allure is best done by exploring its stunning shoreline, which offers a variety of captivating choices, from sweeping sandy stretches surrounded by cliffs to hidden coves for intimate escapes. This guide introduces seven of Newport's most dazzling beaches, each with unique features that will enchant even the most seasoned beach-goer. So, get ready to unwind amid some of Rhode Island's most enchanting seaside landscapes.
Table of Contents
7 Stunning Rhode Island Beaches for a Coastal Vacation
Let's dive into exploring each Rhode Island beach in detail. For the beaches I've visited, I'll share my impressions and experiences, and you can also find my personal insights and anecdotes in the sections that follow.
Easton's Beach: Family-Friendly Fun
Easton's Beach, located along Newport's picturesque coastline, provides an idyllic destination for families seeking a relaxing coastal vacation. Known for its soft sand, pristine waters, and family-friendly amenities, this beach offers the perfect combination of leisure and recreation.
Visitors can indulge in delectable Easton's eats at the nearby restaurants while enjoying stunning ocean views. The beachside playgrounds provide ample entertainment for children, ensuring a memorable experience for all members of the family.
The expansive shoreline of Easton's Beach allows visitors to spread out comfortably on the sand or partake in various beach activities such as swimming, surfing, and building sandcastles. While basking in the sun or taking a refreshing dip in the ocean, guests will feel their subconscious desire for freedom being fulfilled.
With its welcoming atmosphere and diverse offerings catering to different age groups and interests, Easton's Beach presents an ideal setting for creating cherished memories with loved ones during a relaxing coastal vacation.
Second Beach: A Surfer's Paradise
Moving beyond the family-oriented atmosphere of Easton's Beach, one can discover a haven for surfing enthusiasts at Second Beach.
Officially known as Sachuest Beach, this destination offers a picturesque setting and ideal wave conditions for both experienced surfers and beginners looking to ride the waves.
As visitors stroll along the pristine shoreline of Second Beach, they will find surfboard rentals readily available, allowing them to indulge in their desire for freedom as they conquer the ocean's waves.
The beach draws surfers from near and far due to its consistent swells and breathtaking surroundings.
While navigating the water's challenges, beachgoers are treated to stunning views that serve as a constant reminder of nature's beauty.
In essence, Second Beach embodies the ultimate surfer's paradise in Newport, Rhode Island.
Gooseberry Beach: Tranquil Seclusion
A stone's throw away from the bustling city, Gooseberry Beach offers tranquil escapes for those seeking a serene coastal retreat. Tucked away in Newport, Rhode Island, this hidden gem evokes a sense of seclusion and peace that is hard to come by these days.
The pristine shoreline and calm waters are enough to wash away any troubles on one's mind while basking in the sun or taking a leisurely stroll.
To ensure an unforgettable experience at Gooseberry Beach, consider the following:
Accessibility: Though not as easily accessible as other beaches in Newport, the journey to this secluded haven is well worth it.

Amenities: The beach offers restrooms, changing facilities, and parking for visitors' convenience.

Recreation: Swimming and sunbathing are popular activities here, with lifeguards on duty during peak season.

Food Options: A snack bar is available on-site for a quick bite or refreshments during your visit.
Gooseberry Beach presents an idyllic setting for those who long for quiet moments by the sea. Its unspoiled beauty and serene atmosphere elevate it among Rhode Island's must-visit destinations. Whether you're traveling solo or with loved ones, remember to pack your sunscreen and beach towel before embarking on this enchanting coastal adventure.
Fort Adams State Park Beach: A Historic Getaway
Nestled within the picturesque surroundings of Newport, Rhode Island, Fort Adams State Park Beach offers visitors not only a serene coastal retreat but also an opportunity for historic exploration.
This unique beach destination boasts a rich history, with its namesake fort dating back to the early 19th century.
As one of the largest and most well-preserved coastal fortifications in the United States, Fort Adams provides an engaging backdrop for beachgoers keen on combining relaxation with education.
The park's expansive grounds encompass numerous fort activities, including guided tours that showcase hidden tunnels, underground chambers, and panoramic views from atop the fortress walls.
Beyond its historical allure, Fort Adams State Park Beach presents an idyllic setting for those seeking respite from daily life.
The calm waters and gentle slopes of the shoreline create a family-friendly environment suitable for swimming and sunbathing while taking in views of Narragansett Bay and Newport Harbor.
For adventurous spirits yearning to explore further beyond the coast, kayak and paddleboard rentals are available on-site to embark on aquatic excursions across the bay.
The soothing sounds of waves lapping against the shore paired with intriguing remnants of history make Fort Adams State Park Beach a captivating destination that fulfills both leisurely desires and intellectual curiosities.
Third Beach: Nature Lover's Retreat
Moving from the historic backdrop of Fort Adams State Park Beach, one is transported to a serene oasis akin to an artist's canvas painted with lush greenery and pristine shorelines at Third Beach.
This picturesque locale offers visitors a comforting retreat into nature, catering to those who seek solace in the soothing waves and gentle breeze.
As a haven for outdoor enthusiasts, Third Beach boasts of opportunities for birdwatching bliss and coastal hikes that allow guests to immerse themselves in the breathtaking vistas of Newport's coastline.
The verdant surroundings of Third Beach make it a nature lover's paradise; here, one can embark on scenic trails that meander through dense foliage and open up onto panoramic views of the shoreline.
The variety of avian species inhabiting this area adds another dimension to its allure, as birdwatchers can delight in spotting rare migratory birds while enjoying the tranquil atmosphere.
The gentle slopes and well-maintained paths also provide ample space for leisurely strolls or invigorating hikes along the coast, making it an ideal destination for individuals seeking reprieve from their daily routines.
In essence, Third Beach presents a harmonious blend of natural beauty and recreational activities that cater to the desires for freedom and adventure inherent in every traveler's soul.
Sachuest Beach: Wildlife Watching Haven
Sachuest Beach in Newport, Rhode Island, is a wildlife watching haven, boasting a variety of native species indigenous to the area.
Scenic views of the surrounding coastline, including the iconic Newport Bridge, provide a stunning backdrop for visitors looking to take in the natural beauty of the beach.
Wildlife Watching
Sachuest Beach, also known as Second Beach, offers not only pristine sandy shores but a unique opportunity for wildlife watching.
As a marine conservation area, this haven has become the ideal sanctuary for various species of birds and marine animals that thrive in its protected environment.
Visitors delight in the chance to witness these creatures up close through guided tours and educational programs, contributing to sustainable tourism in the region.
The beach's rocky coastline and lush vegetation provide a window into the natural wonders of Newport's coastal ecosystem.
As guests immerse themselves in the tranquility of Sachuest Beach, they are gently reminded of the importance of preserving these habitats for future generations to appreciate and enjoy.
Scenic Views
In addition to its abundant wildlife, Sachuest Beach is also renowned for its picturesque sunsets and breathtaking scenic views.
As visitors stroll along the shoreline, they are treated to a vibrant display of colors as the sun sets over the horizon, painting the sky with hues of orange, pink, and purple.
Coastal hikes around the area offer a chance to explore winding trails that lead through lush vegetation and rocky cliffs, providing panoramic vistas of the surrounding waters.
Such awe-inspiring landscapes not only captivate the senses but also serve as a reminder of nature's boundless beauty, inviting guests to embrace the freedom found in these unspoiled coastal havens.
Brenton Point State Park: Scenic Splendor
Brenton Point State Park, situated on the southwestern tip of Aquidneck Island, offers visitors a unique blend of natural beauty and recreational opportunities.
This picturesque location boasts unrivaled coastal views, making it an ideal destination for those seeking scenic picnics or invigorating coastal hikes.
The park encompasses 89 acres of captivating landscapes, including rocky shoreline, rolling meadows, and dense woodlands.
Sweeping ocean vistas that instill a sense of boundless freedom
Lush greenery and vibrant wildflowers providing a visual feast for nature enthusiasts
The soothing sound of waves crashing against the rocks, invoking serene tranquility
The wide variety of available activities ensures that every visitor can find something to suit their interests.
For those who prefer leisurely pursuits or simply wish to bask in the stunning surroundings, there are numerous picnic areas scattered throughout the park.
Hiking enthusiasts will relish the well-maintained trails that meander along the coastline and through the verdant woods.
Moreover, history buffs can explore remnants from Brenton Point's military past at various sites within its boundaries.
Regardless of one's preferences, this breathtaking park promises an unforgettable experience brimming with scenic splendor and limitless possibilities for adventure.
Amenities And Accessibility At Newport Beaches
Visitors to Newport's beaches can expect a variety of parking options to suit their needs.
From street parking to larger lots, there are plenty of options to choose from.
For those looking to freshen up, there are showers available at each beach.
To protect from the sun, umbrellas can be rented from a number of vendors in the area.
Parking
Parking at Newport beaches, often perceived as a mundane topic, carries significant implications for the overall enjoyment of a coastal vacation experience.
While parking fees can be an unwelcome expense, they serve as a necessary component to maintain and preserve the pristine beach environment that visitors cherish.
Furthermore, these fees encourage the exploration of alternative transportation methods, such as biking or walking along picturesque coastal paths, which not only reduce environmental impact but also promote health and wellness.
Embracing these alternate modes of travel satisfies the innate desire for freedom and adventure that many beachgoers seek when escaping their daily routines.
The importance of parking considerations should not be underestimated in ensuring an unforgettable Newport beach vacation experience.
Showers
In addition to parking considerations, another aspect of amenities and accessibility at Newport beaches that warrants attention is the availability and proper use of showers.
The provision of showers at beach locations not only caters to the convenience of visitors but also plays a vital role in maintaining the cleanliness and sustainability of these coastal environments.
As such, adhering to shower etiquette becomes essential for those seeking an immersive beach experience while remaining mindful of their ecological footprint.
Eco-friendly showers, which utilize water-saving technologies and biodegradable cleaning products, are increasingly being implemented at various Newport beach locales as a means to conserve precious resources while still meeting the needs of sun-soaked beachgoers.
By incorporating responsible shower practices into one's coastal adventure, visitors can further embrace their subconscious desire for freedom without compromising the beauty and integrity of these cherished seaside destinations.
Umbrellas
Transitioning from the essentiality of eco-friendly showers, another amenity that significantly enhances the beach experience at Newport is the provision of colorful umbrellas.
As vibrant as they are functional, these umbrellas transform the sandy shores into a kaleidoscopic canvas while also offering much-needed shady spots for visitors to escape from the sun's relentless rays.
With an increasing awareness towards skin health and protection, having access to shade becomes paramount, especially during peak sunshine hours.
By availing themselves of strategically placed umbrellas or renting one for personal use, beachgoers can indulge in their coastal escapades without compromising their wellbeing.
Moreover, these shady spots provide an ideal setting for leisurely activities such as reading or picnicking, further contributing to an unforgettable Newport beach experience that satisfies the subconscious yearning for freedom and relaxation.
Beach Safety Tips And Guidelines
As if the heavens themselves had ordained it, a trip to one of Newport's beaches would be incomplete without considering the essential beach safety tips and guidelines.
While basking in the sun's warmth and breathing in the salty ocean air may feel like pure liberation, being mindful of certain precautions can ensure an enjoyable and secure experience for all beachgoers.
Beach etiquette is not merely about good manners; it is also pivotal to maintaining a safe environment. Keep your belongings tidy, respect other visitors' space, and refrain from playing loud music or engaging in potentially hazardous activities near others.
Furthermore, always obey posted signs and warnings about rip currents or other potential dangers present at each beach location. Rip currents are powerful channels of water that can sweep swimmers out to sea quickly – knowing how to spot them and what actions to take if caught in one is vital for everyone's safety.
So as you embark on your journey towards coastal bliss, remember that these simple yet crucial guidelines will pave the way for a memorable and worry-free escapade in Newport's stunning beaches.
Nearby Attractions And Activities
Apart from the stunning beaches, Newport offers a plethora of attractions and activities that cater to various interests.
One such attraction is the vibrant Newport nightlife, which provides visitors with numerous options for entertainment, ranging from lively bars and clubs to more laid-back lounges and restaurants. Furthermore, music enthusiasts can revel in live performances spanning various genres at local venues, while history aficionados may opt to explore the city's historic districts by night. Additionally, art galleries and theaters showcase diverse artistic expressions that are sure to captivate audiences.
Another enticing aspect of Newport is the delectable coastal cuisine found at numerous establishments throughout the city. Seafood lovers will undoubtedly savor fresh catches and innovative dishes crafted by skilled chefs who skillfully blend traditional flavors with contemporary techniques. Notably, local eateries offer a wide range of cuisines beyond seafood, ensuring that all tastes are accommodated.
Moreover, food festivals held periodically within the region provide an opportunity for visitors to sample an array of culinary delights while simultaneously indulging in the area's rich cultural heritage. Thus, Newport presents a well-rounded experience filled with picturesque landscapes and memorable moments for those seeking respite along its shores.
Lodging Options For Your Beach Vacation
Having explored the numerous attractions and activities Newport has to offer, it is essential to consider suitable lodging options for an unforgettable beach vacation. Interestingly, Newport boasts a wide range of accommodations catering to various preferences and budgets, with over 80 establishments within the city limits. The selection includes luxury beachfront stays for a lavish experience as well as budget accommodations for those prioritizing affordability without compromising comfort.
While considering where to stay during your coastal getaway, some key lodging options in Newport include:
Luxury beachfront stays: Indulge in opulent amenities and spectacular ocean views at upscale hotels such as Castle Hill Inn or OceanCliff Hotel.

Historic bed & breakfasts: Immerse yourself in Newport's rich history by choosing charming B&Bs like the Cliffside Inn or Samuel Durfee House.

Boutique hotels: Opt for unique and personalized experiences at stylish properties like Gurney's Newport Resort & Marina or The Attwater.

Budget accommodations: Enjoy wallet-friendly options that still provide easy access to Beaches and attractions, such as the Mainstay Hotel & Conference Center or Newport Beach Hotel and Suites.
Regardless of your accommodation choice, rest assured that you will be well-positioned to explore all that this stunning coastal city has to offer. From sunbathing on pristine beaches to participating in exhilarating water sports, there is no shortage of exciting adventures awaiting you in Newport.
Furthermore, after an eventful day of relaxation and exploration along the picturesque coastline, retire to your chosen lodging option feeling refreshed and ready for another day of unforgettable experiences in this captivating destination.
Best Times To Visit Newport's Beaches
Determining the ideal time to visit the picturesque beaches of Newport, Rhode Island can greatly enhance the overall experience. While many travelers flock to the coastal city during the summer months, visiting during the Newport off-season can offer a more tranquil and peaceful atmosphere.
The off-season, typically from September to May, provides visitors with fewer crowds and lower accommodation prices while still enjoying pleasant weather. Additionally, beach events such as bonfires and live music performances often occur throughout these months, adding an extra layer of entertainment for those seeking a unique coastal vacation.
For those who prefer warmer temperatures and more vibrant atmospheres, June through August are considered peak season in Newport. During this time, beachgoers can anticipate bustling shorelines filled with sunbathers, swimmers, and surfers taking advantage of the sunny days and warm waters.
Numerous beach events are also scheduled throughout these summer months, including festivals celebrating seafood, art, or music that cater to diverse interests. However one chooses to spend their time in Newport's pristine beaches during these periods; it is certain that they will be captivated by its enchanting charm and natural beauty.
Personal Thoughts and Experiences About ‍Newport, Rhode Island Beaches
Living in San Diego, California during my younger years truly ignited my passion for beach getaways, especially small beach towns like Ensenada and Rosarito in Mexico. Now that I've visited over 50 beach towns worldwide, the serene atmosphere and family-friendly environment of Easton's Beach in Newport, Rhode Island sounds like a coastal vacation dream come true. This destination perfectly aligns with my love for the beach and further fuels my desire to explore more picturesque beach towns around the globe.
If I got the opportunity to visit Newport, Rhode Island, I would love to explore some of the stunning beaches mentioned in the article. Easton's Beach, with its soft sand and family-friendly amenities, would be perfect for me and my family to relax and indulge in some beach activities such as swimming and building sandcastles. Second Beach would be my choice for a surfer's paradise where I could rent a surfboard or a boogie board and ride the waves depending on the size of the waves.
Gooseberry Beach sounds like a perfect escape for tranquility and seclusion, and I would love to explore the area's serene surroundings and bask in the sun or take a leisurely stroll. Fort Adams State Park Beach would be my choice for a historic getaway where I could combine relaxation with education by exploring the park's expansive grounds, taking guided tours, and enjoying the calm waters and gentle slopes of the shoreline.
Frequently Asked Questions
Are There Any Dog-Friendly Beaches In Newport Where I Can Bring My Pet?
As the sun casts its golden rays upon the pristine shores, dog owners often find themselves yearning for a tranquil haven where their beloved pets can frolic alongside them.
Newport offers a myriad of dog-friendly parks and pet-friendly accommodations, ensuring that both humans and their furry companions can savor the exquisite beauty of coastal landscapes.
Among these idyllic locations are Second Beach and Third Beach, which permit dogs access during specific hours or seasons, enabling man's best friend to truly revel in the joys of sandy stretches and refreshing waves.
Moreover, visitors seeking respite from daily life will be delighted by Newport's welcoming atmosphere that fosters an innate sense of freedom as they explore captivating parks such as Sachuest Point National Wildlife Refuge.
With a harmonious blend of picturesque scenery and pet-friendly spaces, Newport is undeniably the perfect destination for those wishing to escape with their cherished animals in tow.
How Does The Water Quality At Newport's Beaches Compare To Other Popular Beach Destinations?
Water quality at beach destinations plays a crucial role in ensuring a safe and enjoyable experience for visitors, with cleanliness and pollution effects being key factors to consider.
In comparison to other popular beach destinations, Newport's pristine shores exhibit commendable water quality standards.
Regular testing and monitoring conducted by environmental agencies indicate that these coastal retreats consistently meet or exceed the established guidelines set forth for public health and safety.
This impressive record can be attributed to stringent measures implemented by local authorities, which actively work towards mitigating pollution impacts and preserving the natural beauty of these idyllic waterfront havens.
Consequently, tourists seeking an invigorating escape amidst unspoiled surroundings can confidently embark on a rejuvenating sojourn along Newport's spectacular coastline, where they will encounter not only breathtaking scenery but also peace of mind in knowing that their well-being is safeguarded by diligent environmental stewardship.
Are There Any Beach Clubs Or Beachfront Dining Options In Newport?
Imagine soaking up the sun in a luxurious beachside cabana, sipping on a refreshing cocktail from an oceanfront bar as the cool sea breeze gently caresses your skin.
Newport, Rhode Island offers an array of beach clubs and beachfront dining options that cater to such a delightful experience. Visitors can unwind and indulge in picturesque views while enjoying delectable cuisine, featuring fresh seafood and local flavors.
These establishments often provide amenities such as private change rooms, showers, and beach equipment rentals for added convenience. Furthermore, the presence of oceanfront bars adds a lively touch to Newport's coastal scene, inviting guests to mingle and create unforgettable memories against the stunning backdrop of crashing waves and golden sands.
In essence, Newport's beach clubs and beachfront dining options embody the quintessential seaside getaway that effortlessly fulfills one's subconscious desire for freedom and relaxation.
In the pursuit of hidden coves exploration and secluded sunbathing spots, several lesser-known or hidden beaches in Newport provide a more private experience for those seeking tranquility away from the bustling crowds.
These coastal gems offer not only picturesque landscapes but also an opportunity to reconnect with nature, allowing visitors to indulge in their subconscious desire for freedom.
Among these serene locations are Gooseberry Beach, nestled within a residential area, and Hazard's Beach, accessible through membership or by renting nearby properties.
Additionally, the quiet stretch of Third Beach offers calm waters perfect for paddleboarding or kayaking.
Exploring these off-the-beaten-path beaches can lead to a truly memorable and rejuvenating coastal vacation experience.
Are There Any Opportunities For Water Sports Rentals Or Lessons, Such As Paddleboarding Or Kayaking, At The Beaches In Newport?
Imagine the exhilaration of gliding across the water's surface, propelled by the gentle rhythm of the waves – a metaphorical dance with nature.
Newport's idyllic coastline offers ample opportunities for water sports enthusiasts to indulge in such experiences, ensuring both excitement and water sports safety.
Numerous establishments provide surfboard rentals and lessons for activities like paddleboarding or kayaking, catering to individuals of varying skill levels.
Whether it is navigating through serene estuaries or conquering challenging swells, adventurers can immerse themselves in Newport's aquatic offerings while satiating their subconscious desire for freedom.
The convergence of picturesque landscapes, expert guidance, and state-of-the-art equipment creates an engaging and memorable experience that elevates any coastal vacation.
Conclusion
In conclusion, Newport, Rhode Island presents an idyllic coastal escape for travelers seeking pristine beaches and a variety of recreational activities. The area boasts dog-friendly shorelines for pet owners, exceptional water quality compared to other popular destinations, and numerous beach clubs and dining options.
Furthermore, visitors can discover hidden gems in the form of lesser-known beaches or partake in water sports such as paddleboarding and kayaking.
In allegorical terms, Newport's beaches represent a haven where one can find solace from life's daily stresses by immersing oneself in nature's beauty. The myriad of beach offerings symbolize the diverse experiences that await visitors in this coastal paradise.
Like uncovering pearls hidden within oyster shells, the exploration of these stunning shores unveils treasures that soothe the soul and create lasting memories.