As the winter chill begins to fade and the days grow longer, your yearning for sun-kissed shores and refreshing ocean waves becomes more and more irresistible.
April in Spain may just be the perfect time for you to indulge in this desire for freedom, as the country's stunning beaches start to awaken from their winter slumber, ready to offer you the ultimate springtime escape.
Imagine yourself basking in the warm sun, with soft golden sands beneath your toes, and the soothing sound of the sea whispering sweet nothings in your ears.
Spain's coastline boasts an impressive array of mesmerizing beaches, each with its own unique charm and allure.
So let us take you on a journey to discover nine of the best Spanish beaches to visit in April, where you can relish the tranquility of springtime by the sea and create unforgettable memories.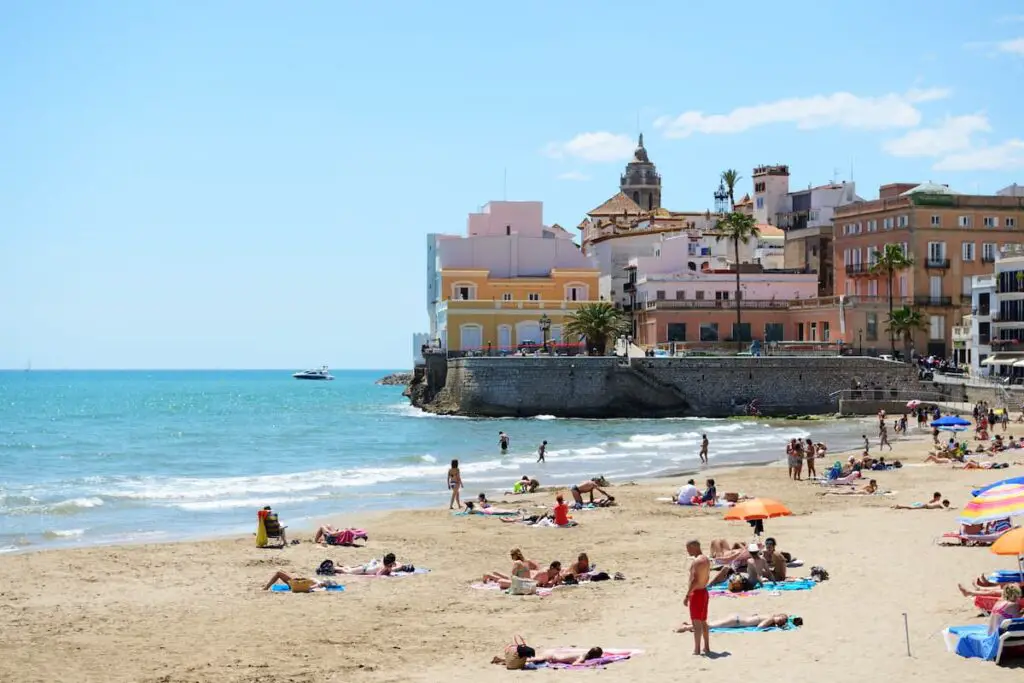 Playa de la Barceloneta, Barcelona
You'll absolutely love basking in the sun at Playa de la Barceloneta in Barcelona! This stunning beach offers a perfect blend of relaxation and excitement, with crystal-clear waters and golden sand to sink your toes into.
While you're here, make sure to take a leisurely stroll along the picturesque promenade and admire the charming marina filled with impressive yachts. Just a stone's throw away from the bustling city, you can easily combine beach days with exploring the famous Gaudi architecture and enjoying the vibrant Barcelona nightlife.
As you walk along the palm tree-lined promenade, you'll be treated to a variety of delightful sights, sounds, and smells. Indulge in some delicious local seafood at one of the many beachfront restaurants or sip on a refreshing cocktail at a trendy beach bar.
You can also try your hand at some water sports or simply soak up the sun on a comfortable sun lounger. And when you're ready for a change of scenery, head to the nearby Gothic Quarter or take a tour of the iconic Sagrada Familia to immerse yourself in the rich history and culture of this fascinating city.
Don't miss out on experiencing the lively atmosphere of Playa de la Barceloneta during your visit to Barcelona in April. The pleasant springtime weather, with average temperatures hovering around 17°C (63°F), provides the perfect conditions for enjoying the beach and exploring the city's many attractions.
Plus, with fewer tourists in the area, you'll have the freedom to discover hidden gems and truly appreciate the unique charm of this captivating coastal destination.
So go ahead, pack your bags and get ready for an unforgettable trip to one of Spain's most remarkable beaches!
Playa de las Canteras, Las Palmas, Gran Canaria
Don't miss Playa de las Canteras in Las Palmas, Gran Canaria, as it's perfect for soaking up the sun and enjoying the ocean's calming waves. This beautiful beach stretches for nearly 2 miles, offering plenty of space for both relaxation and adventure.
Not only is the beach lined with golden sand and turquoise waters, but the Canteras nightlife and local cuisine are sure to keep you entertained and satisfied throughout your visit. During the day, take advantage of the warm sun and clear water by participating in a range of water sports, such as snorkeling, surfing, or paddleboarding.
The natural reef, known as La Barra, protects the beach, creating a calm lagoon perfect for swimming and sunbathing. As the sun begins to set, take a leisurely stroll along the promenade, lined with palm trees and charming cafes.
Indulge in the local cuisine, featuring fresh seafood and traditional Spanish dishes, at one of the many restaurants offering picturesque views of the ocean. As the night sets in, discover the vibrant Canteras nightlife. With a variety of bars, clubs, and live music venues, there's something for everyone to enjoy.
Don't be afraid to let loose and dance the night away in the company of friendly locals and fellow travelers. Playa de las Canteras offers the perfect combination of relaxation and excitement, making it an ideal destination for an unforgettable springtime beach getaway in Spain.
Playa de Bolonia, Tarifa, Andalusia
Imagine yourself basking in the sun on Playa de Bolonia, Tarifa, Andalusia, where the pristine shoreline and crystal-clear water beckon you to unwind and embrace the beauty of this coastal paradise.
This hidden gem, located on the southern tip of Spain, is not only known for its breathtaking views and tranquil atmosphere, but also for the ancient ruins of the Roman city of Baelo Claudia that sit just behind the beach.
As you stroll along the fine golden sand, you can't help but feel a sense of freedom and serenity that this remarkable destination offers.
Some of the must-do activities at Playa de Bolonia include:
Exploring the well-preserved ruins of Baelo Claudia, which provide a fascinating glimpse into the Roman era

Soaking up the sun on the expansive beach, while enjoying the gentle sea breeze and the mesmerizing sound of the waves

Hiking up the nearby dunes, which offer stunning views of the surrounding landscape and the sparkling sea

Indulging in delicious local cuisine at the beachside restaurants, where you can sample fresh seafood and traditional Andalusian dishes
As you leave Playa de Bolonia, you'll carry with you unforgettable memories of this magical place, where history and natural beauty intertwine to create a truly unique experience.
The feeling of freedom that comes from exploring this enchanting coastal paradise will stay with you long after your visit, leaving you yearning to return and rediscover its wonders.
So, don't hesitate to add Playa de Bolonia to your list of must-see beaches in Spain – it's a destination that will not disappoint.
Cala Comte, Ibiza
As you stroll along the shores of Cala Comte, Ibiza, prepare to be mesmerized by the breathtaking views of the crystal-clear turquoise water, dramatic cliffs, and golden sand that make up this picturesque beach.
This idyllic setting, coupled with the warm Mediterranean sun, makes it one of the best spots to catch a stunning sunset as the sky transitions into a canvas of vibrant colors.
So, grab a beach towel, sit back, and let the magic of Cala Comte's sunset moments captivate your senses and create unforgettable memories.
Breathtaking Views
Basking in the sun's warm embrace, you'll feel on top of the world as you take in the awe-inspiring vistas at these coastal gems, each offering a unique panorama that'll leave you breathless, much like the feeling of standing atop a mountain peak after a challenging climb.
The scenic cliffs surrounding Cala Comte provide a dramatic backdrop for the turquoise waters below, as if nature itself has conspired to create the perfect postcard-worthy scene. Coastal hikes in the area allow you to fully appreciate the raw beauty and untamed landscapes that stretch out before you, as the salty sea breeze kisses your cheeks and the waves crash against the rocks below.
As you meander along the rugged coastline, the breathtaking views continue to unfold, each more spectacular than the last. Whether you're capturing these moments through the lens of your camera or simply allowing them to be etched into your memory, the sense of freedom that comes from experiencing such unspoiled beauty is truly unparalleled.
After a day spent exploring the pristine beaches and admiring the dramatic vistas, you'll find yourself longing to return to this enchanting corner of Spain, where the sea and sky meet in a dazzling display of nature's grandeur.
Sunset Spot
As you take in the breathtaking views from Spain's magnificent beaches, you'll undoubtedly want to capture those magical moments when the sun dips below the horizon.
Sunset photography and romantic strolls go hand in hand on these enchanting shores, creating memories you'll treasure for a lifetime.
One of the best sunset spots in Spain is La Concha Beach in San Sebastián.
As the daylight fades, the sky above this crescent-shaped bay transforms into a canvas of vibrant colors, reflecting off the calm waters below.
Walk along the promenade with your loved one, hand in hand, as you marvel at the beauty of nature's farewell to the day.
This idyllic setting is the perfect backdrop for your sunset photos and a testament to the freedom and joy that comes from experiencing the wonders of the world.
Playa de la Malvarrosa, Valencia
At Playa de la Malvarrosa in Valencia, you'll find yourself surrounded by a wide sandy beach and a lively atmosphere that's perfect for enjoying springtime by the sea.
Take a leisurely stroll along the shoreline, feeling the warm sand between your toes while soaking in the vibrant energy of the bustling bars, restaurants, and shops nearby.
Don't miss out on the chance to immerse yourself in this lively beach experience, where locals and tourists alike come together to create unforgettable memories.
Wide Sandy Beach
Feel the warm sand between your toes as you stroll along expansive shorelines, perfect for sunbathing, beach sports, and picnics during this beautiful season.
Wide sandy beaches in Spain offer tranquil escapes for those looking to unwind and soak up the sun while taking in breathtaking views of the sparkling Mediterranean Sea.
The gentle sound of the waves lapping against the shore, combined with the soothing warmth of the sun, creates an atmosphere of ultimate relaxation and serenity.
As you stretch out on your towel, you can't help but feel a sense of freedom and rejuvenation as you let go of the stresses of everyday life.
While enjoying these wide sandy beaches, don't forget to indulge in some delicious coastal cuisine at the nearby chiringuitos, or beach bars, which serve up mouth-watering seafood dishes and refreshing drinks.
Savor the taste of freshly grilled sardines or seafood paella as you sit back and enjoy the laid-back ambiance of the beachside establishments.
For a more intimate dining experience, pack a picnic and enjoy a meal with your loved ones on the soft sand, surrounded by the natural beauty of the coast.
No matter how you choose to spend your time at these stunning Spanish beaches, you'll be left with unforgettable memories and a renewed sense of freedom.
Lively Atmosphere
You'll find yourself immersed in a vibrant and lively atmosphere, where laughter and music fill the air like a symphony of joy, as you explore the bustling beach scenes of Spain.
With spring festivals and beach parties celebrating the season, you'll experience the ultimate freedom as you dance the night away under the stars.
Here are some exciting ways to enjoy the lively atmosphere of Spain's best beaches in April:
Spring festivals: From Semana Santa in the south to the colorful Fallas in Valencia, Spain comes alive with celebrations that will make your beach vacation even more unforgettable. Join the locals as they parade through the streets, enjoy traditional music and performances, and indulge in mouthwatering food and drinks.

Beach parties: As the sun sets, the energy on the beach rises. Dance until dawn at beach parties hosted by world-class DJs, or simply relax with friends around a bonfire, sharing stories and laughter. There's no shortage of beachside bars and clubs where you can let loose and dance the night away.

Water sports and activities: If you're looking for a more active way to enjoy the lively atmosphere, try your hand at water sports like paddleboarding, jet-skiing, or surfing. Get your adrenaline pumping as you navigate the waves, or take it slow with a leisurely swim in the crystal-clear waters. With so many options, there's something for everyone to enjoy.
As you embrace the lively atmosphere of Spain's best beaches in April, you'll feel a renewed sense of freedom and joy. Whether you're dancing the night away, participating in a spring festival, or splashing in the waves, the warmth and energy of the Spanish beach scene will create memories you'll cherish forever.
So pack your bags, grab your sunscreen, and get ready to experience the wonders of springtime by the sea in Spain.
Playa de los Muertos, Almería, Andalusia
Bask in the sun and take in the striking beauty of Playa de los Muertos in Almería, Andalusia, an idyllic destination for an April getaway.
The name may translate to 'Beach of the Dead,' but don't let that deter you from experiencing the pristine waters, stunning cliffs, and awe-inspiring landscapes that define this enchanting location.
As you stroll along the shore, you'll be immersed in Almería's history, with the remnants of ancient castles, watchtowers, and other historic sites dotting the coastline.
During your visit to Playa de los Muertos, treat yourself to the mouthwatering flavors of Andalusian cuisine, a perfect way to fuel your beach adventures.
Savor traditional dishes like gazpacho, a chilled tomato soup, or paella, the quintessential Spanish rice dish.
To truly immerse yourself in the local culture, seek out an authentic tapas bar where you can enjoy a variety of small plates alongside a refreshing glass of sangria or local wine.
As you plan your April escape to Playa de los Muertos, keep in mind that this secluded beach is best accessed by a 20-minute hike from the parking area, ensuring a peaceful and uncrowded experience.
The trek is well worth the effort, as you'll be rewarded with a serene and unspoiled oasis that invites you to unwind and reconnect with nature.
Whether you're seeking adventure or relaxation, the captivating allure of Playa de los Muertos in Almería, Andalusia will undoubtedly leave you with lasting memories of your springtime seaside retreat.
La Concha Beach, San Sebastián
Discover the captivating charm of La Concha Beach in San Sebastián, where you'll be surrounded by the lush green hillsides, golden sands, and sparkling blue waters that make this coastal retreat an unforgettable experience.
Immerse yourself in San Sebastián culture as you stroll along the picturesque promenade, lined with elegant Belle Époque architecture and vibrant cafés. Treat yourself to the exquisite tastes of Basque cuisine at one of the many renowned restaurants and pintxo bars in the area, offering unique flavors and culinary creations that will leave you both satisfied and eager for more.
While at La Concha Beach, be sure to take a scenic walk along the crescent-shaped shoreline, admiring the stunning views of the surrounding hills and the iconic Santa Clara Island. Relax on the soft, golden sands, soaking up the warm April sun, and take a refreshing dip in the calm, azure waters of the Bay of Biscay. Explore the historic Parte Vieja (Old Town), with its narrow cobblestone streets, lively atmosphere, and a plethora of traditional shops, bars, and eateries.
As the sun begins to set and the sky is painted with brilliant hues of orange and pink, continue your adventure by experiencing the vibrant nightlife that San Sebastián has to offer. From lively bars and clubs to sophisticated wine cellars, there's something for everyone to enjoy.
As you reflect on your unforgettable day at La Concha Beach, you'll find yourself feeling a newfound sense of freedom and vitality, making this Spanish paradise the perfect destination for your springtime seaside escape.
Playa de Muro, Mallorca
While visiting Playa de Muro in Mallorca, you'll find that it's not only one of Spain's best beaches in April but also a family-friendly haven perfect for spending quality time with your loved ones.
The shallow, crystal-clear waters and soft, golden sand make it an ideal spot for kids to splash around, build sandcastles, and create unforgettable memories.
Don't forget to take advantage of the wide range of water sports available, such as windsurfing, kiteboarding, and paddleboarding. This ensures an adrenaline-filled experience for the whole family.
Family-friendly Beach
For a family-friendly beach experience, look no further than these picturesque shores perfect for making unforgettable memories with your loved ones.
Spain's coastline offers plenty of opportunities for beach activities that cater to all ages, ensuring that your family vacation is filled with fun, laughter, and relaxation. From building sandcastles and splashing in the waves to playing beach volleyball and kayaking, these beaches provide a safe and enjoyable environment for families to bond and create lasting memories.
When planning your family beach day, don't forget to indulge in the delicious coastal cuisine that Spain has to offer. From traditional paella to fresh seafood, your taste buds will be delighted by the flavors and aromas of these beachside dishes.
Treat your family to a mouthwatering meal at one of the many beachfront restaurants, or pack a picnic and enjoy a leisurely lunch on the sand. As you savor the food and bask in the warm sun, you'll feel the freedom of the sea and the joy of spending quality time with your family on Spain's beautiful beaches.
Water Sports
You'll be thrilled to dive into an array of exhilarating water sports on Spain's stunning coastlines, making your vacation unforgettable and filled with adrenaline-pumping adventures.
Whether you're an experienced water sports enthusiast or a complete beginner, Spain's best beaches in April offer perfect conditions for a wide range of activities.
Try your hand at kite surfing, where the reliable winds will propel you across the waves, or take a more leisurely approach with stand-up paddle boarding, allowing you to explore hidden coves and picturesque coastline at your own pace.
Some of the most popular water sports to consider while vacationing in Spain include:
Windsurfing: Harness the power of the wind and glide effortlessly across the water's surface on a board.
Scuba diving: Discover the fascinating underwater world of Spain's diverse marine life and vibrant coral reefs.
Jet skiing: Experience the thrill of riding powerful watercraft as you zip through the waves, with the sun on your face and the wind in your hair.
No matter which water sports you choose, the freedom and excitement you'll experience are sure to make your Spanish beach vacation one for the memory books.
Cala Macarella, Menorca
Cala Macarella's turquoise waters and golden sands embody a Mediterranean paradise, inviting you to surrender to its breathtaking allure and forget the world beyond.
Located on the southern coast of Menorca, this beach is one of the island's hidden gems, offering a tranquil oasis away from the bustling tourist spots. With its pine-fringed cliffs and idyllic coves, Cala Macarella is the perfect setting for a peaceful retreat or an intimate day soaking in the sun with your loved ones.
Island exploration is a must when visiting Cala Macarella, as its surrounding areas boast equally stunning landscapes and secluded spots to discover. A short walk along the coast will lead you to the equally beautiful Cala Macarelleta, a smaller sister beach that offers even more seclusion and crystal-clear waters.
Adventure enthusiasts will enjoy the numerous hiking trails that meander through the lush vegetation around the beach, while snorkelers and scuba divers can plunge into the azure depths to explore the thriving marine life beneath the surface.
As you bask in the warmth of the sun, let the gentle lapping of the waves and the soft rustling of the trees lull you into a state of complete relaxation.
Cala Macarella's enchanting beauty is a testament to Spain's captivating coastal landscapes, making it an unmissable destination for anyone seeking a serene escape by the sea. As springtime blossoms around you, embrace the freedom and rejuvenation of the season at this mesmerizing haven in Menorca.
Tips for Visiting Spanish Beaches in April
When planning your trip to Spain's best beaches in April, it's crucial to consider the weather as it can be quite unpredictable at this time of year.
Be prepared for a mix of sunny, warm days, and cooler, rainy days by packing a versatile wardrobe that includes both swimwear and light jackets.
Don't forget essentials like sunscreen, sunglasses, and a waterproof bag to protect your belongings while enjoying the beautiful Spanish coastline.
Weather Considerations
It's essential to consider the weather conditions in April while planning a beach vacation, as it can greatly impact your overall experience. While Spain is known for its sunny skies and warm temperatures, April can still bring some surprises.
April showers may make an appearance, so be prepared for some rainfall during your trip. Additionally, temperature fluctuations are common during this time of year, with the possibility of chilly mornings and evenings. To ensure you make the most of your beach getaway, it's a good idea to pack layers and be ready for any weather changes that might come your way.
Don't let these weather considerations deter you from visiting Spain's beautiful beaches in April, though. The spring season often means fewer tourists, giving you the opportunity to enjoy more peaceful and serene surroundings. Plus, the weather is generally mild, with temperatures ranging from the mid-50s to low 70s (Fahrenheit), making it comfortable for beach strolls and exploring nearby towns.
Just imagine the freedom and tranquility of walking along the shoreline, feeling the cool breeze on your face, without the bustling crowds of the summer season. Embrace the unpredictability of April weather and allow it to enhance your Spanish beach adventure, making it a unique and memorable experience.
Packing Essentials
You'll want to pack smart for your April beach vacation in Spain, ensuring you're prepared for both sunshine and unexpected showers. To make the most of your trip, consider some packing hacks that'll help you stay organized and ready for any weather conditions.
First and foremost, bring essential beachwear such as swimsuits, cover-ups, and flip-flops. Additionally, pack versatile clothing items that can be layered or easily dressed up or down depending on the occasion. Don't forget a lightweight, water-resistant jacket for those unpredictable April showers and a compact travel umbrella to keep you dry while exploring the coastal towns and beaches.
To fully embrace the freedom of your Spanish beach getaway, it's important to pack items that'll make your experience more enjoyable and less stressful. A wide-brimmed hat and sunglasses are essential for protecting your face and eyes from the sun, while a high-quality sunscreen will help shield your skin from harmful UV rays. Bring a portable beach mat or lightweight towel to lay on the sand, and if you plan on spending extended periods on the beach, consider a collapsible beach chair or inflatable lounger.
Finally, a waterproof pouch or dry bag for your phone, wallet, and other valuables will provide peace of mind as you soak up the sun and salty sea air.
Spain's Beach Safety Guidelines
Before soaking up the sun, it's vital to familiarize yourself with Spain's beach safety guidelines to ensure a fun and worry-free experience.
Spain's beautiful coastlines are known for their pristine beaches and crystal-clear waters, but it's essential to stay safe and follow beach etiquette while enjoying your springtime getaway. By adhering to these safety measures, you'll be able to relax and enjoy your time by the sea, knowing that you're well-prepared for any situation that may arise.
Some essential safety guidelines to keep in mind while visiting Spain's beaches include:
Swim within designated areas: Pay attention to the flags posted on the beach, as they indicate the safety conditions of the water. Green flags mean it's safe to swim, yellow flags signal caution, and red flags indicate that swimming is prohibited due to dangerous conditions.

Beware of rip currents: These powerful, narrow channels of water can move quickly and carry swimmers away from the shore. If you find yourself caught in a rip current, remain calm, and swim parallel to the shore until you're out of the current, then make your way back to land.

Keep an eye on your belongings: While Spain's beaches are generally safe, it's still important to take precautions with your personal items. Use a waterproof bag to store your valuables and consider using a portable safe to secure them while you're in the water.
Embracing Spain's beach safety guidelines will allow you to fully immerse yourself in the beauty and tranquility of the country's stunning shoreline. By practicing responsible beach etiquette and taking the necessary safety measures, you'll be free to enjoy the sun, sand, and surf without a care in the world.
So go ahead, slip on your favorite swimsuit, grab your sunscreen, and prepare to savor the sweet taste of freedom as you explore Spain's nine best beaches this April.
Frequently Asked Questions
What are some local delicacies or traditional foods to try at each of the listed beaches?
Feast your senses on a smorgasbord of flavors as you explore the local delicacies and traditional foods at each of these stunning beaches.
Dive into the freshest local seafood dishes, where the catch of the day is transformed into mouthwatering culinary masterpieces.
Your taste buds will dance with delight as you savor every bite of traditional paella, bursting with succulent seafood, tender meats, and vibrant vegetables.
Discover the secrets of these coastal gems as you indulge in the rich tapestry of flavors and textures that have been passed down through generations, all while basking in the warm embrace of the sun and sea.
Let your spirit soar and your senses come alive as you embark on this unforgettable gastronomic journey, leaving you with memories that'll last a lifetime.
Are there any unique cultural events or festivals happening near these beaches in April?
As you explore the vibrant April fiestas near Spain's stunning beaches, you'll immerse yourself in the rich cultural tapestry of the region. Witness traditional processions and spirited celebrations that showcase the unique blend of history and modernity at these coastal gems.
Don't miss the opportunity to visit cultural landmarks that offer a glimpse into the past while you revel in the present. With each step, you'll feel a surge of freedom as you embrace the lively atmosphere and connect with the local customs that make these festivals a truly unforgettable experience.
What are the options for public transportation or parking facilities near each beach?
Oh, the joy of finding a parking spot or navigating public transportation on a beach day, right? Fear not, as the public transportation options near Spain's top 9 beaches in April are quite convenient and efficient.
Buses and trains are available, connecting you to most of these beautiful coastal spots. In some cases, you might even find yourself within walking distance of the soft sands and soothing waves.
As for parking facilities, while some beaches offer parking lots or street parking spaces, others may require a short walk from your vehicle to reach the shore. But hey, isn't that what adventure and the subconscious desire for freedom are all about?
So, go ahead, explore these picturesque destinations, and embrace the charm of Spanish beach life in April.
Are there any specific beach activities, water sports, or tours available at each of these locations?
You'll be thrilled to discover an array of exciting beach activities, water sports, and tours at these incredible Spanish beach destinations.
Unwind your mind and body with beach yoga sessions, offered by skilled instructors who help you connect with nature and find inner peace as you stretch and breathe along the sandy shores.
Dive into crystal-clear waters on snorkeling adventures, where you can explore the vibrant marine life and hidden underwater treasures that lie beneath the waves.
Whether you're seeking adrenaline-pumping water sports or simply want to immerse yourself in the beauty of the coastal surroundings, these beaches will undoubtedly fulfill your desires and set your spirit free.
Can you recommend any eco-friendly or sustainable accommodation options near the listed beaches?
If you're seeking eco lodging experiences near Spain's stunning beaches, you're in luck!
There are plenty of sustainable travel tips to help you find the perfect environmentally-friendly accommodations.
Consider staying at eco-friendly hotels, solar-powered villas, or even well-managed camping sites to reduce your carbon footprint while enjoying your beach getaway.
Many of these options offer unique experiences, such as organic gardens, farm-to-table dining, and eco-friendly activities like guided nature walks or bike tours.
By choosing sustainable lodging, you'll be supporting local communities and preserving the natural beauty of Spain's coastline, all while satisfying your desire for freedom and adventure.
Conclusion
So, what're you waiting for? Pack your bags and dive into the enchanting world of Spain's pristine beaches this April.
Get ready to create unforgettable memories as you soak in the sun, sea, and sand. Don't just imagine yourself basking in the warm rays of the sun or feeling the soft sand between your toes.
Experience it firsthand and discover the magic of Spain's best beaches in springtime. The adventure awaits!