Imagine a family vacation in Costa Rica, where adventure, relaxation, and nature come together to create a perfect tropical paradise. With a diverse range of family-friendly accommodations, from rainforest retreats to beachside bliss, this Central American gem has something to offer everyone. This makes me wonder, what are the top family hotels in Costa Rica that provide unforgettable experiences and help create lasting memories?
So, what are the top family hotels in Costa Rica? They include Hotel Playa Hermosa, Lapa Rios Ecolodge, The Springs Resort & Spa, Monteverde Lodge & Gardens, Santa Teresa Beach Hotel, Tortuguero Lodge, Arenal Kioro Suites & Spa, Hacienda Guachipelin, Four Seasons Resort Costa Rica, Hotel Grano De Oro, Hotel Belmar, and Dreams Las Mareas Resort & Spa. These accommodations offer a mix of adventure, relaxation, and cultural immersion, providing the perfect escape for families.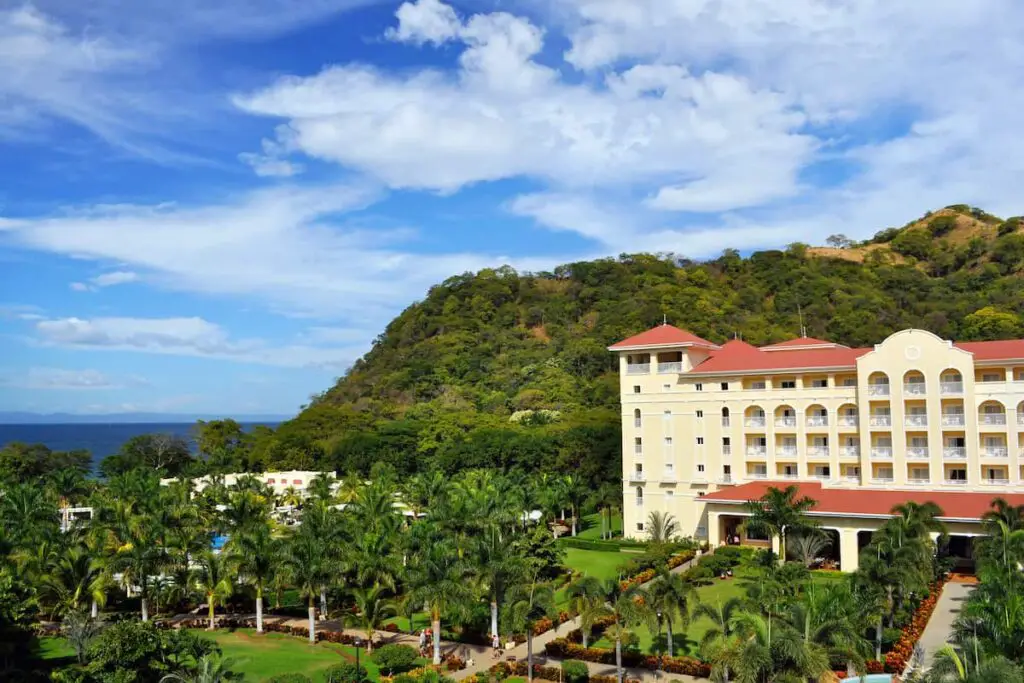 Key Takeaways‍
Hotel Playa Hermosa: beachside bliss with coastal cuisine, ideal balance of adventure and relaxation for unforgettable family memories.
Lapa Rios Ecolodge: rainforest retreat with zip-lining, horseback riding, bird-watching, and eco-friendly amenities, fostering sustainability.
The Springs Resort & Spa: Arenal Volcano exploration, adrenaline-pumping activities like ziplining, river rafting, and ATV tours.
Monteverde Lodge & Gardens: nature lovers' paradise in the cloud forest, offering trails, wildlife, and a serene atmosphere.
Santa Teresa Beach Hotel: surfer's paradise with surfing lessons, local wildlife, authentic cuisine, and luxurious accommodations.
Arenal Kioro Suites & Spa: volcanic adventures, on-site hot springs, and thrilling activities amidst lush gardens and natural beauty.
In this article, I'll take you on a journey through Costa Rica's top family hotels, exploring their unique features, activities, and eco-friendly practices. From zip-lining in the rainforest to learning how to surf on pristine beaches, there's something for everyone. I'll also delve into the local culture and sustainability efforts, showing how these hotels contribute to a greener future. So, pack your bags and join me as we uncover the magic of Costa Rica's family-friendly accommodations – you won't be disappointed!
Table of Contents
The Top Picks for Accommodation – Costa Rica Family Hotels
Let's dive into our top picks for Costa Rica family hotels and explore each accommodation in depth. For the hotels I've personally experienced, I'll share with you my insights and opinions, as well as my personal thoughts and experiences in the sections that follow.
Beachside Bliss: Hotel Playa Hermosa
Imagine yourself in a place where your days are filled with sun-soaked beach activities, and your evenings are spent indulging in delicious coastal cuisine.
That's the life you'll find at Hotel Playa Hermosa, a gem nestled on Costa Rica's picturesque shores.
The hotel offers the perfect balance of adventure and relaxation for families seeking an unforgettable escape from the ordinary.
Here, you'll create memories that last a lifetime as you immerse yourselves in nature's playground and enjoy each other's company beneath a canopy of stars.
Rainforest Retreat: Lapa Rios Ecolodge
Lapa Rios Ecolodge is nestled amidst Costa Rica's lush rainforest, providing a peaceful and unforgettable retreat.
It's the perfect spot for adventurous families, with a range of activities including zip-lining, horseback riding, and bird-watching.
It's also eco-friendly, with solar-powered electricity, organic gardens, and a commitment to sustainability.
Rainforest Location
Imagine waking up with the sun, surrounded by the lush greenery of Costa Rica's rainforest, where Lapa Rios Ecolodge awaits you and your family.
You'll find yourselves immersed in nature's playground, as you embark on thrilling rainforest exploration and exhilarating canopy adventures.
This is a place where freedom comes alive; birds sing their melodies above while monkeys playfully swing from branch to branch.
The rich biodiversity of the Osa Peninsula is at your fingertips, offering endless opportunities for discovery and adventure.
At Lapa Rios Ecolodge, there's always something wild and wonderful waiting just around the corner.
Adventure Activities
Now, let's dive into the heart-pounding adventure activities that await you in this rainforest paradise.
You'll find yourself soaring through the treetops on thrilling ziplines, feeling the rush of freedom as you glide from platform to platform.
The excitement doesn't stop there – you'll also have the chance to conquer the rapids with exhilarating river rafting experiences, testing your mettle against nature's untamed forces.
It's a wild and liberating world at Lapa Rios Ecolodge, where every day brings new discoveries and unforgettable memories that'll stay with you long after you've returned home.
Eco-Friendly Amenities
But let's not forget, amidst all the heart-racing adventures and thrills of the wild, Lapa Rios Ecolodge is dedicated to making a positive impact on the environment.
It's here that you'll witness firsthand how eco-friendly amenities can harmoniously coexist with luxury and adventure.
You'll marvel at their solar power utilization, providing clean energy for your stay without compromising on comfort.
Their recycling initiatives ensure that the pristine beauty of the rainforest remains unspoiled for future generations to enjoy.
So embrace this liberating experience, knowing that you're part of something much larger than just your own journey – you're contributing to a sustainable legacy in harmony with nature.
Adventure Awaits: The Springs Resort & Spa
From the lush rainforest retreat of Lapa Rios Ecolodge, let us whisk you away to a world of adventure and excitement at The Springs Resort & Spa.
This magnificent oasis nestled in the heart of Costa Rica's stunning landscapes offers more than just thermal relaxation and rejuvenating springs.
At this exceptional destination, your family will experience:
Thrilling explorations: Venture through the dense jungles and conquer the roaring rivers as you immerse yourself in nature's playground.

Adrenaline-pumping activities: Unleash your inner adventurer with action-packed pursuits like ziplining, river rafting, and ATV tours.

Spectacular sights: Witness the awe-inspiring beauty of Arenal Volcano up close and marvel at its majestic power.

Unforgettable memories: Forge lasting bonds with your loved ones as you embark on exhilarating escapades together.
Allow yourself to be swept away by the call of adventure at The Springs Resort & Spa, where freedom awaits you around every corner.
Revel in the endless opportunities for exhilaration in this unparalleled sanctuary for families seeking a truly liberating vacation experience.
Nature Lovers' Paradise: Monteverde Lodge & Gardens
Up in the clouds, where the air is crisp and nature thrives, you'll find your haven at Monteverde Lodge & Gardens.
It's a place where time slows down, and you can breathe easy, surrounded by lush Monteverde flora and enveloped in the songs of cloud forest fauna.
Here, you're free to explore winding trails or simply gaze out at verdant landscapes from your room's balcony – a world away from life's constraints.
At night, let the symphony of the forest lull you into dreams of discovery and adventure that await you in this corner of paradise.
Surf's Up: Santa Teresa Beach Hotel
From the lush cloud forests of Monteverde, we journey to the sun-kissed shores of Santa Teresa – a surfer's paradise.
Here, families will find freedom and adventure at the Santa Teresa Beach Hotel. The warm ocean breeze welcomes you as you step onto the sandy beach, ready to ride the waves or simply soak up the sun.
Learn to surf with expert instructors: Surf lessons tailored for all ages and skill levels
Rent a board and hit the waves: Board rentals available for those who want to explore on their own
Discover local wildlife: Spot monkeys, iguanas, and exotic birds while exploring nearby nature trails
Experience authentic Costa Rican cuisine: Savor delicious meals made from fresh, local ingredients at the hotel's restaurant
Unwind in style: Luxurious accommodations offer stunning ocean views and modern amenities
The Santa Teresa Beach Hotel is more than just a place to rest your head; it's an experience that embodies true freedom.
As you feel the salty spray on your face and hear the crashing waves beneath your surfboard, you'll know that this is where family memories are made – memories that will last a lifetime.
Wildlife Wonder: Tortuguero Lodge
In an era when adventurers traversed the globe in search of exotic locales, they would have stumbled upon Tortuguero Lodge as if stumbling upon a hidden treasure.
Nestled within Costa Rica's verdant jungles, this family-friendly haven offers more than just a place to lay one's head; it is an invitation to embark on a thrilling journey of discovery.
With turtle tours and jungle exploration at your fingertips, you and your kin are beckoned to traverse untamed paths, immerse yourselves in nature's symphony, and awaken that dormant desire for freedom that quietly stirs within.
Volcano Views: Arenal Kioro Suites & Spa
After discovering the wildlife wonders of Tortuguero Lodge, it's time to experience a new kind of adventure. Situated at the base of one of Costa Rica's most famous volcanoes, Arenal Kioro Suites & Spa offers volcanic adventures and unparalleled views. The hotel is surrounded by lush gardens and natural beauty, providing the perfect backdrop for families seeking freedom and unforgettable memories.
Take part in various activities that will bring you closer to nature, such as hiking through the rainforest or exploring nearby waterfalls.

Experience the healing powers of thermal springs as you soak in one of the many pools at Titokú Hot Springs, located on-site.

Participate in exciting adventures like zip-lining or horseback riding to truly feel alive and free.
As you immerse yourself and your family in this extraordinary environment, you'll find that Arenal Kioro Suites & Spa goes beyond ordinary accommodations. It is a place where nature meets luxury, creating a haven for those who seek both excitement and relaxation during their Costa Rican vacation.
Eco-Excursions: Hacienda Guachipelin
A place where the wind whispers freedom, Hacienda Guachipelin calls to families.
It's a haven for sustainable tourism and cultural experiences that make your soul sing.
Here, the days are ripe for adventure and the nights glow with untamed beauty.
Wrapped in nature's embrace, you'll find meaning in every step, every breath.
It's where memories take root and flourish, where life takes on a new hue.
So come, follow the call of the wild – it's time to start living.
Luxurious Living: Four Seasons Resort Costa Rica
Imagine waking up to the sound of waves crashing on the shore, the warm sun kissing your face, and a world of adventure waiting at your doorstep.
This dream becomes reality at the Four Seasons Resort Costa Rica. Nestled between pristine beaches and lush jungles, this slice of paradise offers luxury amenities and family packages that cater to every age and interest.
From exhilarating water sports to relaxing spa treatments, there's something for everyone in this tropical haven. So escape the mundane, embrace the extraordinary, and find your freedom at this unparalleled oasis – where memories are made and life is lived to its fullest.
Cultural Immersion: Hotel Grano De Oro
You'll find freedom in the rich culture at Hotel Grano de Oro.
Nestled in the heart of San José, this hotel bridges the gap between tradition and modernity.
Walk through its walls, and you'll step into a world where local traditions harmonize with contemporary comforts, crafting an unforgettable experience for your family.
As you savor cultural cuisine at their famed restaurant, you'll taste the passion and heritage of Costa Rica on every plate.
Your family will connect with each other – and with the spirit of this vibrant land – bonding over shared memories that will last a lifetime.
Embrace the simplicity and authenticity of life at Hotel Grano de Oro, where families come together to celebrate what matters most: love, laughter, and adventure.
Sustainable Stays: Hotel Belmar
We're talking sustainable stays at Hotel Belmar.
We'll discuss their eco-friendly practices, adventure activities, and local culture immersion.
There's plenty to explore, so let's dive in!
Eco-Friendly Practices
Imagine waking up to the sound of birds chirping, as you breathe in the fresh air and step onto your balcony to soak in the lush green surroundings.
That's what you'll experience at Hotel Belmar, where eco-friendly practices are woven into every aspect of your stay.
They're committed to sustainable tourism and have implemented several green initiatives that not only protect our planet but also ensure a guilt-free vacation for you and your family.
From solar panels providing clean energy to an on-site organic garden that supplies fresh produce for their restaurant, every detail is designed with sustainability in mind.
So, go ahead and indulge in the beauty of nature while knowing that you're contributing to a better future.
Adventure Activities
But it's not just the eco-friendly practices that make Hotel Belmar an unforgettable experience.
It's the sense of freedom you'll feel as you embark on adventure activities that truly connect you with nature.
Imagine soaring through the treetops on thrilling ziplining courses, or navigating your way through river rafting escapes, leaving your worries far behind as you immerse yourself in the wild beauty of your surroundings.
There's something liberating about embracing these adventures and letting go of life's constraints, even if it's just for a little while.
So why wait?
Your unforgettable journey awaits at Hotel Belmar.
Local Culture Immersion
But that's not all.
At Hotel Belmar, you'll delve into the rich local culture and discover the essence of Costa Rican charm.
Here, you'll savor authentic local cuisine, crafted from farm-fresh ingredients that tantalize your taste buds while nourishing your body and soul.
And as you explore the nearby villages, you'll encounter traditional crafts that showcase the region's artistic heritage, each piece a testament to the skill and passion of its creator.
By immersing yourself in this vibrant world, you'll find a deeper connection with both nature and humanity – a freedom that will stay with you long after your journey ends.
All-Inclusive Family Fun: Dreams Las Mareas Resort & Spa
You know what they say, 'the family that plays together stays together,' and there's no better place for family bonding than Dreams Las Mareas Resort & Spa. This all-inclusive paradise offers everything you need for the ultimate vacation experience.
Endless activities: From beach volleyball and water sports to cooking classes and movie nights, there's never a dull moment at this resort.

Resort amenities: Enjoy luxurious accommodations, delectable dining options, and top-notch service that cater to families of all sizes.

A taste of freedom: Let your worries drift away as you explore the stunning surroundings, take a dip in the sparkling pools or unwind with a cocktail in hand.
At Dreams Las Mareas Resort & Spa, every day is a new adventure waiting to be discovered. So pack your bags, gather your loved ones, and get ready for an unforgettable getaway that will leave you feeling rejuvenated and closer than ever before.
Personal Thoughts and Experiences About ‍
Living in San Diego as a teenager, I cherished the charm of small beach towns not just in California, but all around the world. These laid-back havens, much like Costa Rica's vibrant Hotel Playa Hermosa or the Santa Teresa Beach Hotel, provide affordable options for short vacations where families can create wonderful memories.
I haven't been able to travel to Costa Rica yet, although I have done much research on the country and its beaches. It is one place I would like to travel with my family. The relaxed beach lifestyles in such places have always captivated me and continue fueling my desire to visit more beaches across the globe.
If I had the opportunity to travel to Costa Rica with my family, I would love to visit Hotel Playa Hermosa for its sun-soaked beach activities. I would take surfing lessons from expert instructors and spend my evenings savoring delicious coastal cuisine at the hotel's restaurant.
Another place I'd like to explore is the Lapa Rios Ecolodge, where I could go zip-lining and river rafting amidst the stunning rainforest environment. These locations would provide the perfect mix of adventure and relaxation, while allowing me to create lasting memories with my family.
Frequently Asked Questions
What Are The Best Transportation Options For Families To Get To And Around These Different Family Hotels In Costa Rica?
In exploring the best family transportation for your Costa Rican adventure, consider budget-friendly options that give you freedom to roam.
Renting a car provides flexibility to travel at your own pace, while local buses offer an authentic experience without breaking the bank.
Taxis and ride-sharing services make getting around easy, and for longer trips, domestic flights save precious time.
Whichever way you choose, embrace the journey and let it lead you to unforgettable experiences with your loved ones.
Do These Family Hotels Offer Babysitting Or Childcare Services For Parents Who Would Like Some Time To Themselves During Their Stay?
Yes, many of these family hotels understand the need for parents to have some time alone and offer babysitting or childcare services.
Childcare pricing varies depending on the hotel and duration, but it's worth every penny for peace of mind and a chance to relax.
Kids' club activities keep children entertained while parents explore or unwind, making it truly a vacation for everyone.
So go ahead, let the kids enjoy their own adventures, while you reclaim your sense of freedom in this paradise.
Are There Any Special Family Packages Or Discounts Available At These Hotels During Certain Times Of The Year?
It's no secret that families love to save money; in fact, 93% of parents say they actively seek out deals and discounts when planning vacations.
You'll be pleased to know that many Costa Rica family hotels offer enticing package deals and family discounts during certain times of the year.
These offers often include accommodations, meals, and access to a range of exciting activities, ensuring a memorable experience for the entire family without breaking the bank.
So go ahead, embrace the spirit of adventure and enjoy some well-deserved quality time with your loved ones at these fantastic hotels while making the most of their special offers.
How Do These Hotels Cater To Families With Varying Age Groups, Such As Toddlers, Young Children, And Teenagers?
These hotels understand that kids of different ages need unique experiences. They offer age-appropriate amenities for everyone, from toddlers to teenagers.
Little ones can splash in shallow pools and join supervised playgroups, while older siblings conquer water slides or learn new skills in exciting workshops.
Teens can hang out in cool lounges, meet new friends, and participate in thrilling activities like zip-lining or surfing classes.
The whole family enjoys diverse dining options, where picky eaters and adventurous taste buds find something to satisfy them.
So bring your tribe to this tropical paradise and let the spirit of freedom guide your unforgettable adventures together.
Are There Any Unique Or Special Family Experiences That Can Be Booked At Each Hotel, Such As Private Tours Or Family-Friendly Workshops?
Indeed, many hotels offer unique workshops and private excursions tailored for families seeking memorable experiences together. These adventures allow families to bond while exploring the local culture, flora, and fauna.
Imagine taking part in a thrilling zip-lining adventure through the lush canopy or participating in a hands-on chocolate-making workshop, where even the smallest of hands can create sweet memories.
Private tours of national parks and wildlife sanctuaries provide opportunities for all ages to marvel at nature's beauty, while family-friendly workshops teach about traditional crafts and customs that are passed down from generation to generation.
Embrace these special moments as they bring your family closer together and grant you the freedom to create lifelong memories.
Conclusion
So, you thought finding the perfect family hotel in Costa Rica would be a challenge? Think again!
With countless options offering fun activities, childcare services, and special packages for families of all ages, you'll wonder why you ever doubted yourself in the first place.
In fact, with so many unique and personalized experiences available at each hotel, your only problem will be deciding which one to choose.
But hey, that's a pretty fantastic problem to have on your hands, don't you think?