5 Best Areas For Where to Stay for Snorkeling
Cozumel, a breathtaking island located in the Caribbean Sea, offers an incredible blend of modern amenities and untouched natural beauty. This island paradise, teeming with diverse wildlife and lush tropical flora, is renowned for its world-class snorkeling opportunities as it sits on the Mesoamerican Reef, the world's second-largest reef. But with so many spectacular spots to choose from, it makes me wonder: Where to stay in Cozumel for Snorkeling if I want to be close the the snorkel spots?
So, what are the best areas to stay in Cozumel for snorkeling? The top five areas include El Palancar Reef, Paradise Reef, Dreams Cozumel Cape, Chankanaab, and Ventanas Al Mar. Each area offers its own unique snorkeling experiences, with vibrant sea life, stunning coral formations, and easy access to the turquoise Caribbean waters.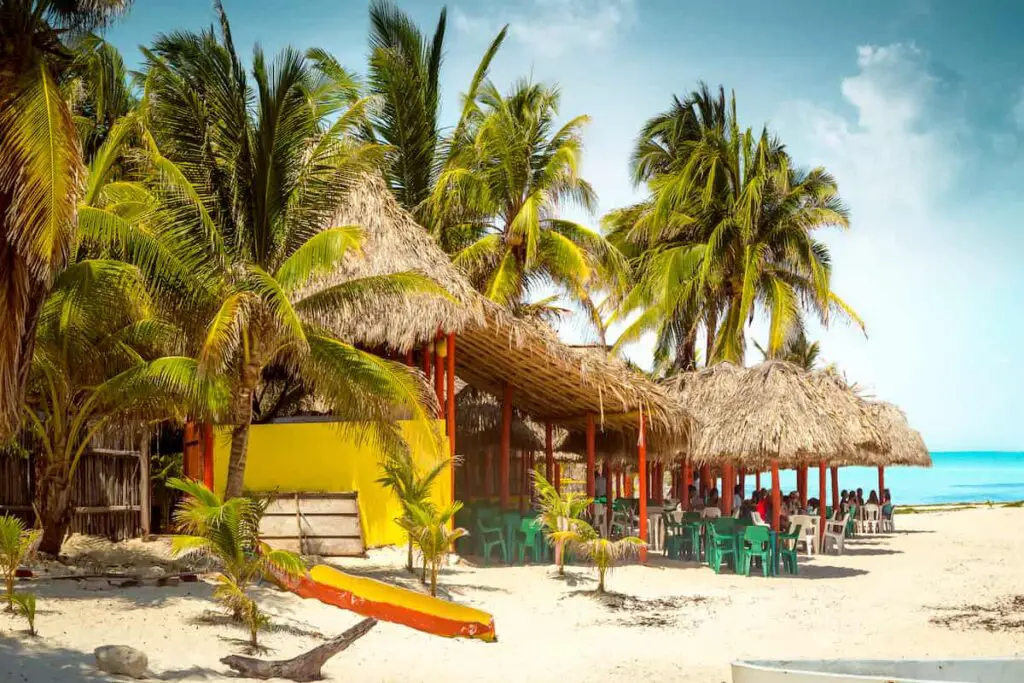 Key Takeaways‍
In this article, I'll explore what makes these five areas in Cozumel the best choices for snorkeling enthusiasts. We'll delve into the unique features of each location, discuss the incredible marine life you can encounter, and provide valuable tips to help you make the most of your snorkeling adventure. So, join me as we dive deep into the underwater wonders of Cozumel and uncover the island's best snorkeling spots. Trust me; you won't want to miss a single detail!
Table of Contents
Where To Stay In Cozumel For Snorkeling – 5 Best Areas
Let's dive into the top 5 areas in Cozumel for snorkeling enthusiasts, exploring the best accommodations and their proximity to amazing snorkel spots. For those areas I've experienced, I'll share my insights on the locations and you can also find my personal thoughts and experiences in the sections that follow.
The 5 Best Places to Stay in Cozumel for Snorkeling
1. El Palancar Reef
El Palancar Reef is one of the best places to stay in Cozumel for snorkeling due to its vibrant sea life, fantastic clarity, and shallow reef system.
This reef system features five sites, including the Garden, Shallows, Deep, Caves, and Horseshoe, which all offer a variety of sea creatures and coral formations. Snorkelers can explore these sites and catch glimpses of colorful fish, rays, turtles, nurse sharks, and sea stars.
The reef has a dramatic blue drop-off which makes it excellent for scuba divers and its top part is shallow enough for snorkeling. The location is situated in the southern region of Cozumel's national marine park, south of San Miguel town. El Palancar Reef in Cozumel is known for its exceptional coral formations and diverse marine species, making it a top destination for snorkeling enthusiasts.
2. Paradise Reef
Paradise Reef is one of the best places to stay in Cozumel for snorkeling due to its unique features.
The shallow section of the reef is a great spot for new snorkelers and families, as it is only three feet deep.
As the reef gently slopes down to around 20 feet, snorkelers will find an abundance of crevices filled with marine creatures and stunningly colorful fish.
Further, the reef is pushed along by a gentle current, making it easier to spot the wildlife.
Additionally, this stunning reef boasts a variety of coral outcrops, sea fans, and sponges, making it a paradise for snorkelers.
Paradise Reef is conveniently located just south of the town of San Miguel and is the first reef inside the protected national marine park, making it a great spot for exploring the Caribbean Sea.
Furthermore, a full-service Dive Paradise shop and training facility is located onsite, beachfront, offering showers, rinse tanks and lockers for gear storage.
All these features make Paradise Reef one of the best places to stay in Cozumel for snorkeling.
3. Dreams Cozumel Cape
What are the features and amenities at Dreams Cozumel Cape?
Dreams Cozumel Cape offers an array of features and amenities for guests to enjoy. These include a private beach, swimming pool, 154 suites with balconies, unlimited reservation-free dining and top-shelf drinks, access to Secrets Aura Cozumel and Sunscape Sabor Cozumel next door, and plenty of activities for guests of all ages. Guests can also take advantage of the beautiful views from the upper floor balconies, as well as the hotel's excellent food offerings. A modest spa, a lovely lounge-style beach, and a whirlpool with an ocean view are some of the other facilities.
4. Chankanaab
The attractions and activities in Chankanaab for snorkeling are numerous and varied. There is easy access to the reef from the shore with partially sandy put ins, and snorkel gear can easily be rented onsite. Here you will find a variety of beautiful and colorful tropical fish, coral, sponges, purple sea fans, and other creatures such as morays, eels, and sea urchins.
Also, two statues that are submerged—"El Cristo" and "La Virgen"—are located on a sandy bottom and draw various fish. There are boat cruises that stop at a stretch of the reef where snorkeling is permitted for individuals who do not desire to enter the park. The reef is broken up into separate areas with differing depths, and the boats frequently stop at the shallowest section for snorkeling. Although equipment rental is not included in the park's admission cost, which is around 20–25 USD, it is.
5. Ventanas Al Mar
In the less developed eastern part of the island of Cozumel, the adults-only Ventanas Al Mar resort provides a beautiful and private hideaway. This is the ideal location to unwind and get away from your hectic everyday life because of the stunning ocean views, umbrellas, and sun loungers.
The resort is conveniently located near popular snorkeling spots and offers easy access to the turquoise Caribbean waters. The shallow reef near the Villa Blanca Garden Hotel is teeming with marine life, making it an ideal spot for snorkeling.
Along with the convenience of the location, Ventanas Al Mar also provides comfortable rooms with pillowtop beds and luxurious rainfall showerheads. With its unbeatable ocean views and relaxing atmosphere, Ventanas Al Mar is a great option for anyone looking for a perfect snorkeling getaway in Cozumel.
What Is Cozumel and What Makes It Special?
Experience the pearl of the Caribbean Sea that is Cozumel, which is situated across from Playa del Carmen and only 12 miles from the Yucatán Peninsula in Mexico. With a 30 mile length and a 9.9 mile width, this island is a genuine paradise with countless options for exploration. Prepare to be amazed by its magnificent beauty, diverse wildlife, and lush tropical flora. You will be in amazement when you visit Cozumel.
What makes Cozumel special is its combination of modern amenities and its untouched, wild atmosphere. From high-end resorts to laid back hostels, you can experience the best of both worlds in this island paradise. Aside from its hotels and resorts, Cozumel is known for having some of the best snorkeling opportunities in the world, as it is located on the Mesoamerican Reef, the world's second-largest reef. You can also experience the culture of the friendly locals and enjoy delicious food. Whether you are looking for a place to relax or explore, Cozumel is the perfect vacation destination.
Tips for Having the Best Experience Possible While Snorkeling in Cozumel
1. Research the Best Snorkeling Spots
Step 1: Decide if you want to take a boat excursion or snorkel from the shore. Boat excursions provide the opportunity to visit far away reefs, while shore snorkeling is often free and allows for more freedom to explore.
Step 2: Check out El Cielo and Palancar for some of the best snorkeling in Cozumel. This is a great option if you want to enjoy a full day excursion with open-bar, ceviche, and other snacks.
Step 3: Look into the Clear Boat Ride and Snorkeling Trip. This is a great option if you want to relax on deck and enjoy some drinks while admiring the marine life.
Step 4: Consider taking a one-day snorkel tour from Cancun. This is a great option if you want to be picked up from your hotel and taken to Cozumel for a two hour snorkeling tour in a glass-bottom boat.
When snorkeling, you should always be aware of your surroundings. To make sure you are not too far away from the shore, look for landmarks such as The Snorkel Center, "sky scraper", or overhead footbridge. Make sure to observe the local marine life, such as coral heads, fan coral, and plenty of fish.
2. Book a Room with A Waterfront View
Booking a room with a waterfront view in Cozumel is important for enjoying stunning ocean views
Having a waterfront view provides direct access to the Caribbean Sea for swimming and snorkeling
Waterfront view rooms often include amenities like a whirlpool, spa, and lounge-style beach with cabana beds at no extra cost
Observing vibrant marine life, such as stingrays and various species of fish, is possible with a waterfront view
A waterfront view ensures a convenient and fulfilling snorkeling experience in Cozumel without missing out on beautiful views or underwater activities
3. Take Advantage of The Scuba Diving Opportunities
Cozumel is a popular dive and snorkel destination located off Mexico's Yucatan Peninsula, boasting some of the best coral reefs in the Caribbean. It offers a wide range of scuba diving opportunities, with shallow reefs located close to shore and a number of hotels offering exclusive access to the water. There are also further snorkeling sites which are accessible via short boat trips. Packages including 2-tank morning boat trips and all-inclusive options with 3 meals, snacks and drinks are available.
4. Explore the Shallows and The Reef
To explore the shallows and reef while snorkeling in Cozumel, here are some step-by-step instructions:
Book a snorkeling tour to Colombia Shallows Reef. This reef lies in shallow sand with a maximum depth of 30 feet and coral formations that reach up to within 8 to 10 feet of the surface.
Wear powerful snorkeling fins and carry a high-visibility swim buoy for safety.
While snorkeling, look for a variety of marine life including filefish, parrotfish, angel fish, sea turtles, and juvenile damselfish.
Look across the sandy bottom for nurse sharks and spotted eagle rays during the winter months.
Explore the Villa Blanca Reef, which lies within swimming distance of shore and is teeming with soft and hard coral outcrops, sea fans and basket sponges.
Head further out to Colombia Deep, the vertical wall at the end of the shallow reef. This spot offers great views of eagle rays, turtles and schools of fish in about 30 ft/10m of water.
5. Wear the proper footwear and clothing
What shoes and clothing should you wear while snorkeling in Cozumel? [Detailed list]:
You should pack the right attire and equipment to experience the greatest snorkeling in Cozumel. Because that many of the beach openings have rough terrain, Cozumel is a great place to employ fins with a little water shoe.
In addition, swimwear, caps, sarongs, towels, and rash guards are the ideal accessories for shielding your back, shoulders, and skin from the sun while you are out of the water. It is best to wear clothes as protection from the sun because none of the Mexican Caribbean's waters allow the use of sunscreen, not even brands that are reef-safe.
6. Invest in The Right Gear for Snorkeling
What gear should you buy for snorkeling in Cozumel? [Expanded list with spatial information]
If you plan to snorkel a lot on your vacation in Cozumel, it is best to invest in your own gear. You will need a well-fitting mask and snorkel, fins that use a small water shoe, and a rash guard to protect you from the sun. Fins are necessary as Cozumel is famous for its drift diving and current. Small water shoes will help you walk over rocky areas at some of the shore entrances.
For the best quality gear, it is recommended to get a set from U.S. Divers that comes in 6 colors and includes a semi-dry snorkel, vented fins and an adjustable mask. Alternatively, you can purchase a more advanced set from Phantom Aquatics that comes in 12 colors and features a panoramic mask, dry snorkel, vented fins and a compact design for travel.
It is also important to bring some snorkel mask defogger along as well. Finally, make sure to bring a brightly colored surface marker buoy when snorkeling outside of the swimming zones, as it will make it easier for boat captains to spot you.
7. Take Time to Plan Your Route Beforehand
Planning your route beforehand in Cozumel can enhance your snorkeling experience
The Snorkel Center is located south of the main road, past a large skyscraper
It's best to snorkel between 9 AM and noon, when dive and snorkel boats are not in the area
This timing increases the likelihood of seeing coral heads, fan coral, and numerous fish
Signing up for a weekly newsletter can offer tips on earning money for travel and finding the best deals
Using an aggregator like Discover Cars to compare prices can save money and improve your overall experience
8. Explore the Beaches and Mangroves
Step 1: Choose a beach resort near the best snorkeling spots on Cozumel. This can include Chankanaab Park which requires an entrance fee of $20-25 USD and does not include equipment rental, or Coral Princess Golf & Dive Resort which has a man-made beach but offers exclusive water access.
Step 2: Bring your own snorkeling gear if necessary.
Step 3: Explore the crystal blue waters of Cozumel. Snorkelers can start with Villa Blanca Reef, located near San Miguel, which teems with juvenile fish and coral outcrops.
Step 4: Visit the Punta Sur Eco Park on the southern tip of the island. This park includes Colombia Lagoon, which offers access to beautiful beaches, as well as the Punta Sur Shallows which is covered in gorgonian sea fans, sponges and coral.
Step 5: Visit the hip beach club, which is 9/10 of a mile south of Chankanaab, for a distinctive experience. Close to the coast snorkeling is fantastic here, and free divers will love the 10–20 foot cliffs that are about 50 yards from the beach.
Step 6: If you want to explore the mangroves, several tour companies offer mangrove tours which are perfect for snorkelers. These tours take you through the intricate mangrove tunnels and you may even be able to spot endemic species of wildlife in the area.
9. Take a Tour with A Personal Guide
When snorkeling in Cozumel, it is important to take a tour with a personal guide for several reasons. Firstly, a personal guide will be able to provide helpful advice and assistance on the best spots and techniques for snorkeling.
They can also provide useful insight into local culture and the environment. Secondly, having a personal guide will ensure that the snorkeling experience is safe and enjoyable. A personal guide will be able to identify any potential hazards, such as strong currents, and can also provide important information on marine life and safety regulations.
Furthermore, a personal guide will be able to provide knowledge on the local ecology and conservation efforts, and can help to ensure that visitors have a positive and sustainable impact on the environment. Finally, a personal guide will be able to provide an enjoyable and immersive experience, allowing visitors to fully appreciate the beauty of Cozumel's underwater world.
10. Enjoy a Relaxing Meal After Your Activity
Step 1: Head to one of the beach clubs in Cozumel such as the newer beach club that offers decent snorkeling and a nice restaurant.
Step 2: Relax and enjoy a refreshing drink by the Caribbean Sea while taking in the beautiful views.
Step 3: For a meal, explore the various dining options in Cozumel, from quick eats to fine dining and Latin favorites to European delights.
Step 4: Make sure to wear dive booties if you plan to do a lot of snorkeling to protect your feet from the rocky shores.
Step 5: Finish off your experience by listening to the live salsa music played on the beach clubs on Sunday afternoons.
Personal Thoughts and Experiences About ‍Snorkeling in Cozumel
As a beginner snorkeled, the idea of going to Cozumel is exciting. Especially as it is in the Yucatan area, it brings imaginations of untamed nature and simple living.
Early on, I fell in love with the charm of small beach towns, and it was during this time that I discovered their affordability for short vacation getaways. The unique atmosphere of these beach towns reminded me of Cozumel, Mexico, famous for its outstanding snorkeling opportunities and vibrant sea life.
My dream is to visit Cozumel one day and experience its coastal beauty much like my cherished memories from California.
If I had the opportunity to visit Cozumel, I would choose to stay near the El Palancar Reef and the Chankanaab area for snorkeling.
The vibrant sea life and fantastic clarity at El Palancar Reef would make for an unforgettable experience, exploring the five unique sites and encountering colorful fish, rays, and turtles. At Chankanaab, I would enjoy the easy shore access and abundant marine life, including moray eels and sea urchins.
In between snorkeling adventures, I'd visit the nearby town of San Miguel for a taste of local culture and cuisine.
Frequently Asked Questions
Are There Guided Snorkeling Tours Available In Cozumel, Or Is It Mainly A Self-Guided Activity?
Yes, there are guided snorkeling tours available in Cozumel; and yes, it is also possible to enjoy self-guided exploration.
Guided tour benefits include expert local knowledge, safety measures, and equipment provided – all of which make for an enjoyable underwater adventure.
On the other hand, self-guided exploration offers a sense of freedom, allowing you to dive into the clear waters on your own terms.
In Cozumel's captivating world beneath the waves, where vibrant marine life teems around colorful coral reefs, it matters not whether you choose a guided or unguided experience – both paths lead to breathtaking beauty and unforgettable memories.
How Does The Snorkeling Experience In Cozumel Compare To Other Popular Snorkeling Destinations In The Caribbean?
In the vast sea of Caribbean snorkeling spots, Cozumel's uniqueness shines through like a beacon, calling adventurers to its vibrant reefs.
You'll find it's not just another pretty face in the crowd; Cozumel stands out with an unmatched richness teeming with life beneath the waves.
While other destinations may boast their own beauty, few can hold a candle to the underwater world that awaits you here.
Break free from the mundane and immerse yourself in a realm where colors come alive and diverse marine creatures greet you at every turn.
As you explore this haven, let your spirit soar alongside those curious fish – for here lies freedom in its purest form.
Are There Any Specific Health Or Fitness Requirements To Consider Before Snorkeling In Cozumel?
Before diving into Cozumel's vibrant underwater world, it's important to consider your health and fitness.
While snorkeling is a relatively low-impact activity, taking some health precautions and fitness preparation will ensure you enjoy every moment of your adventure.
Whether you're a seasoned swimmer or new to the sport, building up your endurance by swimming laps or practicing with fins can make a world of difference.
Remember to stay aware of any personal health concerns, such as heart or respiratory issues, as well as staying sun smart with reef-safe sunscreen.
Embrace the freedom that snorkeling in Cozumel offers by preparing yourself properly for an unforgettable experience in the Caribbean Sea.
What Are Some Lesser-Known Snorkeling Spots In Cozumel That Are Worth Exploring For Experienced Snorkelers?
Dive into a treasure trove of hidden gems as you explore lesser-known snorkeling spots in Cozumel, perfect for experienced snorkelers seeking adventure beyond the well-trodden path.
Expert favorites like El Cielo, where starfish adorn the sandy floor, and Punta Sur Eco Beach Park's enchanting underwater world brimming with vibrant marine life, beckon to those desiring freedom from the ordinary.
With clear waters and captivating coral gardens, these uncharted territories reward intrepid explorers with an unforgettable experience that rivals any top spot on the island.
So don your mask and fins, and embrace the spirit of discovery as you uncover Cozumel's secret underwater havens.
Are There Any Recommended Snorkeling Spots In Cozumel That Are Particularly Suitable For Families With Young Children Or Beginner Snorkelers?
Yes, there are several family-friendly reefs in Cozumel that cater to beginners and young children, making it easy for everyone to explore the underwater wonders together.
These spots offer calm waters and shallow depths, so you can follow beginner snorkeling tips like practicing buoyancy and breathing techniques with ease.
As you and your family swim among vibrant fish and colorful corals, you'll feel a sense of freedom and connection to the natural world that only snorkeling can provide.
So go ahead, dive in, and make unforgettable memories in Cozumel's crystal-clear waters – adventure awaits!
Conclusion
In the end, it's up to you to discover the true beauty of Cozumel's underwater world.
Whether you're a seasoned snorkeler or just starting out, there's a place for everyone in this aquatic paradise.
So take the plunge and uncover the hidden gems that await beneath the waves.
You'll find yourself immersed in a realm of vibrant colors and fascinating marine life, creating memories that will last a lifetime.