As you stroll along the Oceanfront Boardwalk in Virginia Beach, the salty ocean breeze carries the mouthwatering aroma of beachside barbecues, tantalizing taco joints, and finger-licking chicken spots. This seaside paradise is not only a haven for your soul but also for your ravenous appetite. With so many fast food hotspots to choose from, you might be wondering where to find the best fast food experiences in Virginia Beach that'll satisfy your cravings.
So, where should you go to discover the ultimate fast food hotspots in Virginia Beach? The options include tasting succulent salads at Oceanfront Boardwalk, trying spicy tacos at various taco joints, indulging in hearty sandwiches, visiting unforgettable burger bars, sinking your teeth into fresh seafood, and satisfying your sweet tooth with delicious pastries and ice cream parlors. Finally, don't miss out on classic pizzerias with artisanal toppings and international cuisine on the go.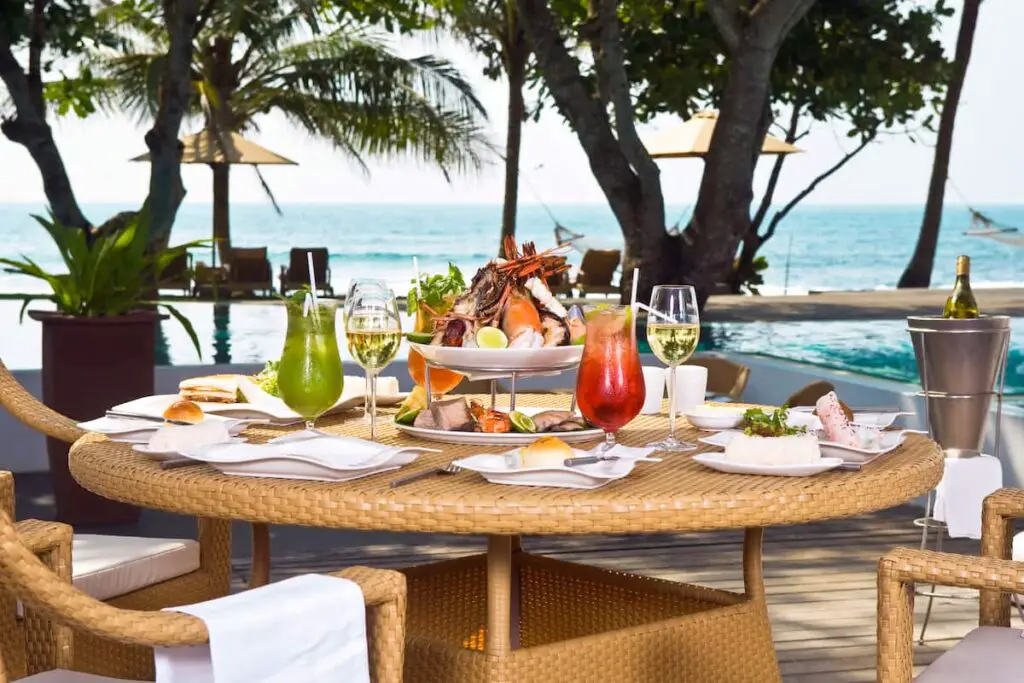 Key Takeaways‍
Oceanfront Boardwalk offers a variety of fast food options with fresh ingredients, creating mouthwatering grab-and-go salads.
Virginia Beach has numerous tasty taco joints with authentic salsas, perfect for those craving spice and zesty flavors.
For satisfying sandwiches, explore their local favorite Taste Unlimited or enjoy Italian options at Primo Pizzeria & Italian Ristorante.
With diverse gourmet burger bars, Virginia Beach caters to unique customization options suited for everyone's taste buds.
Fresh seafood shacks combine quality and convenience, providing generous portions and a relaxed, casual ambiance.
Enjoy sweet treats like delightful donuts, irresistible ice cream parlors, and explore pizza fusion at spots like Pizza Fusion.
Are you ready to experience the rich culinary offerings of Virginia Beach? In this article, I'll take you on a journey through some of the best fast food hotspots, from bites on Oceanfront Boardwalk to international cuisine on the go. I'll provide insider tips and recommendations that you won't want to miss as we dive into Virginia Beach's vibrant and diverse culinary scene. So, tighten your belt and tuck in a napkin because we're about to embark on a gastronomic adventure that will leave you craving for more!
Table of Contents
Virginia Beach Fast Food – The Ultimate Hotspots
Let's dive into the world of Virginia Beach fast food and explore each hotspot in detail. For those eateries I've personally visited, I'll share my insights, while you can also find my personal thoughts and experiences in the sections that follow.
Oceanfront Boardwalk Bite Stops
Ah, the sweet aroma of freedom – or is it the irresistible scent of beachside barbecue wafting through the salty ocean breeze? Either way, Virginia Beach's Oceanfront Boardwalk is a haven for both the liberated soul and the ravenous appetite.
With miles of pristine coastline dotted with vibrant eateries, you'll find yourself lost in a world where time ceases to exist and gastronomic delights reign supreme.
One must not miss out on mouthwatering bite stops along this sandy paradise. Sink your teeth into succulent grab-and-go salads from local vendors who masterfully craft their dishes using fresh ingredients sourced from nearby farms.
Savor each flavor as they intertwine with every crunch, giving you an invigorating taste sensation that will leave you craving more. And don't worry—there's always room for seconds!
So go ahead, indulge in these unforgettable fast food hotspots that embody the spirit of Virginia Beach while fueling your body for endless adventures.
Tasty Taco Joints
After satisfying your hunger with delightful bites at the Oceanfront Boardwalk, you might find yourself yearning for something with a little more spice and zest. Well, fear not, my fellow food enthusiasts! Virginia Beach is also home to a plethora of tasty taco joints that are guaranteed to tantalize your taste buds and provide that much-needed break from the mundane.
Get ready to embark on a culinary adventure with our top Taco truck treasures scattered throughout the city. These establishments showcase not only mouthwatering tacos but also Authentic salsa selections that will transport you straight to the heart of Mexico.
The vibrant flavors and unique combinations these taco joints offer will undoubtedly ignite your passion for freedom and exploration. So loosen up those belts, my friends, because it's time to dive headfirst into the world of deliciously crafted tacos and exquisite salsas waiting just around the corner in Virginia Beach.
Satisfying Sandwich Shops
Did you know that Americans consume an astonishing 300 million sandwiches each day? That's almost one for every person in the country!
It's no wonder we're always on the hunt for the best sandwich spots, especially when we're craving a quick and satisfying meal. In Virginia Beach, you'll find an abundance of places to indulge in hearty hoagies and panini perfection. Trust me, as a fast food expert and Virginia Beach food critic, I have tasted my fair share of sandwiches, and these local joints are guaranteed to hit the spot.
You may be asking yourself, where can I find these delectable delights? For starters, head on over to Taste Unlimited – a local favorite that offers gourmet sandwiches with unique flavor combinations that will make your taste buds dance with joy.
If you're yearning for some classic Italian fare in sandwich form, look no further than Primo Pizzeria & Italian Ristorante. Their robust selection of hot subs and paninis will fill your belly and satisfy your desire for freedom from mundane meals.
Remember, life is too short for boring sandwiches – so treat yourself to Virginia Beach's finest offerings!
Unforgettable Burger Bars
When it comes to satisfying those burger cravings, Virginia Beach offers a plethora of unforgettable burger bars that'll have you coming back for more.
The city's diverse culinary scene allows for mouthwatering burger customization options, ensuring that even the most particular eaters can find a burger they'll absolutely love.
From juicy patties to unique toppings and sauces, each spot boasts its own signature style that sets it apart from the rest.
One can't help but feel a sense of freedom when exploring the numerous gourmet burger joints in Virginia Beach.
It's all about indulging in your favorite comfort food while discovering new combinations and flavors.
So, go ahead and let your taste buds run wild as you embark on this epicurean adventure through Virginia Beach's finest fast food hotspots!
Remember, life's too short to settle for anything less than an extraordinary burger experience.
Fresh Seafood Shacks
Seafood variety at Virginia Beach's fresh seafood shacks is unbeatable, with plenty of classic and modern options to choose from.
Portion size is generous, so you'll get your money's worth when you order.
The ambiance is relaxed and casual, giving you the perfect spot to grab a quick but delicious bite.
Seafood Variety
You'll be hooked the moment you step foot into one of Virginia Beach's fresh seafood shacks, where a mouthwatering array of ocean delights awaits your eager taste buds.
Trust me, as a fast food expert, I can assure you that these coastal gems offer an unparalleled fusion of quality and convenience that will satisfy even the most discerning seafood lover.
Imagine indulging in succulent seafood sushi or savoring a vibrant coastal poke bowl, where the ingredients are so fresh that you can almost hear the waves crashing on the shore.
These scrumptious bites will not only quench your hunger but also fuel your desire for freedom as you explore the culinary treasures of Virginia Beach.
So go ahead and dive into this oceanic wonderland – your taste buds will thank you for it!
Portion Size
Now, y'all might be thinkin' that indulging in these heavenly seafood shacks means throwing portion control out the window – but fear not, my friends!
As a seasoned fast food expert and Virginia Beach connoisseur, I assure you that it's entirely possible to savor these coastal delights while still practicing mindful eating.
These seafood shacks understand their customers' desire for freedom in every aspect of life, including the freedom to enjoy food without guilt.
So whether you're opting for a lighter option like a shrimp cocktail or going all in with a massive crab boil, you'll find that these establishments cater to every appetite and encourage you to listen to your body's needs.
That way, you can truly relish each bite of your oceanic feast without any unnecessary restraint.
Ambiance
Now, y'all can't overlook the importance of ambiance when it comes to truly appreciating your seafood shack experience.
You see, these joints ain't just about serving up scrumptious grub – they're also all about creating a space where folks like us can kick back and let loose.
From cozy cafes with nautical décor that transport you straight to the heart of a seaside village, to trendy food trucks bursting with character and good vibes, there's no shortage of inviting atmospheres to explore.
So go on, immerse yourself in the world of fresh seafood shacks and soak in that liberating ambiance as you savor every last morsel of oceanic goodness.
Finger-Licking Chicken Spots
As you bid farewell to the ocean's finest at those seafood shacks, prepare to embark on a finger-licking journey through Virginia Beach's legendary chicken spots. Just as long-standing as the spicy wings debate, these fast food hotspots have been satisfying the cravings of both locals and visitors alike with their mouthwatering flavors and irresistible dipping sauce preferences.
Virginia Beach boasts an array of unforgettable chicken joints that cater to every taste bud, but there are three must-visit places that will send your senses soaring:
Feathered Fury – Known for its fiery spices and tender meat, Feathered Fury offers a wide variety of wing sauces and innovative sides that will leave you craving more. Their signature dipping sauce is truly a game-changer.

Cluckin' Fantastic – This family-owned hotspot is famous for its perfectly seasoned chicken tenders and home-style atmosphere. Be sure to try their scrumptious honey mustard dipping sauce – it'll make you feel like you've found culinary freedom!

Wings of Liberty – If you're looking for something different yet equally delicious, Wings of Liberty serves up unique Korean-style fried chicken with an array of eclectic flavor combinations. Don't miss out on their soy garlic glaze!
Don't let your taste buds be confined by ordinary fast food – these finger-licking chicken spots in Virginia Beach offer much more than just convenience; they deliver culinary adventures bursting with flavor and satisfaction! The only question left is whether you're ready to dive into this world of tantalizing tastes and explore the ultimate fast-food scene in Virginia Beach!
Delightful Donut And Pastry Destinations
Now that you've had your fill of savory fast food delights, it's time to satisfy your sweet tooth with some Donut Delicacies and Pastry Perfection.
Virginia Beach is not only known for its oceanfront views and friendly atmosphere, but also for its delightful donut and pastry destinations. Trust me when I say, these sugary treats will make you feel like royalty as you indulge in their deliciousness while the ocean breeze caresses your face.
You simply can't miss out on the heavenly flavors at these local gems. Each spot offers a unique experience, from traditional glazed donuts to creative concoctions that'll make your taste buds dance with joy.
So go ahead, free yourself from the shackles of ordinary desserts and dive into a world where fried dough and flaky pastries reign supreme. You deserve it!
Irresistible Ice Cream Parlors
Once you've indulged in Virginia Beach's fast-food marvels, it's time to satisfy your sweet tooth at some of the city's most irresistible ice cream parlors. Trust me, my fellow food enthusiasts, these establishments are churning out ice cream innovations that will have you coming back for more.
From unique flavors inspired by local ingredients to creative concoctions that push the boundaries of traditional frozen treats, there's something for every ice cream lover in Virginia Beach.
Lolly's Creamery: Known for their small-batch, handcrafted delights, Lolly's Creamery offers a rotating lineup of innovative flavors like Lavender Honey and Roasted Strawberry Balsamic. Don't miss their signature waffle cones made fresh daily!

Gilly's Creamery: Step into this nostalgic hotspot and be transported back to simpler times. Gilly's takes pride in their use of locally sourced ingredients and offers an array of amazing flavors such as Bourbon Pecan Pie and Salted Caramel Brownie.

Blue Cow Ice Cream Co.: For those seeking dairy-free options without compromising on taste, Blue Cow Ice Cream Co. is the place to be. Their variety includes vegan-friendly scoops like Chocolate Coconut Almond and Lemon Poppyseed Sorbet.
So go ahead, unleash your inner child and let loose in these delectable dessert havens while exploring Virginia Beach!
Remember — life is too short not to savor every last bite (or lick) of these extraordinary ice cream creations. Whether you're a local or just visiting the area, there truly is no better way to experience freedom than indulging your taste buds with unforgettable icy treats from these fantastic parlors!
Classic Pizzerias With A Twist
It's time to explore the world of pizza fusion and artisanal toppings, from fire-roasted crusts to unique flavor combinations.
There's no better place to satisfy your craving for fast food than in Virginia Beach – get ready for the ultimate pizza experience!
Pizza Fusion
You won't believe the scrumptious creations you'll find at Pizza Fusion, a hotspot that combines classic pizzeria charm with innovative pizza innovations and eco-friendly dining.
As an expert in Virginia Beach's fast food scene, I can assure you that this is not your ordinary pizza joint.
At Pizza Fusion, they're putting a fresh spin on your favorite pies while also keeping the environment in mind – talk about guilt-free indulgence!
Imagine sinking your teeth into a delectable slice of pizza topped with unconventional ingredients like vegan cheese or Thai chicken, all while knowing that you're supporting sustainable practices with every bite.
Now that's what I call freedom for both your taste buds and the planet!
So go ahead, let loose and treat yourself to a unique culinary experience at Pizza Fusion without compromising on taste or sustainability.
Artisanal Toppings
But wait, there's more to this tantalizing tale of pizza paradise!
Pizza Fusion doesn't stop at just offering eco-friendly dining options – they've also mastered the art of artisanal toppings that'll have your taste buds singing for joy.
As a fast food aficionado and Virginia Beach food critic, I can attest to the sheer bliss you'll experience when savoring their gourmet condiments and creative sauces, which take traditional pizza flavors to new heights.
You know what they say: variety is the spice of life, and with Pizza Fusion's innovative approach to toppings, you've got a veritable smorgasbord of delicious possibilities at your fingertips.
So go on, embrace your inner foodie adventurer and let your taste buds roam free as you explore the mouthwatering world of artisanal pizza toppings at Pizza Fusion!
International Cuisine On The Go
Imagine a world where you can taste the finest global flavors fusion without ever leaving the sandy shores of Virginia Beach; a place where your taste buds can embark on a culinary adventure that spans continents, all while basking in the warm sun and salty sea breeze. Sounds like heaven, doesn't it?
Well, buckle up, my fellow fast food aficionados – that dream has become our reality! Virginia Beach is home to an array of international cuisine options that bring cultural cuisine convenience right to our fingertips.
As an expert in fast food and a devoted critic of Virginia Beach's thriving food scene, I can assure you that the diverse selection of quick eats is nothing short of extraordinary. Here, we have everything from fragrant Thai curries served up in minutes to flavorful Mexican tacos so authentic you'll think you've been transported south of the border.
And let's not forget about the mouthwatering Indian samosas and Japanese sushi rolls that will make you question why you ever settled for boring burgers and fries.
So break free from your usual fast-food rut and embrace this treasure trove of international delights – your taste buds will thank you!
Personal Thoughts and Experiences About ‍Virginia Beach Fast Food
Growing up in sunny San Diego, I fell in love with the small beach towns scattered along the Californian coast and beyond. Reading about Virginia Beach's Oceanfront Boardwalk and the diverse food culture, it takes me back to my own exploration days of beachside eateries and adventures.
This reminds me why I have a passion for discovering and experiencing new beach destinations, and I can't wait to one day explore the fast food hotspots in Virginia Beach, indulging in their delicious offerings while appreciating the charming beach atmosphere.
If I got the opportunity to travel to Virginia Beach, I would definitely start my day at the Oceanfront Boardwalk, where I could sample some of the grab-and-go salads from local vendors, appreciating the fresh ingredients while enjoying the stunning beach views. I wouldn't want to miss out on the taste of authentic tacos and salsa from one of Virginia Beach's many tasty taco joints, delving into the heart of Mexico through these zesty culinary creations.
After satisfying my savory cravings, I'd head to an irresistible ice cream parlor to cool down with some unique and local flavors, before capping off my visit with a gourmet pizza from Pizza Fusion, relishing the artisanal toppings and eco-friendly dining experience. The combination of delightful eats, beach vibes, and international cuisine would provide me with the perfect, relaxing getaway.
Frequently Asked Questions
Are There Any Vegan Or Vegetarian-Friendly Fast Food Options In Virginia Beach?
Oh, you bet there are!
Virginia Beach offers plenty of vegan and vegetarian-friendly fast food options that'll satisfy your cravings without compromising your lifestyle.
From popular vegan fast food chains to local plant-based burger joints, there's no shortage of delicious choices here.
Take a stroll down the oceanfront or explore the bustling streets further inland to discover mouthwatering meatless alternatives that will tickle your taste buds and satisfy your hunger.
Trust me, as a fast food expert and Virginia Beach food critic, I can assure you that indulging in these scrumptious plant-based quick eats will make you feel like you've achieved culinary freedom!
So go ahead and treat yourself – because who says vegans and vegetarians can't enjoy speedy, delectable meals on-the-go?
What Are Some Locally-Owned Or Unique Fast Food Hotspots That Are Must-Tries In The Area?
Feast your eyes on Virginia Beach's smorgasbord of locally-owned and unique fast food hotspots that are must-tries for anyone with a hankering for delectable quick bites.
This coastal gem boasts an array of unique burger joints where you can sink your teeth into mouthwatering creations, each telling its own delicious story.
For seafood lovers, local seafood spots offer the freshest catch, satisfying even the most discerning palate.
As a fast food expert and Virginia Beach food critic, I can attest that these culinary treasures will satiate your craving while giving you a taste of freedom as you explore the vibrant flavors of this seaside city.
So go ahead, indulge in the ultimate fast food experience that only Virginia Beach can offer!
Can I Find Any Late-Night Fast Food Eateries For After-Hours Cravings In Virginia Beach?
Absolutely! Virginia Beach boasts a variety of late-night fast food eateries perfect for satisfying your after-hours cravings.
You'll find mouthwatering late-night pizzerias serving up scrumptious slices that will transport you straight to Italy, as well as beachside burger joints where you can sink your teeth into juicy patties topped with fresh, local ingredients.
As a fast food expert and Virginia Beach food critic, I must say that the city's vibrant nightlife is perfectly complemented by its diverse selection of delicious quick eats.
So go ahead, indulge in some midnight feasting and experience the freedom to satisfy your hunger any time of the night – because in Virginia Beach, there's always something tasty waiting for you around the corner.
Are There Any Fast Food Spots In Virginia Beach That Offer Healthy Options Or Cater To Specific Dietary Needs?
Did you know that a whopping 64% of consumers are more likely to choose a restaurant with dietary accommodations?
Virginia Beach's fast food scene is no exception, offering health-conscious chains and eateries that cater to specific dietary needs. As a Virginia Beach food critic, I can assure you that there are plenty of options for those who crave the convenience of fast food but still want something nutritious and tailored to their preferences.
Dietary accommodations like gluten-free, vegetarian, and vegan choices are becoming increasingly popular among various fast food joints in the area. So go ahead, indulge in your desire for freedom while satisfying your taste buds – Virginia Beach has got you covered!
What Is The Average Price Range For Fast Food Meals In Virginia Beach, And Are There Any Budget-Friendly Options?
In my extensive Budget Eats Exploration throughout Virginia Beach, I've found that the average price range for fast food meals can vary greatly depending on the restaurant and type of cuisine. However, you can generally expect to spend anywhere from $5 to $15 per meal.
For those seeking Affordable Beachside Bites without compromising on taste or quality, don't fret! There are plenty of wallet-friendly options to satisfy your cravings while leaving you with enough cash to keep enjoying your coastal escapades.
So go ahead, indulge in some scrumptious fast food finds – after all, isn't life about exploring new tastes and experiences?
Conclusion
In conclusion, Virginia Beach offers a plethora of fast food options to satisfy any craving, dietary preference, or budget. Whether you're in search of vegan delights, unique local flavors, late-night munchies, or healthier alternatives, this vibrant city has got you covered.
As a fast food expert and Virginia Beach food critic, I can confidently say that exploring these ultimate hotspots will leave your taste buds dancing with delight.
So go ahead and indulge in the best quick eats this coastal paradise has to offer!