When grilled food is eaten on the beach the thing that makes it unique is the smokey flavor. Because the food is being cooked on the beach, it has a smokey flavor. It is something that people enjoy and something that people look forward to when they go to the beach. It makes me wonder, what are some easy beach grilling ideas I can use on my next outings to the beach?
So what are some easy beach grilling ideas? They are:#1 Bring a Portable Beach Grill#2 Prep Your Food Food At Home#3. Make Setup at The Beach a Breeze – Bring the Right Supplies#4. Find the Perfect Spot#5. Keep an Eye on Your Food#6 – Make Cleanup Super Easy#7 Pre-Heat the Grill#8 -Use Ice Chests To Transport Food and Keep Everything Cool #9 Double-Check if Grilling on The Beach Is Lawful at The Beach You Go To#10 Check for Fire Bans#11 How To Grill Hamburgers on the Beach – Some Tips#12 How To Grill Chicken Filets – Grill Tips#13 How to Grill Steaks – Easy Tips#14 How To Grill Seafood#15 Flavor Ideas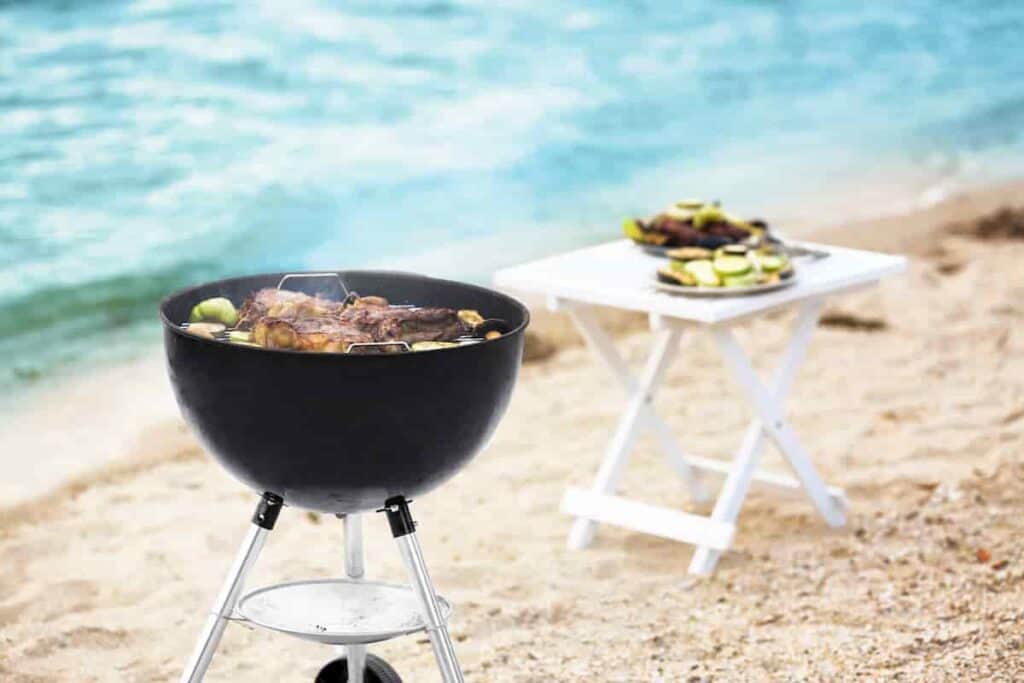 Key Takeaways
Grilling at the beach made easy with delicious, portable recipes for a fun and stress-free experience.
Marinated shrimp skewers offer a quick cook time, easy prep, and versatility in seasoning options.
Grilled foil packets allow for customizable, mess-free meals with a variety of proteins and veggies.
Veggie kebabs provide a healthy and colorful option, ideal for accommodating dietary restrictions.
Expand your beach grilling horizons with seafood options like clams, mussels, and fish tacos.
Remember to pack essential grilling tools, stay safe near open flames, and clean up afterward.
It's not surprising that many people enjoy grilling in general and also on the beach. Let's take a look at some statistics: Why do people grill? According to a 2020 report, 68% of owners do it for the flavor, followed by lifestyle (45%), convenience (33%), entertainment (32%) and hobby (19%). (Source)
Planning to grill at the beach anytime soon? Want to see the latest portable grills for the beach that are popular right now? Click Here to go to Amazon and check them out!
Let's take a deep dive into grilling by going over these super-easy tips. Toward the end of the article, I'll list some delicious recipes to try at your next beach grill party, featuring tasty side dishes like pasta salad, a refreshing tomato side dish, and even options like Asian-inspired sausage skewers for a delicious bite. Stick around, you won't want to miss it!
Table of Contents
Top 15 Easy Beach Grilling Ideas- Prep, Grilled Food, Cleanup Plus Recipes
Some easy beach grilling ideas are the ones that use what you have on hand. You'll find plenty of great recipes in your kitchen that will work well with a beach theme, such as kabobs or even fruit skewers. Here are the 15 Tips:
#1 Bring a Portable Beach Grill
Plenty of beach grills available make cooking on the beach easier than ever. These portable grills allow you to grill food at the shoreline without needing special equipment.
A portable grill allows you to cook outdoors while enjoying indoor appliances' convenience, making it perfect for preparing delicious BBQ recipes. Store your ingredients in containers or packets for easy transport and preparation.
You can use these grills to prepare meals for yourself and your guests.
You can easily pack one into your car if you're camping or traveling.
Many models offer multiple cooking options such as direct heat, indirect heat, rotisserie, and charcoal ignition.
You can find a portable grill that suits your needs and lifestyle.
#2 Prep Your Food Food At Home 
Before heading to the beach, prep your food so that it's ready to grill when you get there. This will make things much easier once you're ready to start cooking. Pack your ingredients in containers or ready-to-grill packets for added convenience.
– Don't forget about veggies. Grill corn, peppers, mushrooms, tomatoes, zucchini, broccoli, cauliflower, carrots, bell pepper, and other vegetables. Prep by cutting them up at home, ready to be grilled when at the beach
– Add flavor. Sprinkle salt, garlic powder, onion powder, paprika, cayenne pepper, and other spices on your food. These flavors will add extra flavor without adding too many calories.
#3. Make Setup at The Beach a Breeze – Bring the Right Supplies
In addition to your grill and food, don't forget to bring any other supplies you'll need, such as charcoal, lighter fluid, tongs, plates, and utensils.
#4. Find the Perfect Spot
Once you arrive at the beach, take some time to find the perfect spot for grilling. You'll want to find a spot close enough to the water to enjoy the view while cooking, but far enough away so your grill doesn't get too hot from the sun.
#5. Keep an Eye on Your Food
Once your food is on the grill, be sure to keep an eye on it so that it doesn't burn or become overcooked.
Make sure that you have enough space to set up your grill. This means you should find a spot with plenty of room to place your grill.
Don't grill near trees or bushes. This can lead to fires.
Get rid of all debris around your grill before setting it up. This includes anything that could fall into the fire.
#6 – Make Cleanup Super Easy
Tinfoil is your best friend when it comes to easy beach grilling. Line the grill with tinfoil before you start cooking, and you can simply throw everything away when you're done. It's also a great tool to create packets of veggies or fruits, making for easy and mess-free grilling.No scrubbing is required!
Bring along a trash bag and gloves.
Keep all of your grill tools together in one spot. This makes cleaning easier and faster, whether you're preparing a classic beach cuisine or just grilling some bread, sausages and eggs for a breakfast snack.
Put everything away once you're done using it. When done, take things back to the car and put all food items (used and unused) into the ice chest, including any leftover onions that didn't make it onto the grill.
#7 Pre-Heat the Grill
If you preheat the grill before you start cooking, getting those perfect grill marks on your food will be much easier. Plus, it will cook more evenly.
– Make sure that you preheat the grill at least 30 minutes before you plan to cook anything. This allows the heat to build up and makes cooking easier, whether you're grilling onions or any other ingredient.
#8 -Use Ice Chests To Transport Food and Keep Everything Cool
An ice chest is a type of cooler that is used to keep food and drinks cold, ensuring the freshness and flavor of ingredients like potato salad, bread, and even eggs.
To use an ice chest, you will need to fill it with ice or cold packs. You can then add your food and drinks to the chest and close it, so the contents stay cold.
When I go to the beach for a grill party, a large ice chest is almost always going with me. I learned this when working at a catering company, we had a grill party for 100 people on Mission Beach in San Diego. 13 large ice chests held all the steaks and chicken filets, plus the vegetables we would grill, bread, eggs, onions, and some condiments, like lemongrass-infused dressing for a lovely Greek salad, and drinks for the 100 person party. It was a perfect line of grills, and ice chests, and convenient and tidy, as everyone eats and enjoys their time.
There are several benefits to using an ice chest. First, it will keep your food and drinks cold longer than a regular cooler, preserving your beach cuisine. This is important if you are going to be on the beach all day, or if you are taking food with you on a long car trip, like a strawberry summer dish topped with brown sugar.
Second, an ice chest usually has more space than a regular cooler, so you can fit more food and drinks inside, including bread, eggs, and onions. Finally, an ice chest will often have features that a regular cooler does not, such as wheels or handles, which make it easier to transport.
– Pack plenty of ice into the chest before heading out to the beach.
– Wrap the food in foil (or an aluminum tray) and put it in a cooler filled with ice, to ensure your cuisine stays fresh and enjoyable.
 #9 Double-Check if Grilling on The Beach Is Lawful at The Beach You Go To
If you're lucky enough to live near the beach or are planning a beach vacation, grilling is a great way to enjoy a meal while enjoying the outdoors. You must check if grilling or open fires are allowed on the beach if you want to have a grill party. 
Each beach and beach park has its own regulations, and it is good to check local, city, and state laws on the internet or call for information about grilling your favorite cuisine, including dishes that feature bread, eggs, and onions.
I wrote an article just about this topic, check it out here if you are interested to learn more: How To Grill On The Beach 
#10 Check for Fire Bans
Many beaches have restrictions on open fires, so be sure to check before you light up. This applies to any beach, regardless of the country or culture, as different localities may have specific rules in place.
Related to #9, the local, city, and state regulations on open fires are information that can be found on the internet or by calling the specific regulator. Especially public beaches and parks, frequented in the summer, will be listed. Don't forget to take into account if you're planning to grill breakfast or any other meal, as certain beaches may have time restrictions as well.
#11 How To Grill Hamburgers on the Beach – Some Tips
Grilled hamburgers are a real treat at a beach BBQ. Here are tips I use when grilling burgers at the beach whether it be for breakfast, lunch, or dinner:
-To speed grilling, shape, and form the hamburger patties at home and then take them by ice chest to the beach
-It comes down to personal preference, but making thinner hamburgers (and then putting two patties on the burger) will make your grilling time faster. This approach can also be adapted to adapt to the food culture of your country by preparing local delicacies.
-Put American cheese slices on the burgers after you have flipped them once
-Pre-slice tomatoes, and lettuce and prepare other condiments to be included in your food ice chest
#12 How To Grill Chicken Filets – Grill Tips
Chicken Filets are great for grilling and much easier to check if done compared to drumsticks or thighs. Here are a few things that I do to make it easier to grill chicken at the beach:
-Pound the chicken breasts to flatten them, so they are even. Place in between plastic wrap and flatten with an aluminum kitchen hammer (or similar). 
-Marinade the chicken breasts with olive oil, fresh rosemary, crushed black pepper, salt, lemon, and red wine vinegar. The time for marinating can be from 2 hours to overnight. 
-Lightly dry the chicken filets before putting them on the grill. Grill on medium-high. 
#13 How to Grill Steaks – Easy Tips
Steaks are easy to grill. I normally use only salt and pepper when grilling, but there are countless ways to marinade, cut, flatten and marinade steaks. Here is what my experience has been with the more complex methods of grilling steaks (or beef) on the beach:
-Remember to bring some plastic steak knives or metal steak knives if you grill steaks.
-Marinated beef steaks should be done at home and pack the steaks in the ice chest 
-Flank steak or flat-iron steaks are great for eating with tortillas and having Mexican spices and flavors. Best to flatten these steaks before marinating them for fast grilling at the beach.
#14 How To Grill Seafood
Many types of seafood can be grilled, including fish, shellfish, and squid. Be sure to experiment with recipes and marinades that incorporate the breakfast theme or the flavors of your country's culture for a unique grilling experience at the beach. When choosing seafood for grilling, picking a type that will stand up to the grill's high heat without falling apart is important. Some good options include tuna, salmon, swordfish, shrimp, and scallops.
-Grilling seafood is a bit different than grilling other types of food. Seafood is delicate and can easily be overcooked, so paying attention to grill times is important.
-For fish fillets, aim for 4-6 minutes per side over medium-high heat.
-For thicker cuts of fish like tuna steaks or salmon steaks, cook for 6-8 minutes per side.
-Shrimp only need a few minutes on each side (2-3 minutes), while scallops should be cooked for 3-4 minutes per side.
-Squid can also be grilled, but it only takes a minute or two on each side over high heat.
#15 Flavor Ideas
There are endless possibilities when it comes to flavoring grilled seafood. You can keep things simple with just salt and pepper, or get more creative with marinades and sauces. Lemon juice is a classic seafood seasoning, or you could try a spice rub or BBQ sauce. If you're grilling shellfish, you can stuff them with herbs or other fillings before cooking.
Personal Thoughts and Experiences of Grilling at the Beach
Over the years, I have had my share of grill parties and events on the beach. California, Florida, Spain, and China were just a few of the countries I've had grill events or private grill get-togethers with friends. I didn't use a portable grill; the choices were not as large as they are today.
I usually used the beach fire ring on the beach and a grate I took by car. A trusty ice cooler held a few steaks, vegetables, and side dishes. I tried to make it as simple as possible, tossing in toppings like bacon or sausage for an extra burst of flavor.
Making Grilling on the Beach Easy and Fun
Grilling on the beach can be simple and easy. If it takes too long to prepare the grill and the food, or if cleanup is difficult, the fun goes away, and getting the beach grill going seems impossible. Here's what to keep in mind with beach BBQs:
-You don't need many tools to cook at the beach; you need a grill, grate, and food along with some tasty side dishes like pasta salad, and don't forget unique toppings for added flavor.
-You can use a barbeque grill, a campfire grill, or an aluminum cookie sheet as a grate.
-Beach grilling can be done on a portable grill (gas or charcoal), allowing you to easily cook up mouth-watering side dishes to complement your main course, and even experiment with Asian-inspired dishes.
-Beach grillers can grill just about anything, including succulent bacon-wrapped peaches, a scrumptious tomato side dish, and additions like sausage as a delicious topping or ingredient.
-To have the most fun at the beach, make your grilling easy and fast – easy setup, fast grilling, easy cleanup. In this way, you will have more time to enjoy the beach, take a refreshing bite of your delicious meal, and savor a memorable dinner menu.
-Perhaps incorporating a delicious dinner menu featuring bacon-wrapped peaches, side dishes like pasta salad, and a fresh tomato side dish can elevate the beach grilling experience. Adding sausages or toppings like grilled onions can offer an exciting twist and bite to the meal. 
What Can I Cook on The Grill on The Beach – Best Summer Grilling Recipes
A grill is an amazing tool for cooking food outdoors. But there is more to grilling than simply cooking meat. Grills can also be used to cook vegetables, fish, chicken, and even desserts.
Grilled foods taste great because they are cooked directly over hot coals. This means the heat penetrates deep into the food, giving it a smoky flavor.
What Are the Best Summer Grill Recipes?
The best summer grill recipes can vary from person to person. Some might prefer grilled meat, while others want grilled fish and vegetables. The key is finding what works for your palate. The fresh air of the beach can enhance your appetite, and there are many cuisines to choose from.
Grilled Pork Chop Marinade
Here is a full recipe for a delicious pork chop marinade. This marinade is perfect for grilling pork chops, and will make your summer BBQ unforgettable!
1. Put half a cup of sunflower seed oil, 1 tablespoon of salt, 2 tablespoons of sugar, half a teaspoon of black pepper, half a teaspoon of herbs de Provence, half a teaspoon of garlic powder, 1 tablespoon of Worchestershire sauce and mix thoroughly. 
2. Place 6 pork chops in a medium-sized pan and cover with marinade
3. Place in refrigerator for 3-6 hours before leaving for the beach to marinade
4. When ready to grill, dry excess liquid from the pork chop and grill until done on a medium grill heat
Grilled Flank Steak
Flank steak is a great option for grilling. It is easy to prepare and yields great results every time. The marinade enhances the flavor of the steak. The steak is grilled until it is perfectly tender.
Create a marinade for the flank steak:
1/3 cup extra virgin olive oil, 2 cloves garlic minced, 2 tablespoons red wine vinegar, 1/3 cup soy sauce, 1/4 cup honey, 1/2 teaspoon freshly ground black pepper, 1 teaspoon salt
Marinade for 3- 6 hours before grilling
Grill on the barbecue, drying the excess liquid before putting on a medium-high grill
Slice against the grain for tender steak pieces
The Best Easy Grilled Vegetables
Seasoned butter or oil can be used to brush vegetables before grilling. Vegetables can also be grilled in a kabob style.
Blackened Salmon and Zucchini Skewers
1. Preheat the grill to medium-high heat.
2. Mix paprika, garlic powder, salt, and pepper in a small bowl.
3. Rub spice mixture onto salmon and zucchini skewers.
4. Grill for 10 minutes until salmon is cooked and zucchini is slightly charred.
5. Serve with your favorite dipping sauce or salad dressing!
Cajun Prawns
Ingredients:
-1 pound of large shrimp, peeled and deveined
-2 tablespoons of Cajun seasoning
-1 tablespoon of olive oil
-1 lemon, juiced
-1/4 teaspoon of cayenne pepper (optional)
Instructions:
1. Preheat the grill to medium-high heat.
2. Mix Cajun seasoning, olive oil, lemon juice, and cayenne pepper in a small bowl.
3. Place shrimp on skewers (if using wooden skewers, soak in water for 30 minutes before grilling).
4. Grill shrimp for 2 to 3 minutes per side, or until opaque and slightly pink in the center.
5. Remove from the grill and serve immediately. Add some extra spices or sauces to go with it.
Why People Love Beach BBQs
Fresh Air And The Smell Of The Ocean
The ocean's smell can have a calming effect on people. The scent of the ocean has been shown to lower heart rates and blood pressure and can also help reduce stress levels.
The benefits of beach BBQs:
Beach BBQs are a great way to enjoy the outdoors with friends and family. They're also a great way to get some exercise, as you'll need to walk back and forth between the grill and the picnic table. Plus, beach BBQs are a great way to show off your culinary skills!
Interestingly, if you want to get an a second smaller, portable gas BBQ grill that you can use at the beach, you are not alone. According to Traeger (the grill company), "we estimate that 1/3 of those households that own a grill likely own multiple – or approximately 25 million households own multiple grills". (Source)
The Feel of The Beach – Sand, Ocean, Waves
The sand's texture is important because it can be used to create different designs. The sand's temperature: The sand's temperature is important because it can be used to create different designs. How the sand feels on the skin: The sand's feel on the skin is important because it can be used to create different designs.
The sound of the waves: The sound of the waves crashing against the shore, The sound of seagulls, and how the sound of waves makes people feel
The Smell and Taste of the Barbecue
Many people enjoy going to the beach on warm days. Some go there to relax while others go there to grill some food. Either way, one thing they all agree on is that the smell and taste of the barbecue make the experience complete.
– Many people say that the smell of barbecued meat is the most delicious scent in the world.
– The smell of the smoke is what makes the experience special.
– The flavor of the meat is another important part of the experience.
– Grilling meat at the beach adds an extra layer of enjoyment to the experience.
– The smell and taste of the meat make the experience complete.
Can You Use Grills at The Beach
Can I Grill on The Beach in Florida
Beach grilling is allowed on most public beaches in Florida, but some exceptions exist. Check with your local county or city regulations to be sure.
What Type of Grill to Use:
If you're going to be grilling on the beach, it's important to use a portable grill that's easy to set up and take down. Charcoal grills are not recommended because they can be difficult to clean up afterward.
Other Tips:
When grilling on the beach, be sure to keep your grill away from any buildings or trees. Also, ensure to dispose of any coals or ashes properly when you're finished cooking.
Can I Grill on The Beach in San Diego
The City of San Diego has several regulations to protect our beaches and ocean. These regulations are designed to minimize fire hazards, protect wildlife, and ensure everyone can enjoy the beach.
Grilling Tips:
If you're planning on grilling at the beach, you should keep a few things in mind. First, make sure you're using a propane or charcoal grill; open fires are not allowed on any beaches in San Diego. Second, be sure to keep your grill away from any vegetation or dry sand – this will help prevent accidental fires. Finally, ensure you clean up your grill before you leave – this will help keep our beaches clean and safe for everyone to enjoy!
Are Grills Allowed on Myrtle Beach
Before heading to the beach with your grill, make sure to check the local regulations. Some beaches do not allow grills, while others may restrict where you can set up and what type of grill you can use.
If grills are allowed, charcoal grills will typically need to be set up in a designated area away from buildings and trees. Gas grills may be allowed closer to structures, but always check first.
Grill Types:
People use two main types of grills at the beach: charcoal and gas. Each has its own benefits and drawbacks.
Charcoal grills: Charcoal grills give food a classic BBQ flavor that many people love. They can be more difficult to set up and require more time to preheat than gas grills, but many people feel the flavor is worth the extra effort.
Gas Grills: Gas Grilling is a popular choice for those who want a quick and easy way to cook food at the beach. Gas Grilling doesn't require any special setup or preparation time like charcoal grilling, so it's a great option if you're short on time or don't want to deal with the hassle of setting up a charcoal grill.
What To Bring For The Perfect Beach BBQ (Beach BBQ Checklist)
Beach BBQ Checklist – List of items
1. Food – Hamburgers, hot dogs, sausages, chicken, fish, salads, fruits, and vegetables.
2. Drinks – Water, soda, beer, and wine.
3. Grill – Portable gas or charcoal grill.
4. Fuel – Gas or charcoal briquettes.
5. Utensils – Plates, cups, forks, knives, spoons, tongs, and a cooler to keep things cold.
6. Extras – Sunscreen, insect repellent, music, games, and chairs or blankets to sit on
Parting Shot
So there you have it, 15 essential beach grilling ideas for an unforgettable summer! Now all that's left to do is fire up the grill and get cooking. Enjoy!