Florida's Anna Maria Island boasts a plethora of picturesque beaches, each with its unique charm and natural beauty. The island's tranquil atmosphere and captivating coastal landscapes make it a perfect destination for those seeking a rejuvenating escape from their daily routine. As I ponder over the myriad of stunning beach options on this Floridian gem, I can't help but wonder: What are the seven perfect beaches on Anna Maria Island for a refreshing Florida vacation?
So, what are the seven perfect beaches on Anna Maria Island for a refreshing Florida vacation? They are Bean Point Beach, Manatee Public Beach, Holmes Beach, Coquina Beach, Leffis Key Preserve, Bayfront Park, and Cortez Beach. Each beach offers its unique blend of stunning views, recreational activities, and serene atmosphere, making them ideal destinations for those seeking solace and relaxation in the warm embrace of Florida's sun-kissed shores.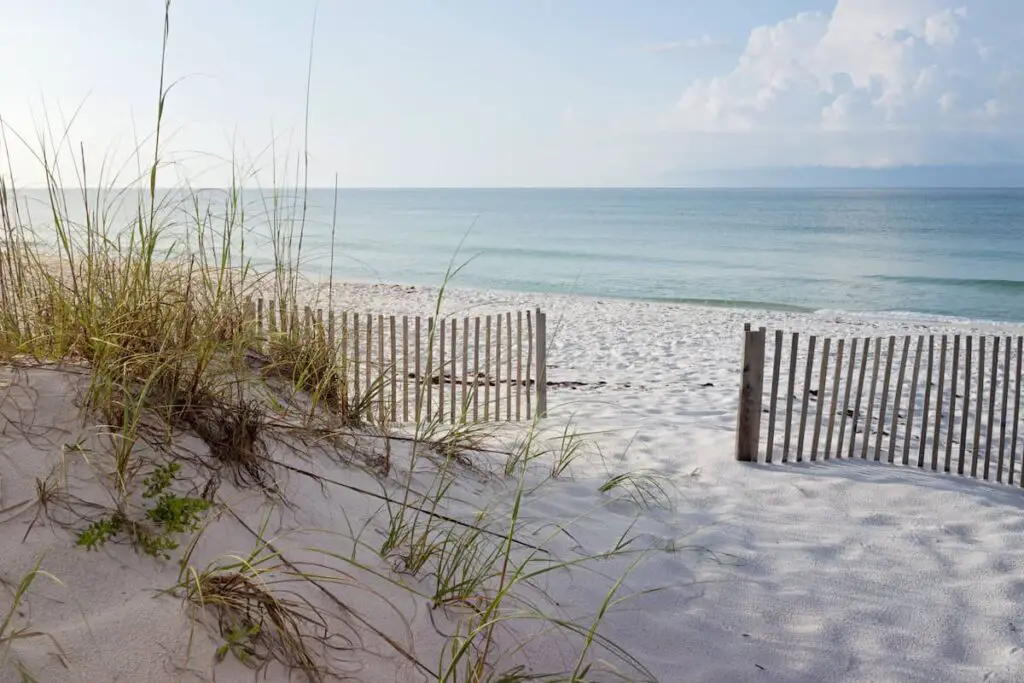 Key Takeaways‍
Bean Point Beach: A tranquil, hidden gem boasting natural beauty, ideal for escaping crowded destinations, and watching stunning sunsets.
Manatee Public Beach: Offers soft white sand, clear waters, numerous amenities, and recreational activities, perfect for a refreshing vacation.
Holmes Beach: Combines rich Holmes history with beach relaxation, featuring powdery white sands, clear waters, and diverse activities.
Coquina Beach: Renowned for abundant shells and gentle waves, provides a serene atmosphere and comfortable amenities for all visitors.
Leffis Key Preserve: A picturesque coastal retreat with thriving biodiversity, encompassing 30 acres of pristine Florida landscape and native vegetation.
Water-based activities: Anna Maria Island offers various water adventures, including paddleboarding, snorkeling, and exploring diverse local wildlife encounters.
Florida's Sunshine State is home to numerous picturesque beaches, including Anna Maria Island, an enchanting barrier island along the Gulf Coast. This tropical sanctuary features seven miles of unspoiled white sand beaches, crystal-clear waters filled with aquatic life, and an authentic coastal charm. While being a sought-after vacation spot, Anna Maria Island preserves its small-town appeal by offering a variety of recreational activities and leisure pursuits that cater to a wide range of interests.
In this article, I will explore the distinctive characteristics of each of these seven beaches, delving into their history, natural beauty, and the array of activities available for visitors. I'll also touch on the local wildlife, conservation efforts, and other nearby attractions that make Anna Maria Island an unforgettable vacation destination. Let's embark on this journey together and uncover the treasures hidden within this tropical paradise!
Table of Contents
Anna Maria Island Beaches 7 Perfect Destinations
Let's dive into exploring each of these 7 perfect Anna Maria Island beach destinations in detail. For the beaches I've experienced firsthand, I'll share my impressions and insights, and you can also find my personal thoughts and experiences in the sections that follow.
Bean Point Beach
Bean Point Beach, a hidden gem on the northern tip of Anna Maria Island, offers an idyllic destination for those seeking a tranquil and refreshing Florida vacation.
Steeped in Bean Point history, this pristine beach is named after the island's founder, George Emerson Bean, who first settled in the area during the early 20th century. Today, it remains relatively untouched by commercial development and maintains its natural beauty, making it an ideal location for visitors looking to escape the hustle and bustle of more crowded beach destinations.
Renowned for its stunning sunset views, Bean Point Beach provides a serene backdrop for leisurely strolls along its powdery white sands or simply relaxing under swaying palm trees while watching dolphins frolic in the azure waters. The gentle waves that lap against the shoreline create a soothing ambiance that lulls visitors into a state of blissful relaxation.
As evening approaches and golden hues paint the sky above, beachgoers are treated to a breathtaking display of color as they bid farewell to another day in paradise. This captivating spectacle serves as an irresistible lure for travelers yearning for freedom and respite from life's daily stresses.
Manatee Public Beach
Manatee Public Beach on Anna Maria Island is renowned for its soft white sand, crystal clear waters and spectacular sunsets.
Visitors enjoy the beach's amenities such as beach chairs, umbrellas and beach volleyball courts, as well as a host of activities such as swimming, sunbathing and kayaking.
Manatee Public Beach
Manatee Public Beach, a picturesque stretch of white sand and crystal clear water, offers an idyllic escape for those seeking a refreshing Florida vacation.
This popular destination on Anna Maria Island is known for its pristine beachfront, complete with attentive Manatee lifeguards ensuring the safety of all visitors.
The relaxed atmosphere invites guests to unwind and soak in the warm sun while enjoying various recreational activities such as volleyball or taking part in friendly sandcastle contests.
With ample parking, picnic tables, and local eateries just steps away from the shoreline, Manatee Public Beach provides a convenient and enjoyable experience for beachgoers of all ages.
As the sun casts its final golden rays over the horizon, one cannot help but feel a sense of freedom and contentment that only a day spent by the sea can provide.
Amenities
In addition to the natural beauty and recreational activities offered at Manatee Public Beach, visitors are sure to appreciate the wide range of amenities available, designed to cater to their every need.
Beach accessibility is a key feature of this coastal haven, with ramps and designated parking spaces ensuring that everyone can enjoy the sun-soaked shores with ease.
Rental options abound for those seeking beach chairs, umbrellas or watersports equipment, providing an opportunity for all guests to indulge in their preferred seaside pastime.
With such thoughtful provisions in place, it is clear that Manatee Public Beach has been expertly crafted to facilitate unforgettable experiences of liberation and bliss for all who wander its shores.
Holmes Beach
Holmes Beach, situated in the heart of Anna Maria Island, offers a unique blend of Holmes history and beach relaxation. As one of the largest beaches on the island, this picturesque destination boasts powdery white sands and crystal-clear waters that beckon visitors from near and far. The tranquil atmosphere encourages leisurely strolls along the shoreline, while gentle waves provide ideal conditions for swimming or wading.
Manatee Public Beach: A popular spot among both locals and tourists, this expansive beach features ample parking, picnic areas, playgrounds, and volleyball courts. The nearby Anna Maria Island Beach Café serves up refreshing beverages and delicious bites to satisfy any appetite.

Holmes Beach City Park: This serene park is an oasis amidst bustling island life. Visitors can enjoy picturesque walking paths surrounded by lush vegetation or partake in a friendly game of basketball or shuffleboard.

Holmes History: For those interested in learning about the rich past of the area, a visit to the Anna Maria Island Historical Society Museum is a must. The museum showcases fascinating exhibits detailing local history dating back to its founding by Sam and Annie Cobb Holmes in 1896.
Embracing both natural beauty and cultural heritage, Holmes Beach provides an idyllic setting for travelers seeking reprieve from daily stresses. As visitors explore the pristine shores or delve into the intriguing history of Anna Maria Island's early settlers, a sense of rejuvenation will undoubtedly wash over them as they revel in their newfound freedom on this captivating Florida vacation destination.
Coquina Beach
Nestled on the southern tip of Anna Maria Island, Coquina Beach presents itself as an ideal destination for those seeking both relaxation and adventure. Named after the abundance of coquina seashells that can be found along its shores, this pristine beach invites visitors to explore its natural beauty and unearth beachcombing treasures.
The powdery white sands stretch far and wide, offering a serene atmosphere for sunbathing, leisurely strolls or simply admiring the remarkable Gulf of Mexico views. In addition to its picturesque setting, Coquina Beach boasts a multitude of amenities including picnic areas, playgrounds, restrooms, and ample parking spaces – all designed to ensure a comfortable and enjoyable experience for every guest.
As one wanders along Coquina Beach's shoreline, it is not uncommon to encounter a diverse array of shells and marine life – a testament to the thriving ecosystem that exists within these waters. Indeed, the presence of such beachcombing treasures has made this location particularly popular among shell collectors and nature enthusiasts alike.
Moreover, with its gentle waves and shallow waters, Coquina Beach provides an excellent environment for families with young children or novice swimmers looking to dip their toes into the ocean. As day gives way to night here at Coquina Beach, visitors are treated to a spectacular display of colors as the sun sets over the horizon – an awe-inspiring sight that serves as a fitting end to any day spent exploring this remarkable destination.
Leffis Key Preserve
Nestled along the southern edge of Anna Maria Island lies a hidden gem, Leffis Key Preserve. Rich in biodiversity and Leffis Key history, this picturesque coastal retreat provides a serene escape from the bustling beaches. The preserve encompasses 30 acres of pristine Florida landscape, where natural beauty and native vegetation restoration efforts combine to create an enchanting haven for both wildlife and visitors.
As one traverses the winding boardwalks meandering through the lush mangrove forests, it becomes evident that this sanctuary offers an unparalleled opportunity to reconnect with nature's splendor.
Here, one can find:
A diverse array of bird species, including herons, egrets, and ospreys
Tranquil tidal pools teeming with marine life such as fish and crabs
Panoramic viewpoints offering breathtaking vistas of Sarasota Bay
The undeniable allure of Leffis Key Preserve is bound to captivate those who seek solace in its verdant embrace. Its harmonious balance between conservation and recreation serves as a poignant reminder that even amidst the chaos of modern life, pockets of tranquility still exist – allowing for moments of unbridled freedom and reflection within nature's timeless embrace.
Bayfront Park
Bayfront Park, situated on the picturesque shores of Anna Maria Island, offers an idyllic setting for those seeking a tranquil retreat from the hustle and bustle of everyday life. This serene destination boasts sweeping views of the azure waters, lush greenery, and pristine sands, providing visitors with ample opportunities for Bayfront relaxation.
The park's well-maintained grounds invite guests to indulge in leisurely strolls along its winding pathways or partake in more energetic pursuits such as kayaking or paddleboarding. Park exploration at Bayfront Park reveals a plethora of amenities designed to cater to the diverse interests and needs of its visitors.
Families can enjoy quality time together at the park's playgrounds and picnic areas while nature enthusiasts will appreciate the abundant wildlife that inhabits this coastal haven. Additionally, several nearby restaurants offer delectable dining options for those wishing to savor local flavors while basking in the breathtaking scenery.
Overall, Bayfront Park serves as an enchanting escape where one can reconnect with nature, unwind by the water's edge, and create cherished memories with loved ones amidst the captivating beauty of Anna Maria Island.
Bradenton Beach City Pier
Like a beacon of light guiding travelers to a serene coastal escape, Bradenton Beach City Pier stands as an iconic landmark on Anna Maria Island. With a rich pier history dating back to 1921, this wooden structure has weathered numerous storms and hurricanes but continues to offer visitors a picturesque destination for relaxation and recreation.
The pier has undergone several renovations over the years, the most recent being in 2020, which have ensured its structural integrity while preserving its historic charm. Located on the southern end of the island, Bradenton Beach City Pier is surrounded by soft sand beaches, crystal clear waters, and an array of local shops and restaurants that cater to every palate.
The call of freedom is ever-present at Bradenton Beach City Pier as it provides an ideal setting for various leisure activities such as fishing opportunities or simply strolling along its length while taking in breathtaking views of Sarasota Bay. Anglers can cast their lines with hopes of reeling in snook, redfish, or spotted sea trout while enjoying the gentle Gulf breeze caressing their faces.
For those who prefer non-angling pursuits, nearby Bridge Street offers a vibrant hub for shopping and dining experiences that are sure to please even the most discerning traveler. As one explores the enchanting surroundings of Bradenton Beach City Pier and Anna Maria Island's other six perfect destinations, they will likely find themselves captivated by the allure of this Floridian paradise that whispers promises of unforgettable memories amidst its sun-kissed shores.
Cortez Beach
Moving away from the captivating charm of Bradenton Beach City Pier, a short journey southward leads visitors to yet another alluring destination: Cortez Beach.
This enchanting coastal retreat offers an irresistible blend of pristine white sands and crystal-clear waters, inviting travelers to unwind and bask in the warm Florida sunshine. As a testament to its rich heritage, Cortez Beach is steeped in local history that dates back several centuries.
A visit to this idyllic location not only provides ample opportunity for relaxation but also allows guests to delve into the fascinating past of the Cortez community. Cortez Beach beckons visitors with a myriad of activities designed to suit every preference – from leisurely strolls along the shoreline to exhilarating water sports for thrill-seekers.
One particularly popular pastime at this picturesque haven is sandcastle building; an activity that transcends age barriers and transforms adults into playful children once again. The whispering sea breeze serves as an ever-present reminder of the boundless freedom offered by this spellbinding landscape.
As the sun sets, casting a warm golden glow over the beach, it becomes evident why Cortez Beach holds such a cherished place in the hearts of those who have had the pleasure of experiencing its undeniable allure.
Water-Based Activities And Adventures
Like a treasure trove waiting to be discovered, Anna Maria Island offers an abundance of water-based activities and adventures that will quench the thirst of any intrepid traveler. From the tranquil Paddleboarding Paradise to the vibrant Snorkeling Spots, this idyllic destination is teeming with opportunities for visitors to immerse themselves in the refreshing embrace of Florida's azure waters.
The island's water-based activities are not limited to paddleboarding and snorkeling alone; visitors can also indulge in exhilarating pursuits like jet-skiing, kite-surfing, or parasailing for those seeking adrenaline-fueled escapades. As waves gently lap against golden shores and playful dolphins breach the surface in a symphony of splashes, it becomes evident that Anna Maria Island beaches are indeed perfect destinations for those yearning for a refreshing Florida vacation.
Local Wildlife And Conservation Efforts
A visit to Anna Maria Island's pristine beaches would be incomplete without exploring the diverse wildlife encounters awaiting travelers.
The island is home to a rich ecosystem, boasting an array of marine life, shorebirds, and even endangered species such as sea turtles and manatees.
To preserve this natural wonderland for future generations, numerous conservation efforts have been put into place by local organizations and environmental enthusiasts.
Embracing eco-tourism options on Anna Maria Island not only allows visitors to get up close and personal with nature but also contributes to the long-term sustainability of these fragile habitats.
Participating in guided tours led by knowledgeable experts provides invaluable insights into the island's unique flora and fauna while promoting responsible travel practices.
By choosing eco-friendly activities that minimize negative impacts on the environment, travelers can indulge their subconscious desire for freedom while leaving a positive legacy behind on this breathtaking Floridian paradise.
Beachfront Dining And Shopping
Just as observing the local wildlife and engaging in conservation efforts creates a deeper appreciation for the natural beauty of Anna Maria Island, visitors can indulge their senses further by exploring the island's beachfront dining and shopping options.
Like a seashell collector uncovering treasures on the shoreline, one will discover an array of beachside boutiques and oceanfront eateries scattered along the pristine sands of this Floridian paradise.
Beachside boutiques offer a variety of unique clothing, accessories, and souvenirs that capture the essence of island life. These charming establishments provide shoppers with an opportunity to take home a piece of their vacation experience while simultaneously supporting local businesses.
Moreover, oceanfront eateries serve up mouth-watering cuisine that is sure to satisfy even the most discerning palate. With picturesque views of the sparkling waters and golden sands beneath swaying palm trees, diners are treated to a truly immersive experience as they savor fresh seafood dishes or exotic cocktails.
The combination of exquisite flavors and breathtaking vistas allows guests to fully embrace the liberating ambiance that Anna Maria Island beaches have to offer.
Nearby Attractions And Day Trips
In addition to the stunning beaches of Anna Maria Island, numerous nearby attractions and day trips await exploration by visitors seeking diverse experiences. The region offers a plethora of activities and sights that cater to various interests, enabling tourists to create unforgettable memories.
Sarasota Exploration, just a short drive from Anna Maria Island, provides ample opportunities for cultural enrichment and entertainment. Historic sites abound in the area, offering glimpses into Florida's rich history and unique architectural styles.
Three notable destinations include:
The Ringling: A comprehensive art museum, circus museum, historic mansion, and lush gardens all in one sprawling estate. Once home to circus magnate John Ringling and his wife Mable, this complex showcases their legacy along with an extensive collection of European art.
Ca' d'Zan: This Venetian Gothic palace was the Ringlings' residence during their time in Sarasota. Today it stands as a testament to the opulence of the Roaring Twenties and offers guided tours so visitors can marvel at its intricacies.
Historic Spanish Point: A 30-acre archaeological site which highlights over 5,000 years of Florida history through preserved pioneer homes, ancient shell middens left by indigenous people, and beautiful subtropical gardens.
Aside from these historical gems, visitors can immerse themselves in nature by exploring state parks such as Myakka River State Park or Oscar Scherer State Park. These parks offer scenic trails for hiking or biking enthusiasts while providing opportunities for birdwatching and wildlife spotting amidst lush Floridian landscapes.
With these bountiful attractions at their disposal, travelers will undoubtedly find their stay on Anna Maria Island both refreshing and enriching.
Personal Thoughts and Experiences About ‍Anna Maria Island
When I was young, living in San Diego, California, I fell in love with the charm of small beach towns as I explored California, Oregon, and Mexico. Bean Point Beach on Anna Maria Island instantly reminds me of my passion for quaint beach escapes with its tranquil atmosphere, untouched beauty, and stunning sunsets.
Having been to over 50 beach towns around the world, destinations like Anna Maria Island continue to inspire me and feed my lifelong desire to spend time and treasure memories on beautiful, serene beaches.
If I got the opportunity to visit Anna Maria Island, I would head straight to Bean Point Beach for its tranquil and untouched beauty. I would love to stroll along the powdery white sands, watching dolphins frolic in the azure waters, and take in the breathtaking sunset views.
I would also make sure to explore Leffis Key Preserve to connect with nature and appreciate the biodiversity of the area. To satisfy my adventurous side, I would try paddleboarding or snorkeling in the vibrant spots around the island. Finally, I'd indulge in some beachfront dining and shopping to fully experience the island's laid-back atmosphere.
Frequently Asked Questions
What Is The Best Time Of Year To Visit Anna Maria Island For Optimal Weather And Fewer Crowds?
Balmy breezes beckon visitors to bask in the beauty of Anna Maria Island, but discerning travelers often ponder the prime period for partaking in this paradise.
To don optimal beachwear and indulge in water sports without battling bustling crowds, consider visiting during the shoulder seasons – late spring (April to May) and early fall (September to October).
During these months, one can expect pleasant temperatures, fewer tourists, and a more tranquil atmosphere.
As a travel and leisure writer with an innate understanding of individuals' subconscious desires for freedom, it is important to note that these shoulder seasons provide a serene setting to fully immerse oneself in the idyllic island experience without feeling overwhelmed by throngs of fellow vacationers.
Thus, those seeking solace amidst sandy shores would be wise to venture forth during these favorable times.
Are There Any Special Events Or Festivals Held On Or Near Anna Maria Island Beaches Throughout The Year?
Throughout the year, various special events and festivals are held on or near Anna Maria Island beaches, offering an abundance of beach activities and island dining experiences. These festivities cater to diverse interests, from food enthusiasts to art lovers, as well as those seeking a vibrant social atmosphere.
Events such as the annual Food and Wine on Pine showcase local culinary delights, while the Holmes Beach Arts & Crafts Festival highlights regional artisans' creations. The Island Players theater group regularly stages performances for visitors with a penchant for the performing arts.
Sandbar Restaurant's Beach'n Food Truck & Music festival pairs scrumptious bites and live music with stunning beach views. These events not only provide entertainment but also contribute to a sense of community among attendees, creating an engaging and memorable experience for those in search of freedom through travel and leisure pursuits.
What Safety Precautions Should Visitors Be Aware Of When Visiting The Beaches, Such As Rip Currents Or Jellyfish?
When visiting coastal destinations, it is essential to prioritize safety by being aware of potential hazards such as rip currents and marine life encounters.
Rip current awareness is crucial for beachgoers since these powerful, narrow channels of water can quickly pull swimmers away from shore. To avoid getting caught in a rip current, visitors should learn to identify their formation and follow local lifeguard warnings.
Additionally, jellyfish prevention measures should be taken into consideration; this includes wearing protective clothing when swimming, avoiding contact with washed-up jellyfish onshore, and seeking immediate medical attention if stung.
By staying vigilant and informed about these potential dangers, beach enthusiasts can ensure an enjoyable and safe experience on their seaside getaway.
Are There Any Beach Accessibility Options For Visitors With Disabilities, Such As Beach Wheelchairs Or Ramps?
Ensuring an enjoyable and inclusive beach experience for all visitors, many coastal destinations now prioritize disability-friendly accommodations and facilities.
Among the most important of these are beach accessibility options tailored specifically for individuals with disabilities, such as the provision of beach wheelchairs or ramps.
These innovative solutions enable wheelchair users and those with limited mobility to access sandy shorelines without difficulty or inconvenience.
Moreover, adaptive water sports programs have emerged in recent years to cater to a diverse range of abilities, offering exhilarating experiences that foster a sense of freedom and connection with nature.
By implementing these inclusive measures, popular beach destinations continue to break down barriers and create memorable leisure opportunities for all travelers.
What Are Some Eco-Friendly Practices That Visitors Can Follow To Help Preserve The Natural Beauty Of Anna Maria Island Beaches?
Embracing the mantra 'Leave No Trace,' visitors to pristine beach destinations can engage in eco-friendly practices to preserve the natural beauty for future generations.
One way to achieve this is by choosing eco-friendly souvenirs, such as items made from recycled materials or supporting local artisans who use sustainable production methods.
Additionally, opting for sustainable dining experiences, including patronizing restaurants that source ingredients locally and practice waste reduction, can also contribute to environmental conservation efforts.
By adopting these mindful habits, travelers not only enjoy a memorable vacation but also play an integral role in safeguarding the delicate ecosystems they explore, thereby ensuring these idyllic destinations remain unspoiled havens of relaxation and rejuvenation for years to come.
Conclusion
In conclusion, the picturesque Anna Maria Island beaches provide an idyllic setting for a rejuvenating Florida vacation.
With careful planning to avoid peak crowds and consideration of local events, visitors can experience optimal weather conditions while partaking in the island's vibrant cultural offerings.
Furthermore, by adhering to safety precautions and practicing eco-conscious behaviors, tourists can ensure a memorable and responsible beach getaway.
As a shining example of Florida's natural beauty, Anna Maria Island welcomes all visitors with open arms to explore its pristine shores and revel in its captivating allure.