Key Takeaways‍
Unique beach house names add personality, with possibilities including foreign languages or catchy phrases.
Testing the chosen name with family and friends ensures it resonates with others.
Naming your beach house provides a sense of ownership, privacy, and security.
Familiarize yourself with the history and famous beach house names for inspiration and guidance.
Creating a sign for your beach house, perhaps from driftwood, reinforces its unique identity.
There is something delightfully charming about beach houses, nestled along the coastline with breathtaking views of the ocean. They embody the quintessence of relaxation, serving as personal sanctuaries from the hustle and bustle of everyday life. Stairs may lead down to the shore, promising endless exploration. Beach houses are not just special for their location, but often, the creative and unique names they carry add a personalized touch that gives them character. From using foreign languages to meaningful phrases that encapsulate the home's essence, naming a beach house can be a fun and symbolic process. This begs the question: what are some cool, unique, and catchy beach house name ideas?
So, what are some cool beach house names? Some popular options include "Seaside Retreat," "Ocean Breeze," "Sandy Shores," "Beachcomber's Haven," and "Surfside Cottage." However, it's important to consider the location, style, and personality of the beach house when selecting a name that truly fits.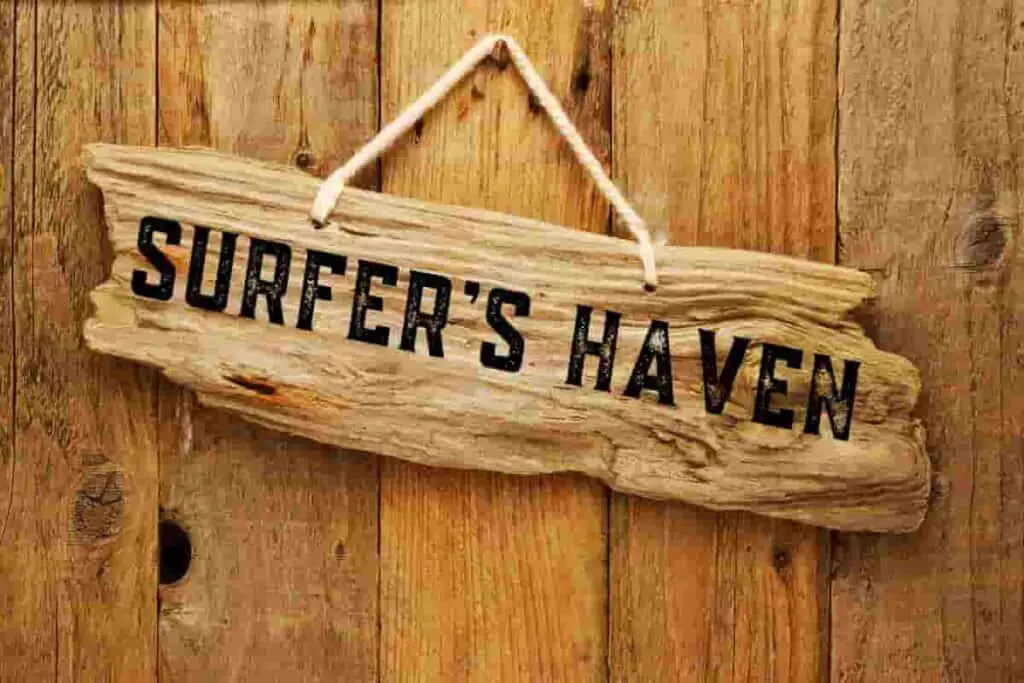 Beach house names are a way to give a unique identity to the property and recognize its history and significance, and this is a big reason why people name properties. Some people believe that giving a name to a house can make it appear more valuable to future buyers as it gives a sense of belonging to the surrounding coast. (Source)
Also, many people choose beach house names that have personal meaning to them, such as references to family members, favorite places, or hobbies. I know that I have my favorite pastimes and if I ever buy a beach house, I'll know what to call it. (Source)
In the upcoming sections, I'll explore the process of brainstorming and choosing the perfect name for your beach house. You'll get an inside look at how real beach house owners, like Ben and Judy, go through the naming process. I'll also delve into the cultural influences on beach house names, the impact these names have on rental success, and even touch on some famous beach house names and their stories. So, stick around and keep reading to unravel the interesting world of beach house naming – it promises to be an exciting journey! Let's dive in.
Table of Contents
There are a lot of benefits to naming your beach house. Not only does it make it more personable and give it a personality of its own, but it also ensures that if you ever decide to sell the property in the future, people will have a name to go by. In this article, I'll list 35 beach house names to give you some examples, and then I'll set out to give you some solid tips on how to come up with your own list of possible beach house names so you and your family can decide on the best one. 
I'll also go over how Ben and Judy decide to name their beach house. Perhaps you can relate to their scenario example, which can help you. 
Stay tuned and keep on reading!
3
5 Catchy, Unique, and Cool Beach House Names
Let's dive into this creative list of beach house names, exploring the inspiration and appeal behind each one.For the names that I've come across in my travels, I'll provide some context and background, and you can also discover my personal thoughts and experiences in the sections that follow. Here are the 35 catchy names that cover everything from serene beaches to a peaceful state of mind:
The Hideaway: A secret sanctuary where the ocean whispers to you, and the sand serves as your pillow.
A Sail Away: A nautical nirvana that gives you the feeling of sailing the seas without leaving your cozy abode.
The Sandcastle: An enchanting retreat that makes childhood dreams of living in sandcastles a reality.
The Seagull Nest: A peaceful roost where the cries of seagulls lull you to sleep.
A Starling: A dazzling gem, just like the bird it's named after, nestled by the shimmering sea.
Edgewater Bungalow: A charming waterfront retreat that brings the soothing rhythm of the sea to your doorstep.
Starfish Bungalow: An aquatic paradise that lets you sleep under an invisible blanket of starfish.
Beach Haven: Your personal paradise that brings the best of sun, sand, and surf to you.
Bahama Breeze: A tropical escape that embodies the carefree spirit of the Bahamas with every whispering wind.
Sandy Homes: A cozy beach retreat where every grain of sand feels like home.
Salt Life: A breezy escape that echoes the ocean's salty kiss on your skin.
Shore Break: A relaxing refuge where you can watch the waves break and lap at the shore.
StarView: A celestial sanctuary that offers an unparalleled stargazing experience amidst the ocean's lullaby.
One Oar Missing: A whimsical waterfront retreat that embraces the quirky spirit of beach life.
Bliss On The Bay: A tranquil harbor haven where every sunrise brings a new day of coastal bliss.
Ocean Overlook: A serene sanctuary that offers panoramic views of the vast, breathtaking ocean.
Oceanview Cottage: A quaint coastal dwelling offering uninterrupted views of the azure ocean from dawn to dusk.
Pirate Cove: A swashbuckling retreat, bringing out your inner pirate and hidden treasures of relaxation.
Surfing Delight: A beachfront nirvana that captures the spirit of riding waves under the golden sun.
The Beachy Keen: An idyllic beach retreat that lets you fully indulge in your love for the beach.
Ocean Pearl: A seaside gem that is as precious and unique as a pearl in the ocean.
Surfer's Haven: A sanctuary for wave riders, where the ocean's call and surfer's dreams collide.
Seagulls Nest: Your cliffside retreat, where the songs of the seagulls signal a new seaside adventure.
House of Poseidon: A majestic abode that gives a nod to the mythical Lord of the Sea.
Maison de la Mer: An elegant seaside house that blends the charm of French sophistication with the raw beauty of the sea.
Vista del Mare: A splendid seaside escape offering breathtaking sea views, perfect for the avid daydreamer.
Sandpiper Cottage: A delightful beachside dwelling that brings to life the playful spirit of the sandpipers.
Sea Haven: A sanctuary where the symphony of the waves and the soft sandy beach are your solace.
Shell Cottage: A quaint retreat where seashells decorate your doorstep and the ocean whispers sweet nothings.
Sunset Beach House: A serene abode where the day ends with the sight of a breathtaking beach sunset.
Hashtag Beach House: A trendy retreat that combines the tranquility of beach life with the buzz of the digital world.
Flamingo Beak: A vibrant beach house that encapsulates the playful spirit and exotic charm of the flamboyant flamingo.
Pebble Paradise: A cozy hideaway where the beach's pebble pathway leads you to relaxation.
Dune Delight: An enchanting dwelling nestled in the dunes.
Imagine the serenity of walking along the beach, finding beautiful sea glass, and feeling the gentle shaker of sea waves washing ashore. A beach house name can capture this essence of la vie, bringing peace and tranquility to your doorstep.
Cool and Unique Ideas to Help You Name Your Beach House
You have just purchased your dream ways-to-make-stunning-beach-landscape-photography/">beach house and are looking for a unique way to name it. You might want to consider the following ideas that encapsulate the essence of beach life and the peace of mind it brings.
A cool and unique idea to help you name your beach house is to call it "Beach House." It is a great name for a beach-themed home because the word can describe both the house and a beach, encompassing everything that a beach house stands for.
A beach house is a home constructed near the ocean or a lake. There are many different reasons people build their own beach houses, and some may choose not to live in them. For example, people may decide to build their property while they live in a different home. Other individuals might choose to develop their own beach house to create their own personal sanctuary of serenity and peace.
Use a Foreign Language To Spice Up The Name – Italian Beach House Name: La Casa Bella
What could be more fitting for an Italian beach house than a cool, unique name with an Italian touch? Here are some ideas to get you started:
The name of your house should be reflective of you and your family. La Casa Bella is the perfect name for your beach house if you're drawn to all things Italian. Proximo il Mare is the next-to-sea location; the beach house is just next to the sea, but not too close to get ruined by waves and salt water.
The name "Stella Marina" means starfish, because they're an important symbol in Italy and this area was named after it! What could be more fitting for an Italian beach house than a moniker inspired by the stars?
*Azure means blue in Spanish and French (Azur). 
*Marina means sea in Spanish; you could put this in a beach house name. 
Come up With a Catchy and Unique Name
Choose a quirky and fun name for your beach house to catch people's attention
Avoid names that distract from your establishment's brand
Creative names can help attract more visitors
Beach-themed names are perfect for summer businesses
These names evoke feelings of relaxation and joy, ideal for vacationers
Use available resources to find inspiration for naming your beach house
Combine Words to Come up With a Name
When picking a name for your beach house business, you must consider your target market and the type of products you'll be renting out. You can create original names for your business by researching different keywords associated with your industry.
You can also use a name generator to invent cool beach house names available in your state. If you want to create a unique name, mix and match words until you find something that sounds great.
Test the Beach House Name with Family and Friends
Once you've picked a few names, you must test them with family and friends. They will be the ones who will be spending time at your beach house, after all!
Make sure to get their opinions on each of the proposed names. Gauge how they feel about the name and whether or not it feels like the right fit for your new beach house.
Don't forget that the name of your beach house should reflect its unique location and personality. So, choose something that will make everyone feel at home and evoke feelings of peace and serenity!
Matching Your Beach House Name to Something Meaningful
A beach house name is meant to be descriptive of the type of home you want, but it's also a way for you to connect with your personal history and memories. Choose a name that evokes fond memories of sandy beaches, warm sun, and gentle waves – a name that embodies the essence of beach life and the peace of mind it brings.This process should be fun and take place over a long period, evoking memories of past times spent at a beach home.
Additionally, the name is meant to be descriptive of the type of home you want, such as "Casa Blanca" or "California Dreamin'," but it's also a way for you to connect with your personal history and memories. This process should be fun and take place over a long period, allowing yourself time to work on selecting the perfect home name that resonates with you.
Make Your Beach House Name Meaningful and Then Make It Cool
It's not easy to find the beaches-florida-vacation/">perfect name for your vacation home. However, don't worry – there are many ideas and inspirations, like thinking about those blue skies by the sea, and eventually, you will find the right one.
To get the best results, make sure to follow all of the parameters provided. The best way to find a good beach house name is by looking at lists of names that have been rated for meaning or uniqueness, capturing the essence of your memory of past times.
When picking a name for your beach house, think about making it unique and efficient. Choose a funny and memorable name that stands out from the crowd, like "Ocean Mist," which brings delightful imagery to mind.
Some Beach House Name Examples Using a Phrase
There are many popular beach house names. Some of the most popular ones include: "Pocket Change," "Wave Goodbye," "Sea You Later," and "Ocean Mist." These names conjure images of relaxation and escape, which is what a beach house should provide its guests.
Name Your Beach House with An Easy Name that Family and Friends Can Relate To
When choosing a name for your beach house, it's crucial to select a simple and relatable name that is easy for family and friends to remember. Avoid complicated names, numbers, or symbols, as they can be hard to recall. Opt for a unique, efficient, and memorable name, and consider using humor if it aligns with the desired image. Research potential names that fit your preferred color schemes or themes to find the perfect fit for your beach house.
Name Your Beach House Using Words that Are Meaningful to You
A beach house is a unique and potentially lucrative investment compared to suburban homes or apartments, as it can be used as a rental property. Naming your beach house, like giving it a fitting home name such as "Casa Blanca," is an excellent marketing strategy since memorable names often become conversation points.
Before deciding on a name, consider the beach house's purpose and think about meaningful words to create the perfect moniker. If you plan on making a significant investment, research the market thoroughly before investing in building materials or equipment to establish yourself as an authority on how to name your beach house.
Remember, an easily searchable name can help potential renters find information on rental prices.
Name Your Beach House Using Words that Describe the Location or Area
When it comes to naming your beach house, there are a lot of things to consider. One option is to use the name of the town or area where the house is located. For example:
Allure" is a good name for this beach house because it describes the home's serene setting and overall look.
"At Last" is a good name for this beach house because it reflects its location at the end of a private strip of sand, where all other houses have been torn down to create more space for themselves.
Other words that can be used to describe an area or location include:
coastal cabana, coastal cottage, and coziness cottage
How Does Ben and Judy Brainstorm and Choose The Name of Their New Beach House?
Let's take the case of Ben and Judy, a couple who just bought their first beach house together. They faced the exciting choice of naming their new home in a way that resonated with both of them. They started by brainstorming numerous ways to express their passions, such as incorporating elements of Ben's love for surfing and the ocean, and acknowledging Judy's creative streak in the arts.
The names they came up with were "Surfer's Dream" and "Swell Wave." They also considered the combination of their interests, resulting in the name "Surfer's Haven," which suited their personalities. This cabin by the beach eventually became their blessing, as they settled on "Surfer's Haven" for its meaningful connection to both of them.
Judy quickly drew up an artistic sign with the name using shells and rope and hung it proudly on the house's front porch. They couldn't wait to invite all the neighbors to their first "Surfer's Haven" grill party!
Personal Thoughts and Experiences About ‍
Living in San Diego, California when I was young allowed me to experience the allure of small beach towns along the Californian coast and even Mexico, including Ensenada and Rosarito. This early immersion sparked my lifetime passion for beach culture, and has since inspired me to visit over 50 charming beach towns across the globe.
The creativity and uniqueness that goes into naming beach houses, such as using foreign languages or meaningful phrases, perfectly encapsulates the essence of these short beach getaways that I continue to hold dear in my heart.
If given the chance, I'd love to travel to a picturesque beach house, preferably one with a catchy, foreign name, like "La Casa Bella," which adds an exotic appeal. Once there, I'd be excited to engage in the process of naming or renaming the beach house, infusing it with personal meaning and capturing the spirit of the locale. I'd take inspiration from the surrounding landscape, maybe opting for something like "Dune Haven" or "Seashell Sanctuary."
With this unique name, the beach house would feel like my own personal refuge, granting me a sense of ownership and privacy. And at the end of the stay, I would create a driftwood sign to display the name, forever imprinting my touch on the location.
Why It's Important to Name Your Beach House
It Sounds Cool to Other People when Talking About Your Beach House
When you're talking to your friends and family about your beach house, it sounds cool to use the name of the place where you live. For example, if I lived in Venice Beach, I could call my beach house "The Venice Beach House." It's a good idea to use the name of the place where you live and where that place is located. You can also come up with a ridiculous name for your beach house that will prevent any societal breakdowns. Remember: a good name goes a long way in attracting more people to your property!
It Provides a Sense of Ownership
Naming your beach house provides a sense of ownership and uniqueness
Choose any word type you love for the name
Combine word types, such as an animal and color or architectural term, if you're having trouble picking a name
Consider naming your beach house after yourself and make sure the sign is visible
Use your favorite word or phrase unusually for more creative ideas
Ensure that everyone knows the name of your beach house
It Provides a Sense of Privacy and Security
When you're not at home, it's nice to know that your belongings are safe and no one can get into them without your permission. Naming your beach house can provide security for you and your guests. In addition, using words that make sense for the area will help people feel comfortable in the space – after all, they're on vacation! Finally, if you want to add some flair or personality to the beach house name, go for it! Alliteration and puns can be a lot of fun (ensure they're appropriate). As long as you love the name and it doesn't cause confusion among renters, go ahead and use it!
Tracing the History of Beach House Names
The tradition of naming beach houses has a fascinating history that adds a layer of charm to these coastal properties. In the early days, beach houses were often named after the family that owned them or the geographical features of the location. This was a practical approach that helped in identifying properties in a time before street addresses. Over the years, as beach houses became popular vacation spots, the names evolved to become more creative and personal, often reflecting the owner's interests, memories, or sense of humor.
The tradition of naming beach houses has not only persisted but has become an integral part of beach house culture. The names often serve as conversation starters, sparking curiosity and interest among visitors and passersby. They add a personal touch to the property, making it more than just a structure but a place with its own identity and character.
Today, the process of naming a beach house is a thoughtful and creative endeavor. It's an opportunity for homeowners to express their personality, tell a story, or convey a particular vibe or emotion. The name can set the tone for the experiences and memories that will be created within its walls, making it an important aspect of the beach house experience.
Cultural Influence on Beach House Names
Beach house names often reflect the culture and character of their location. For instance, beach houses in Hawaii might incorporate Hawaiian words or phrases, or reference local flora, fauna, or landmarks. This not only adds a local touch to the property but also helps to immerse guests in the local culture.
Beach houses in Florida and California often have names related to surfing, sunsets, or the ocean
The architectural style, local history, and unique landscape features can also influence beach house names
In other parts of the world, local traditions, languages, and customs may shape beach house names
Spanish names might be common for beach houses in Spain, while Greek mythology could inspire names in Greece
Cultural influences add authenticity and character to beach houses, reflecting their locations
The Impact of Beach House Names on Rental Success
The name of a beach house can play a significant role in its success as a rental property. A unique and catchy name can make a property stand out in rental listings, attracting potential renters. It can also make the property more memorable, encouraging repeat bookings and word-of-mouth referrals.
Real estate agents and property managers often have stories about how a well-chosen name has boosted a property's rental success. For instance, a beach house with a fun and quirky name might attract families looking for a fun vacation spot, while a name that conveys tranquility and relaxation might appeal to couples or individuals seeking a peaceful getaway.
However, it's important to note that a good name alone is not enough to ensure rental success. The property also needs to deliver on the promise of its name, providing an experience that matches the expectations set by the name. This means maintaining the property well, providing excellent customer service, and ensuring that the property's amenities and features align with its name.
Famous Beach House Names and Their Stories
Many beach houses around the world have famous names due to their unique names, history, or stories behind them
Beach house names often reflect the personality of the owners, the history of the house, or the character of the location
Flamingo Villa in Florida is named for the plastic flamingos in its yard
The Breakers in Newport, Rhode Island is a historic mansion named for the waves breaking against the cliffs below
Each of these beach houses has a story to tell, whether it's the story of the people who built it, the events that took place there, or the inspiration behind its design. These stories add depth and interest to the property, making it more than just a place to stay, but a destination with its own history and character.
What Are Some Things to Avoid When Choosing a Beach House Name?
Some things to avoid when choosing a beach house name include using ethnic names, the word "beach," words that sound like swear words or have negative connotations such as "bad" or "evil," anything with a religious connotation (i.e., sin, Hell, heaven) and words that are too specific such as "big house" or generic terms like "house.
Avoid choosing a name that is too literal for your beach house
A name like Beach House in Oceanside may be boring and lack deeper meaning
Do not select a name that gives away the location of your home, such as The Shore House or The Beach Cottage
Make a Sign with Your Beach House Name
Choosing a name for your beach house is fun and a great way to be creative and make your house stand out from others in the neighborhood. Once you've chosen a name, it's time to create a sign and hang it on your beach house. There are many options of signs you can create. For example, there are wooden, metal, plastic, and even vinyl signs that can be personalized with your name or house number. Decide what you want your sign to look like and either create it or get help from a service that does this for you.
Make Your Beach House Name Sign From Driftwood
If you're looking for a unique and eye-catching way to advertise your beach house, consider making a sign out of driftwood. Driftwood has a nostalgic tone that will help capture the attention of passersby. Also, your sign will likely be one of a kind because driftwood is so unique. If you have interest in driftwood, and wondering if you can take it from the beach, check out my article all about this topic here: Can You Take Driftwood From the Beach?
Final Thoughts    
So, there you have it. Above I covered 25 beach house names to give you some examples, set out some suggestions on how you can ideate your own beach house names, and then told you how you can make a sign with the name, including the idea of making it from driftwood. 
Use these ideas and examples to give your beach house some real personality and your friends and guests a sense of experiencing a place that is uniquely yours.