Key Takeaways
Miami Beach offers a vibrant nightlife with energetic sidewalks and neon lights, making it a thrilling destination for club hopping.
For adrenaline junkies and water lovers, Miami Beach is a haven for water sports and adventures, including scuba diving, jet ski racing, surfing, and parasailing.
Miami Beach is a treasure trove of Art Deco architecture, with landmarks like The Delano Hotel and The Breakwater Hotel showcasing iconic designs.
Shopping in Miami Beach offers a unique experience, with options ranging from luxury brand stores in the Design District to local artisans in Lincoln Road Mall.
Miami Beach is a city that radiates with vibrancy and color, making it a thrilling place to be. With its pulsating energy and dynamic character, it has a plethora of activities for everyone. This makes me ponder, what are some fun activities in Miami Beach?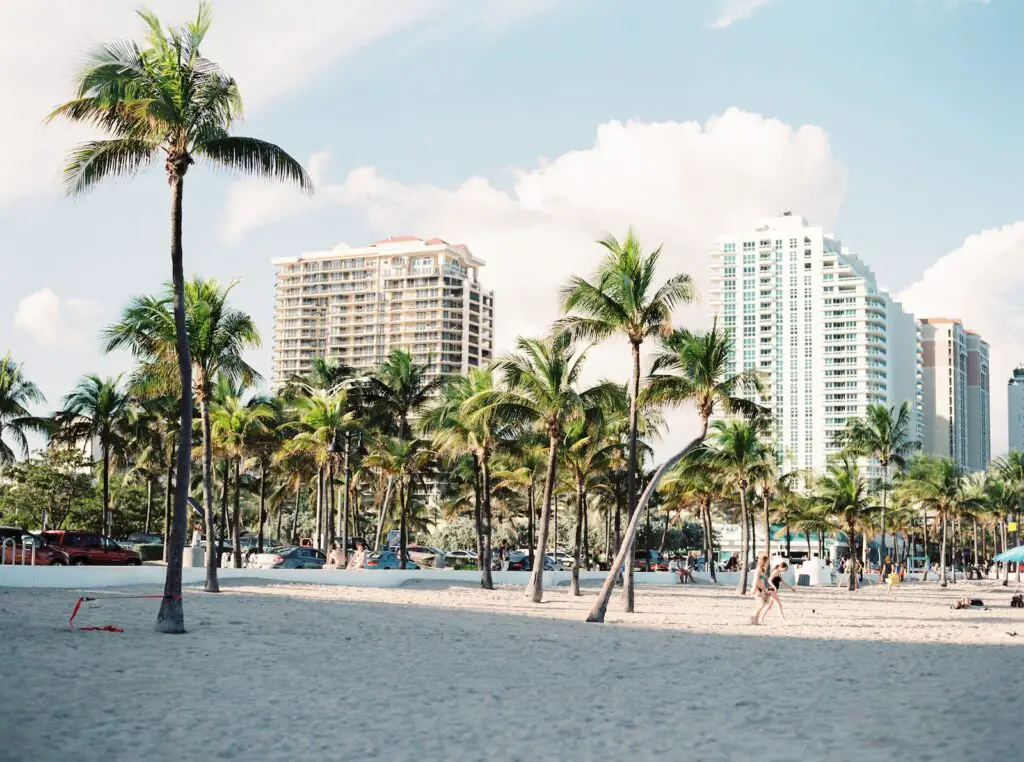 What Are 9 Fun Things to Do in Miami Beach? Fun Activities in Miami Beach
So, what are the 9 crazy cool ideas to explore in Miami Beach? #1 Explore the Nightlife, #2 Water Sports, #3 Art Deco Museums, #4 Shopping, #5 Food & Drink Tasting Tours, #6 Yoga & Wellness Retreats, #7 Festivals & Events, #8 Luxury Spas, #9 Everglades Adventure
In this article, I'll delve deeper into what makes Miami Beach an amazing destination. I'll be covering the unique experiences and activities that you can engage in, and give you an insight into the city's vibrant culture and cuisine. So if you're on the lookout for a vacation filled with excitement, adventure, and a hint of the extraordinary, stick around. Miami Beach has a lot more in store for you than you can imagine.
Let's dive in and explore the beauty that is Miami Beach!
1. Exploring the Vibrant Nightlife of Miami Beach
You'll find that Miami Beach's vibrant nightlife is truly one of a kind, offering a unique blend of entertainment options. After sundown, the city undergoes a transformation. The sidewalks buzz with energy, neon lights flicker, and the rhythm of music fills the air. It's a paradise for those in pursuit of freedom, adventure, and a good time.
Immerse yourself in the thrilling club hopping experiences Miami Beach has to offer. Each club is a world unto itself, with its own vibe and crowd. You'll find yourself dancing to music that ranges from hip hop to electronic beats, all while surrounded by a diverse mix of locals and tourists.
But don't stop there. Take a leap and try out the exhilarating Latin dance classes available in town. Whether you're a seasoned dancer or a newbie, you'll find these classes to be a fun, engaging way to immerse yourself in the local culture. Learn to sway your hips to the rhythm of salsa, or take on the challenge of mastering the intricate steps of the merengue.
In Miami Beach, the night is always young, and the possibilities are endless.
2. Unforgettable Water Sports Adventures
There's no shortage of thrilling water sports adventures waiting for you in the sun-soaked city. Miami Beach is a haven for adrenaline junkies and water babies alike. The city's culture is deeply ingrained with a love for the sea, inviting you to embrace that sense of freedom that only the ocean can offer.
**Scuba Diving Exploration**: Dive into the deep blue and discover a whole new world beneath the waves. Miami Beach offers a variety of scuba diving experiences, from exploring sunken ships to mingling with marine life.
**Jet Ski Racing**: Feel the wind in your hair and the thrill in your heart as you race across the crystal clear waters on a jet ski. Compete with your friends or simply enjoy the speed.
**Surfing**: Ride the waves and feel a sense of achievement like no other. Whether you're a newbie or a seasoned pro, you'll find a wave that suits your abilities.
**Parasailing**: Take to the skies for a bird's eye view of the city. Feel your heart pound as you soar high above the shimmering blue sea.
3. Discovering Miami Beach's Rich Art Deco History
Stepping away from the ocean's edge, you'll find yourself immersed in a different kind of beauty as you uncover the rich Art Deco history of this vibrant city. Miami Beach is a treasure trove of Art Deco architecture, its streets adorned with historical landmarks that hark back to the golden era of the 1920s and 30s.
To help you navigate, here's a handy table with some must-see spots:
| Landmark | Location | Notable Feature |
| --- | --- | --- |
| The Delano Hotel | Collins Avenue | Iconic skyscraper silhouette |
| The Breakwater Hotel | Ocean Drive | Colorful neon lights |
| The Bass Museum | Collins Park | Streamline Moderne style |
| The Essex House | Collins Avenue | Zigzag geometric designs |
| The McAlpin Hotel | Ocean Drive | Nautical-themed details |
Don't just wander aimlessly. Join a guided tour to get the full lowdown on these architectural wonders. You'll learn about the culture, history, and unique design elements that define each building. It's a fantastic way to immerse yourself in the city's past while enjoying its present. Remember, you're not just looking at buildings—you're stepping back in time to an era of elegance and sophistication. So, go on, explore, and be captivated by Miami Beach's Art Deco gems.
4. Experiencing Miami Beach Shopping Extravaganza
After taking in the architectural marvels, it's time to dive into another equally mesmerizing facet of the city – the shopping extravaganza. Miami Beach is a shopping haven where you can splurge on high-end designer boutiques or hunt for unique treasures in local markets.
Miami offers a unique shopping experience, tailored to your every whim. Here's a quick guide to help you navigate the shopping paradise:
**Designer Boutiques**: Head over to the Design District, home to over 60 luxury brand stores. It's a playground for fashion lovers, where you can find everything from Gucci to Louis Vuitton.
**Shopping Malls**: The Aventura Mall and Bal Harbour Shops are a must-visit, housing an impressive array of international brands.
**Local Markets**: Explore Lincoln Road Mall to find a mix of high-end retail and local artisans.
**Vintage Shops**: For a taste of old-school Miami, visit C. Madeleine's, a vintage clothing mecca.
5. Eclectic Food and Drink Tasting Tours
You're in for a treat as you embark on the eclectic food and drink tasting tours, where your palate will encounter a world of flavors unique to Miami. This is not just about satisfying your hunger, it's about a Cuban cuisine exploration that takes you on a journey of tastes and aromas, with every bite revealing a bit more about the city's vibrant culture.
From the fusion foods debate to the authentic Cuban dishes, there's a whole array of gastronomic delights waiting for you. And don't forget the drinks! Miami's mixologists are renowned for their creativity, combining local and exotic ingredients to concoct the most exciting cocktails you've ever had.
Here's a peek at what you can expect:
| Tour | What's Unique | Must-Try |
| --- | --- | --- |
| Cuban cuisine exploration | Authentic Cuban dishes | Ropa Vieja |
| Fusion foods debate | Melding of flavors from different cultures | Asian-Latin fusion Tacos |
| Miami mixology tour | Creative cocktails | Mojito with a twist |
6. Relaxing Beach Yoga and Wellness Retreats
In the midst of all the culinary delights, don't forget to take a breather and dive into the tranquil world of yoga and wellness retreats. Miami Beach's serene beauty is an ideal setting for rejuvenation and self-discovery. Here's a rundown of what you can expect:
**Sunset meditation:** As the sun dips into the horizon, join a community of like-minded individuals for a peaceful sunset meditation. Feel the calming ocean breeze as you focus on your breath and let go of the day's stress.
**Healing therapies:** Indulge in a range of healing therapies designed to balance your mind, body, and spirit. You could try anything from traditional massages to more exotic treatments.
**Yoga by the beach:** There's nothing quite like performing yoga asanas to the rhythm of crashing waves. It's an experience you won't forget.
**Healthy eating workshops:** Learn how to prepare nutritious meals that not only taste great but also fuel your wellness journey.
With these activities, you're not just taking a vacation; you're embarking on a journey of self-discovery and wellness. So loosen up, breathe deeply and let Miami Beach's healing vibes wash over you.
7. Thrilling Miami Beach Festivals and Events
Shifting gears from wellness retreats, let's plunge into the exhilarating world of festivals and events that you'll find peppered throughout the year in Miami. One of the most iconic events is the Carnival celebrations, a feast of freedom, color, and joy. Revel in the carnival parades that showcase vibrant costumes and contagious rhythms.
Then, there are the music festivals, a perfect blend of various genres that'll make your heart pound and feet move. You'll find both international superstars and local talent adding to the eclectic soundscape.
Let's take a look at some of these events:
| Festival Name | Description |
| --- | --- |
| Miami Carnival | A week-long celebration filled with Caribbean music, dance, and culture. |
| Ultra Music Festival | An annual electronic dance music festival that pulls the biggest names in the industry. |
| Calle Ocho Festival | Part of the larger Miami Carnaval, this one-day fiesta is the largest Hispanic festival in the U.S. |
Whether you're a fan of music, culture, or just love to be part of a lively crowd, Miami's festivals and events promise an unforgettable experience. Dive in, and let the city's energetic vibe set you free!
8. Unwinding at Miami Beach's Luxury Spas
After all those heart-pumping festivals, you'll certainly appreciate the opportunity to unwind at one of Miami Beach's luxury spas. It's here where you can indulge in some self-care, leaving you feeling rejuvenated, refreshed, and ready to continue your adventure in the Magic City.
Let's talk Spa Benefits. There's more to these sanctuaries of serenity than meets the eye. Here are four distinct advantages you'll enjoy:
**Stress Relief:** Massage Therapies are known to reduce stress. Let expert therapists knead away your tension, helping you relax and enjoy your vacation to the fullest.
**Detoxification:** Spas offer treatments designed to cleanse your body, flushing out toxins and promoting healthier skin.
**Improved Sleep:** The relaxation from a spa visit can enhance your sleep quality, leaving you well-rested for more Miami fun.
**Cultural Connection:** Many Miami spas incorporate elements of local cultures in their treatments, offering you a unique, immersive experience.
9.Navigating the Everglades: A Wild Miami Beach Adventure
After recharging at the spa, it's time to amp up your Miami Beach adventure with a wild journey through the Everglades. You'll trade serene spa settings for thrilling airboat rides, encountering an array of captivating wildlife.
But remember, venturing into this vast wilderness requires a few survival tips, making your Everglades adventure not just exciting, but safe too.
Everglades Wildlife Encounters
You'll find that Everglades Wildlife Encounters offers an incredible opportunity to get up close with Florida's diverse wildlife. Tailored for those with an adventurous spirit, this experience is a freedom-lover's dream. From swamp photography, capturing the raw, untouched beauty of the wetlands, to crocodile sightings that'll have your heart pounding, it's a rush like no other.
**Swamp Photography:** Capture the natural beauty of the Everglades. The unruly vegetation and wild creatures make for perfect subjects.
**Crocodile Sightings:** Spot these majestic beasts in their natural habitat. It's an adrenaline rush you won't forget.
**Bird Watching:** Witness a plethora of unique bird species that call the Everglades home.
**Plant Identification:** Familiarize yourself with the diverse flora of the swampy region.
Experience the thrill of the wild, unchained and untamed, with Everglades Wildlife Encounters.
Airboat Tour Experience
After meeting the wildlife, it's now time to conquer the Everglades on an airboat. You can't deny the liberating feeling as the wind rushes past your face, and you glide over the swamps. It's an exhilarating, fast-paced adventure that's sure to get your heart racing.
Your airboat experience also offers unique opportunities for swamp photography. Capture stunning landscapes, wildlife in their natural habitat, and the beauty of the twilight. And of course, don't forget the thrills of reptile spotting. Keep your eyes peeled for alligators basking in the sun or lurking under the water.
| **Experience** | **Expect** |
| --- | --- |
| Wind Rush | Freedom |
| Swamp Photography | Unique Landscapes |
| Reptile Spotting | Exhilarating Thrills |
| Everglades | Breathtaking Beauty |
| Airboat Ride | Heart Racing Adventure |
Take the plunge, freedom is waiting for you in the Everglades!
Survival Tips: Everglades
While you're exploring the Everglades, it's crucial to remember some survival tips to ensure your adventure is safe as well as thrilling. Here's your Everglades camping essentials list:
**Hydration**: The Everglades can be hot and humid. Always carry plenty of water.
**Navigation tools**: A compass or GPS is vital to avoid getting lost in the vast wilderness.
**Insect protection**: Mosquitoes can be a nuisance. Don't forget your bug spray!
**Emergency gear**: A first-aid kit, flashlight, and survival whistle are must-haves.
Remember, the Everglades is more than just an adventurous playground—it's a precious ecosystem teeming with unique wildlife. Respect the land, be prepared, and you'll surely have an unforgettable journey.
Follow these survival gear recommendations, and you're all set for the wild.
Frequently Asked Questions
What Is the Cost of Public Transportation in Miami Beach?
You'll find Miami Beach's public transportation cost-effective. Fares for buses and trolleys are under $3, aiding your budget planning. Explore transportation alternatives like Metrorail or rental bikes for a taste of local culture and freedom.
Are There Any Pet-Friendly Accommodations or Activities in Miami Beach?
Absolutely! You'll find numerous pet-friendly accommodations in Miami Beach. Even more, your furry friends can enjoy local dog beaches and unique local pet boutiques. They're gonna love the freedom and fun as much as you.
What Is the Best Time of Year to Visit Miami Beach for Less Crowded Tourist Spots?
You'll find the best time to visit Miami Beach for less crowded spots is during the fall. Seasonal discounts abound and off-peak activities are plentiful, offering a more relaxed, authentic Miami experience.
Is Miami Beach a Family-Friendly Vacation Spot?
Absolutely, Miami Beach is a family-friendly spot. There's an array of beach activities for all ages. You've got endless dining options that cater to everyone's taste. It's a great place for a family vacation.
What Safety Precautions Should Be Taken While Visiting Miami Beach?
You should respect beach etiquette and local regulations. Don't leave trash, avoid loud music, and always swim in lifeguarded areas. Be aware of your surroundings and don't flaunt valuables. Enjoy Miami Beach responsibly.
Conclusion
From grooving to the vibrant nightlife, indulging in adrenaline-pumping water sports, diving into the rich Art Deco history, to unwinding at luxury spas, Miami Beach offers a smorgasbord of experiences.
Savor the eclectic food scene, find tranquility in beach yoga, or navigate the wild Everglades.
With its thrilling festivals and shopping extravaganzas, Miami Beach is a crazy cool paradise that'll leave you wanting more.
So, pack your bags and get ready to dive into the Miami Beach adventure!