Beach Towns For Retirement – Best Beach Towns Perfect for Golfing
Key Takeaways
Golf beach towns offer a perfect balance of leisure, scenic beauty, and golfing opportunities for retirees.
Each location has its own unique charm, such as historic architecture, diverse cuisine, or vibrant local attractions.
Pristine beaches and world-class golf courses are common features among these top retirement destinations.
These towns allow retirees to escape the hustle and bustle, embracing a more relaxed and leisurely lifestyle.
The natural surroundings, including both wildlife and landscapes, contribute to the overall appeal of these destinations.
Although luxurious, these retirement locations are worth considering for those who have earned a peaceful and enjoyable retirement experience.
The golden years of retirement are the perfect time to indulge in leisurely pursuits, and what better way to enjoy them than in a picturesque golf beach town? With stunning coastlines, world-class golf courses, and a relaxed atmosphere, these towns offer an idyllic setting for those looking to unwind and enjoy life at their own pace. It makes me wonder, what are some of the best golf beach towns to retire in?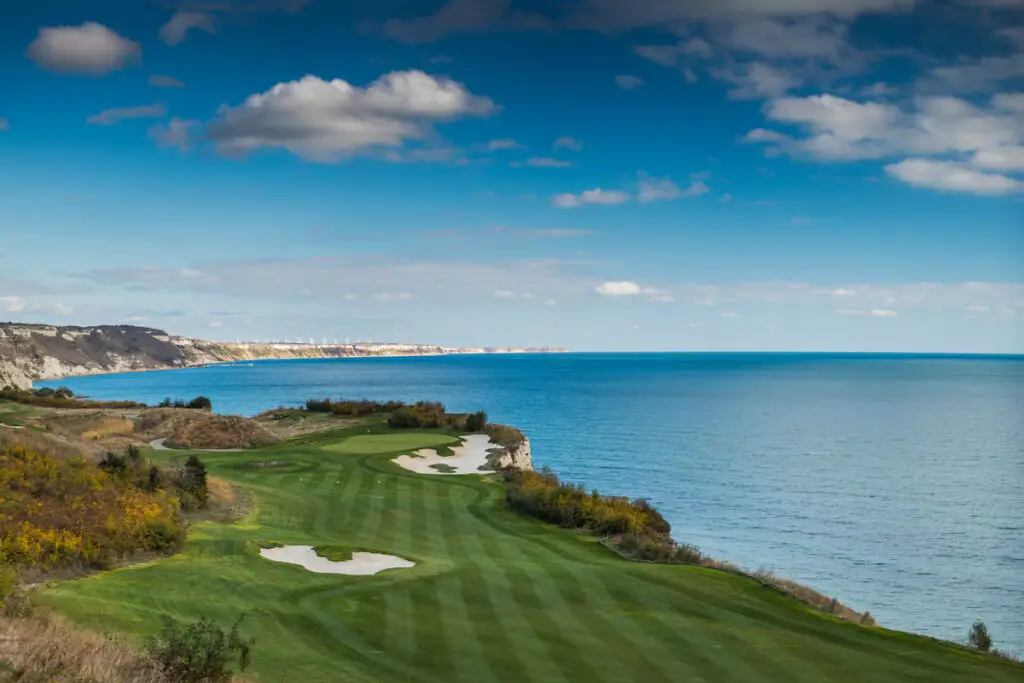 Best Golf Beach Towns To Retire In
So, what are some of the best golf beach towns to retire in? Here are seven ultimate golf beach towns to consider: Pebble Beach, California; St. Augustine, Florida; Kiawah Island, South Carolina; Hilton Head Island, South Carolina; Myrtle Beach, South Carolina; Naples, Florida; and Lahaina, Hawaii
The increasing popularity of golf among retirees is growing, including those communities near a beach. Consider these statistics about golf and retirement:
Table of Contents
In this article, I'll delve deeper into what makes these golf beach towns so special and why they're ideal for retirees seeking a life filled with leisure and relaxation. I'll provide insights into the unique attractions, golf courses, and local cuisine that make each town stand out. So, if you're ready to discover your dream retirement destination, stick around and keep reading! You're sure to find a place that will capture your heart and make your golden years truly unforgettable.
7 Golf Beach Towns to Spend Your Retirement Years In
As the sun rises over the perfectly manicured greens and the gentle sound of waves crashing on the shore fills the air, the dream of retiring in a golf beach town becomes a reality for many. Combining the best of both worlds – a love for golf and a passion for the beach – these idyllic towns offer the ultimate retirement experience.
With a plethora of world-class golf courses, stunning coastal views, and a laid-back lifestyle, these nine golf beach towns are the perfect places to hang up your hat (and your golf clubs) after years of hard work. Whether it's the sun-drenched shores of Florida, the picturesque coastlines of California, or the tranquil waters of the Carolinas, there's a golf beach town that's just right for you.
Let's get started!
Pebble Beach, California
Ah, Pebble Beach, California. A place where the sun shines bright and the ocean waves crash against the shore. A town that has everything one could desire – beautiful scenery, a golf course kissed by the sea, and a laid-back atmosphere.
It's no wonder many who find themselves here dream of never leaving. Pebble Beach cuisine is as unique as the town itself – fresh seafood paired perfectly with fine wines from local vineyards. The locals are friendly and welcoming, but don't be surprised if you spot a celebrity or two in your midst.
Such is life in this paradise of freedom and relaxation; it's what makes Pebble Beach one of the ultimate beach towns to retire in.
St. Augustine, Florida
Ah, St. Augustine, Florida – a place where the sun kisses the sea and the ancient streets whisper tales of history.
One walks among the Spanish architecture, feeling transported to a different time, a time when explorers charted new lands and left their mark on this storied town. The St. Augustine history is rich and deep, like the ocean that surrounds it, offering those who seek solace in its embrace a sense of freedom.
As you swing your club on immaculate greens with the ocean breeze caressing your face, you can't help but feel alive and free in this enchanting city. You deserve this life; you've earned it.
Picture yourself strolling through narrow brick streets as warm sunlight dapples through centuries-old trees, taking in the beauty that has stood here for generations before you. And as night falls under starry skies, imagine sitting on your porch with a glass of wine in hand, listening to gentle waves lap at distant shores – knowing that this is where you belong.
The call of freedom echoes throughout St. Augustine's historic charm; will you heed it?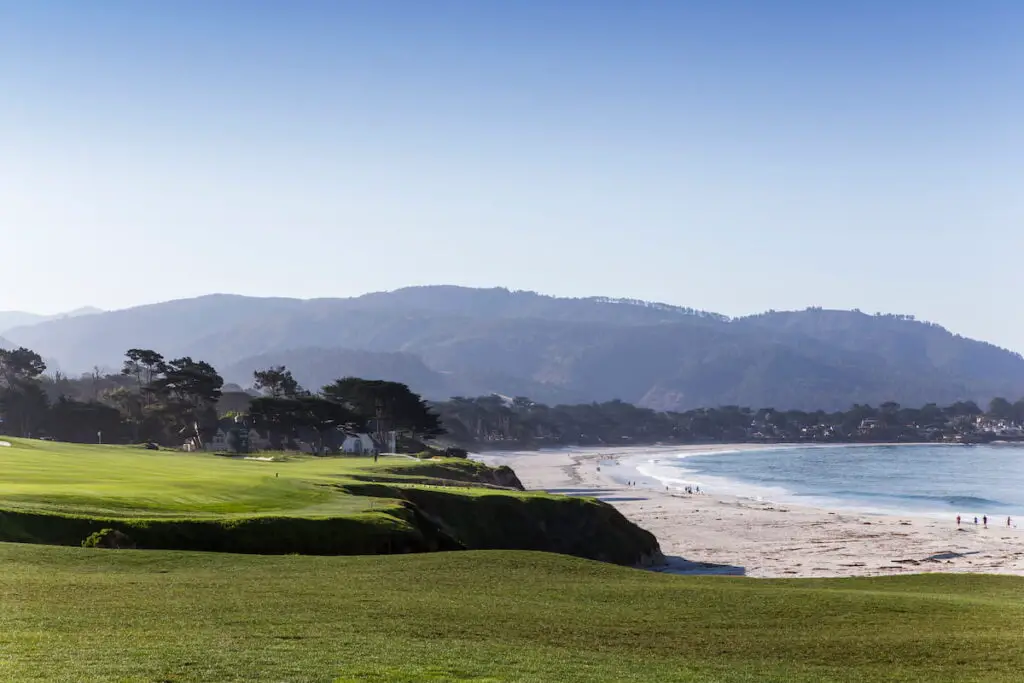 Kiawah Island, South Carolina
Kiawah Island, South Carolina is a place where one can find themselves lost in the beauty and simplicity of it all. The sea breeze whispers through the palm trees, carrying with it scents of salt and Kiawah cuisine from local eateries.
Gulls cry overhead as you walk along the pristine shoreline, your footprints washed away by the incoming tide. This is a place where one can truly be free, leaving behind the worries of life to embrace nature's gifts.
The island wildlife beckons you to explore further inland; deer graze peacefully near the golf courses while alligators bask in the sun along ponds and marshes. You may even catch a glimpse of a bobcat or fox among the maritime forests that blanket this idyllic paradise.
So, if your heart longs for freedom and serenity amid natural beauty, Kiawah Island will surely satiate your desires. Let go of your burdens and allow yourself to become immersed in this haven where life moves at its own unhurried pace.
Hilton Head Island, South Carolina
Hilton Head Island, South Carolina is a place of dreams for those who seek escape.
The sun rises over the ocean and sets into the marshes, painting the sky with colors as bold as your desire for freedom.
The salt air fills your lungs and the warm sand embraces your feet.
Here, life is simple, yet full of richness – like Hilton Head cuisine that tantalizes your taste buds with fresh seafood and southern comfort.
Island wildlife thrives in this haven where man and nature coexist harmoniously.
Dolphins dance in the waves while graceful herons stalk through the marshes – two sides of nature's coin spinning together in perfect balance.
As you walk along the island's famed golf courses or hike through its lush forests, you'll find yourself immersed in a world beyond time – one where life slows down and lets you savor every moment.
It is here on Hilton Head Island that you will discover a new sense of freedom, a liberation from life's hurried pace, and perhaps even the key to unlocking happiness in these golden years.
Myrtle Beach, South Carolina
Myrtle Beach, South Carolina: where the grass is always greener. This lively town offers more than just pristine golf courses and sandy beaches, it also serves as a haven for those seeking a taste of freedom during their golden years.
With its diverse Myrtle Beach cuisine and vibrant Boardwalk attractions, retirees can indulge in endless leisure activities while embracing a sense of youthfulness that many yearn for.
The town boasts numerous world-class golf courses, each designed to challenge and delight players of all skill levels. When not on the green, residents can immerse themselves in the rich Myrtle Beach cuisine scene, exploring flavors from around the globe or savoring fresh seafood fare.
Strolling along the bustling Boardwalk provides endless entertainment options – from amusement rides to live performances – ensuring that life never becomes dull in this coastal paradise.
As you consider your retirement destination, let Myrtle Beach's unique allure draw you in and discover the freedom that comes with living life to its fullest.
Naples, Florida
Naples, Florida is a place where the sun kisses your face and the sand hugs your feet.
It's a town that whispers freedom to those who listen, enticing them with promises of endless beaches and emerald fairways.
Here, Naples cuisine is savored beneath swaying palms while Florida wildlife beckons from lush green preserves.
The sea sings its siren song, luring you into a life of warmth and leisure.
You won't find walls to confine you in Naples. Instead, it offers an open invitation to wander barefoot along the shore or challenge yourself on world-class golf courses.
Embrace this haven of relaxation and let go of any worries that once held you captive.
For those seeking freedom from life's constraints, Naples, Florida is the perfect haven for retirement where dreams meet reality under an ever-blue sky.
Lahaina, Hawaii
But let's not linger too long in the Sunshine State, for paradise awaits us across the vast Pacific.
As we depart from Naples, Florida, our journey takes us to a place where island dreams come true and the spirit of aloha embraces all who seek refuge in its warm embrace.
Welcome to Lahaina, Hawaii.
Lahaina lifestyle offers unparalleled freedom, as gentle trade winds carry away your earthly burdens and replace them with the vibrant essence of life on the island.
Here, Hawaiian golf courses beckon you to test your skills amidst some of the most breathtaking landscapes imaginable. The emerald greens seem to dance beneath swaying palms and vibrant plumeria blooms as restless waves crash against black lava cliffs in the distance.
In this land where time moves slowly and each day unfolds like a sun-kissed treasure, one can truly experience what it means to live without limits or constraints. So cast off your worldly cares and embrace the boundless joys that await you in Lahaina – an idyllic sanctuary for those who yearn for endless sunsets and a life lived fully in harmony with nature's grandeur.
Personal Thoughts and Experiences – Retirement and Golf Beach Towns
Retirement age for me is just around the corner. Another 5-8 years and this becomes a reality. I haven't given that much thought to retirement yet, but retiring near a beach is certainly high on the list. And to be able to play golf at a moment's notice is certainly an attractive idea! It's been a long time since I've played, but my memories of golfing in California, Dubai, and Finland bring new meaning to these golf beach towns.
If I could travel to these beautiful golf beach towns, I would start my journey at Kiawah Island, South Carolina, where I would relish the opportunity to play golf on its renowned courses while breathing in the scents of salt and local cuisine. After a few rounds of golf, I'd head to Naples, Florida, to experience the freedom of wandering barefoot along its endless beaches, and test my golf skills on world-class courses. Finally, I would visit Lahaina, Hawaii, to immerse myself in the island's unique lifestyle, exploring its breathtaking landscapes and playing on picturesque golf courses.
Criteria For Golfing Beach Towns To Retire In
Are you dreaming of spending your golden years in a golfing beach town? A place where you can wake up to sunny skies, enjoy a round of golf, and then relax on the sandy shores? Figuring out a solid criteria for your perfect golf beach town is important to consider.
Climate and Weather
If you're seeking an ideal retirement spot with perfect weather, consider these golfing beach towns. They boast steady, pleasant temperatures all year, allowing for comfortable golfing without extreme weather concerns.
Rainfall is moderate and evenly distributed, ensuring vibrant, green golf courses, while the mild wind conditions enhance your playing experience.
Abundant sunshine ensures ample opportunities for outdoor activities and a healthy vitamin D intake, with minimal seasonal changes.
Affordability and Cost of Living
When looking for a picturesque beach town to retire in, several factors need to be considered. These include the cost of living, healthcare options, transportation, and local tax rates. Here's a detailed breakdown of these considerations in a tabular format:
| Consideration | Importance | Benefit |
| --- | --- | --- |
| Cost of Living | Crucial for retirement savings | Allows your hard-earned money to stretch further |
| Healthcare Options | Essential for retirees | Ensures that medical expenses are manageable |
| Transportation Options | Important for retirees who want to explore or visit attractions | Allows retirees to travel around the town without breaking the bank |
| Local Tax Rates | Significant role in affordability | Choosing a town with lower taxes can help retirees save money |
Choosing the right beach town that meets all these considerations can provide a comfortable, affordable, and enjoyable retirement.
Golf Club Options
One can easily find a variety of golf club options in these idyllic coastal havens, adding to the allure of settling down in these affordable beach towns.
Golf course membership is readily available in these retiree-friendly beach towns, providing access to a vibrant golfing community.
Affordable golf club memberships come with numerous amenities, including well-maintained courses, practice facilities, and social clubhouses.
Opportunities for skill enhancement are abundant, with professional golf lessons and clinics available for retirees on a budget.
Regular golf tournaments are hosted in these towns, allowing golf enthusiasts to compete and showcase their skills, reinforcing a sense of community and promoting the golfing lifestyle.
Recreational Activities and Amenities
These coastal havens offer numerous recreational activities and amenities for an engaging and fulfilling stay. Boating enthusiasts can enjoy ample opportunities, including leisurely cruises and thrilling fishing charters.
Land lovers can explore numerous hiking trails and local parks, connecting with nature and enjoying the beautiful coastal views. Whatever your preferences, these beach towns have everything needed to craft your dream retirement.
Beach Access and Proximity
Enjoy the unparalleled convenience of immediate beach access and closeness to gorgeous coastlines at these ideal retirement spots.
Envision waking to crashing waves, stepping onto warm sand from your beachfront home, and engaging in water sports like paddleboarding and surfing. Relish ocean views, golf, beachside dining with fresh seafood, and stunning sunsets.
These retirement destinations provide a unique sense of community, thanks to easy beach access and a lively coastal atmosphere.
Community and Social Life
If you desire a retirement spot offering more than just golf courses and beaches, consider a beach town with an active community and social life.
These towns offer local events like music festivals and art exhibits, diverse dining options, outdoor activities, volunteer opportunities, and a focus on fitness and wellness.
For retirees seeking a vibrant community and robust social life, a golfing beach town is an ideal choice.
Housing Options and Real Estate Market
Retirement options in beach towns offer a variety of housing choices, with a thriving real estate market. The vibrant rental market provides a plethora of apartments and condos, while retirement communities cater to those seeking a community-oriented lifestyle. Homeownership rates are high, yet property taxes vary by location.
It's crucial to monitor housing market trends for a wise retirement investment.
Conclusion
In conclusion, these ultimate golf beach towns offer the best of both worlds – pristine beaches and world-class golf courses.
You might worry about the cost of living in such luxurious locations, but remember, this is your hard-earned retirement.
So why not treat yourself to a peaceful and enjoyable golden years? You deserve it.
These picturesque towns are worth considering for a well-deserved escape into the sun, sand, and fairways of your dreams.
Frequently Asked Questions
What are the best beach towns to retire in across the US?
The best beach towns to retire in include Daytona Beach, Walton Beach, Vero Beach, and Fort Walton Beach.
What makes these beach towns great for retirement?
These beach towns offer a peaceful and scenic environment, a variety of outdoor activities, and a sense of community perfect for retirees.
Are these beach towns affordable for retirees?
Yes, these beach towns offer affordable housing options and a lower cost of living compared to other popular beach destinations.
Can you enjoy a beach retirement in these towns?
Absolutely! These beach towns provide plenty of opportunities to relax on the beach, go for walks, swim, and enjoy water sports.
Are there retirement communities in these beach towns?
Yes, there are retirement communities available in these beach towns for retirees looking for a close-knit and active community.
Are there any other coastal towns that are popular for retirement?
Yes, some other popular coastal towns for retirement include Folly Beach, Myrtle Beach, and various towns along the Gulf Coast.
What are the advantages of retiring in a beach town?
Retiring in a beach town allows you to enjoy a relaxed lifestyle, beautiful scenery, a range of recreational activities, and a strong sense of community.
Are there any beach towns perfect for retirees on a budget?
Yes, there are affordable beach towns where retirees can enjoy a comfortable retirement without breaking the bank.
What are some of the best small beach towns for retirement?
Some of the best small beach towns for retirement include Vero Beach, Daytona Beach, and Fort Walton Beach.
What are the top 10 best beach towns to retire in the US?
The top 10 best beach towns to retire in the US include Daytona Beach, Walton Beach, Vero Beach, Fort Walton Beach, Folly Beach, Myrtle Beach, and various towns along the Gulf Coast.