Have you ever taken a walk along the boardwalk of your favorite Florida beach town? The Florida coast is full of wonderful cities with boardwalks on the beach. Is it your imagination, or has someone once said Florida beach towns have the best boardwalks? These cities are all great places to visit and live as long as you consider more than just the boardwalk. 
So, it makes me wonder, what Florida beach towns have a boardwalk to enjoy? Popular Florida beach towns of Cocoa Beach, Daytona, Ft. Lauderdale, Miami Beach, and St. Petersburg all have boardwalks. The beaches in these towns offer an excellent view of the Atlantic Ocean or the Gulf of Mexico.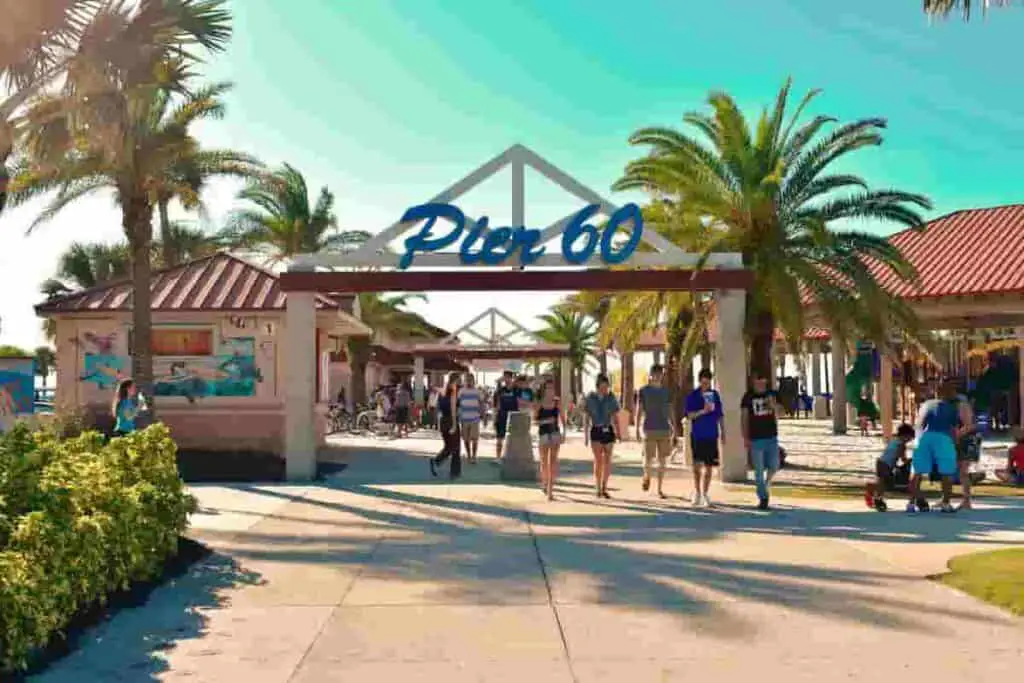 The boardwalks located in Florida Beach towns offer visitors a chance to relax on the sand, take in the sun, and even grab a drink or a bite to eat. Many shops, restaurants, and bars along Jacksonville Beach, Daytona Beach, and St. Augustine's boardwalks. 
Visitors can view the Atlantic Ocean, the Intracoastal Waterway, or the Intracoastal Canal from many boardwalks. Visitors to Florida Beach towns who take an excursion on a boardwalk simply to enjoy the scenery will probably find many other attractions nearby to spend their money.
Let's take a deeper look at Florida beach towns with boardwalks. Many great beach towns in Florida are all unique in their way. I'll cover this and a lot more. Keep on reading. You won't want to miss it!
Table of Contents
What Beach in Florida Has a Boardwalk with Rides
What elements can we combine in a boardwalk to make it as fun as possible, to make it the best beach boardwalk? A boardwalk with fun rides! Here are two Florida boardwalks that have rides:
Cocoa Beach's Cocoa Beach Pier features go-carts, mini-golf, and a boardwalk with amusements. The pier is over 1500 feet long and stretches out over the Atlantic ocean. The pier is open seasonally, depending on the weather.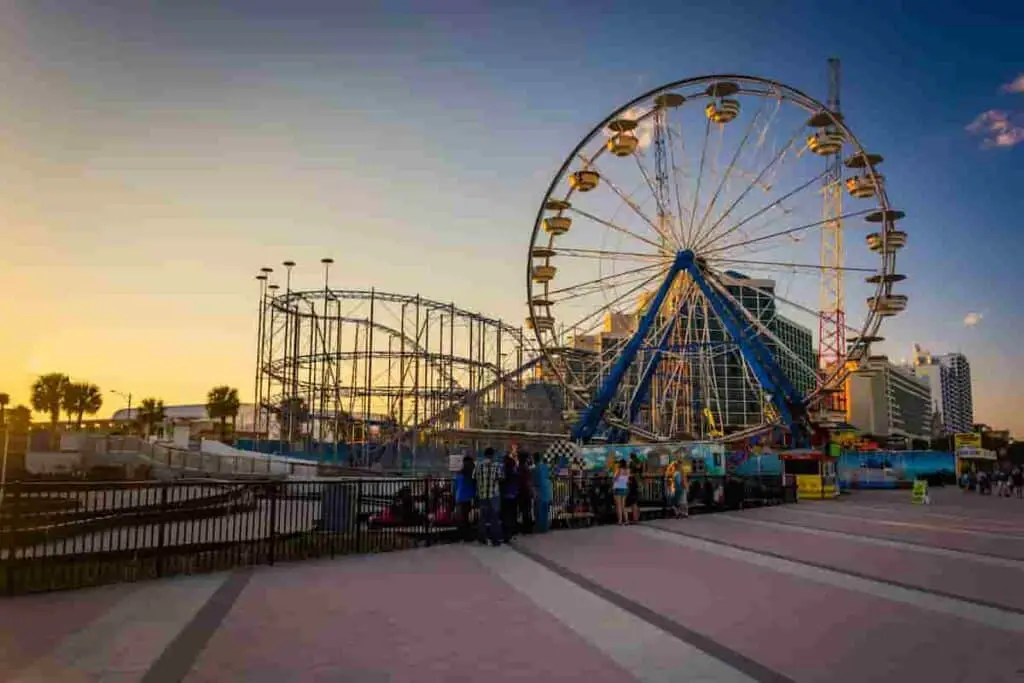 The boardwalk at Daytona Beach is famous for its rides, sandy beaches, and lively oceanfront atmosphere. Roller coasters and water rides for all ages, shops, restaurants, and entertainment are available on the boardwalk, including live music and street performers. 
A boardwalk is a great place for the whole family to enjoy a day at the beach. Daytona Beach is conveniently located near Daytona International Speedway.
Does Delray Beach Have a Boardwalk? 
Yes, Delray Beach does have a boardwalk! It's one of the things that makes this vibrant beach town so special.
-Delray Beach is perfect for a relaxing day by the water.
-Delray Beach has a variety of shops, galleries, and restaurants on Atlantic Avenue.
-The Morikami Museum and Japanese Gardens are well worth a visit.
-The beaches of Delray Beach are a great place for a day in the sun and sand.
Delray Beach's downtown is pedestrian-friendly and is a great place to walk around and explore during the day.
-Delray Beach is home to some of the best shopping in Florida. (Source)
 Things To Do In A Boardwalk Town
If you're looking for a fun and exciting place to spend your vacation, look beyond a boardwalk town!
-Some boardwalk towns have museums to visit an amusement park rides.
-Boardwalk towns have unique attractions like wild spinning rides and a beach where you can swim and sunbathe.
-Visiting a boardwalk town is a fun vacation activity because there's something for everyone to do there.
-Some boardwalk towns are located near beaches, lakes, or rivers where visitors can go swimming or boating.
Families can also enjoy games, arcades, and more on the boardwalk. And on Mondays and Fridays during the evenings in summertime, the beach comes alive with performers. Try Thrasher's famous fries while you're there – they have a splash of malt vinegar added to them, which gives them a delicious flavor.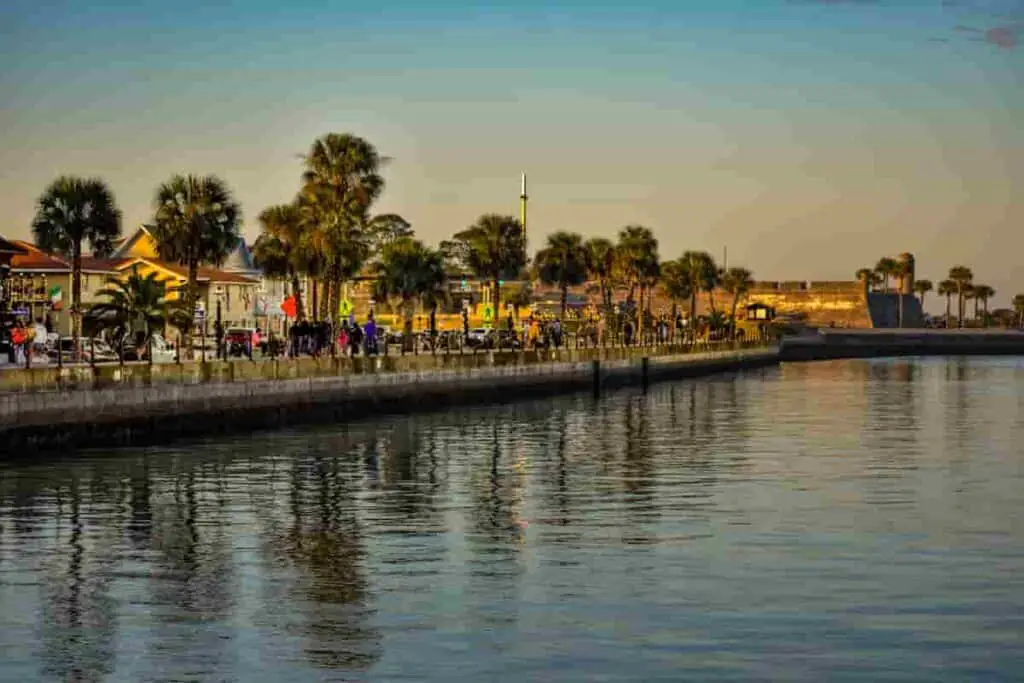 Some fun things to do in a boardwalk town include:
– Enjoy the rides and games
– Eat at the food stands
– Shop at the souvenir shops
 A List of Florida Beaches with Boardwalks
If you're looking for a great beach to visit in Florida and a boardwalk full of attractions, look no further! Here is a list of beaches with boardwalks in the Sunshine State.
* Jacksonville Beach
 This beach is located in Jacksonville and is one of the most popular beaches on this list. The boardwalk on this beach is a short walk from the parking lot and offers great ocean views!
* Atlantic Beach
This beach is located in Atlantic Beach and has a 3/4 mile boardwalk that leads to an observation tower that offers stunning views of the ocean!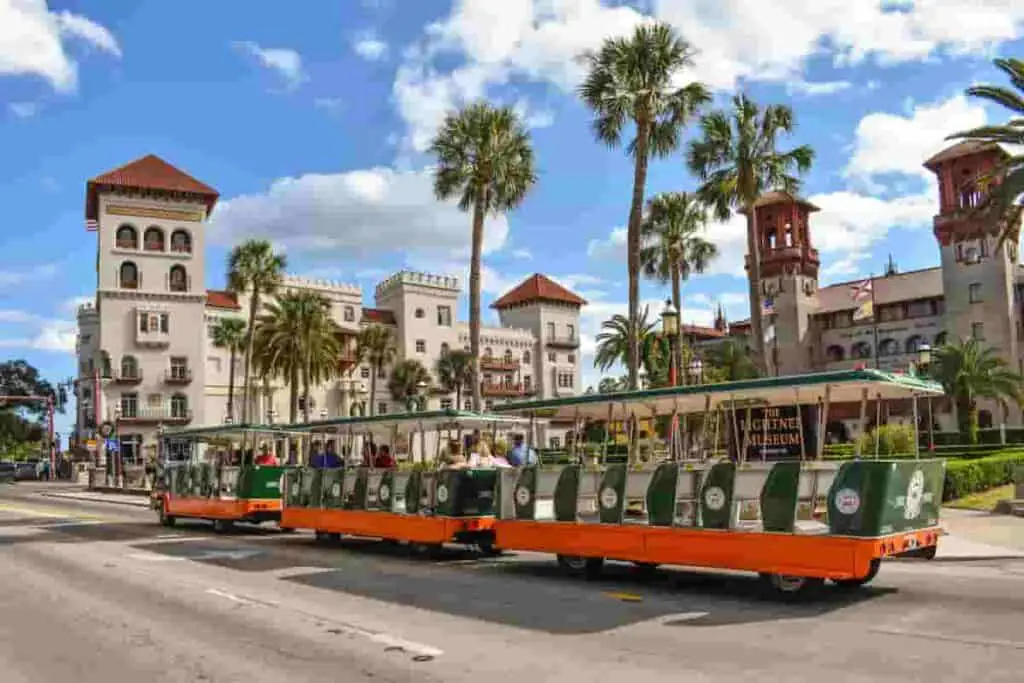 * St. Augustine Beach
This beach is located in St. Augustine and was recently renovated with new features like a boardwalk and bike paths!
* Pensacola Beach
This beach is located in Pensacola and offers fun activities like jet skiing, fishing, and paddleboarding!
* Clearwater Beach, FL
Clearwater Beach is located near Tampa Bay. It is known for its white-sand beaches, crystal clear waters, and warm weather.
This town has two boardwalks. A boardwalk along Gulf Boulevard offers views of the gulf while running parallel to the shoreline. The Sunset Boardwalk follows the shoreline. It runs alongside the bay and offers views of the sunset.
* Fort Lauderdale, FL
Fort Lauderdale is another popular destination for tourists. It is known for shopping, dining, and nightlife.
There are three boardwalks in Fort Lauderdale. 
They include the Ocean Walk, the Las Olas Riverfront Boardwalk, and the Las Olas Riverwalk. Additionally, the Ocean Walk is the longest boardwalk in Fort Lauderdale. It stretches along the ocean and connects downtown to the beach.
* Miami Beach, FL
Miami Beach has four boardwalks. Two of them are located in South Beach. These include the Lincoln Road Mall Boardwalk and the Collins Avenue Boardwalk. The third boardwalk is located in North Beach. It is called the Biscayne Bay Promenade. (Source)
* Daytona Beach, FL
Daytona Beach is known for its beaches, theme parks, and NASCAR racing. It has three boardwalks. The first is called the Atlantic Avenue Boardwalk. It runs along the Atlantic Ocean. The second boardwalk is called the International Speedway Boulevard Boardwalk. 
It is located next to the Daytona International Speedway. The third boardwalk is called the Main Street Boardwalk. It runs down the middle of Daytona Beach.
* St. Petersburg, FL
St. Petersburg is located in Pinellas County.
There are three boards in St. Petersburg. They include the Central Avenue Boardwalk, the Beach Drive Boardwalk, and the Gulfport Boardwalk.
These boardwalks offer stunning views of the waterfront. Each one is different, so there is something for everyone.
Beach towns with boardwalks are perfect places to visit during the summer. They provide visitors with breathtaking views and allow people to relax and unwind.
* Fort De Soto Park
Fort De Soto Park is located in Hillsborough County, Florida. This park has a population of over 1 million residents. This park has a boardwalk that goes along the shoreline. There are several parks and trails within the park. There are also several restaurants and shops near the boardwalk.
 What Is the Most Affordable Beach Town in Florida
A beach town is where people enjoy the ocean and its natural features, such as beaches. The most affordable beach towns in Florida are Panama City Beach, Cedar Key, and Fernandina Beach.
 What Is a Boardwalk?
A boardwalk is a platform often made of wood, concrete, or metal to provide a surface for pedestrians to walk on. Boardwalks are often found in coastal areas near beaches and protect the public from walking on wet or unstable surfaces.
They are often found in resort towns, such as those along the East Coast of the United States, including features such as restaurants, shops, and amusements.
Benefits of Living in A Boardwalk Town
Some benefits of living in a boardwalk town are that you have easy access to the beach and the ocean, there are usually plenty of restaurants and shops in the area, and the town often has a festive atmosphere. Boardwalk towns are also great places to live if you love spending time outdoors.
Living in a boardwalk town has many benefits, as this infographic shows. There are twenty-one of them, to be exact!
Some benefits include that boardwalk town is typically close to nature, has a strong community spirit, and offers plenty of residents' activities.
Boardwalks are a type of walkway usually on the beach, which provides access to the sand and sea. They allow pedestrians to traverse the waterfront area quickly and easily while being protected from the wet ground below by a wide strip of sand or seaweed-covered stones.
Boardwalk towns typically have a long history of tourism and high levels of pedestrian activity. It makes them perfect places for retirees or families who want an active lifestyle. There are always plenty of activities to keep residents busy, and the community spirit is strong. So if you're looking for a place to call home, consider a boardwalk town! 
Does Clearwater Beach Have a Boardwalk
Yes, Clearwater Beach does have a boardwalk! This long boardwalk is perfect for a relaxing stroll or bike ride. You'll find plenty of beautiful scenery to enjoy as you walk, and the white sand beaches are worth a visit.
Clearwater Beach is known for its amazing beaches, so it's no surprise that the boardwalk is such a popular attraction. There's plenty to do in this area, so check out the Clearwater Marine Aquarium while you're there. Kids will love seeing Winter, the star of Dolphin Tale!
What's Florida's Best Boardwalk?
There are many great boardwalks in Florida, but which one is the best? That's a tough question to answer! As I've mentioned a few times on this website, it best depends on what you like, what's available, and then it's down to personal preference.
Some popular boardwalks in Florida include the Cocoa Beach Pier, the Daytona Beach Boardwalk, and the St. Petersburg Boardwalk.
 One contender for the title of the best boardwalk in Florida would be the Hollywood Beach Broadwalk on the east coast. It has unobstructed ocean views, making it a perfect spot for a relaxing stroll. There's always something happening on this boardwalk – from the Candy Cane Parade to the Pro Footvolley Tour Hollywood Beach Open.
Clearwater's boardwalk is worth checking out if you're looking for a boardwalk with plenty of activities and events. This beach town is home to the annual Candy Cane Parade, a decades-old tradition. 
There's also Pier 60 Park, where you can go fishing or relax and take in the scenery. And if that's not enough, Clearwater's boardwalk also has an outdoor stage for live music and performances. Sunset events typically start about two hours before dark, so you can enjoy everything this boardwalk offers!
Are There Any Small Beach Towns in Florida
Yes, there are plenty of small beach towns in Florida! Many people consider Sanibel to be one of the best. This quiet town is known for its quirky restaurants and laid-back atmosphere. It's the perfect place to relax and escape the bustle of everyday life.
* St. Pete Beach
St. Pete Beach is located in Pinello County, Florida. This city has a population of over 50,000 residents.
St. Pete Beach has a boardwalk that extends along the shoreline. This boardwalk is popular among tourists and locals alike. There are several restaurants and shops near this boardwalk.
* Sanibel Island
Sanibel Island is located in Lee County, Florida. This island has a population of over 60,000 residents.
Sanibel Island has a boardwalk that stretches along the shoreline. The boardwalk is popular among visitors and locals alike.
* Captiva Island
Captiva Island is located in Manatee County, Florida. This small island has a population of under 10,000 residents.
Captiva Island has a boardwalk along the shoreline. Visitors can walk along the boardwalk and take pictures of the beautiful scenery.
There are many restaurants and shops along the waterfront.
* Navarre Beach
Navarre Beach is a great option if you're looking for a smaller town with a more intimate feel. This beach town near Pensacola Bay has a fascinating history and plenty of activities to keep you busy. Plus, it's one of the top 30 destinations in the world! 
Does Ormond Beach Have a Boardwalk? A Small Beach Town With a Boardwalk
Ormond Beach is a beautiful, small coastal town in Florida, and one of its best features is the boardwalk. Stretching for over two miles along the beach, the boardwalk is a great place to take a walk, go for a run, or simply relax and enjoy the view. 
There are plenty of restaurants and cafes, making it easy to grab a bite to eat. The best part of the boardwalk, though, is the Ormond Pier. This historic pier was built in 1959, and it's a great spot for fishing, swimming, or just taking in the stunning views of the Atlantic Ocean.  
Final Thoughts    
So, there you go. Some of the best beaches in Florida have boardwalks. Florida has some amazing beaches, but if you're looking for a place to enjoy the sand without being surrounded by tourists, check out these towns. They have boardwalk access, beautiful scenery, and friendly locals. Plus, most of them offer free parking and Wi-Fi. And if you're planning a trip to Florida anytime soon, why not plan a visit to one of these places first?