Kiawah Island, a hidden gem along South Carolina's picturesque coastline, offers visitors a tranquil retreat filled with pristine beaches, vibrant wildlife, and world-class golf courses. The island's captivating sights and sounds, coupled with its indulgence in coastal cuisine, make it a truly alluring destination. But with so much to see and do, what are the best beaches Kiawah Island to visit?
The 5 best beaches on Kiawah Island that you won't want to miss are Beachwalker Park, Mingo Point, Captain Sam's Inlet, The Ocean Course Beach, and the island's untouched hidden coves. Each of these beaches offers a unique experience, whether it's family-friendly fun, nature immersion, serenity and seclusion, golf and scenery combined, or off-the-beaten-path adventures.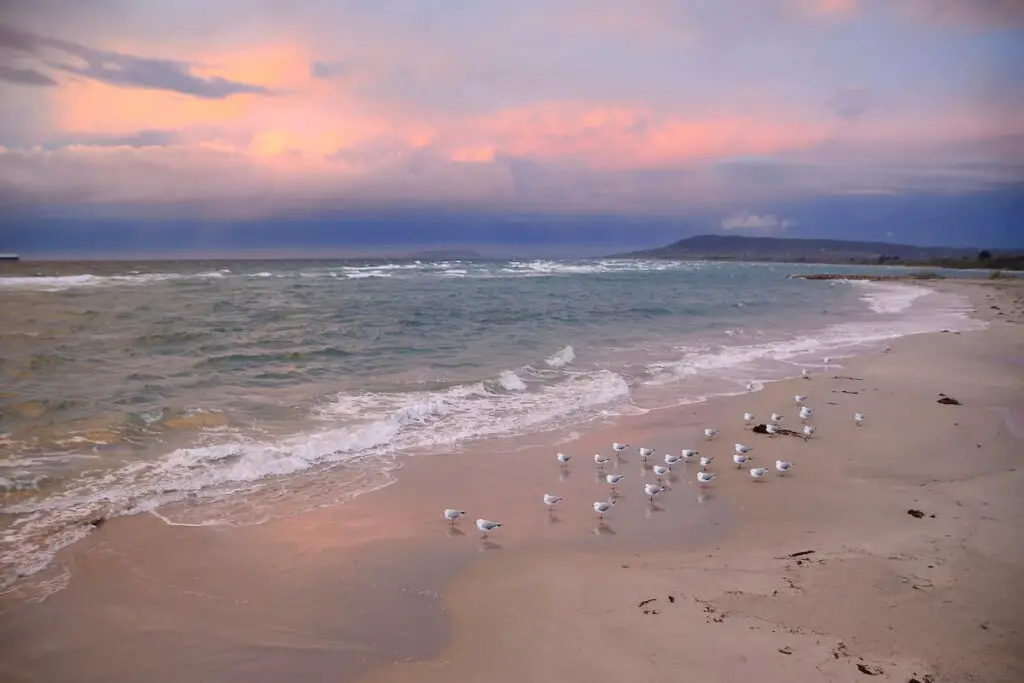 Key Takeaways‍
Kiawah Island features pristine beaches, vibrant wildlife, and world-class golf courses.
Beachwalker Park offers family-friendly amenities and picturesque, fun-filled beach experience.
Mingo Point provides nature enthusiasts with eco-tours and unforgettable kayaking adventures.
Captain Sam's Inlet offers secluded sanctuary for wildlife sightings and relaxation.
The Ocean Course Beach combines challenging golf and breathtaking oceanfront views.
Kiawah Island conservation efforts include wildlife preservation, education, and beach cleanups.
Kiawah Island is a stunning barrier island known for its diverse ecology, vibrant wildlife, and pristine beauty
The destination offers a rejuvenating retreat amidst breathtaking landscapes
There are five spectacular beaches within Kiawah Island's realm, each with unique charm and appeal
Beach settings range from secluded maritime forests to expansive vistas teeming with recreational opportunities
I'll explore the beauty and unique features of each of these beaches, including the recreational activities available and the rich history and conservation efforts on Kiawah Island. I'll also provide tips for planning your Kiawah beach vacation, including the best time to visit and some off-the-beaten-path adventures you can embark on. So, if you're ready to discover the enchanting allure of South Carolina's surprising hidden gem, keep reading – Kiawah Island's beaches are calling your name!
Table of Contents
5 Best Beaches On Kiawah Island
Let's dive into the top 5 beaches on Kiawah Island and explore their unique features and attractions. For the beaches I've had the pleasure of visiting, I'll share my insights and experiences, so you can get a sense of what awaits you at these stunning locations.
Nestled along the Atlantic coast in South Carolina lies the stunning Kiawah Island, a serene retreat that offers an idyllic escape from the hustle and bustle of daily life.
The Allure Of Kiawah Island
Nestled along the picturesque coastline of South Carolina, Kiawah Island beckons to those seeking island luxury and an escape from the mundane.
This enchanting barrier island is renowned for its pristine beaches, vibrant wildlife, and world-class golf courses. Its diverse landscape boasts lush maritime forests, serene marshes, and an unspoiled shoreline that stretches across ten miles.
A true hidden gem, Kiawah Island offers a tranquil retreat for individuals craving a connection with nature and an indulgence in coastal cuisine.
As visitors stroll along the sun-kissed sands of Kiawah's beaches, they are greeted by an array of captivating sights and sounds. The gentle lapping of waves upon the shore sets the stage for relaxation while a symphony of seabirds lends a soundtrack to this idyllic setting.
In the evenings, stunning sunsets paint the sky in hues of gold and crimson as diners at nearby restaurants savor exceptional coastal cuisine crafted from locally sourced ingredients.
The perfect marriage between natural beauty and refined gastronomy solidifies Kiawah Island's status as one of South Carolina's most surprising and alluring destinations.
Beachwalker Park: A Family-Friendly Haven
As the saying goes, 'a picture is worth a thousand words,' and Beachwalker Park on Kiawah Island paints a vivid image of family fun and relaxation. This family-friendly haven provides visitors with an array of activities and amenities that cater to all ages. With its pristine shoreline, lush vegetation, and tranquil atmosphere, Beachwalker Park has become one of South Carolina's most cherished hidden gems.
Some of the notable features include:
Well-maintained restrooms and changing areas for added convenience
A designated picnic area with grills for families to enjoy meals together
Lifeguards on duty during peak seasons to ensure a safe beach experience
The allure of Beachwalker Park extends beyond its picturesque setting; it offers numerous opportunities for families to bond and create lasting memories. The park boasts various Beachwalker amenities such as beach chair rentals, umbrellas, and even bicycle rentals for exploring the island's surrounding beauty. Engaging in family beach games like volleyball, paddleball, or simply building sandcastles adds an element of excitement to any beach day.
As the sun sets on another glorious day at Beachwalker Park, visitors can take comfort in knowing they have discovered one of Kiawah Island's most captivating beaches. The fusion of natural beauty and modern conveniences creates an unparalleled experience that fulfills the yearning for freedom that lies within each visitor.
So when planning your next coastal escape, consider uncovering the surprising hidden gem that is Kiawah Island's Beachwalker Park – where memories are made, laughter is shared, and lasting bonds are formed.
Mingo Point: Nature Enthusiast's Paradise
Mingo Point, situated on Kiawah Island, presents a nature enthusiast's paradise. This location offers an array of activities for those seeking a more adventurous and eco-friendly experience.
Mingo kayaking, for instance, allows individuals to immerse themselves in the serene beauty of the marshlands while navigating through winding creeks and estuaries. Furthermore, eco tours provide visitors with the opportunity to explore the island's diverse ecosystems, observe native wildlife in their natural habitat, and learn about the importance of preserving these delicate environments.
One may be pleasantly surprised by Mingo Point's ability to captivate all senses as they embark on unforgettable adventures. The gentle rustle of marsh grasses swaying in the breeze, coupled with bird calls echoing through the air, serves as a constant reminder of nature's omnipresence.
As one continues their journey into the heart of this hidden gem, they will be rewarded with breathtaking views that evoke feelings of freedom and tranquility. Thus, Mingo Point remains a testament to South Carolina's unique coastal allure and serves as an essential destination for any traveler seeking an authentic Kiawah Island experience.
Captain Sam's Inlet: Seclusion And Serenity
Seclusion seekers search no further, for Captain Sam's Inlet offers an idyllic island escape.
Serene sandy shores stretch along the southern tip of Kiawah Island, far from the bustling beaches and crowded coastlines.
This tranquil treasure provides visitors with a rare opportunity to embrace nature and immerse themselves in the captivating charm of South Carolina's hidden gem.
Captain Sam's wildlife flourishes amid these pristine surroundings, offering guests glimpses of diverse species such as dolphins, shorebirds, and even sea turtles nesting in their natural habitat.
Serene escapes at Captain Sam's Inlet are not limited to encounters with its abundant wildlife; here one can also indulge in quiet contemplation or simply bask in the beauty of gently rolling waves that lap against the undeveloped shoreline.
A visit to this secluded sanctuary allows travelers to experience a sense of freedom as they step away from daily stressors and reconnect with both themselves and their environment.
The allure of Captain Sam's Inlet lies in its ability to provide respite from the mundane while simultaneously fostering a newfound appreciation for the world around us.
The Ocean Course Beach: Golf And Scenery Combined
The Ocean Course Beach, a stunning amalgamation of natural beauty and world-class golf, offers visitors an unparalleled experience on Kiawah Island.
This remarkable stretch of coastline not only boasts pristine sands and captivating vistas but also features the renowned Ocean Course, a masterpiece designed by Pete Dye.
The course has garnered international acclaim for its challenging layout and breathtaking oceanfront views as it winds along the island's eastern shore.
In addition to its golfing allure, the Ocean Course Beach entices travelers with exceptional oceanfront dining options that showcase regional cuisine and fresh seafood while providing sweeping panoramas of the Atlantic.
As one explores the magnificent Ocean Course Beach, it becomes evident that this hidden gem embodies the quintessence of coastal South Carolina – serene landscapes, diverse wildlife, and a distinct sense of tranquility that ignites a yearning for freedom in every visitor.
Golf enthusiasts looking to elevate their game can benefit from local experts' golfing tips to navigate this prestigious course's intricacies amid the alluring backdrop of sand dunes and maritime forests.
Whether teeing off on impeccably manicured greens or strolling along sun-kissed shores, guests at the Ocean Course Beach are captivated by its unique charm and enchanting atmosphere that is sure to leave an indelible impression on all who set foot upon its sands.
Tips For Planning Your Kiawah Beach Vacation
When planning a vacation to the stunning beaches of Kiawah Island, visitors should consider several factors to make the most of their beachside experience.
Firstly, researching the best time to visit can greatly impact one's experience; while temperatures may be ideal during summer months, this is also peak tourist season, which may diminish the sense of serenity and seclusion that Kiawah Island offers. To maximize both pleasant weather and a quiet atmosphere, travelers might opt for visiting in late spring or early fall.
Furthermore, compiling a list of must-visit beaches on the island can help ensure that all desired locations are explored during one's stay.
Another essential aspect of any Kiawah Island vacation is indulging in beachside cuisine and selecting an appropriate coastal accommodation. The island boasts an array of dining options featuring fresh seafood and locally sourced ingredients, allowing visitors to savor exquisite culinary experiences while enjoying breathtaking ocean views. By consulting local guides or online reviews, one can pinpoint which establishments cater to their specific tastes and preferences.
Additionally, choosing suitable lodging is crucial for a comfortable stay; from luxurious resorts to charming cottages and villas lining the pristine shores, visitors are spoilt for choice when it comes to accommodations on Kiawah Island. Carefully considering these aspects alongside budget constraints will help create an unforgettable beach vacation filled with relaxation, exploration, and newfound freedom on South Carolina's hidden gem – Kiawah Island.
Exploring Kiawah Island's Rich History
Kiawah Island, South Carolina hides a wealth of historic architecture and indigenous culture that is waiting to be explored.
From breathtaking beaches to some of the oldest structures in the area, Kiawah Island has something to offer every traveler.
Historic Architecture
Nestled amidst the picturesque landscape of Kiawah Island, one can find a treasure trove of historic architecture waiting to be explored.
The island's commitment to historic preservation has ensured that these beautiful structures continue to grace the landscape, serving as a testament to their enduring architectural beauty.
Visitors are sure to be captivated by the unique blend of styles, from grand plantation homes and charming cottages to the intricate craftsmanship found in places like St. Michael's Church and the Vanderhorst Mansion.
As one traverses this stunning island, it becomes apparent that Kiawah's rich history is not only preserved through its pristine beaches but also in the elegant design and timeless beauty of its historic buildings.
Indigenous Culture
In addition to the architectural marvels that grace Kiawah Island, a deeper understanding of the area's rich history can be gleaned from exploring its indigenous culture.
As one strolls along the island's pristine beaches, it is easy to imagine the vibrant communities that once thrived here, leaving behind a legacy of art and tradition.
The island has become a haven for cultural preservation, ensuring that visitors have the opportunity to appreciate and learn about the local indigenous art and customs.
Various events and exhibitions are held throughout the year, showcasing traditional crafts, music, and dance performances that provide an insight into a fascinating past.
By immersing oneself in this living heritage on Kiawah Island, it becomes evident that freedom is not just found in wide-open spaces but also within the shared exploration of diverse cultures and histories.
Wildlife Spotting On The Island's Shores
Wildlife Spotting on the Island's Shores
A visit to Kiawah Island's pristine beaches not only offers relaxation and rejuvenation but also an opportunity to witness an extraordinary array of wildlife in its natural habitat. Renowned for its thriving ecosystem, the island provides ample opportunities for wildlife photography enthusiasts and nature lovers alike.
The shores of Kiawah Island are home to a diverse range of creatures, including the endangered Loggerhead sea turtles, which can be observed during the turtle nesting season between May and October.
Kiawah Island is also a popular destination for birdwatchers and boasts a rich assortment of avian species. Visitors can expect to spot:
Ospreys soaring above marshlands,
Egrets stalking their prey along tidal creeks, and
A variety of songbirds filling the maritime forests with melodious tunes.
Aside from these mesmerizing encounters with coastal birds, one may come across bottlenose dolphins frolicking in nearby waters, while alligators bask in the sun around lagoons scattered throughout the island.
Exploring Kiawah Island's lush habitats is truly an unforgettable experience that instills a profound sense of connection with nature and allows visitors to satisfy their inherent desire for freedom amidst breathtaking landscapes teeming with life.
Recreational Activities For Beach Lovers
Apart from the stunning beaches, Kiawah Island offers a plethora of recreational activities that cater to beach enthusiasts' desires.
One such activity gaining popularity among visitors is beach yoga. The serene environment and soothing sound of waves provide an ideal setting for practicing this ancient form of exercise. Beach yoga benefits not only include enhanced flexibility, strength, and balance but also contribute to mental wellbeing by promoting relaxation, stress reduction, and concentration through a connection with nature.
Furthermore, Kiawah Island takes pride in hosting creative and entertaining events such as sandcastle competitions, which bring together people of all ages to showcase their artistic abilities. These competitions are not merely about constructing elaborate structures; they also foster a sense of community and camaraderie among participants.
Additionally, engaging in such activities allows individuals to embrace their inner child's spirit while simultaneously appreciating the island's natural beauty. Thus, Kiawah Island promises an unforgettable experience that combines relaxation, adventure, and an opportunity to connect with oneself and others in a picturesque setting.
Conservation Efforts On Kiawah Island
Kiawah Island is a renowned destination for its beaches and wildlife, and its conservation efforts are among the most successful in the nation.
Through wildlife preservation, environmental education, and beach cleanups, Kiawah Island has become an example for other coastal regions of how to protect and preserve natural resources.
The island's beaches are a unique draw for visitors, with their untouched beauty and wide array of animal and plant species, making Kiawah Island a hidden gem of South Carolina.
Wildlife Preservation
An important aspect of conservation efforts on Kiawah Island is the preservation of its diverse wildlife, which has led to numerous opportunities for visitors to witness and capture stunning wildlife photography.
As eco-tourism trends gain traction, the island has become a haven for those seeking a unique beach experience that combines relaxation with environmental stewardship.
The island's commitment to conserving its delicate ecosystems ensures that guests can observe the abundant flora and fauna in their natural habitats while also enjoying the pristine beaches and lush surroundings.
It is this harmonious balance between human enjoyment and nature's resiliency that makes Kiawah Island a truly remarkable destination for travelers yearning to escape the mundane confines of everyday life while celebrating the beauty of our planet.
Environmental Education
The synthesis of Kiawah Island's pristine environment and sustainable tourism initiatives has led to the development of comprehensive environmental education programs. These programs are designed to foster a deeper appreciation for the island's unique ecosystems, while promoting eco-friendly travel practices among visitors.
By offering guided nature tours, bird-watching excursions, and immersive wildlife interactions, these educational experiences provide guests with the opportunity to not only witness the breathtaking beauty of Kiawah Island but also understand the delicate balance that exists between its diverse habitats and human activities.
Through this blend of hands-on learning and unforgettable encounters with local flora and fauna, travelers can indulge their longing for adventure while contributing to the preservation of our planet's natural wonders.
This commitment to environmental stewardship solidifies Kiawah Island as a premier destination for those seeking an escape that nurtures both personal freedom and ecological sustainability.
Beach Cleanups
In addition to the impressive environmental education programs, Kiawah Island's conservation efforts extend to proactive measures such as regular beach cleanups.
These coastal maintenance initiatives not only contribute to the island's stunningly pristine shores but also provide numerous benefits for its diverse ecosystem.
Volunteering in these beach cleanups offers visitors a unique opportunity to play an active role in preserving the island's natural beauty while gaining a deeper understanding of the delicate balance between human actions and environmental wellbeing.
The sense of liberation derived from participating in these worthwhile endeavors is unmatched, as guests can indulge their desires for adventure and freedom while making a positive impact on this cherished haven.
By embracing volunteer opportunities like beach cleanups, travelers can make their experience on Kiawah Island truly unforgettable and meaningful, further solidifying its status as a premier eco-conscious destination.
The Best Time To Visit Kiawah's Beaches
As the sun and moon govern the ebb and flow of ocean tides, so do the calendar months dictate the ideal moments to embark on a seaside journey. Kiawah Island's splendid beaches are no exception, as their allure shifts with each season. To fully appreciate these hidden gems, one must consider both peak season exploration and off-season perks.
Peak Season Exploration (June – August): During these months, visitors can expect warm weather and bustling local events. The temperature hovers around 80°F (27°C), perfect for sunbathing or taking a dip in the ocean. However, be prepared for larger crowds and higher accommodation rates.

Shoulder Season (April – May; September – October): This period offers pleasant temperatures averaging 70°F (21°C) with fewer crowds than peak season. Visitors can still enjoy outdoor activities while benefiting from lower rates.

Off-Season Perks (November – March): Although cooler temperatures prevail during this time—averaging 50°F to 60°F (10°C to 16°C)—the island still presents opportunities for beachcombing, wildlife spotting, and enjoying peaceful walks by the shore. Additionally, visitors will find reduced accommodation rates and increased availability.
As ephemeral as footprints left in damp sand, the memory of Kiawah Island's stunning coastlines lingers long after one has departed its shores. Embracing both peak season exploration and off-season perks enables travelers to experience diverse facets of this South Carolinian gem—a testament to its year-round appeal. With each visit comes a fresh opportunity for discovery, awakening within us that innate desire for freedom found only at the water's edge.
Off-The-Beaten-Path Adventures On Kiawah Island
While the pristine beaches of Kiawah Island may be the primary draw for many visitors, there are numerous hidden coves and lesser-known spots that provide a sense of adventure and discovery. These off-the-beaten-path locations offer a unique experience, allowing explorers to escape from the bustling tourist areas and embrace the natural beauty of this coastal paradise.
From secluded marshes teeming with wildlife to quiet waterfront trails perfect for hiking or biking, these hidden gems provide an unparalleled opportunity to connect with nature while enjoying the tranquil atmosphere that Kiawah Island has to offer.
One must not overlook the exceptional coastal cuisine available in various establishments across the island. This gastronomic adventure highlights fresh seafood, locally sourced ingredients, and innovative culinary techniques that showcase South Carolina's unique flavors.
A visit to any of these dining venues is guaranteed to satiate both one's appetite and subconscious desire for freedom. By combining a day spent exploring hidden coves with an evening indulging in delicious coastal fare, a journey to Kiawah Island is sure to leave a lasting impression on those seeking respite from their daily routine.
Personal Thoughts and Experiences About ‍Best Beaches Kiawah Island
Living in San Diego during my childhood made me fall in love with beach towns around California, Oregon, and Mexico. Researching about Kiawah Island's beautiful beaches and hidden gems truly resonates with my passion for spending time by the ocean and exploring beach towns worldwide.
Having already visited over 50 beach towns across the globe, Kiawah Island's allure, coastal cuisine, and family-friendly activities make it a perfect destination for short beach getaways and further fuel my desire to visit and create priceless memories there.
If I got the opportunity to travel to Kiawah Island, I would definitely visit Beachwalker Park. I would love to rent a bicycle and explore the island's surrounding beauty while enjoying the park's pristine shoreline and lush vegetation.
Afterward, I'd try Mingo kayaking at Mingo Point to immerse myself in the serene beauty of the marshlands and appreciate the diverse wildlife. Finally, I would indulge in a round of golf at the Ocean Course Beach, taking in the breathtaking oceanfront views as I challenge myself on the renowned Pete Dye-designed course.
Frequently Asked Questions
Are There Any Pet-Friendly Beaches On Kiawah Island, And If So, What Are The Rules And Regulations For Bringing Pets To These Beaches?
When considering a beach vacation with a furry companion, one may wonder if Kiawah Island's surprising beaches offer any pet-friendly options.
Indeed, the island presents an array of beach activity restrictions to maintain its pristine nature; however, it is worth noting that certain areas welcome pets under specific guidelines.
Leashed dogs are allowed on Kiawah Island's public beach access points throughout the year, with owners required to ensure their pets' behavior adheres to the rules and regulations set forth by local authorities.
Between March 16 and October 31, leash laws are strictly enforced from 10 a.m. to 5 p.m., while during other hours and seasons, dogs may be off-leash as long as they remain under voice control.
Furthermore, pet owners can explore nearby establishments like Freshfields Village for pet-friendly dining options in between strolls along the island's picturesque shores.
Ultimately, with mindful adherence to these guidelines, visitors can expect an enjoyable and memorable experience on Kiawah Island's beaches alongside their beloved pets.
What Are The Options For Beachfront Or Beach-Adjacent Accommodations On Kiawah Island, Including Hotels, Resorts, And Vacation Rentals?
Beachfront or beach-adjacent accommodations on Kiawah Island offer a plethora of options for visitors seeking to bask in the serenity and freedom provided by the island's pristine shores.
Ranging from luxurious hotels and resorts to more intimate vacation rentals, these lodgings cater to diverse preferences while ensuring easy access to the breathtaking coastline.
In addition to their prime locations, many of these establishments boast beachfront dining experiences that allow guests to savor delectable cuisine as they take in the captivating ocean views.
Furthermore, watersports options are readily available at various points along the shoreline, inviting travelers to partake in exhilarating activities such as kayaking, paddleboarding, and surfing.
Overall, Kiawah Island's remarkable beaches serve as idyllic backdrops for an array of accommodations that promise a memorable stay filled with relaxation and adventure.
Are There Any Fees Or Permits Required To Access The Various Beaches On Kiawah Island, And Where Can They Be Obtained?
Access to the various beaches on Kiawah Island generally does not require fees or permits, making it an ideal destination for those seeking unencumbered exploration of South Carolina's hidden coastal gems.
These pristine shores offer a plethora of beach activities, such as swimming, sunbathing, and watersports, as well as ample opportunities for wildlife spotting in the island's diverse ecosystems.
Visitors are encouraged to immerse themselves in the natural beauty that surrounds them while strolling along the sandy expanses or simply taking in the breathtaking views.
The absence of entry restrictions enhances the sense of freedom that many travelers yearn for when seeking respite from their daily routines and obligations, allowing them to fully embrace their time spent on Kiawah Island's surprising beaches.
What Accessibility Features Or Accommodations Are Available For Visitors With Disabilities At The Different Beaches On Kiawah Island?
Accessibility features and accommodations for visitors with disabilities at the various beaches on Kiawah Island have been thoughtfully considered to ensure an inclusive and enjoyable experience for all.
Wheelchair-friendly activities can be found throughout the island, providing guests with mobility impairments the opportunity to explore the stunning shoreline without hindrance.
Adaptive watersports are also available, offering exhilarating experiences tailored to individuals' unique abilities and granting that sought-after sense of freedom.
To cater to a diverse range of needs, several beach access points boast amenities such as beach wheelchair rentals, accessible restrooms, and designated parking spaces for those requiring additional assistance.
In essence, Kiawah Island's surprising beaches strive to create an engaging environment where every visitor is empowered to fully immerse themselves in South Carolina's breathtaking coastal landscape.
Are There Any Unique Events Or Festivals Held On Or Near Kiawah Island's Beaches Throughout The Year That Visitors Should Be Aware Of?
Coinciding with the allure of Kiawah Island's surprising beaches, the area boasts a variety of unique festivals and beach events that cater to diverse interests throughout the year.
Visitors seeking to immerse themselves in local culture and festivities should look out for annual events such as the Kiawah Island Art and House Tour, which showcases exquisite homes and artwork from renowned artists.
Additionally, outdoor enthusiasts can partake in the family-friendly Kiawah Island Triathlon, featuring a picturesque course that winds through the island's pristine landscapes.
Nature lovers will appreciate events like the Barrier Island Ecothon, which offers guided tours and educational sessions to explore Kiawah's fascinating ecosystems.
Furthermore, food and wine aficionados can indulge their palates at the famed Charleston Wine + Food Festival held nearby, celebrating world-class cuisine and beverages from around the globe.
These captivating experiences serve to enhance any visit to Kiawah Island's remarkable shores while fulfilling one's subconscious desire for freedom and adventure.
Conclusion
In conclusion, Kiawah Island's captivating beaches offer a diverse range of experiences for visitors. From pet-friendly shores to beachfront accommodations and accessible facilities, there is something for everyone to enjoy on this enchanting island.
Moreover, the availability of various permits and fees ensures that these pristine coastal gems remain well-preserved for future generations.
Additionally, the vibrant events and festivals held throughout the year provide an opportunity for tourists to immerse themselves in the local culture and community spirit.
With such a plethora of attractions and natural beauty, Kiawah Island undoubtedly serves as a hidden treasure within South Carolina's coastal landscape.