9 Best Atlanta Beach Towns to Visit When in Atlanta
Atlanta might be far from the coast, but its surroundings offer a range of unforgettable beachside destinations that are only a drive away. From sandy shores and picturesque sunsets to vibrant wildlife and unique culinary experiences, there's something for everyone just waiting to be discovered. I can't help but wonder: What are Atlanta's best-kept secret beach towns that are worth the drive?
So, what are the 9 beach towns worth the drive from Atlanta? The list includes: Tybee Island, Georgia; St. Simons Island, Georgia; Jekyll Island, Georgia; Hilton Head Island, South Carolina; Folly Beach, South Carolina; Savannah, Georgia; Charleston, South Carolina; Amelia Island, Florida; and Panama City Beach, Florida. These coastal escapes offer a diverse range of experiences, from pristine beaches and historic architecture to stunning wildlife and mouthwatering seafood.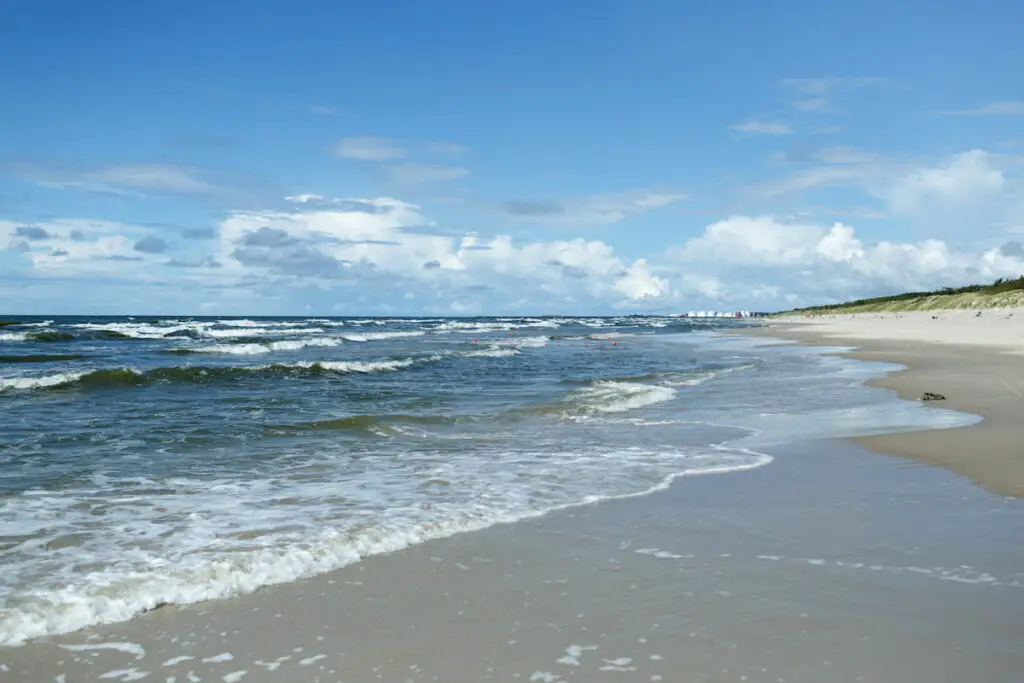 Key Takeaways‍
Atlanta's best-kept secret beach towns offer a variety of unique experiences within a short driving distance.
Tybee Island, Georgia, provides picturesque sandy beaches and marshland wildlife.
St. Simons Island and Jekyll Island, part of Georgia's Golden Isles, showcase history and beauty along their scenic coastlines.
Hilton Head Island, South Carolina, is a peaceful oasis and haven for wildlife enthusiasts.
Savannah, Georgia, and Charleston, South Carolina, are steeped in historical charm and architectural beauty.
Amelia Island, Florida, blends natural beauty and historical enchantment for a rejuvenating experience.
In the following sections, I'll explore what makes each of these beach towns unique and enticing. We'll learn about their distinct characteristics, wildlife, coastal activities, and local culinary delights that draw visitors year after year. I'll also discuss their proximity to Atlanta and the travel time required to reach them. So buckle up and join me on this journey as we explore Atlanta's best-kept secret beach towns where relaxation, adventure, and freedom await!
9 Best Atlanta Beach Towns to Visit -Discovering Coastal Getaways Near Atlanta
We need not travel far to find these havens – these sanctuaries from the bustle and noise of our everyday lives. A mere few hours' drive can bring us to shores that wash away our worries on gentle waves, where we can lose ourselves in nature's embrace and find solace in her beauty.
Let's get started:
Tybee Island, Georgia
Sunrise, sunset.
Waves crashing, seagulls cawing.
Tybee Island, Georgia offers all these in abundance, and more. Just a short drive from Atlanta, this picturesque beach town promises the freedom you crave, with wide sandy beaches and lush marshlands teeming with Tybee wildlife.
The call of the wild merges seamlessly with the comforts of modern living, making Tybee Island a haven for those seeking solace from their busy lives.
Throughout the year, various Island events draw visitors from near and far to celebrate the beauty of this coastal gem. From lively festivals to tranquil beach yoga sessions, there's something for everyone to enjoy on Tybee Island.
So pack your bags and set out on an adventure that will leave your heart full of memories and your soul yearning for more sun-kissed days by the shore.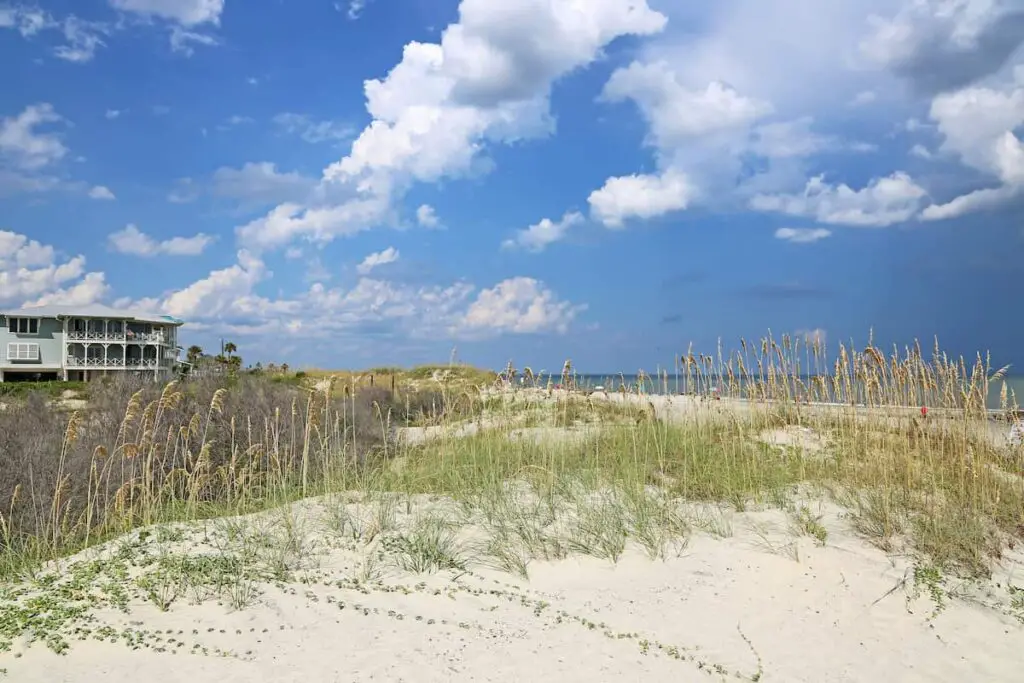 St. Simons Island, Georgia
St. Simons Island, Georgia is one of those rare gems that should not be missed. As part of the Golden Isles, it stands as a testament to history and beauty. The island's beaches stretch out like a welcoming embrace, inviting you to breathe in the salty air and let your worries wash away with the tides.
Explore the Golden Isles History
Take a moment to step back in time, as you explore the island's rich past. From Fort Frederica to Christ Church, St. Simons offers a wealth of culture and history for those seeking more than just sun and sand.
Indulge in Family Activities
Activities abound for families searching for adventure; take a bike ride down winding paths or kayak through serene marshes.
Embrace Freedom and Adventure
Whatever you desire, St. Simons Island will surely satisfy that deep yearning for freedom within your soul.
Jekyll Island, Georgia
But don't stop exploring there, for just a short trip south of St. Simons Island lies another gem waiting to be discovered – Jekyll Island.
This place is a testament to the ever-changing nature of life, as it has transformed from an exclusive playground for the rich and famous into an open sanctuary for those seeking their own slice of freedom by the sea.
The salty air whispers tales of Jekyll wildlife and Island history as you wander through maritime forests and marshlands, savoring every step taken on this land kissed by the sun.
The beauty of Jekyll Island is not only in its natural wonders but also in its rich history, offering visitors a chance to step back in time while still enjoying modern amenities.
Visit the historic district where grandiose mansions once hosted lavish parties for America's elite, now standing as silent witnesses to a bygone era.
Walk along Driftwood Beach, where skeletal trees reach towards the sky like weary soldiers after battle – each one telling a story of resilience and survival against nature's forces.
Let your soul mingle with that of Jekyll Island's past inhabitants as you explore its secrets and embrace the freedom found within its shores.
Hilton Head Island, South Carolina
You might think Hilton Head Island, South Carolina is just another cliché beach town in the southeast. Not worth your time or effort to visit. But that's where you'd be wrong.
For those seeking refuge from the hustle and bustle of city life, this beautiful oasis offers a taste of freedom that will seduce you with its charm.
Hilton Head Island is an unspoiled haven for not only vacationers but also wildlife enthusiasts. The island boasts an abundance of Hilton Head wildlife, including loggerhead turtles, egrets, herons, and deer. These creatures roam free in their natural habitat while visitors marvel at their beauty from the comforts of luxurious island resorts.
And there's no denying that these resorts offer an unparalleled level of relaxation – a perfect antidote for those yearning to escape the confines of their everyday lives.
So go ahead, take that drive to Hilton Head Island; you won't regret it.
Folly Beach, South Carolina
Folly Beach, South Carolina beckons you with its siren call of freedom.
The sea air fills your lungs, and the sand slips through your toes like fine silk, urging you to stay.
The waves crashing against the shore sing their lullabies as the sun sets in a blaze of warm hues.
And then there's Folly Beach cuisine – fresh seafood caught from the very waters that lap at your feet, served up in ways that make your mouth water just thinking about it.
When you're not feasting on ocean delights or basking in the sun's embrace, surfing adventures await you at Folly Beach.
Ride upon waves that challenge and excite, testing your skills and daring you to push further than ever before.
Let the salt spray sting your face as sweet reminder of what it means to be alive and free.
And when night falls over Folly Beach, gather around fire pits with friends old and new – sharing stories and laughter under starry skies – for this is where memories are made and dreams take flight.
Savannah, Georgia
As if stepping back in time, Savannah's architecture reminds one of the days when pirates roamed the seas and Southern belles graced the cobblestone streets.
This coastal gem, approximately a four-hour drive from Atlanta, offers its visitors an unmistakable charm that captures the essence of a bygone era.
With its tree-lined squares, historic homes, and antebellum mansions, Savannah is a sanctuary for those seeking solace from the confines of their daily routine.
The city's haunted history adds an air of mystery and intrigue to this already enchanting destination.
Unraveling Savannah's secrets can be both thrilling and liberating – like discovering buried treasure on your own private island.
As you wander through this timeless city, allow yourself to become immersed in its rich history and breathtaking beauty.
Embrace your sense of adventure as you explore haunted inns or marvel at the intricate details of Savannah architecture that harken back to centuries past.
In doing so, you will not only uncover a newfound appreciation for this bewitching beach town but also find yourself awakening that dormant desire for freedom which lies within us all.
Charleston, South Carolina
Just a little further down the coast, Charleston unveils itself like a treasure chest waiting to be opened. The historic architecture whispers tales of long-lost secrets and simpler times. The salt air fills your lungs, calling you to explore the cobbled streets, where culinary delights tempt you at every turn.
Now, let us dig into those treasures that make Charleston so enthralling:
Historic architecture: Wander through Charleston's well-preserved streets and marvel at the beautiful antebellum homes that transport you back in time.

Culinary delights: Indulge your taste buds with an array of southern cuisine, from succulent seafood to traditional low-country dishes.

Embrace freedom: Unshackle yourself for a moment as you stroll along the waterfront park or take to the open ocean on a sailboat adventure.
As you embrace this newfound sense of liberty in Charleston, memories of your journey will linger long after you've left its shores. Allow this coastal gem to envelop you wholeheartedly, for it is here that one can truly experience life in all its vibrant colors and untethered joy.
Amelia Island, Florida
Who wouldn't want to escape the hustle and bustle of city life for a serene island getaway?
Amelia Island, Florida is the perfect destination to rejuvenate your spirit and indulge your craving for adventure. Located just a few hours' drive from Atlanta, this captivating oasis boasts a rich blend of natural beauty and historical charm that will leave you feeling inspired and alive.
Discover the fascinating Amelia wildlife as you explore miles of pristine beaches, lush maritime forests, and winding marshland trails.
Immerse yourself in the island's storied past by visiting historic sites such as Fort Clinch State Park, where you can walk along its impressive walls and imagine what life was like for those who once called it home.
As you wander through the enchanting streets of Fernandina Beach, take note of the Victorian-era architecture that whispers tales from long ago.
No matter where your journey takes you on Amelia Island, one thing is certain – you'll find an invigorating sense of freedom around every corner.
Panama City Beach, Florida
Leaving the tranquil beauty of Amelia Island behind, you'll find yourself drawn to another alluring destination.
Just a few hours' drive away lies Panama City Beach, Florida – a place where freedom and adventure come alive.
Panama City cuisine offers a rich tapestry of flavors that awaken the senses, while beach activities beckon you to indulge your every desire.
Cast your line into the sparkling waters, feel the wind in your hair as you race across the sands on an ATV, or simply lose yourself in the endless stretch of turquoise sea as it kisses the sky at the horizon.
Here is where you'll find true escape from life's constraints – a place to unleash your spirit and embrace the essence of freedom.
Gulf Shores, Alabama
A mere five-hour drive from Atlanta lies a hidden paradise, a land where the sun kisses the sea and the sand feels like silk beneath your feet.
Gulf Shores, Alabama stands as a beacon of freedom, its beauty so breathtaking that it would make even Hemingway himself weep with joy.
This coastal gem offers the perfect escape from the mundane, boasting a plethora of water activities and an abundance of Gulf cuisine that could rival any five-star restaurant.
With every wave crashing onto the shore comes another opportunity to indulge in water sports such as kayaking, paddleboarding, and jet skiing – each more exhilarating than the last.
And after you've conquered the mighty waves, reward yourself with a feast fit for royalty at one of the many local eateries serving up mouthwatering Gulf cuisine.
As you take that first bite into succulent shrimp or savor the delicate flavors of fresh-caught red snapper, you'll understand why this beach town is truly worth leaving behind your everyday life for – even if just for a weekend.
Personal Thoughts and Experiences About ‍
Living in San Diego as a teenager, I often found myself enamored by the small, charming beach towns in Mexico, just a short drive away. The warmth, relaxed atmosphere, and rich culture of these towns always made for incredible and affordable vacation getaways. I hope to find the same enchanting experiences when exploring the secret beach towns around Atlanta mentioned in the article, and I can't wait to see all that they have to offer.
Suppose I had the opportunity to embark on a beach trip from Atlanta. In that case, I'd start with Tybee Island to immerse myself in the picturesque scenery and encounter the diverse local wildlife. Next, I'd head to Jekyll Island to wander through its lush maritime forests and appreciate the island's history. And I would relax on the pristine sands of Amelia Island, exploring its natural wonders while visiting fascinating historical sites like Fort Clinch State Park. Each destination would provide unique experiences and opportunities to create lasting memories.
Conclusion
So there you have it, folks. The cat's out of the bag on Atlanta's best-kept secret beach towns.
You might as well pack your bags and hit the road now, because these coastal gems won't stay hidden for long.
Just remember, when you're lounging on the pristine sands and soaking up the sun at one of these fabulous getaways, be sure to give a little thanks to good ol' Ernest Hemingway for inspiring this riveting revelation.