KEY TAKEAWAYS
St. Tropez is a town located in southern France that is well-known for its beautiful beaches, celebrities, and luxurious resorts.
Besides beaches and celebrities, the town has ancient relics, buildings, and countless art galleries and museums to visit, as well as a cultural flair.
There are many different types of beaches located in the Bay of St Tropez, each with their own distinct character.
With over 30 beaches in the area, it can be difficult to decide which ones to visit while on vacation. However, some of the most popular beaches include Pampelonne Beach, Nikki Beach, and Plage des Salins.
St Tropez is a town located in southern France. The town is well-known for its beautiful beaches with bright turquoise water and white sandy beaches. The town is also well-known for its rich and famous residents. However, St Tropez has much more to offer than just its beaches and celebrities. The town is steeped in history with ancient relics and buildings scattered throughout the town. The town is also known for its artistic flair with countless art galleries and museums to visit. It makes we wonder, what are the St Tropez France beaches which are best to visit?
So, what are the St Tropez France beaches that are best to visit? They are the Pampelonne Beach, Nikki Beach Plage de Salins, Tahiti Beach and Plage de l'Escalet. Additionally, La Serena, Moorea Beaches and Paloma Beach can be just the sand beach you are looking for.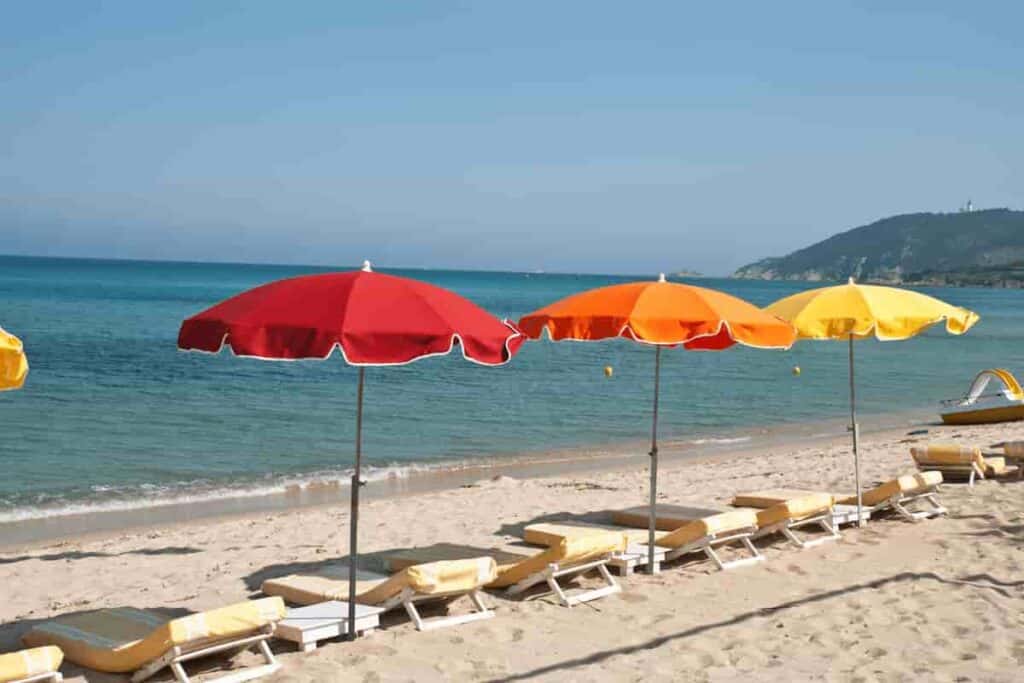 Let's take a look at some statistics about this beach area in France.
– Statistics: St. Tropez beach areas and tourism are some of the most popular destinations in France. The area is known for its stunningly beautiful beaches, luxurious resorts, and high-end shopping. According to statistics, the number of visitors to St. Tropez has grown by 13% in the last five years, making it one of the top tourist destinations in the country. The region is also home to over 30 beaches, contributing to the area's popularity. Finally, the region has an average of 2,500 hours of sunshine annually, making it an ideal destination for sun-seekers. (Source)
The beaches of St Tropez are truly unique in many ways. For starters, they are incredibly clean, which is rare to find in popular beach destinations. The beaches are also private and secluded, which makes them ideal for spending time in privacy.
On top of that, the beaches are also incredibly family-friendly, which is nice for those who don't want to spend their vacation worrying about their kids running around and making noise.
The beaches are absolutely beautiful and picturesque. I had the opportunity to drive there for a day, and the water color was mesmerizing. I'll cover all about the beaches and more! Hold tight and stay tuned, you wouldn't want to miss this!
Table of Contents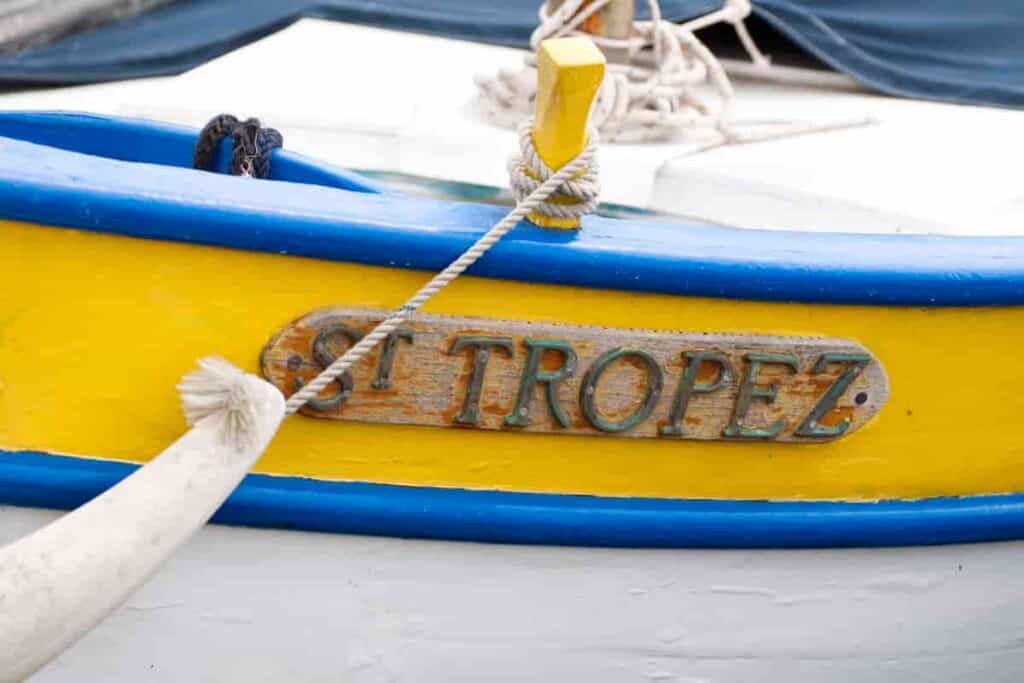 9 Secrets To Finding The Best St. Tropez France Beach
1. Overview of St Tropez France
Located in the South of France, the commune of Saint-Tropez is a well-known destination for its beautiful beaches. One of the most popular beaches in town is Pampelonne Beach, which stretches over five kilometers along the coast and features a variety of beach bars, restaurants, and clubs.
It is one of the few beaches that are private but also open to the public.
Nikki Beach and Plage des Salins are two more noteworthy spots in Saint-Tropez. Nikki Beach is family-friendly and offers plenty of activities for all ages.
Plage des Salins, on the other hand, is a more secluded sandy beach with calm waters suitable for swimming. This beach also has an array of beach bars where visitors can enjoy drinks or snacks while taking in the view.
Beyond these three main beaches, Saint-Tropez also offers many smaller public stretches of sand that are ideal for those looking for a quieter spot to relax and soak up some sun.
Whether you are looking to party at Nikki Beach, catch some waves at Pampelonne Beach or find your own stretch of sand to lay out on, Saint-Tropez has something for everyone!
So why not take some time to explore this stunning area and make memories that will last a lifetime?
2. Beaches In The Bay Of St Tropez
The Bay of St Tropez is renowned for its stunning beaches, each with its own distinct character.
The Bouillabaisse beach, located on the northern side of the bay, offers crystal clear waters and a relaxed atmosphere. This area is ideal for swimming and snorkeling, as it's sheltered from strong currents.
Plage de la Glaye is located on the bay's eastern side and features soft white sand and calm waters. It's one of the most popular beaches in St Tropez due to its shallow waters and wide range of facilities.
Plage de Graniers is located on the bay's western side and offers a more secluded environment than other nearby beaches.
It features golden sand, palm trees, and breathtaking views of the Mediterranean Sea. Plage de l'Escalet is another popular beach in this area which has been described as a hidden paradise due to its serene setting surrounded by lush vegetation.
Finally, Nikki Beach Saint Tropez is a luxurious beach resort that offers exclusive amenities such as a private pool, sun loungers, bar service, and live music performances.
It also provides access to Graniers beach which offers shallow waters perfect for swimming or simply soaking up the sun. Nikki Beach St Tropez is known for its lively atmosphere with cocktails served all day long!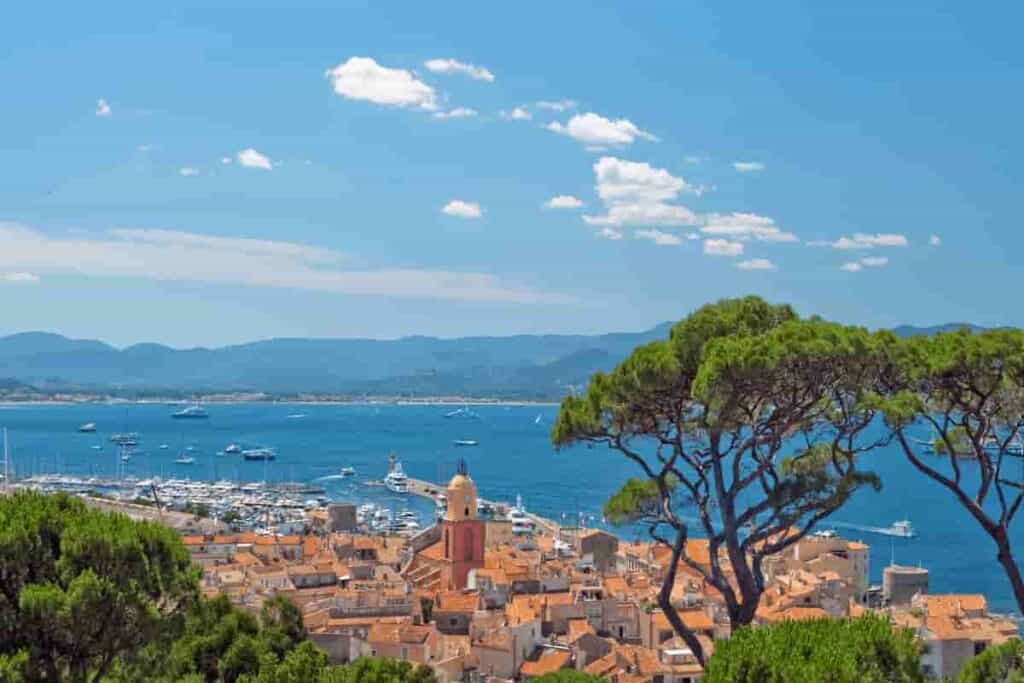 3. Exploring The Best Beaches In Saint Tropez
Saint Tropez in the French Riviera is a beautiful and popular tourist destination. It is home to many famous beaches, each with their own unique character and beauty. Exploring the best beaches in Saint Tropez will provide a great opportunity to experience the stunning natural environment of this coastal city.
The main beach in Saint Tropez is Tahiti Plage which offers golden sand that stretches for almost 1 kilometer along the coastline.
This stretch of beach features white sands, crystal clear waters and plenty of amenities. Further up the coast you can find Port de Saint Tropez, an iconic location with beautiful views of the marina and the surrounding area. Other Beaches such as Pampelonne Beach are known for their secluded coves and tranquil atmosphere while Salins Beach provides visitors with stunning views of the Mediterranean Sea.
Table 1. Popular Beachside Activities in St. Tropez
| Number | Ideal Beach | Activity |
| --- | --- | --- |
| #1 | Pampelonne Beach | Sunbathing |
| #2 | Plage de la Bouillabaisse | Water Sports |
| #3 | Plage de la Ponche | Sightseeing |
| #4 | Plage des Graniers | Seafood Dining |
| #5 | Pampelonne Beach | Yachting |
| #6 | Plage de la Bouillabaisse | Beach Volleyball |
| #7 | Plage des Salins | Wine Tasting |
| Number | Ideal Beach | Activity |
When exploring these amazing beaches in Saint Tropez, visitors can enjoy activities such as swimming, sunbathing, snorkeling or kayaking. The warm climate makes it possible to enjoy these activities all year round.
There are also plenty of bars and restaurants located near some of these beaches, providing opportunities to relax and sample delicious local cuisine after a day at the beach. With so many unique experiences on these famous beaches, visitors will surely have an unforgettable time in Saint Tropez.
Saint Tropez has something for everyone looking for a perfect beach getaway from its crystal clear waters to its stunning views and secluded coves.
Whether you are looking for adventure or want to relax by the sea, there is no shortage of options available here that will make your trip truly special. From Tahiti Plage to Port de Saint Tropez and beyond, explore all that this picturesque region has to offer today!
4. Discovering The Nikki Beach in Ramatuelle
The Nikki Beach in Ramatuelle, France is one of the most popular and beautiful beaches in Saint Tropez. Located between the famous beach clubs Pampelonne and Salins, it provides a serene environment for visitors to enjoy.
With its soft sand, shallow waters, and stunning views of the Mediterranean Sea, it has become a favorite destination for locals and tourists alike.
Not only is this beach known for its amazing beauty, but also for its private beaches and beach clubs that provide a unique experience.
Visitors can enjoy relaxing on the beach with their own private cabanas or indulge in some French cuisine at one of the various restaurants available. DJs even play music throughout the day to create a lively atmosphere. There are plenty of options for those looking to participate in more adventurous activities such as jet skiing or banana boating.
Nikki Beach offers something for everyone, from those seeking peace and relaxation to those looking for an exciting day out. With its stunning scenery, tranquil atmosphere, and luxurious amenities, it is no surprise why this beach has become so popular among both locals and tourists alike.
Whether you're looking for a peaceful retreat or an exciting adventure, you'll find exactly what you need here at Nikki Beach at Ramatuelle!
5. Touring The La Serena And Moorea Beaches
Located in the beautiful coastal area of St. Tropez, France, La Serena and Moorea Beaches offer a wealth of amenities for travelers seeking out some beach time. This area is known for its infamous beach clubs, Mediterranean cuisine and bustling nightlife.
There are also boating shuttles that can take visitors to nearby islands as well as lifeguards on duty who ensure the safety of swimmers.
These beaches provide plenty of opportunities for active vacationers to explore the local waters. Paddle boarding is a popular activity in St. Tropez and there are multiple places around La Serena and Moorea Beaches to rent paddle boards or join guided tours.
Paloma Beach is also located nearby; it features crystal-clear turquoise waters perfect for swimming or snorkeling.
Visitors can enjoy a range of activities at La Serena and Moorea Beaches while exploring all that St. Tropez has to offer. From world-class restaurants to vibrant nightlife, this region has something for everyone to enjoy during their stay at whether they are looking for relaxation or adventure on the water.
With beautiful views and plenty of activities available, it is no wonder this area attracts travelers from all over the world seeking some much-needed beach time in St Tropez.
6. Enjoying The Tahiti Plage Beach
Tahiti Plage Beach is an attractive destination for visitors to St. Tropez, France. Located in the centre of town, it offers a peaceful respite from the city's lively beach clubs and provides a variety of amenities to its guests. Here, one can enjoy a number of activities such as sunbathing, swimming, and dining on gourmet Mediterranean cuisine at Paloma Beach.
The beach offers a stunning view of the Mediterranean Sea, with soft white sand and warm waters that invite visitors to relax and enjoy nature's beauty.
Additionally, Tahiti Plage also features bonne terrasse restaurants on the beachfront, providing guests with a memorable dining experience and unparalleled views. Here are three key features that make this beach so special:
1) The city center is steps away from the beach allowing visitors to explore all that St. Tropez has to offer during their stay;
2) There are plenty of comfortable lounge chairs provided along the shoreline for guests to rest comfortably while taking in the breathtaking views;
3) Finally, an array of gourmet cuisine is available at Paloma Beach restaurant located right on the sand.
Tahiti Plage Beach offers something for everyone – whether you're looking for a place to kick back and relax or seeking out some adventure – and promises a truly memorable experience filled with sun-soaked days spent by clear blue waters.
From lounging under sunny skies to indulging in exquisite cuisine at Paloma Beach restaurants, this is definitely one destination not to be missed while visiting St Tropez!
7. Best Day Trip Destinations From Saint Tropez
Situated within the French Riviera, Saint Tropez is an ideal destination for those looking to experience a coastal oasis. This makes it a great starting point for day trips to nearby locales.
One of the most popular excursions is to Byblos Beach, which provides travelers beautiful turquoise waters and plush daybeds perfect for lounging in the summer. Just a few kilometers away lies Canoubiers Beach, which offers visitors the chance to partake in water sports like jet skiing.
For those seeking unparalleled relaxation, Plage de Pampelonne should be at the top of their list; this spot boasts stunning views of Pampelonne Bay and is one of the most picturesque beaches on the French Riviera.
No matter where travelers decide to go, they can rest assured that Saint Tropez will provide them with plenty of opportunities for exploration. Whether they choose to lounge on a beach or take part in some adrenaline-filled activities, there is something for everyone near this coastal paradise.
From white sand beaches and crystal clear waters to historic sites and vibrant nightlife, Saint Tropez is sure to provide an unforgettable experience.
 8. Off The Beaten Track
With its turquoise waters and endless sandy beaches, St Tropez is a popular destination for beachgoers. Off the beaten track in this scenic region of France lies a wealth of stunning beaches with something to offer everyone.
Those seeking some classic French Riviera vibes will find no shortage of private beach clubs with beach chairs and parasols available for hire, while those looking for a more secluded experience can seek out one of the many unspoilt beaches situated further away from the town center.
Brigitte Bardot made the area famous when she starred in And God Created Woman in 1956, and it's easy to see why it attracted her attention.
There are lots of beaches to choose from, ranging from small coves to long stretches of sand, many of which have lifeguards on duty during peak season. Discovering a hidden gem full of natural beauty is an incredibly rewarding experience in St Tropez – whether you're looking for the perfect spot to sunbathe or want to take in the views.
No matter your preferences, you'll be sure to find something special amongst the many beautiful beaches in St Tropez. Whether you're after private luxury or an authentic beach experience, there is something here for everyone – so why not explore and discover your own little piece of paradise?
9. Essential Travel Tips For Visiting Saint Tropez
When considering a visit to Saint Tropez, France, it is essential to plan ahead to make the most out of one's trip.
This includes researching local attractions and amenities and packing for the beach. There are numerous stunning beaches near Saint Tropez, including Plage de la Ponche, Plage des Graniers, and Plage des Canoubiers.
To ensure a comfortable experience at these beaches, visitors should bring sun protection measures such as sunscreen and a beach towel.
In addition, it may be beneficial for travelers to familiarize themselves with the geography of Saint Tropez before arriving.
A popular spot among tourists is Tahiti Beach, situated on the east side of town near the coast. It should be noted that this beach is known for its calm waters and stunning views; however, visitors should be aware that there can be strong currents in certain areas.
Therefore, swimming should be done with caution or avoided altogether if possible.
For those looking to enjoy a relaxing day at the beach during their stay in Saint Tropez, there are ample options available within close proximity offering beautiful scenery and peaceful atmosphere.
With some advanced preparation such as packing appropriate items and researching local spots beforehand , visitors can have an enjoyable time exploring this picturesque French destination.
Learn Why St. Tropez France Is the Ultimate Destination for A Luxurious Beach Vacation and How to Get the Best out Of It.
St. Tropez is luxury defined. Its golden sand, tranquil lagoons and azure waters have earned it the title of one of France's most idyllic getaways. Whether you're seeking adventure or respite, this Riviera gem has it all.
The cobbled streets and crystal blue waters of St. Tropez attract visitors worldwide for a truly unique vacation experience. With stunning views, mouth-watering cuisine, and endless entertainment possibilities, there are endless opportunities to enjoy life's pleasures here.
St. Tropez, France, is a perfect beach holiday destination, offering a variety of hidden gems and spectacular experiences. From the stunning beaches of Pampelonne to the charming old-town streets of La Ponche, there is something for everyone.
Enjoy a leisurely stroll by the harbor and take in the vibrant atmosphere of the many cafes and restaurants. For a more active holiday, explore the nearby vineyards and olive groves or take a boat ride to the islands of Levant and Porquerolles.
With its many attractions, St. Tropez is the perfect destination for a memorable beach holiday.
More Information about St. Tropez France Beaches
Does St Tropez Have Nice Beaches?
Yes, St Tropez has nice beaches. The area is known for its stunning sandy beaches, clear blue waters, and vibrant atmosphere. The beaches are perfect for swimming, sunbathing, and other watersports.
What Are the Most Beautiful Beaches on The Bay of Saint-Tropez?
The Bay of Saint-Tropez is known for its spectacular scenery, and its beaches are no exception. The area offers something for everyone from trendy beach clubs to sleepy shores. Here is a guide to the top four for those looking for the most beautiful beaches on the Bay of Saint-Tropez.
Tahiti Plage is a 5km long stretch of fine golden sand, located just on the southern side of Saint Tropez. It is home to popular beach clubs, such as Club 55 and the Indie Beach House, and offers a range of activities such as sailing, windsurfing and water skiing.
Bouillabaisse Beach is situated at the entrance of Saint-Tropez and is a great spot to admire the yachts and sailboats entering the Port. It is a great place to relax and observe the amazing views of the Gulf and Sainte-Maxime.
A trip to the old district of Ponche in Saint-Tropez offers stunning views of the Gulf, as well as two tiny beaches: La Fontanette and Ponche. Both are merely 50m long with sandy gravel shores.
Why Is St Tropez So Famous?
St Tropez is famous because of its beautiful beaches, stunning scenery, and glamorous lifestyle. It has long been a destination of choice for the rich and famous and continues to attract celebrities from around the world. With spectacular sunsets, charming streets, and remarkable cuisine, it's easy to see why St Tropez remains such a popular destination.
Can You Swim in St Tropez?
Yes, you can swim in St Tropez. The Mediterranean Sea is located along the coast of St Tropez, providing a variety of beaches for swimming and other water activities. Some resorts and spas offer swimming pools for a more relaxing experience.
Which Celebrities Are in Saint-Tropez
Saint-Tropez is a popular destination for celebrities from all around the world. Recently, celebrities such as Kylie Jenner, Kendall Jenner, and Kourtney Kardashian have been spotted in the town. Other celebrities such as Justin Bieber, Chris Brown, and Gigi Hadid have also been seen in Saint-Tropez.
Does St Tropez Have Sandy Beaches
Yes, St Tropez does have sandy beaches. The area is known for its beautiful coastlines, where visitors can enjoy sunbathing on the sandy shore and swimming in the sparkling Mediterranean Sea. Many of the beaches in St Tropez are also equipped with amenities such as beach bars and restaurants.
What Are the Best Beaches in St Tropez?
The beaches in St. Tropez are some of the best in the world. Pampelonne Beach is the most popular, with its white, sandy shores surrounded by the turquoise Mediterranean Sea. Tahiti Beach is another great option, offering plenty of amenities and crystal-clear waters.
What Is the Best Beach St Tropez for Water Sports?
St. Tropez is home to some of the world's best beaches for water sports. The sheltered coves of Pampelonne Beach are perfect for windsurfing, kitesurfing and other water sports, swimming, and sunbathing. The clear waters of this beach make it perfect for snorkelling and diving.
In The News Recently…
According to Forbes, in 2021, the French Ministry of Tourism announced plans to open a new beachfront promenade at St. Tropez beaches, making it easier to access the waterfront. (Source)
Additionally, Pampelonne Beach in St. Tropez Named One of the World's Best Beaches, according to Hotels.com. (Source)
My Private Thoughts and Experiences With St. Tropez Beach Area in France
The first time I remember hearing about St. Tropez was back in 1982. Watching television, there was a suntan lotion commercial, Bain de Soleil with an extremely catchy tune "Bain de Soleil for the St. Tropez tan".
Funny, it gets stuck in your head. But the reason it suddenly clicked in mind was that I was taking French at Grossmont Jr. College in San Diego and we were discussing the French Riviera. St. Tropez was mentioned as the best beach destination and famous for celebrities too. So, it clicked – the jingle and the beach.
I had the pleasure of driving to St. Tropez from Nice when I was staying there (circa 2005) and wanted to explore the beach towns. My first impressions were that it was well kept, there were many people (it was September if I remember correctly), and the water was so light turquoise blue that I just stared at it for a while. The beaches were sandy too, unlike Nice, which was more pebbles and rocks than sand.
And it was hot too. I can see why getting a tan in St. Tropez would be easy, just like the commercial jingle says!
Conclusion
The Bay of St Tropez beaches are some of the finest in France, and visitors to this region will be treated to various experiences. From the serene atmosphere and picturesque views at La Serena and Moorea Beaches to the energetic vibes at Nikki Beach in Ramatuelle and Tahiti Plage, there is something for everyone who takes the time to explore this corner of paradise.
Whether you're looking for a day trip destination or want to relax on a remote beach, St Tropez, France, has it all. With its stunning coastline and wealth of activities, St Tropez is an exceptional destination for travelers seeking adventure, relaxation, or both. For those wishing to get even further off the beaten track, there are plenty of opportunities for exploring uninhabited beaches. No matter your preference, St Tropez offers unforgettable memories that will last a lifetime.