Secret Beach Koh Phangan
The breathtaking beauty of Secret Beach Koh Phangan has captivated the hearts of many travelers. This hidden gem, with its soft white sand and crystal blue waters, offers a serene and peaceful escape from the hustle and bustle of everyday life. Visitors can indulge in various activities such as kayaking, snorkeling, and stand-up paddleboarding or simply soak in the tranquil atmosphere. This makes me wonder, what else can you discover and experience at Secret Beach Koh Phangan?
So, what can you discover and experience at Secret Beach Koh Phangan? This secluded paradise offers not only stunning scenery but also a plethora of activities for adventure seekers. Some of the highlights include exploring the vibrant marine life while snorkeling, enjoying the picturesque sunsets, and staying at luxurious beach villas that offer both comfort and privacy.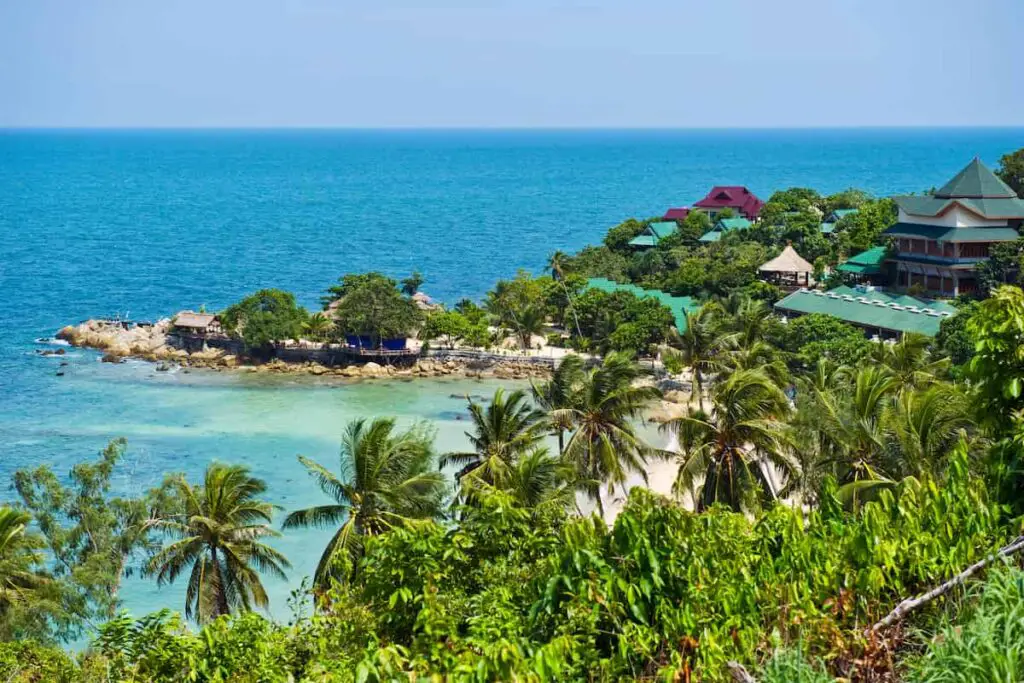 Key Takeaways
Secret Beach Koh Phangan offers a serene and peaceful getaway with soft white sand, crystal blue waters, and various beach activities.
Haad Son and Haad Khuat are two beautiful, contrasting beaches on Koh Phangan, known for their privacy and stunning sunsets.
Snorkeling at Secret Beach provides a unique experience with its clear waters, diverse marine life, and picturesque coral reefs.
Reaching Secret Beach requires a boat ride, a hike, or a 4×4 vehicle journey, making it a secluded paradise.
Secret Beach Villa offers luxurious beachfront accommodations with high-end amenities, ensuring a memorable stay.
The best time to visit Koh Phangan is between November and April, when the weather is dry, sunny, and most attractions are open.
In this article, I'll dive deeper into the enchanting allure of Secret Beach Koh Phangan and the many activities that await you. We'll explore the different aspects of this captivating destination, including nearby beaches, luxury villa accommodations, and the best time to visit for an optimal experience. Furthermore, I'll share insights on how to reach Secret Beach and the amenities and events you can expect during your stay. So, if you're ready to uncover the hidden paradise of Secret Beach Koh Phangan and embark on a memorable journey, keep reading and discover the wonders that await you!
Beaches Of Koh Phangan
The beaches of Koh Phangan are like a secret paradise, with white sand that sparkles in the sun and private beach bungalows nestled among palm trees. Haad Son is one of the most beautiful beaches on the island, offering seclusion to those who seek it. It has a stunning view of nearby islands and coconut groves, making it an ideal spot for a private getaway. Secret Beach is another popular destination among tourists looking for some peace and quiet. The area is surrounded by lush green hills and crystal clear waters, perfect for swimming or just simply soaking up the sun. There are also plenty of bungalows available for rent, so visitors can enjoy their stay in comfort and style. With its picturesque scenery and relaxed atmosphere, Koh Phangan is a great place to spend a holiday or just visit for a few days. Whether it's lounging on the beautiful beaches or exploring hidden coves, there is something here to suit every traveler's needs.
Haad Son And Haad Khuat
Koh Phangan is home to two beautiful beaches, Haad Son and Haad Khuat. Both of these beaches are known for their white sand, clear waters, and breathtaking sunsets. The main difference between the two is that Haad Son is much more private, with few tourists and no hotels or restaurants nearby. Haad Khuat, on the other hand, is a popular tourist destination with many restaurants and hotels located along its shoreline.
Haad Son is ideal for those seeking a quiet getaway from the hustle and bustle of everyday life. Visitors will find private bathrooms among its lush vegetation and can enjoy a peaceful stroll down its shoreline. The beach also has plenty of shallow areas which makes it perfect for swimming or snorkeling. At Haad Khuat there are numerous restaurants offering seafood dishes as well as plenty of activities such as jet skiing and parasailing. It is also possible to rent boats here to explore the nearby islands. Both beaches offer stunning views of the surrounding islands and are truly remarkable places to spend a day in Koh Phangan. With so much on offer at both beaches, it's easy to see why they remain two of the most popular destinations in Thailand.
Snorkeling At Secret Beach
The secret beach of Koh Phangan is like an oasis in the middle of the ocean. Its blue waters and palm trees create a tranquil atmosphere for those looking for a day away from reality. Snorkeling here is an experience unlike any other. The crystal clear waters provide a perfect opportunity to observe the diverse array of marine life that inhabits the area. With its coral reefs, colorful fish, and sea turtles, snorkelers can explore the stunning underwater world without having to dive deep into its depths.
The secret beach is also known for its spectacular sunsets, making it the perfect place to end your day with some relaxation. Whether you're with family or friends, snorkeling at this hidden paradise will give you a sense of freedom that cannot be found anywhere else. From its picturesque views to its peaceful environment, Secret Beach is sure to make for a memorable experience that will stay with you forever.
How To Reach Secret Beach
Reaching Secret Beach on Koh Phangan is no easy feat. The beach is located in the north of the island and there are no roads leading directly to it. To get there, visitors must first make their way to Mae Haad, the main port town of Koh Phangan. From Mae Haad, they may take a day road trip to Surat Thani and then take another boat ride from there to Haad Ri, which is the closest port to Secret Beach.
Once at Haad Ri, visitors must hike or take a 4×4 vehicle down an unpaved road for about 20 minutes before reaching Secret Beach. The road is often slippery and steep so it is best to leave this adventure for those with some experience and physical fitness. Additionally, it's recommended that visitors carry plenty of water and snacks for the journey as there are no convenience stores along the way.
The journey may be long but it will be worth it when visitors reach Secret Beach; its stunning beauty will provide many hours of blissful relaxation.
Secret Beach Villa Overview
Immerse yourself in a secluded paradise of white sand and crystal-clear water. Secret Beach is the perfect getaway for those seeking an escape from the hustle and bustle of everyday life. Located on Koh Phangan, Thailand, Secret Beach boasts stunning beach villas, offering guests both luxury and privacy.
The villas are situated on Haad Yao beach, one of the most beautiful beaches in all of Thailand. The beach itself is surrounded by lush vegetation and a variety of tropical plants, giving it a truly unique atmosphere. In addition to Haad Yao beach, visitors can also access nearby Bottle Beach, Malibu Beach and various beach bars.
At Secret Beach Villa, guests enjoy luxurious amenities such as: * Private infinity pool with breathtaking views * Luxurious king-size beds * Fully-equipped kitchenettes * Spacious living areas with ocean views * Outdoor terraces with lounge chairs and umbrellas
The villas at Secret Beach Villa offer the perfect combination of tranquility and comfort. Whether you're looking for a romantic getaway or want to relax by the sea, these villas offer something for everyone. With its stunning scenery and luxurious amenities, Secret Beach Villa is sure to provide an unforgettable experience for all its guests.
Facilities And Amenities Of The Villa
Secret Beach Koh Phangan offers a selection of luxurious beach bungalows for those looking for an unforgettable holiday experience. Each villa is equipped with air conditioning, private pool, and outdoor furniture. All villas come with complimentary access to the main swimming pool and beach. Guests can enjoy a variety of activities such as kayaking, snorkeling, and fishing. The resort also features on-site restaurants serving local cuisine and international dishes.
The resort staff are dedicated to providing guests with the highest level of service and attention to detail. They strive to ensure that every guest has a comfortable stay, offering concierge services, spa amenities, maid service, daily housekeeping, and more. Guests can also take advantage of a range of water sports activities including parasailing and jet skiing. With its tranquil atmosphere and stunning views over the bay, Secret Beach Koh Phangan is truly an idyllic paradise escape.
Events And Occasions Hosted At The Villa
The Villa at Secret Beach on Koh Phangan is a popular spot for hosting special events. The spacious villa has an expansive view of Leela Beach, making it the perfect place to host private parties or corporate events. The villa features a fully-equipped kitchen, a large living room with a pool table, and two balconies with stunning sunset views.
For those looking to host parties or social events, The Villa offers a variety of amenities that make it ideal for any occasion. There is an outdoor bar and BBQ area, as well as an indoor bar area with seating and TV screens. For additional entertainment options, guests can rent out the secret beach bar or take advantage of the on-site DJ services provided by Koh Phangan's top DJs. Whether you're looking to host an intimate gathering or a larger celebration, The Villa has all you need for the perfect event.
Best Time To Visit Koh Phangan
Koh Phangan is a popular holiday spot in Thailand, known for its white sandy beaches, tropical views and vibrant nightlife. Haad Rin beach is especially well-known for its full moon parties. The best time to visit Koh Phangan is between November and April. During this time the weather is typically dry and sunny with low humidity. This is also the most popular time to visit as many of the islands attractions are open during this season.
The nearest airport to Koh Phangan is Samui Airport which offers direct flights from Bangkok, Singapore and Kuala Lumpur. Visitors can also reach Koh Phangan by ferry from Surat Thani or Chumphon on the mainland. For those who don't want to stay overnight, it's possible to take a day trip from nearby islands like Koh Tao or Samui, or even just visit for a few hours on an organized tour.
Koh Phangan offers something for everyone – whether you're looking for a relaxed beach vacation or an exciting night out – so be sure to plan your trip at the right time of year for the best possible experience.
Most Popular Beaches Around Koh Phangan
Koh Phangan is an island in Thailand that is a paradise for beach lovers. Its pristine white sand beaches are like a diamond necklace scattered around the island, each one more beautiful than the last. From the bustling Haad Rin beach to the serene Secret Beach, here is a list of some of the most popular beaches around Koh Phangan:
Whether you want to party or relax in peace, there's something for everyone on Koh Phangan. With its warm waters, soft sands and spectacular sunsets, it's no wonder this island has become so popular with tourists worldwide.
Haad Khuad And Bottle Beach
Haad Khuad is a stunning beach situated on the northern shore of Koh Phangan. It consists of two distinct areas, the first being Bottle Beach. This beach is named after its abundance of empty beer bottles and other items that have been washed ashore from passing boats. It's a great spot for beach hopping and swimming, with plenty of space to sunbathe or relax in the shade. The second area is Moon Beach, which has a reputation for its tranquil atmosphere and crystal clear waters. Swim out to explore nearby coral reefs and tropical fish or just take a leisurely stroll along the sand.
Another hidden gem on Koh Phangan is Secret Beach. This secluded stretch of powdery white sand is perfect for those looking for some peace and quiet away from the hustle and bustle of larger beaches. Several luxurious villas are also available here, making it an ideal spot for an intimate getaway. Last but not least, Thong Lang Beach offers visitors beautiful views of the surrounding islands as well as access to bottled water, food stalls, and souvenir shops. Whether you want to relax by the sea or go beach hopping around Koh Phangan, these beaches can offer something for everyone.
Leela, Zen, Mae Haad And Chaloklum Beaches
Pristine white sand, mesmerizing aqua-blue waters, and the sun's rays glistening off the waves – Koh Phangan offers an idyllic paradise of amazing beaches. From Leela Beach to Zen Beach, from Mae Haad to Chaloklum Bay Beach – each beach is an exotic escape for beachgoers looking for a little slice of freedom away from everyday life.
Leela Beach is located just south of Thong Sala and is accessible with an electric kettle. The crystal clear water makes it perfect for swimming and snorkeling. Zen Beach is just a short walk from Leela and offers a quiet retreat from the hustle and bustle of everyday life. Mae Haad is on the island's east side and boasts powdery white sand and plenty of shady spots to relax in peace. Finally, Chaloklum Bay is situated on the north side of Koh Phangan and features beautiful views across the bay towards Koh Tao. Whether you're seeking adventure or relaxation, these four beaches offer something for everyone.
Personal Thoughts and Experiences of Thaland's Secret Beach Koh Phangan
I've been to Thailand many times, but unfortunately never on vacation. It was always connected to business travel and as such, I have not been able to explore any of Thailand's unique beaches and culture. For years I have wanted to go to Phi Phi Island, even when it was closed to tourists for ecological healing. The desire is still strong to go and explore this country's beaches.
Visiting Secret Beach Koh Phangan would be a dream come true for me. I can imagine I'd start my day early, paddling through the crystal blue waters on a stand-up paddleboard, marveling at the abundant marine life beneath me. Afterward, I'd explore the serene Haad Son beach, relishing the seclusion and breathtaking views of nearby islands. Snorkeling is a definite possibility as I have just started getting into this hobby. As the day winds down, I'd gear up for an unforgettable snorkeling experience at Secret Beach, discovering the vibrant coral reefs. My day would end by watching the sunset over the sparkling waters, feeling a deep connection with nature and a sense of inner peace. I'm working to make this a reality!
Conclusion
The secret beach of Koh Phangan is a hidden gem that evokes feelings of peace, serenity and beauty. The soft white sands and crystal blue waters evoke an aura of tranquility that inspires a sense of calmness in all who visit. Whether looking for a romantic getaway or a family vacation, the secret beach offers something for everyone.