Sanibel Island, with its pristine shores and turquoise waters, offers an idyllic escape for those seeking a tranquil beach getaway. This enchanting destination is not only a haven for beach enthusiasts but also a treasure trove for wildlife, history, and culinary experiences. I can't help but wonder, what activities and attractions make Sanibel Island the perfect beach escape?
So, what makes Sanibel Island the perfect beach escape? The island boasts an abundance of activities and attractions, including shelling along the water's edge, birdwatching at the J.N. Ding Darling National Wildlife Refuge, water-based adventures like kayaking and snorkeling, biking and hiking trails, historical landmarks, and delicious local cuisine. With something for everyone, Sanibel Island truly offers an idyllic beach getaway experience.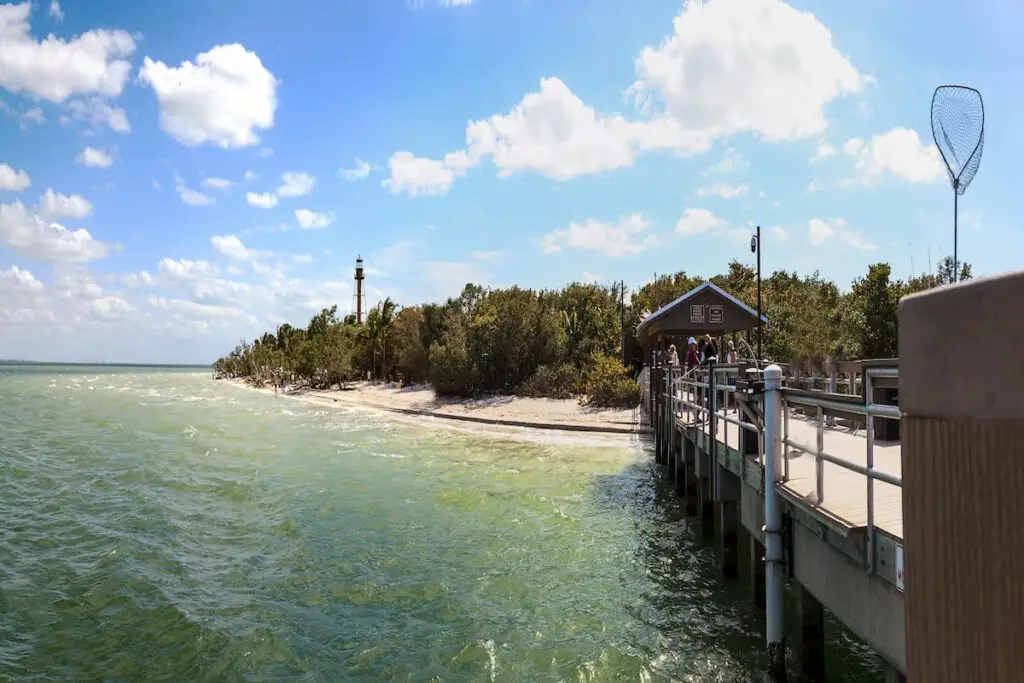 Key Takeaways‍
Sanibel Island offers pristine beaches, turquoise waters, and diverse activities for visitors seeking solace in nature.
Renowned for seashell-covered shores, Sanibel Island provides unparalleled opportunities for shell collecting and seashell art enthusiasts.
Discover the island's wildlife through birdwatching, photography, and exploring diverse ecosystems at J.N. Ding Darling National Wildlife Refuge.
Enjoy water-based activities like kayaking, snorkeling, and encountering wildlife such as manatees and dolphins in their natural habitats.
Traverse over 25 miles of biking and hiking trails, experiencing the island's lush landscape and vibrant wildlife.
Sanibel Island boasts rich history, culture, culinary delights, family-friendly activities, relaxation, and wellness opportunities for all visitors.
In this article, I'll take a deep dive into the various aspects that make Sanibel Island an extraordinary beach destination. I'll cover its unique shelling opportunities, wildlife encounters, water-based adventures, family-friendly activities, relaxation and wellness facilities, and diverse accommodation options. If you're looking for an escape that combines the beauty of nature with a wide array of activities and experiences, Sanibel Island is the place to be. Stick around as I explore this captivating paradise and reveal its many wonders!
Table of Contents
Sanibel Island Beach Getaways – What to See and Do
Let's dive into the various activities and attractions at Sanibel Island Beach Getaways. For the experiences I've personally enjoyed, I'll share my insights and impressions, while detailing my personal thoughts and encounters in the following sections.
Exploring The Captivating Beaches
Encompassed by emerald waters and ensconced in a serene sanctuary, the captivating beaches of Sanibel Island present an idyllic escape for those seeking solace in nature's embrace.
The tranquil sunsets that paint the sky with hues of amber and crimson create an atmosphere conducive to coastal exploration, prompting visitors to embark on a journey of self-discovery amidst the island's pristine shores.
The enchanting allure of these sandy stretches lies not only in their aesthetic beauty but also in their potential to awaken the dormant desire for freedom within each individual who sets foot upon them.
As one traverses the shoreline, it becomes apparent that Sanibel Island offers a unique opportunity to reconnect with the natural world and experience its rejuvenating powers firsthand.
From shelling along the water's edge to birdwatching in the nearby J.N. Ding Darling National Wildlife Refuge, there are numerous activities available that cater to diverse interests and preferences among visitors.
Indeed, it is through such immersive experiences that many are able to reignite their sense of wonder and appreciation for life's simple pleasures, ultimately leaving them feeling invigorated and inspired as they continue on their personal journey towards self-actualization.
A Treasure Trove Of Seashells
Renowned for its remarkable seashell-covered shores, Sanibel Island offers an unparalleled opportunity for shell collecting and seashell art enthusiasts. The island's unique east-west orientation and shallow waters create ideal conditions for an abundance of rare and beautiful shells to wash ashore, delighting collectors and beachgoers alike.
Visitors can explore the coastline, sift through the sand, and uncover a diverse array of marine treasures that make Sanibel Island a globally recognized destination for shell enthusiasts.
The Bailey-Matthews National Shell Museum: Home to an extensive collection of shells from around the world, this museum also offers educational programs and exhibits on mollusks, their habitats, and conservation efforts.
Guided shelling tours: Local experts provide valuable insights into the best times, locations, and techniques for finding unique shells while respecting the environment.
Annual Sanibel Shell Festival: A three-day event celebrating all aspects of shell collecting with artistic displays, informative presentations, and friendly competitions among collectors.
Shell crafting workshops: Learn how to transform collected shells into stunning pieces of seashell art at various local venues.
To further embellish the experience at Sanibel Island Beach Getaway, visitors are encouraged to engage with its vibrant community of shell collectors, artisans, and environmental advocates. Through participating in organized events or simply strolling along the picturesque beaches in search of natural treasures, guests will develop a deeper appreciation for the island's rich ecosystem while satiating their innate yearning for exploration.
The enchanting allure of Sanibel Island's pristine shores truly caters to those who seek solace in nature's beauty while simultaneously offering endless opportunities for discovery.
Discovering The Island's Wildlife
As the sun rises, casting a golden glow on the crystalline waters, Sanibel Island reveals itself as an enchanting paradise where humans and wildlife coexist harmoniously.
Like a masterfully woven tapestry, each thread of life intertwines to create an exquisite experience that brings forth a sense of freedom in the heart of every visitor.
Within this idyllic setting, opportunities for wildlife photography and exploration abound.
The island's rich flora and fauna make it an ideal destination for those who seek solace in nature's beauty.
Prominent birdwatching spots can be found throughout Sanibel, offering glimpses of rare species such as the Roseate Spoonbill and Yellow-crowned Night Heron.
By allowing oneself to become immersed in this vibrant ecosystem, one cannot help but feel an innate connection to the world beyond human constructs – a world that is both captivating and humbling in its vastness.
Attractions For Nature Enthusiasts
Sanibel Island presents a plethora of opportunities for nature enthusiasts seeking picturesque landscapes and diverse ecosystems. The island, renowned for its unspoiled beauty and abundant wildlife, offers visitors an array of natural attractions to explore.
Nature photography aficionados can capture stunning images of the island's lush flora and fauna, while birdwatching spots provide the chance to observe rare and migratory species in their natural habitat.
J.N. 'Ding' Darling National Wildlife Refuge
Home to over 245 bird species, this refuge is a paradise for birdwatchers.
Majestic mangrove forests provide a unique backdrop for nature photography.
Sanibel-Captiva Conservation Foundation (SCCF) Nature Center
Offers guided tours through the island's various ecosystems, from coastal dunes to hardwood hammocks.
Participate in educational programs focusing on local wildlife and conservation efforts.
The island's extensive network of bike trails allows visitors to venture into serene natural environments away from bustling tourist areas. Each trail provides access to secluded beaches, fascinating wildlife habitats, and scenic vistas that are sure to captivate those seeking solace in nature.
As the sun sets over Sanibel Island, travelers can reflect upon their immersive experiences within these pristine surroundings, creating lasting memories of their beach getaway adventure.
Water-Based Activities And Adventures
Imagine a canvas painted with the most vivid shades of blue, where every stroke represents an exhilarating water-based activity.
This picturesque description is not far from reality when it comes to Sanibel Island's aquatic offerings.
Kayak excursions through the island's mangrove tunnels paint one such part of this masterpiece, revealing a unique ecosystem teeming with wildlife.
The crystal-clear waters also serve as an underwater art gallery for snorkeling enthusiasts, showcasing vibrant coral reefs and diverse marine life.
As visitors glide across the calm waters on their kayaks, they may be greeted by friendly manatees and witness the graceful dance of dolphins in their natural habitat.
These encounters embody the essence of freedom that many travelers seek.
A palette of snorkeling spots awaits exploration, offering both novice and experienced snorkelers a glimpse into the fascinating underwater world.
From colorful fish darting around to sea turtles gently gliding by, these experiences solidify Sanibel Island as an idyllic destination for those desiring aquatic adventures amidst unspoiled natural beauty.
Biking And Hiking Trails
Biking and hiking trails on Sanibel Island provide an unparalleled opportunity to explore the natural beauty of this beach getaway.
With over 25 miles of shared-use paths, visitors can traverse the island while indulging in its lush landscape and diverse wildlife.
Trail highlights include the 4-mile Wildlife Drive at J.N. 'Ding' Darling National Wildlife Refuge, offering stunning views of mangroves, marshes, and estuaries along with a chance to spot various bird species, like ospreys, egrets, and pelicans.
Additionally, the Sanibel-Captiva Road path provides scenic routes lined with palm trees and a glimpse into the island's historical landmarks.
For those seeking more adventurous experiences on their Sanibel Island vacation, several off-road trails beckon exploration.
The Bailey Tract Trail System presents intricate trails through a mixture of hardwood hammocks and freshwater wetlands where alligators and marsh rabbits may be spotted.
The Shipley Trail at Bowman's Beach Park combines both vibrant flora and rich history as it follows a former pioneer homestead route through dense vegetation.
Adventurers are sure to find an unforgettable experience while exploring these captivating trails amidst the breathtaking beauty of Sanibel Island's natural landscapes.
A Rich History And Culture
Like a hidden treasure chest brimming with historical gems, Sanibel Island's rich past and vibrant culture are waiting to be uncovered by those who venture beyond its sandy shores.
This serene sanctuary is not only a haven for beach enthusiasts but also an alluring destination for history buffs and cultural aficionados alike.
The island's storied past is immortalized in various historical landmarks scattered throughout the area, each one offering a unique glimpse into the lives of the early settlers who called this piece of paradise home.
From the Sanibel Lighthouse, which has been guiding mariners since 1884, to the Bailey-Matthews National Shell Museum showcasing an extensive collection of shells from around the world, these attractions serve as tangible testaments to Sanibel's enduring legacy.
Immersing oneself in Sanibel Island's myriad cultural events further reveals the depth and diversity of its heritage.
Annual festivities such as Taste of the Islands, which celebrates local culinary talent with delectable dishes inspired by fresh Gulf seafood, or Luminary Festival Weekend that illuminates miles of pathways with glowing candles and twinkling lights, provide visitors with unforgettable experiences that reflect the island's vibrant spirit.
Whether it is through exploring historic sites or partaking in lively celebrations, delving into Sanibel Island's rich history and culture promises a journey filled with wonderment and enchantment – a true testament to its status as an idyllic beach getaway that offers more than just pristine shores and turquoise waters.
Culinary Delights And Local Dining
Sanibel Island's pristine shores and turquoise waters provide the perfect backdrop for a culinary delight.
Fresh seafood, such as local grouper, snapper, and shrimp, is sure to tantalize the taste buds, and the island-inspired cuisine is sure to impress.
Fresh Seafood
Imagine the gentle sea breeze and the warmth of the sun while indulging in a sumptuous feast of fresh seafood at Sanibel Island, an exquisite beach getaway destination.
As a haven for culinary delights and local dining, this tropical paradise offers an array of coastal cuisine that showcases its commitment to seafood sustainability.
From the catch-of-the-day platters brimming with locally sourced fish, shrimp, and oysters to the delectable dishes crafted by renowned chefs using sustainable ingredients, visitors can savor these mouthwatering offerings without any guilt or environmental concerns.
Dining by the pristine shores and turquoise waters not only provides a picturesque setting but also serves as a poignant reminder of the importance of preserving these natural wonders for generations to come.
On Sanibel Island, it is evident that responsible enjoyment of nature's bounty is key to maintaining its allure as an idyllic beach getaway.
Island-Inspired Cuisine
Apart from the sustainable seafood offerings, Sanibel Island also boasts a variety of island-inspired cuisine that further enhances its appeal as a beach getaway destination.
The fusion of flavors from diverse cultures combined with an abundance of fresh produce results in dishes that are both exciting and satisfying for the palate.
Visitors can indulge in tropical treats such as key lime pie or coconut shrimp while sipping on refreshing island cocktails like mojitos and piña coladas to truly feel immersed in the island's laid-back atmosphere.
With each bite and sip, one is transported to a world where culinary creativity meets natural beauty, giving them the freedom to enjoy life's simple pleasures without compromising their responsibility toward sustainability.
Family-Friendly Activities And Entertainment
Sanibel Island offers an abundance of family-focused recreation and entertainment options that cater to visitors of all ages.
In addition to the pristine beaches and crystal-clear waters, there are numerous attractions designed to provide both education and amusement for families. The J.N. Ding' Darling National Wildlife Refuge, for example, provides an excellent opportunity for children to learn about the island's diverse ecosystem and wildlife through interactive exhibits and guided tours.
Other popular family-friendly activities include bicycling along miles of scenic trails, exploring the Bailey-Matthews National Shell Museum's fascinating collections, or embarking on a dolphin-watching cruise. Visitors can also expect a lively cultural scene on Sanibel Island, with engaging performances offered at various venues throughout the year.
Big Arts, a nonprofit organization dedicated to promoting arts and culture on the island, hosts concerts, theater productions, art exhibits, and workshops that cater to diverse interests and age groups. Families can enjoy live music performances at outdoor venues such as the Sanibel Community Park or attend captivating plays at The Herb Strauss Theater.
With its myriad of offerings in natural beauty, educational experiences, and cultural events, Sanibel Island is truly a beach getaway destination that caters to those seeking freedom in exploration while providing unforgettable memories for families traveling together.
Relaxation And Wellness Opportunities
Sanibel Island offers a plethora of relaxation and wellness opportunities for those seeking to unwind from the stresses of everyday life. The island's tranquil spas, rejuvenating yoga classes, and serene natural surroundings provide the perfect environment for guests to recharge their minds, bodies, and spirits. Amidst the azure waters and pristine sands, visitors can indulge in an array of therapeutic experiences tailored to their personal needs.
One notable aspect that sets Sanibel Island apart as a haven for relaxation is its diverse range of wellness facilities and activities. These include:
Indulge in luxurious treatments such as massages, facials, and body wraps at world-class spa facilities.
Experience holistic therapies like aromatherapy or hydrotherapy to restore balance within the body.
Unwind in serene settings surrounded by lush gardens or soothing water features.
Rejuvenating Yoga Classes:
Participate in traditional Hatha Yoga sessions to increase flexibility and strength.
Explore specialty classes such as beach yoga or guided meditation that cater to specific interests.
Connect with experienced instructors who can offer personalized guidance based on individual goals.
Serene Natural Surroundings:
Immerse oneself in peaceful nature trails through mangrove forests or along sandy shores.
Discover hidden gems such as secluded beaches or tranquil gardens perfect for quiet contemplation.
Observe local wildlife in their natural habitats while enjoying the healing benefits of fresh air and sunshine.
The allure of Sanibel Island extends beyond its breathtaking landscapes and crystal-clear waters; it is an oasis where individuals can embark on a journey towards inner peace and harmony. By embracing the island's wealth of relaxation resources, visitors can leave feeling refreshed, revitalized, and ultimately transformed – ready to face life's challenges with newfound perspective and resilience.
Accommodation Options For Every Budget
From budget-friendly stays to luxury accommodations, Sanibel Island offers an array of lodging options to suit the needs and desires of every traveler.
Picture yourself waking up to the sounds of waves crashing on the shore or enjoying a sunset view from your private balcony; these are experiences that await visitors seeking refuge on this idyllic island paradise.
With a variety of hotels, vacation rentals, and bed & breakfasts to choose from, guests can rest assured they will find their perfect home away from home while exploring the unspoiled beauty of Sanibel Island.
For those with a penchant for frugality, numerous affordable inns and motels provide comfortable lodgings without breaking the bank. Travelers can still enjoy close proximity to the beach, as well as access to essential amenities such as pools, complimentary Wi-Fi, and onsite laundry facilities.
Meanwhile, visitors with more indulgent tastes may opt for upscale resorts or lavish vacation homes boasting private pools, full kitchens, and stunning gulf views.
Regardless of one's accommodation preferences or spending limits, Sanibel Island caters to all who seek solace along its sun-kissed shores and azure waters.
Tips For Planning Your Sanibel Island Trip
When embarking on a Sanibel Island beach getaway, careful planning and preparation can significantly enhance the overall experience.
First and foremost, consider island packing essentials to ensure both comfort and convenience during the stay. Essentials such as lightweight clothing, sun protection (hats, sunglasses, and sunscreen), swimwear, comfortable footwear (sandals or flip-flops), insect repellent, reusable water bottles, and beach towels are necessary items for a successful trip. Additionally, it is prudent to bring along any required medications or medical supplies that may not be readily available on the island.
Furthermore, those with a penchant for photography should ensure they pack their camera gear to capture the picturesque landscapes and stunning wildlife.
Addressing travel logistics is another crucial aspect of planning a Sanibel Island trip. Firstly, determine the most suitable mode of transportation based on factors such as budget constraints, time availability, and personal preferences. Options include flying into Southwest Florida International Airport (RSW) in Fort Myers or utilizing private boat charters from nearby cities like Naples or Fort Myers Beach.
Once on the island, visitors can explore its offerings via bike rentals or by making use of the efficient local trolley service – both environmentally friendly alternatives to driving around in a rented car.
It is also recommended to research accommodation options well in advance – whether seeking luxurious resorts or budget-friendly vacation rentals – as availability tends to fill up quickly during peak season. By diligently addressing these aspects of island packing and travel logistics prior to departure, visitors will be well-equipped to relish in their newfound freedom on Sanibel Island's idyllic shores.
Personal Thoughts and Experiences About ‍
Living in San Diego, California as a teenager, I was enchanted by the charm of small beach towns like Sanibel Island. I found these serene coastal getaways to be not only rejuvenating but also quite affordable for short vacations. The captivating beaches and unique experiences offered by these picturesque towns fueled my desire to travel to beaches around the world.
If I got the opportunity to travel to Sanibel Island, I would definitely visit the J.N. Ding Darling National Wildlife Refuge for birdwatching, as I'd love to catch a glimpse of the rare Roseate Spoonbill and Yellow-crowned Night Heron in their natural habitat. I'd also partake in a guided shelling tour, learning about the best techniques for finding unique shells while respecting the environment.
Kayaking through the island's mangrove tunnels would be a must, as it would offer a chance to see friendly manatees and playful dolphins up close. Finally, I'd explore Sanibel's biking and hiking trails, taking in the lush landscape and diverse wildlife as I traversed the serene paths.
Frequently Asked Questions
What Is The Best Time Of Year To Visit Sanibel Island For Optimal Weather And Fewer Crowds?
As the sun casts its golden rays on the pristine shores and azure waters, one cannot help but wonder when the most opportune time to visit Sanibel Island might be.
Optimal seasons for an idyllic beach getaway encompass a delicate balance between favorable weather conditions and crowd management, ensuring that travelers can relish in the beauty of this coastal paradise without feeling overwhelmed by throngs of fellow tourists.
With a reputation as a tranquil haven for those seeking respite from bustling urban life, Sanibel Island's allure lies in its ability to offer visitors a sense of freedom and connection with nature.
To truly immerse oneself in this serene environment, it is recommended to plan a visit during the shoulder seasons – fall or spring – when temperatures remain pleasant yet crowds are noticeably thinner, allowing one to fully appreciate the picturesque landscape and invigorating ocean breeze that define this enchanting island retreat.
Are There Any Restrictions Or Guidelines For Collecting Seashells On Sanibel Island's Beaches?
Sanibel Island, renowned for its abundant seashell collection, enforces specific guidelines and restrictions to ensure shell preservation and maintain beach etiquette.
When collecting seashells along the island's pristine shores, visitors must adhere to regulations that prohibit the collection of live shells or any mollusk still inhabiting its shell. This measure protects the delicate marine ecosystem and preserves the natural beauty of Sanibel Island.
Additionally, beachgoers are encouraged to practice responsible shelling by only taking a reasonable number of shells for personal use and leaving behind enough for others to enjoy.
By following these guidelines, individuals can actively contribute to the conservation efforts of this idyllic destination while fulfilling their desires for freedom and exploration on Sanibel Island's picturesque beaches.
What Are Some Unique Or Lesser-Known Attractions On Sanibel Island That Are Worth Exploring?
While Sanibel Island is primarily known for its pristine shores and turquoise waters, several hidden gems provide unique experiences and wildlife encounters for those seeking to explore beyond the coastline.
Among these lesser-known attractions are the Bailey-Matthews National Shell Museum, which showcases an extensive collection of shells from around the world, and the J.N. 'Ding' Darling National Wildlife Refuge, where visitors can observe a diverse range of bird species and other native fauna in their natural habitat.
Additionally, the Sanibel Historical Village offers a glimpse into the island's past through preserved buildings and exhibits, while avid gardeners will delight in exploring the botanical treasures found within the Sanibel Moorings Resort's Butterfly Gardens.
These attractions serve as compelling reminders that Sanibel Island has more to offer than just its stunning beaches, making it an ideal destination for those eager to embark on a journey of discovery and connect with nature on a deeper level.
Are There Any Special Events, Festivals, Or Celebrations That Take Place On Sanibel Island Throughout The Year?
Throughout the year, Sanibel Island hosts a variety of island festivities and cultural celebrations that cater to the interests and desires of its diverse visitors.
These events not only showcase the vibrant local culture but also provide an opportunity for tourists to engage with the community and explore the island's unique charm.
Some notable annual events include the Sanibel Captiva Lions Club Arts and Crafts Fair, featuring local artisans and their creations; 'Ding' Darling Days, which celebrate wildlife conservation and education in honor of renowned cartoonist Jay Norwood 'Ding' Darling; the Sanibel Music Festival, presenting world-class chamber music performances; and the Luminary Festival, a magical evening of illuminated pathways, live music, and holiday cheer.
By participating in these special events, visitors can enhance their Sanibel Island experience while creating unforgettable memories amidst the breathtaking natural beauty that defines this island paradise.
What Are Some Eco-Friendly Or Sustainable Travel Options For Visitors To Sanibel Island?
Sanibel Island, often referred to as the 'jewel of Florida's coastline,' offers a plethora of eco-friendly and sustainable travel options for environmentally conscious visitors.
Not only are there numerous eco-friendly accommodations, such as certified green lodges and resorts, but the island also prides itself on its commitment to preserving its natural resources and wildlife habitats.
Sustainable dining options abound at local restaurants that prioritize farm-to-table cuisine, utilizing locally sourced ingredients and implementing practices to minimize waste.
By choosing Sanibel Island as their destination, travelers can indulge in a beach getaway that not only satisfies their wanderlust but also allows them to tread lightly on this precious ecosystem, contributing to its preservation for future generations to enjoy.
Conclusion
In conclusion, Sanibel Island offers an idyllic beach getaway for those seeking pristine shores, turquoise waters, and unique attractions.
With optimal weather conditions and fewer crowds during the fall months, visitors can enjoy a truly memorable vacation while partaking in eco-friendly travel options that promote sustainability.
Furthermore, the island's rich local culture is showcased through various events and festivals held throughout the year, providing ample opportunities for tourists to immerse themselves in a serene yet vibrant environment.
From exploring lesser-known attractions to observing the island's renowned seashell collecting guidelines, Sanibel Island exudes an aura of natural beauty and charm.
Whether one chooses to stroll along sun-kissed beaches or delve into the island's abundant flora and fauna, a visit to this enchanting destination promises an unforgettable experience for all who venture to its shores.