When you go to the beach, you're bound to encounter interesting subjects for your photography. Photograph many things on beaches, from people to plants to animals. However, the most important subject on the beach is not a person or animal – it's the combination of the sand, water, and sky! It makes me wonder, what are the best beach photography ideas to capture some exciting and unique photos?
So, what are the best beach photography ideas? They include ideas like taking wide-angle shots and long exposure shots and using the sun, sand, and water well. Finding unique backgrounds and props will give your photos a cool beach vibe. Also, shoot photos at different angles, from above and below normal, to find special shots. All these ideas can help you be more creative for portrait and outfit photos on the beach. 
Beach photography is different from other kinds of photography in a couple of ways. The ocean and beach environment is constantly changing, so the subject is never the same daily. Also, the beach and ocean backgrounds always change; tides come in and go out, sand changes and shifts, and ocean currents constantly move things around. It makes for interesting photographs which show the constant movement of the water and sand.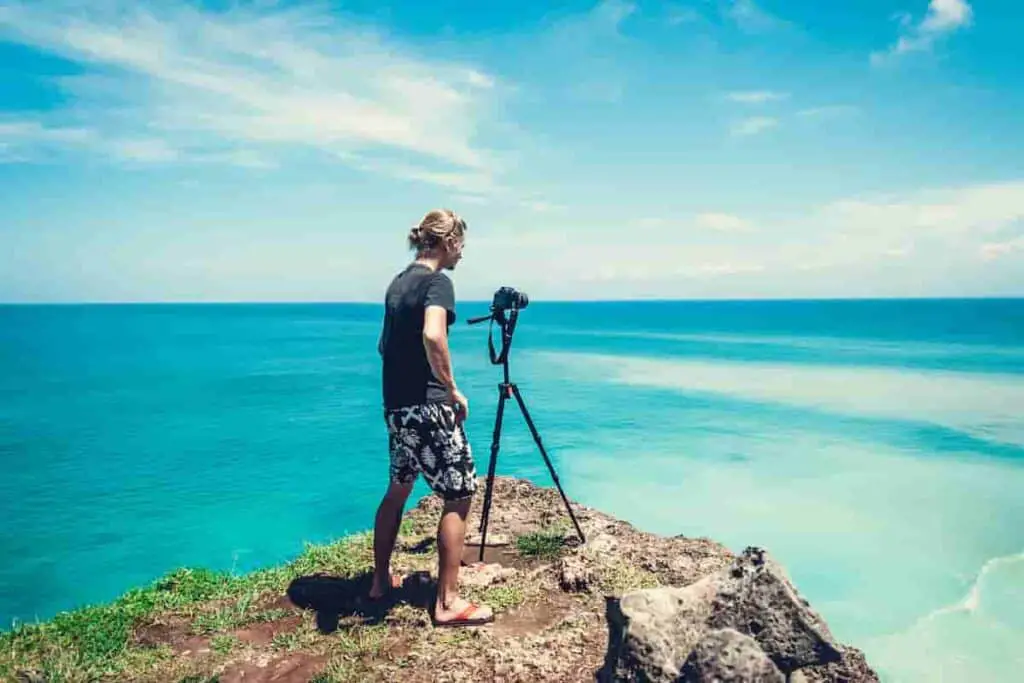 The beach is so fantastic that many photographers have dedicated their careers to capturing it. The sea has many moods and many color changes, which means there are many diverse subjects to capture. Pictures can be taken on various parts of the beach, such as sand, rocks, or on the shoreline with the waves crashing onto the rocks. This article will cover the different types of subjects one might photograph at the beach and give you some great tips to help you make the best photographs possible. Keep on reading! I have some fantastic ideas for you to use.
What Are Some Tips for Taking Beach Photos?
Some tips for taking beach photos might include using a wide-angle lens, taking pictures at low angles to avoid getting the horizon in your photo, and only exposing your camera's sensor when a lens hood properly protects it.
Here are some tips for taking beach photos:
– Don't use a flash when taking pictures of people; it can distract them and make the photo less natural.
– Use a tripod or a monopod to steady your camera and allow you to capture more natural photos.
– Consider taking pictures in black and white, as it makes the photo look more vintage.
– Consider using the rule of thirds, a guideline for composing photos.
Use the Sun to Your Advantage
When taking beach photos, you can use the sun to your advantage. The sun rises, sets, and sets again throughout the day, so have your clients check ephemeris to know when high noon occurs. This way, you'll be able to take advantage of the best light for your photos.
-The time of day and location can dramatically affect the quality of your photographs.
-In tropical areas, such as Hawaii, the sun is lower in the sky during winter.
-A sunny day in the summer will typically provide better lighting conditions than a day with clouds.
-When taking photos in a darker environment, such as a cave, using flash will help illuminate the scene.
The best time to take beach photos is during the midday hours when the sun is at its highest point in the sky. At this time, shadows won't be as harsh, and you'll get more even lighting across your subject's face.
Get in The Water
One of the great things about beach photography is that you can get in the water to take pictures! 
-The beach is a great place for photos; kids love to play in the waves and splash around in the water.
-Get right in the water to take pictures.
-Use water to create more dynamic photos.
-Incorporate elements of water into your photos.
-Tide pools make beautiful backdrops for photos.
-Don't forget the splash shots opportunity.
Include the Palm Trees
Including palm trees in your beach photos is a great way to add visual interest and help set the scene. Palm trees are often associated with tropical beaches, so using them as props can enhance your shots.
– Include palm trees in your beach photos for a more creative perspective.
– Shoot through the palm trees for an interesting angle.
– Include palm trees to help set the scene and give your shots a tropical flavor.
What Are Some Creative Ideas for Beach Photos?
If you're looking for creative ideas for beach photos, you'll need to pay attention to the shape of the coastline. If it's a long and thin coastline, like that found in the Bahamas, then you might want to do something like capturing the iconic white sand beaches and turquoise water of the Caribbean. If it's a crescent-shaped coastline in Mexico, you might want to try capturing the beautiful turquoise water, white sand beaches, and colorful Mexican culture.
Creative Beach Photography Using Water and Waves
Summer is a great time to get creative with your beach photography. Here are some ideas:
Make sure you have a waterproof camera for an underwater photo of your family!
To take a slow shutter photo, shoot with the exposure for the sky and couple above the horizon line – not below it. It will create a beautiful effect in your photos.
The crashing waves of the ocean make for a breathtaking backdrop. If you're looking for something more unique, try tide pools among scraggly rocks and coves – they'll give you a mythical background.
Don't forget to include water elements in your beach shots – like an ocean waves shot or a dip in the water. A splash shot captures water coming out of the ocean, but it can be beautiful if done correctly.
And finally, don't be afraid to get wet! These photos look much more amazing if you're captured in them having fun at the beach.
Shoot from Above
When shooting from above, it's important to get the right angle. You may need to climb a ladder or use a drone to capture the perfect shot. It's also important to be aware of your surroundings and ensure you're not interfering with other people's activities.
Try Different Angles
-Shooting from different camera angles can be helpful in small spaces.
-When you photograph people, be sure to capture them interestingly.
-Angles can be extremely helpful in small spaces.
-Using a blanket can help you capture a different perspective in your images.
-Adding texture to your images can help add depth to your images.
Use Long Exposures
Long exposures are a great way to capture the motion of waves or the light in the sky. To do this, set your camera to shutter priority mode and choose a slow shutter speed. You may need to use a tripod to keep the camera still. Experiment with different shutter speeds until you find one that gives you the desired results.
How Can You Make Your Beach Photos Unique?
Adding a background is the most common way to make your beach photos unique. You can also try putting out an old towel, set of sunglasses, or anything else that might add some personality. You can also try taking a unique angle or even a shot from up high.
Embrace the Midday Sun
-Underexpose a bit when using natural light without an external source.
-Take your clients into an interesting photo opportunity instead of sunlit ones.
-The midday sun can be one of the best times to take beach photos.
-Position your clients, so the sun is behind them to create a dramatic effect.
-Lighting a beach photo without an external source can be tricky.
-The sand can work as a natural reflector and bounce light back onto your clients' faces.
Use Props
One way to make your beach photos unique is to use props. It can be done by setting up a photo shoot around your lawn chair or adding interesting objects to the scene. For example, you could try using books as props. Books are an excellent prop for outdoor photography, as they portray the photos' literary and traditional appearance. You can also add shells to the scene for extra effect.
However, it's important not to go overboard with props. The photo shoot should not be complicated by objects that attempt to draw attention away from what's important: the family bond and true personalities of everyone in the shot. So keep it simple and let the beach's natural beauty shine through!
Incorporate Bold Colors
-Colorful clothing can help to brighten up a beach photo.
-The key is to pick bright colors that contrast nicely with the water and sand in the background. 
-Colorful clothing like blues and yellows is good for family beach pictures.
-Neutral colors like blacks, browns, and grays are good choices for family beach pictures as they will help to tame the bold hues.
-Neutral colors can be used to help tame the bold colors, thus making for a more balanced photo.
-Seashells and other natural decorations can be used to add to the colorful beach photo.
Find Unique Background
Some people might think that they have seen everything there is to see at the beach and resort to taking pictures in front of a wall or skyline. I encourage you to think out of the box: 
 -Taking pictures at the beach can sometimes be difficult, so finding a good background is sometimes difficult.
-The sunlight can sometimes make a picture too bright, so finding a good background can be a problem.
-You can take pictures of people walking along the beach or other interesting objects along the beach.
-You can find interesting objects to take on the beach by looking around for unusual things to photograph.
-You can use a shallow depth of field to make your subject stand out against the background.
Here are some ideas for backgrounds:
-the sandcastles being built by children
-the beach ball flying through the air
-sunlit beach sand
–ocean waves crashing
-a sunset with sky and water
-walking shoes in the sand
-a warm beach towel
Action Beach Photos – Sports, Water Activities
Taking beach photos of sports and water activities can be tricky. Here are some tips for getting the best photos:
Take photos of action shots: The best time to take photos is when the action is happening, such as when surfers are riding the waves or when swimmers are jumping into the water.
Take photos from a distance: When taking photos of sports and water activities, it's best to be far away because big crowds can block your shots.
Use long exposures: Long exposures make photos look cool and mysterious. Get creative, and try taking photos with long exposures during the daytime or at night.
Use a slow shutter speed: Taking photos with a slow shutter speed can make the water look smooth and even make a wave look flat.
Here are some additional ideas of what action photos to take at the beach:
-Capture photos of people engaging in various exciting activities at the beach.
-Action beach photos include people surfing, kayaking, scuba diving, swimming, and riding jet skis.
-The photos can be shot from a fixed location or moving vehicles such as boats, jet skis, or helicopters.
-Photos can be shot at night or during the day.
-Action beach photos can also be shot on a smartphone.
-Action beach photos can include people of various ages and genders engaged in various thrilling activities.
Action on rocky cliffs provides excellent opportunities for creative beach photography ideas.
-Couples in action can be playful, funny, or just themselves in these photos. Capturing their natural expressions will help to bring out their personality in the photos.
-Some families are more active during a photo shoot; capturing them in action is an awesome idea. How about a splashing competition where everyone can participate?
How Do You Do Beach Portraits – Outfits You Can Wear
Beach portraits are a type of photograph taken on the beach. They may be candid or staged photographs, but they always capture the beauty of sand and water.
People are photographed on the beach in beach portraits. The quality of their photos often determines an expert photographer's ability to capture beach portraits.
It is common to photograph the beach or ocean in beach portraits. The film, digital, or a combination can be used to take photos.
Family portraits on the beach can be a lot of fun, but it's important to keep a few things in mind to ensure the pictures turn out well. Here are some tips:
1. Playful, funny pictures can be taken of your family. Try playing tag or building sandcastles for some action shots that keep it lively.
2. Use your family's personality and preferences to find endless ideas for family portrait photography.
3. Sit poses can give you a different perspective in beach pictures. Choose a spot to sit on the beach that is not covered in sand or far away from your subject.
4 Make sure you have an appropriate blanket, so it doesn't distract from the image
7 Beach Photoshoot Ideas – Outfits for men and women
When planning a beach portrait session, it's important to consider what you will wear. Here are some tips:
1. Beach T-shirt + Chinos
It is one of the most common combinations. If you don't want to go overboard, you can simply pair a white t-shirt with dark Chinos. This combination works perfectly for any occasion.
2. White Tee + BluePants
White tees are extremely versatile. You can wear them casually or dress them up. Pair them with black pants, and you'll look stylish.
3. White T-Shirt + Khaki Shorts
Khakis are practical yet stylish. They come in various shades. Pair them with a white t-shirt, and you'll look clean-cut.
4. Khaki Shorts + Polo Shirt
Khakis and a polo shirt are a classic combination. Wear khaki shorts with a blue button-down shirt.
For Women, here are some suggestions:
1. Beachy Blue Top + White Skirt
This beachy blue top and white skirt combo is a classic combination. This outfit works for any occasion. 
2. Green Tanktop + Beige Shorts
These two colors compliment each other perfectly. Plus, they match every season.
3. Yellow Sundress + Sandals
Yellow is another color that's perfect for a beach photoshoot. A simple yet stylish look. It is a classic look that anyone would love to see.
4. Beachy Blue Top + White Skirt
This beachy blue top and white skirt combo are among the most popular combinations. It's casual and chic. Perfect for any occasion.
What Colors Are Good for Beach Pictures
There are a lot of variables that contribute to the color you choose for your pictures. For example, the weather and time of year will affect how you want to present yourself when you're out in the sun. However, if you want to create a happy and inviting atmosphere, consider using bright and cheery colors such as yellows or greens.
When choosing colors for beach portraits, it is important to consider what will look good in photographs. Solid colors are a safe choice, as they will not distract the person photographed. Bright colors can also be used, but they should be mixed with other muted tones to avoid looking too overwhelming. Stay away from sparkly fabrics and silk, which may reflect in the pictures.
When choosing colors for beach portraits, it is important to consider what will look good in pictures. Solid colors are generally a good choice, as they photograph well. Bright and bold colors can also be used but should be avoided if the goal is to have a natural look.
Some tips on choosing colors:
-Stick with clothes that are made of natural fibers such as cotton or linen. Synthetic fabrics may reflect in the pictures.
-Avoid sparkly fabrics and silk, which may also reflect in the pictures.
-The color scheme for beach portraits should be white, blue, khaki, and bright colors that stand out, such as red or coral.
How Do You Pose on The Beach
Try one of these poses for beach photographs next time you go to the beach. They'll add a nice touch to your pictures.
#1. Pose With Sunlight On Your Face
Sunlight reflects off the water and makes your skin glow. This pose works especially well if you're taking pictures on a cloudy day.
#2. Pose With Water Behind You
Water creates an interesting background for your face. Use the waves behind you as a backdrop for your face.
#3. Pose With Waves Reflected Off Of You
Waves reflect off of bodies of water, giving them a unique texture. Try posing against a wave to give your picture a special touch.
#4. Pose Against The Wind
The wind blows sand across beaches, creating a cool windblown look. Poses against the wind are usually done outdoors.
#5. Pose With Sand Around You
Sand is a popular addition to any beach photo. It adds interest and helps define your shape.
What Should You Wear for Your Beach Photo Session?
When taking family portraits at the beach, you don't need to wear all white. You can wear cooler tones like blues, greens, and even coral. However, avoiding bright colors that may not photograph well outdoors is best.
You will also want to ensure your clothes are clean and ready for the beach. It's best to plan, even if it means getting them washed the day before you go to a beach.
Take Family Pictures – Ideas
When it comes to taking pictures of your family, the options can seem endless. However, you can do a few things to make the process simpler – and more fun!
First, consider using accessories to dress up your photos. Scarves, coats, and hats can all add some style and personality.
Second, consider coordinating outfits in shades of white or tan for a summer beach look. A farmhouse decor theme is best suited with white + tan color outfits.
Finally, remember that matching clothes can make your family photos look outdated and boring. So mix it up! Try different colors and patterns to create an interesting and unique photo op.
Where Are Some Good Locations for Taking Beach Photos?
The beach is hard to beat if you're looking for a great place to take photos. There are so many different environments and backdrops to choose from, depending on what you're looking for.
One should keep in mind the different types of beaches, though. Some beaches are good for waves, and some are good for sand.
Some places that make great locations for taking photos at the beach include beaches in Florida, California, and Hawaii.
The Rocks Can Be a Great Source of Inspiration for Taking Beach Photos
When looking to use the landscape in your beach photos, rocky shores are full of possibilities. Here are a few ideas about rocks and other places of inspiration:
-The rocks can be a great source of inspiration for taking beach photos.
-The rocks can also create beautiful shadow play during Golden Hour.
-Flowers can help capture the feel of a beach.
-Think about combining flowers with sand or water for an interesting photo.
-Pair of roller skates can make your photo more unique while being creative and fun.
-If you're feeling adventurous, grab a set of wheels and snap some pics on the boardwalk or pier.
-Golden Hour is the best time to shoot beach photos.
Be sure to return before sunset so you can take pictures in the dark when still light is left on the water. The long exposure times possible at night can create some stunning images – but make sure you have a tripod handy!
What Props Can You Use in Beach Photos?
When using props in photographs on the beach, achieving the perfect look can be difficult. First, you need to consider the type of prop you want to use. For example, if you want to use a sports ball, you need to find the best lighting for the sports ball. You also need to consider where to place the umbrella in the photograph. For example, if you place the umbrella too close to the camera, the sports ball will dominate the photo, and the subject will be hidden. Next, you need to adjust the lighting depending on the time of day and the weather conditions. Finally, you need to consider the background. For example, avoid having people in the background who accidentally appear in the photo, as they will distract the viewer's attention.
Here are some prop ideas for you:
*Surfboards – place them near a blanket or sticking out vertically from the sand, bringing a great vibe!
*Towels – it gives the impression of swimming and drying off
*Hats – many different kinds of hats one can wear at the beach, photograph them!
*Boats – if there is a boat on the shore, use that in your photo
*Sports Equipment – the possibilities are endless with many different types of equipment
*Sports Balls – volleyballs, nerf footballs, beach balls – they all add to the beach vibe 
*Driftwood – finding a piece of driftwood and putting that in your photo can enhance it
How Do You Take Sand Photos
To take a photo of sand, you will need to find or create a suitable background. The most common backgrounds are photos of rocks, water, plants, and trees. Next, you'll need to set up your camera. You will need a tripod and a long exposure time to make the best sand photo. You should also consider using a neutral density filter or polarizing filter, which will help to reduce the amount of light that gets into your camera. Finally, you'll need to focus on the sand, as this is where the most interesting photo opportunities occur.
You can take photos of sand by using a photo filter on your camera.
Sand photo ideas
If you're looking for ideas on how to take sand photos, Flytographer has some great tips!
First of all, be playful with your shots. Use props to set the mood and make things more interesting.
Take note of what's special about your family members- such as graduating seniors or newlyweds- and highlight them in your photos.
The golden hours are between sunrise and sunset when shadows are softest. Try shooting against the sun for extra light- it diffuses sunlight too much!
Try the blue hour for extra romantic shots after the sun has gone down. It is when shadows are longest, and everything is bathed in a beautiful blue light.
Tips for Taking Sand Photos
When taking photos of sand, it's important to be prepared. Here are some tips:
It's a great opportunity to capture an image of yourself doing something you love. And capturing images of yourself on the beach makes you happy.
But sometimes, the weather isn't ideal for taking pictures on the beach. Maybe the wind blows too much, or the waves crash too loudly.
Here are five tips for taking sand photographs.
#1. Use a tripod
Using a tripod allows you to shoot without moving. It means you won't miss any action. You can set the timer using a smartphone and let the phone auto-focus. It will allow you to focus on framing the shot instead of keeping the camera steady.
#2. Choose a location with low winds
Windy days often mean blurry shots. Wind causes the air to move, causing objects to shift in front of the lens. Choose a spot with low winds to avoid blurry photos.
#3. Find a place with no waves
Waves can cause problems for cameras. They can knock over tripods and phones, and they can ruin lenses. Find a spot with no waves to prevent these issues.
#4. Bring a wide-angle lens
A wider angle lens lets you frame your subject better. For example, if you're shooting a sunset, a wide-angle lens will give you a longer depth of field. It means you can blur the background and still have a nice foreground.
#5. Take a photo every 30 minutes
You should probably take a photo every 30 minutes while on the beach. That way, you'll have plenty of photos to choose from later. Take a picture every 30 minutes and see what happens.
What Settings Should I Use for Beach Photography
When it comes to beach photography, you want to ensure that you take advantage of the natural light. However, since the sun can be quite bright, you need specific settings to get a well-focused image.
To reduce the amount of light entering your camera, try using a high ISO setting and long exposures. It will help keep your photos from being overexposed. Additionally, aperture f/32 and shutter speed 1/500 can be used when the sun is too bright.
If you're looking for some tips on how to take better portraits on the beach, then look no further! Be sure to dress your subject in light pastel colors for the most visibility in photos. And don't forget to capture those special moments with your child–they'll only be young once!
Beach Photography Settings
Taking photos at the beach can be a lot of fun, and with the right settings, you can capture some great shots. Here are some things to keep in mind:
You can select very fast shutter speeds when it's sunny to freeze the action.
There's a high chance of capturing people playing sports or surfing anytime during summer. So make sure your camera is ready!
The settings you should use for beach photography are:
High ISO (to compensate for low light).
Long exposure (for that dreamy effect).
Sports mode (to capture movement).
If you're dreaming of capturing waves or surfing, set your camera in High-Speed Continuous Shooting mode to capture consecutive movements.
It's best to use light colors for photographs on the beach – they'll pop against the background.
Be sure to bring various pastel colors for your clothing to maximize contrast in your photos.
And lastly, remember only to wear lightweight clothes when shooting on the beach – nothing will ruin a photo more than a gust of wind blowing away your clothes!
Final Thoughts    
So, there you have it, beach ideas for creating photos that will make an impact. Taking pictures of the beach and ocean has never been easier than it is right now. With smartphones becoming increasingly powerful, we can capture amazing shots from almost anywhere. So whether you want to share your favorite sunset snaps with your friends or post them online to show off your artistic talents, you will love the modern freedom technology gives us.
The key to capturing these moments is patience. Make sure you set aside plenty of time to explore the surrounding area, and don't rush through each shot. Instead, slow down and soak in the sights and sounds around you. When you're done, you'll have a collection of memories that will last a lifetime.