What do you look for when you go to the beach with your significant other? Do you go surfing or kayaking? Sandcastle building? All of these are fun, but if you want to do something a bit more romantic and fun, there must be some activities that you can do at the beach. It makes me wonder, what are some beach activities for couples on a date?
So, what are some beach activities for couples? In general, couples can choose relaxing activities like walking on the shore, walking on the boardwalk, or sitting down and watching the sunset. They can also do more active things like building a sandcastle, swimming or choose to do some beach sports like volleyball, playing frisbee catch, or going kayaking. 
Morning and evening on the beach can be romantic, watching the sunrise and sunset and drinking tea with your significant other. Finding something you both like is important; your partner may have a different taste, so try different activities with your partner until you have found the one you both like. Fun beach activities include volleyball, surfing, and cruising around the beach to check out the surrounding activities.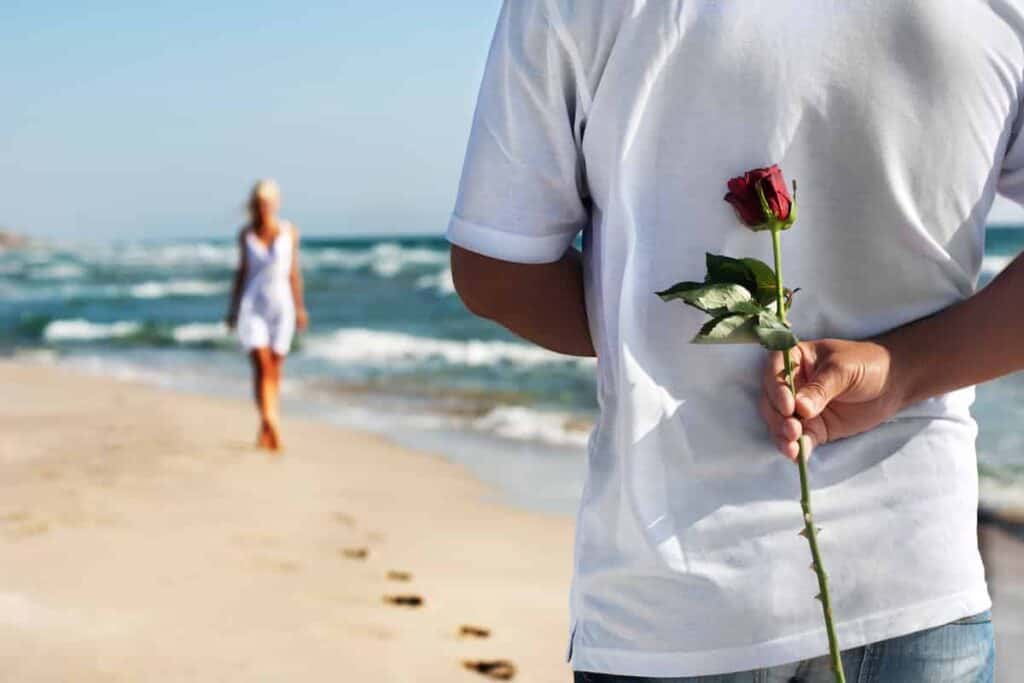 Looking for things to do on the beach with your significant other? If you and your partner have a few ideas already, here are several activities for couples to try. Do you like volleyball? You can both play together on teams. Long strolls on the beach? It's easy to plan. 
I'll cover these ideas and look at some scenario case profile examples. I will cover what Rick – a sporty 19-year-old, Erica – a 23-year-old marketing assistant who has recently started dating again, and Ben & Judy – a retired couple who loves the beach, decide to do at the beach together. 
Keep on reading, you won't want to miss it!
What Can Couples Do at The Beach? 
Some fun ideas for couples at the beach include sunbathing, swimming, playing in the sand, and taking romantic walks on the beach. You can also enjoy picnics, reading books, and listening to music. And if they want to take in the beautiful sunset or sunrise views, they can go for a walk along the beach.
Beach dates can be as laid-back and relaxing as you want them to be, or you can make them more adventurous by parasailing or jet skiing. If you're looking for something low-key, you could always listen to some music at sunset or read a book while waiting out the waves coming ashore.
Date ideas at the beach depending on your mood and what you want to do. If you're feeling active, swimming and playing in the waves might be just the thing. If you're looking for a more casual date, taking a walk along the shore or sitting in the sand watching the waves can be romantic. Some beaches even have restaurants and bars where you can get food or drinks without leaving the sand!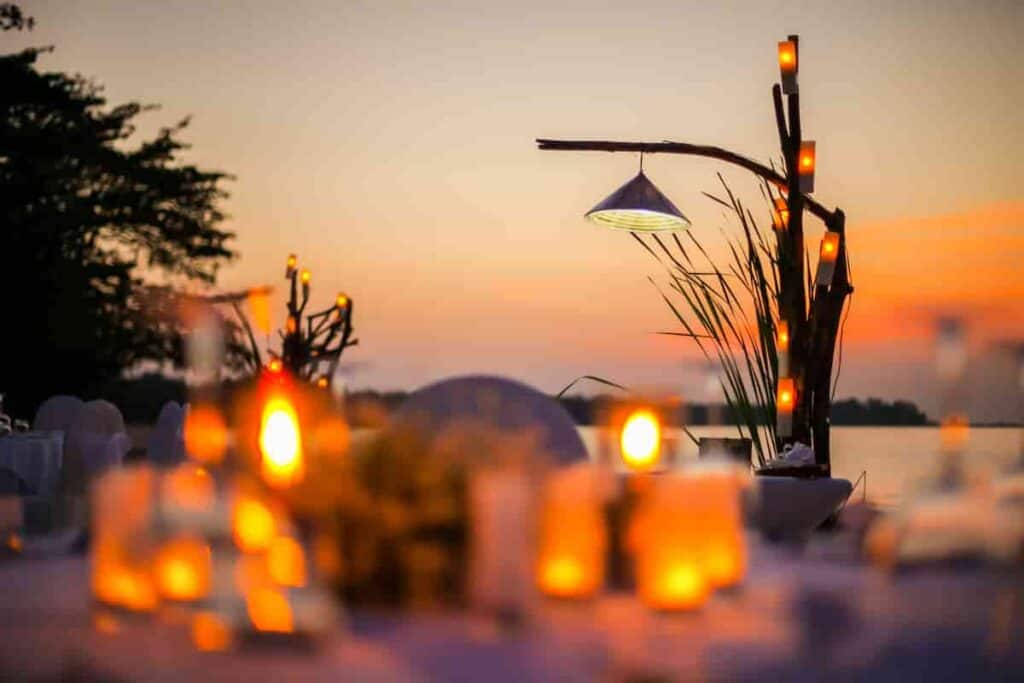 A Romantic Date
Some fun and romantic activities that couples can do on a beach date include taking a walk on the beach, building a sandcastle, swimming, playing games such as frisbee or volleyball, and eating a picnic dinner.
Some fun and romantic activities that couples can do on a beach date include:
Building a Sandcastle
Building sandcastles is a romantic activity and a great way to have fun together. Nowadays, building sandcastles on the beach is a popular activity for couples and dates. However, building sandcastles requires two people to work together as a team. They work together to build one sandcastle, and in the process, they gain a better understanding of each other.
Going for A Walk on The Beach
Going for a walk on the beach during a date can be a romantic experience for a couple. The ocean provides a beautiful backdrop for a date, and the sound of the waves crashing against the shore can be very soothing. The ocean also provides a great conversation starter for couples. Couples can talk about their past memories involving the ocean and learn more about each other's lives through their answers. Sharing personal stories with one another is a great way to develop a connection during the dating process.
Taking a Swim
Swimming on a date can be an interesting experience for a couple. Swimming together can have a couple of benefits. For one, swimming can be a good workout for the couple. Some advance planning is necessary for this (change of clothes, time of day, etc)
Having a Picnic
Having a picnic during a date can be a romantic gesture. Placing a blanket on the ground and laying out food can be the perfect date idea. However, you must make sure that your date likes picnics before you ask them out for one. Picnics take a lot of time to set up and clean up. If your date is busy or doesn't like spending time outdoors, they might not be up for a date with a messy picnic.
Watching the Sunset
Sunsets are beautiful and serene, and watching them with someone you love is really romantic. The colors of the sky change as the sun goes down and the moon comes up, and it's a beautiful sight to see. Watching the sunset from a romantic location such as a park or the beach allows couples to spend quality time with one another and appreciate the beauty in the world.
Activities Couples Can Do At The Beach On An Activity or Sports Date
If you're looking for something different than just sitting by the pool or going out to dinner, consider doing an activity or sports date. It can be as simple as going for a bike ride or walking through the park. It can also be more adventurous, such as kayaking, rock climbing, or hiking. You can find many different things to do at the beach, whether you're looking for a relaxing day or something more active. 
Some fun couples beach activities or sports date ideas include:
Playing Beach Volleyball
Playing beach volleyball during a date is perfect if your date is athletic and likes to stay physically active. Playing beach volleyball during a date can be an unpredictable experience. If your partner is a skilled player, she can easily win the match. If your partner is not a skilled player, then she can easily lose the match as well. Either way, it still makes for a fun date!
Playing Frisbee Catch or Frisbee Golf
A Frisbee is a fun way to pass the time during a date. It can help break the ice and allow you to get to know each other better. Plus, throwing and catching a Frisbee is an enjoyable activity in and of itself.
Rent Bicycles and Ride Along the Coast
When going on dates, many people like to go somewhere expensive or fancy to impress their date. However, if you and your date are feeling adventurous, try renting a bicycle and riding along the coast! This date idea will give both of you the chance to enjoy the outdoors while getting to know each other. It's also a great way to get some exercise!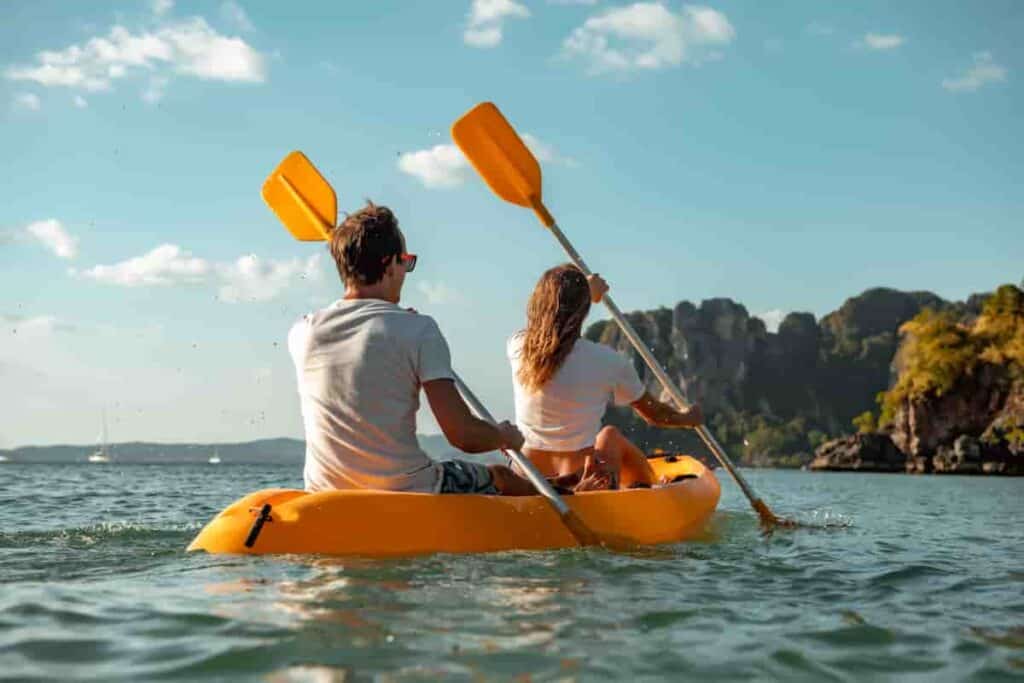 Rent a Kayak and Go Kayak Together
Kayaking together can be a great way to spend time with your partner. You can explore new places and chat about your day together while paddling around on the water. This can be a relaxing and romantic date that you'll never forget! Renting a kayak is easy and can be great exercise as long as you wear some sunscreen and stay hydrated. 
How Rick Likes to Spend A Date On The Beach With His Girlfriend
Rick has a busy college schedule with sports, part-time jobs, and other commitments. Beach culture is important to him, so he decides to go on a double date with his girlfriend to the beach. Rick:
-Chooses to do some long walks instead of water sports.
-Leaves his swimming gear at home and decides not to sweat over not taking his sports gear.
-Packs lots of water, sunscreen, and snacks. 
He is off to the beach in style with his girlfriend.
What Should I Take to A Beach Date?
If you're going on a beach date, you'll want to bring a few essentials. Sunscreen, a hat, and shades are a must, and you'll also want to bring a light jacket or shawl in case it gets cool at night. And of course, don't forget to pack a swimsuit and beach towel!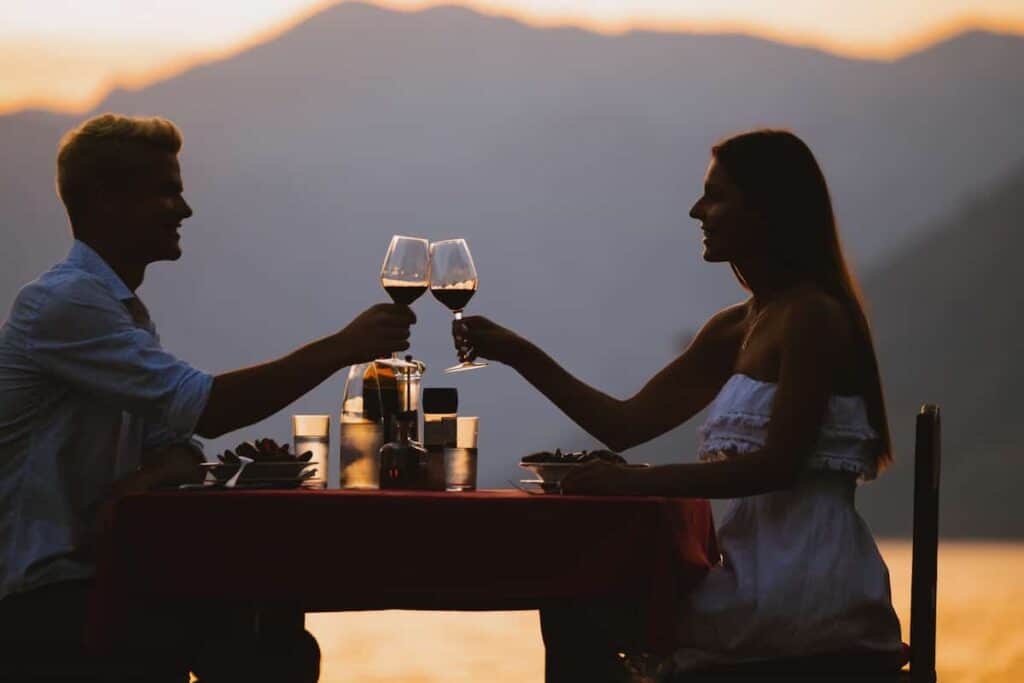 What Does a Beach Date Mean?
 A beach date usually means a romantic outing, usually involving dinner and drinks, at a beachfront location.
There's no doubt that the beach is a romantic setting. It's the perfect place to take your date and enjoy some activities together. Whether you're looking for a place to go for a casual stroll or want to do something more active, the beach has plenty to offer.
And if you're lucky enough to have a winter beach date, all the better! These dates are often underrated, but they can be just as special as any other year. Plus, it's a great way to get cozy and explore everything the beach offers.
When people think of a beach date, the first thing that comes to mind is relaxation and spending time with their partner. It's the perfect opportunity to get away from the hustle and bustle of everyday life and enjoy each other's company. However, there are many different ways to enjoy a beach date, depending on what you're looking for.
What is Erica's Idea of a First Date on the Beach?
So Erica is a 23-year-old marketing assistant who likes the beach and spending time with her friends. She is single and likes to go out sometimes. She has had a couple of boyfriends but has been single for some time.
Erica likes to meet new people and wants to travel and enjoy things while she is young. So if she sits down to think about how to have fun on a date, she would like to meet someone and enjoy people at the beach. She gets excited and thinks that the first date on the beach is a great idea. She decides quickly and has a positive view of it.
The day has arrived, and she is being asked what she wants to do at the beach. Erica wants an activity that gives her energy and excitement and suggests beach volleyball would be a good option. She does not like to be rushed, so a date that lasts from afternoon to evening is good with dinner at the end. The date is confirmed!
Ask a Few Questions About the Plan for The Date
 If you're considering a beach date, it's important to ask your potential partner a few questions about what they would like to do. For example, if they have any allergies that might be aggravated by sand mites or the sun, you'll want to plan accordingly.
A long romantic walk on the beach is a great option for couples who want to take in the views and relax together. However, if your date has any allergies, it's best to avoid sand altogether and find an outdoor activity that will be more comfortable for them. There are many other fun activities to enjoy at the beach, such as swimming, surfing, or simply finding a quiet spot to relax!
A romantic walk on the beach is perfect for a beach date with your partner. This type of date involves strolling along the beach while chatting and taking in the views of the ocean. It's a more relaxed way to spend some time with your partner and get to know them better. During this type of date, you can ask fun questions that will help you learn more about one another's interests and personality traits.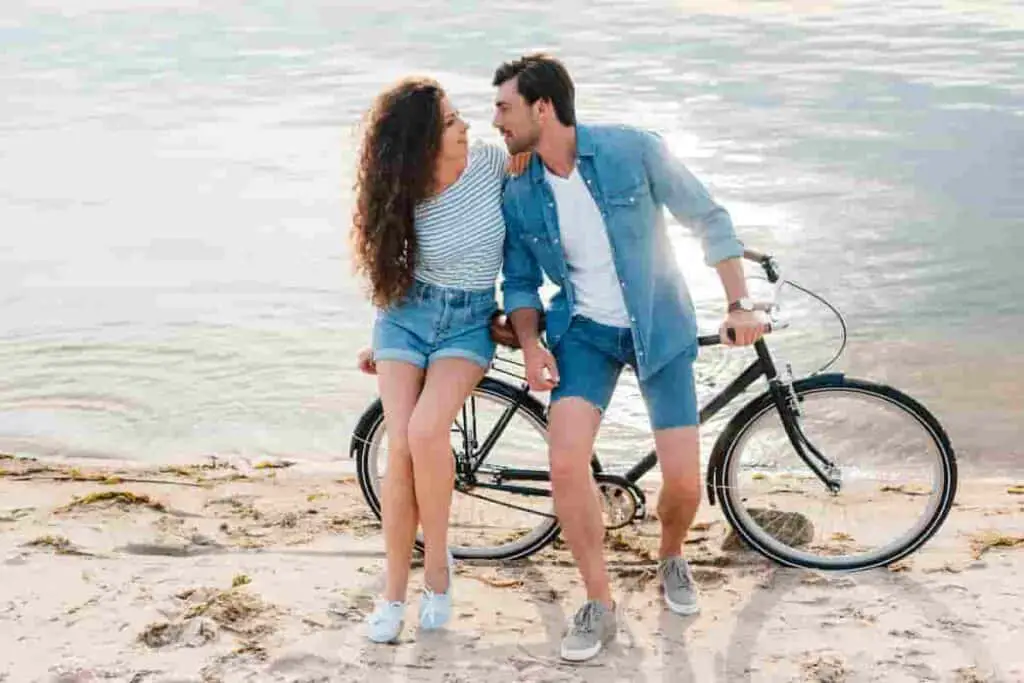 What Are Some Romantic Ideas to Do at The Beach? Beach Date Ideas
 The beach is the perfect place to relax and get away from it. It's also a great place to have fun and enjoy some quality time with your significant other. If you're looking for some romantic ideas on what to do, here are a few suggestions:
Walk Along The Beach Boardwalk
This is the perfect place to spend a romantic evening with your date. You can stroll along the boards holding hands while gazing out at the ocean waves rolling in. The salty air is refreshing and the soothing sound of the waves crashing on the beach relaxes you and your date. Your date will love watching the sunset and the moon rise over the sea as you walk along the beach boardwalk together.
Hunt for Seashells
Going on A Hunt for Seashells While on A Date Can Make for A Romantic and Adventurous Outing, Much More Active than Just Walking Together on The Beach. Seashell Hunting Provides Plenty of Opportunities for Conversation and Bonding and It's Something that People Can Continue Together for Many Years. Seashells Are Beautiful to Look at And Can Hold Memories of When They Were Discovered and From Which Beach.
Visit the Tidepools  
The Tidepools Are Home to Many Different Kinds of Sea Life. They Are Full of Beautiful Creatures that Are Fascinating to See up Close and In Person. the Tidepools Are One of The Best Places for People to Go when They Want a Relaxing Date. Taking a Walk on The Beach with A Loved One and Observing the Different Sea Creatures Is a Great Way to Spend an Afternoon Together. the Tidepools Are Peaceful and Relaxing Places to Be and Are Perfect for Couples Who Want to Spend Quality Time Together.
Light Candles on The Rock Cliffs  
The Rock Cliffs and The Sea Are Two of The Most Romantic Places in The World to Spend Time with One's Date. While a Date Could Be Spent in A Wide Variety of Places, Nothing Beats the Atmosphere that Is Created by The Sea and Cliffs. for This Reason, Lighting Candles on The Cliffs During a Date Is Always a Good Idea. This Will Provide a Relaxed Atmosphere for The Date that Is Bound to Be Romantic and Memorable.
Have a Glass of Wine at A Beach Cafe 
The Beach Cafe Is the Perfect Place to Enjoy a Glass of Wine with A Significant Other. Sitting in The Sand and Looking out At the Water Makes for A Relaxing Date. the Sounds of The Waves Crashing on The Shore and The Smell of The Salty Air Create a Romantic Atmosphere that Is Perfect for Two People in Love. the Beach Cafe Is Also a Great Place to Enjoy a Meal.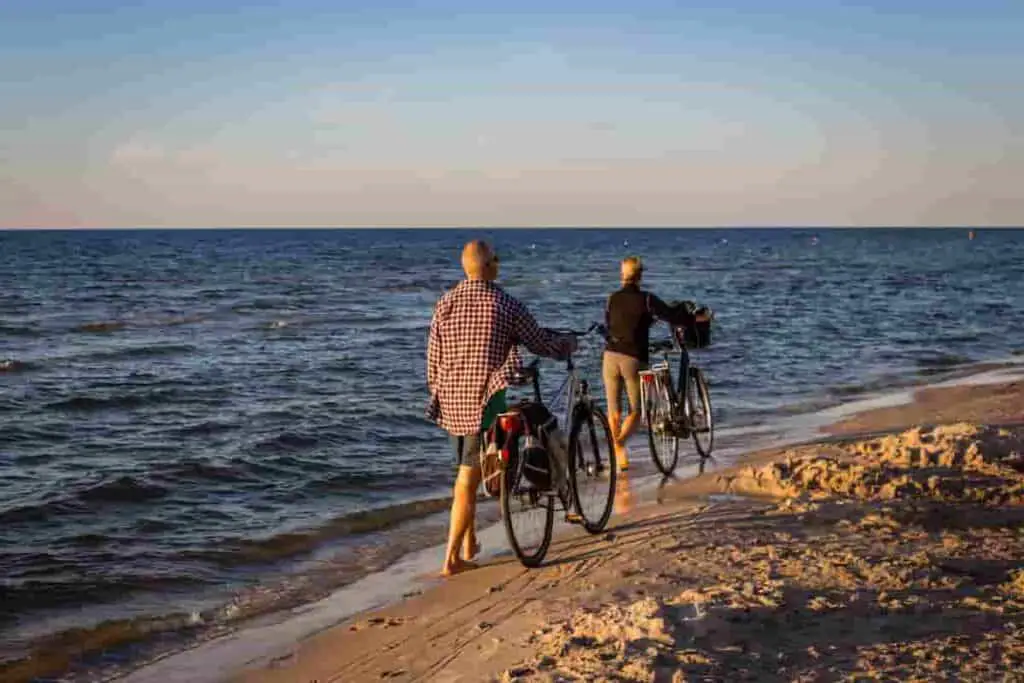 What Are Good Ideas for First Dates
Some good ideas for first dates at the beach are going for a walk, having a picnic, playing some games, or swimming. Basically any of the ideas written about above can work for first dates, but make sure your date is interested in the activity.
When it comes to first dates, there are a lot of different opinions on what's the best way to go. Some people think that dinner and a movie are the way to go, while others believe in something more adventurous. If you're looking for some good ideas for first dates at the beach, look no further! These activities will help set the mood and get you two off to a great start.
If you're feeling romantic, why not share a sunset? Watching the sun dip below the horizon is a beautiful experience and one that can be shared with your date. If you're looking for something more active, consider going on a nature hike. There's nothing quite like exploring new territory with someone you love. Or, if you want to relax and spend time with your partner, take them to the beach and enjoy some quiet conversation under the stars.
Prepare for The Weather in Case It Gets Cold
One of the things you need to consider when going to the beach is the weather. The last thing you want is for it to rain or for it to get cold at night. This article will provide tips on protecting yourself and your date from the rain or cold.
You can do some things to ensure that you and your date will have a good time, even if it gets too cold outside.
For example, if it looks like it might rain, make sure you have an umbrella. You can also take precautions against the cold by wearing warm clothes. And if it does get really cold, don't worry – there are plenty of places near the beach where you can go inside and stay warm!
Nobody wants to spend their romantic beach getaway huddled up in a cold, wet blanket. 
That's why it's important to be prepared for the weather if it gets cold in the evening. Here are a few tips to help you out:
– Bring a heavy coat or jacket to keep warm.
– If it starts raining, make sure to have an umbrella or poncho handy.
– Dress in layers so that you can adjust your temperature as needed.
– Pack some snacks and drinks, so you don't have to leave the beach if you get hungry or thirsty.
– Check for coupons or discounts before booking a trip to keep this activity fun and cheap!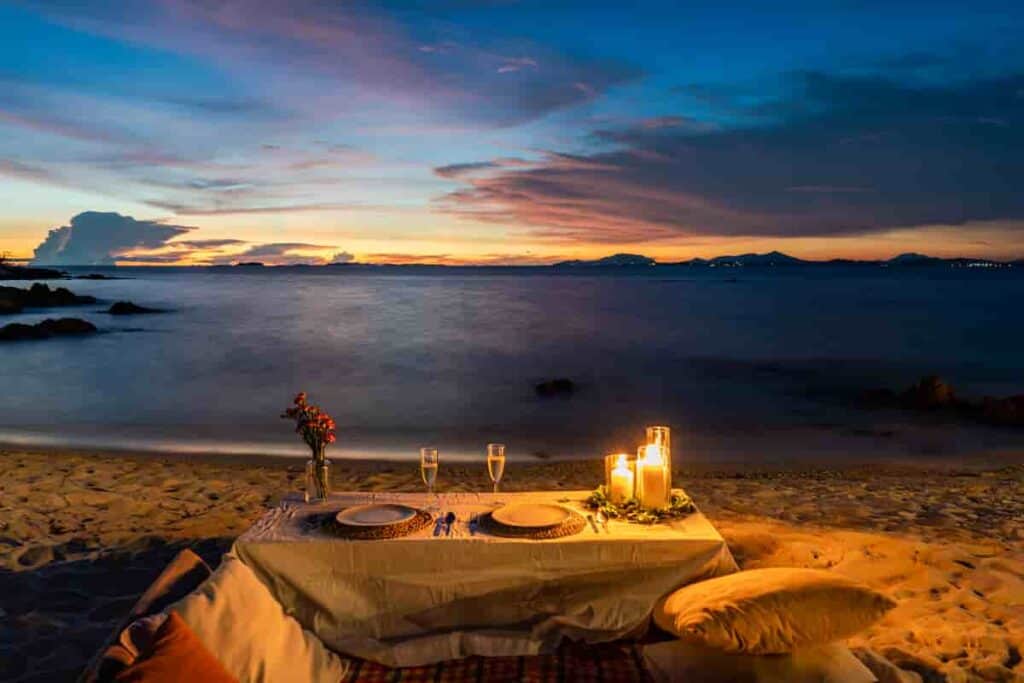 What Do Ben and Judy Do as a Couple at The Beach?
Let's take the case of Ben and Judy. They are a married couple in their early 60s who retired early and traveled a lot in retirement. They have a good idea of some beaches worldwide that they like to visit from traveling a lot. They enjoy spending time at the beach with one another on their "couples vacation." However, they want to know what activities to do right on the beach, in the evening, on a couple's vacation.
Ben and Judy would be thinking about planning their day on the beach and evening activities around looking at buildings, museums, monuments, and beaches in the area they are visiting. Their afternoon can be spent looking at the interesting sights and activities nearby.
They will want to have some adult beverages in the evening and enjoy dinner together. They will also want to decide together what to order for dinner. Maybe they will order appetizers or perhaps share an appetizer like crab dip. Then, they will choose main courses, which could include steak or sushi for them.
Final Thoughts    
There you have it, a few ideas for beach activities for couples. What to take to the beach on a date night and what romantic things you can do on the beach have been covered. For your next date night, try to take these ideas and apply them to your situation. The best thing you can do for dating is to have a good plan and then move to implement it.