I love going to the beach, but packing for a trip to the beach can be a daunting task. Usually, it's too hot to bring a lot of clothing. Also, if I plan to do some sports or try kayaking, what clothes should I wear then? It makes me wonder, what do you pack for a trip to the beach?
The essential things to take are a hat, sunglasses, sunscreen, a towel, flip-flops or sandals, and a swimsuit. After those basic items, it is best to match what activity you will do on the beach. If doing water sports, take the sports equipment you need. If focusing on relaxing, take a beach blanket, a cooler with refreshments, and some snacks. 
Being ready for a beach day means having the right gear. You should be prepared for the day, whether for surfing, swimming or just relaxing. If you are going surfing, you will need to bring towels, sunscreen, sunglasses, nose plugs, rash guards, and board shorts. For swimming, you will need towels, water toys, and beach towels. Don't forget to pack essentials like sunscreen, sunglasses, and water for a relaxing vacation.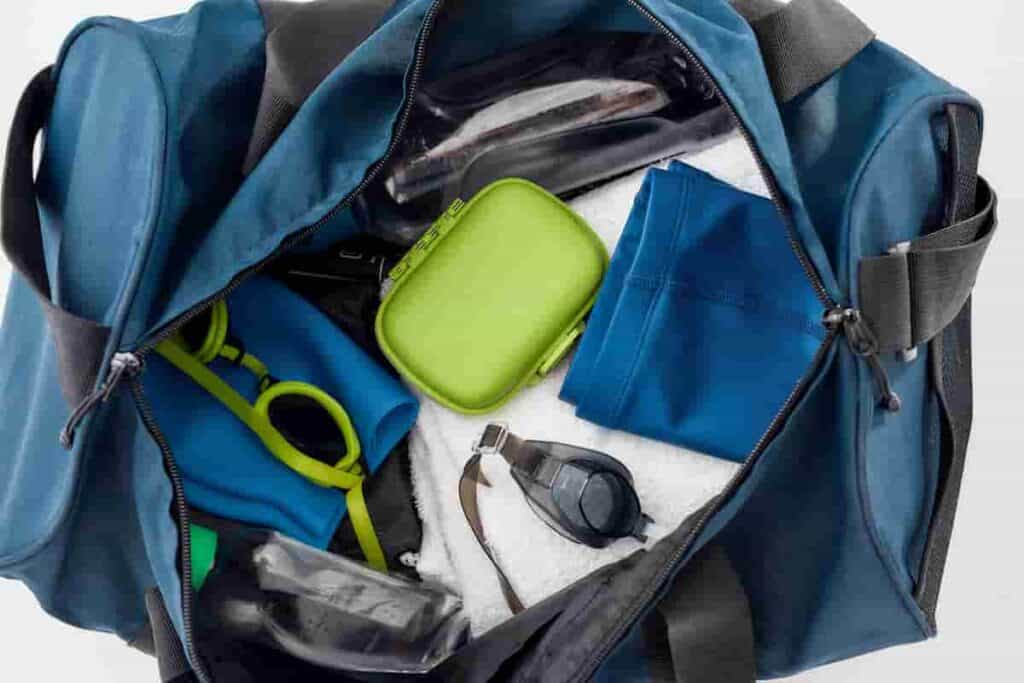 I'll also cover some scenario examples of what Erica (23-year-old), Rick (a sporty 19-year-old), and Sara, Jake, and family (with two kids) decide to take for their beach day. Perhaps you can relate to one of them, and they inspire you to do the same.
So let's take a closer look at what to bring for a one-day beach trip. With all these items to consider, let's look at what items you need to pack for a day at the beach. I'll cover these items and more. Keep on reading! You don't want to miss it!
What Should I Take To The Beach? – The Essentials
The following tips will help you pack for a day at the beach. It would help if you tried to take as little as possible with you, as there's always a chance that something may get wet or stolen. Secondly, pack electronics and food sparingly; neither are resistant to water or theft. And finally, be mindful of what shoes you wear–flip-flops might be the most comfortable option, but they're also the most likely to attract bugs and flies.
A-List of the Essential – The Beach Packing List Items
If you're looking for an enjoyable day at the beach, pack accordingly! Here's an essential list:
Sunscreen
Sunscreen – Don't forget the sunscreen! Even though you're spending most of your time in the shade, you still need to protect yourself from harmful rays.
Hat
A hat protects your head from the harmful rays of the sun.
Sunglasses
Sunglasses block out UV radiation, which causes eye strain and cataracts.
Beach Umbrella
If you have bought a beach umbrella, it can make your one-day beach trip pleasant. It's a stretch to carry a heavy umbrella far. However, if you can drive and park close to the beach, it may be worth it. I wrote an article all about anchoring a beach umbrella. Please read it here: UMBRELLA Blogpost here.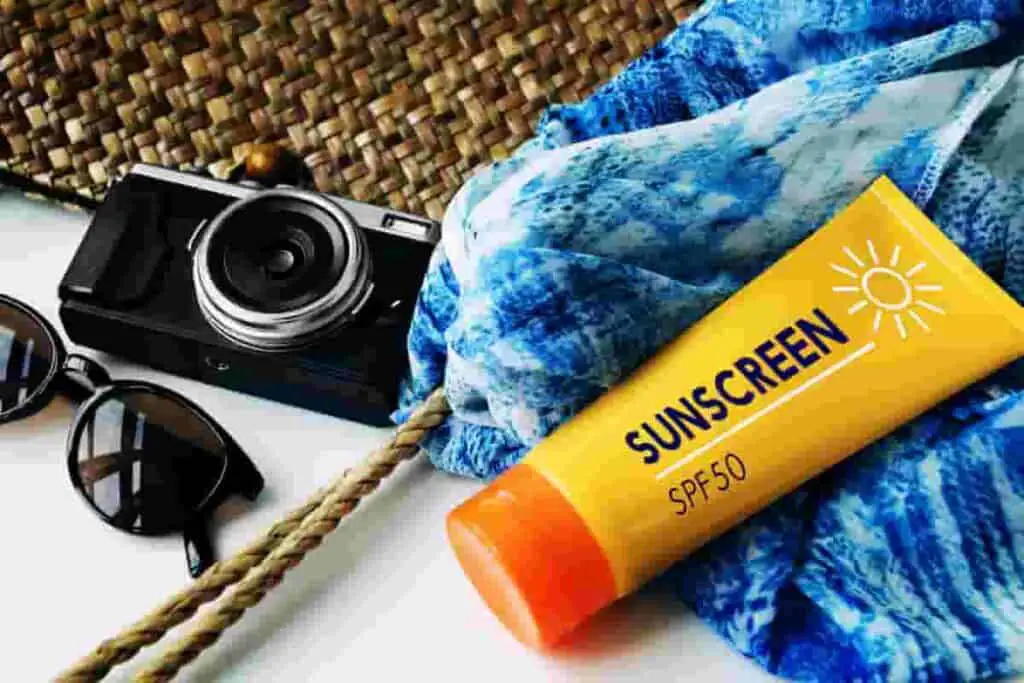 Towel
Towel: Bring a towel to sit on and even lay down if you feel tired.
Sandals
Sandals: Sandals are comfortable and can provide traction on wet surfaces. Plus, they add a little style to your outfit.
Swimsuit
When packing for the beach, one of the most important items you'll need to bring is a swimsuit. It's best to have at least two different swimsuits to always have a dry one on hand.
Beach blanket
A beach blanket is essential for a trip to the beach. It can be used as a seat, a cover-up, or a place to put your things. The Yeti Lowlands Blanket is an item that multiplies its uses beyond the mere beach, such as camping and fishing on wet ground, or simply at home when bundled with a snuggle friend!
Shop now for the perfect beach blanket.
Towel
What should you take to the beach? Well, one essential item is a towel! Towel – Bring a towel to sit on, and maybe even lay down if you feel tired.
Shoes that Can Get Wet
Water shoes are convenient because they dry quickly after a swim, grip well, and don't collect sand. They come in a variety of styles, such as slip-on and sneakers. You can also find them with or without socks.
What About Food, Drink, and Snacks?
Food, drink, and snacks are a big part of the festival experience, and there are plenty of options to choose from. You can find everything from pizza and hot dogs to funnel cakes and ice cream.
Beach snacks are essential to a good day by the ocean.
Bring fresh cut fruit, veggies and dip, chips and salsa, sandwiches, deviled eggs, pretzels, and cookies.
Don't forget the lemonade, soda, and canned beer!
Stick ice packs in the freezer the night before!
Food, drink, and snacks are all important for a good day by the ocean. It's best to bring a lot of fruit, chips and salsa, sandwiches, deviled eggs, pretzels, and cookies when visiting the beach. Ice packs are also essential for keeping cool on hot days at the shoreline.
Try to avoid drinks in single-use plastics. Try sparkling water instead if you're having trouble kicking a soda habit! Aluminum is the best material to recycle out of any drinkable plastic product.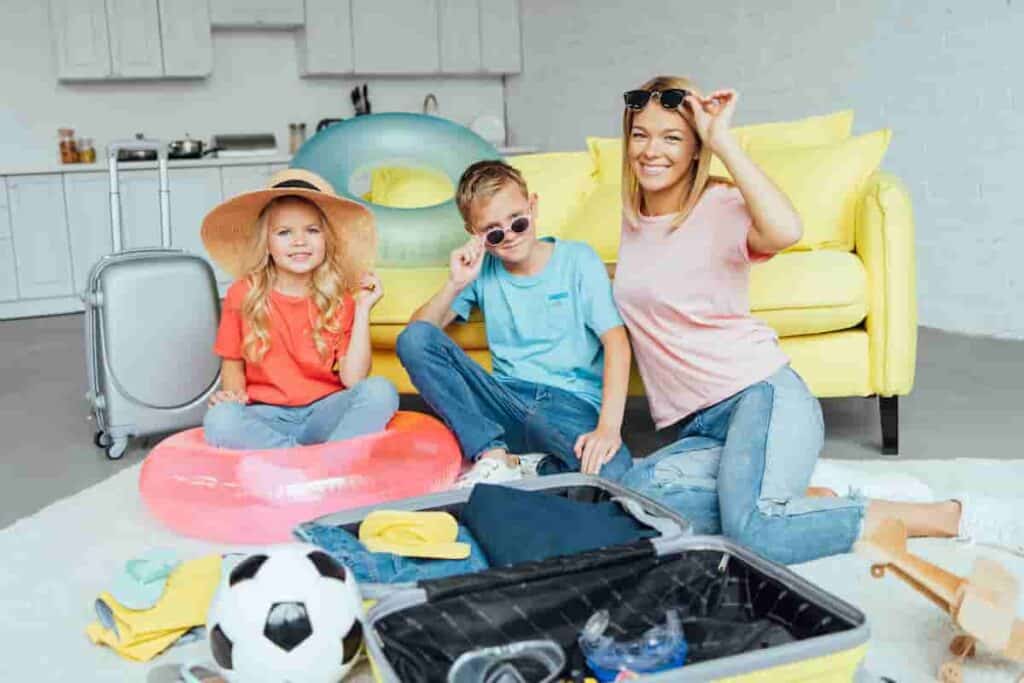 Why Do I Need All These Things for a Day at the Beach?
When packing for a day at the beach, it's important to bring along all essentials. A beach bag or backpack is a good idea to carry everything, and extra layers, water shoes, sun hats, sunglasses, and sunscreen are all recommended items to bring along with you on your trip. For convenience, food and drinks should be stored in coolers or insulated bags when not near a refrigerator or running water.
Avoid bringing heavy wet clothes into the car since it will make an uncomfortable ride home from the beach! I have witnessed pickpockets in action on the metro multiple times in busy cities with beaches. When you're heading to the beach, it's best not to take any chances. This anti-theft backpack will give you an edge over thieves.
A stylish beach bag is a must for any summer vacation! The beach bag is a practical and affordable option for carrying items to the beach. A sports bag is a lightweight, waterproof bag with arms that allows you to carry heavy objects like towels, umbrellas, and even surfboards without strain on your back or shoulders.
What Would Erica Take to The Beach for A Day Trip? 
Let's use Erica as an example. She is 23 years old and enjoys spending time with her friends. She is single, quite content with her daily life, and is not looking for a relationship. She decides to take two beach towels, maybe a sundress or sun-protective clothing, and sunglasses for the beach.
Depending on the weather and how many people are around, she decides to do sports on the beach, maybe volleyball or frisbee. She chooses the sunscreen she will also use at the beach. Her friend Elsa might decide to bring a book and possibly something to drink. The most interesting thing for Elsa is reading a book on the beach.
Matching Activities With Things You Bring to the Beach
One of the best things about going to the beach is that so many activities keep you busy! However, it can be hard to know what to bring with you if you're unsure what activities you'll be doing. Here are some ideas for matching activities with the items you might want to bring with you: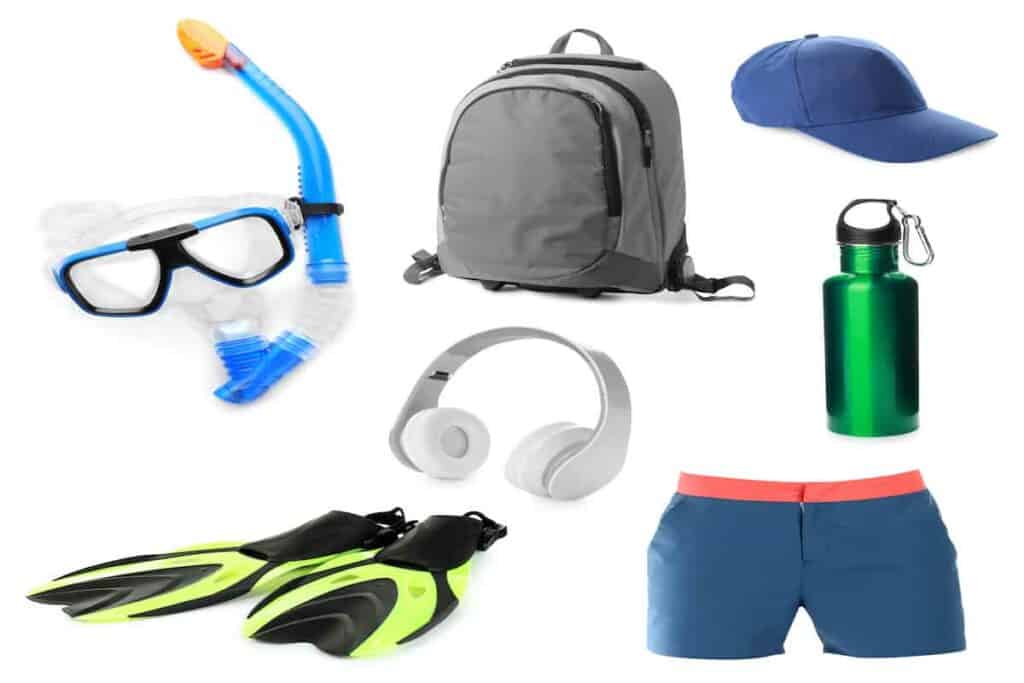 —Bring your swimsuit and sunscreen if you're going swimming.
—Pack a shovel and a bucket for your children if they are going to play in the sand.
—If you're going to ride bikes or go for a walk, bring your sneakers and water bottle.
—Sunscreen, a towel, and sunglasses are all necessary when you want to sunbathe.
—No matter what activity you choose, make sure to pack plenty of water and snacks!
What Does Rick Take As He Tries Kayaking For The First Time?
Rick is going to the beach with a few friends. He is looking forward to the day at the beach since he is there so often, and he likes to stay active when at the beach. What things would he take with him? The beach is a year-round destination, so he should bring all the needed things. Sun protection is crucial, and sunscreen, sunglasses, and clothes are important. Also important are clothes that dry quickly and a towel that dries quickly, so it isn't soggy after a short time stretched out on the beach.
Rick decides to try kayaking for the first time so that he might rent a kayak. Since he will be out in the sun, he will take sunscreen, sunglasses, and clothing that can dry quickly. If he rents a kayak, he will want to be sure that it has some protection from the elements. He decided he would rather go out on a kayak or swim in the ocean than sit on the beach today.
When to Prepare – How Much Advance Time is Needed?
Advance time should ensure that you have all the necessary supplies.
You must be familiar with the terrain and weather conditions in the area you'll be visiting.
If you're not, do some research ahead of time to know what to expect.
One thing is for sure: if you're not prepared, your trip will not go as smoothly as planned.
How to Carry These Beach Items? Bag, Sports bag, and Backpack Ideas
There are a few different ways to carry your beach items, depending on what you have and prefer. A bag is a good option if you want to carry many items, while a sports bag or backpack is better to keep your hands free.
The Backpack, Bags, and Sports bags
Beach season is here! The weather is warm, the sand is soft, and the water is inviting. But what about carrying all your stuff with you? It's not always easy to carry everything you need to enjoy the beach.
Use a Backpack – Use a backpack. If you want to carry more than one item, consider using a backpack instead of a beach bag.
Backpacks come in all shapes and sizes, and some even offer back support for really heavy loads. It's best to choose one that is not too big, but rather compact and lightweight, so they are comfortable to carry. 
Bring a Beach Bag 
A beach bag is a small bag that you can use to store your belongings.
A beach bag is useful for storing clothing, towels, sunscreen, and any other items you may need to take to the beach. It is not as comfortable to carry things like a backpack.
For refreshments, consider picking up a cooler bag. It keeps your drinks cold and snacks fresh, but it doubles as an extra layer of protection against pickpockets. Many cooler bags feature water-resistant or waterproof construction, so your items will be safe even if they get wet.
Finally, for those who intend to do watersports or a sports activity on the beach like volleyball, why not get a sports bag? It can easily store an extra set of clothes and shoes, and there is room for water and extra sunscreen. 
The Food Cooler for Food and Drinks
If you're looking for an all-in-one solution, consider picking up a cooler bag. It keeps your drinks cold and snacks fresh, but it doubles as an extra layer of protection against pickpockets. Many cooler bags feature water-resistant or waterproof construction, so your items will be safe even if they get wet.
Investing in a cooler bag is a good idea:
—because it'll keep drinks cold for a longer period
—you can use a bag or a dry bag to carry drinks, snacks, and sunscreen
—these bags are waterproof and will protect your items from the sun
—the Marchway Waterproof Bag floats on the water, and if it ends up in the water, your items won't be harmed
What Does Sara And Jake's Family Take To The Beach And How?
As a family, Sara and Jake love the beach. They have two children, aged 7 and 9 years old. They plan their vacations around the sun and waves, and they try to make plans that involve many days at the beach. This family has decided to try to take small one or two-day beach trips as a family unit. The next step is deciding what to take for this day trip to the beach.
Sara needs to decide between packing lots of toys and activities and choosing light, comfortable clothes. The beach has sand, so sand toys are a must. There are comfortable clothes for playing in the water, and Sara needs to pack for sun, wind, and anything else they might encounter just for being at the beach.
To carry all these things she needs, she chooses a large backpack. It's her go-to backpack because she knows that her valuables and belongings will be safe and sound.
Final Thoughts      
So, there you have it, some tips about packing for a day at the beach. I've covered what to take with you, how to match activities with items you bring to the beach, and how to carry everything with you. Take these tips and apply them to your situation for your next beach trip. The best thing you can do to pack for a day at the beach is a good plan and then get moving to implement it.