Spring is the perfect time to begin planning for the beach house decor you've been dreaming of all winter long. Some beach house decor is classic and timeless and can be applied to any home style or color scheme. Other beach house decor is a bit more trendy and seasonal and may only work for a few months out of the year. Either way, with a little imagination, you can create the beach house decor of your dreams no matter what time of year it is. It makes me wonder, what home decor styles are used to decorate a beach house in the Spring?
So, what represents Spring season beach house decor? The light and airy decor are perfect for welcoming the sun inside and brightening up the mood for springtime! Pastel colors like baby blue and blush tones are all the rage for springtime interior design. Bright blue and coral also work.
Flowers and plants like azaleas, hydrangeas, daffodils, and tulips bloom during Spring. Spring blooms can brighten up your home decorating scheme and add a refreshing look to your interior design. Spring flowers can improve your mood and add color to your home decor. You can use spring flowers in your home decor in many creative ways. You can incorporate spring flowers into your home decor in vases, centerpieces, and flower arrangements.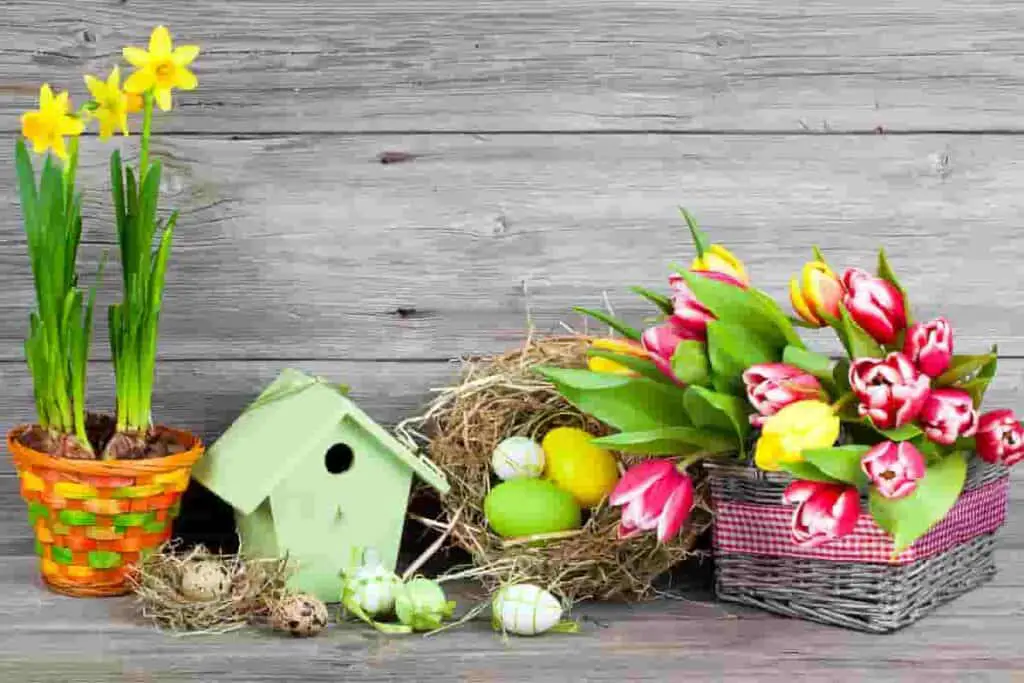 There is so much you can do to get your beach house ready for Spring. I'll cover lots of these topics. Keep on reading. You won't want to miss it! 
How Do You Decorate for Spring
There are many different ways to decorate your home for the spring season. You can add fresh flowers, paint your walls a new color or hang some coastal-themed art. If you're looking for a quick and easy way to give your home a beachy feel, try using seashell planters as accents.
What to Do Before You Start Decorating Your Beach House for Spring?
Some things you may want to do before you start decorating your beach house for Spring include:
– Declutter: Get rid of unnecessary items and make space for new decorations.
– Clean: Clean all surfaces and windows to let in the springtime sun.
– Paint: A new coat of paint can brighten up any room.
– Add Plants: Plants bring life and color to any space.
Another thing to do before you start decorating is to choose the right colors. Many people choose bright colors like pink, yellow and green for Spring, but you can also go with more subtle colors like blues and grays.
Finally, it's best to start decorating 3-4 weeks before Easter. It will give you enough time to add all of your decorations and enjoy them throughout the spring season! If it is past Easter, no worries. These ideas are also fine going into the summer season.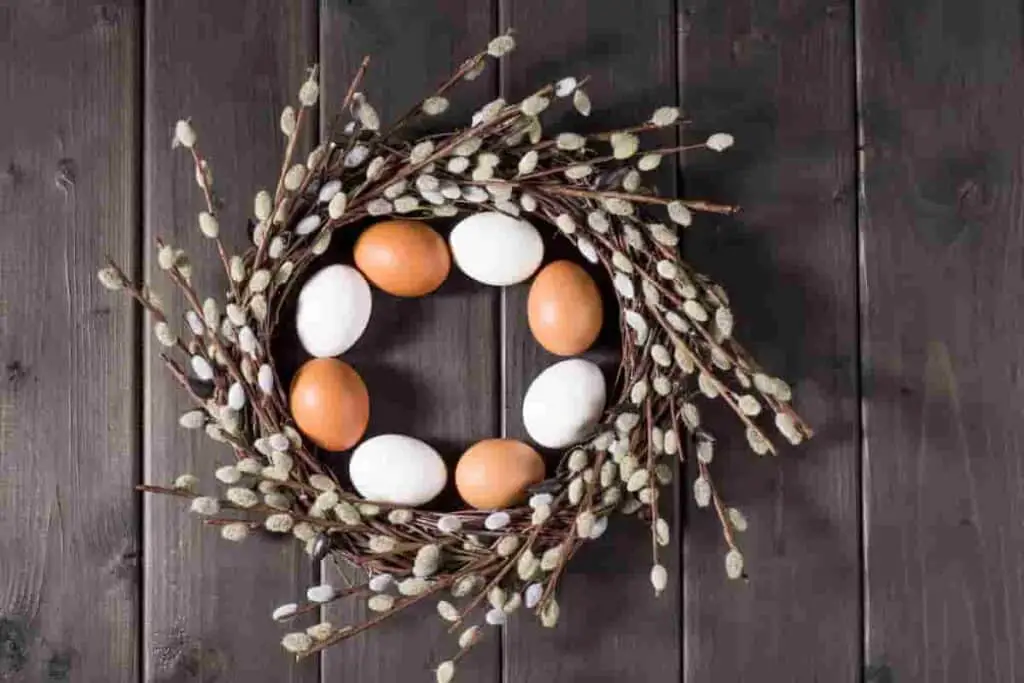 How Do I Make My House Feel Like Spring
One way to make your house feel like Spring is to add pops of color in your living room, patio or kitchen. It can be done with flowers, plants, or even a colorful throw pillow. You can also open the windows to let in some fresh air and sunshine.
Here are three Pro-Tip ideas that might resonate with you:
1) Hang a fresh wreath on the front door and porch to welcome guests into your home on the first warm day of Spring.
2) Replace heavier curtains with light, airy curtains to give your house a fresh feel.
3) Fill vases with fresh flowers, or arrange branches in a vase for a natural touch of Spring.
Beach House Spring Decoration Ideas 2022
One of the most popular trends right now is the modern coastal decor. This style incorporates elements of both coastal and modern design, resulting in a relaxed and elegant look. If you're interested in giving it a try, start by adding some blue and white accents to your space. Pillows, furniture, and artwork are all great places to start.
Another popular trend this season is boho beach house decor. This style combines rustic elements with a laid-back coastal vibe, creating a unique and eclectic look. If you're drawn to this style, consider using natural materials like wood and wicker in your décor. And don't forget about accessories – colorful rugs, pillows, and vases can add personality to any room.
Finally, you can also consider using coastal artwork as part of your décor scheme. Seashells, coral reefs, and other ocean-inspired images can bring the beach indoors. So why not give one of these styles a try? With a little bit of creativity, the Spring and summer of 2022 will look completely new.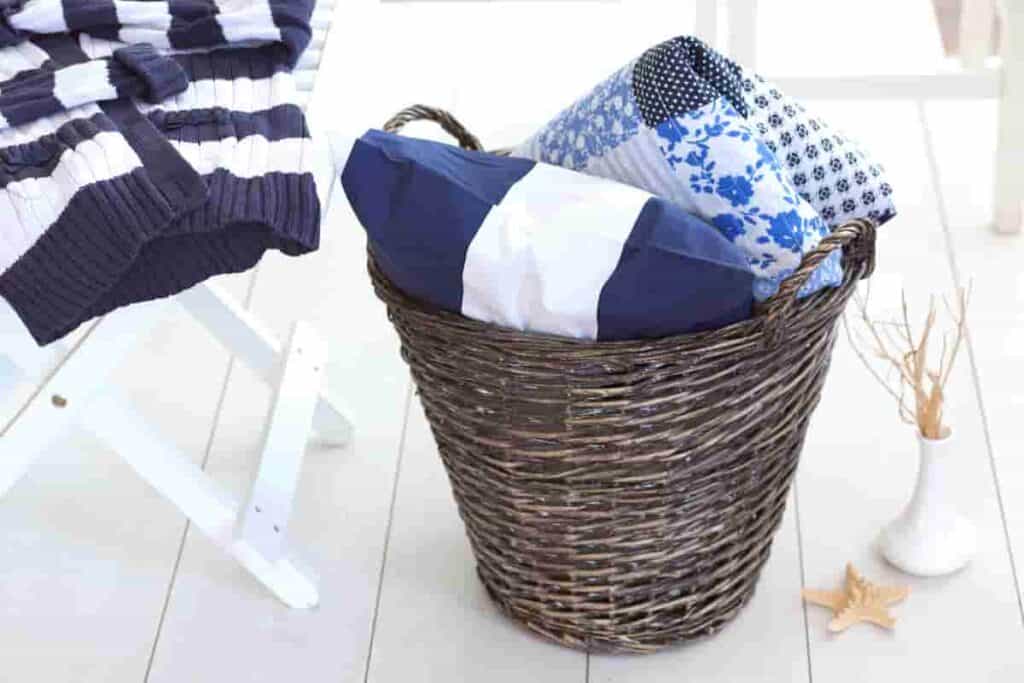 What Are Spring Colors – for Your Beach House?
Some spring colors that would be perfect for your beach house are light blues, greens, and yellows. These colors will help to brighten up your home and create a cheerful atmosphere.
Some people might prefer light and airy colors for their beach house during the springtime, while others might want something more bright and bold. The great thing about Spring is that there are so many different options! You can go with soft pinks or cheerful yellows, cool blues, or warm oranges. It's all up to you.
How Do You Decorate for Easter
There are many different ways to decorate your home for Easter. You can use traditional Easter colors, like yellow and pastel pink, or go with a more coastal look combining those pastels with blues and whites. 
One of the best things about decorating for Easter is using the decorations year after year. So if you want to change up your look, it's easy to do! And don't forget about the kids – they'll love helping you decorate and will be excited to see the finished product.
Some fun Easter decorating ideas include:
– Dying eggs in different colors and designs
– Creating an Easter scavenger hunt
– Making a giant Easter egg
– Setting up a candy buffet
– Decorating your beach home with Easter bunnies and chicks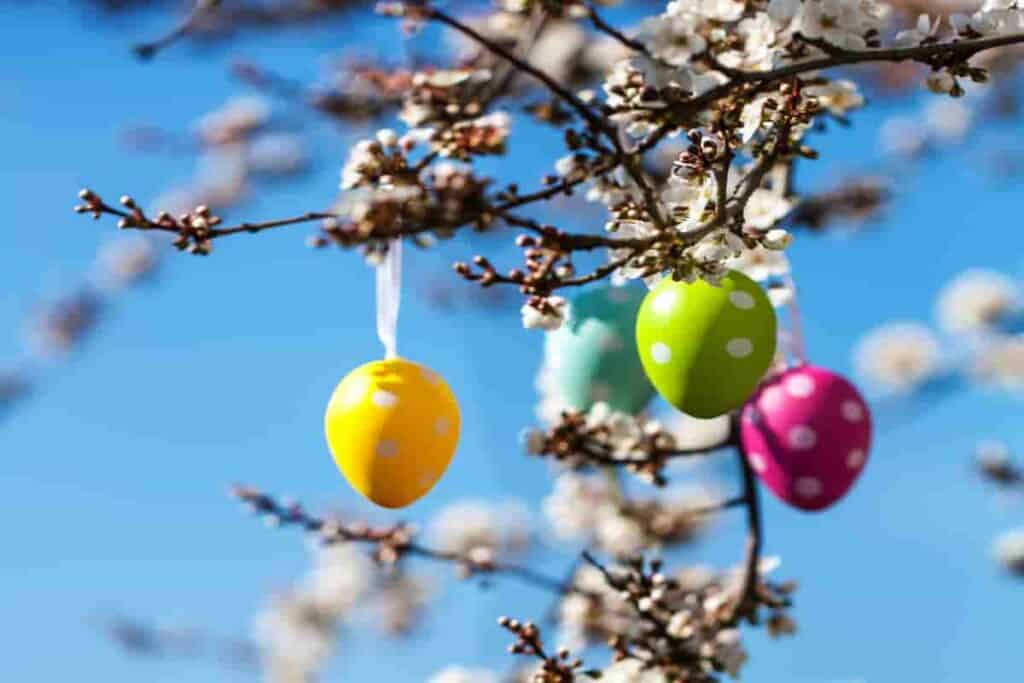 Craft Ideas for Your Beach House that Give It that Spring Look – Just For The Beach Home
Spring has sprung, and you're ready to decorate your house for warmer weather. But don't let Spring fool you into thinking you can't do any crafts for your beach house. There are plenty of craft projects you can complete right away to give your beach house an updated feel.
Here are five craft ideas you can do for your beach house.
1. Create a Beachy Wallpaper
Beach wallpaper is one thing that makes your home feel like a real beach house. If you've been dreaming about painting your walls a bright blue or green color, you should consider creating a beachy wallpaper.
2. Make a Sand Art Piece
Sand art is a popular form of art that is made using sand. This type of art is usually done outdoors, perfect for your beach house. You can create this piece indoors, too, but it may take longer to dry.
To create a sand art piece, you need to use a bucket filled with water and a container full of sand. Mix the two until they become one solid mass. Next, pour the mixture into a tray or bowl.
After the mixture has dried, you can add some colorful beads or shells to the top of the sand art. The final step is to place the sand art somewhere outside where it can dry naturally.
3. Add Some Tropical Plants
Tropical plants bring the feeling of being on a tropical island to your home. They also provide natural air purification. To create a tropical-looking room, you can either buy tropical plants or grow them yourself.
Growing your tropical plants is easier than buying them. All you need is potting soil, a small fertilizer, and a sunny spot.
4. Hang Up Some Decorations
Hanging decorations is a fun way to update your beach house. Whether you want to hang up a wreath or a hammock, there are many ways to decorate your beach house.
You can easily hang up a wreath using string or twine. Tie the string around the tree branch and hang the wreath from the ceiling.
Another option is to use a hammock. Find a sturdy tree branch and then tie the hammock to the branch using a rope.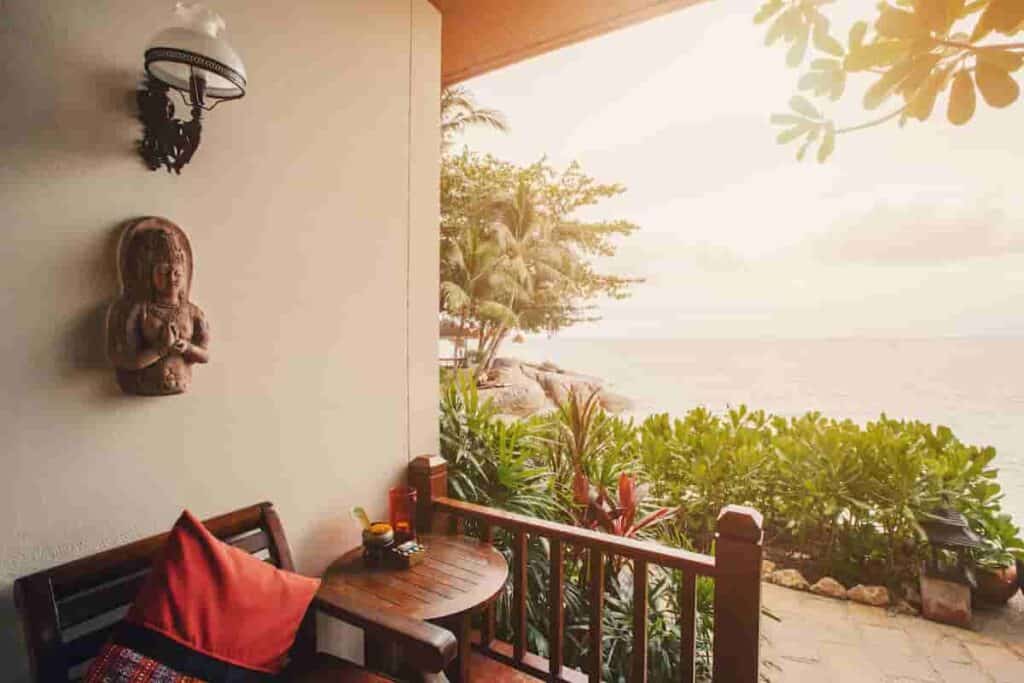 5. Build a Cool Deck
A cool deck is something everyone loves. It provides a relaxing atmosphere and gives you a chance to enjoy nature.
To build a cool deck, you first need to decide which materials you'd like to use. Wood is probably the most common material, but you can also use cedar or bamboo.
6. Hang Lanterns Outside
Hang lanterns outside your home to create a warm atmosphere inside your home.
Choose lanterns that feature a simple design and use natural materials such as cedar, bamboo, wicker, and wrought iron.
Beach House Rooms and Patios Ideas for Spring Style
When it comes to beach house rooms, there are endless possibilities for what you can do. You can go with a light and airy feel or a more cozy and comfortable look. It all depends on your personal preference and the style of your home. No matter what you choose, though, adding a few coastal touches will help set the mood and create that relaxing seaside atmosphere.
If you're looking for some ideas, here are a few suggestions to get you started:
-Add some striped pillows or throws to your sofas or chairs. It is a great way to add in some color and texture, and it helps to create a casual, relaxed feel.
-Consider using natural materials like wood beams or floors in your design. It helps to evoke that coastal feeling and adds an extra touch of elegance. Uncover and bring them out if you already have them.
-Incorporate neutral colors like beige, sand, or white into your scheme. These shades are perfect for creating that breezy beach vibe.
-Use blue and white accents throughout your space. This combination is classic coastal décor, and it always looks great!
-Hang artwork or photos of beaches or coastal scenes on your walls. It's a simple way to bring the outdoors in and enhance the beach house feel.
-Add in plants and flowers, especially if you have a patio or deck. Flowers like daisies, roses, and lilies are perfect for this type of setting, and they help create an extra layer of natural beauty.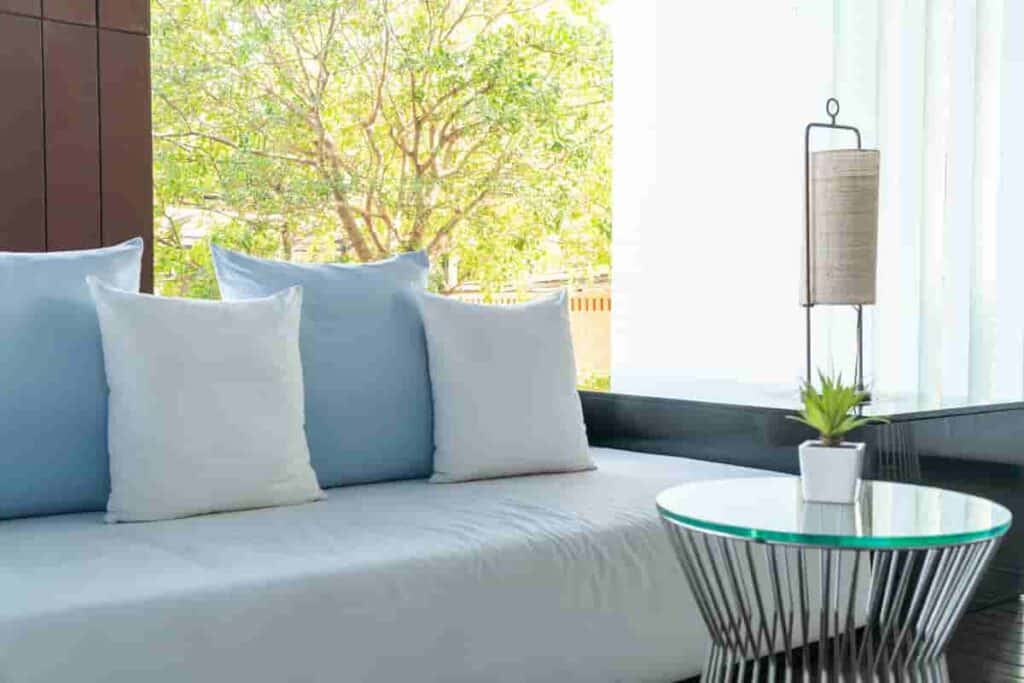 How Do I Transition My Beach House from Winter to Spring
It can be tough to know when to transition your beach house from winter to spring. Here are a few tips to help you get started:
1. Start by changing up your color scheme. Bring in some light, airy colors like white, yellow, and pale pink to give your home a fresh new look for the season.
2. Add some new accessories to your décor. Flowers, seashells, and beach-themed artwork are all great ways to bring the spirit of Spring into your home.
3. Makeover your outdoor areas with new furniture and landscaping. A quick change in scenery can brighten up your yard or patio area for the spring season.
4. Takedown winter decorations and put away any heavy blankets or coats. It's time for lighter layers and brighter colors!
Rugs and Flooring for A Beach House in Spring
First and foremost, coastal rugs are a great addition to any beach decor. They add color and visual interest, but they also provide comfort and warmth underfoot. They can be placed in any room of your home but are particularly popular in coastal bedrooms and living rooms.
Consider coastal area rugs if you're looking for a more permanent solution.
-Coastal rugs are a good choice for any beach house.
-Coastal rugs can be used to add color and visual interest to any room in your home.
-Coastal rugs can be especially effective in a coastal bedroom.
-Jute and wool are natural materials that hold up well in harsh climates.
-Coastal area rugs are easy to clean and care for.
Final Thoughts    
And so, Spring is here, which means it's time to start thinking about relaxing on the beach. But before you pack up your bags and head south, you should probably know a few things you need to keep in mind when decorating your home for the warm weather months.
To begin with, you want to make sure your home reflects the beauty of the season. You shouldn't be afraid to incorporate bright colors and bold patterns into your décor. These elements are perfect for bringing the outdoors inside.
Next, you want to ensure that you're taking advantage of the natural light that comes through your windows. By opening up your blinds and curtains, you'll be able to let in plenty of sunshine, which will help you stay cool during the hot days ahead.
Finally, you want to make your home welcoming and comfortable. You should avoid using too many harsh chemicals, like bleach, ammonia, and pesticides. Instead, use safe products for your family and pets, such as essential oils, baking soda, vinegar, and lemon juice.
When you follow these simple guidelines, you'll be able to create a beautiful space that everyone will love. So grab your sunscreen, bathing suit, and favorite board games, and enjoy the sun!