What Fun Activities Do People Do at the Beach?
Nothing beats a day spent at the beach when it comes to summertime fun. From swimming in the ocean to playing Nerf football on the shore, there are many ways to make lasting memories with friends or family. I have my favorites, but there many activities to choose from. It makes me wonder, what fun activities do people do at the beach?
So, what fun activities do people do at the beach? People have a lot of fun activities to choose from. Swimming, sunbathing, building sandcastles, playing beach volleyball, and collecting shells are just a few of the activities people can do. The beach is also a great place to enjoy a picnic lunch and relax with friends and family.  
KEY TAKEAWAYS
— People can have fun at the beach by playing a variety of activities, such as Nerf football, beach ball toss, and sandcastle building.
— Water sports such as kayaking, paddle boarding, and parasailing are also popular for those looking for an extra dose of adventure.
— Animal interactions with Atlantic wildfowl or exploring tide pools offer unique experiences that make spending time at the beach more magical.
— Beachgoers can take pictures to capture the spirit of nature while swimming or surfing in the ocean, providing refreshment and invigoration.
— Some personal memories of what it was like growing up near a beach in San Diego, California, include boogie boarding with friends early in the morning before sunrise, wave jumping, and playing frisbee or Nerf football on the shore.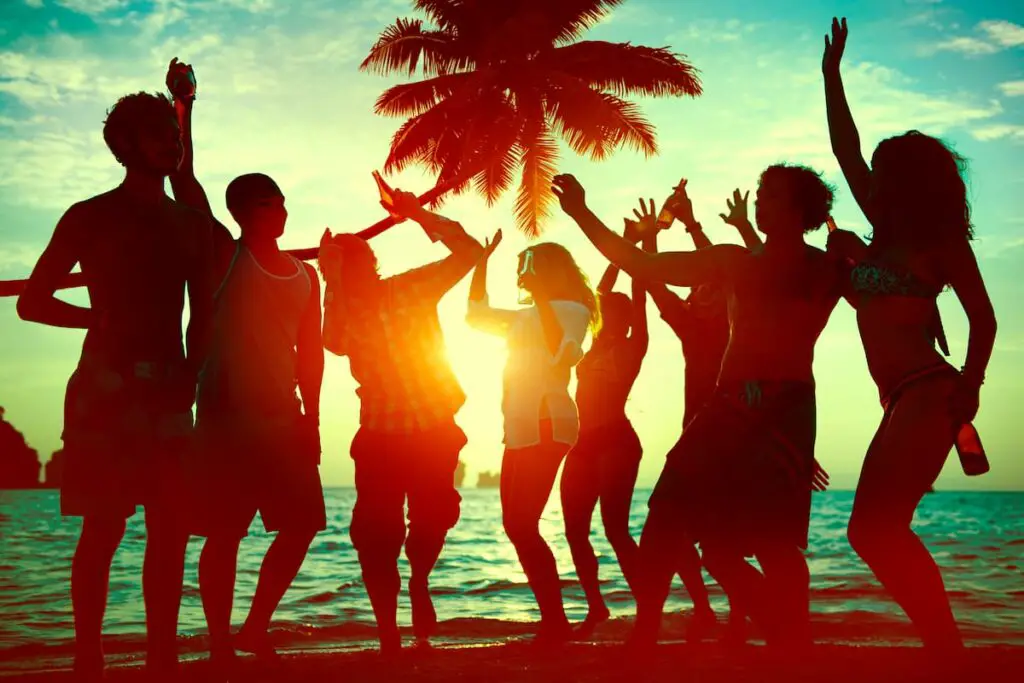 The beach is a place where we go to relax and enjoy ourselves, so it's important that we have lots of fun while we're there. It gives us an opportunity to give our brains a break and enjoy the beauty of nature and the company of family and friends.
Having fun at the beach can also be beneficial in other ways too. It helps us build memories that will last us a lifetime, spark conversation, provide mental stimulation and even help us forge meaningful relationships with those we are closest with.
Plus, it opens up opportunities for physical activity which is always important to our overall health and well-being.
Whether you have fun at the beach depends greatly on what activities you choose and with whom you do those beach activities. I'll outline some fun activities on sand and in water and a lot more. Keep reading and stay a while; there are lots more in store!
Fun Activities Do People Do at the Beach
Let's start with all those possible shoreline activities and head into the water. Here we go.
Beach Games On The Sand
Summertime calls for a trip to the beach, and there's no better way to make the most of it than by playing fun and sometimes wacky beach games!
Nerf football, beach ball toss, and beach tag are all easy-to-learn go-to's that provide hours of outdoor entertainment. Or you can put your detective skills to the test with a treasure hunt on the sand.
Spice up these activities by calling for relay races between teams or stirring up a game of 'capture the flag'. Get creative and invent your own innovative games: think scavenger hunts that use only conch shells as clues.
Whether you prefer strategy or physical competitions, there's something here to please everyone.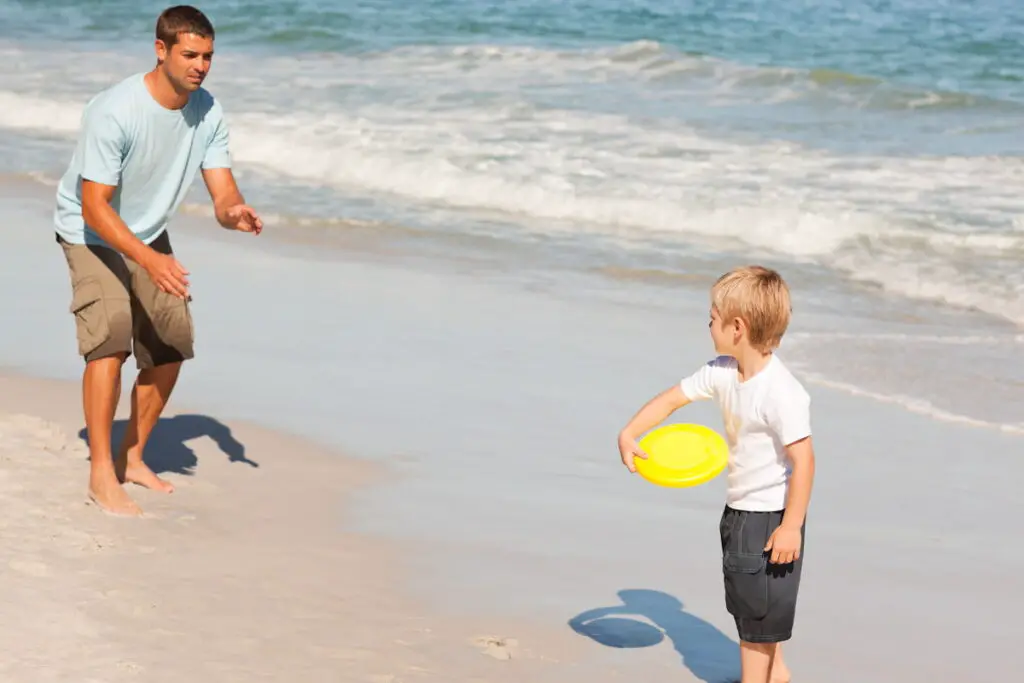 Building Sand Castles
Endless options await at the beach. Sandcastles offer fun for everyone, regardless of age and skill level. Create small or large, intricate or simple designs – there are no limits on creativity.
The possibilities are endless, from creating small, scooped walls to elaborate towers and arches. Gather texture and color ideas from nature, transforming the beach into a fantasy castle playland of your own making.
Bring buckets of ideas to make each masterpiece unique – have fun inventing flags, moats, drawbridges and more as you dig deeper into your imagination.
Tap hidden talents as apprentice masons use tools such as rakes or trenches to design deep passageways or underground caves that can connect different sandcastles!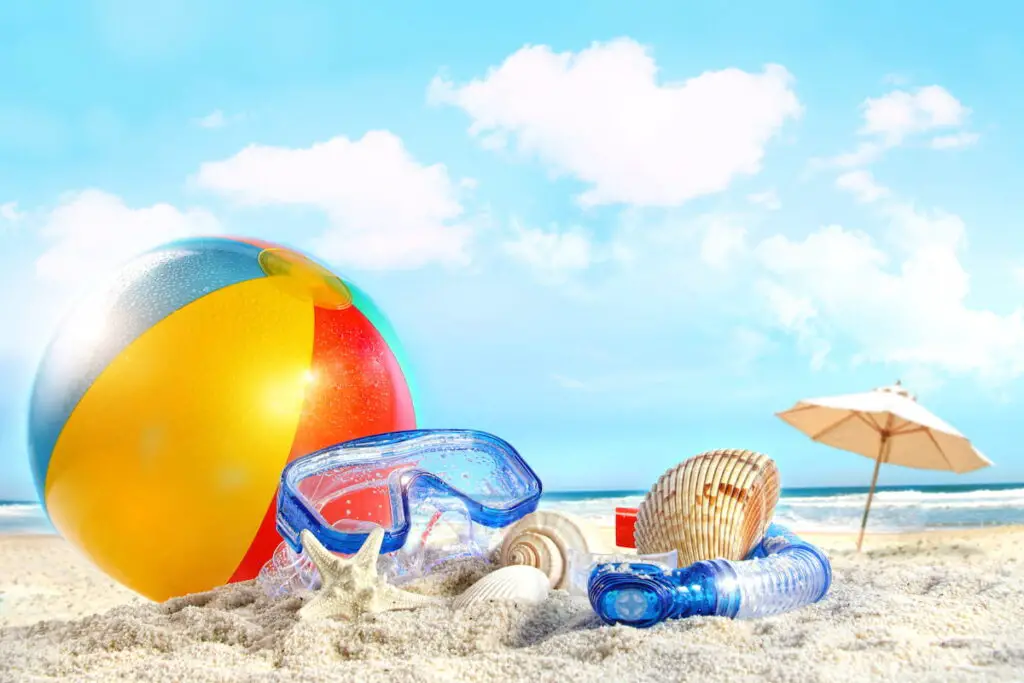 Fun With A Beach Ball
Beach activities are always a blast! Throwing around a beach ball is one of the most popular ways to have fun in the sun. Kick it around with your friends, or play a game of catch in the sand. Beach ball games are great for families and friends alike – everyone can join in on the amusement!
Besides tossing a beach ball around, there's plenty more to do at the beach. Tourist spots along the Atlantic Ocean offer water sports such as kayaking, paddle boarding, and parasailing. These activities offer an exciting way to explore and take in the scenery. You can even visit nearby amusement parks for an extra dose of entertainment! 
I wrote an article about beach ball games; check it out here: 9 [Best] Fun Games with Beach Ball- Beach Shoreline and Water Game Ideas
Collecting Seashells at The Beach
A beach is a great place to find precious treasures. What's the first thing that comes to people's minds when looking for gifts in nature? Seashells!
Seashells provide an opportunity to observe the earth's natural beauty and appreciate life's fragility. Celebrate by simply observing and marveling at the vibrant colors, intricate structures, diverse shapes, and remarkable carvings these living sculptures contain.
Connect with nature – collect as many shells as you like or leave them all intact. Trace patterns, identify species and can even explore theories about the lifespans or migratory cycles of the creatures who made them.
Consider practical uses for those you collect with craft supplies such as paints, glitter or glue. Perfect your technique and create interesting DIY works with individualized style along the way; whether it's decorating a frames or building intricate jewelry items.
If you are interested in collecting seashells, check out my article on how to clean seashells without bleaching them here xxxxxxx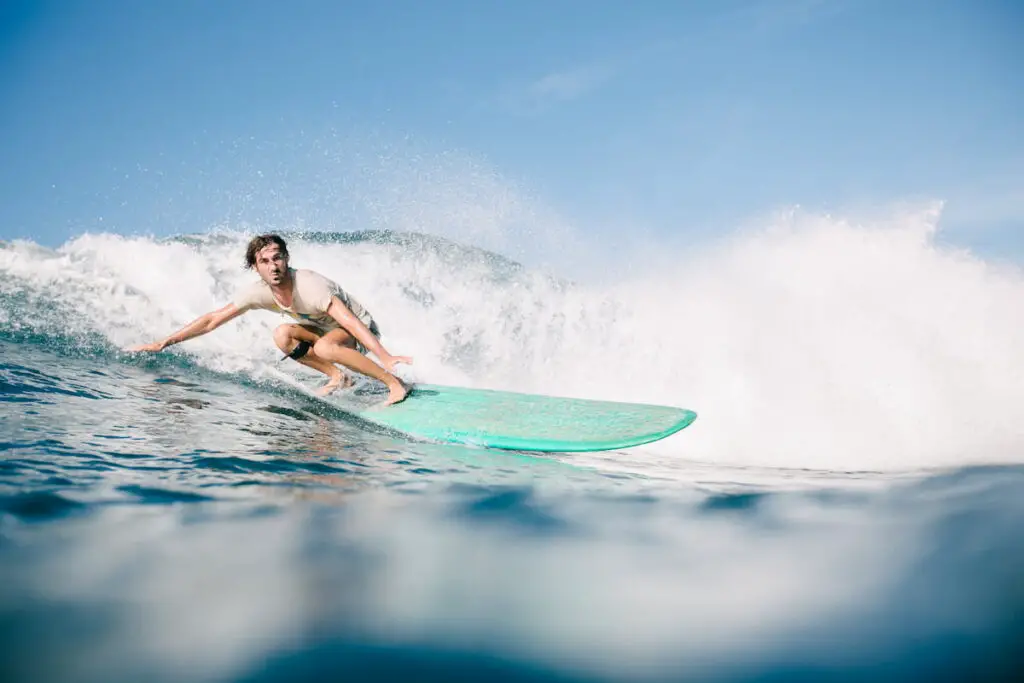 Water Sports
Playing at the beach is a fun and invigorating way to spend your time. Whether it's jet skiing, snorkeling or surfing, the water sports offered are exhilarating ways to explore the sand with an oceanic dose of adventure.
For group activities there's nothing like volleyball, paddleboarding or kite surfing to convey a sense of camaraderie and competition. Spotting dolphins off in the distance while kayaking gives you the opportunity to observe wildlife up close.
And don't forget about stand-up paddling; gliding through glassy waters takes you away from it all and lets nature take hold. The calm rippling of waters against the shoreline captures hearts and moves minds here and far away.
Beach Volleyball
Playing beach volleyball is a great way to get your friends together and get active. And it's not just about the game either – it's about spending quality time with those you care about.
Everyone can join in – all you need are four players, a net, and an ocean view. Then you assign teams and start serving with determination. It's one of the most versatile outdoor sports out there.
Beach volleyball requires concentration, agility, tactical thinking and speed; while exercising at the same time in tune with nature's atmosphere. With every bump and spike your technique improves even better when done as a team effort.
Check out my article on Beach Volleyball here – How Long Do Beach Volleyball Games Last?
Swimming And Surfing
Tumbling waves and sandy shores beckon beachgoers to enjoy a slice of paradise. Sun-warmed waters offer refreshment, invigoration and fun. But what activities make the experience unique?
Swimming still reigns king among beach excitement. Wading into the sea can bring relief from the oppressive heat during summertime or a dreamy calm in the crisp autumn breeze. It is the perfect way for all ages to soak up some refreshing fun.
Surfing takes water delights to a whole new level of thrilling energy. Gliding gracefully atop waves with a board requires skill, but that doesn't mean it's exclusive for adrenalin junkies. Sure there's an oceanic challenge – but also makes for unforgettable fun as you zone out from daily life into nature's oceanic playground!
Lessons are available nearby beaches so you can jump right in while experienced instructors look after your safety allowing you to feel comfortable in the surf before conquering its exciting depths.
Animal Interactions – In The Water Or Tide Pools
The beach is full of fun activities. There's something for everyone from swimming and surfing in the ocean to animal interactions. Whether you want to relax on a beach towel or explore the tide pools, there's something magical about being by the sea.
Tide pools offer a unique experience, allowing you to get up close with the Atlantic wildfowl and other ocean life. Whether looking for a quiet moment of reflection or just a great photo opportunity, exploring tide pools can be an unforgettable experience. Even if you don't want to get too close, watching the wildlife from afar can provide an amazing view.
Animal interactions are sure to provide hours of fun and discovery, no matter what type of experience you're looking for at the beach!
Take Pictures
Capturing the spirit of the sea has always enticed people. With its ever-changing light, glimpses of life and natural beauty, a beach is the ideal spot for taking photos. Whether you plan to shoot landscapes or candid portraits, there's no shortage of inspiration here.
To get started, consider what kind of vibe you want your image to convey, be brave and experiment with different angles. Utilize objects in the foreground close to the lens as points that take viewers into the background. Managing shadows can also add more drama and depth to your photos.
To capture great people shots, aim for genuine reactions and fleeting moments that perfectly nail emotion. Move around, try out new perspectives, and let them be themselves; find hidden gems by using natural light and watch how it interacts when sunshine hits the water or illuminates faces in unexpected ways.
I have several articles about beach photography, choose from one of these: xxxxxxx
Have Fun Exploring the Beach Boardwalk – On the Beach or Near it
Discovering the beach's natural beauty is a great way to have fun. A boardwalk along the beach or near it offers plenty of chances to explore and enjoy. The sights, sounds, and smells of the water, sun, landscapes, and people offer an unforgettable experience.
Take a stroll with your eyes open for new delights. Watch for birds swimming in the rolling waves, feel the sand crumble between your toes, and find treasures washed ashore in little tide pools. There could be driftwood sculpted by the ocean's currents, colorful shells, or interesting stones like polished pebbles from faraway places.
At night, there might be concerts on the pier, while during the day, displays of kite-flying grace the sky – each surfer's effort striving to outperform each other as they make their way across the swells. You can also witness simple joys, such as spreading a blanket on cool sand steps away from gentle shorelines.
Ride A Bike
Recreate amidst the waves. Riding a bicycle along the beach is a great way to experience the beauty of nature and observe the people around you.
What could be better than pedaling fast, with the wind in your hair, as you race down an uninterrupted stretch of sand? You can enjoy solitude or join a group for friendly competition – either way, it's an exhilarating ride that will refresh your soul and take your breath away.
Choose from different trails: from flat beaches to dunes or rough terrain offering dynamic landscapes and challenging climbs. Enjoy picturesque views and find secret spots that make every ride special no matter how often you do it.
Parties And Other Social Gatherings
Relishing in the refreshing waters, tasting the salty breeze, and feeling the sun's warmth. Today's beach is a place of pleasure and play, a bustling social hub.
For those craving deeper socialization and conversation, beach parties provide an atmosphere of conviviality and connection. This can come from fireworks, DJ sets, or simple bonfires accompanied by acoustic music.
Or how about 'lighting up the night' with a bonfire party under the stars? You can roast marshmallows and savor famed sunset views while reveling in good company!
Check out my article on College Beach Destinations for finding out about the best party beaches here: Top 15 Best Beach Vacation for College Students [Ideas, Destinations, Cheapest]
Learn More About What Fun Activities Do At The Beach
What Are Some Popular Beach Games?
Popular beach games include volleyball, bocce ball, cornhole, ladder toss, frisbee, rounders or baseball, spike ball, and Marco Polo.
Beach ball relays, hopscotch, tic-tac-toe, sponge water bombs, and skeeball are also popular.
Frisbee can be played in a variety of ways.
How Do You Play Beach Volleyball?
Playing beach volleyball is a fun and exciting way to spend a sunny day at the beach with friends or family. Here are some step-by-step instructions for how to play beach volleyball, as well as an example to help you get started.
Step 1: Get the Equipment -To play beach volleyball, you will need a net, a beach ball, and some light and breathable clothing. You can also wear sand socks to keep your feet cool and prevent burns.
Step 2: Set Up -Set up the net in the designated area, ensuring it is the appropriate height. Both teams should be on separate sides of the net.
Step 3: Learn the Rules -Beach volleyball follows the same rules as regular volleyball, with three touches to return the ball and a point if the ball hits the ground. Players can use any part of their bodies to return the ball, except for their hands. Holding, throwing, or catching the ball is prohibited.
What Fun Activities Do People Do on The Beach?
People often enjoy a variety of activities on the beach, such as swimming, sunbathing, and playing beach volleyball. Many enjoy building sandcastles and exploring the beach's unique wildlife and ecosystems.
What Are the Most Popular Beach Activities?
Beach activities are a popular way to enjoy the summer sun and sand. Popular activities include swimming, sunbathing, beach volleyball, and building sandcastles. Water sports such as surfing, paddle boarding, and kayaking are popular beach activities.
What Unusual Beach Activities Can You Do?
You can try various unusual beach activities, such as sandcastle building, beach volleyball, and treasure hunting. You can explore the beach further by trying out activities like saltwater fishing, beach camping, and boogie boarding.
How to Have the Most Fun on The Beach?
To have the most fun on the beach, start by packing a few beach essentials like sunscreen, a beach towel, and a beach umbrella. Take the time to explore the beach and all its natural beauty, and don't forget to take lots of pictures along the way.
My Private Thoughts and Experiences With Fun Activities at the Beach
Create a human connection by sharing a personal experience on the topic of what fun activities I did when growing up on the beach when I lived in San Diego, California, and what were some of the best memories with friends, like going boogie boarding, wave jumping or playing frisbee. La Jolla Shores or Pacific Beach were my favorite hangouts.
One of my favorite memories growing up on the beach in San Diego, California, was boogie boarding with my friends. We would head down to the beach early in the morning before the sun was too high in the sky. We would break out our boards and ride the waves in and out. We would try to do tricks and see who could do the best. It was always so much fun, and it was a great way to cool off on hot summer days.
Another favorite activity was wave jumping. We would go out in the ocean and jump over the waves as they came in. We would try to get as high as possible and see who could go the farthest. This was a great way to get the adrenaline pumping, and we often stayed out for hours.
Then there was playing Nerf football or frisbee on the beach. This was a great way to stay active and have some friendly competition. We would challenge each other to see who could throw the farthest and catch it the best way. It was always a great time and one of my favorite memories of living in San Diego as a teenager.
Conclusion
At the beach, there's something for everyone to enjoy. Whether you're looking for a beach game to play with your friends, want to create a sand castle masterpiece, or take part in water sports, there are plenty of activities to choose from.
If you're looking for more relaxed activities, flying kites, searching for seashells, riding a bike or taking pictures are all great options. And if you're looking for some social interaction, parties and other gatherings can be a fun way to meet people and have a good time.