A beach wedding is a dream for most couples. It's romantic, picturesque, and very affordable. However, not everyone has the budget for a beach wedding. Many people who do have a budget spend way more than they planned. Are you looking for an affordable way to tie the knot on a beautiful beach that you've seen in the movies? Beach weddings are a popular option for those who want to tie the knot without spending a small fortune. It makes me wonder, how much does a beach wedding cost?
Depending on the number of guests, the type of venue, and the location, a beach wedding can cost anywhere from $5,000 to $100,000. Catering, photography, flowers, and rental equipment add or subtract costs. The average price of a destination wedding is around $30,000.
Beach weddings are one of the most popular types of weddings today.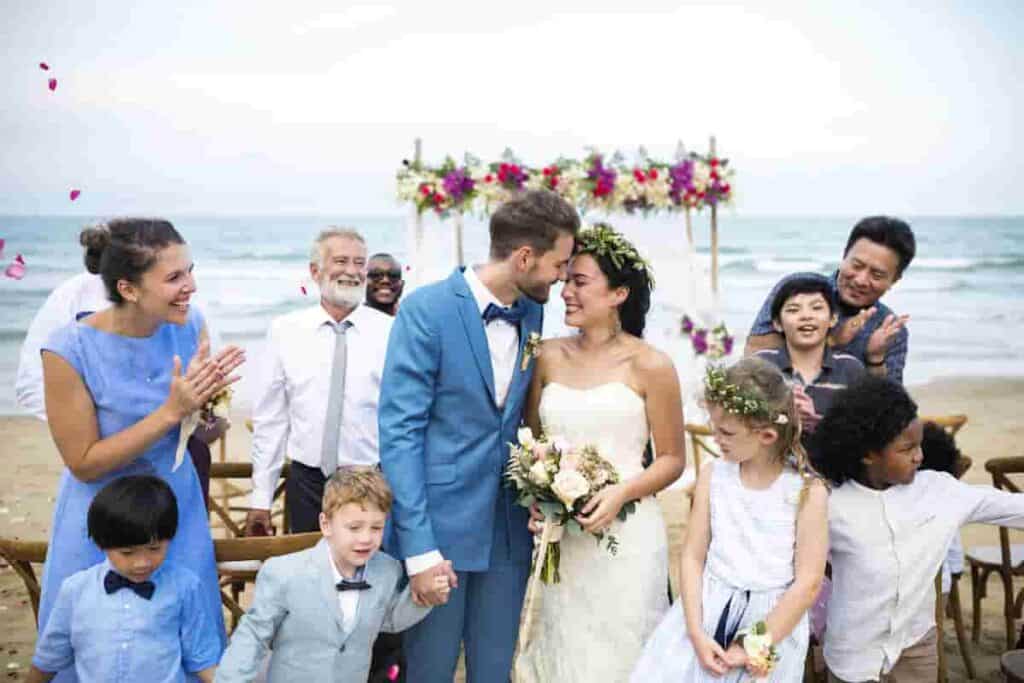 A beach wedding can be simple or creative. The more creative and larger it is, the bigger the budget must be. However, the nice thing about a wedding on the beach is that a simple, low-cost wedding can be beautiful because of its location. 
Some couples spend thousands of dollars on a beach wedding only to find out that they didn't save enough money to cover their expenses. Others spend less than $500 on a beach wedding because they are smart with their money.
If you're planning a beach wedding, you need to ensure you get everything you want without breaking the bank. In this post, I'll share how much a beach wedding costs so you can plan accordingly.
I'll also talk about tips to help you save money while having a beautiful beach wedding.
Let's take a closer look at the costs of a beach wedding. I'll cover the budget, options you can choose from, and a deep dive into specific locations worldwide. Let's take a closer look at each of these items and more. Keep on reading! You won't want to miss it.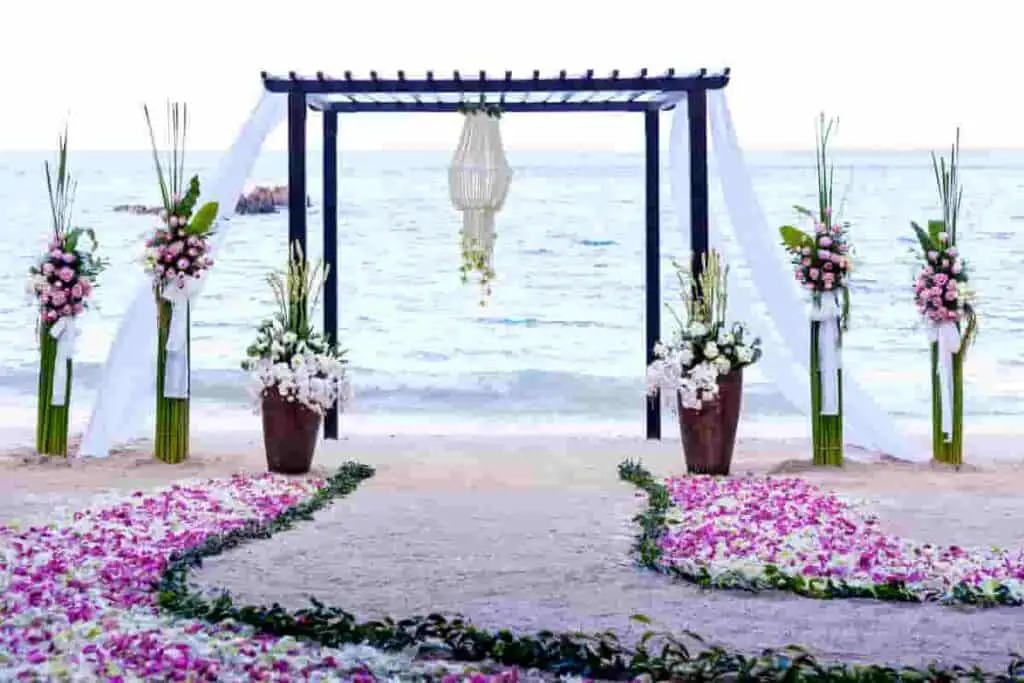 What Is a Good Price Per Person for A Beach Wedding
A good price per person for a beach wedding is between $250 and $400. This price would be ideal on the low end for a beach wedding in Puerto Rico and on the high end for an upscale destination wedding in Jamaica. The Average cost for guests to attend a beach wedding in Mexico is $800.
Are Weddings on The Beach Free
The answer is no. You will have to pay for the beach wedding venue, the catering, the wedding dress, and other wedding-related expenses. Weddings on the beach, however, can be very affordable, depending on location and time of year. 
The simpler one chooses to have their wedding. The more cost is reduced and vice-versa. There are some costs associated with a beach wedding, such as chair rental, flowers, and fees for wedding officials.
If you have a friend who owns a private beach, you can get married on the private beach without paying anything for the venue, but the rental costs do add up. 
How Much Is a Wedding for 100 Guests
A beach wedding for 100 guests can cost anywhere from $1,000 to $10,000. The average guest amount is around 30-60 Guests. Wedding costs vary depending on a lot of factors. Elopement packages start at $299 and are ideal for two guests, while All Inclusive Wedding Packages range from $2,299 to feed 100 guests. The average cost of a destination wedding (where a hotel is included) is around $15,000 – $30,000.
When it comes to beach weddings, the sky limits how much you can spend. However, several packages and services will affect the overall cost. For example, all-inclusive packages start at around $2,299, while elopement packages start at just $299.
Another factor that will affect the price tag is the size of your wedding party–bigger weddings will naturally cost more than smaller ones. Additionally, menu choices and the type of venue can also hike up the price.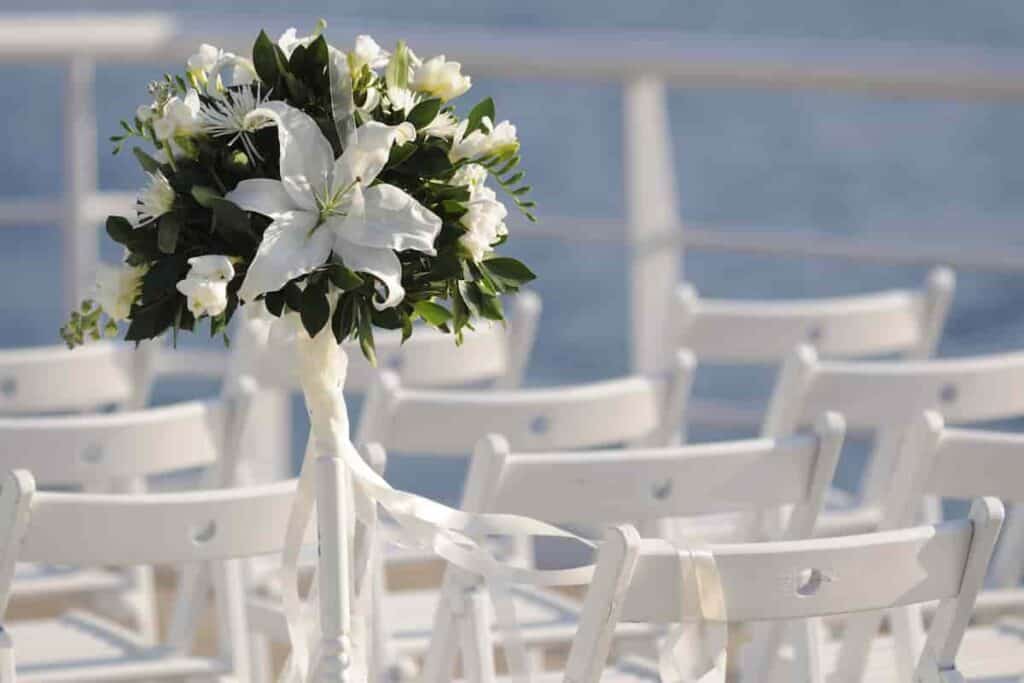 For example, private beachfront property with over 100 guests in April costs more than $30,000, while a wedding with 100 guests in off-summer months, under 20K, is possible.
The number of guests at a wedding has dropped since Covid 19 is still lingering and keeping the guest number low. 
Bottom line: no matter your budget, you can have the wedding of your dreams on the beach!
Where Is the Cheapest Place to Have a Beach Wedding
The cheapest place to have a beach wedding is usually in countries where living costs are lower. In places like Mexico, Belize, Guatemala, Thailand, and the Philippines, you can find paradise at a lower cost and get married there. In addition to the weather and the quality of the beaches, there are many other factors to consider when choosing a location for your beach wedding.
There are many locations where a beach wedding can be held, but some are more affordable than others.
What Is a Destination Wedding? Getting to The Beach Wedding
A destination wedding is a special occasion where two people decide to get married somewhere else than where they live. In the context of this article, it means traveling to a beach destination.
– A destination wedding is different from a traditional wedding because it takes place outside of the couple's hometown. 
– Many couples who plan a destination wedding say that they want to spend their honeymoon at the same location where they got engaged.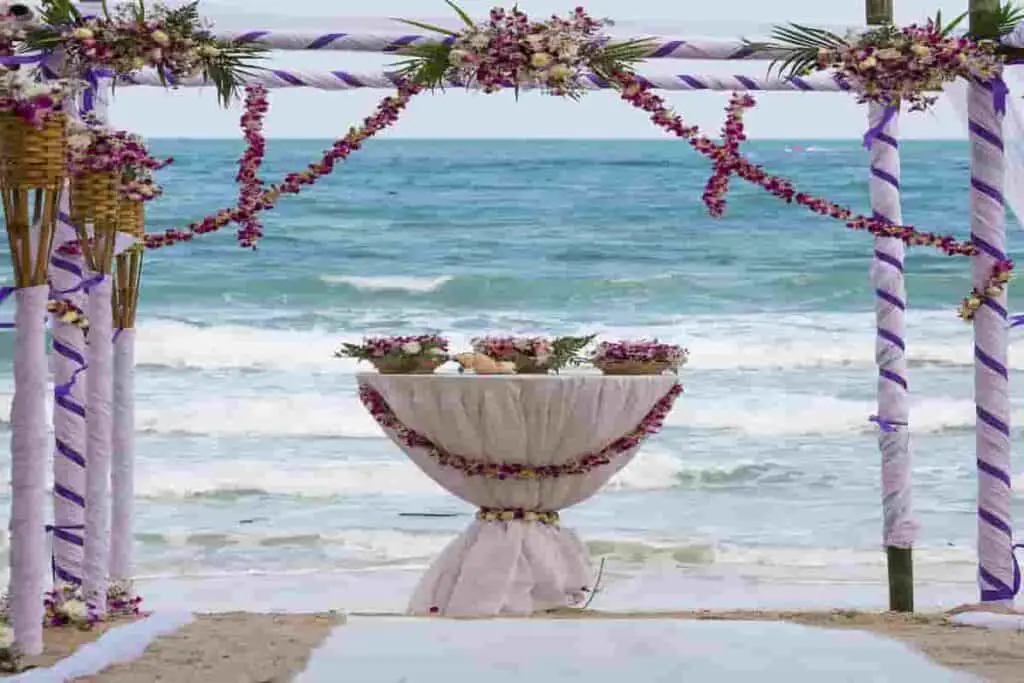 – There are many advantages to holding a destination wedding. For example, you can save money by choosing a cheaper location. Also, you won't have to worry about finding a venue and planning a wedding ceremony.
– However, there are some disadvantages to hosting a destination wedding. For instance, you may not have enough time to prepare for the big event
– In addition, you may not have any close relatives nearby to attend the wedding.
Some Ideas for Where To Have a Beach Wedding in North America and Latin America
 Beach weddings can be enjoyed in several different locations throughout North America.
Many different beach wedding ceremonies can be adapted to fit your specific needs and desires.
Beach weddings provide an unforgettable way to celebrate your loved ones and express your love for one another.
When most people think of beach weddings, they automatically think of locations like Hawaii or the Caribbean. While those are certainly attractive options, there are plenty of other beaches in North America that can provide just as beautiful a setting for your big day. Consider some of these ideas:
Florida -The Sunshine State is home to miles and miles of stunning coastline, making it the perfect place for a beach wedding. There are many different beach towns to choose from, each with its unique vibe and setting. Popular choices include Miami Beach, St. Pete Beach, and Amelia Island.
California – From the rugged coastline of Northern California to the sandy beaches of Southern California, this state has something for everyone when it comes to beach weddings. Popular destinations include Laguna Beach, San Diego, Malibu, and Santa Barbara.
Texas – If you're looking for a more rustic beach wedding experience, Texas might be a perfect choice. Many amazing spots say "I do" along the Lone Star State's coastlines with its wide-open spaces and dramatic coastal scenery. Some popular choices include Padre Island National Seashore and Mustang Island State Park.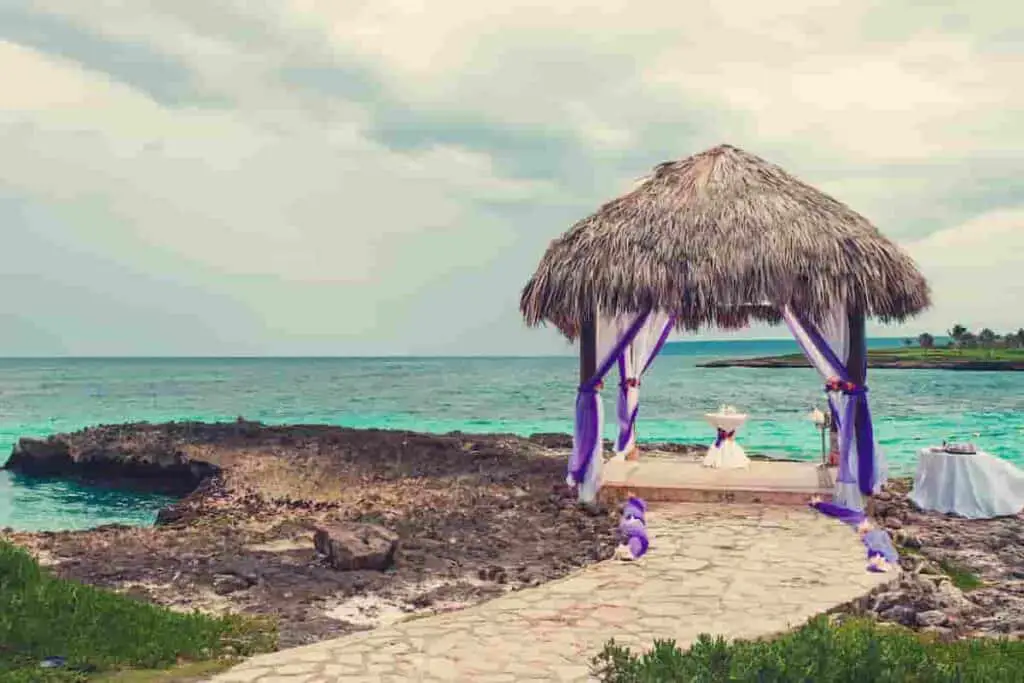 Hawaii – The most popular destination for weddings in Hawaii is Maui. Maui offers great weather year-round. If you're planning a beach wedding in Hawaii, consider having your ceremony at sunset. It creates a magical atmosphere where guests can enjoy the beauty of the ocean and sky together.
The Caribbean – It's a beautiful place full of tropical islands, white-sand beaches, and turquoise waters. So why not get married there? Some couples love the laid-back atmosphere and feel closer to nature than home. Others enjoy the warm weather and sunshine. There are many islands to get married to, for instance, Aruba, Barbados, Jamaica, and the British Virgin Islands.
Europe and Asia      
In Europe, some popular beach wedding destinations include Italy's Amalfi Coast, the Greek Isles, and Portugal's Algarve Coast. These stunningly scenic areas offer lovely beaches and picturesque villages and towns that make perfect settings for a romantic ceremony.
 If you're looking for something more exotic, consider heading to Southeast Asia for your wedding. Thailand's Koh Samui or Phuket islands offer white-sand beaches and crystal-clear waters, while Bali is home to lush jungles and dramatic volcanic landscapes. With so many amazing options available, it's easy to find the perfect location for your dream beach wedding.
Some Ideas for Where To Have a Beach Wedding in Europe and Asia :
– Italy – Nice and Monaco in France
– Spain – Ibiza, Barcelona, and Ibiza in Spain
– Greece – Mykonos and Santorini in Greece
– Thailand – Phuket, Koh Samui, and Krabi in Thailand
– China – Shanghai, Beijing, and Hong Kong in China
– India – Goa, Kerala, and Goa in India
– Japan – Tokyo
How Do You Plan a Beach Wedding
Planning a beach wedding is easy with these tips. First, figure out the details of your destination, like what type of beach and what the weather will be like. Find photographers specializing in unique coastal weddings and a caterer specializing in seafood cuisine.
When planning a beach wedding, figuring out the budget is the first step. You need to decide what type of event you are looking for and if you want any rings, flowers, or suits on the beach. Once you have an idea of what you want, it's time to choose a theme- either informal or formal.
The main steps to planning a beach wedding include finding the date, deciding on the location, and figuring out the budget. These steps must be calculated carefully to have an affordable beach wedding.
Each step in this process is important to have a successful wedding on the beach.
Here are some tips to help you plan your perfect beach wedding:
– Choose a beautiful location that has plenty of room for your guests.
– Plan your ceremony and reception times so that they do not overlap.
– Choose a color scheme that will look good against the background of the beach.
– Make sure that you have a plan for bad weather
– It's important to find a wedding planner who understands your budget 
– Make sure you have all the necessary permits and licenses
 Planning Ideas for Your Beach Wedding
Consider coordinating special activities with local businesses or attractions or hiring a professional coordinator.
When it comes to destination weddings, the sky's the limit! But if you're looking for some planning ideas for your beach wedding. Here are a few things to consider:
First, think about what kind of mood you want to set. Do you want a romantic and relaxed atmosphere or something more upbeat and festive? Once you know the tone you'd like to set, start thinking about what decorations and attire will match.
Next, choose your guests wisely. Destination weddings tend to be more expensive than traditional weddings, so keep it small unless everyone can afford to fly out and stay at a resort. And don't forget that kids cost extra!
If you're having trouble deciding who should attend your wedding, why not let them vote? You could put together a survey with different options like "Should we invite all our cousins?" or "Do we need another bridesmaid?" and see which ones get the most votes.
Once you've nailed down all the important details, start working on your invitations! It is where your theme will come into play; think about using creative wording or incorporating photos of beaches or sandcastles into the design.
A word about destination beach weddings:
—Destination weddings can cost more than traditional weddings.
—Couples may offer to pay for accommodations, transportation, food, and gifts.
—Activities that can be included in a destination wedding are diverse and exciting.
—Destination weddings are more expensive than a local wedding
—For a destination wedding, you would spend more on general expenses and less per person
An international wedding will have fewer guests and higher costs.
And finally, don't forget about the little things! Make sure to budget for wedding favors, transport for guests, and tips for your vendors.
 Tips To Keep Costs Down For A Beach Wedding
Keeping costs low is the key to staying on budget and enjoying your wedding day. Knowing you are within your budget makes a lot of difference.
1. Create a budget
Create a detailed budget before starting your wedding planning. Include everything from venue fees to catering services.
2. Choose an outdoor location
An outdoor wedding has several advantages over an indoor wedding. There is no need for air conditioning, heating, or electricity, for starters. Outdoor weddings also allow guests to enjoy the weather without worrying about dress codes. Let the beauty of the beach help create the atmosphere.
3. Invite guests to bring their own food
Inviting guests to bring their own food makes the wedding more affordable. Guests don't have to worry about finding places to eat, so they can focus on enjoying themselves.
4. Consider DIY Decorations
Instead of hiring a professional florist, consider decorating your reception area yourself. It gives you control over what goes into your wedding and keeps costs down.
5. Find a local wedding coordinator 
It may be a cost, but down the line, it will save you tons of time and money too. A competent wedding coordinator will know what options can be swapped out and replaced to stay within budget.
Have your guests should look into deals and all-inclusive plans offered by resorts. Additionally, credit card and airline reward points can offset travel costs. If these options aren't available or don't cover the entire cost of traveling, guests can also try carpooling or flying instead of driving long distances.
Another way to save money is by choosing an off-season date for the wedding. For example, this could mean having your big day in the winter instead of the summer. And finally, consider having the ceremony and reception at a location other than a hotel or beachfront property–this could lead to significant savings!
Final Thoughts    
In conclusion, beach weddings are beautiful, romantic events that everyone loves. However, they do cost money. While you may not want to spend too much on your wedding, you'll also need to budget for other things such as honeymoon travel and gifts. Be sure to consider these costs when planning your big day.