Florida Panhandle Paradise
The Florida Panhandle is a haven of breathtaking beaches, vibrant communities, and endless adventure. There are few fantastic beach towns near Pensacola, Florida. From the laid-back charm of Perdido Key to the upscale shopping and dining in Miramar Beach, there is something for everyone in this coastal paradise. I can't help but wonder: what are some of the best places to visit in the Florida Panhandle, and what unique experiences do they have to offer?
So, what are some of the best places to visit in the Florida Panhandle and what unique experiences do they have to offer? Here are six must-visit locations: Perdido Key, Gulf Breeze, Navarre Beach, Fort Walton Beach, Destin, and Miramar Beach. Each location offers its own unique charm and attractions, ranging from eco-tourism and family-friendly activities to upscale shopping, dining, and picturesque coastal communities.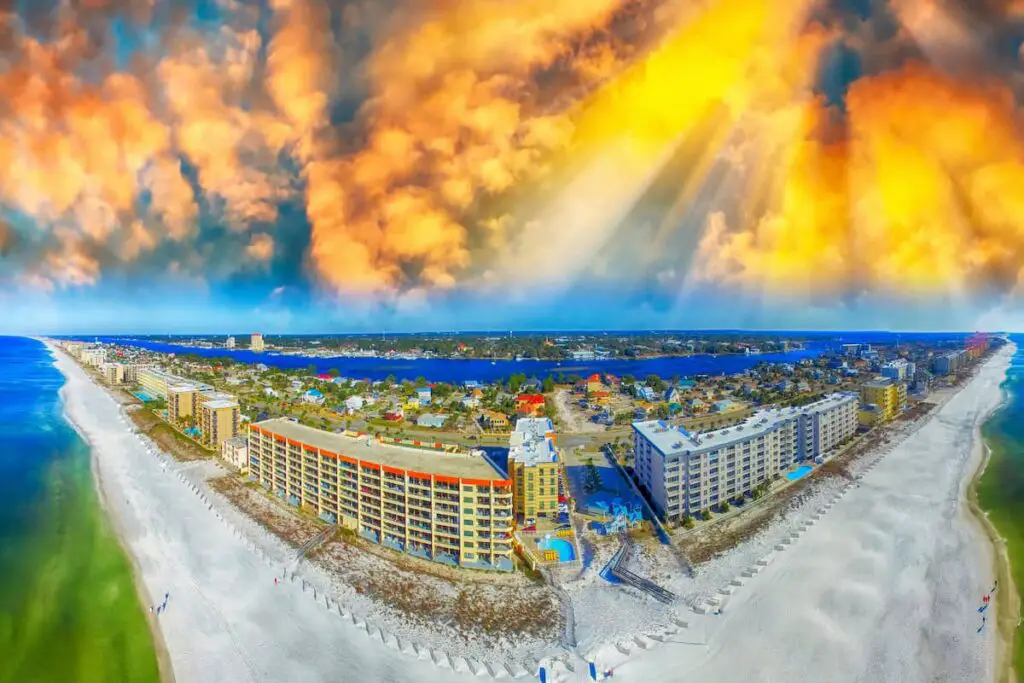 Key Takeaways
Perdido Key: quiet paradise with breathtaking scenery, fresh seafood, and eco-tourism opportunities.
Gulf Breeze: family-friendly destination with attractions such as Quietwater Beach Boardwalk and Gulf Breeze Zoo.
Navarre Beach: ideal for nature lovers, offering eco-tourism and opportunities to observe wildlife.
Fort Walton Beach: a mix of history and adventure, featuring museums and beautiful beaches.
Destin: known as the World's Luckiest Fishing Village, offering great fishing experiences.
Seaside: a picturesque coastal community with pastel-colored houses, scenic bike trails, and artistic boutiques.
In this article, I'll dive deeper into the wonders of the Florida Panhandle, exploring the beauty and experiences each location has to offer. I'll cover the stunning beaches, outdoor activities, local cuisines, and the distinct vibe of each area. If you're looking for the ultimate coastal escape filled with sun, sand, and adventure, look no further than the Florida Panhandle! Keep reading to uncover the gems of this amazing destination – it's time to start planning your dream vacation!
Discovering The Charm Of Perdido Key
The sun rises over the turquoise waters, casting a warm glow on the pristine white sands of Perdido Key. The salty breeze whispers through sea oats, inviting you to explore this quiet paradise nestled between Pensacola and Orange Beach.
Here, time seems to slow down as you immerse yourself in the laid-back atmosphere, finding solace in this hidden gem along the Florida Panhandle. With each step along the shoreline, a sense of freedom awakens within, urging you to let go of life's burdens and embrace the beauty surrounding you.
Perdido Key offers more than just breathtaking scenery; it is a haven for those in search of adventure and rich experiences. Dive into Perdido Key cuisine with fresh seafood caught daily from local fishermen, savoring flavors that will tantalize your taste buds and leave you craving more.
As your palate revels in culinary delights, immerse yourself in eco-tourism exploration – from kayaking through serene estuaries to hiking untouched trails teeming with wildlife. In this unspoiled sanctuary, reconnect with nature and rediscover what it means to truly be free.
Gulf Breeze: A Family-Friendly Getaway
Gulf Breeze is the place to be for those seeking a family-friendly getaway.
It's where the sun meets the shore and the sea breeze whispers in your ear, beckoning you to indulge in life's simple pleasures.
The Gulf Breeze wildlife will leave you breathless as you watch dolphins frolic in the waves, and pelicans soar overhead.
Family attractions abound, offering something for everyone, from adventure-seekers to beach bums.
Take time to explore all that Gulf Breeze has to offer:
Quietwater Beach Boardwalk: A serene oasis perfect for sunbathing and swimming

Gulf Islands National Seashore: Pristine beaches with crystal-clear waters

For adventure seekers: Pensacola Beach Eco-trail: Get up close with nature on this picturesque walk

Gulf Breeze Zoo: Home to over 800 animals, an unforgettable experience awaits

For history buffs: Fort Pickens: Wander through the historic halls of this Civil War-era fortress

Pensacola Lighthouse & Maritime Museum: Climb the steps for a breathtaking view of the coast
As you pack your bags and prepare to embark on a journey to Gulf Breeze, remember that it's not just about escaping reality—it's about embracing freedom.
Let go of your worries as you sink your toes into sugar-white sands and allow yourself to drift away on gentle waves.
There's no better time than now to discover why this slice of paradise is perfect for families looking for an unforgettable experience.
So come on down, let loose, and create memories that will last a lifetime.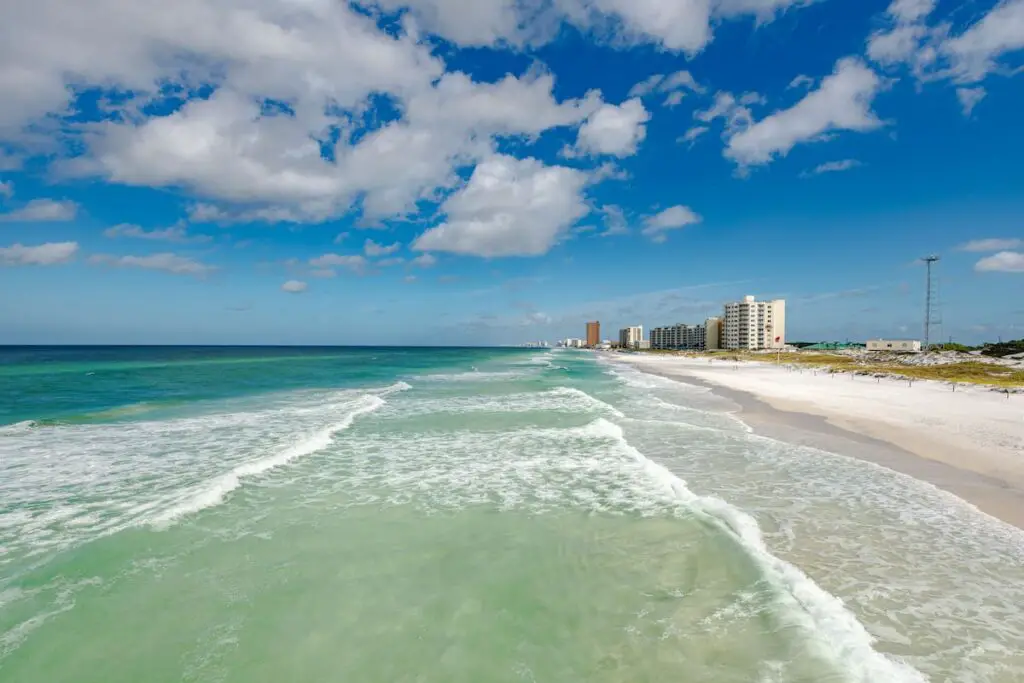 Navarre Beach: Nature Lovers' Delight
Like a hidden gem nestled among the lush emerald foliage, Navarre Beach invites nature enthusiasts to lose themselves in its pristine beauty.
A place where the whispers of the wind and the songs of seabirds replace the cacophony of city life, this coastal oasis rejuvenates weary souls seeking solace in nature's arms.
A treasure trove for eco-tourism, Navarre Beach teems with wildlife waiting to be discovered by curious explorers.
From observing native birds taking flight across azure skies to witnessing sea turtles emerge from their sandy nests, there is no shortage of unforgettable encounters to be had.
In order to preserve this delicate ecosystem for future generations, visitors are encouraged to follow eco-tourism tips such as maintaining a respectful distance from wildlife and leaving no trace behind.
By treading lightly on this sacred ground, we ensure its survival and nurture our inherent need for freedom and connection with the natural world.
Fort Walton Beach: History And Adventure
Fort Walton Beach, a place where history and adventure meet in a dance of sun and sand. A town that whispers the tales of its past, inviting those with a thirst for freedom and discovery to explore its shores.
Its name alone stirs the soul, urging you to explore Okaloosa Island amidst the swaying palms and turquoise waves.
Dive into Fort Walton museums; let their stories engulf your senses as you trace the footsteps of ancient civilizations who once walked this land. Feel their spirits linger beside you, as if guiding your journey through time.
And when you step out onto the pristine sands again – eyes wide open to the beauty surrounding you – know that you've tasted freedom in its purest form.
Destin: The World's Luckiest Fishing Village
Destin, a gem in the Florida Panhandle's paradise, calls itself the World's Luckiest Fishing Village. It boasts of white sand beaches, emerald green waters, and an abundance of lucky catch stories to share over cold drinks with newfound friends.
Here, you can break free from the mundane and cast your line into a world of adventure. Learn the local fishing techniques that reel in the big ones. Share laughter and triumphs with fellow anglers. Discover the many ways luck plays its part in each catch.
As your day ends on this sun-kissed shore, feel gratitude for the freedom experienced through these simple pleasures. Let Destin's luck be a reminder that life's greatest treasures often come when you're willing to take a chance on something new.
Miramar Beach: Upscale Shopping And Dining
Did you know that Miramar Beach boasts over 12 miles of pristine white sand beaches? It's true. As the waves lap onto the shore, you can feel the freedom in the air. The sun on your face is warm and inviting.
Luxury resorts line the coast, waiting for you to explore and indulge in their lavish offerings.
As you stroll along the beach, designer boutiques catch your eye. They offer treasures for those who seek to elevate their style while escaping mundane routines.
You deserve this moment of blissful extravagance. Let go of your worries and embrace the opulence that Miramar Beach has to offer.
Seaside: A Picture-Perfect Coastal Community
Seaside sits proud on the Emerald Coast, a gem of a town where sun meets sea. A place that calls to those who seek freedom and beauty in equal measure.
Here, one finds picturesque streets lined with pastel-hued homes, inviting you to explore further. With scenic bike trails meandering through the community, you'll feel the wind in your hair and the salt on your skin as you ride along this idyllic stretch of shoreline.
As you stroll through Seaside's heart, artistic boutiques beckon with their unique wares – treasures waiting to be discovered by those who wander. The vibrant spirit of creativity and independence permeates every corner, whispering softly to your soul: 'Stay awhile, embrace the freedom found here.'
And as the sun sets on another perfect day in this coastal haven, you can't help but feel that perhaps you've found a little piece of paradise right here on Earth.
Grayton Beach: Bohemian Vibes And Outdoor Activities
As we leave the picture-perfect community of Seaside, a bohemian haven awaits us just down the coast. Grayton Beach, with its free-spirited atmosphere and outdoor offerings, calls to those who crave both adventure and artistic expression. This beach town is where Bohemian fashion meets the waves, enticing us to kick off our shoes and embrace the sand between our toes.
Stroll through streets adorned with vibrant murals reflecting the souls of local artists.
Discover hidden galleries showcasing eclectic collections that speak to every wandering heart.
Lose yourself in live music venues where the rhythm of life dances under starry skies.
Grayton Beach's charm lies in its unique blend of nature and creativity, allowing visitors to experience freedom from everyday constraints truly.
The sun sets on another day in this coastal paradise, leaving us feeling rejuvenated and inspired by all that it has offered.
So go ahead, dive into the world of Grayton Beach and let your spirit soar amongst its bohemian vibes and boundless outdoor activities.
Panama City Beach: A Hub Of Entertainment
Panama City Beach comes alive as the sun dips below the horizon, casting a warm golden hue across the sand. It stands as a symbol of freedom and excitement for those seeking an escape from monotony. The waves crash against the shore, whispering secrets of adventure to those who listen.
Beach activities abound in this lively hub, offering daytime thrills for all ages. Paddleboarding, jet skiing, and parasailing are just a few ways to test your limits and embrace that adrenaline rush you crave.
As day turns to night, nightlife options emerge like stars in the sky, each twinkling with promise. Dance to live music at a beachfront bar or sip on expertly-crafted cocktails while watching fire performers light up the night.
Panama City Beach is your canvas; paint it with memories of laughter and newfound freedom that will last long after you've left its sandy embrace.
Mexico Beach: Unspoiled Beauty And Relaxation
Mexico Beach, a place of unspoiled beauty and relaxation.
The sun warms your skin here as the waves whisper sweet nothings to the shore. The sand, a soft canvas for your footprints, invites you to explore its vast expanse.
Mexican cuisine tempts with rich flavors and vibrant colors – a dance of taste that celebrates freedom in every bite.
Indulge in the simple pleasures of beach activities: swimming in clear waters or casting a line out to sea.
Rest easy knowing that here, you are free from the chains of daily life.
As the sun sets on another day, let it take any remaining worries or cares with it – for this is Mexico Beach, where true freedom lies in sun-kissed skin and salty air.
St. George Island: Serenity And Seclusion
St. George Island, a long strip of sand and scrub, gives you space to breathe. You'll find it where the land meets the sea, a place where time slows down, and worries are washed away by the waves.
The island wildlife thrives in this unspoiled paradise – birds dance on the shore while dolphins play in the surf.
White sand beaches stretch for miles
Sunsets that fill the sky with an array of colors
Unique seashells scattered along the shoreline
Fishing opportunities from both shore and boat
Bike paths meandering through maritime forests
The freedom you seek is here on St. George Island. Leave your troubles behind, listen to the wind whispering through the trees, and walk barefoot in the warm sand.
The solitude will refresh your spirit; let go of what weighs you down – this is your chance to soar.
And when you leave, carry that feeling with you like a treasured souvenir from a memorable trip to paradise.
Personal Thoughts and Experiences on the Florida Panhandle
So far, I haven't traveled to the Panhandle of Florida. I have relatives in Jacksonville, Florida with whom I have met over the years, and I've been to Miami, but not to Destin or Panama City – some of the beach towns near Pensacola.
If I got the opportunity to travel to the Florida Panhandle, I would definitely visit Seaside, a picturesque beach town featured in the article. The pastel-colored houses and white sand beaches instantly caught my attention. I would spend my days biking along the scenic 30A highway, exploring the charming town square, and indulging in the local cuisine from food trucks.
In the evenings, I'd unwind by taking leisurely strolls on the beach and watching the beautiful sunsets. The combination of natural beauty and small-town charm makes Seaside a must-visit destination for me.
Conclusion
Embark on a journey through the idyllic beach towns near Pensacola, FL, where you can bask in the sun, let the waves wash away your worries, and discover the true meaning of paradise. It is in these tranquil havens that you will find solace and serenity amidst life's chaos. So, join your friends and experience the bliss of these coastal gems for yourself.
And remember, as you wander along these sandy shores and dive into new adventures, you carry a piece of each town's magic with you. Cherish it dearly and may your heart forever be filled with the spirit of Florida's Panhandle Paradise.