Key Takeaways‍
Merida, Mexico, offers diverse beach towns like Campeche and Celestun, each with unique attractions and cultures.
Mayan ruins of Edzna in Campeche and the Flamingo Sanctuary in Celestun are must-see attractions.
Sisal and Telechac Puerto provide tranquil escapes, perfect for those seeking peace and authenticity.
Isla Mujeres and Cancun offer vibrant nightlife, rich cultural activity, and luxury resorts, respectively.
Puerto Morelos, nestled between Cancun and Playa del Carmen, is a quiet haven for nature and adventure lovers.
Merida's beaches offer varied activities like snorkeling and fishing, and proximity between them enables easy exploration.
Mexico, particularly its beach towns near Merida on the Yucatan Peninsula, is a destination brimming with beauty and vibrancy. Whether you're seeking clean, warm beaches, exploring the local culture, or enjoying nature reserves and seafood restaurants, Merida offers an unforgettable experience for people from all walks of life. Given its diverse appeal, I can't help but ponder: What are the best beach towns near Merida Mexico to visit, especially for families and others seeking beautiful locales like the Costa Esmeralda?
So, what are the 10 most beautiful beach towns near Merida? They are: Campeche, Celestun, Sisal, Telechac Puerto, Isla Mujeras, Cancun, Puerto Morelos, Playa del Carmen, and Puerto Aventuras.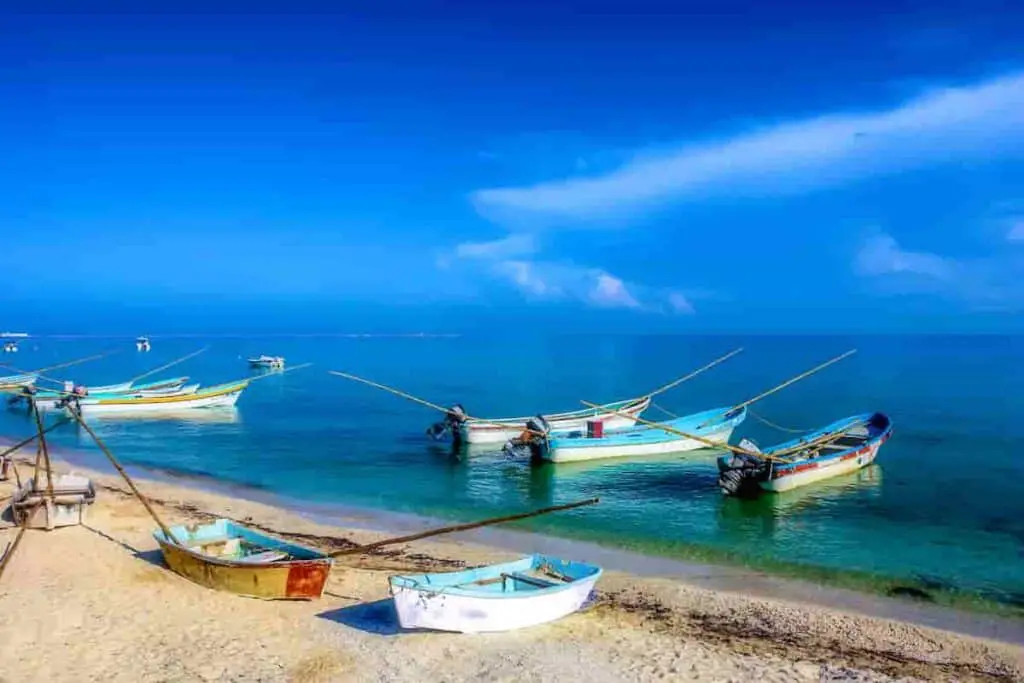 The city of Merida is located in the state of Yucatan, Mexico, which is part of the stunning Yucatan Peninsula. This area has become a major tourist destination because of its natural beauty. Besides the beach towns, visitors enjoy the historical sites, art galleries, and cultural events. To have fun in Mexico, you should look for beach towns near Merida, where you can flock to enjoy the sun and sea.
Here are a few facts and statistics about Merida:
Merida is shattering tourism records as interest for cultural expeditions grows among American travelers. (Source)
Progreso is the closest beach to Merida, but there are many other top beaches in the area, such as Celestun, Chicxulub, Chelem, and more. (Source)
Merida is a base for trips to several Mayan sites, including Chichén Itzá, Kabah, Mayapán, and Uxmal. (Source)
I will give you an overview of the best beach towns near Merida that you should check out when visiting, and also give you some beach sports and activities that you can do on Merida and nearby beaches, from beach clubs to scenic road trips using buses for transportation.
Stick around, as I'll unfold a comprehensive guide to experiencing the best of Merida's neighboring beach towns, including boat tours and renting chairs for relaxed beach visits!
Table of Contents
Beach Towns Near Merida, Mexico – 9 Of The Most Beautiful
Are you ready to escape the hustle and bustle of everyday life and immerse yourself in the beauty of Mexico's coastal towns? Look no further than Merida, where you can find some of the most breathtaking beaches in the country.
From secluded and tranquil to vibrant and lively, these beach towns offer something for every type of traveler.
Let's get started.
Campeche, Mexico: Rich History and Coastal Beauty
Get ready to explore Campeche, a charming Mexican coastal town with a rich history and stunning ocean views.
This town is known for its colorful architecture that dates back to the colonial era, with buildings painted in vibrant shades of pink, blue, yellow, and green. As you walk along the cobblestone streets, you'll feel transported back in time, surrounded by the town's rich history and culture.
One of the must-see attractions in Campeche is the Mayan ruins of Edzna, located just a short drive from the town center. Here, you can explore the ancient pyramids and temples, and learn about the fascinating history of the Mayan civilization.
And when it comes to food, Campeche offers a variety of gastronomic delights, from fresh seafood to traditional Mayan dishes. Be sure to visit during one of the town's cultural festivals, where you can experience the lively music, dance, and art of the local community.
Celestun: Explore the Untouched Beauty of this Secluded Beach Town
You'll be amazed by the untouched beauty of Celestun, a secluded gem waiting to be discovered. Located just a couple of hours west of Merida, this fishing village is known for its stunning beaches and vibrant wildlife.
One of the main attractions in Celestun is the Flamingo Sanctuary, which houses thousands of these pink birds during the winter months. Prepare to be awestruck as you watch them gracefully flock together against the idyllic backdrop of the Yucatan Peninsula.You can book a boat tour and get up close to the flamingos, all while taking in the stunning views of the mangrove forests. Along the way, you may even spot some popular tourist attractions like sunbeds and cenotes, where you can take a refreshing dip before continuing your journey.
Apart from the wildlife, Celestun is also known for its local seafood. You can indulge in fresh fish, shrimp, and crab at the many beachfront restaurants. And if you're feeling a bit adventurous, you can even try your hand at fishing with the locals or venture a little further to the undiscovered El Cuyo on Quintana Roo's side of the Yucatan Peninsula. Don't forget to stroll down the beach road, which is lined with charming beach houses and north beach, offering beach chairs and equipment rentals for a relaxing day by the sea.
But the real charm of Celestun lies in its laid-back vibe and simple way of life. Take a stroll along the beach, rent a bike, or go on a mangrove tour – there's a lot to do for everyone here, from expats to day-trippers looking for a peaceful side trip from a nearby cruise port.
So if you're looking for an escape from the hustle and bustle of city life, make sure to add Celestun to your list of must-visit beach towns near Merida.
Sisal, Yucatan: A Tranquil Escape with Pristine Beaches and Charm
Located just north of Merida, Sisal is a tranquil escape that boasts pristine beaches and a charming atmosphere. Once a bustling port town, Sisal has transformed into a hidden gem beach destination, with numerous tourist attractions such as sunbeds, beach chairs, beach houses, and equipment rentals.
With its calm waters and secluded location, Sisal is perfect for those seeking a peaceful retreat. For those looking for adventure, Sisal offers a variety of activities such as kayaking, fishing, and more on the Gulf of Mexico. You can also explore the nearby cenote or walk along the beach road to discover more of Sisal's natural beauty.
Local cuisine in Sisal is a must-try experience, with an abundance of fresh seafood and regional Yucatecan dishes. Eco-tourism is also available in Sisal, with protected natural areas where visitors can explore the unique flora and fauna of the area. Whether you're seeking relaxation on quiet beaches or a laid back pace of life, Sisal is the perfect coastal town to escape to.
Telechac Puerto: Immerse Yourself in the Authenticity of this Picturesque Coastal Village
Immerse yourself in the authenticity of Telechac Puerto, where the vibrant culture and stunning natural scenery will leave you in awe. This picturesque coastal village located on the Gulf of Mexico is home to friendly locals, colorful architecture, and tranquil waters perfect for fishing. As you explore, you'll find sunbeds and beach chairs inviting you to relax and take in the views.
As you stroll through the streets of Telechac Puerto, you'll be greeted by charming buildings painted in bright colors, showcasing the village's rich history and culture. Along the beach road, you'll find beach houses and equipment rentals, making it easy to enjoy a day by the sea.
Take a break from exploring and indulge in Telechac Puerto's local cuisine, which offers a variety of fresh seafood dishes and traditional Yucatecan fare. And if you're looking to relax, head to one of the village's quiet beaches, where you can bask in the sun and enjoy the peaceful surroundings.
Don't forget to learn about Telechac Puerto's Mayan heritage, which can be found in the nearby ruins and historical sites. Whether you're a history buff, a foodie, or just in search of a tranquil getaway, Telechac Puerto has something for everyone.
Isla Mujeres: Discover Paradise on Earth with Stunning Beaches and Vibrant Culture
Get ready to experience a slice of heaven on earth at Isla Mujeres, an island paradise located just off the coast of Cancun. This idyllic destination boasts a range of activities, from exploring the stunning north beach to visiting must-see tourist attractions. Enjoy the laid-back atmosphere as you lounge on sunbeds, rent beach chairs, or explore the island's charming beach houses.
There is so much to explore and discover on this small but beautiful island, whether you're looking for a relaxing beach vacation, lounging on a beach chair, an exciting snorkeling adventure, or a day trip from the mainland of Quintana Roo. Isla Mujeres has something for everyone, catering to a diverse population of tourists with varying budgets.
Here are just a few of the things you can look forward to on your visit to Isla Mujeres:
Stunning beaches: With crystal clear turquoise waters and white sandy beaches, Isla Mujeres is a beach lover's dream come true. Playa Norte is one of the most popular beaches on the island, but there are plenty of other spots to explore as well.
Vibrant culture: Isla Mujeres is a hub of cultural activity, from the colorful buildings in downtown to the lively street markets. Don't miss the chance to sample some of the local cuisine, like fresh seafood and traditional Mexican dishes.
Snorkeling adventure: The waters surrounding Isla Mujeres are teeming with marine life, making it a popular destination for snorkeling and scuba diving. Head to the MUSA underwater museum to see the sculptures and artificial reefs, or take a tour to the nearby Garrafon Natural Reef Park.
Local cuisine: Isla Mujeres is known for its fresh seafood and traditional Mexican dishes. Be sure to try the ceviche, a popular dish made with fresh fish, lime juice, and spices. And don't forget to wash it down with a cold cerveza or margarita!
Cancun, Mexico: Unveiling the Beach Destination with Endless Delights
You'll be delighted to uncover the endless treasures of Cancun, a beach destination that offers more than just sun, sand beach, and sea. With miles and miles of pristine beaches, beach dunes, and salt flats, Cancun is a paradise for beach lovers. But that's not all. This vibrant city has something for everyone – from culinary delights to adventure sports, including boating, kite surfing, and windsurfing, to vibrant nightlife and luxury resorts, not to mention its close proximity to the beautiful Riviera Maya and the ancient Mayan ruins of Chichen Itza.
To help you plan your Cancun adventure, here's a quick overview of what you can expect:
| Endless Beaches | Culinary Delights | Vibrant Nightlife | Adventure Sports |
| --- | --- | --- | --- |
| Cancun boasts some of the most beautiful beaches in the world, with crystal-clear waters and soft white sand. | Cancun's culinary scene is a vibrant mix of traditional Mexican cuisine and international flavors. | When the sun goes down, Cancun comes alive with an array of bars, nightclubs, and live music venues. | From scuba diving and snorkeling to parasailing and jet skiing, Cancun has it all. |
And if you're looking for a place to stay, Cancun has no shortage of luxury resorts and charming beachside palapas. Whether you're looking for a romantic getaway or a family vacation, you'll find the perfect accommodation to suit your needs. So what are you waiting for? Book your trip to Cancun today and experience the magic for yourself.
Puerto Morelos: Tranquility and Natural Splendor by the Caribbean Coastline
So, if you're looking for a peaceful and natural escape with plenty of opportunities for adventure, relaxation, and exploration of the stunning Riviera Maya development, Puerto Morelos is the perfect destination for you.
Here are 5 reasons why Puerto Morelos should be on your list of places to visit:
Coral reef: Puerto Morelos is home to the second largest coral reef in the world, making it a paradise for scuba divers and snorkelers. You can explore the underwater world and see a variety of colorful fish, sea turtles, and even barracudas.
Ecotourism opportunities: The village is surrounded by lush mangroves and offers a variety of ecotourism activities such as birdwatching, kayaking, and jungle tours. You can also visit the nearby crocodile sanctuary or take a boat ride to see the bioluminescent plankton at night.
Underwater adventures: Besides snorkeling and diving, you can also go on a glass-bottom boat tour or take a submarine tour to see the reef up close without getting wet.
Local cuisine: Puerto Morelos has a variety of restaurants that serve delicious seafood dishes, as well as traditional Mexican cuisine. You can also visit the local market and try some of the fresh fruits and vegetables.
Tranquil retreats: If you're looking for some relaxation, there are many boutique hotels and spa retreats in Puerto Morelos that offer yoga classes, massage treatments, and other wellness activities. You can also just lounge on the beach and soak up the sun.
So, if you're looking for a peaceful and natural escape with plenty of opportunities for adventure and relaxation, Puerto Morelos is the perfect destination for you.
Playa del Carmen: Where Beach Bliss Meets Exhilarating Adventures and Riviera Charm
When in Playa del Carmen, don't miss out on the chance to experience the perfect blend of beach relaxation and thrilling adventures. This beautiful coastal town boasts miles of pristine white sand beaches, where you can soak up the sun and enjoy a variety of fun beach activities such as snorkeling, parasailing, windsurfing and paddleboarding. If you're looking for a more adrenaline-fueled experience, you can try your hand at zip-lining or take a jungle ATV tour.
But the fun doesn't stop when the sun goes down. Playa del Carmen is known for its vibrant nightlife options, with a variety of bars, clubs, and restaurants to choose from. You can also immerse yourself in the local cuisine, with a variety of delicious seafood dishes and Mexican specialties to try. And for those who are interested in eco tourism, there are plenty of opportunities to explore the surrounding natural beauty, including eco parks and nature reserves. And if you're looking for a luxurious stay, there are plenty of high-end resorts offering top-notch amenities and breathtaking views. In Playa del Carmen, there truly is something for everyone.
Puerto Aventuras: Your Serene Oasis for Beachside Relaxation and Water Sports Excitement
Get ready to relax and have some fun in Puerto Aventuras, where you can experience the perfect blend of serene relaxation and water sports excitement along the beautiful malecon.
This gated community is nestled along the Caribbean Sea and is the ideal destination for those seeking a tranquil escape. You can spend your days lounging on the soft sandy beaches, taking in the stunning views of the turquoise waters and passing ships, or indulging in thrilling water sports like kayaking, paddleboarding, and snorkeling. And when you're in search of even more excitement, remember that Puerto Aventuras is the perfect spot for activities such as kite surfing, windsurfing, and watching windsurfers in action.
If you're looking for a unique experience, be sure to check out the dolphin encounters in Puerto Aventuras. You can swim with these intelligent creatures, learn about their behaviors and habitats, and explore other activities like shopping, dining, and even paddle boarding. Don't miss the opportunity to visit the nearby crater while you're exploring the area.
Once you've had your fill of adventure, you can retreat to one of the many luxury accommodations in the area, such as a hotel with stunning ocean views. With so many choices to choose from, you're sure to find the perfect place to unwind and rejuvenate in San Benito or elsewhere. So pack your bags, grab a rental car of your choice, and head to Puerto Aventuras, where you can enjoy the best of both worlds.
What's Special About Merida Mexico Beaches?
Drive Along the Coast to See Special Nature Areas
Consider driving along the coast if you're looking for a beautiful drive and some great natural areas. There are plenty of places to stop and see, and it's a great way to spend a day or two.
A few things to keep in mind if you decide to take this route:
Rental cars offer a cheaper alternative to driving. The roads of Mexico are in good condition for the Yucatan and Merida. Still, each traveler must decide whether they feel comfortable behind the wheel.

The rural roads of Yucatan can be tricky to navigate.

Rental cars are a great option for exploring Merida.
The Beaches in Merida Are Beautiful Sand Beaches
The beaches in this list are all within a driving distance of Merida. These beaches have easy access and facilities for visitors, so you will find the best places to stay near these beaches here. The beaches near Merida are marked on the map at the beginning and end of this passage. The Chicxulub beach is a more developed neighbor to Progreso, with an extension 8 km away.
High tide is often brought up close by the many beachfront property lines. Progreso is the closest beach to Merida and provides transportation access. Telchac Puerto is an hour from Merida and has a pier that can be walked out onto. The beaches near Telchac, such as the one where you can admire the majestic ships, are scenic and interesting. The nearest Xambo ruins are just across the lagoon from the beach.
What Beach Sports and Activities Can You Do on Merida and Nearby Beaches and Beach Towns?
There are many activities to do at the beach, from surfing to swimming and from snorkeling to diving. The best thing about visiting Merida's beaches is that they are all located near each other, making it easy for tourists to visit them all in one trip. You can experience there a few of the many beach activities such as:
Snorkel – Snorkeling is one of the top activities to do when traveling to Merida. Most nearby beaches have calm waters that allow you to swim or snorkel without problems. However, if you want to find more secluded beaches, you might need to look further than just the immediate vicinity of Merida.
Surfing –

Surfing may seem easy enough, but surfing in Merida requires special equipment and skills. Still, many surfers visit Merida because of its waves.

It would be best if you headed to Mahahual or Xcalak to enjoy surfing. These are two towns that have good waves and are located near Merida.
Fishing – Fishing is another sport that you can try out in Merida. You can fish at numerous spots around the region. You can catch anything from mackerels to tuna, depending on what kind of fishing spot you choose. The beach that has this activity is called Los Arcos.
Golfing – Golfing is a popular sport in Merida. You will find golf courses within driving distance of the city center. The most famous course is probably the Golf Club de la Villa, rated as one of the best courses in Mexico and Latin America.
Hiking –

Hiking is a fun way to explore nature. There are plenty of hiking trails in the area surrounding Merida. One of the most popular places to hike is Chichén Itzá. This ancient Mayan site is known for its unique architecture, beautiful landscapes, and rich history.
Horseback Riding – Horseback riding is another exciting sport to try out in Merida and the surrounding areas. You can book horseback rides through tour operators in town. And there are several options available, including the famous Rancho del Oso.
Cycling –

Cycling is a great way to get around the city and enjoy the scenery. Many cycling tours are offered throughout the year. They usually last between three and five days.
Jet Skiing –

Jet skiing is another thrilling activity you can try during your trip to Merida. You can rent jet skis from local companies and take them to the ocean. Just be careful since jet skis can be dangerous and require proper training before using them.
Sailing –

If sailing is your thing, then you'll love visiting Merida. There are several marinas in the area that provide boat rentals. If you're looking for a more relaxing way to spend time on the water, there's nothing like a kayak tour of the estuary.
Frequently Asked Questions
What Is the Best Time of Year to Visit These Beach Towns Near Merida, Mexico?
Oh, you want to know the best time to visit those beach towns near Merida? Well, it's ironic because the best months are also when the weather is hot and the tourist crowds are thick. Off-season deals are good, but peak season prices are steep.
Are There Any Specific Cultural or Historical Landmarks to Visit in These Beach Towns?
Discover the rich history and culture of these beach towns through visits to historical landmarks, cultural attractions, and architectural wonders. Immerse yourself in local traditions and explore tourist hotspots for a fulfilling vacation experience.
What Is the Local Cuisine Like in These Beach Towns?
Indulge in the local delicacies and traditional dishes in the beach towns near Merida, Mexico. Seafood specialties are a must-try, and don't forget to explore the local markets for fusion cuisine options. Enjoy the freedom of discovering new flavors.
Are There Any Notable Events or Festivals that Take Place in These Beach Towns Throughout the Year?
You'll be happy to know that the beach towns near Merida, Mexico are rich in local celebrations, music festivals, sports events, art exhibitions, and traditional fairs. There's always something exciting going on, no matter the time of year!
What Are Some Recommended Outdoor Activities to Do in These Beach Towns Besides Lounging on The Beach?
Looking for adventure options in these Mexican beach towns? With a rental car at your disposal, you can easily explore options like shopping, dining, and trying out new activities like paddle boarding, making your vacation truly memorable.
Final Thoughts
Merida offers so much to visitors, whether exploring the historical sites, enjoying a round of golf, or simply taking a dip in the Caribbean Sea. No matter how long you stay in Merida, you're sure to make new friends and memories during your travels.